Hey, I know that going on your first solo trip can be nerve-wracking, from deciding to go, to planning it, to actually going.
I was surprised to find — and I think this is a common experience — that the hardest part was making the decision to go. Once I was on the road, everything fell into place. I found my stride, and I enjoyed it so much that I laughed at how scared I'd been of the whole idea.
Traveling alone is a gift. You will be presented with daily opportunities to learn and grow, and you will become closer to yourself as a result.
Since it can be overwhelming to decide where to go first, I've compiled a list of 20 destinations that I loved over nine years of firsthand solo traveling experience, and I know you will love them too: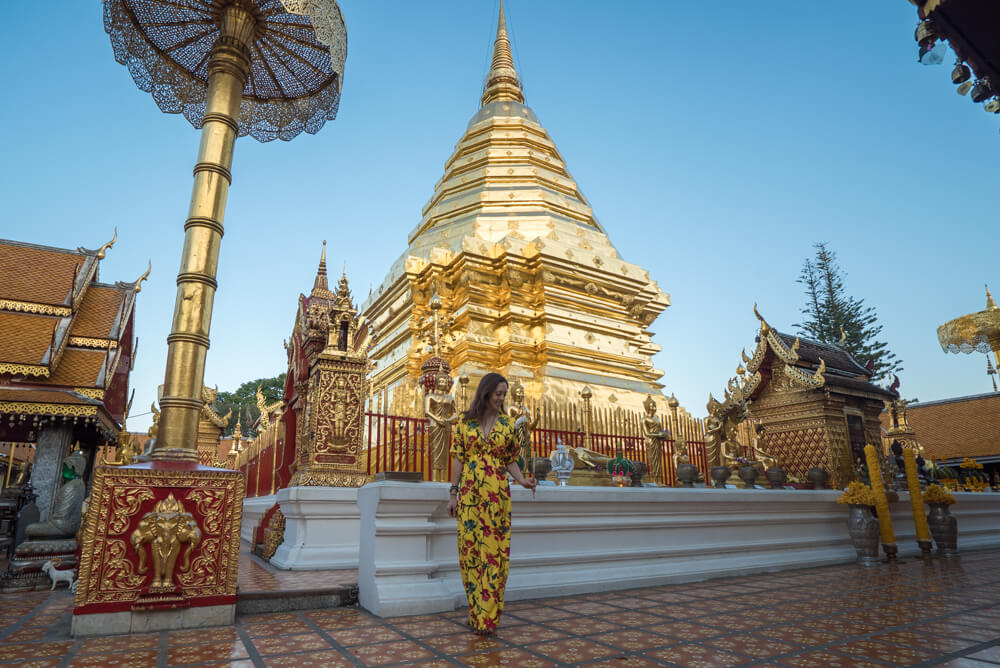 It should not come as a surprise that the Land of Smiles is first on the list — it's the perfect spot to "test the water." Thailand is friendly, affordable, easy to travel through, and full of other travelers and delicious food. There are multiple daily flights from all over the world arriving in Bangkok, the country's capital, sending new and seasoned backpackers, budget and luxury travelers, fresh grads and retirees, solo travelers (like you!) and tour groups on an epic journey around the country.
I recommend beginning in Bangkok and learning how to fall in love with the city, or starting off in Chiang Mai up north — there are so many things to do there, like cooking courses and temples, and playing with elephants ethically.
Next, head south and go scuba diving around one of the many gorgeous islands, some of which are well known and some of which are lesser known, or even participate in a 10-day silent meditation retreat.
If you end up loving your experience in Thailand, it is so easy to extend your journey and explore nearby countries by plane, train, or bus.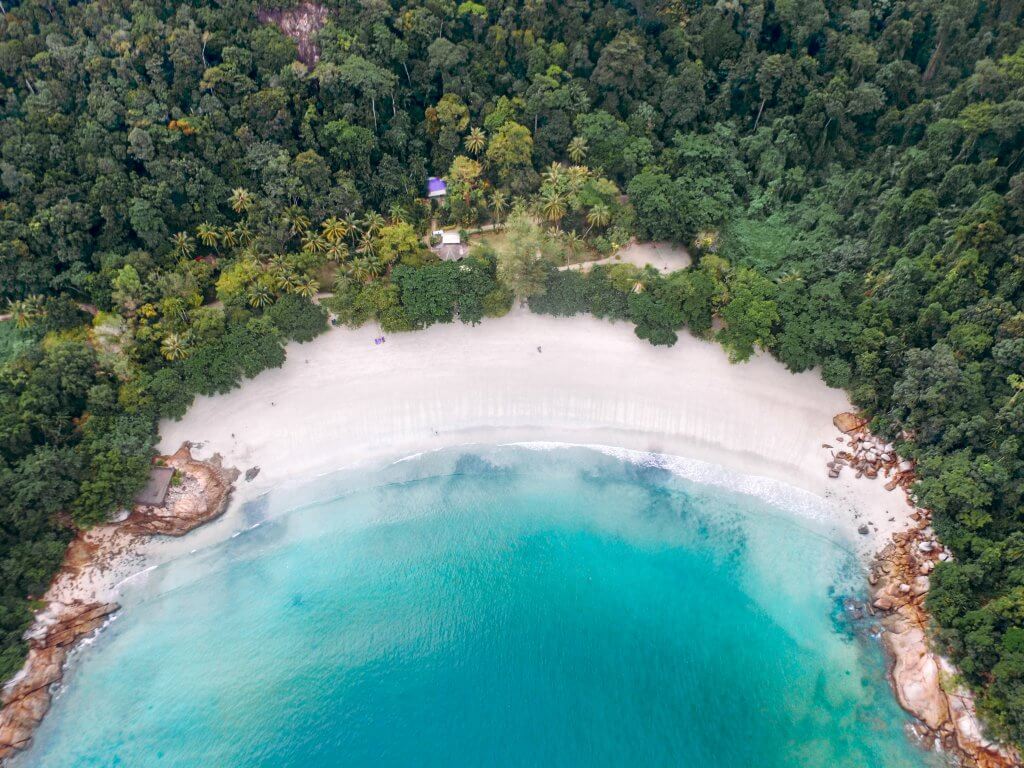 Malaysia is often overlooked as a travel destination in favor of its neighbors — and to me, that's mind-boggling! As a multicultural country, the locals generally speak at least two languages, and English is usually one of them. I personally never had a problem with communication when traveling there. In fact, having a common language helped me have more local interaction in Malaysia, including participating in local events and being invited to local family celebrations.
Like in Thailand, you can have all kinds of travel experiences in Malaysia, from cities and small towns to beaches and mountains. I also think, when it comes to islands, diving, and off-the-beaten-path experiences, it's hard to beat Malaysia, both the peninsular part and Borneo.
So if you are hoping for an interesting cultural experience minus the language barrier on your first solo trip abroad, Malaysia could be the ideal choice.
Japan is one of the cleanest, safest, most polite, and most organized countries I've ever visited. It was also one of the most unique in terms of culture, food, and the delightful mastery of technology in everything from art museums to bathrooms. Plus, cities like Tokyo and Kyoto are some of the most interesting in the world and are great to visit any time of year, even in the dead of winter.
I should warn you that language will be a problem at some point. I got pretty confused at the train stations, as some signs are only in Japanese. And since English isn't commonly spoken, it was challenging at times to communicate with some hotel staff and restaurant waiters. However, you can always rely on apps to navigate and use the classic "point and nod" method to order your food. All that said, people are so kind and friendly, the language barrier wasn't as stressful as it can be elsewhere.
If you are traveling solo for the first time, the idea of sleeping in a hostel room can be daunting. In Japan, you can opt for a capsule hotel, which is very similar to a hostel, except that your bed space is much more confined, and your personal space is respected. Eating alone is not only acceptable but a norm in Japan, so it's an awesome place to do that, especially if that's usually intimidating to you.
Iceland is gorgeous, and an outdoorsy person's dream. Plus, it's been ranked as the safest country in the world several years running. This means that you (and your parents) can put your worries aside. Another thing you wouldn't have to worry about is getting lost. Most travelers in Iceland drive the Golden Circle or Ring Road, and while I think that's just right for a road trip with a buddy, it's amazing solo too. If you don't feel like driving, the public transportation system is great as well.
Additionally, Iceland is delightfully small and intimate. With such a small population, it feels more like a big neighborhood where everybody knows everybody and there's so much trust that people don't even lock their cars when they grocery-shop. Almost everyone speaks English quite well, too, so there's no language barrier either.
The only drawback is that Iceland is pretty expensive. You can cut your costs by staying in hostels and buying your own groceries. But I'd say that Iceland is absolutely worth it if you can afford it!
Germany is my favorite country in Europe. I liked it so much that I moved to Berlin for five years. I think that Berlin in particular is perfect for first-time solo female travelers: there are so many things one can do alone, such as visiting galleries, joining an alternative street art tour, and shopping at flea markets. When you've had enough of the artistic scene there, you can hop on a train to Spreewald or Stuttgart, or visit the castles in the rest of Baden-Wüttemberg and enjoy the beautiful nature Germany has to offer.
The country is safe, navigation is a breeze, English is widely spoken, the locals are generally helpful — Germany just checks all of the boxes for first-time solo travelers! I also really appreciate its cultural diversity, and for some reason, I feel like I can be 100% my true self there without being judged — and perhaps that's exactly what you are looking for for your trip.
If you are under the age of 30 and planning a working holiday, New Zealand may end up being the destination of your first solo trip abroad! Many people use this opportunity to explore the country on their days off or after finishing up work contracts, and as New Zealand is such an awesome country for a road trip, I highly recommend gathering 3-4 people and renting a camper van for a drive around both islands.
Even if you are not considering the working-holiday opportunity, New Zealand is still awesome for first-time solo travelers, especially if you are comfortable driving long distances. You could take buses and trains, which are generally convenient and inexpensive, but to get to off-beat places, a car is much more ideal. It's also the best way to find all these amazing views. Navigation is fairly easy, and the locals are incredibly friendly and helpful. Find more info on road tripping New Zealand here.
Perhaps the best thing to do is to stay in a social hostel for your first couple of days and look for a road-trip buddy — just because you set off on this trip alone, it doesn't mean that you need to be by yourself the entire time!
To my non-American readers, if you are looking at the States for your first solo trip abroad, allow me to present to you the home I grew up in — California! While each state has something to offer, and many places in the US are perfect for solo travelers, I truly believe that California is the ideal destination for first-time solo travelers.
Some of the best spots in California are San Francisco, Humboldt County, Orange County, and everything along the Pacific Coast Highway. I suggest beginning in San Francisco, as it's a tourist favorite, with ample public transport, high walkability, and a vibrant cultural scene. There's truly nowhere else like the Bay Area.
If you want to head off the beaten path, Humboldt and the Lost Coast are beautiful and laid-back. There are also a bunch of road trip routes to choose from. My favorites are the Southwest (California and beyond) as well as Highway 395. Finally, if you want to see the last free place in America, head down to Slab City. You can also enjoy dozens of amazing state and national parks, like Anza Borrego and Death Valley. There are just endless ways to enjoy California as a solo traveler!
Hawai'i isn't typically what comes to mind when most people think of a solo trip. But I was so pleasantly surprised there that I genuinely think it's perfect for first-time solo travelers!
Thanks to its rich culture and tropical climate, Hawai'i feels more like a country of its own, with so many things to do that are totally solo friendly. You could do a road trip along the Road to Hana, explore Lanai, or join the Maui Surfer Girls camp, designed specifically for solo female travelers who are looking for a supportive group of women to take up a new sport with. It's an experience that is both empowering and fun!
The Big Island is especially suited for solo female travelers in Hawaii because of the amount of spiritual experiences there are, plus the rugged adventure you'll find.
If your heart is set on South America for your first solo trip, I recommend Peru. This incredibly diverse country will expose you to a variety of experiences, cultures, and especially climates. Iconic spots, such as Rainbow Mountain, Huacachina, the Peruvian Amazon, and the Inca Trail (and many other hiking trails), are absolutely gorgeous. I mean, they are all bucket-list worthy!
As most people visiting Peru end up at these sites, you will hardly be alone, so most tours are more than happy to welcome single supplements. Peru also has a vibrant backpacker scene, so it's really easy to meet others at hostels and on tours.
Note: My biggest piece of advice for you is that you learn a little Spanish. Don't expect locals to know English.
Also, Peru's safety reputation isn't as great as the other countries on this list, but really, all you need to do is to exercise the same precautions as you do back home. Here are safety tips from 31 solo female travelers to get you started.
Want your first solo trip memories to be filled with wild elephants? Botswana's the answer, as it has more than anywhere else in Africa. In fact, it's my favorite country for wildlife viewing out of all of the African nations I've traveled to so far. It is slightly more expensive than other countries in Africa, but it's also one of the safest, and has decent roads and a great safari lodge system as well. It is also quite the perfect place to try out glamping, especially since the cost of private accommodations may not differ much from that of basic dorms.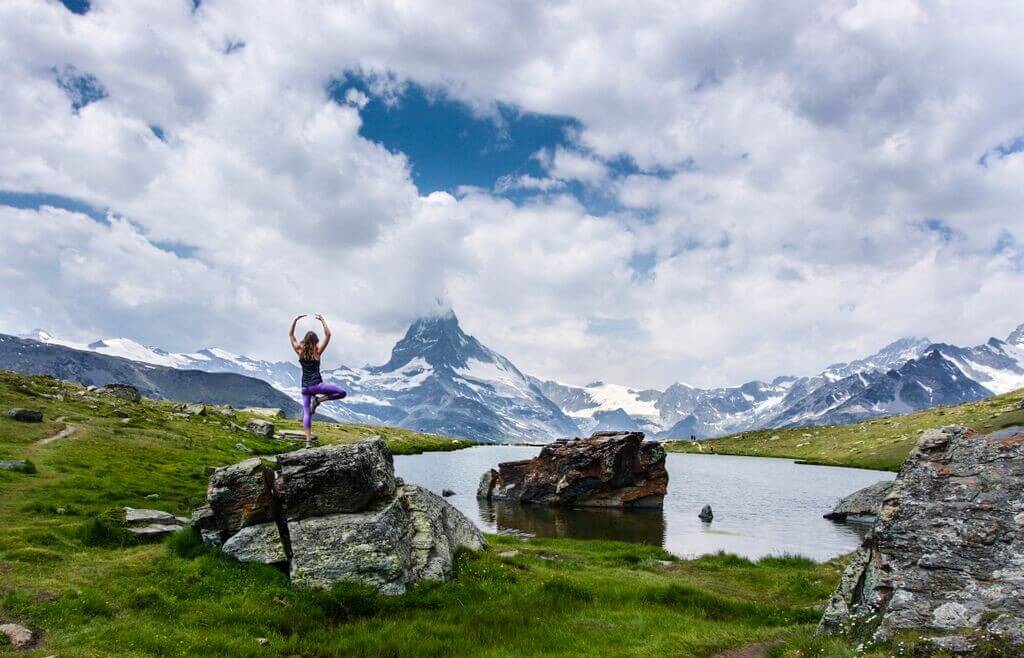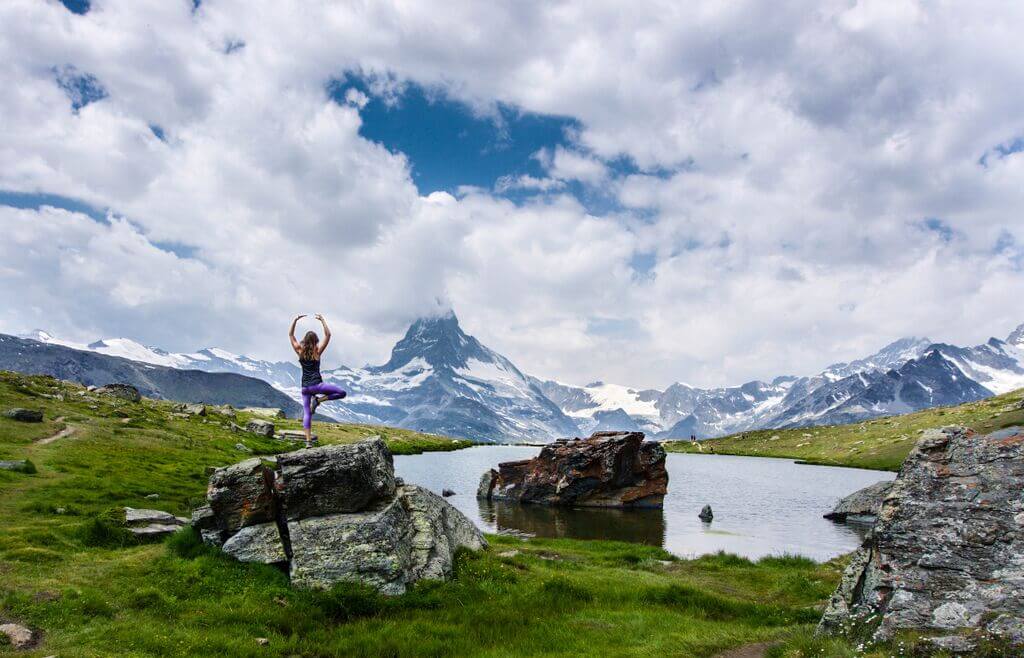 The mountains make Switzerland ideal for solo female travelers (and the country is considered safe, too). Outdoorsy girls will love staying in little huts in the Alps owned by local families. While many places in Switzerland are pricey, hiking is free. If you don't want to hike in Switzerland alone, there are hostels where you can join a day trip. You absolutely must go for a hike on the Edelweiss Trail, which gives you an amazing view of the Matterhorn.
Namibia has a special warmth — both temperature-wise and people-wise. In the summertime, it's in the 80s or 90s, and there's so much to do. The place is an adventure junkie's dream!
Go sandboarding if you visit Namibia. It's like snowboarding, but you go down a sand dune. I'd only gone snowboarding once in my life and told the guy how terrified I was — but I was fine. The sand is really soft, and it doesn't hurt to fall.
The country is surprisingly a wonderful place for a road trip — you can read all about mine here. You'll see plenty of wildlife in Namibia, along with some amazing astrophotography opportunities.
Canada is world-renowned for having some of the friendliest people, so this comes at no surprise. Finding where to travel alone for the first time often boils down to where travelers will find the perfect balance of adventure and safety, and Canada is right at that intersection. I love Montreal for a winter weekend escape or Quebec for a fall road trip. If you want to experience the Canadian wilderness, head to Banff, where I found some of the most breathtaking hikes.
Since Canada as a whole is such a stellar pick for solo travelers, it might be tough to choose where to go. I put together this list of the absolute must-visit spots to help narrow down your search.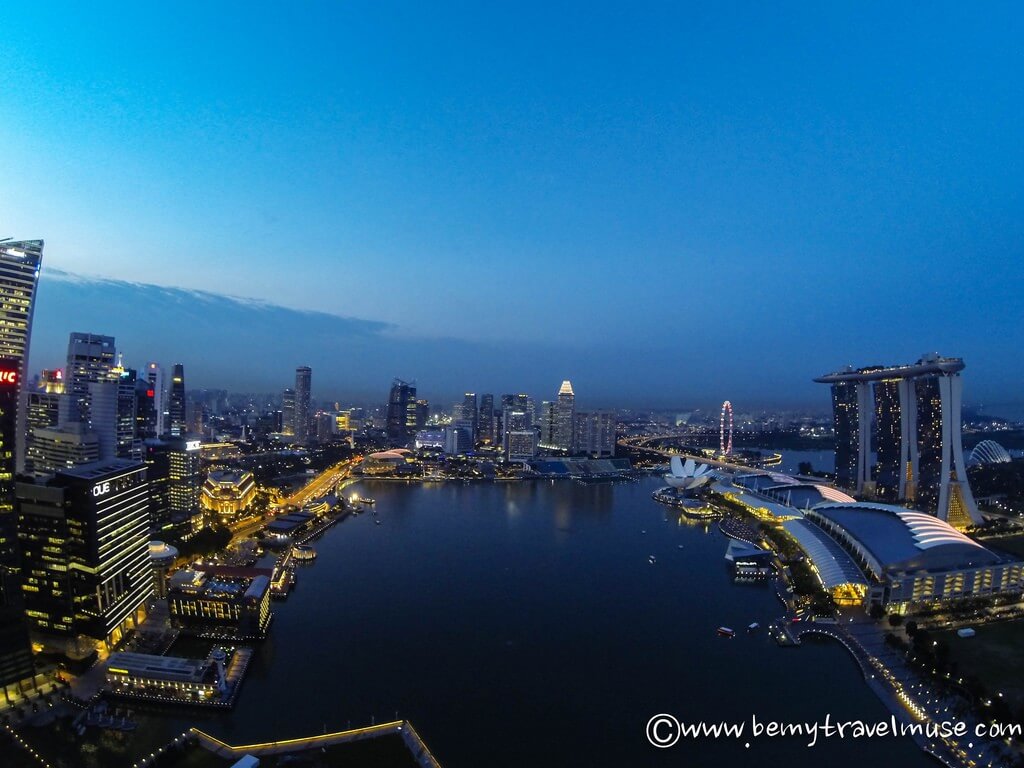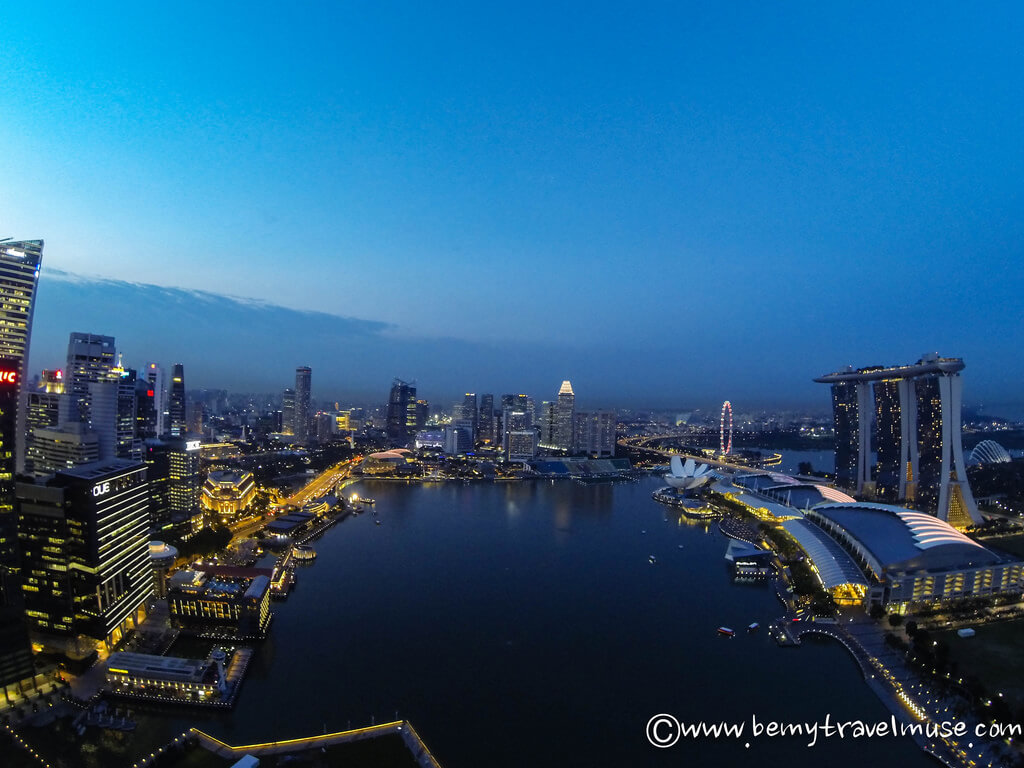 You've never been to anywhere cleaner than Singapore, I guarantee it! There are so many rules — no littering, spitting, or chewing gum — and they enforce them. It does, however, make it nice to walk around. Also, English is one of the main languages there, so you can communicate just fine, making this a great pick for solo female travelers.
You absolutely must see Supertree Grove. It has giant trees that light up at night, synched to music. Plus, it's open all the time. I had no reservations about going there at 4 a.m. — Singapore is that safe.
Singapore gets a reputation for being ungodly expensive, but some careful planning focused on free activities in Singapore will help you save money here. You can also find more info on traveling in Singapore like a local here.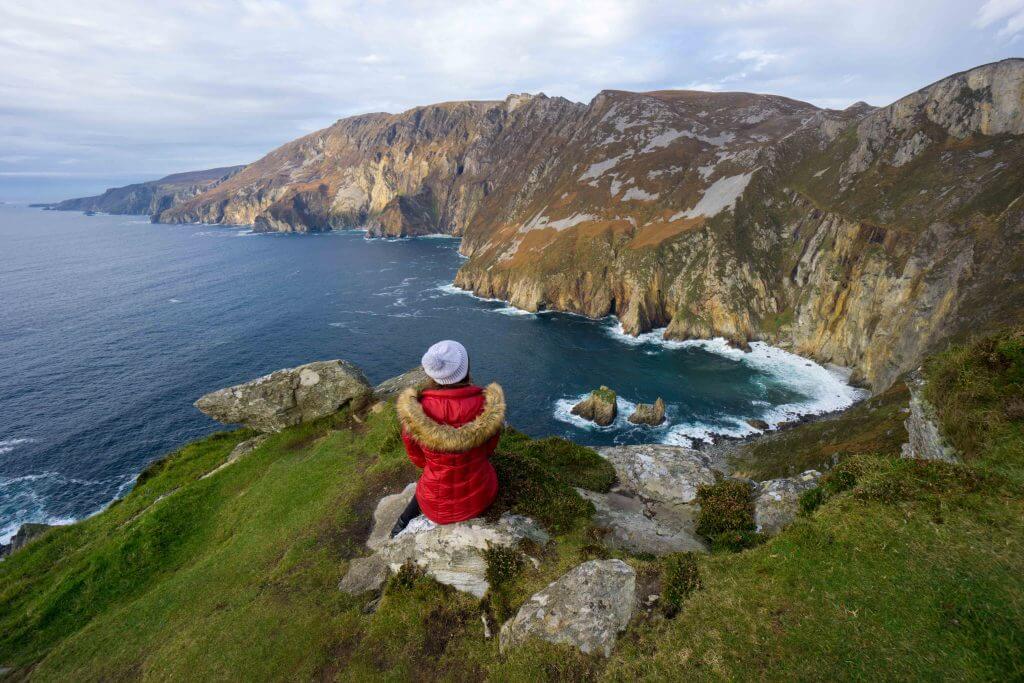 Some people may be surprised that Northern Ireland would be a good choice for solo female travelers, but it's super safe now — the problems are in the past. Hospitality is one of Ireland's strong suits. Irish people are so friendly and welcoming. You walk into a pub, and you've made a roomful of friends.
Belfast is a lot more manageable than Dublin for solo female travelers. It's just calmer and less overwhelming. When you're by yourself, you don't need all the constant stimulation, and in Belfast, you'll feel more at ease. Don't miss the Titanic Museum there. I don't have much interest in the Titanic, but the museum was so well done and interesting and interactive!
If you can make it to western Ireland to see some natural beauty, definitely work that into your itinerary as well.
16. Spain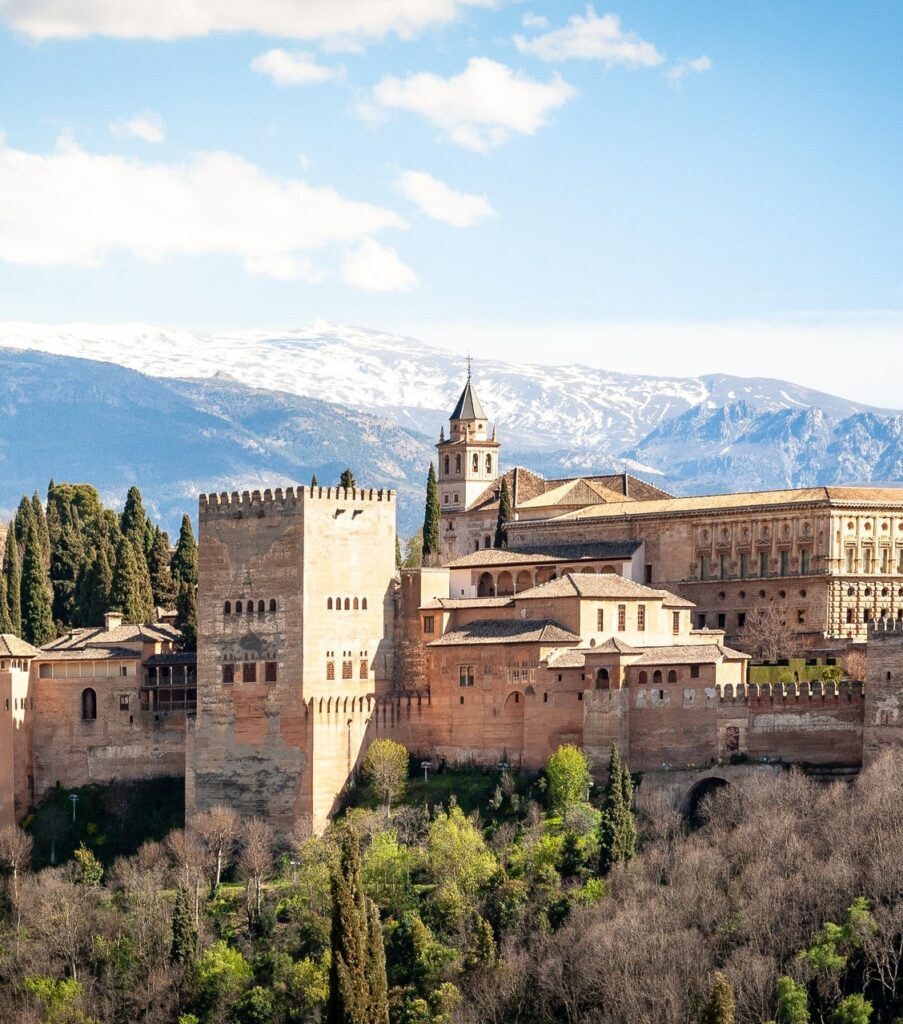 The beautiful architecture is the star of the show in Spain, especially in Granada. You don't need to be with anyone else to enjoy its cool mix of Eastern and Christian influences. You especially can't miss the Alhambra, a famous fortress originally constructed all the way back in 1889.
Also, Granada is safer than Madrid and Barcelona, where you have to be constantly watching your back for pickpocketers.
Other smaller cities are definitely worth checking out, like seaside Málaga, because they're the perfect size for solo female travelers. You'll be able to see more of those places without the greater safety risks of bigger cities.
Some travelers are too quick to write off Mexico as unsuitable for female travelers, but I disagree. Mexico is an incredible place to travel solo for the first time because it's bursting with cultural richness, amazing food, and an astounding variety of landscapes. Mexican people are generally very warm and hospitable, making it a great place to meet locals and get to know the culture.
In Mexico, you'll find pristine beaches, beautiful mountain landscapes, crystal clear cenotes (swimming holes), and fantastic cities like Oaxaca, San Miguel de Allende, San Cristobal de las Casas, and many more to explore.
If you're concerned about staying safe as a solo female traveler in Mexico, I get it. With alarming stories on the news about violence in Mexico, it can be daunting to think about going there alone. However, most of these stories come out of specific regions of the country that are far off the tourist track. This isn't to say that popular areas don't have risks, but there are plenty of ways to stay safe in Mexico as a solo female traveler.
There are few places on earth with as much biodiversity and an overall abundance of outdoorsy things to do as Costa Rica. It's also one of the best places in Latin America to travel through as a solo female traveler because of how easy it is to meet other travelers and how safe it is.
From the thick green jungles of Costa Rica's interior to the golden beaches on both coasts, this is one of the places I will go back to over and over again. Imagine going from a remote beach with rock arches one day to hiking to a gushing waterfall in the jungle the next. Plus, the national parks here are next-level. My favorites are Manuel Antonio National Park and Tortuguero National Park. Costa Rica is paradise on earth, and as a solo female traveler, it's absolutely ideal.
Finland is a fantastic destination for first-time solo travelers not only because of its beautiful scenery but also because it's one of the safest places on Earth to travel alone in. Crime rates in Finland are astonishingly low, the people are super friendly, and you don't have to know any Finnish because most people speak great English.
From idyllic cities like Helsinki to small coastal villages and wintry Nordic scenes, Finland is perfect for travelers who love the outdoors and don't mind chilly temps. Finnish Lapland is one of the best places to visit in Europe in the wintertime, too, because of the unique celebrations of the region and the possibility of catching the northern lights.
20. Portugal
Gorgeous cobblestone streets, astounding seaside views, and warm hospitality all keep solo travelers coming back to Portugal over and over again. As one of Europe's most affordable countries to visit, it's become an excellent place for budget-conscious travelers as well. Pair that with amazing food, delicious wine, and stunning landscapes, and you've got yourself a world-class travel destination fit for adventurous women.
Like most of Europe, pickpockets are common in big cities like Lisbon and Porto, but overall, crime is still quite low here. Plus, Portuguese people tend to be friendly and willing to help visitors, so even if you're alone, you don't have to feel alone.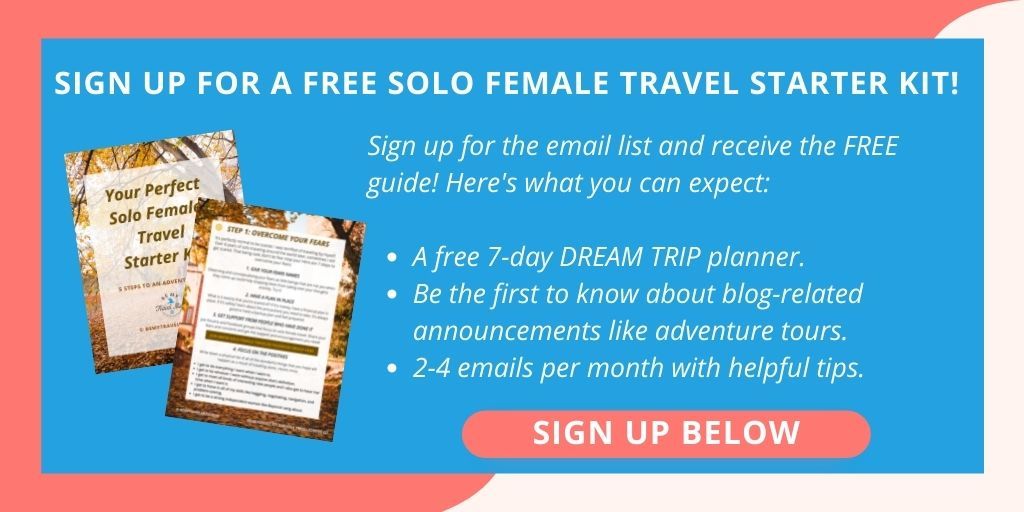 ***
So these are the 20 destinations that I have personally traveled to and think are perfect for first-time solo travelers. Which one will you choose?