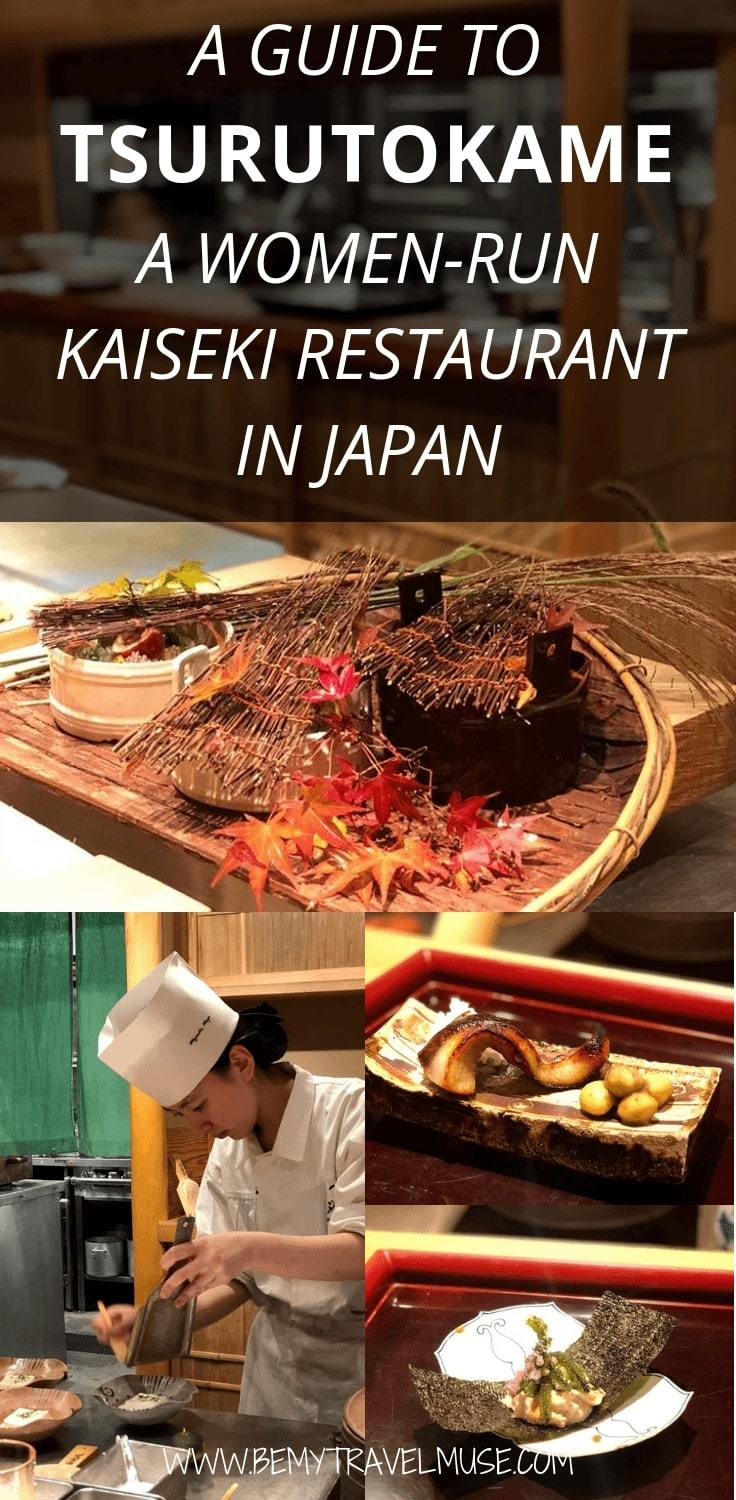 The chef poured the sake into my host's glass until it spilled over the brim and into a curved bowl at the base. Though clearly intentional, it was a gesture I had never seen before. When I asked why, I was told that abundance and the possibility of more is always welcome, and who can argue with that?
As a perfect mirror to this, abundance is the inspiration behind the name of Tsurutokame, which translates to crane and turtle. The animals symbolize longevity and luck, and after experiencing the culinary delight of Tsurutokame I have no question that both are in the cards for this all-female run restaurant in the high-end Ginza District of Tokyo.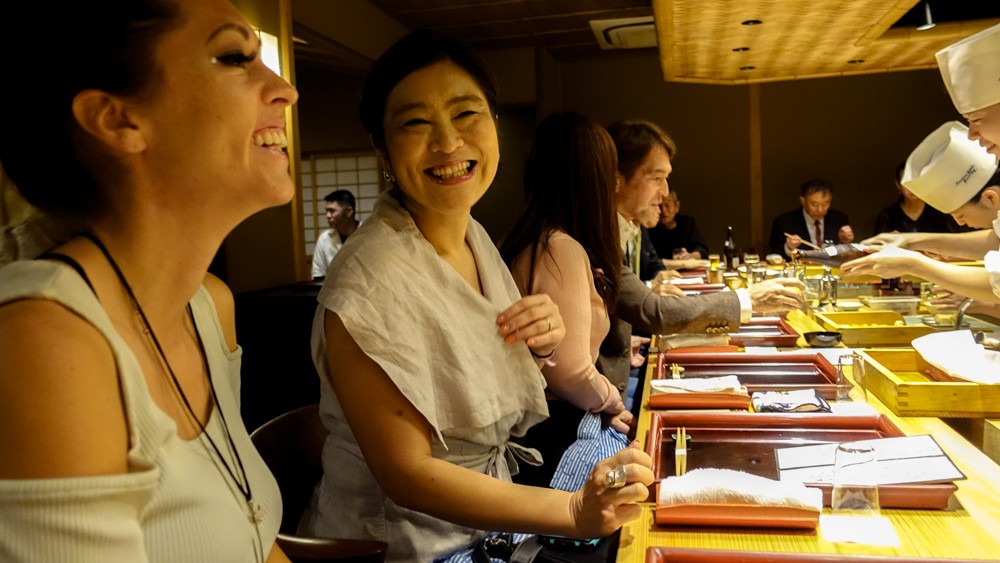 So what makes this restaurant so special? Apart from the fact that it is one of the best dining experiences one can have in Tokyo, it is completely run by a team of seven female chefs serving a Kaiseki traditional multi-course dinner. This is the epitome of Japanese haute cuisine and is considered the highest-level genre of restaurant in Japan. Kaiseki is not just a meal, it is an art form.
Why All-female Run Restaurants are a Rarity in Japan
To fully appreciate why this restaurant is so cutting edge, let's look at the glass ceiling that women are up against in this profession, particularly in Japan.
When the Wall Street Journal asked Yoshikazu Ono, son of famed sushi chef Jiro from the documentary, Jiro Dreams of Sushi, why women can't be sushi chefs, he answered, "it is because women menstruate." Menstruation apparently causes an imbalance in one's ability to taste. Another popular myth is that women have a "higher core body temperature", and that wearing makeup and perfume affects our sense of smell.
Right.
Due to these false beliefs, it is rare to see a female sushi or Kaiseki chef at all, and almost unheard of to see a woman leading a kitchen in a reputable restaurant in Japan.
This is what the chefs of Tsurutokame are up against, and yet they're successful despite the odds.
Tsurutokame's Story
Harumi Mikuni, and her husband, Osamu Mikuni, are seasoned restauranteurs and the driving force behind Tsurutokame with a 100% female-only kitchen. It's the couple's brilliant way to grow talented women into leaders and earn their spot in a male-dominant industry. When asked why they didn't simply place a female chef at the helm of one of their other 10 restaurants, they said that male chefs are unlikely to respect a female as a lead chef. Therefore, the only way is for the rest of the chefs working under her to be female as well.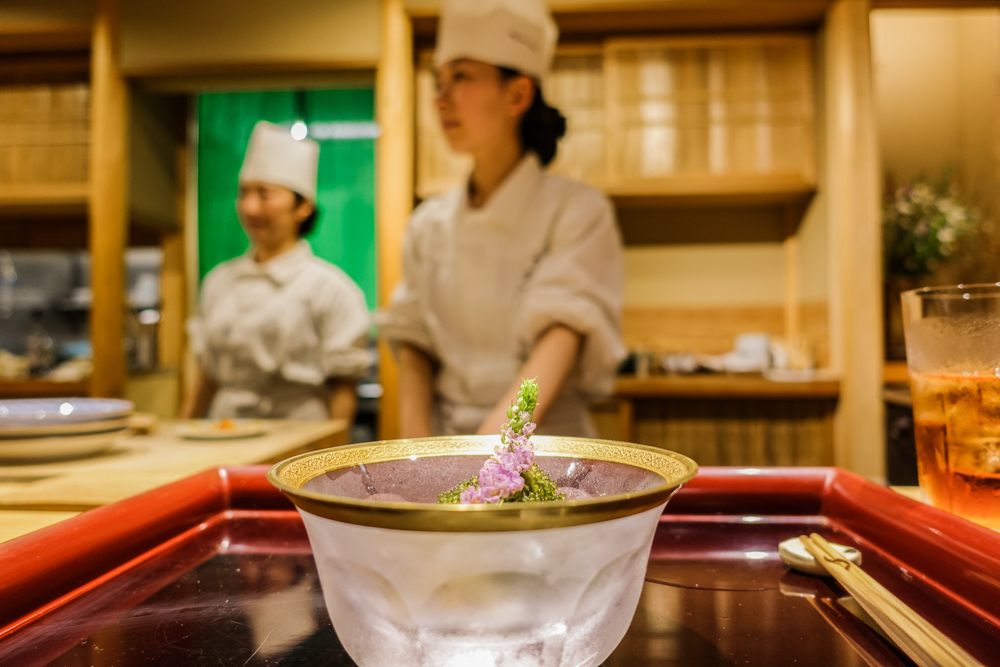 However the couple believes in the possibilities and talents of female chefs, and this restaurant is an experiment to see if women can find their place in Japan's elite culinary scene. In an interview with Forbes, Mikuni said, "My husband and I have always felt that women, while lower in the eyes of society and always behind the scenes, can perform well or same or even better than men."
Based on the popularity of the restaurant and the often months-long waitlist, their experiment seems to be working.
The chefs of Tsurutokame, led by 35-year-old head chef, Yubako Kamohara, are all being groomed by the Mikunis – not only as chefs, but as well-rounded human beings. They live together, shop for ingredients in the mornings, prep together, go on field trips to study languages and art, and work together on a daily basis to curate the menu of the day, which in true Kaiseki style, changes every night.
The Experience of Dining at Tsurutokame
In typical Kaiseki style guests have a front row seat to the action. The restaurant is set up as a long bar with chairs all around it which accommodates up to 14 guests. During the entirety of the multi course meal, diners have the opportunity to observe and even speak with the chefs. One of my favorite things about this restaurant was how interactive, approachable, warm, and friendly the women were. The experience is exclusive and intimate.
Yubako Kamohara, the lead chef, seemed to be leading an orchestra. Behind the kitchen counter opposite me was Kamohara, who was working her hands on the tuna whilst chit chatting with the guests as well as directing the rest of the kitchen simultaneously.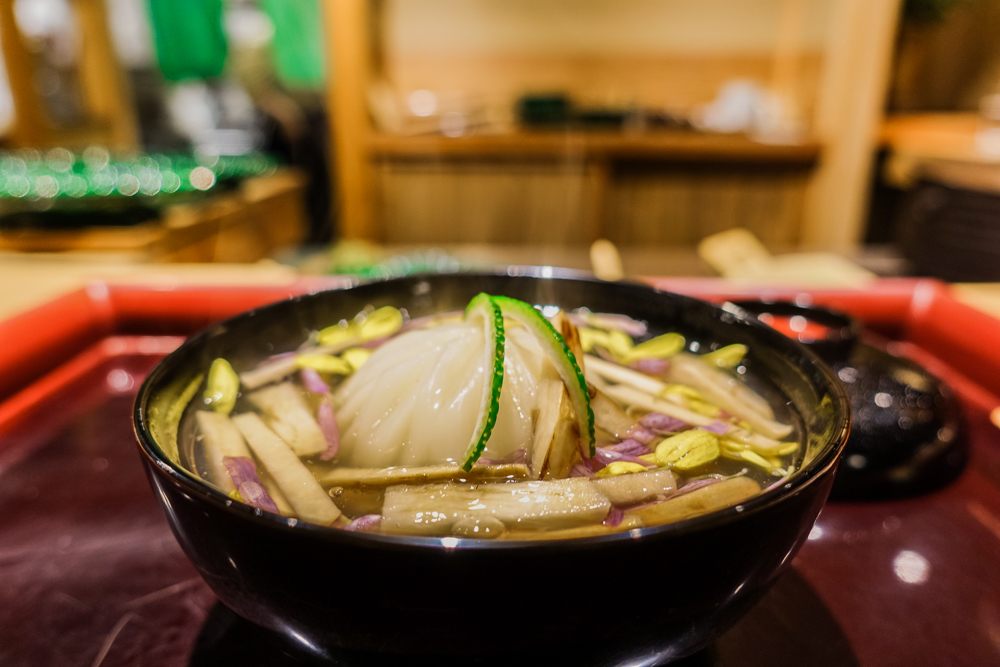 The restaurant has a light, easeful energy, and instead of feeling slightly intimidated in the presence of the chefs, I feel welcomed into their personal kitchen.
Now let's talk about the food, which I'm still salivating over.
The menu is varied and seasonal, only using the freshest ingredients. I went in October, and experienced plates with offerings and adornments including autumn leaves, several kinds of seaweed, fresh fish, edible flowers, and tofu in just about every form imaginable. The food is as inventive and inspired as it is delicious. The chefs also completely adopted a vegan menu for me while serving the rest of the restaurant their traditional menu. They put just as much effort into my food as everyone else's and it really showed. This alone blows me away, since many high-level chefs will simply refuse a vegan diner or any kind of special order.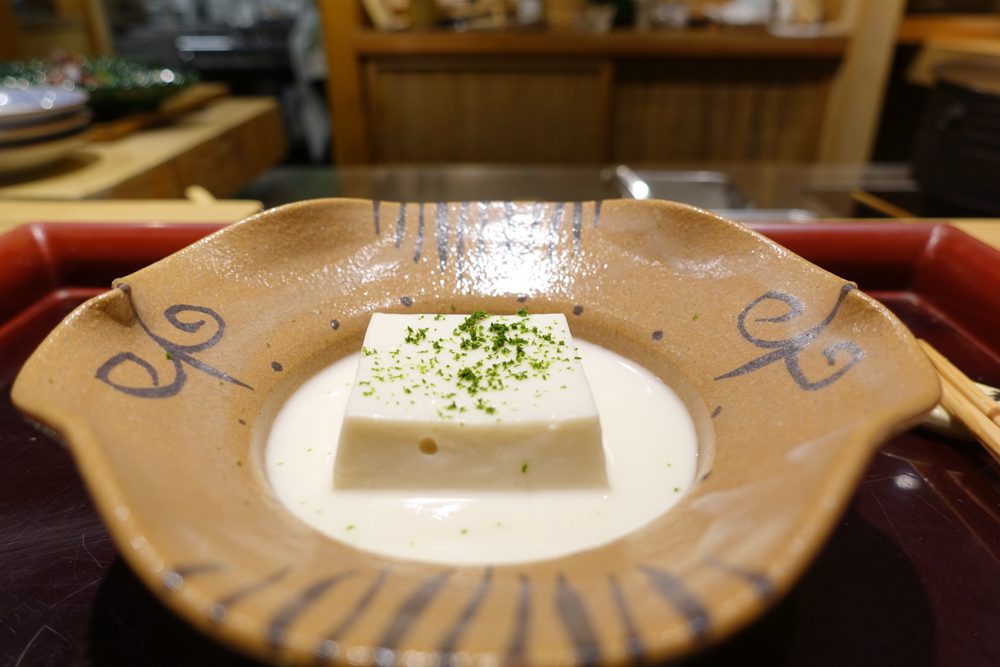 The cuisine was a mixture of textures and flavors I couldn't have previously imagined. Each dish had so many layers that it kept surprising, offering a different mix with every scoop of my chopsticks. Each bite was a new experience by design.
Imagine tofu that tastes like cream cheese, tuna that looks and tastes like beef tartare (according to my friend who had the omnivore's menu), seaweed with the consistency of panna cotta, aromatic flowers to complement a bite here and there, and a traditional matcha green tea finish. It's a symphony of textures and flavors that each have their place in the dishes, and it's clear every detail has been thought of.
Additionally, in contrast to much of the world's fine dining, it was high cuisine that was healthy without even trying – a byproduct of the fresh ingredients and the very nature of Japanese cuisine.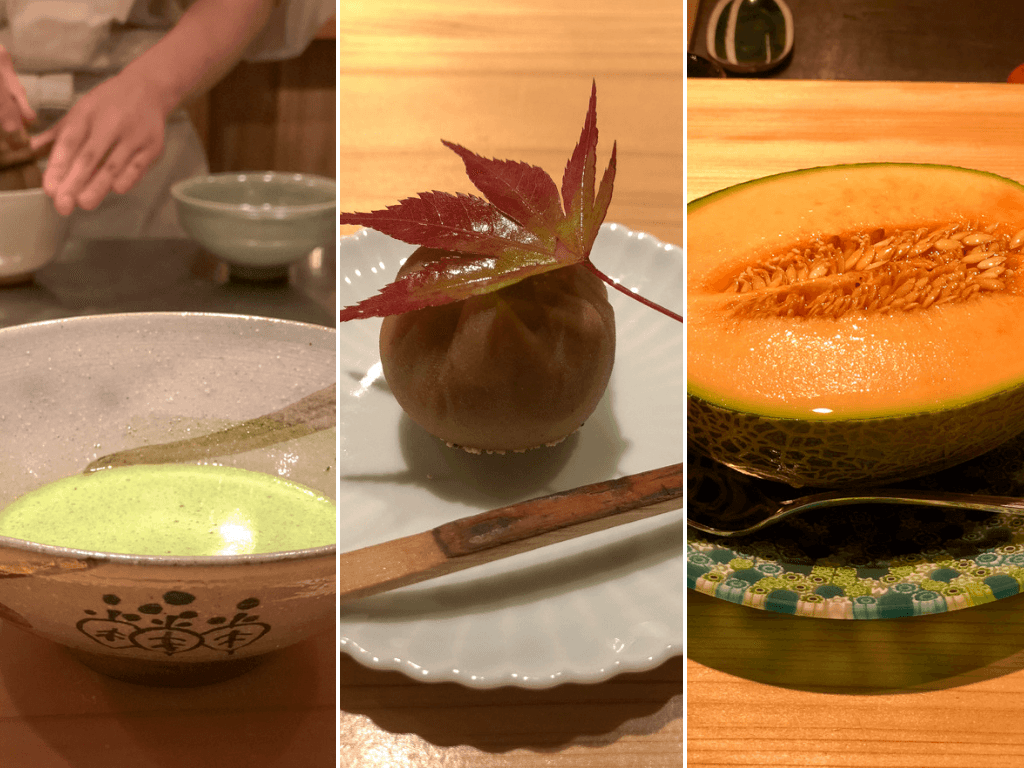 Experiencing Tsurutokame for Yourself
I'm happy to report that this restaurant is doing incredibly well, with a mixture of both male and female guests all enjoying the food and the atmosphere. With the aim to prove that women can be capable chefs, Tsurutokame delivers in spades. While genuine Kaiseki is an experience that's unique to Japan, Tsurutokame is an experience that's unique to Tokyo's Ginza neighborhood and truly one of a kind.
Since it's so popular, it's best to book seats as early as you know you'll be in Tokyo. I was told by our host, Ayako Yuki, that spaces book out up to a month in advance. Part of this is due to how economical the experience is at only 10,000¥ to 16,000¥, which is unheard of for Kaiseki, as well as how varied the menu is. Regular guests keep coming back because the experience is so different each time. To book your spot, visit the website here. 
I was beyond inspired by this experience. It felt so incredibly unique and special – and it is. If you're in Tokyo treat yourself to Tsurutokame. Support these amazing women who are living proof that anything the boys do, we can do just as well (or better).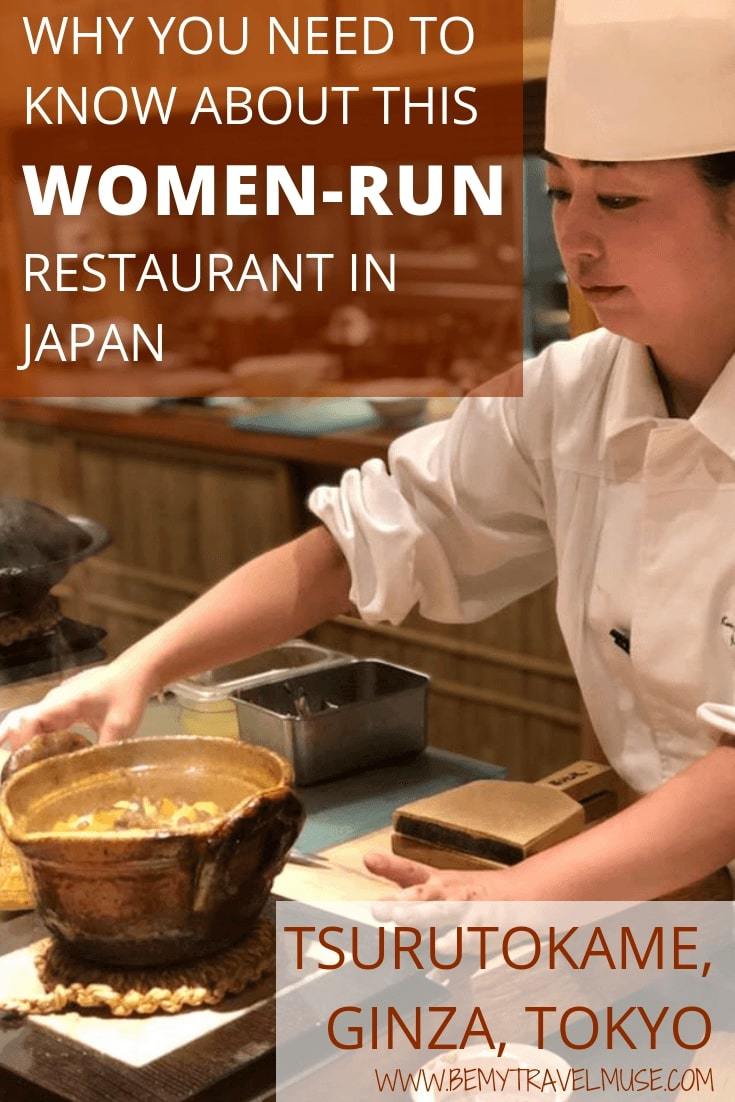 *In the spirit of full disclosure, I was invited to be a guest of Tsurutokame, however I was not asked to provide a favorable review. The thoughts shared here are genuine and reflect my personal experience.