The United States is gorgeous, from sea to shining sea. I love being from such a huge and varied country with all kinds of different landscapes, cultures, and sights. If I spent my lifetime only exploring the States, I'd have so much variety it would still feel like I'd traveled far and wide.
It's incredible that in one country you have some of the highest mountaintops, tropical beaches and icy glaciers, and rocky deserts with some of the most breathtaking formations on planet Earth.
So for those who want to test out solo traveling at home before they go abroad, or if you're from elsewhere and want to see what the US has to offer, you've made a great choice. But with so many options, you might be wondering where to start. For a visual tour, watch the video below, or keep reading for an explanation of each below:
These are some of my favorites in the USA, plus the advice of several other solo female travelers to get you started:
1. Maui, Hawaii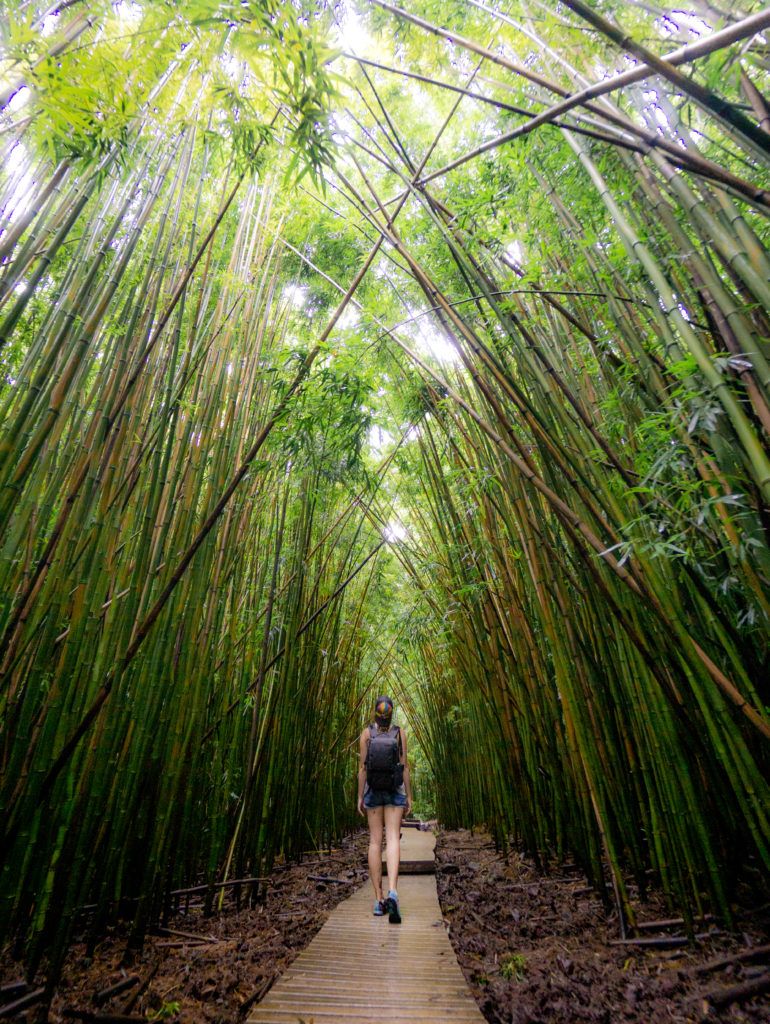 I forgive you if you don't think of Hawai'i when you think of great places to travel solo, and I wouldn't have either until I actually went to Maui alone last year. It was fantastic! There was so much to do, from a women's surf school to driving the Road to Hana to joining snorkeling trips.
I thought I would be surrounded by honeymooners, but I actually found that people were very outgoing and friendly, coupled off or not. I highly recommend Maui solo, much to my surprise!
Book guided tours in Maui here.
2. The Big Island of Hawaii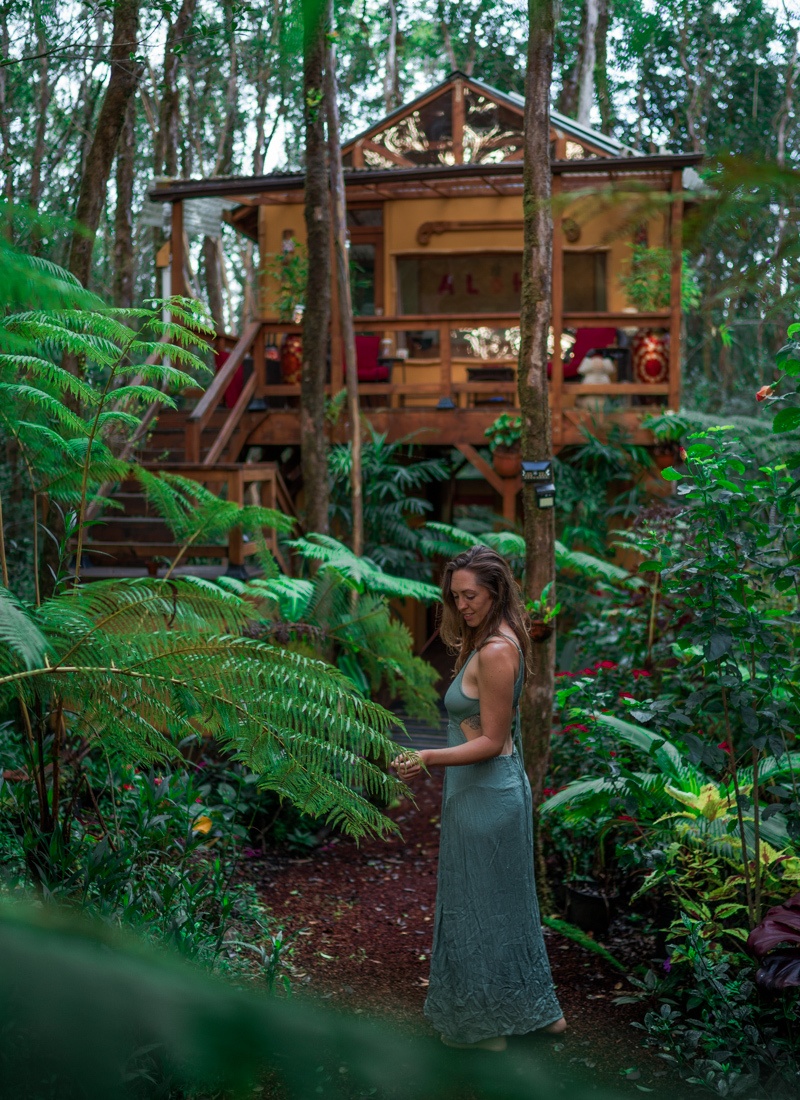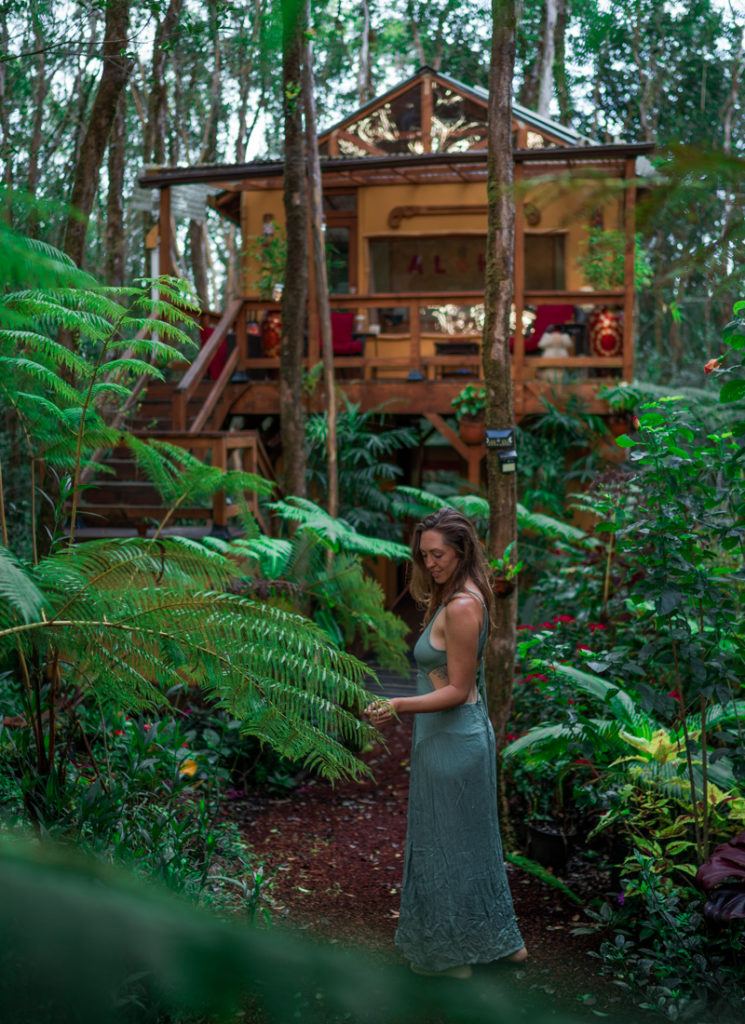 The Big Island of Hawaii is one of the best places for adventurous solo female travelers. With volcanoes, world-class dive and snorkeling sites, interesting beaches, and miles of hiking trails, there's more to discover on the Big island than any other island in Hawaii. In fact, it's larger than all of them, combined! After visiting more than six times, my favorite things to do are swim with the Manta rays at night, hike to the Captain Cook memorial, and join boat tours.
It's easy to meet friends through activities, at the beach, and by going on day tours. The island is easy to navigate with a rental car, as there is one main road that circles the entire island. Most people consider going to the more tourist-heavy islands like Oahu, but the Big Island is amazing, too.
Book your stay in The Big Island here, or consider staying in a real treehouse (!).
The West
3. Alabama Hills, California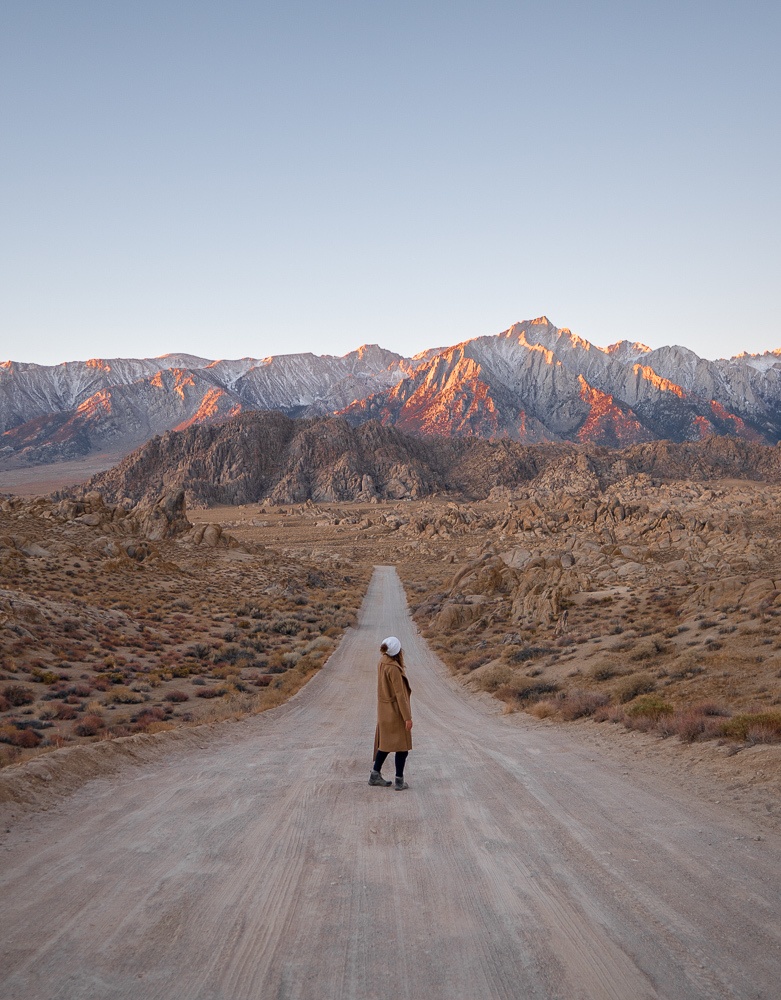 The Alabama Hills is BLM land, meaning it's owned by the public (the Bureau of Land Management), with arches, beautiful views of the eastern Sierras, and lots of Hollywood history. I did a solo road trip here and enjoyed every minute of it. If you are a photography lover, the Alabama Hills has plenty of photogenic stops, including the popular Movie Road (pictured above), Mobius Arch (go at sunset!), Boot Arch, and Miss Alabama herself.
As a solo traveler, you'll get lots of solitude in the Alabama Hills and the other deserts on my California deserts road trip, which I loved. This is one of the beautiful things about traveling in this part of the world: all the wide-open spaces and the spiritual vibe. Plus, you can't beat the stargazing or the sunsets!
4. San Francisco, California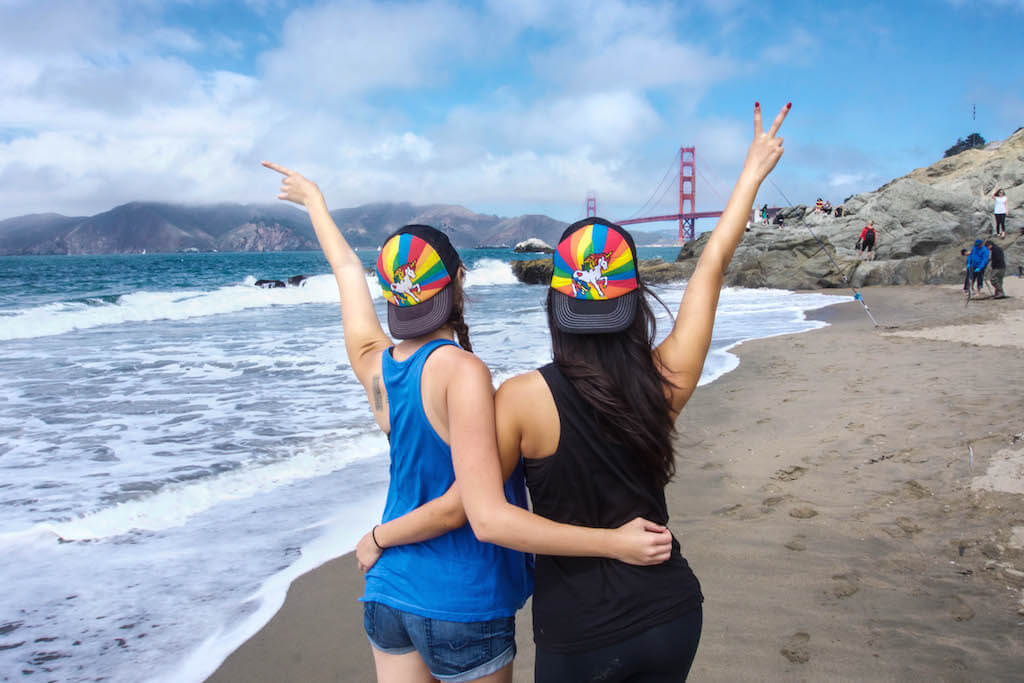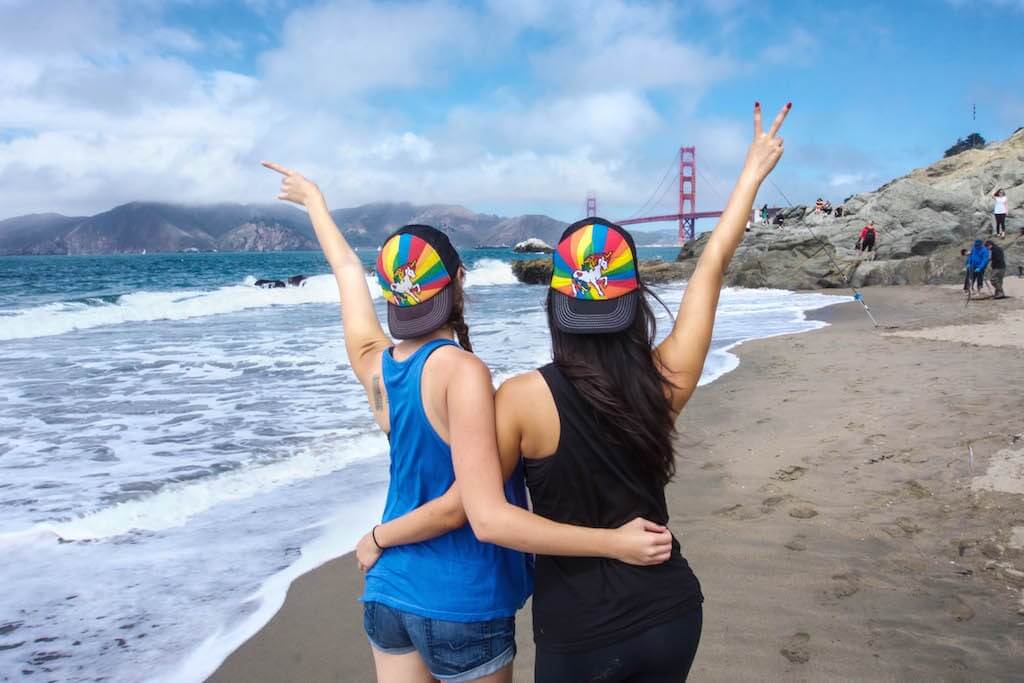 Whenever people who aren't from the state visit California, almost everyone ends up falling in love with San Francisco. As a native Southern Californian, it's in my DNA to roll my eyes and find this offensive, but deep down, I silently agree. The Bay Area in general is beautiful and temperate, and has a unique culture. My European friends often say it has a charm that reminds them of home.
I love it for the ease of getting around on the BART system, how small and contained the city itself is, and how picturesque and multicultural it is. Try a yoga or meditation class, head there during Pride, or see some live music at the Outside Lands festival. It's the perfect place to jump off from or end up in when on a road trip along the Pacific Coast Highway too!
Book your stay in San Francisco here.
5. Big Sur, California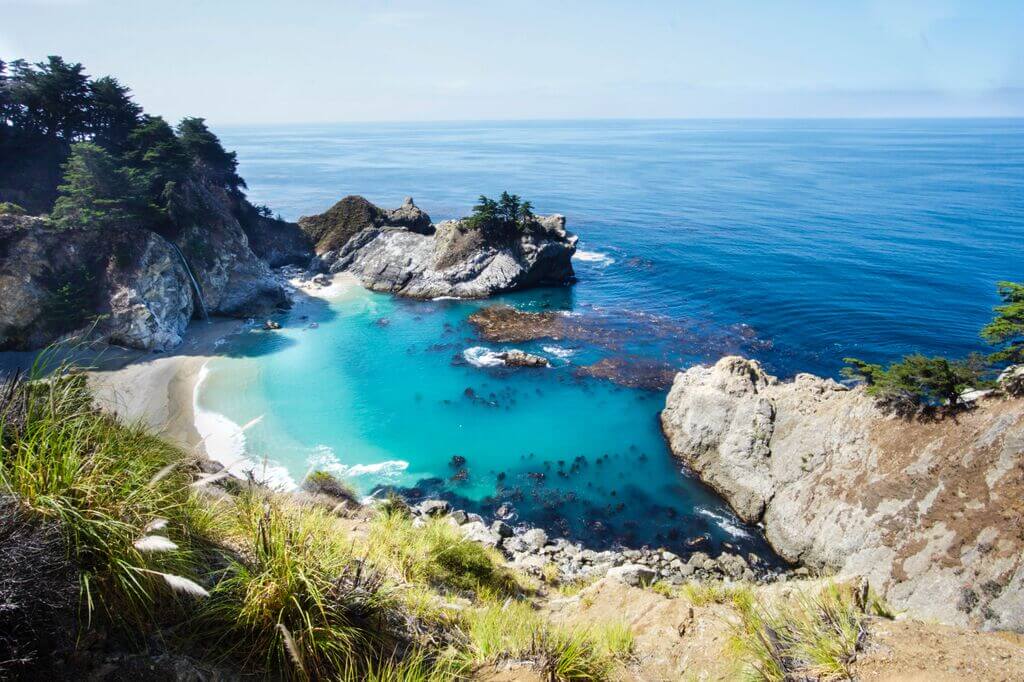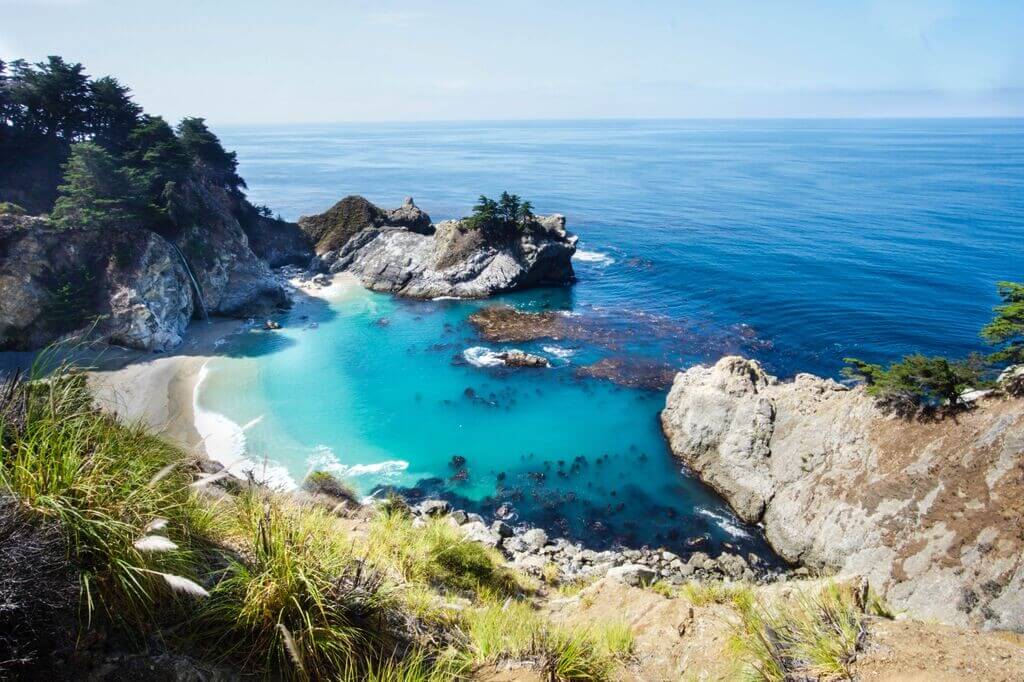 I've looked on every continent and I still haven't found anywhere as beautiful or majestic as Big Sur on the central coast in California, though it's seen its fair share of disasters lately. Still, when accessible, McWay Falls in Julia Pfeiffer Burns State Park is one of the dreamiest waterfalls I've seen.
Big Sur is a fantastic place to unwind. If you want to meet others, the campsites can be pretty social. However when I'm out there, I find the best companions are the dolphins and whales jumping out of the gorgeous Pacific Ocean, and the squirrels and deer on the trails.
For more on my favorite state and national parks in California, check out my musings on Alamo's Scenic Route.
6. Lake Tahoe, California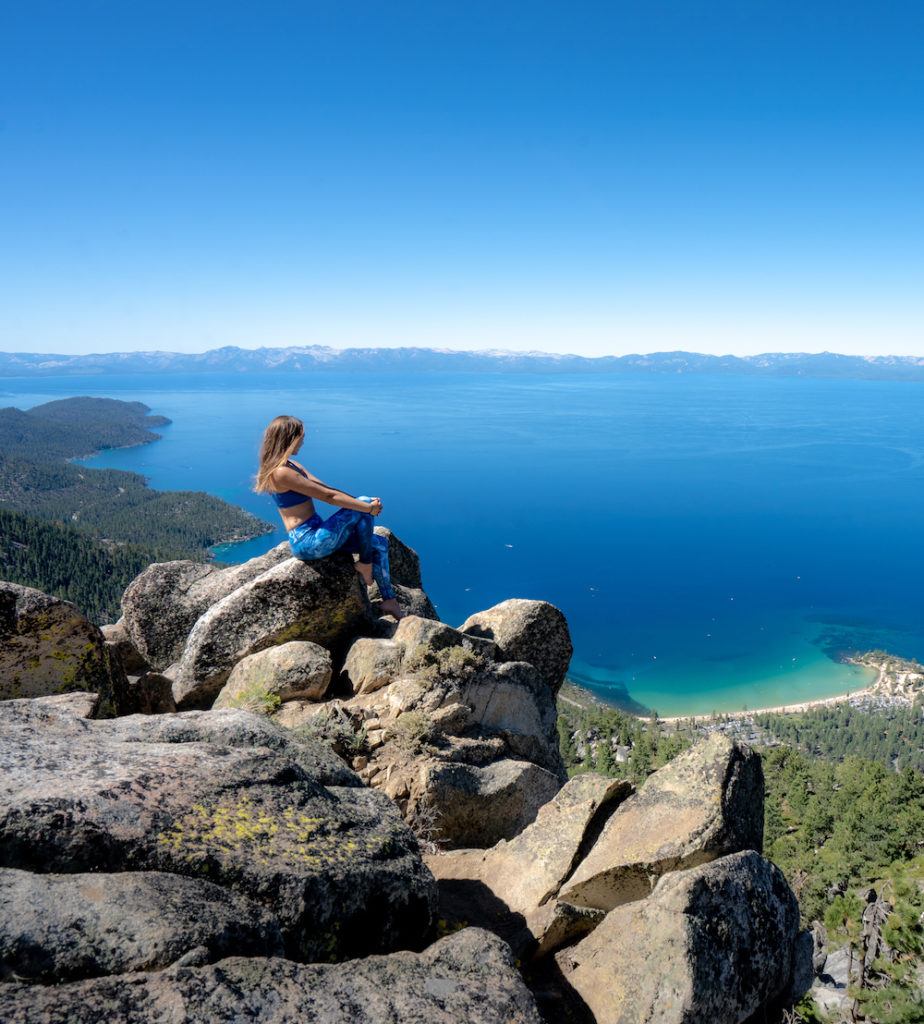 One of my favorite spots to explore on my own is in my backyard – Lake Tahoe! There are nearly limitless trails to discover (like in Emerald Bay) during the summer months, including Tallac pictured above.
For those who don't feel comfortable hiking or biking on their own, there are multiple companies that offer guided tours. There's also much to do that doesn't have to do with hiking, like taking pictures at some of the most beautiful parts of Lake Tahoe. If you're into skiing, sledding, or just taking a scenic gondola ride, winter in Lake Tahoe has so much to offer as well.
Need a place to stay? We've got you covered with a list of the best Airbnb's and boutique hotels.
7. Mendocino, California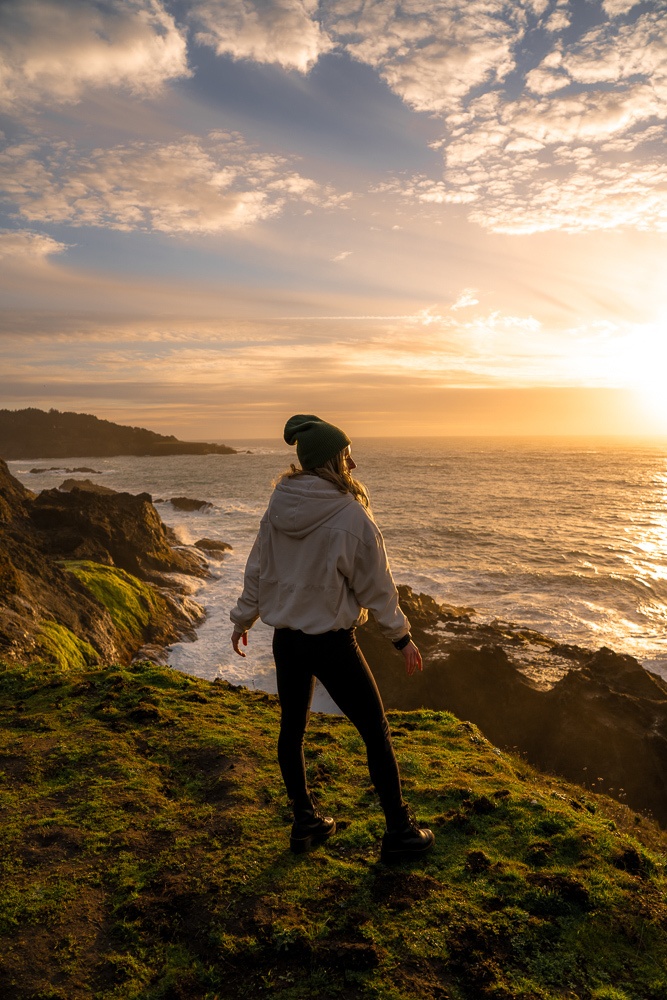 If you're looking for moody coastline, crashing waves, spotted seals, incredible sunsets, adorable BnBs, and an abundance of inspiration, Mendocino is the perfect spot for a weekend getaway.
This is more of a retreat for those who want some peace and quiet. Walk along the coastal bluffs, explore Van Damme State Park, check out the glass sand beach in Fort Bragg, and eat delicious food at the Noyo Harbor Inn.
8. Mt. Rainier National Park, Washington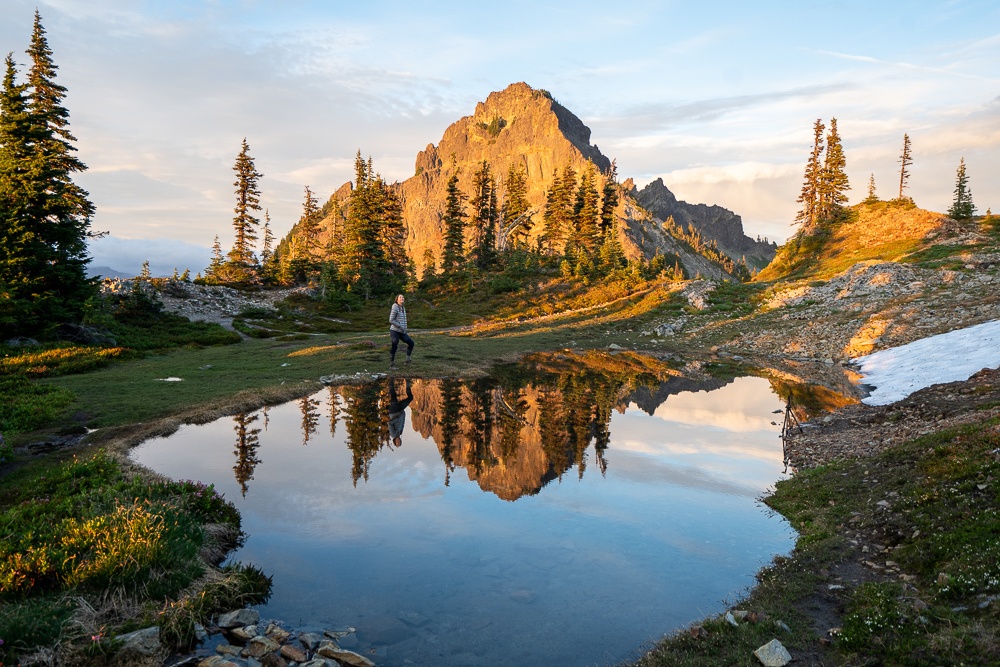 When it comes to national parks in Washington, Rainier is easily my favorite. It's such a prominent volcano, you can see it from most major freeways and suburbs of Seattle. Hiking around it is also easy enough, with trails like the Skyline trail serving up beautiful views all along your way.
Rainier is a popular national park, so if hiking solo, you'll rarely be truly alone.
9. Seattle, Washington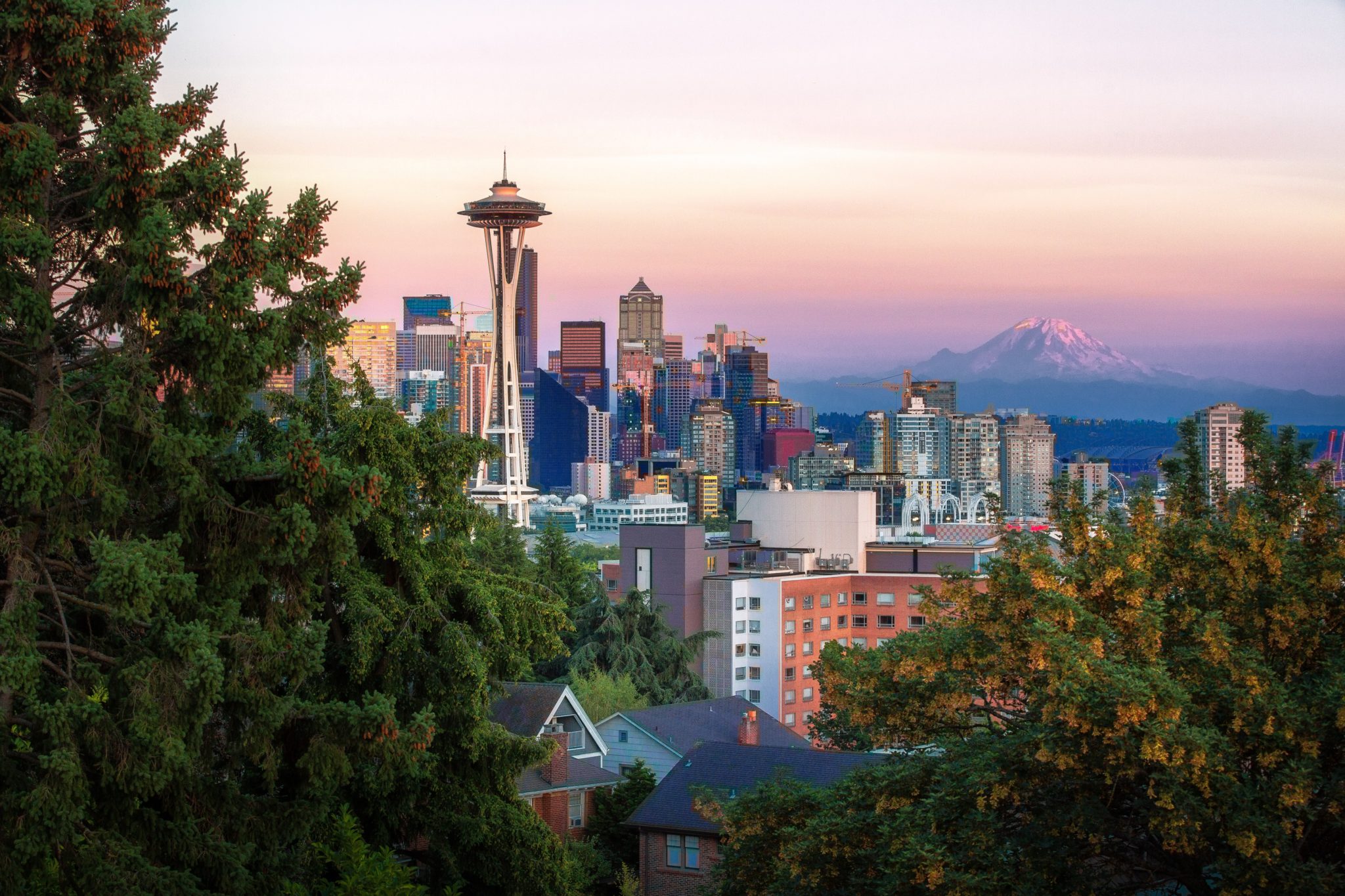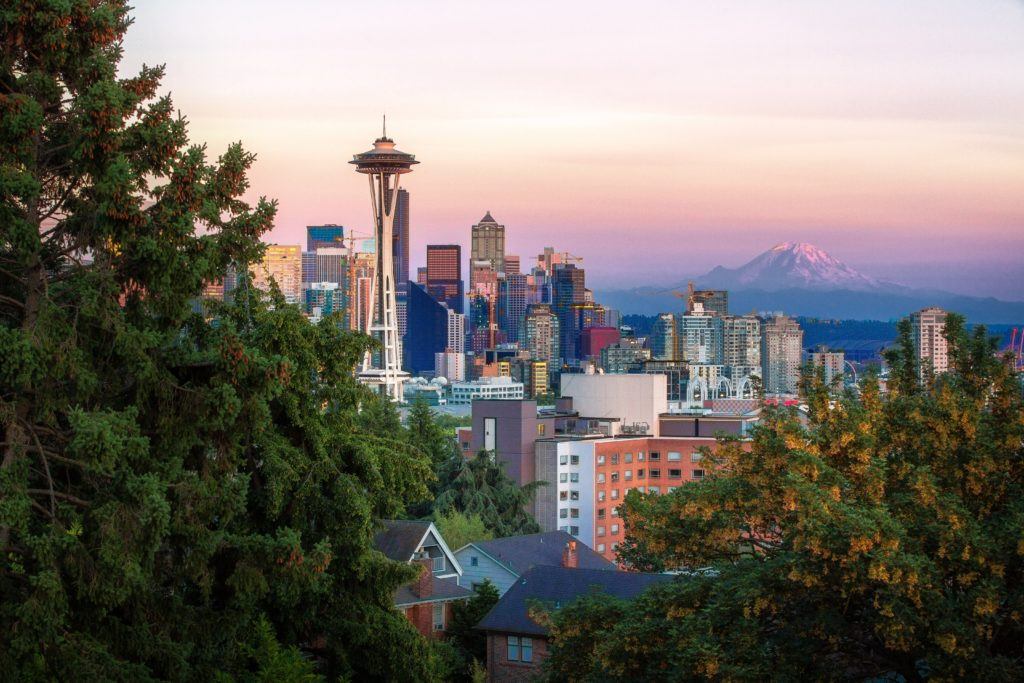 If you want to visit a city teeming with activity but still find time for solitude, head to Seattle where the various neighborhoods and activities provide opportunities for both, sometimes even on the same day. Here you'll find cultural foods, fantastic museums, and beautiful public parks. Talented local musicians perform throughout the city on most nights, so you'll hear jazz, experimental, rock, punk, metal, baroque, blues, hip-hop.
You can navigate the city via public transit by day, or taxi/ride-share by night. Seattle is very solo-traveler friendly, so you'll notice other people dining and enjoying the musical ambiance alone. Don't hesitate to reach out and get past that 'Seattle Freeze' as people are friendly once you start the conversation.
10. Portland, Oregon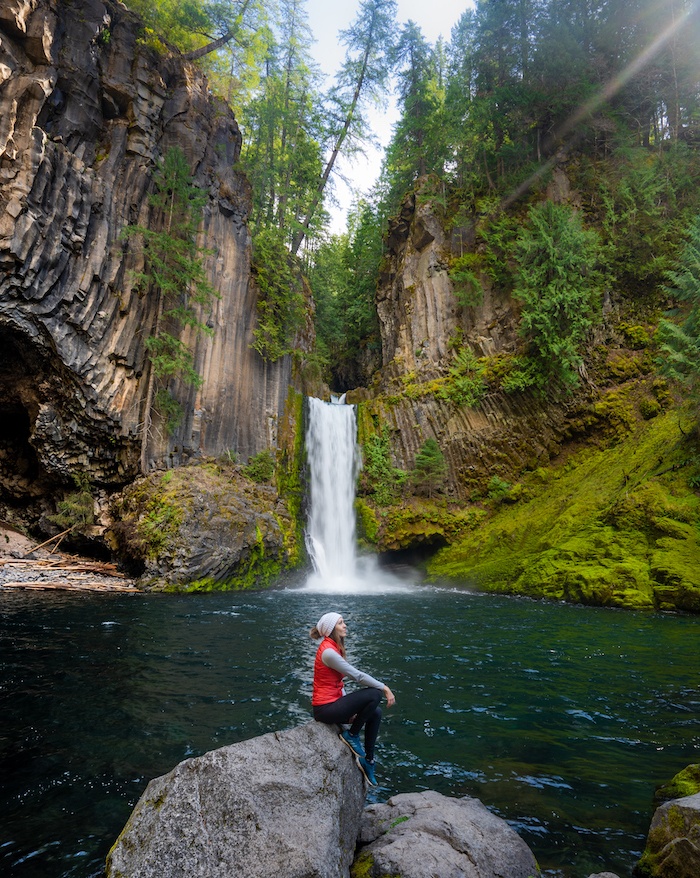 The beauty of Portland is that a solo traveler can be as social as they'd like in the city and then retreat to the forest for solitude at any time. Portland is just a short drive away from the Columbia River Gorge, where you'll find the majestic Multnomah Falls, among others.
In the city, you'll enjoy bearing witness to all of Portland's quirks, like its quintessential underground donut scene. Biking is quite popular in Portland, and you can join in on the cycling fun by taking a bike tour that focuses on the city's vibrant art and poetry culture.
11. Las Vegas, Nevada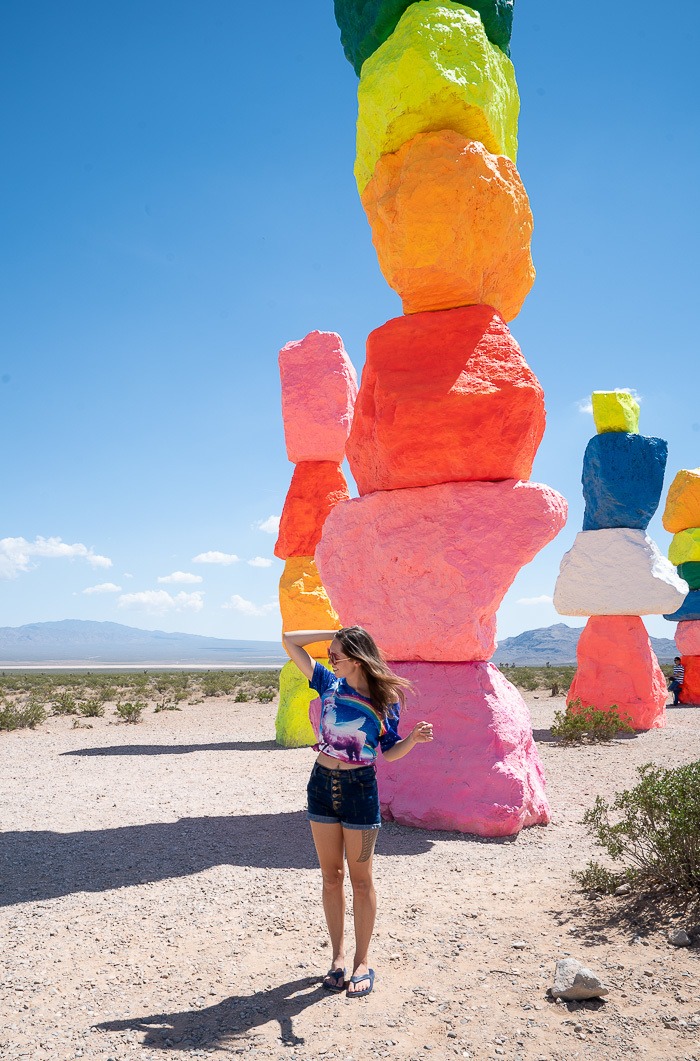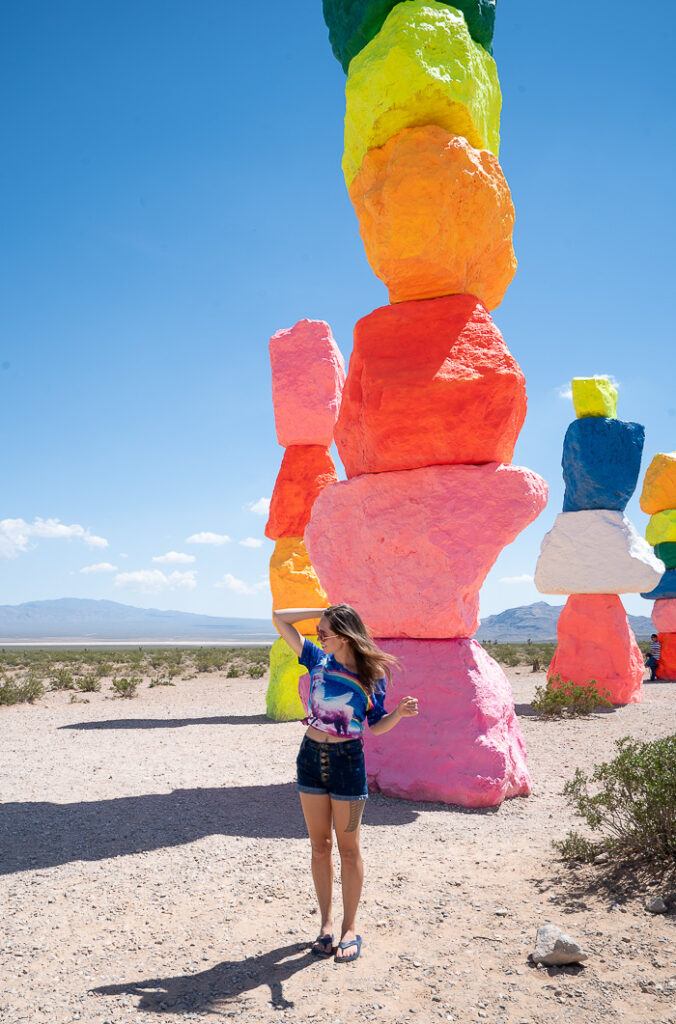 Las Vegas wouldn't have been the first place that I would have expected to be awesome traveling alone, but with so much to do, it's actually perfect! People are in a good mood. They're there to be social and have a good time. I almost always make friends when I visit, whether with a group, or by myself.
There are fun indoor activities like the famous wax museum, Madame Tussaud's, and there's so much to see that isn't on the strip, like the Grand Canyon and Hoover Dam. These are my favorite day trips to take from Las Vegas. Las Vegas is also an excellent jumping-off point if you want to explore Reno (below). You can plan your road trip based off this guide.
12. Reno, Nevada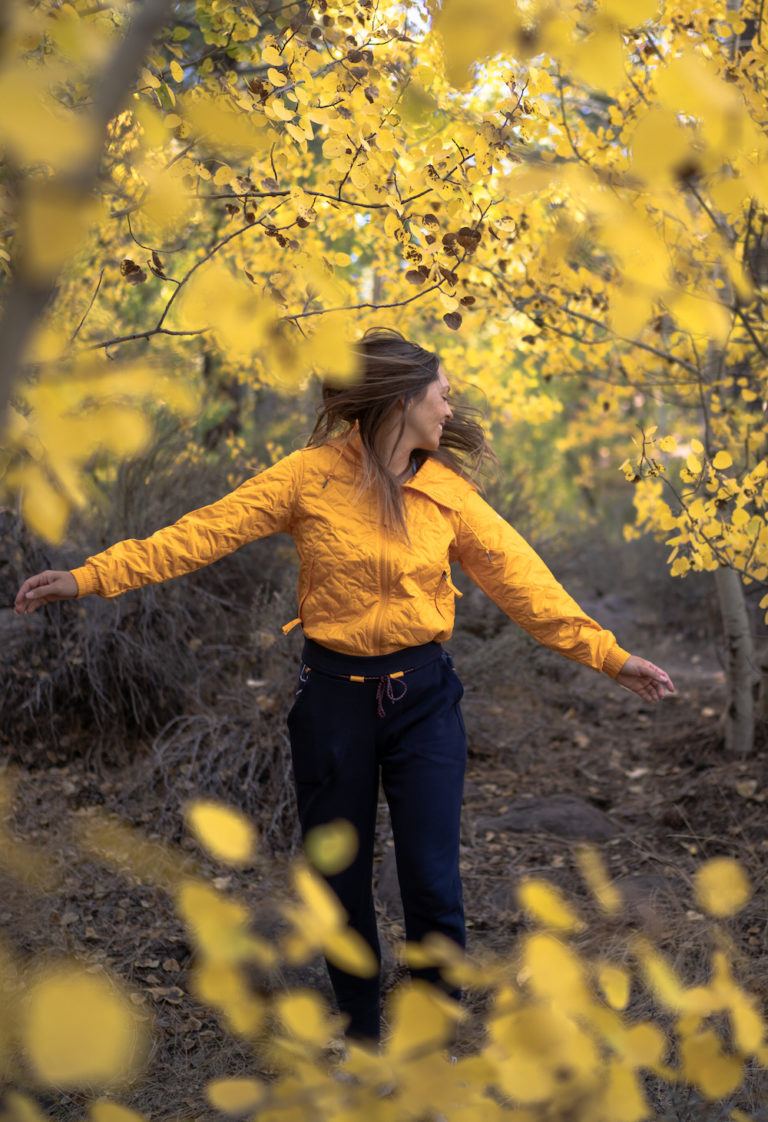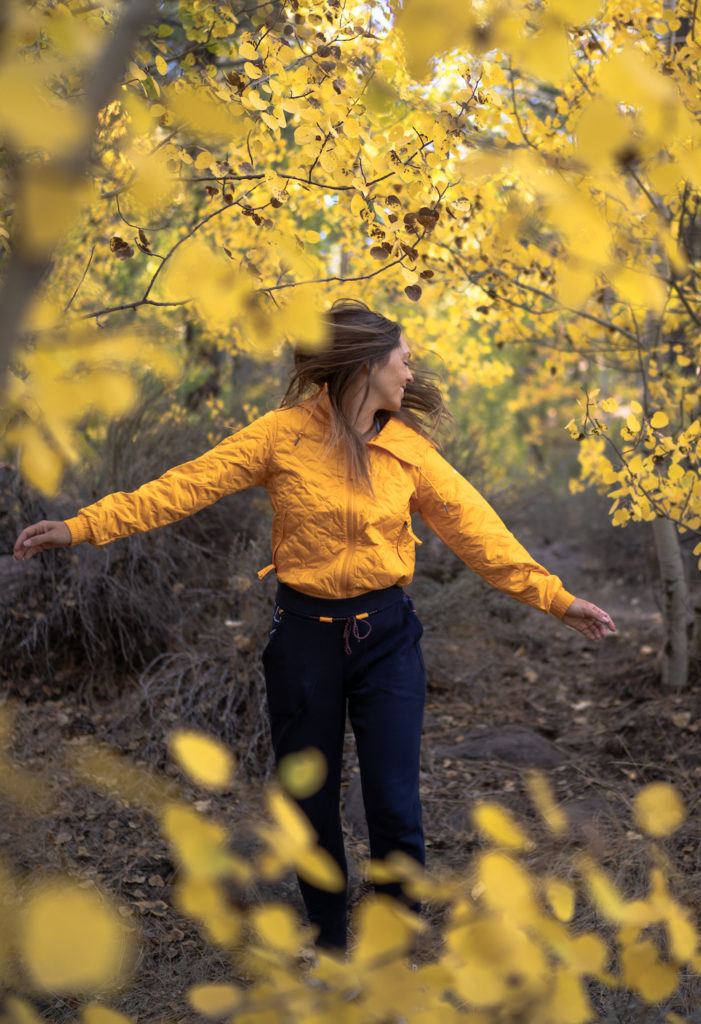 My current hometown, Reno is truly the biggest little city in the world. Because of it's pretty small size but excellent amenities, Reno a wonderful place to travel alone. It's a hub for those looking to get lucky at our casinos, and the perfect spot for events like the balloon race each September, when hundreds of hot air balloons take to the sky. Thanks to the art, food and culture boom of the last decade, there are tons of funky little cafes and restaurants.
If you love nature, there's a place for outdoorsy people, too, who want to hike or ski in and around Lake Tahoe. You'll find bobcats, the extraordinary lake, migratory birds, hiking trails, mountains, salt pans, sand dunes, brilliant stars, and hundred-year-old trees. In Reno, you'll have the time and space to take it all in.
13. Page, Arizona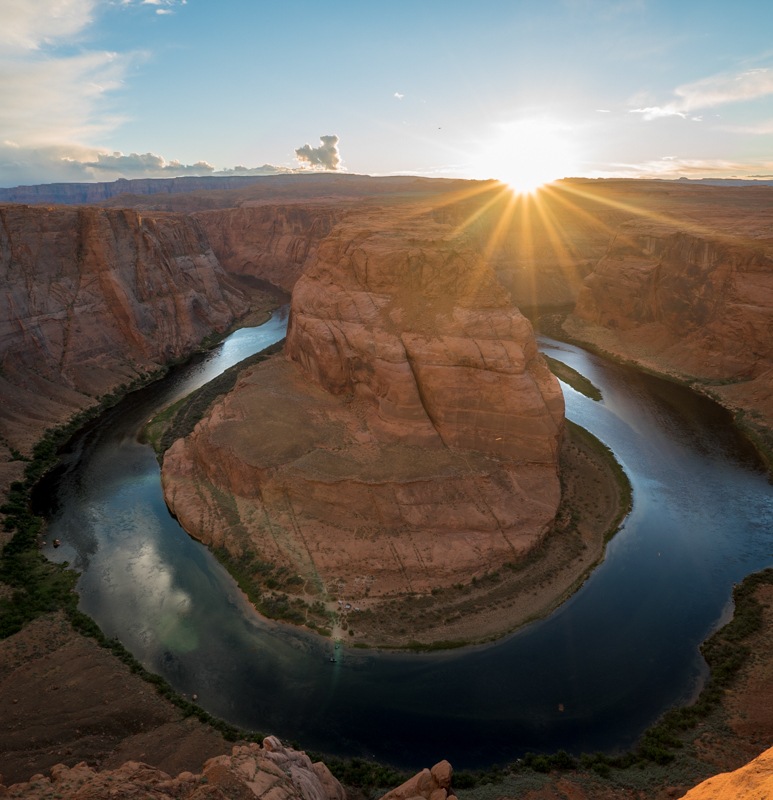 Page is the jumping-off point for several of Arizona's most beautiful places. I was blown away in particular by Horseshoe Bend and of course the famous Antelope Canyon. Since this part of the world attracts so many travelers, I found it easy to have conversations with others who were free-camping with me, and even made a friend when I ventured to the paid campsites for a shower (but not in the shower itself, we met in the parking lot later, I swear).
If you're considering which of the two canyons to visit, I did a comparison of Lower and Upper here, though both are worth checking out for different reasons!
Book your stay in Page, Arizona, here.
See tours available in Page here.
14. Moab, Utah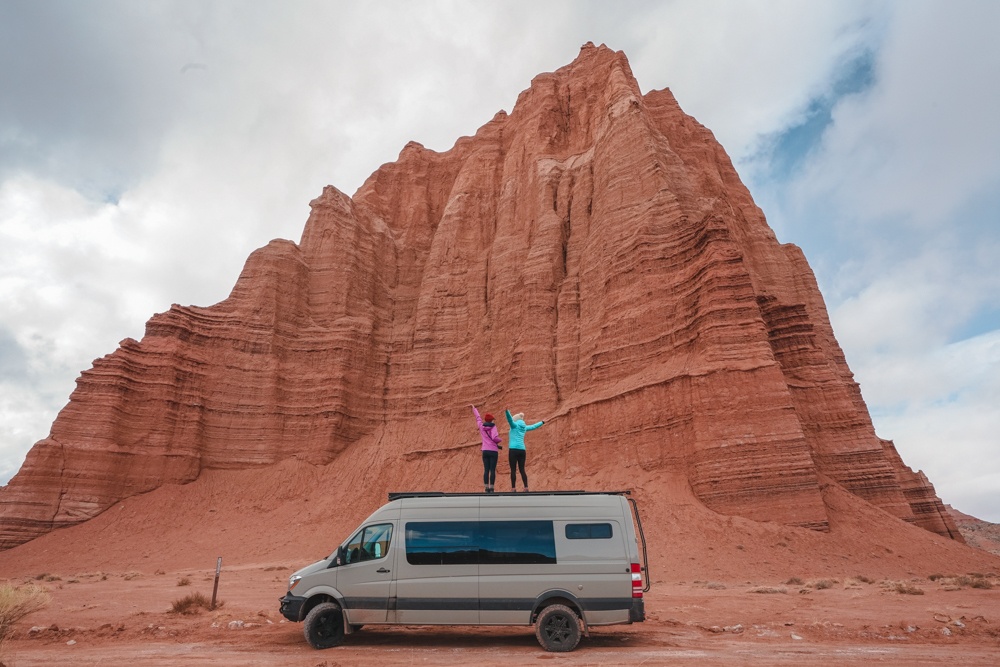 Utah is one of my favorite states to road trip through solo. I've done it twice and I'd do it again!
Although Zion National Park is gorgeous, and I love the national forests around Provo, it's Moab that I find the best as a solo female traveler. Moab is a mecca for outdoor enthusiasts. There are tons of parks like Canyonlands and Arches National Parks as well as Dead Horse Point State Park. Basically it's one of the most gorgeous areas on earth, with a high concentration of incredible rock formations and free campsites, and plenty of things to do.
I tend to find that when a place attracts people because of common interest, especially something outdoorsy, it tends to be social. Moab is no exception. It's a favorite amongst van-lifers, which means you'll have plenty of opportunities to meet others on the trails, in cafes, and at viewpoints.
15. Sun Valley, Idaho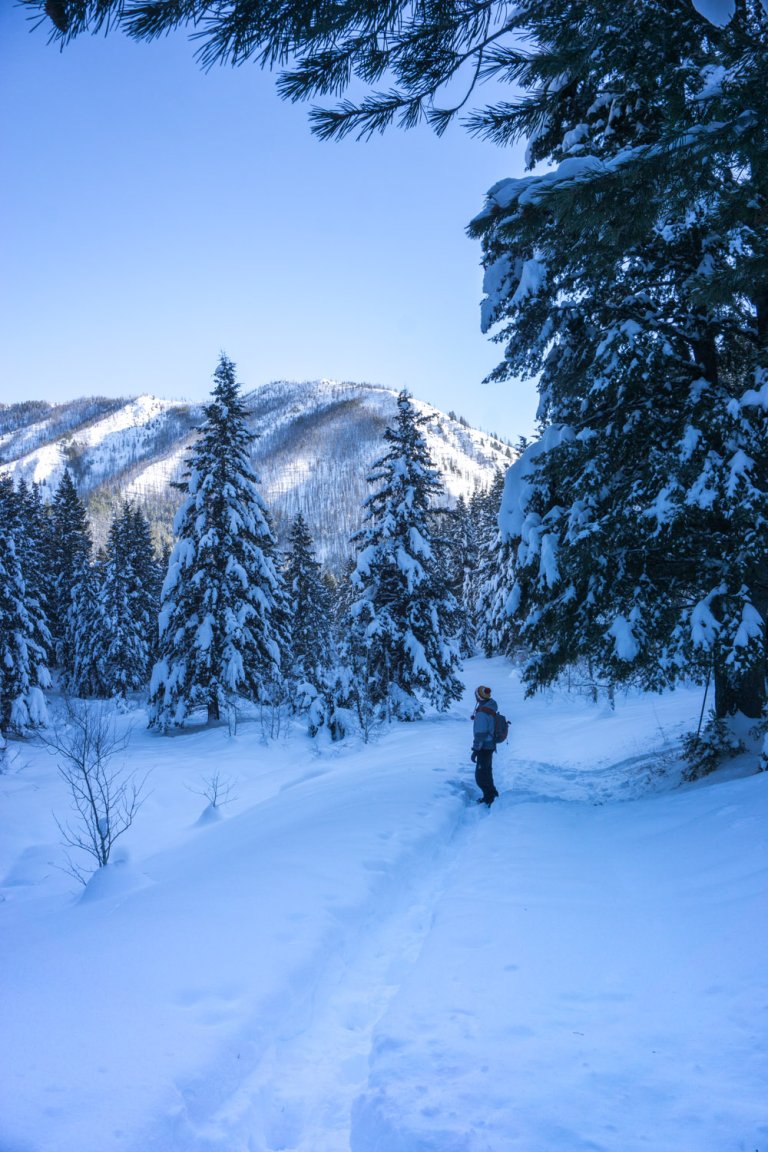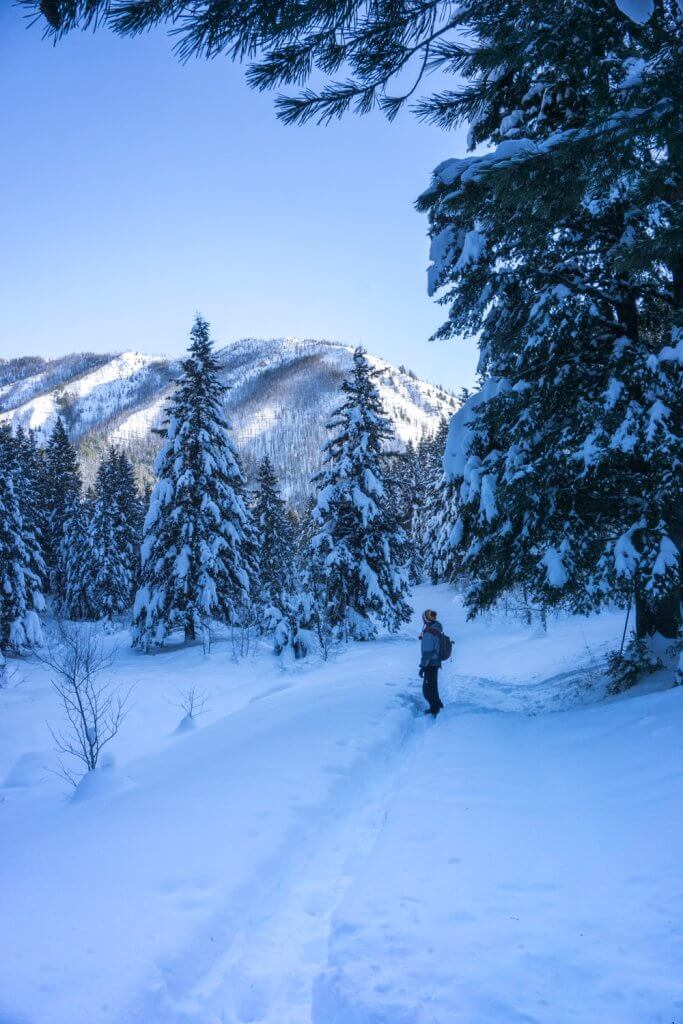 Idaho really must be one of the most beautiful states in the wintertime. I stayed in Sun Valley for a winter and fell in love with the tranquil views, the spectacular sunsets, and snowmobiling when my legs were too tired from snowshoeing and skiing.
Sun Valley is a quaint town with fantastic skiing and snowshoeing, natural hot springs, and locals who are more than happy to have a conversation with visitors and newcomers. If you want to venture outside of Sun Valley, there are tons of amazing hot springs to check out. You can find my itinerary here.
Book your stay in Idaho here, or stay in a cozy, heated treehouse!
16. Glacier National Park, Montana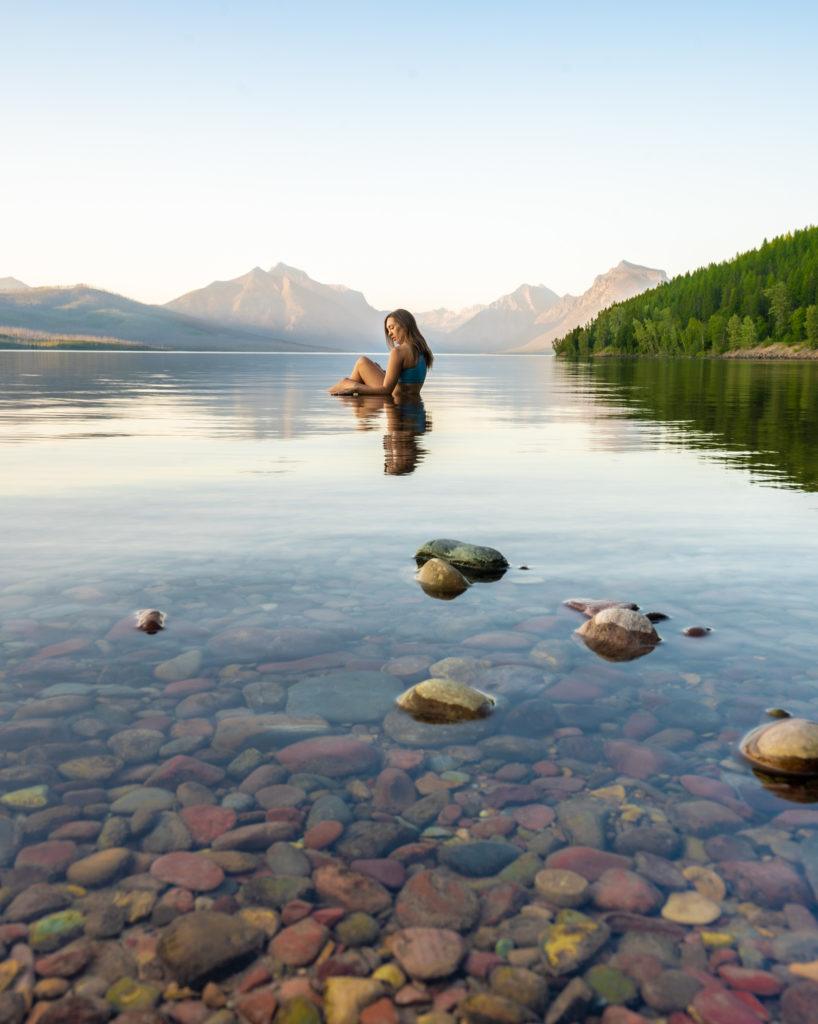 Glacier National Park in Montana is a magical slice of outdoors heaven that is perfect for solo travelers with an adventurous spirit and who thrive in solitude. Here you'll find crystal-clear lakes, abundant greenery as far as the eye can see, and some of the best stargazing in the US.
Don't be intimidated by the park's size, because it's totally doable to visit for just a couple of days. Check out everything you can do in Glacier National Park in just 48 hours for inspiration.
17. Santa Fe, New Mexico
Santa Fe seems like the more upscale, artsy, and design-focused part of New Mexico — and I love it! While other parts of the state have their own character, Santa Fe served up that quintessential Southwestern vibe that most people picture when they think of New Mexico.
This is where you'll find some of the finest restaurants, the Georgia O'Keeffe Museum, and the IAIA Museum of Contemporary Native Arts (MoCNA). The Meow Wolf Museum was a trippy wonderland, and the galleries of Canyon Road had me enchanted. It's a solo traveler's paradise, with many awesome things to do.
Mid-West
18. Bayfield, Wisconsin
Midwesterners are known for being friendly, and they lived up to their reputation when I visited Bayfield, Wisconsin. It's an artsy town with outgoing residents, and it's small enough that it feels intimate, yet big enough that there is plenty to do. Join a kayaking or boat trip, or take a drive around to the various orchards.
There are plenty of beaches and quirky hangouts as well, and camping opportunities abound. If you visit in the winter, the famous caves ice over, which looks incredible. If you're into photography and the outdoors, then you will absolutely love this little town on Lake Superior, the jumping-off point for the Apostle Islands.
Book your stay in Bayfield here.
19. Chicago, Illinois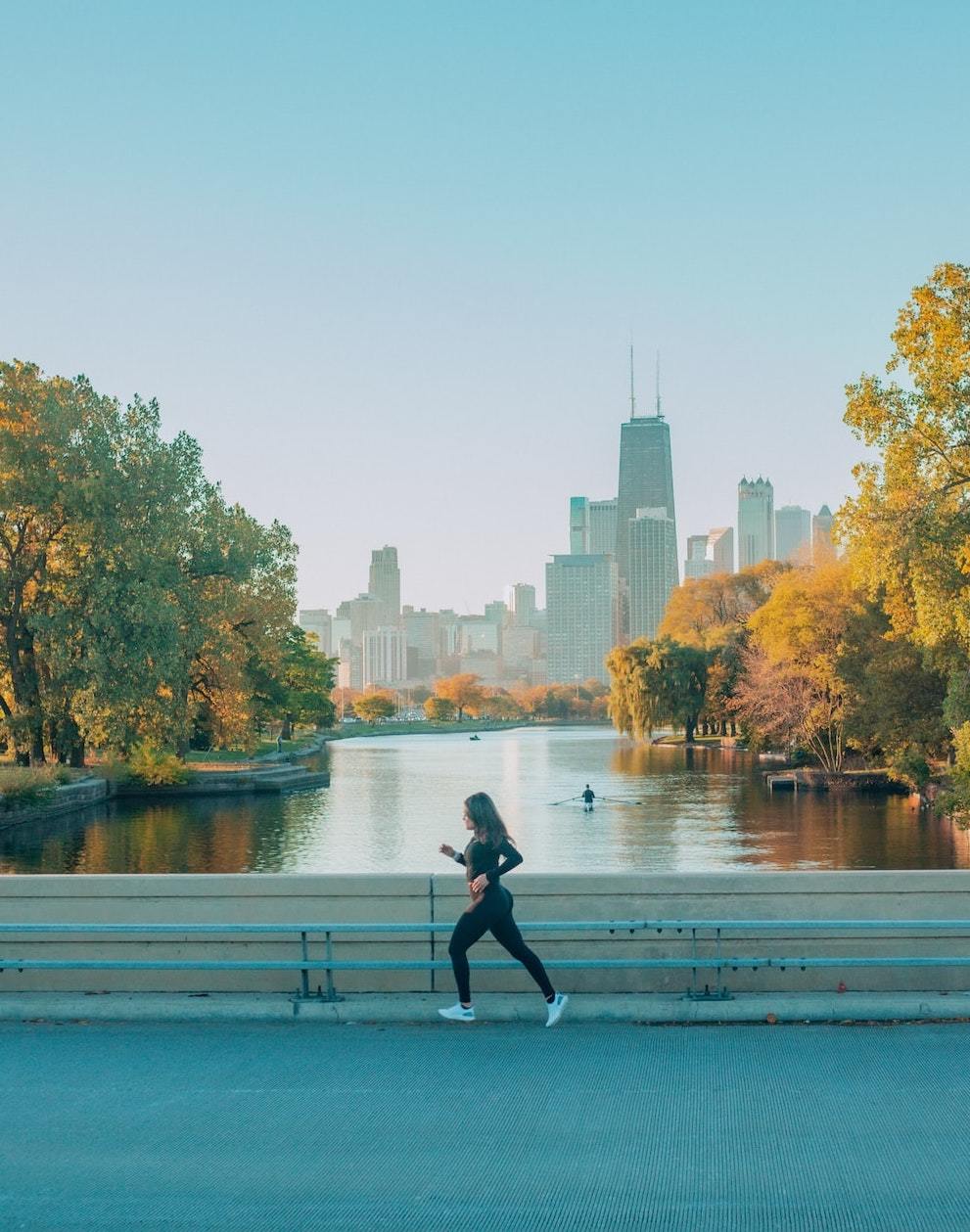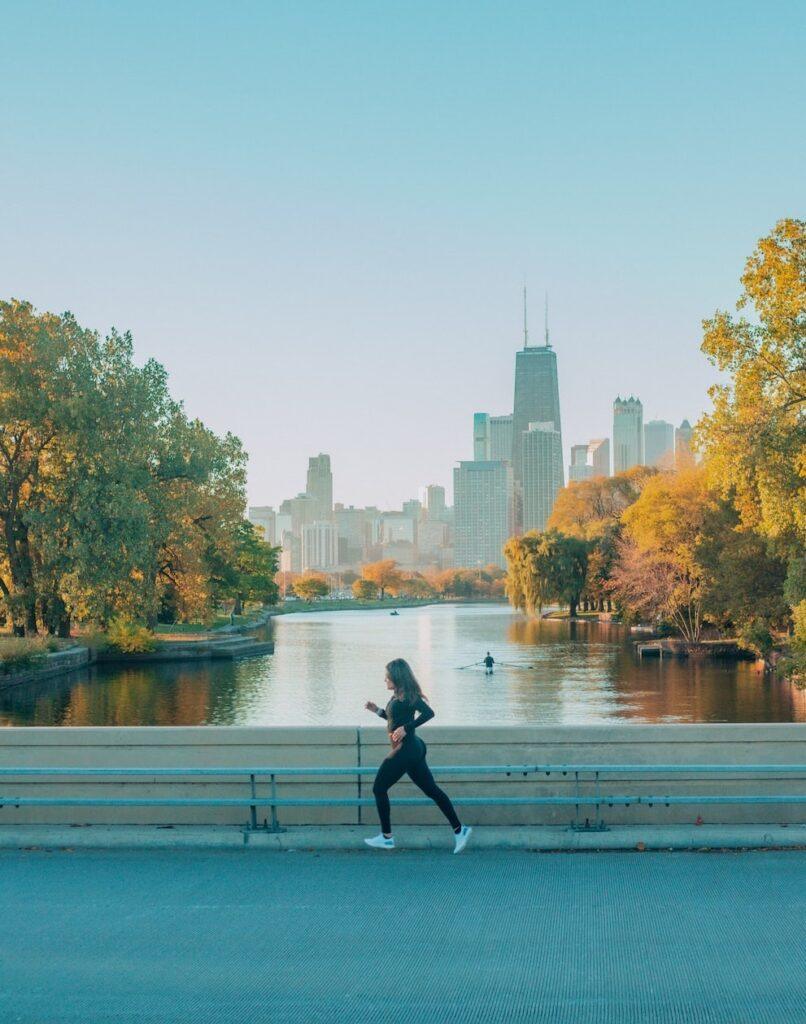 Visiting such a large city solo gives you a sense of anonymity that can be exciting. When I lived in Chicago, I loved going on solo adventures all over town and discovering cultural gems, quirky restaurants, and unexpected museums. Each neighborhood in Chicago has a personality of its own, filled with endless adventures. Whether you're staying for a couple of days or a few weeks, you can be sure that Chicago lives up to the hype of its being one of the most fascinating cities in the country.
No matter if you visit during the frigid winter or the lively summer, don't miss out on an architecture boat tour — Chicago is bursting with history, and many stories come to the surface through its unique architectural history. You can also take a tour of the legendary Art Institute of Chicago before opening hours, for a VIP experience.
I recommend that solo travelers choose accommodations that are in the Loop (downtown) area or close to an L train (Chicago's metro) for easy access to public transport. This will give you the freedom to move around town without having to navigate the buses or use rideshares, which can get expensive, especially if you're on your own.
If you are looking for ways to save money, check out all these incredible things to do in Chicago for free!
20. Detroit, Michigan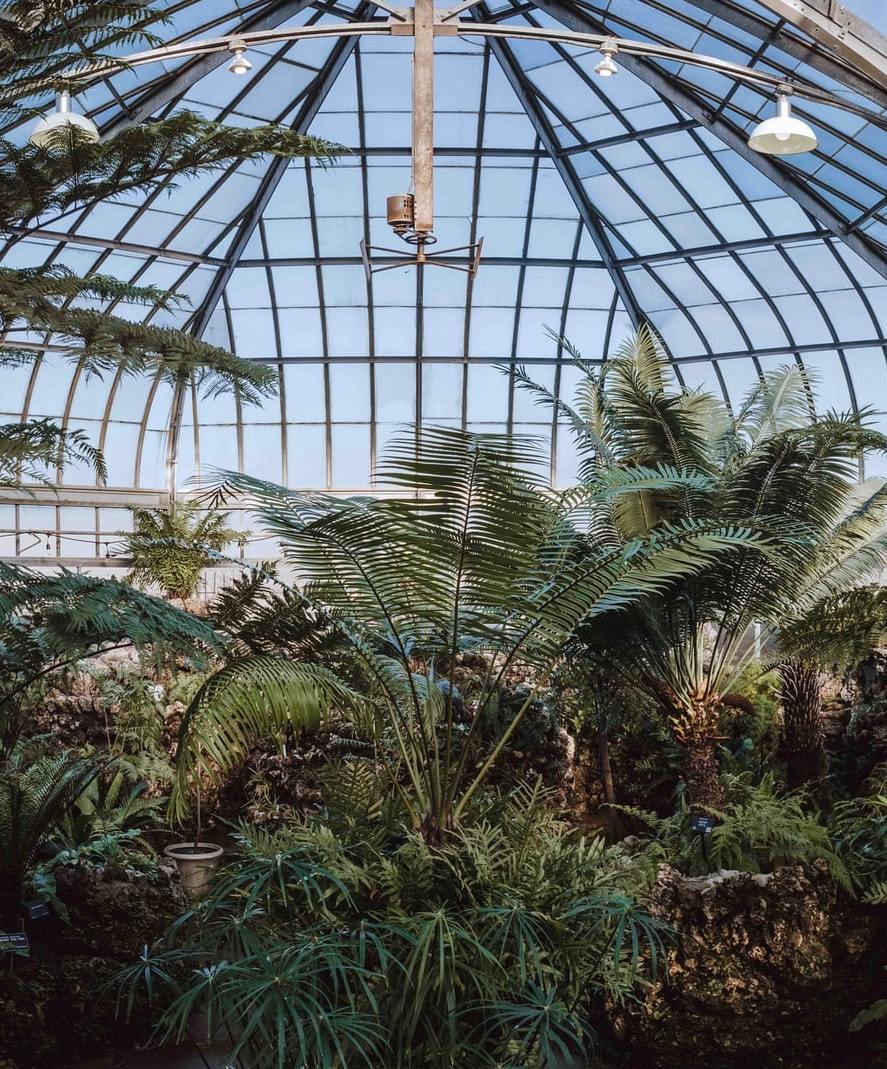 Although it's known as the Motor City, there's so much more to Detroit than cars and engines. It has a reputation for being one of the most historically rich destinations in the country, let alone the Midwest. It's famous for its contributions to music, industry, and architecture especially.
Start your solo trip to Detroit with a walking tour that highlights the city's beauty and architectural gems. You also won't want to miss a trip to Belle Isle, a massive, 982-acre island park home to a conservatory, aquarium, museum, and nature center. Who knew you could find a peaceful green paradise in such an industrial place?
That's what makes Detroit so special for a solo trip, though. You could spend hours walking around town, getting a feel for its urban flair, and then head somewhere else to connect with nature and find solitude.
There is so much to do in Detroit, you might find yourself going back over and over again for a solo trip or otherwise.
The South
21. New Orleans, Louisiana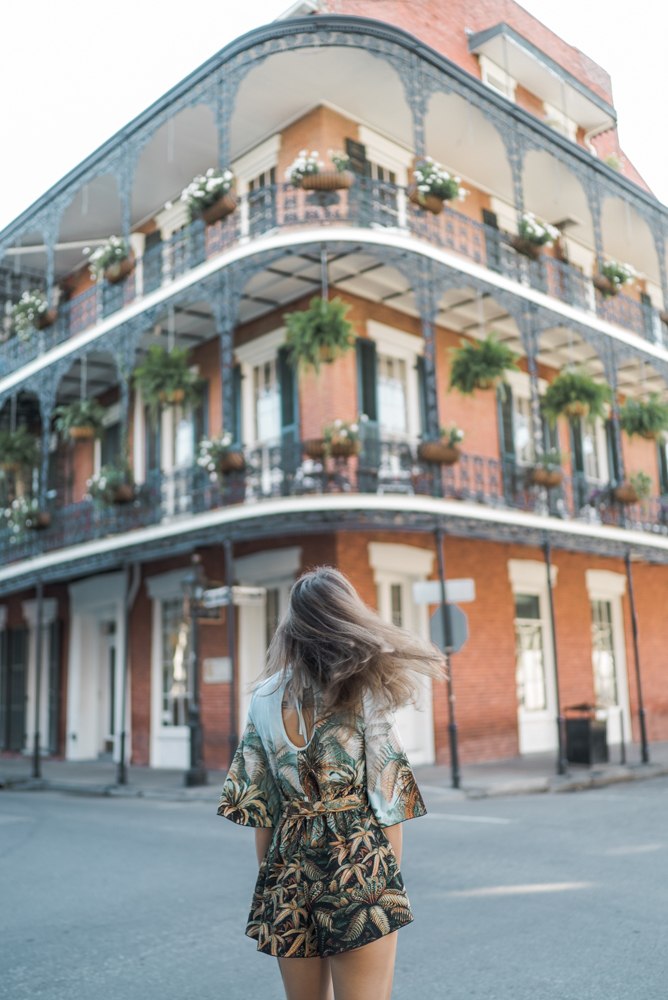 New Orleans is the perfect place for solo female travelers; there's something for everyone here (check out our vegan guide!). You'll find a fascinating and rich cultural history, one that you can discover over a long weekend, and then of course NOLA is known for Bourbon Street and Mardi Gras. If it's your first trip, stay in a boutique hotel on Royal Street, right near the allegedly haunted LaLaurie Mansion, or check out our list of boutique hotels in New Orleans. While you may have heard of the Garden District and the French Quarter, you absolutely cannot miss the Bywater district where you'll find hipster art and culture with a Southern twist.
Though New Orleans is a large city, you can easily get around via public transportation (bus or streetcar), or navigate on foot. You'll be surrounded by tourists and locals and as with any city, exercise precautions. Our New Orleans packing list will help pack to get the most out of your trip.
Book your stay in New Orleans here.
22. Austin, Texas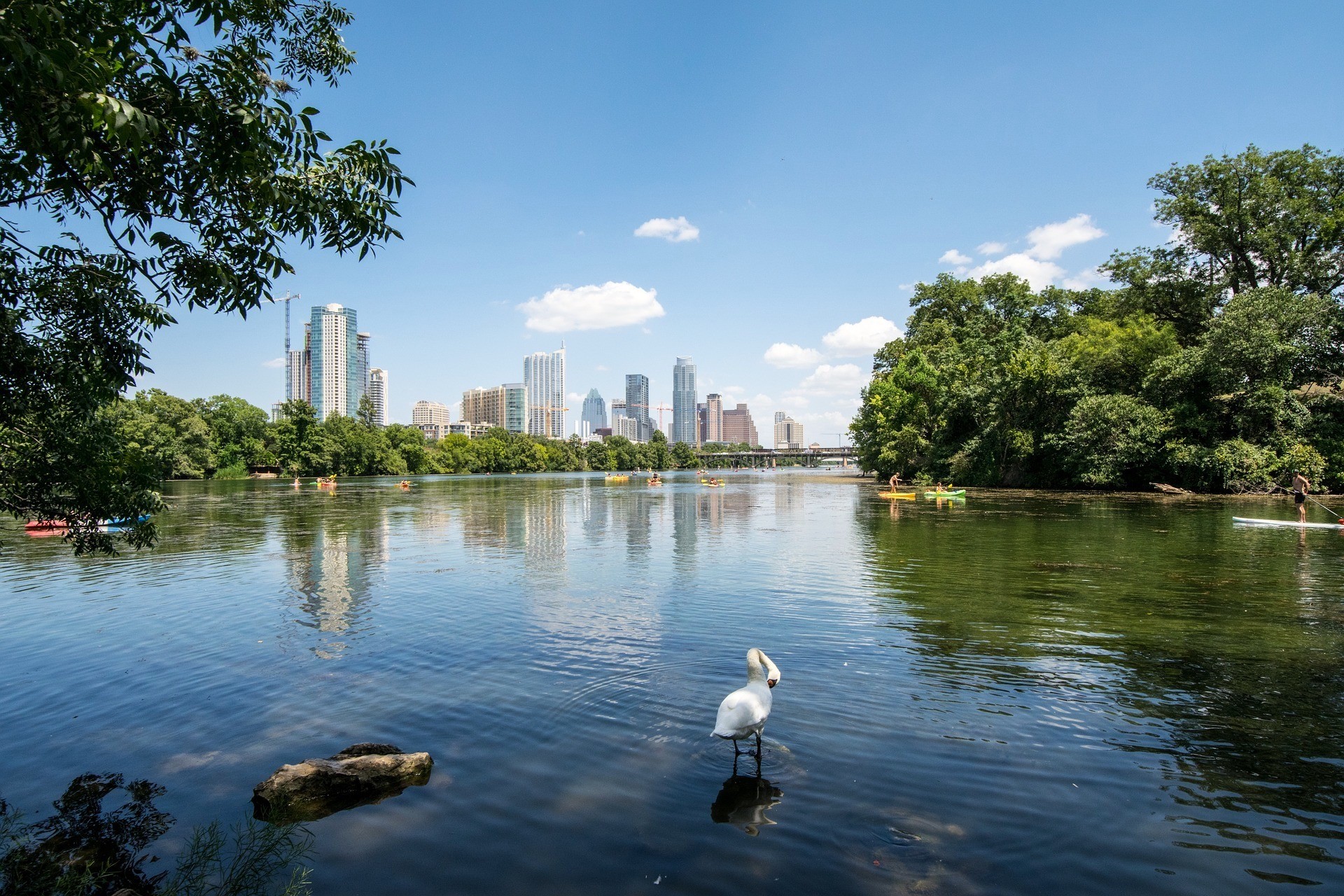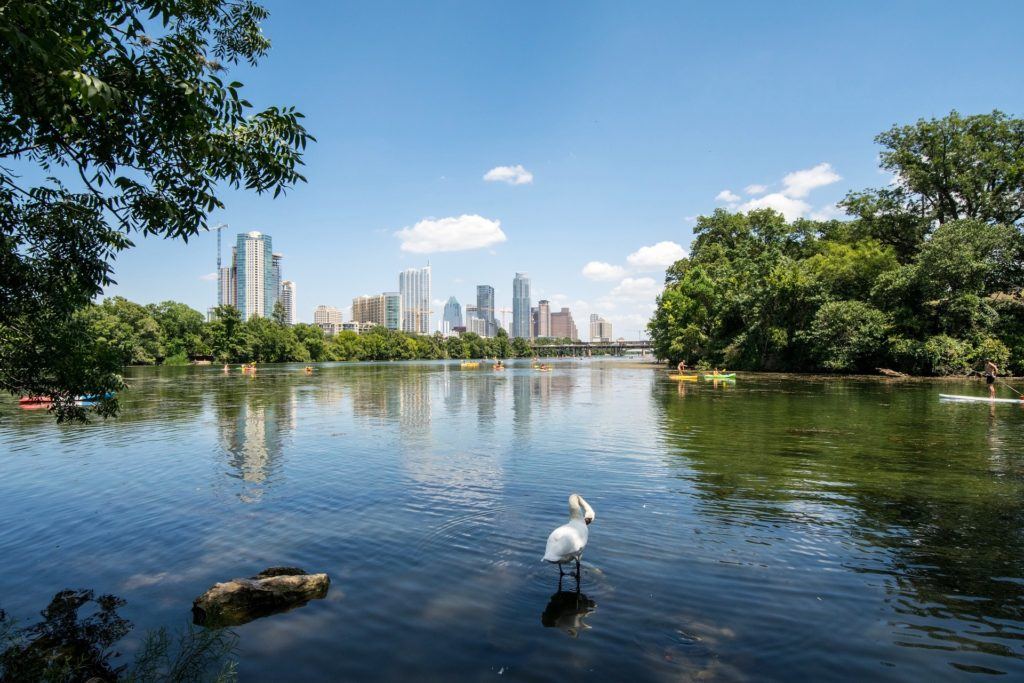 In recent years, Austin has completely exploded in popularity. More and more young people are choosing to transplant themselves to this hip Southern city, and I can't blame them. There's so much to do there — from catching live music to the summer street festivals and top-notch museums, this city has it all.
Austin is the perfect solo destination for travelers who enjoy meeting other people on the road. It's very social, with bustling restaurant, café, and bar scenes. Go vintage shopping at North Loop Vintage Shops, see the city via bike tour, or connect with your inner child at the Museum of Ice Cream. It's no wonder Austin is such a popular destination for travelers, solo or otherwise.
23. Big Bend, Texas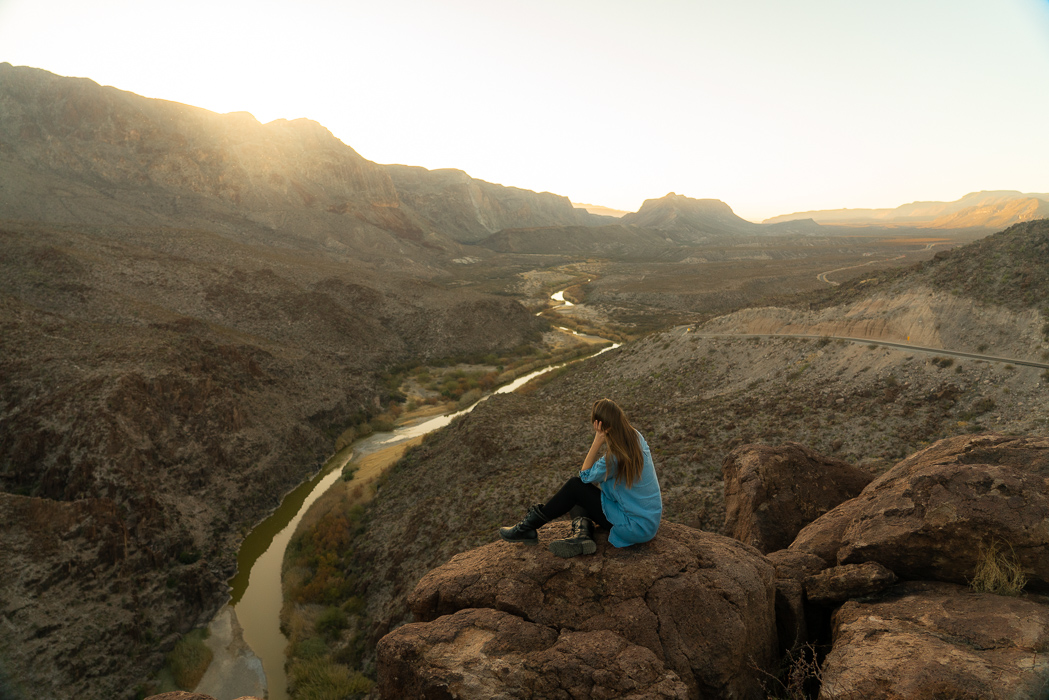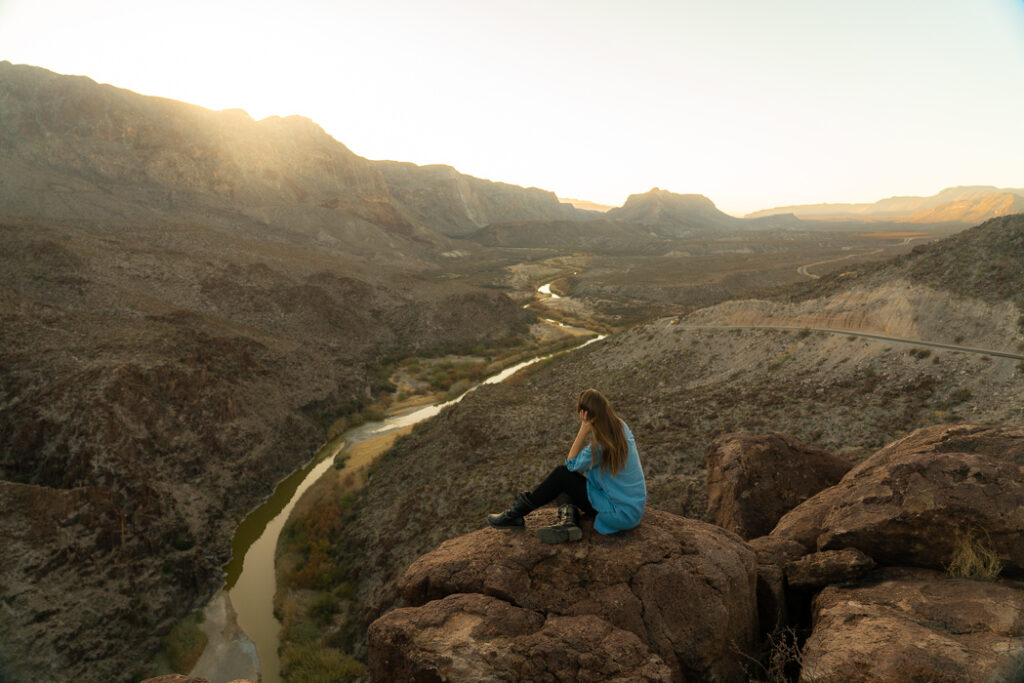 They say everything is bigger in Texas, and that's certainly how it felt exploring Big Bend National Park. The sky, the landscape, and the wide open spaces felt endless. Plus, Texans are friendly.
Check out the Windows, watch the sunset on the Rio Grande, and hike til your heart's content in one of the biggest national parks in the system.
24. Nashville, Tennessee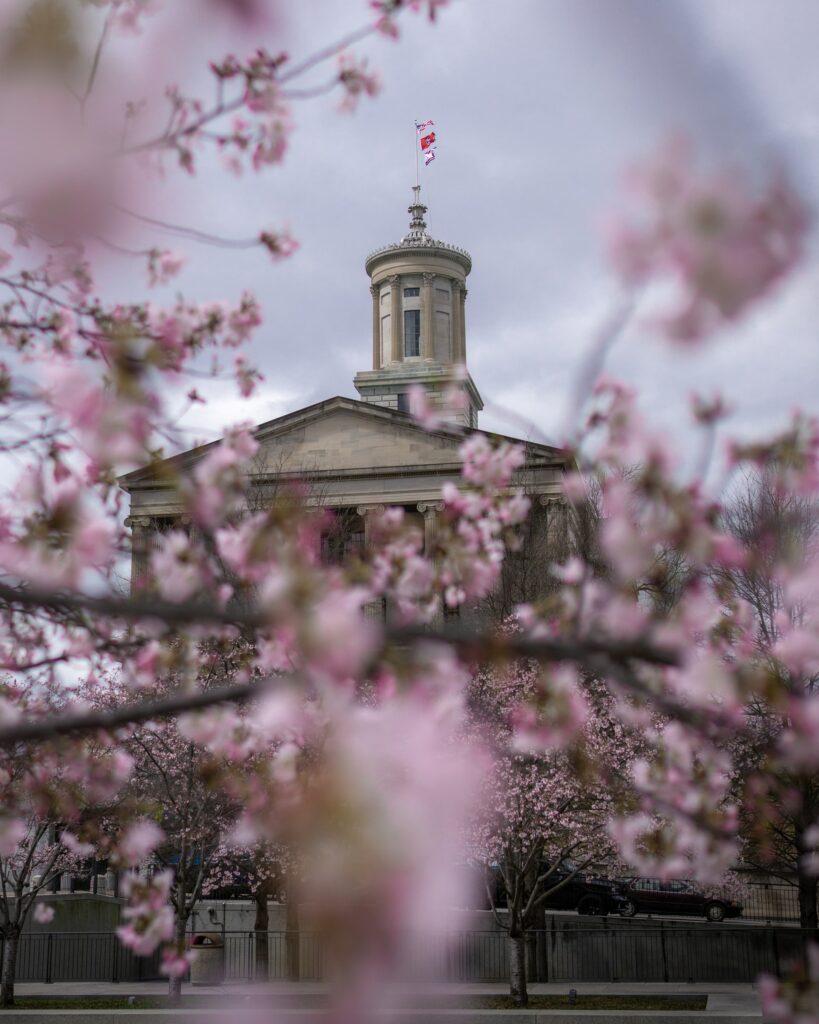 Famously a destination for girls' trips and bachelor bashes, Nashville has a bit of a reputation for being a party city. Maybe as a solo traveler, this is exciting to you. If it's not, no worries! There is much more to Nashville than its vibrant nightlife.
Nashville is bubbling over with historic sites, street festivals, live shows, and much more. It's also one of the cheapest destinations in the USA and has plenty of free things to do. The Tennessee State Museum and Cooter's Place Museum are among many free museums one can visit; there are also plenty of parks and the legendary Music City Walk of Fame.
When you travel solo, you don't have anybody to split transportation and accommodation costs with, so finding affordable destinations makes a big difference in how much you can stretch your dollar. Nashville is my top pick for an affordable solo trip.
25. Islamorada, Florida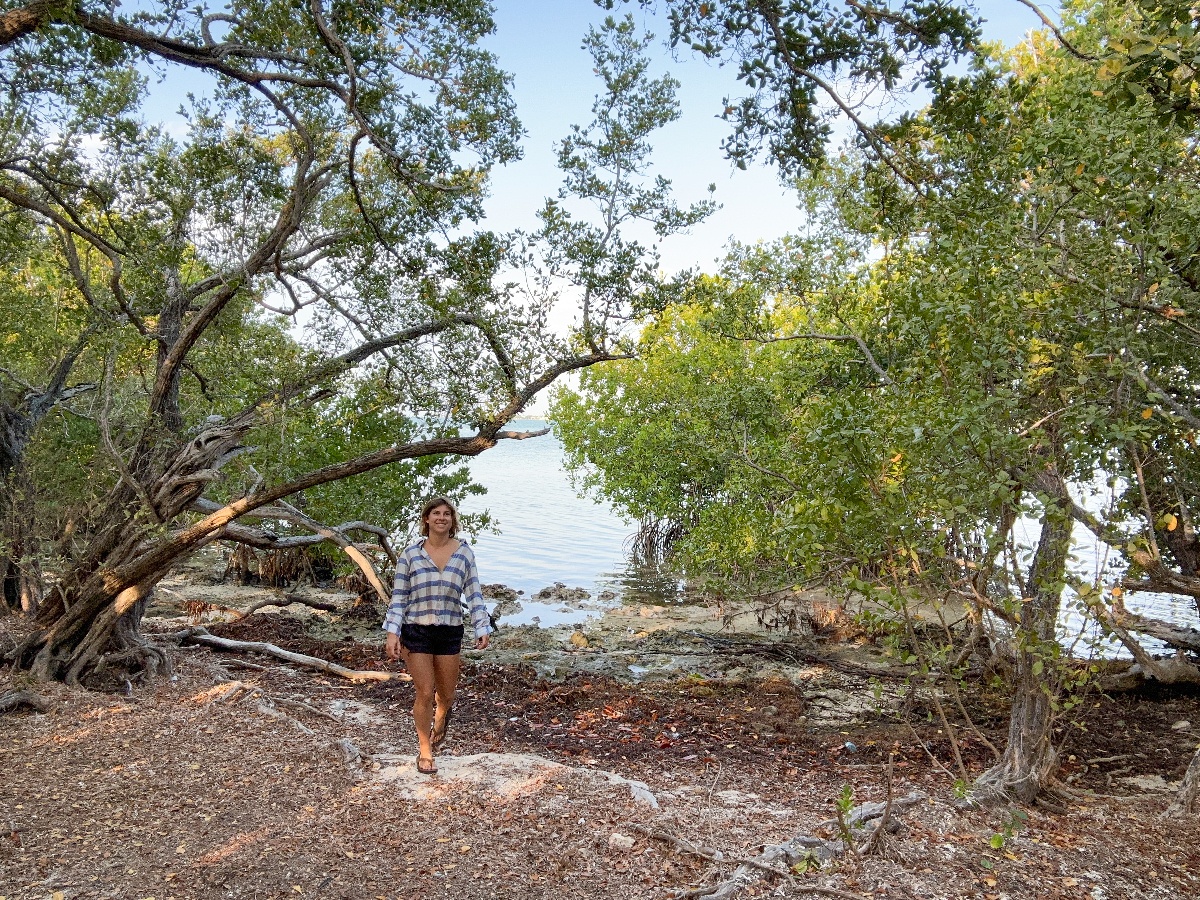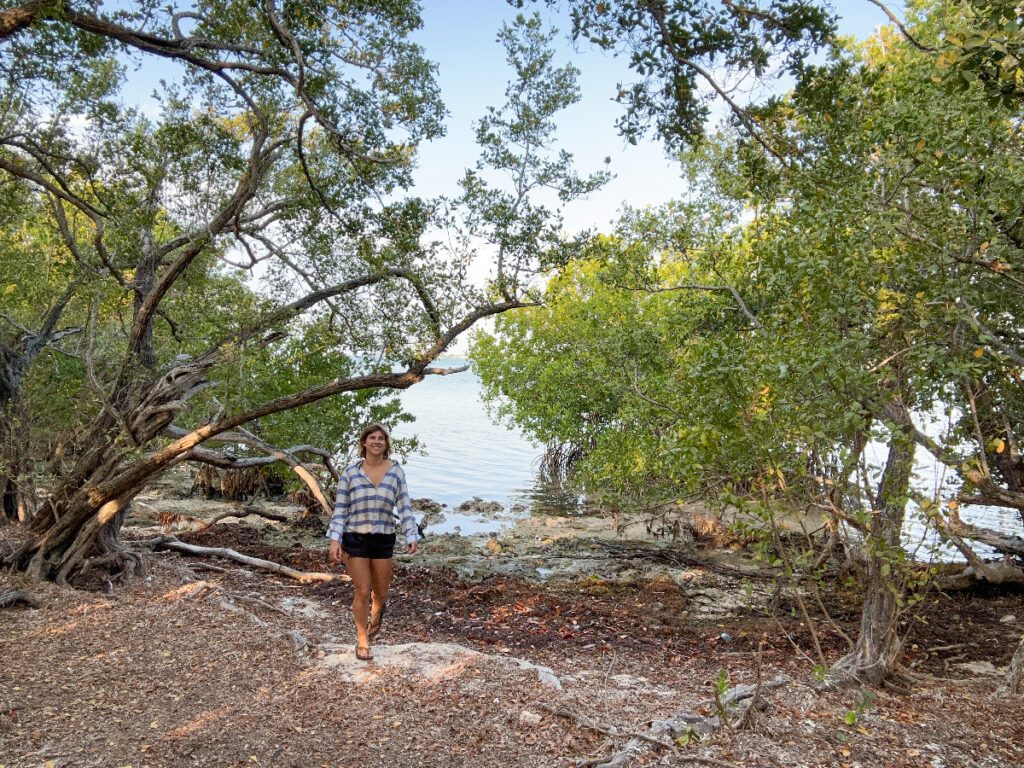 Also known as the Village of Islands, Islamorada is a beautiful destination for a solo traveler. The best time to visit is during the winter or early spring when hurricanes are raging somewhere else. When you get here, it's super easy and affordable to navigate the town with the free taxi-service in electric vehicles called Freebee.
Islamorada has beautiful snorkeling (interested in snorkeling in Key Largo?), awesome fishing opportunities, and uninhabited mangrove islands to explore. If you rent your own boat, you can go to some of the best off-shore reefs and fishing spots; if you rent a kayak, you can check out the historic ghost town of Indian Key.
Water-based activities aren't for everyone though, so hop on the road and drive over to Windley Key to walk along giant walls of carved limestone. Islamorada also has a thriving local arts culture, supported especially by the Morada Way Arts & Cultural District. Plus there are beautiful beaches (check out the best beaches in Key Largo), and vibey restaurants where you can find locally caught seafood, live entertainment, and activities like feeding the tarpon. Uniquely situated among the rest of the Florida Keys, you can also conveniently take a bus north towards Key Largo or south towards Key West, stopping at tropical destinations along the way like those in Marathon and Big Pine.
Book your stay in Islamorada here (the hotel also offers fishing charters!).
26. Miami, Florida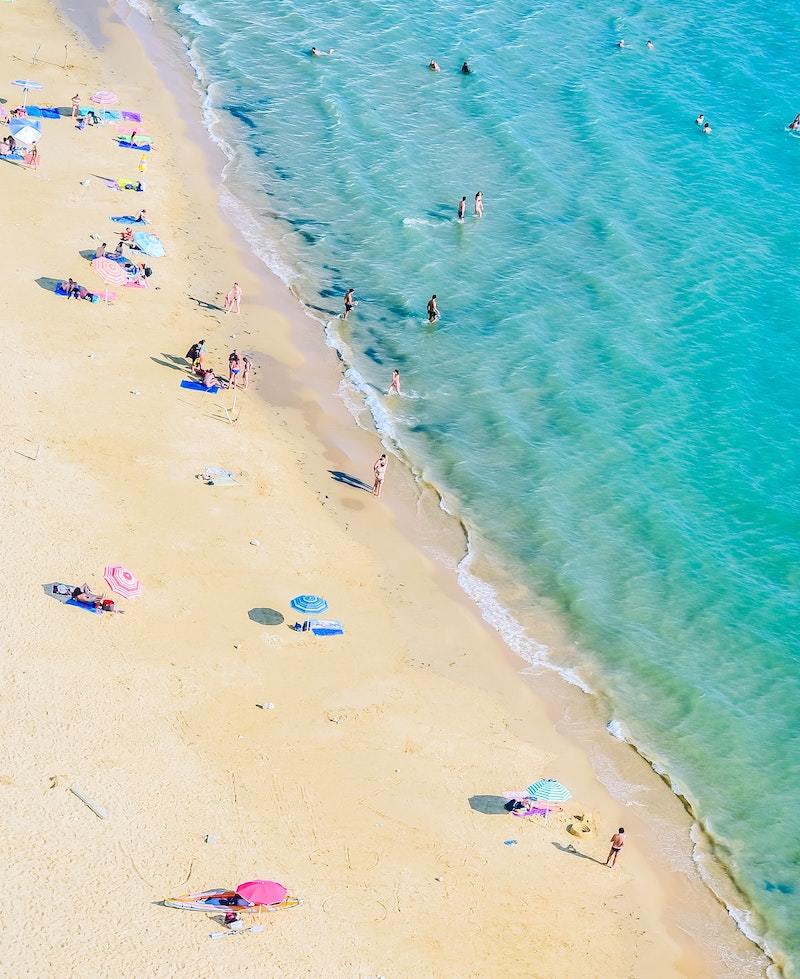 Colorful and vibrant, Miami stands out as one of the most unique cities in the US. Between hearing salsa at all hours of the day in Little Havana and finding murals from world-renowned artists throughout the city, your senses will be delighted here.
If you thought Miami was all about crowded beaches and roaring nightclubs, think again. It's a great place for solo female travelers, because of the abundance of things to do in Miami. Plus, the city has an excellent reputation for being extremely hospitable, and even quite safe in general.
Whether you are looking for a beach vacation where you can soothe your worries with a dip in the ocean or a full-on intercultural experience, you'll find it in Miami.
27. Savannah, Georgia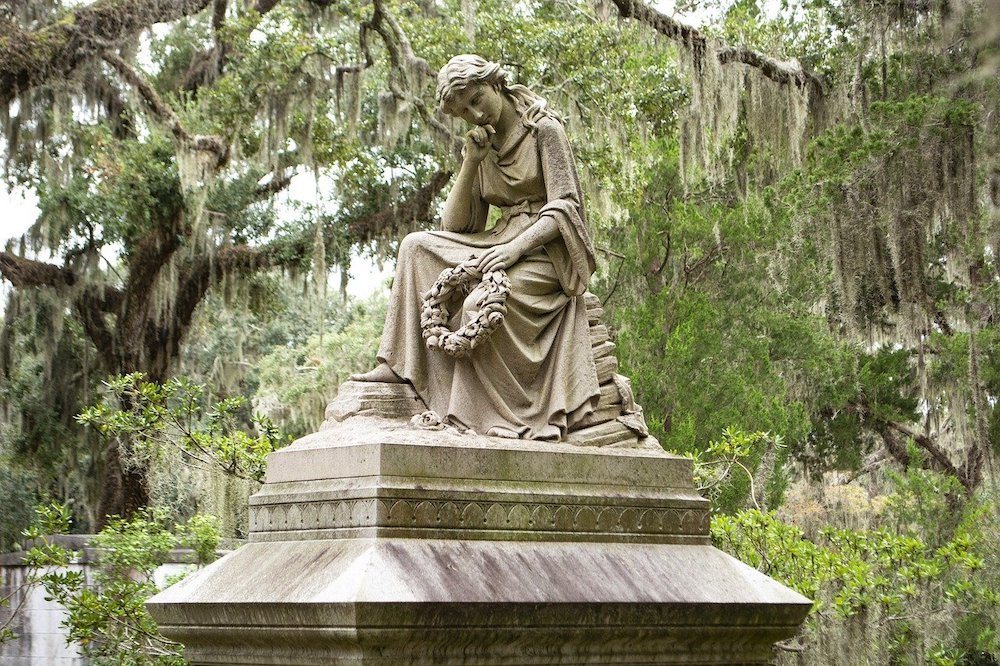 Savannah is dripping with Southern charm, and definitely has plenty to do to keep any solo traveler occupied. Some travelers describe it as the closest thing to a fairytale, and judging by the elaborate architecture, towering oak trees with Spanish moss, and overall historical atmosphere, I think they're right.
Fall in love with Savannah by hopping on an e-bike tour to see the city's highlights. As it's such a globally recognized soul food destination, get a taste by taking a food tour. Both of these activities are great if you want to have a bit of social interaction with other travelers, but if you want to hit the town solo, make sure to spend time strolling through the Historic District and River Street.
Ready to be enchanted? Check out this ultimate Savannah Guide for more ideas of what to do and where to eat.
28. Washington, DC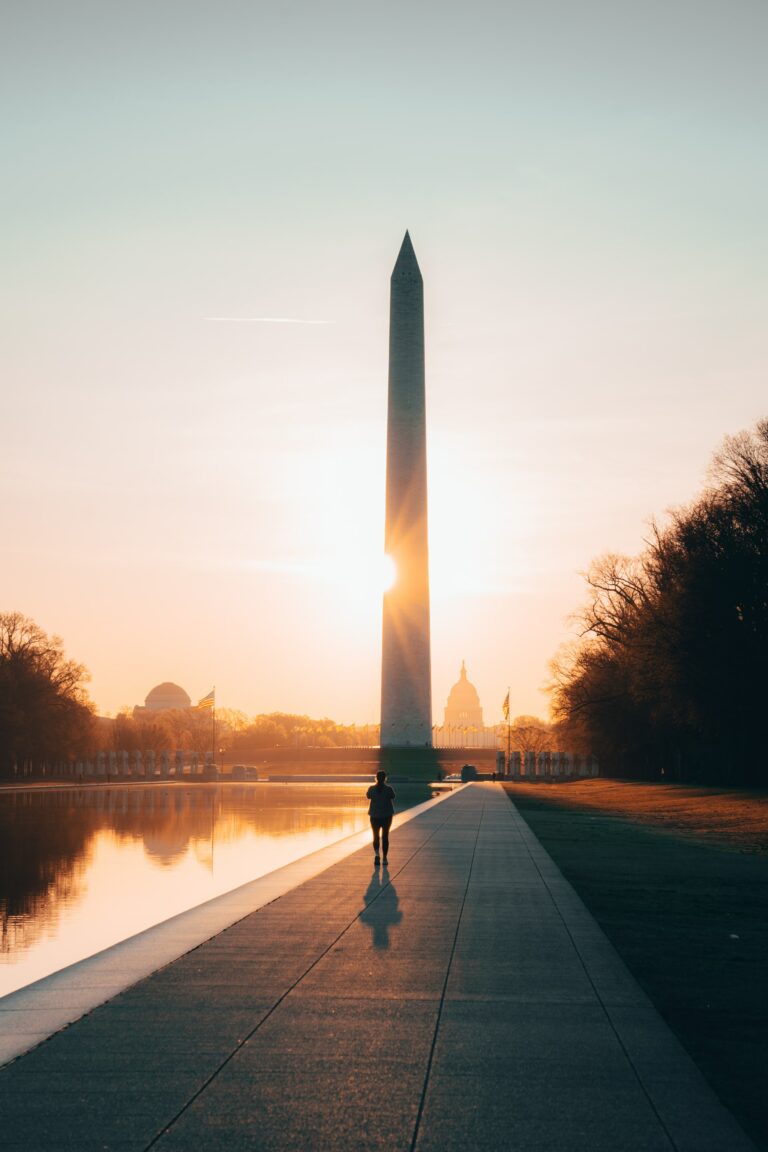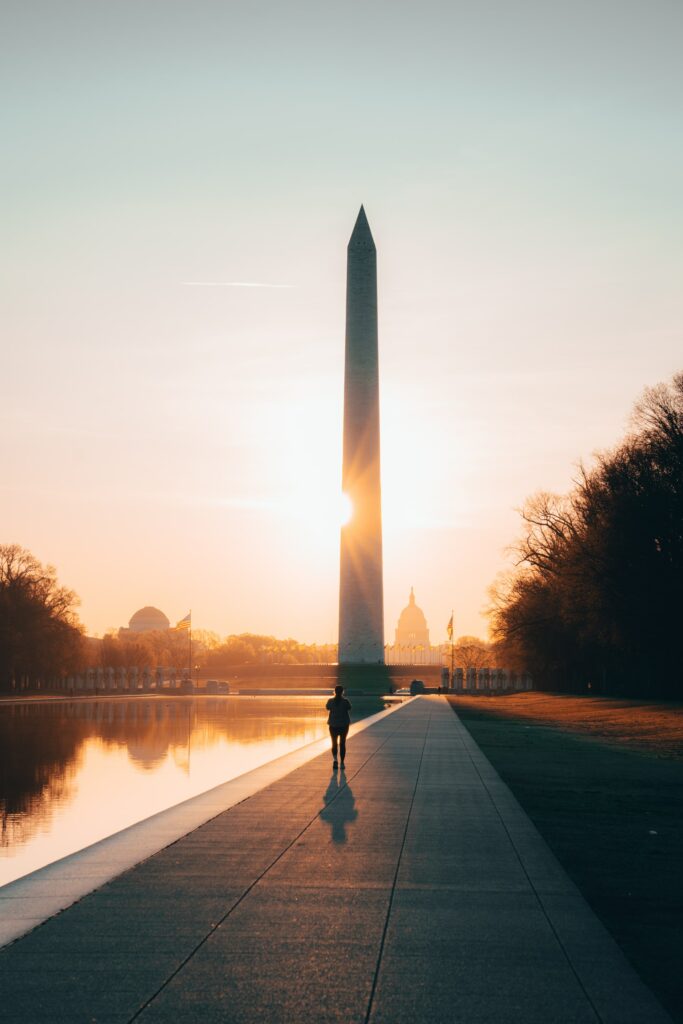 Our nation's capital city is undoubtedly the mega-hub for incredible historical sites and museums, such as those at the National Mall. Personally, I prefer going to museums solo, so I can move through each exhibit at my own pace. I'm that girl that needs to read every placard and see every little thing, so going by myself gives me the freedom to do that without holding anybody else up.
If this is also you, Washington DC will be heavenly to visit alone. Get up before dawn to see the way the rising sun illuminates the Lincoln Memorial, because nobody can stop you. This city is truly magical at sunrise, before the hustle and bustle of the day begins.
You can also grab a seat on a historic hop-on-hop-off landmarks tour for another self-paced option. Or, if you prefer your history lesson a bit spookier, check out this haunted history ghost tour.
The Northeast
29. Cape Cod, Massachusetts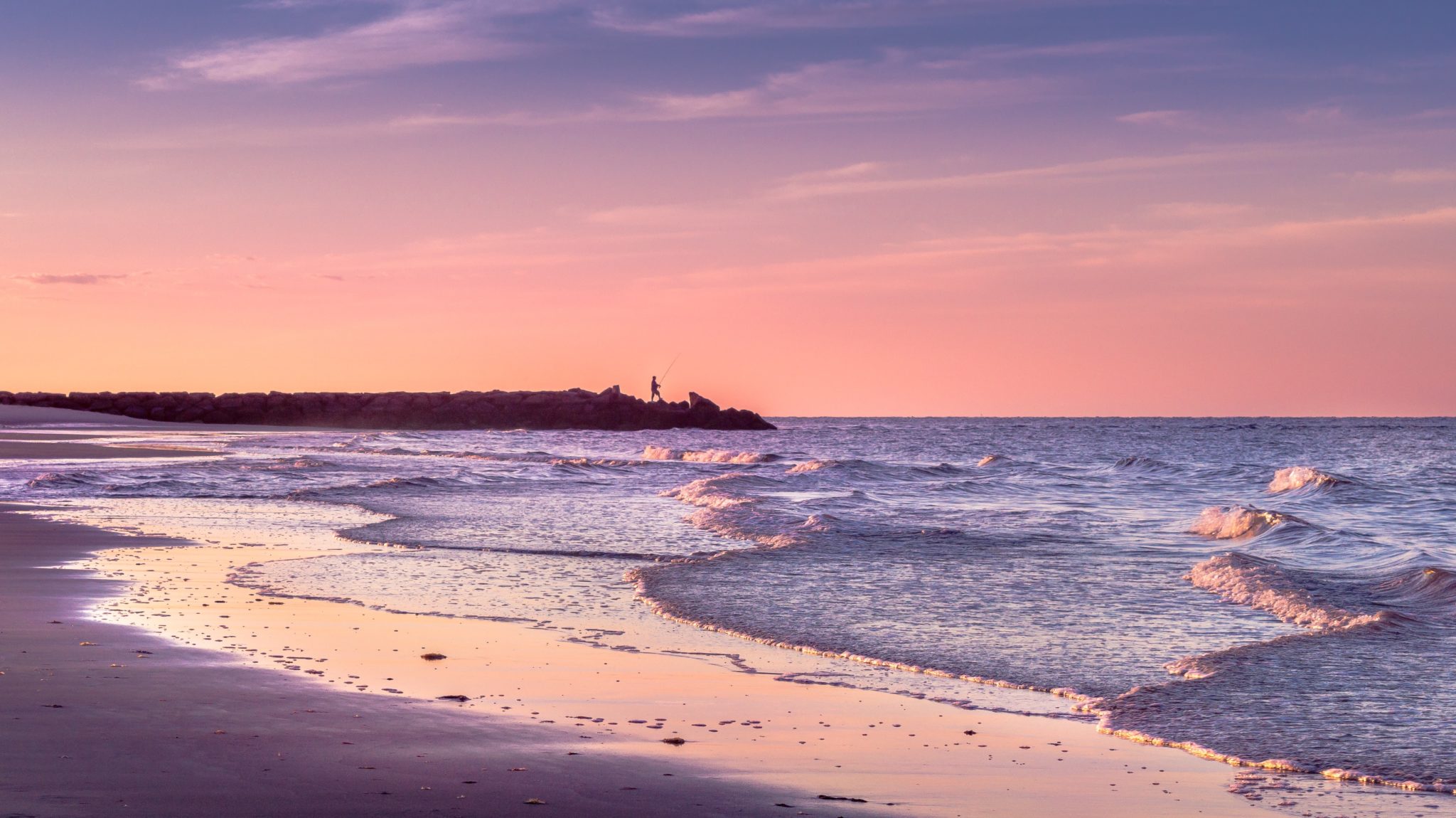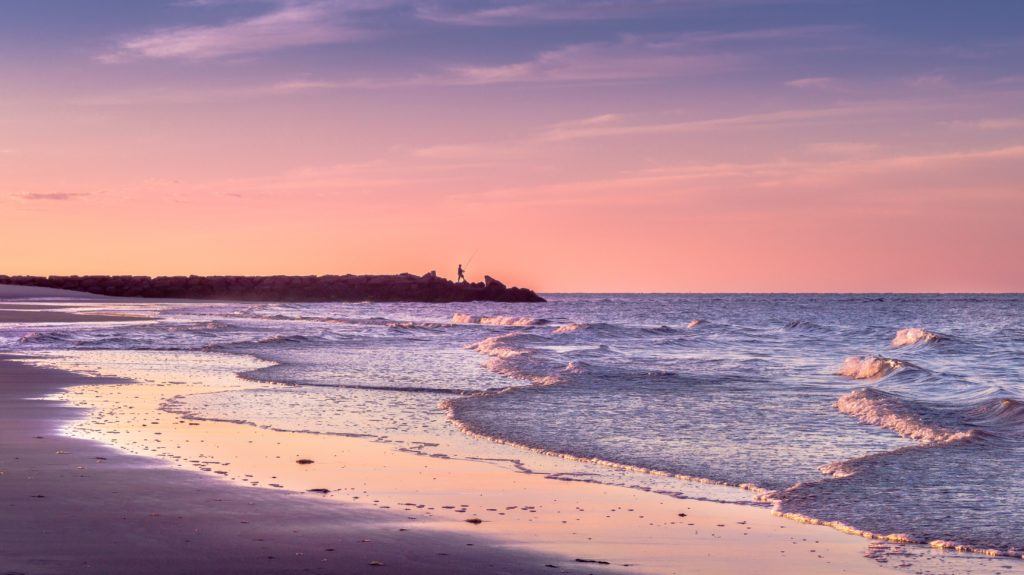 Cape Cod, Massachusetts is a family-friendly beach destination. Because it's safe, easy to explore and absolutely gorgeous, it's especially suited to solo female travelers. It's also only an hour away from Boston and Providence.
If you have a car, you can more efficiently explore the ocean beaches and epic sand dunes. On the bay side, you'll get breathtaking sunsets, which are even more spectacular at low tide when the colors reflect off the sand flat puddles.
If you like to hike, try the 25-mile Cape Cod Rail Trail, which runs from Wellfleet to Dennis. You can rent a bike in outposts along the trail and deviate to marshes, lakes and cranberry bogs. If you're looking for a more relaxing adventure, Wellfleet has drive-in movies and a weekend flea market. Gay-friendly Provincetown has restaurants serving the legendary clam chowder, nightlife, shop-til-you-drop opportunities and whale-watching excursions.
Book your stay on Cape Cod here.
30. Hudson Valley, New York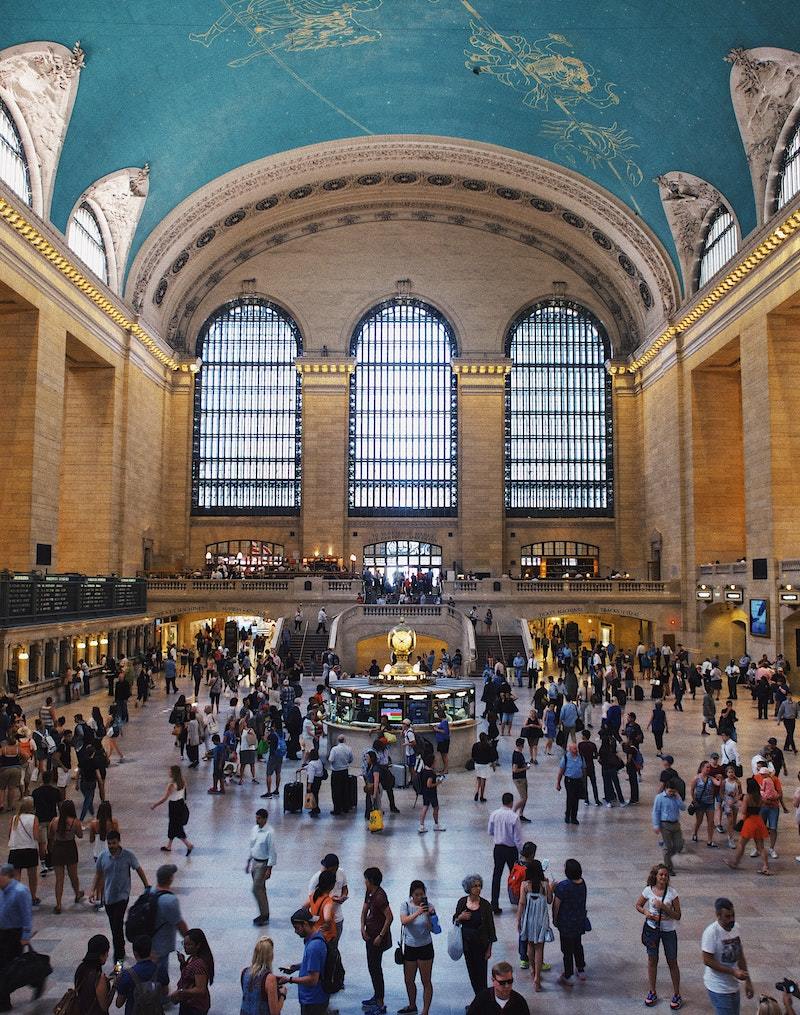 The Hudson Valley nothing like New York City, yet the Big Apple is only an hour away. Here you'll find farmers markets and mom 'n' pop shops in place of grocery stores and chain restaurants, and gorgeous views accessible via many outdoor activities, such as rock climbing and hiking. Some of the best rock climbing is at "the Gunks," or you can explore trails at Harriman or Bear Mountain State Park or experience the Walkway over the Hudson.
There are so many pocket towns, called "hamlets," where you can walk through orchards, browse in art galleries, and skip along the railway. The valley is also an excellent place for a road trip, especially during the fall when all the leaves are starting to change color.
***
Though the United States is huge, and no list could ever do justice to the wealth of places to see and experience, these are a few of our favorites. I hope this list helped you to get a sense of where to start — or continue — your solo journey.
If you have some favorite solo spots to share, please tell me in the comments below!