The Road to Hana is one of those bucket list items in Maui that you should definitely put on your must-do list. Around every corner, there's something new to make you gasp in awe, and even if there weren't tons of gorgeous waterfalls and awesome beaches along the way (but thankfully there are), the drive itself would make it worth it.
Though it can feel a bit precarious to drive at times, thanks to the 600-plus turns on this 64-mile road, you simply haven't seen Maui if you haven't driven the Road to Hana. The little surprises, small towns, powerful waves and the dense jungle vines growing all around the road make it feel like being transported into the Jungle Book, minus the talking bears.
I drove the road by myself, and by carefully picking and choosing the best places to stop and by leaving early and beating the crowds, I was able to have one of Maui's most popular attractions more or less to myself. These are my best tips and favorite stops on the Road to Hana:
Where to Stay
I stayed all the way in Lahaina when I visited Maui, which wasn't the best positioning for the Road to Hana. If you'd like to be closer, and therefore get to wake up a bit later, I recommend Keanae. There's also the Travaasa Hana, which is at the end of the Road to Hana, if you're down to spend a pretty penny.
Where to Rent a Car
Since you're most likely flying into Maui, the most logical place to rent a car is at the airport. Most car rental companies will try to upsell you a jeep, but honestly, you will not need one in Maui.
Most of them will also advise that you're not allowed to continue onward after the Seven Sacred Pools due to road conditions. They will tell you it voids your contract. Indeed, the road washes out from time to time and is dangerous, and that'll be true no matter which car you rent. The choice is yours whether you continue or not, as I'll discuss later in the post.
The Best Stops on the Road to Hana
Early Stops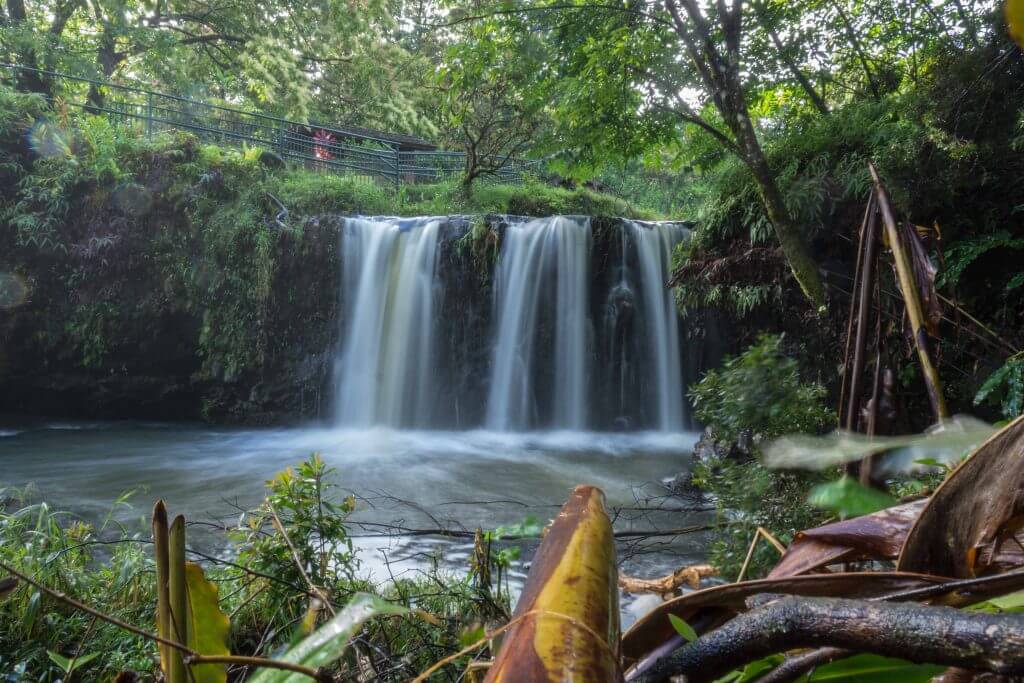 Most of the big waterfalls and impressive black sand beaches are later on in the drive, so for the first hour or so, just enjoy the road and get as far along as you can to keep the crowds way behind you, especially if your objective is to do the Pipiwai Stream Trail Hike:
Twin Falls: A lovely, albeit smaller, waterfall early on in the drive around mile 2. The trail can be muddy and since it was pouring rain when I drove by, I didn't end up stopping, but after consulting Google Images, I kind of wish I had.
Huelo Lookout: This stop is super quick and easy, offering a nice panoramic view. There's also a set of toilets at the parking lot. You might as well stop here, it's worth 5 minutes.
Waikamoi Ridge Forest Trail and Overlook: This one is a 30-minute hike and generally folks who have done it report that it's just OK. You won't find any waterfalls, and it's mainly a walk through the trees. I skipped this again because of the pouring rain.
Garden of Eden: This is where the opening scene of Jurassic Park was famously shot. They've planted 500 species in this garden, and it gives you a nice view of some waterfalls as well. However, if you follow my advice and leave early, you'll have to miss this one (and the $15 entrance fee) since it doesn't open until 8am. I prefer to see wild nature rather than things that have been planted, but people do generally really enjoy this one. It's your call!
Of all of those tips, perhaps the most important is to go early. If you are uncomfortable with the thought of other cars being on such a narrow road with you, and if you want to maximize your time without worrying about big crowds or having to skip attractions, setting off right as the sun rises is the best way to make it happen. The early bird gets the worm (and the nice morning lighting for photos).
Must do #1: Keanae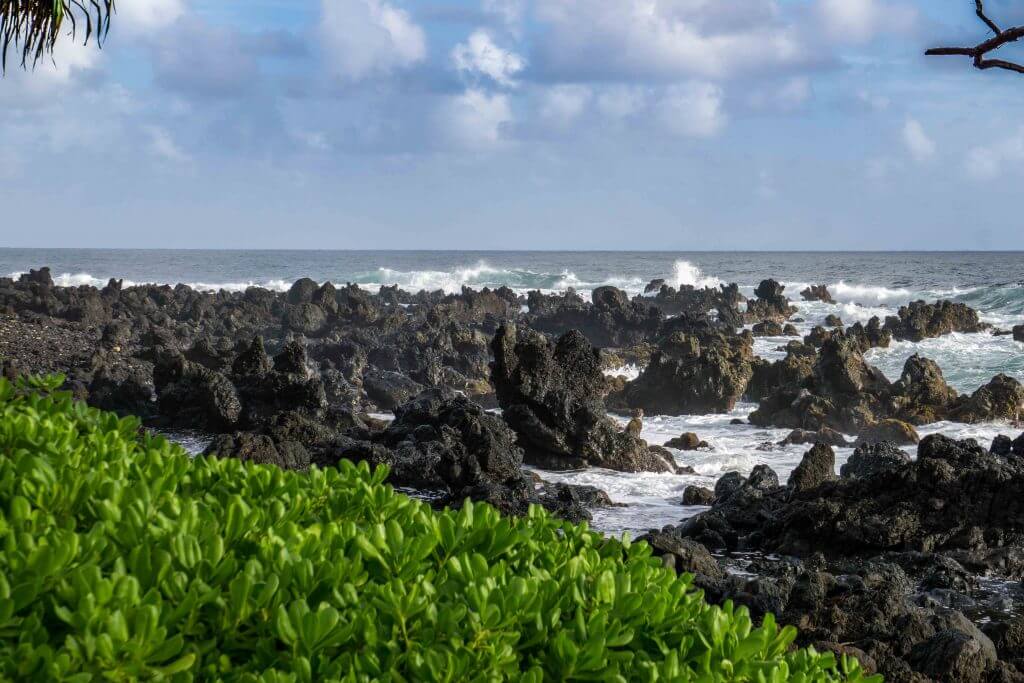 Right around mile 17 there's a turnoff to the left for Keanae Peninsula. It's easy to miss (which is why I was glad to have the Gypsy guide considering there was nobody else in the car to guide me), but it's a very worthy stop, full of jagged volcanic rocks along the coastline and massive, powerful waves crashing up against them.
I especially loved the contrast of the greenish-blue water against the intensely green grasses and black stones.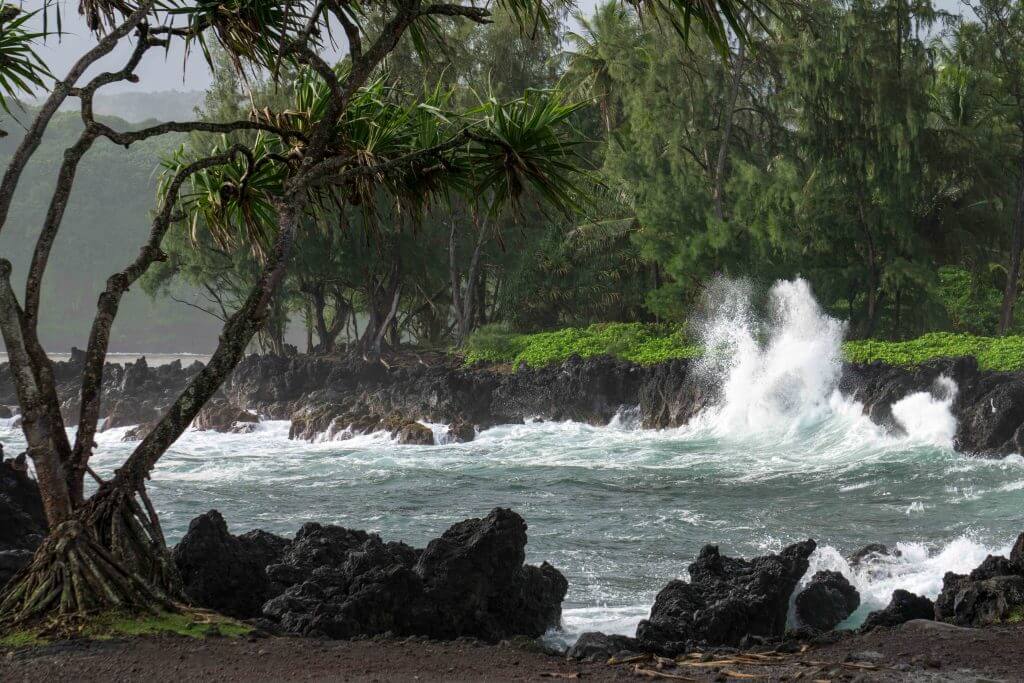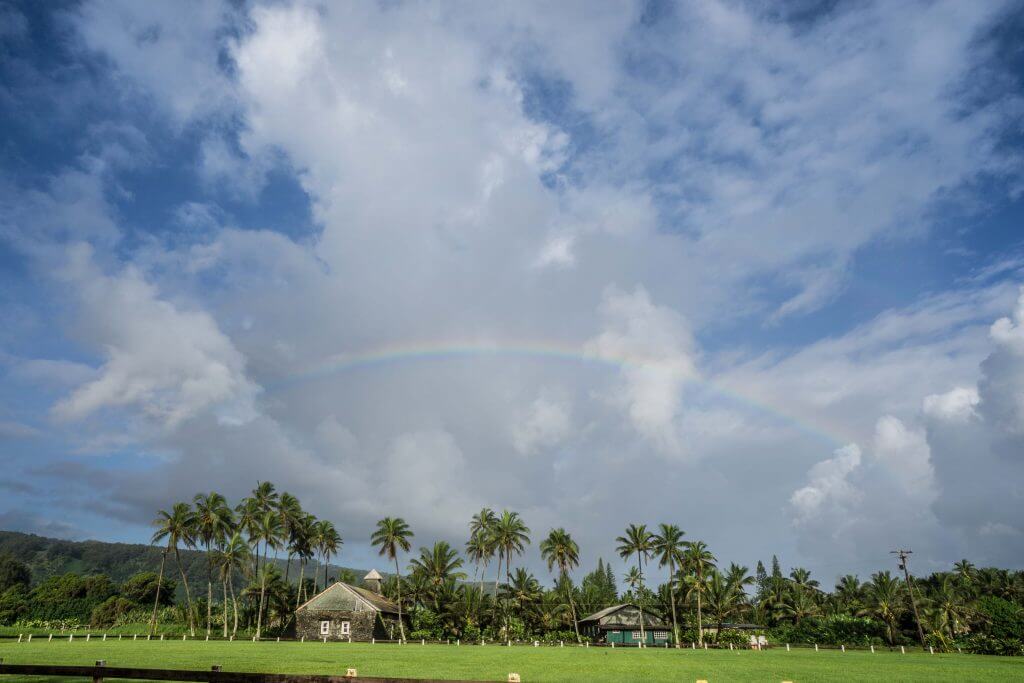 After this you'll turn back out and rejoin the road the way that you came in. It's a small detour and only took me about 20 minutes, mainly because I stopped for a while to watch the waves and take photos. You could do it much quicker if you wanted to.
More stops nearby:
Aunty Sandy's Banana Bread is located right on the peninsula and is the best place to buy banana bread, so I was told. Again, if you take my advice and go super early, it won't be open yet by the time you reach Keanae. If you really want this banana bread, you might want to leave later so that you can experience it, but trust me when I say if you want the state park and bamboo forest not to be mobbed by the time you arrive, go early and make peace with missing this.
Halfway to Hana snack shop is popular simply because it's halfway down the road, I stopped to get some cash out of the ATM and continued on my way.
Wailua Overlook: Just before this overlook on the right-hand side, which almost nobody seems to realize is there, is a tiny parking lot with an awesome view of several waterfalls and the Haleakala Crater. Scroll up and look at the first photo in this post and you'll see what I mean. The Gypsy guide will tell you when to pull off for this one. The overlook is just a half a mile farther up on the other side of the road, and gives you a view of Keanae, where you just were.
Three Bears Waterfall (Upper Waikini Falls): This is a popular one and appears to be three different cascading waterfalls, at least normally. Before I arrived in Maui it had been dumping down rain at unusual rates, so it was just one giant mass of waterfall. I did a slow drive-by, but if you want to park and take a look, you'll need to continue on the road until the larger pull out and walk back.
Nahiku Ti Gallery and Coffee Shop: You can't miss this one. It's a set of food vendors and a coffee shop on the left side of the road with plenty of parking. The food is really expensive, and as I warned if you leave early, not open yet anyways by the time I arrived. I did get a latte, though!
Must do #2: Waianapanapa State Park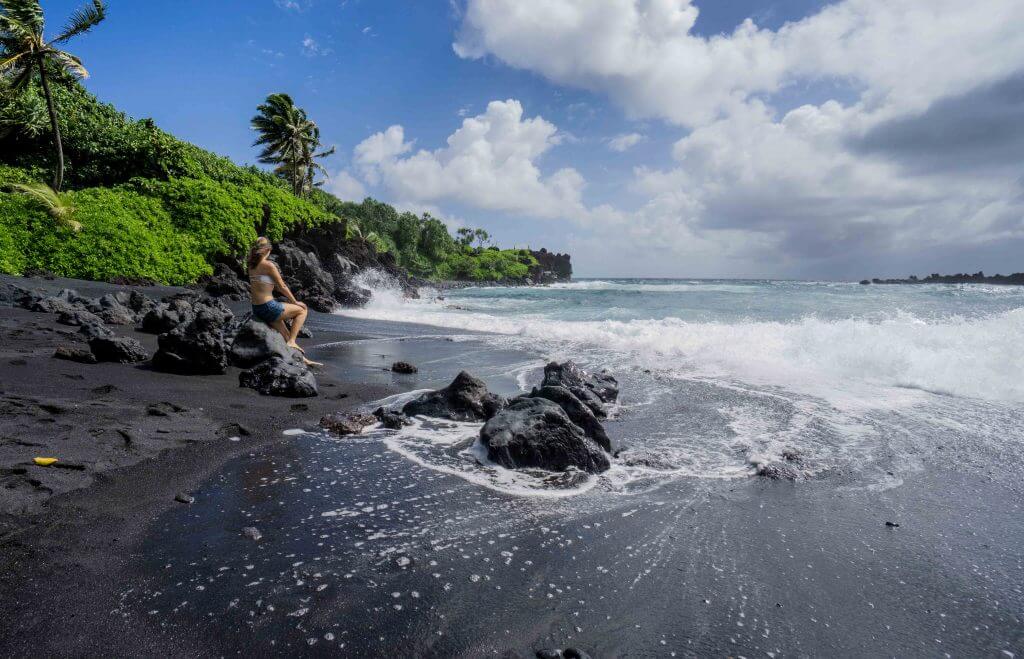 This! This park at mile 32 is the reason why I set out so early on the Road to Hana, hoping to get to it before there were swaths of people. When I arrived, the parking lot only had a few other cars, and I was able to selfie away on this beach without anyone else around.
There's tons to see here, like the cave just to the right of where I snapped this photo – something that I think a lot of people actually miss: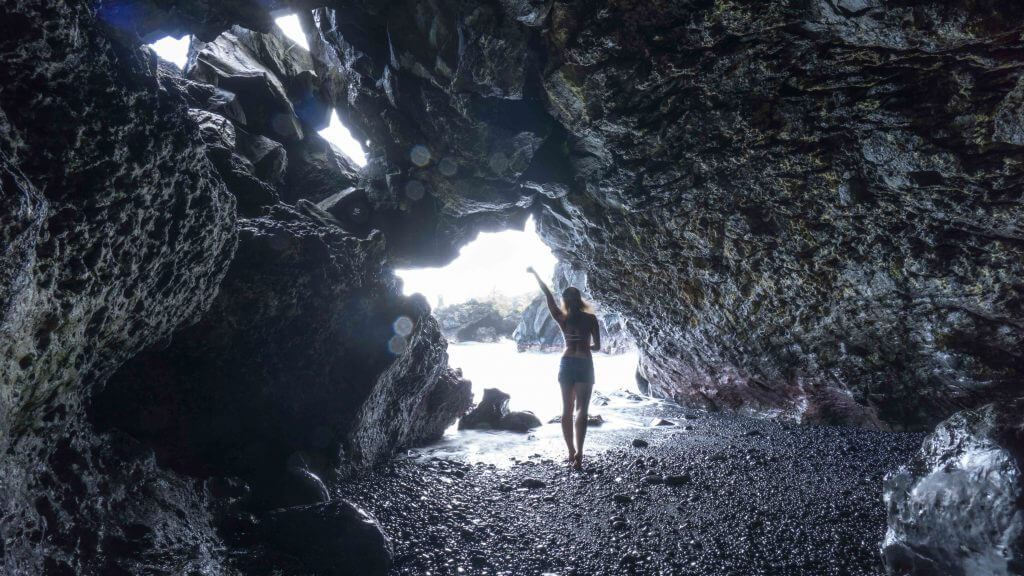 Plus trails that run along either side of the black sand beach with panoramic views of the sea arches and cliffs over the water: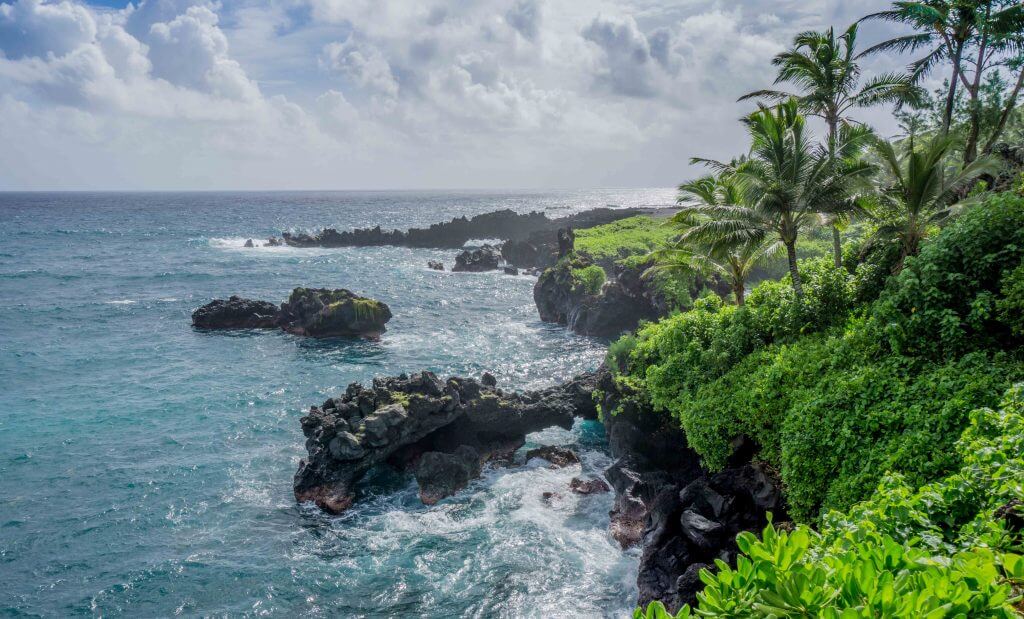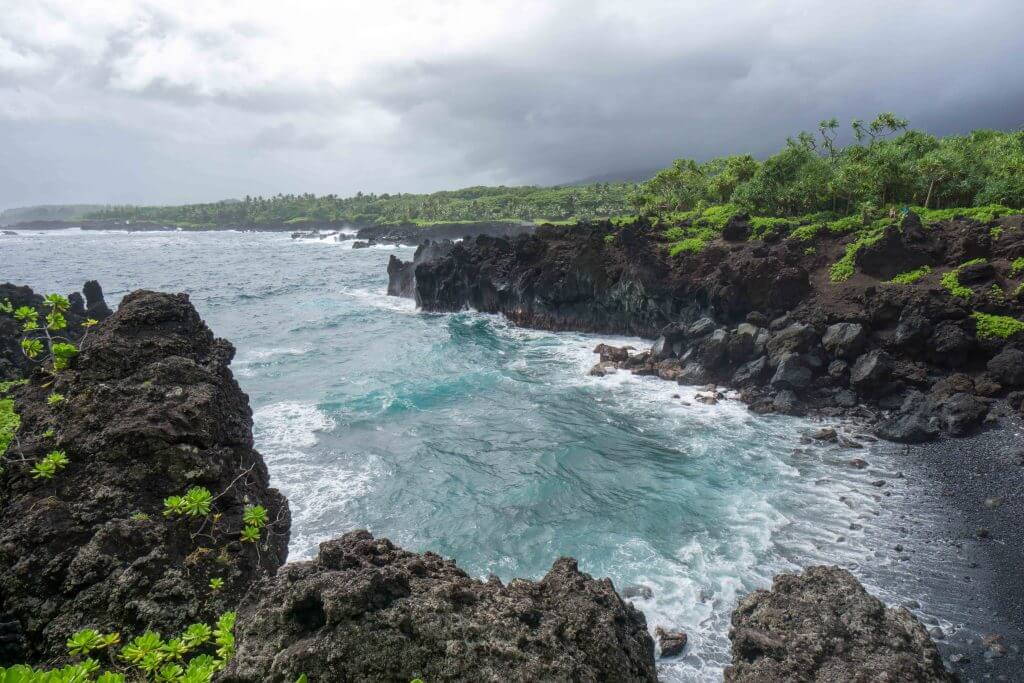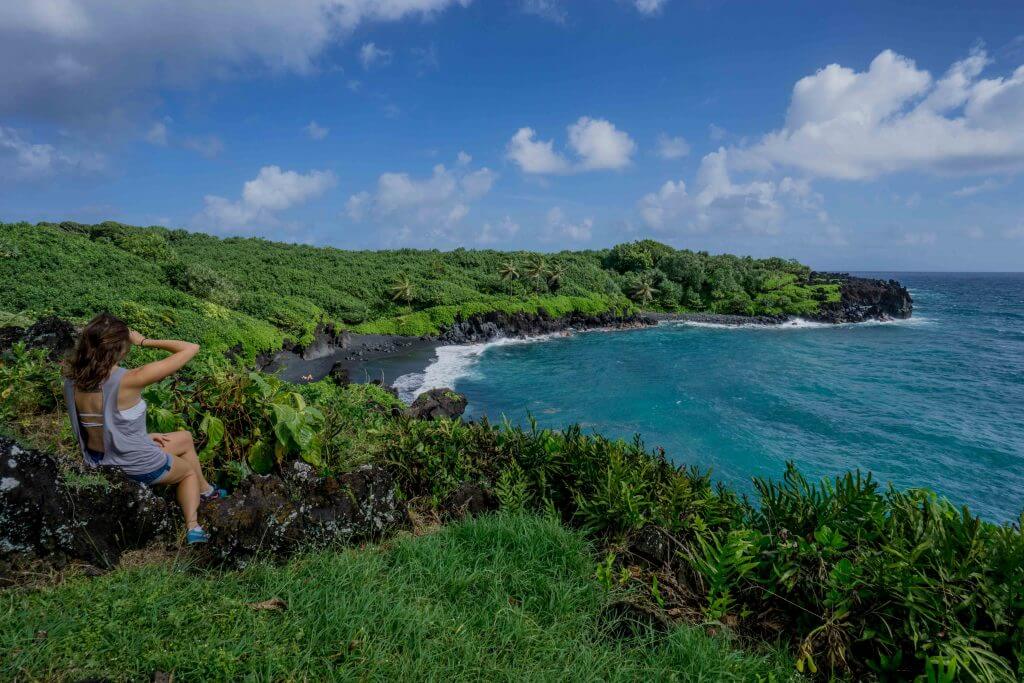 This is something I'd suggest really spending some time at and not rushing through. It's one of the most gorgeous spots on the road, and really, how often do you get a black sand beach, two sea arches, and a cave that's big enough to have a dance party in all in one spot? I'm willing to bet it's not very often.
I spent over an hour walking along the trails and exploring the park. Since it is so amazing and popular on the road, it's usually full of people, especially in the water and on the beach. By the time I left, which was still pretty early in the morning, the parking lot was almost full and tour vans were pulling in.
In that moment I knew it had been so worth leaving before the sun, missing out on the banana bread, and being one of the first people to reach the park.
More things nearby:
Hana: Though the road got its name due to this being the terminus, it's actually nothing all that special. There are some beaches nearby that are, though, especially if you surf.
Hamoa Beach: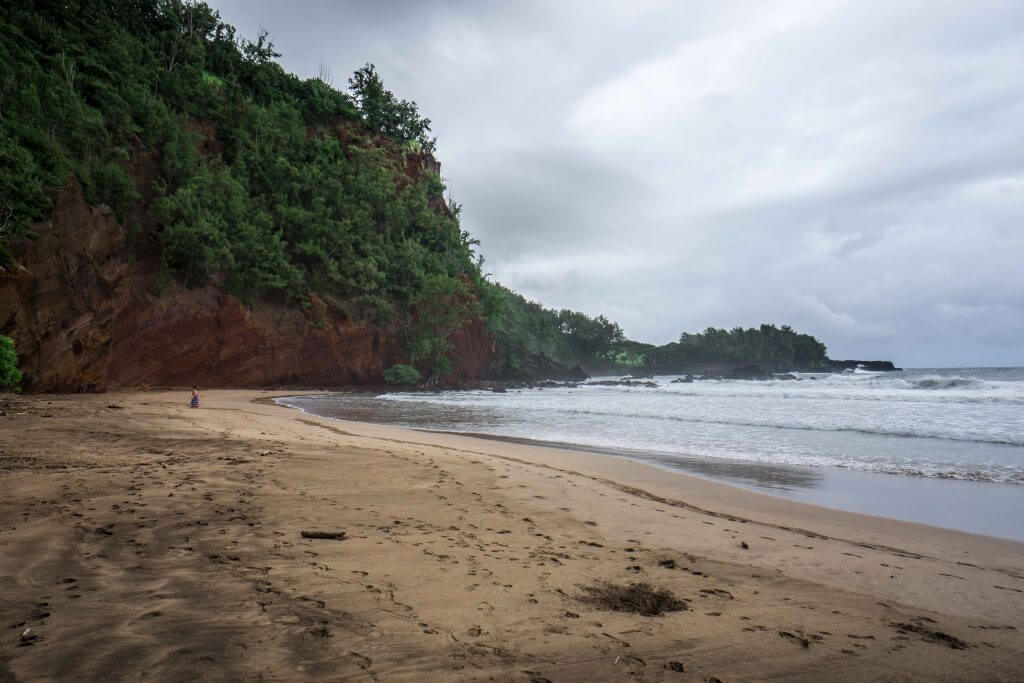 Must stop #3: Wailua Falls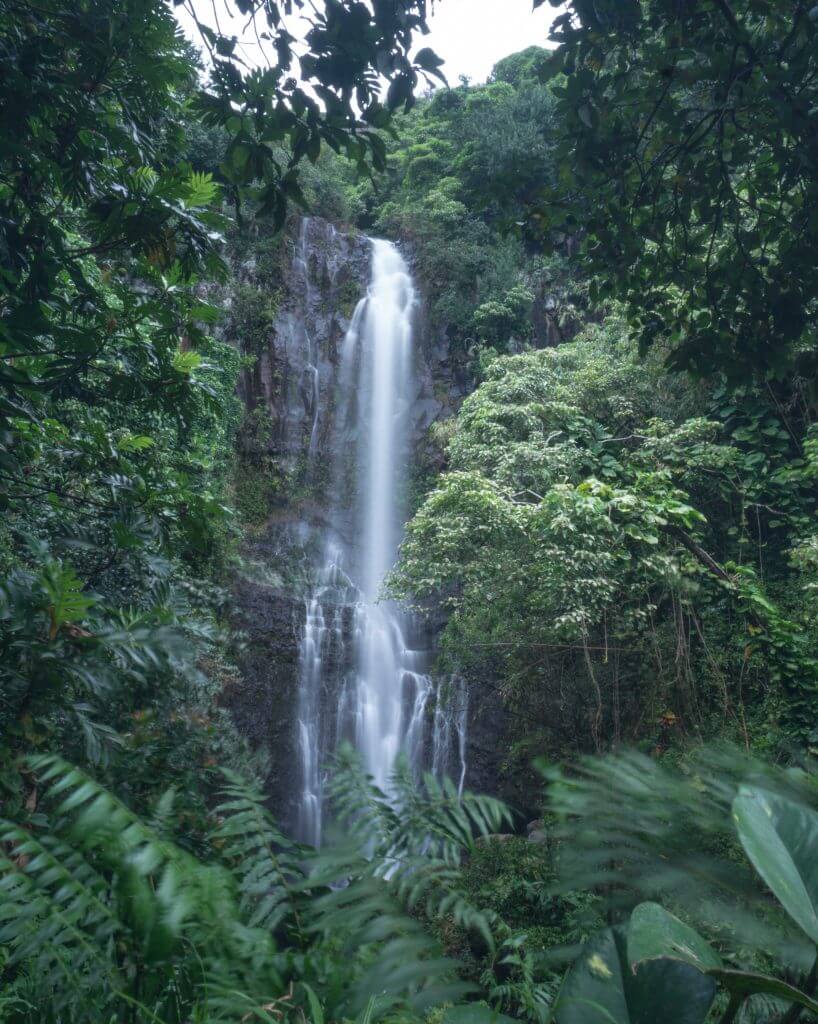 Right after mile 44, there's a parking lot just off the left side of the road where you can pull off and check out this 173 foot waterfall. Apparently it's usually pretty popular, but I was the only one there since I had steadily managed to stay about an hour ahead of the crowds all day.
Park and pop over to the other side of the road to marvel at this one for a minute or two, it's worth it.
You can also take a trail down to the bottom of the falls, but I had a date with the Seven Sacred Pools, which I also wanted to get to before the tourists, so I kept going.
Must stop #4: Seven Sacred Pools and bamboo forest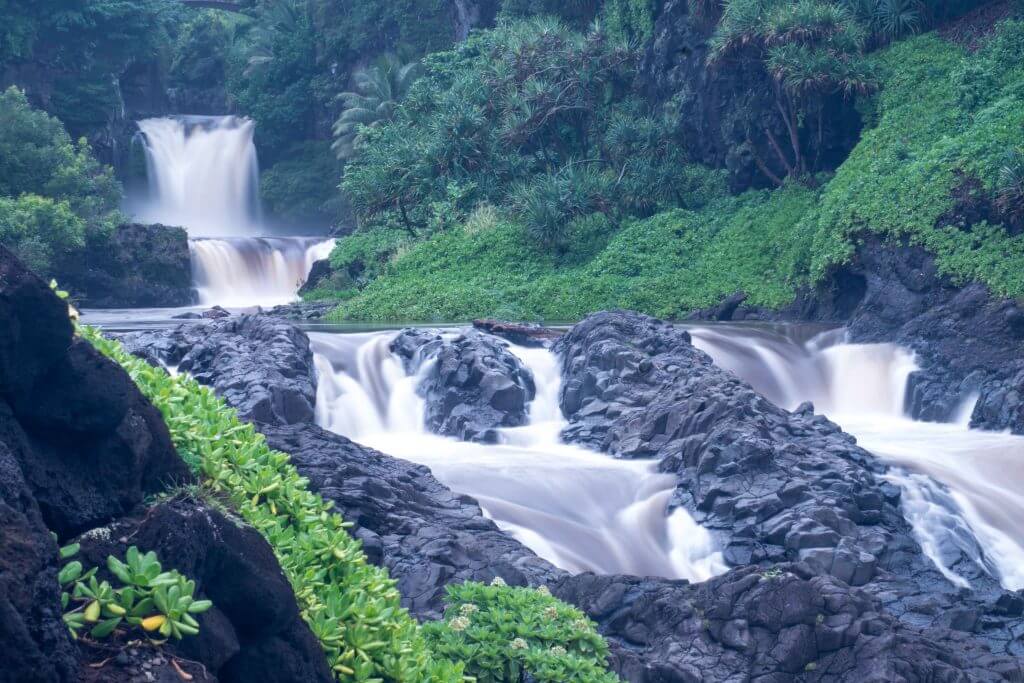 Just beyond Hana, you'll come to another national park, this time with a $20 entrance fee that also gets you access to the Haleakala Crater.
Usually, you can walk down a pretty short and easy trail to the seven pools which are open for swimming. As I mentioned before, the water levels were dangerously high and they were closed, but that meant I got a rare, impressive view of the falls in this powerful state as they poured out to a raging sea.
From there, you can hike to the bamboo forest and usually the Waimoku Falls. At the time that I visited (October 2016), the trail to the falls had been washed away by the flooding water and I couldn't go all the way to see the falls. The trail was closed right in the middle of the bamboo forest, about 3 miles into the hike.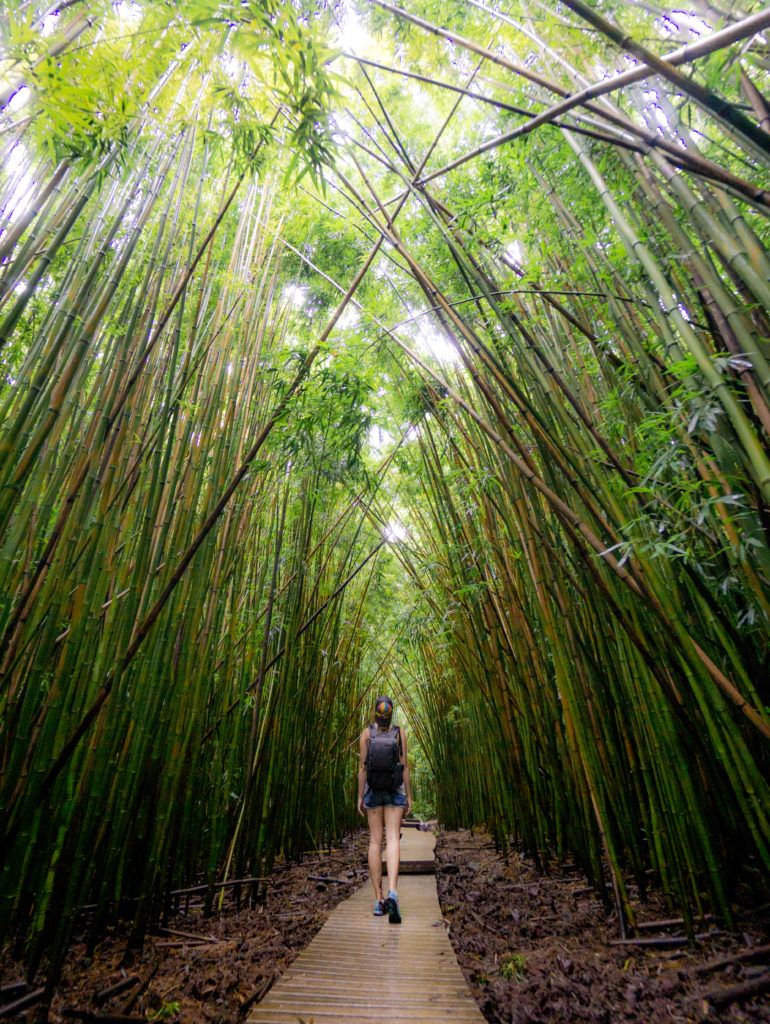 I can't pretend like that wasn't super disappointing, but the hike up to the bamboo forest was not too tough, and I was really glad that I went for it anyways after seeing the gorgeous forest. The waterfall will just have to be for another time.
I still got all of this more or less to myself and was so glad to have left so early in the morning, especially considering that most people miss this part of the trail because they leave too late, run out of time, or are too tired by the time they get there. What a big mistake! Seriously, make sure that you do this one. It was the cherry on top.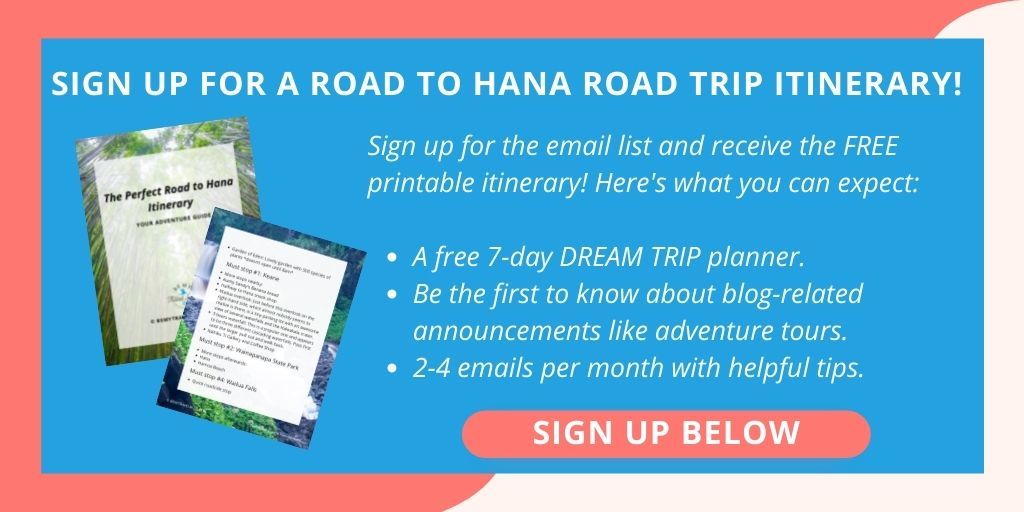 Safety Tips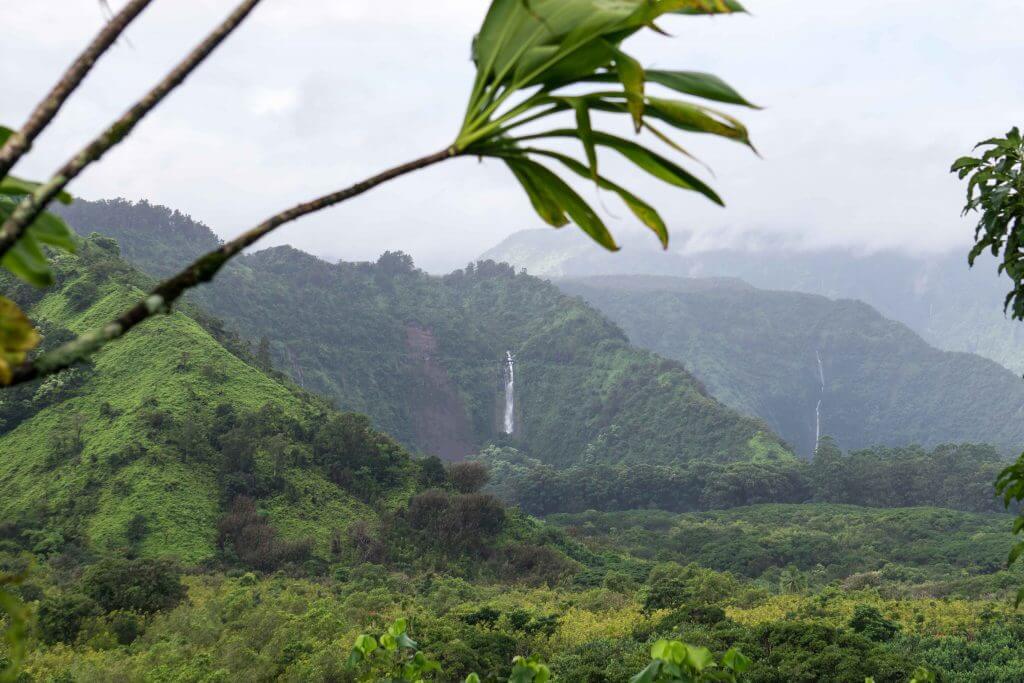 The Road to Hana is partially famous for being a dangerous road to drive. I'm not talking cliff edges and vertical drops, but there are a lot of blind corners, narrow bridges, and hairpin turns. In order to stay safe, practice the following precautions: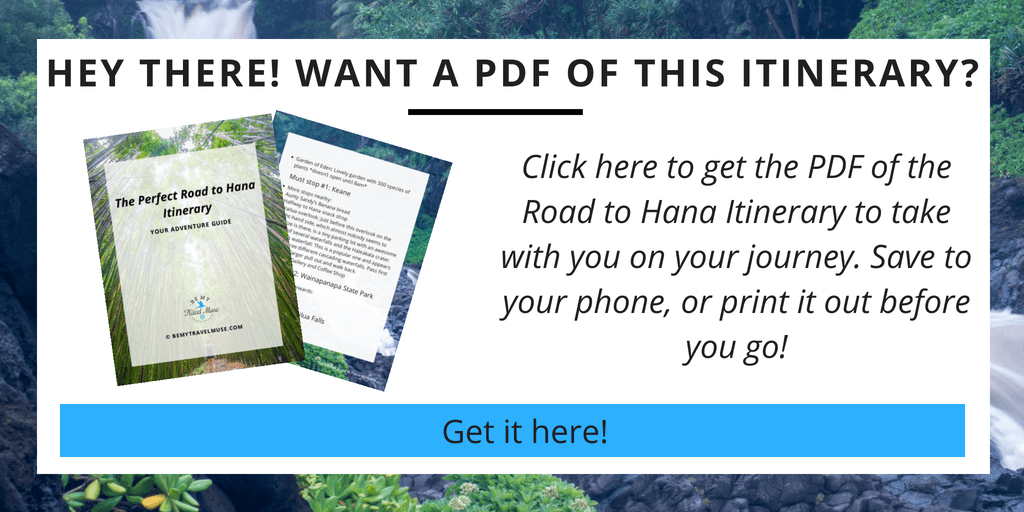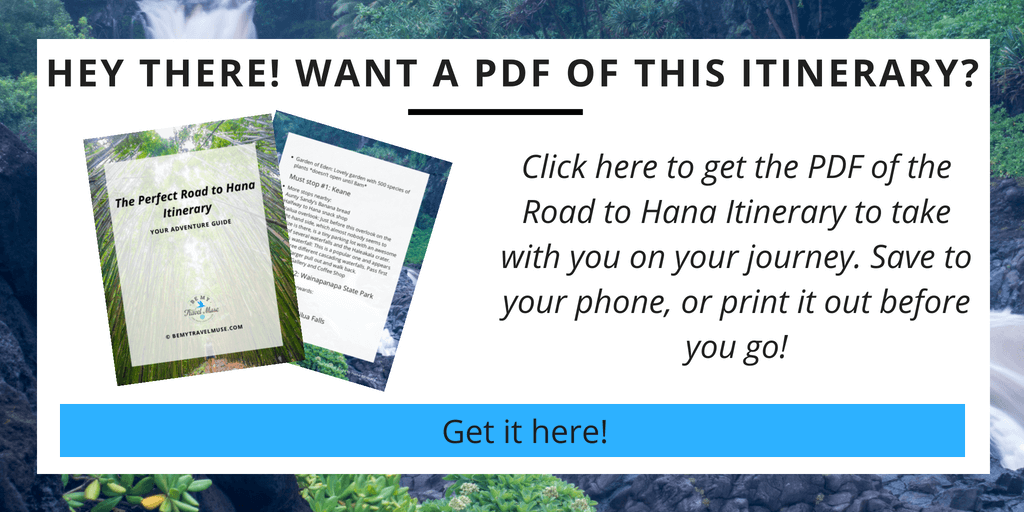 Don't stop on or along the road unless there is a parking lot. A narrow turn-out does not constitute a parking lot.
Don't feel the need to get anything more than a basic sedan, even if the guy at the rental company tries to upsell you. You don't need it!
Do go early in the morning so that you can beat pretty much all of the traffic and other tourists. I departed the Haiku area at 6am.
Do go into it with at least 3/4 tank of gas, just so that you don't have to stress.
Do bring food along if you go early, since the roadside stands won't be open by the time you reach them.
Don't expect to get cell service. Plot your points ahead of time on an offline map, or even better, download the Road to Hana Gypsy guide, as he'll warn you with plenty of time before each attraction.
Do go slowly, yield, and pull aside for locals when possible. They'll be going much faster than you.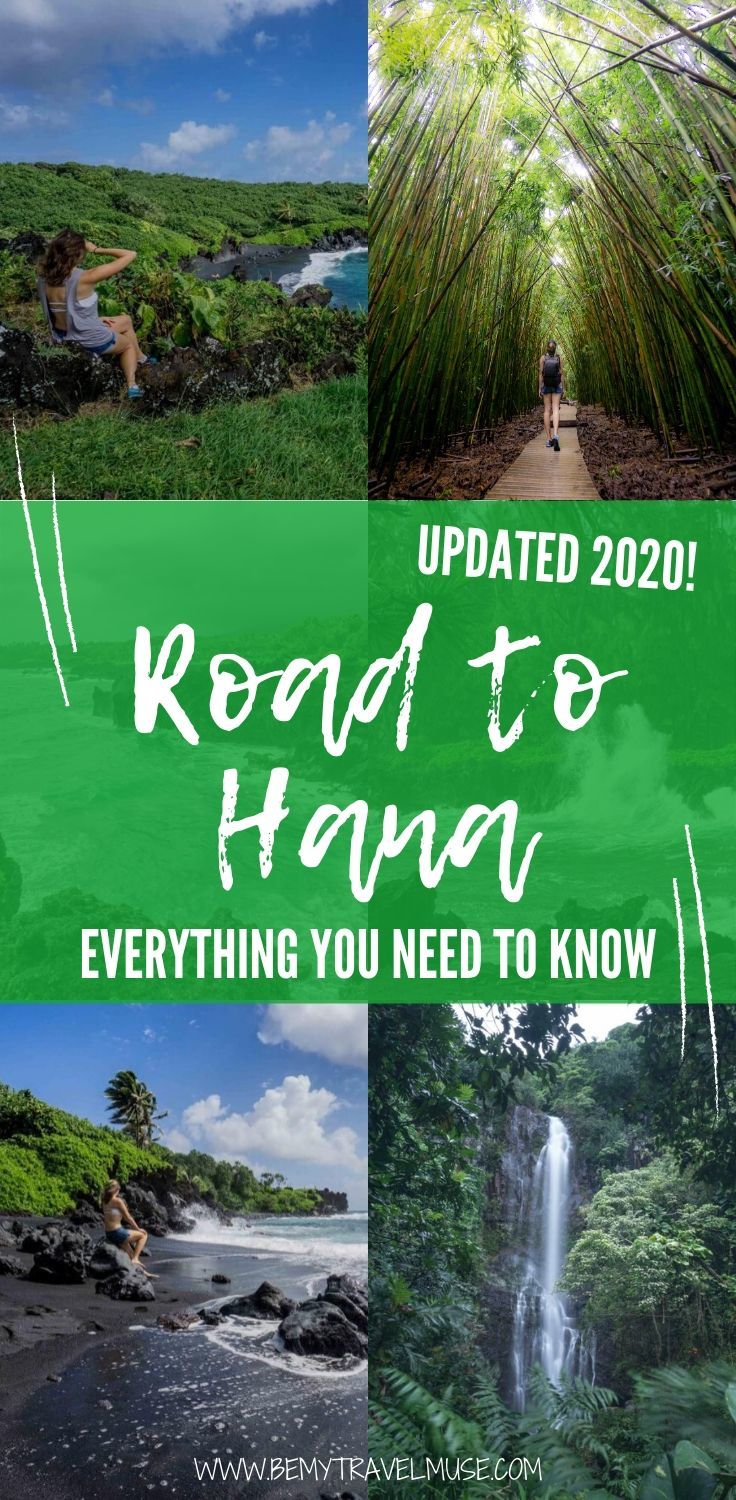 After this, most people turn back and go the way they came. The road continues along steep cliffs, hairpin turns, and one-lane roads again. Most car rental companies will also tell you that you'll void your rental contract if you continue, and if you do have an issue, you'll be paying dearly out of pocket for it. It's your call, though it is discouraged (tbh, though, I kept going).
Those are my best tips for the Road to Hana. Leave early, save time for the best parts of the drive, and ditch the crowds!