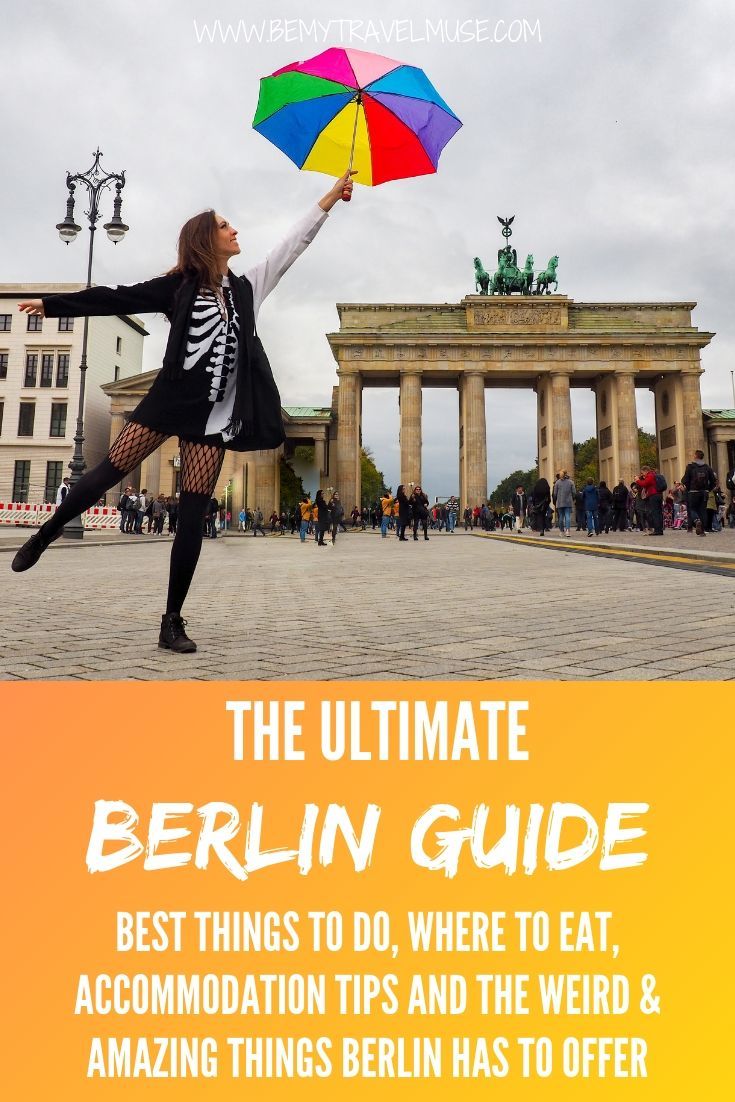 Berlin is one of the coolest cities in the world, hands down.
I've been living in Berlin for the past four years, on and off. So I'm biased, yes, but once you come here and experience it for yourself, you'll surely also come to love the endless layers to this city – the fascinating history, the underbelly, the artistic vibes, and the cosmopolitan nature of it.
Berlin is affordable, gritty, incredibly green, and it seems that no-matter what kind of person you identify yourself as, you can find your tribe here.
During my time in Berlin, I've stayed in every neighborhood, sampled all kinds of cuisine, and sought a variety of activities  that I previously could not have imagined existed. Here's my ultimate, end all, be all guide to Berlin:
Things to do:
There's so much to do,  like really so incredibly much, that chances are you'll have to make some tough decisions as far as what to see and what to miss. I tend to like to get off the tourist trail and to focus on things that are unique about a place. So with that in mind, the following are things that you can only do here:
The free stuff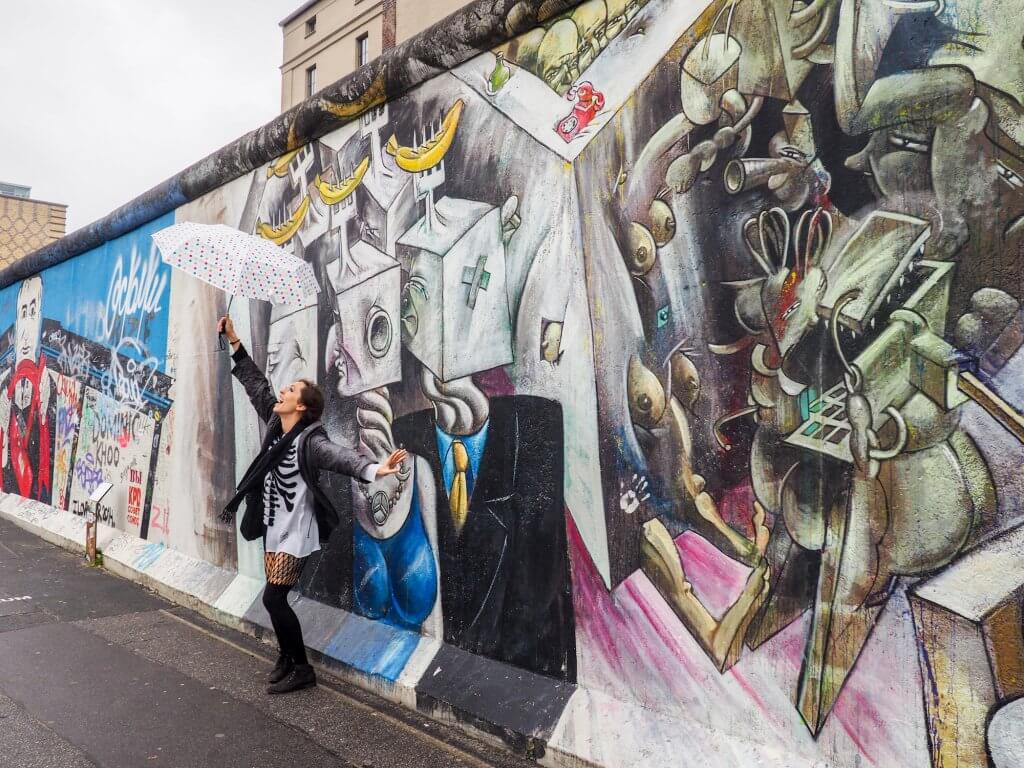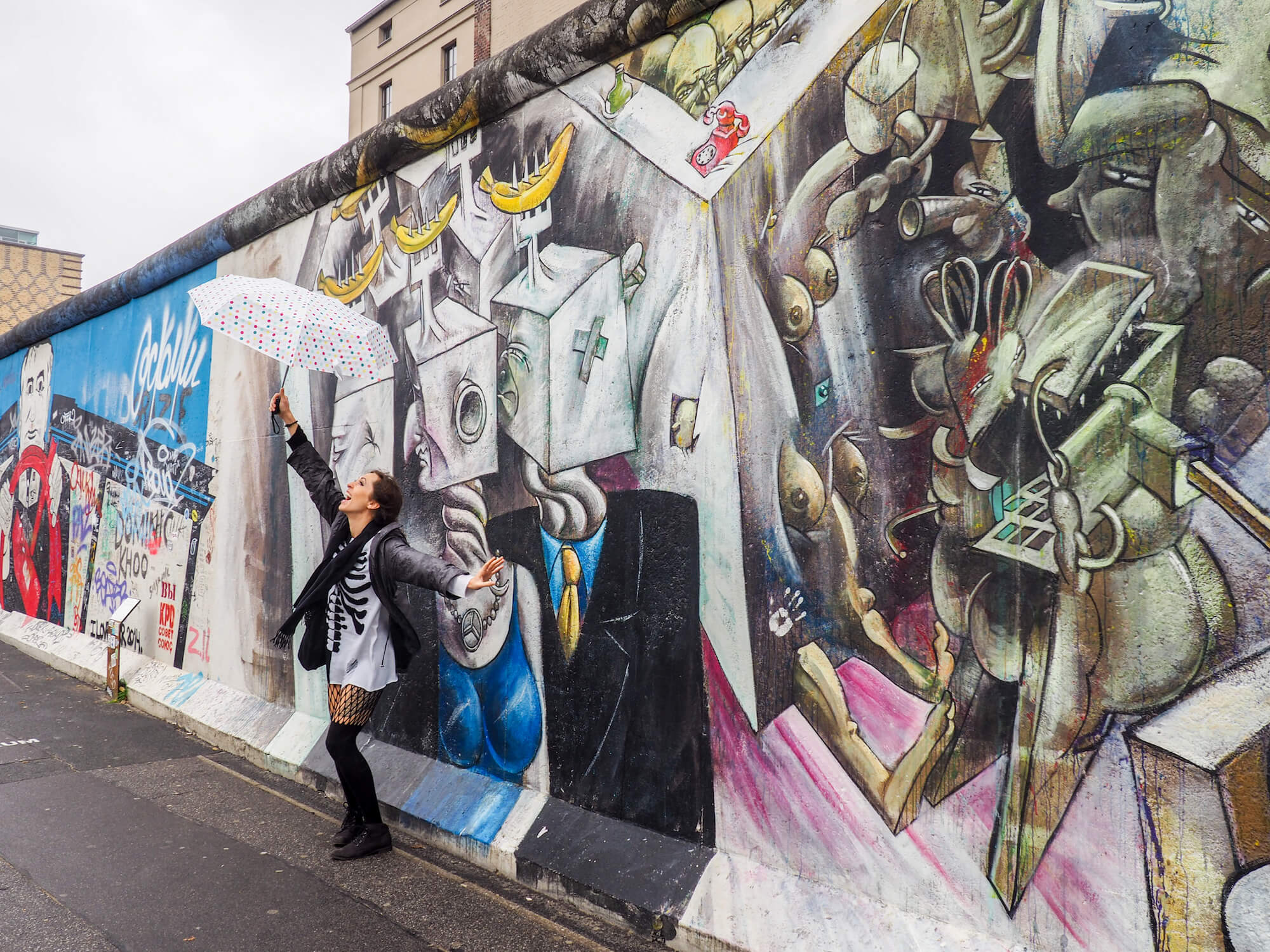 East Side Gallery
Though this is firmly on the tourist trail, you can't come to Berlin and not see the wall! This still-standing part of the Berlin wall that divided the city has been painted over by talented muralists and is completely free to walk along and gaze at, while trying to figure out what the artists were trying to convey.
Tempelhofer Feld
How many cities have an old repurposed airport where you can go fly a kite, barbecue on, and wind surf on the old tarmac? This is a fairly local experience, especially in the summer when you'll see Berliners sunning themselves in the grass and having drinks together as the sun goes down.
The old airport is still intact as well, keep reading below to see how you can get inside!
Reischtag dome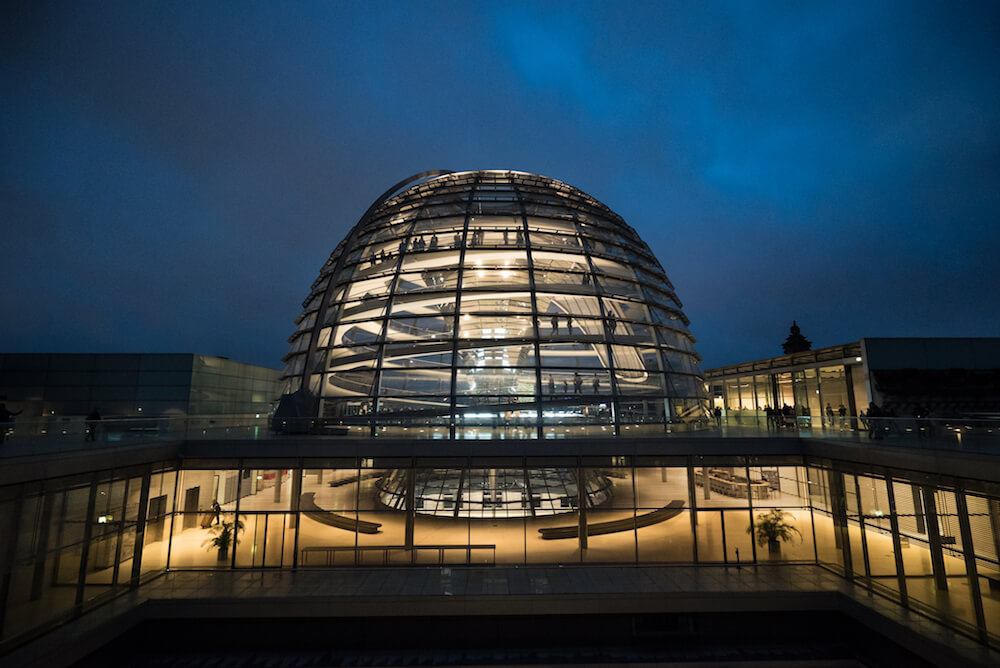 This is another touristy thing that is totally worth it. The parliament building's glass dome gives you a beautiful panoramic view of the city and it's open at night too.  The walking platform circles around the glass dome while you listen to an audio taping in your preferred language and learn about various landmarks of the city – and it's all free! I advise getting there for the sunset and watching as the city lights come on. Register here first.You'll need to submit three times online, well ahead of time, that you are available to visit the dome, so plan this one into your schedule because it can get busy, especially in the summer months.
Bearpit karaoke
The Sunday Mauerpark flea market can be fun to visit, though in my opinion it's overpriced. The best part about it is the open air karaoke that is free to attend and invites anyone in the crowd to come sing.  It's a surprisingly supportive crowd so if you're itching to do it, give it a try!
This is a pretty local thing to do in the Kreuzberg neighborhood and somewhere you're likely to see me at sunset in the summertime. Most people grab a drink and sit on the grass, maybe playing cards or guitar, and enjoy the sun with their friends while watching the swans swim by on the canal. Find more free things to do here.
When the weather is nice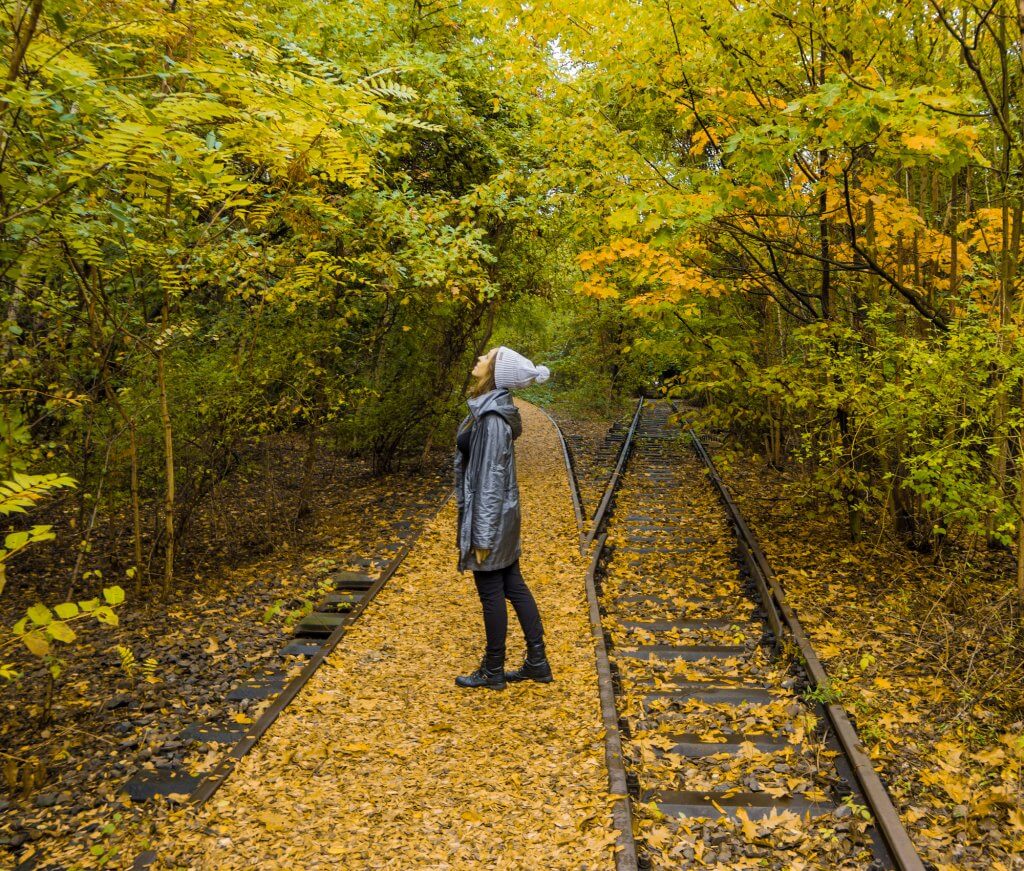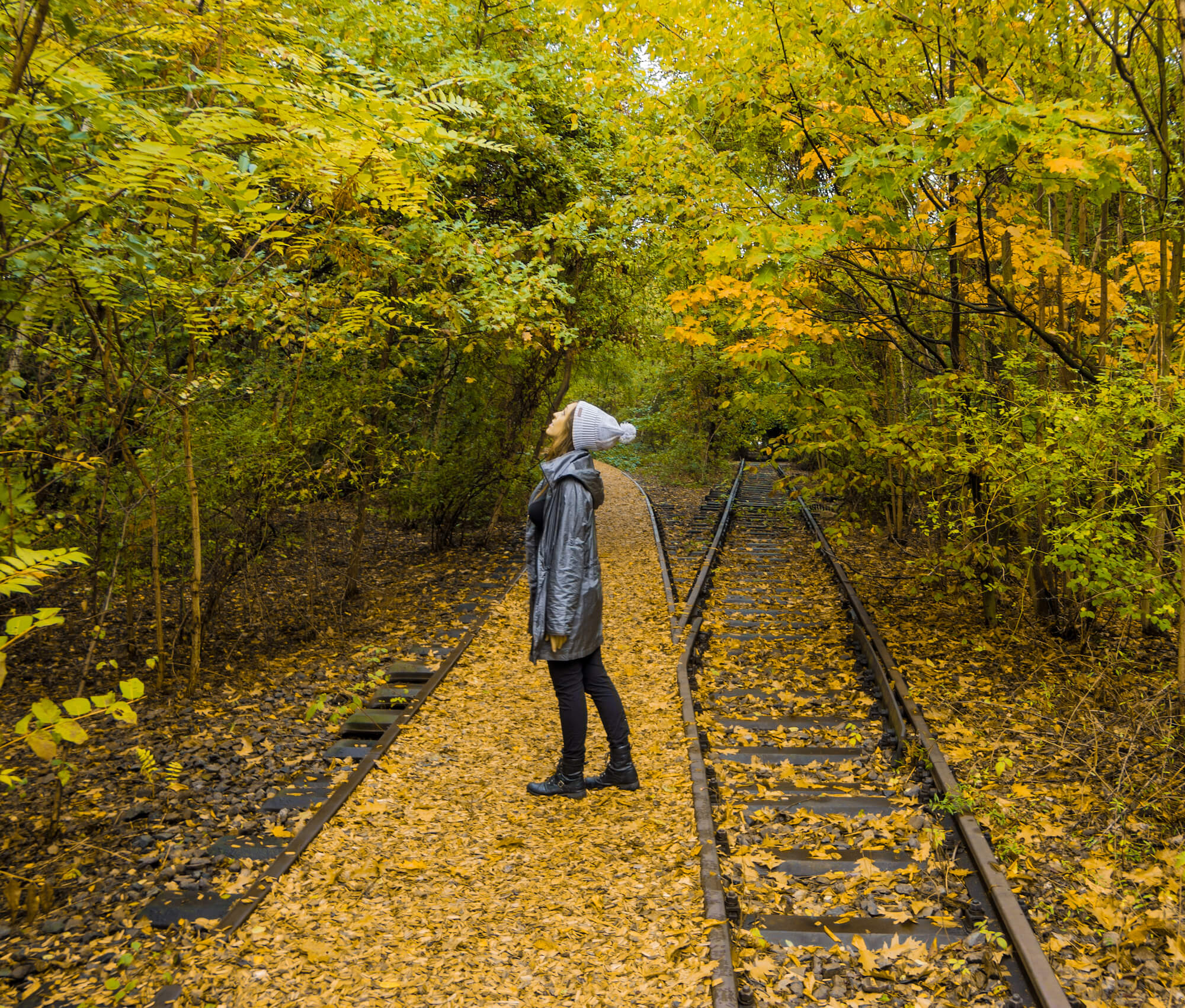 Klunker kranisch
This rooftop bar has a three euro entry fee but when the weather is fine, it's totally worth it. It's got funky decor, live music most days, and on the deck outside there are plants, a rotation of quirky art pieces, and even a sandbox. I have spent many a summer day-turned-evening watching the sunset from this spot. To get there, take an elevator up to the top floor of the parking garage at the Neukölln Arcaden and as you come out of the elevator, bear left and you will start to see the ramp leading up to the bar.
Thai park
I couldn't believe a Thai street food market existed in Germany until going there myself. If you want to have authentic, street-style Thai food, head to Thai Park in Charlottenburg on a weekend day when the weather is nice and you will see scores of people sitting on the ground serving up everything from Thai iced tea to pad see ew. Most dishes cost a standard five euros, so it's pretty authentic except for the price! Still, not bad for Europe.
Note: There's uncertainty at the moment about whether the park can continue due to lack of licensing. Stay updated here.
Sunday flea markets
European flea markets have so many cool old treasures!  And the ones in Berlin, in particular, are delightfully quirky. I love the ones at Urban Spree and Boxhagenerpltaz in Friedrichshain where I have found everything from a globe of the moon to candelabras to hang on my wall. You can find old books, records, genuine (used) fur coats for dirt cheap, and jewelry as well.
Badeschiff
This floating swimming pool on the river is a fun summertime activity and while touristy, it's one of those things that is worth it anyways, and full of good looking people! Even if you don't have a swimsuit, you can pop by the bar for a drink.
Walking tours
I'm usually not a big fan of city tours, but I have done a couple of Alternative Berlin's street art walking tours and I absolutely love them. You get the combo of history and counter culture, plus they tend to attract some interesting tourists worth getting to know, especially if you're traveling solo.
When it rains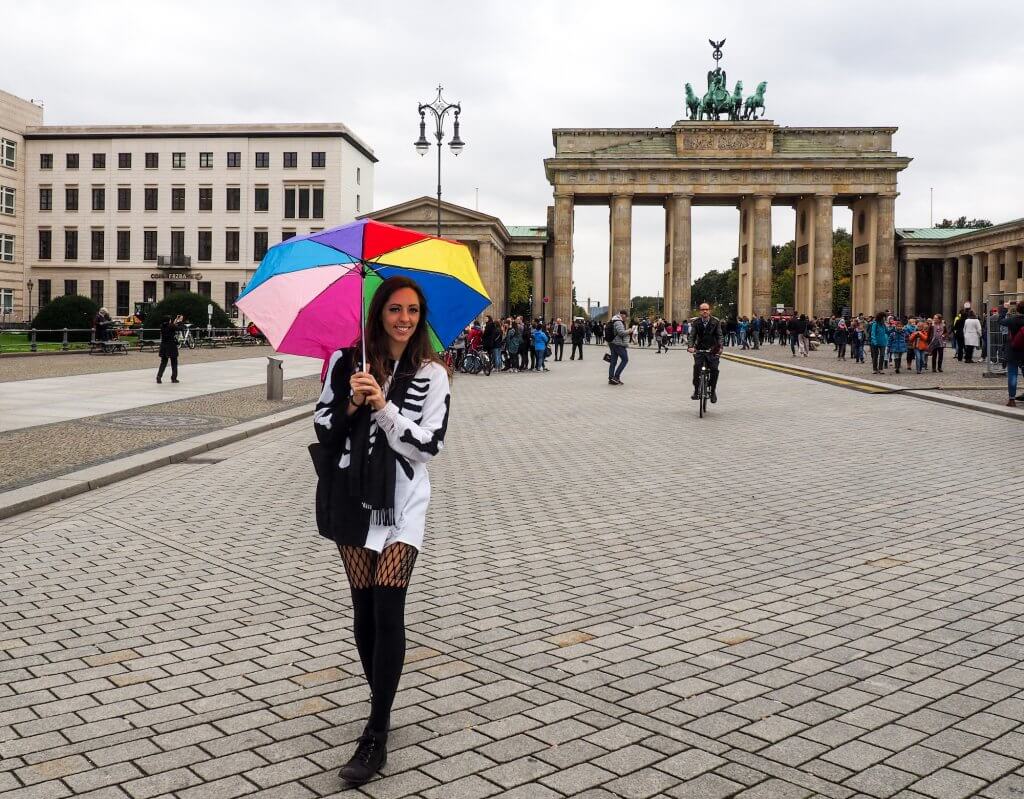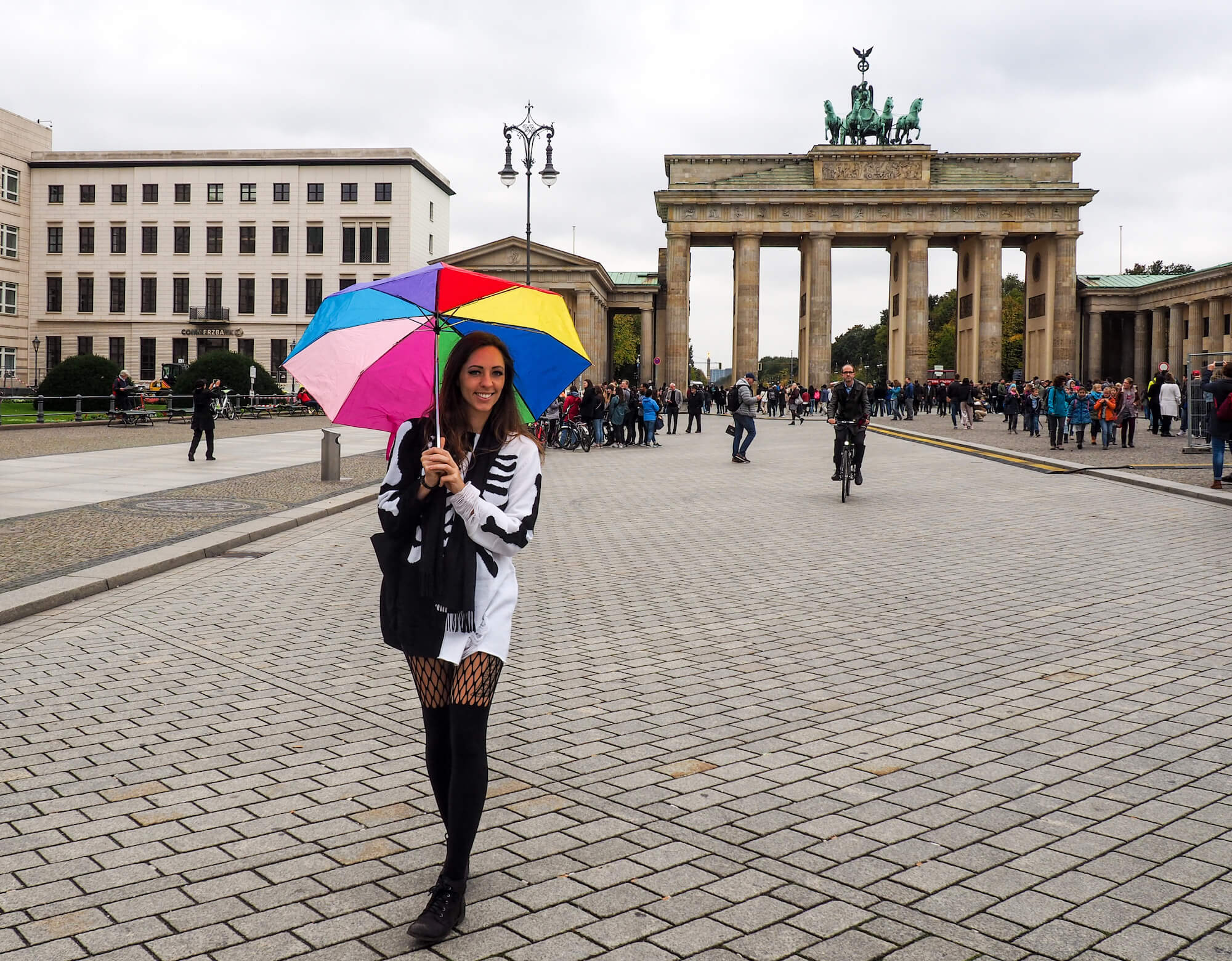 Vabali
Naked coed spas are a truly Berlin experience! Though this is not the only one in the city, it's definitely the classiest and the best value for your money. You can pay extra for a massage, or just enjoy alternating between the pools of different temperatures in the saunas. My personal favorite is to go into the 95°C sauna and then jump right into the coolest pool right after and continue alternating. FYI, Vabali is a clothing-free joint and everyone is completely naked with no separation based on gender.
I was a bit apprehensive when I first went that people might stare at me, but it's actually really nice to be in an environment where everyone is naked and it is not sexualized. It was refreshing to see how little it mattered that we were all in our birthday suits. It's one of my favorite cold-weather activities now!
Tempelhof inside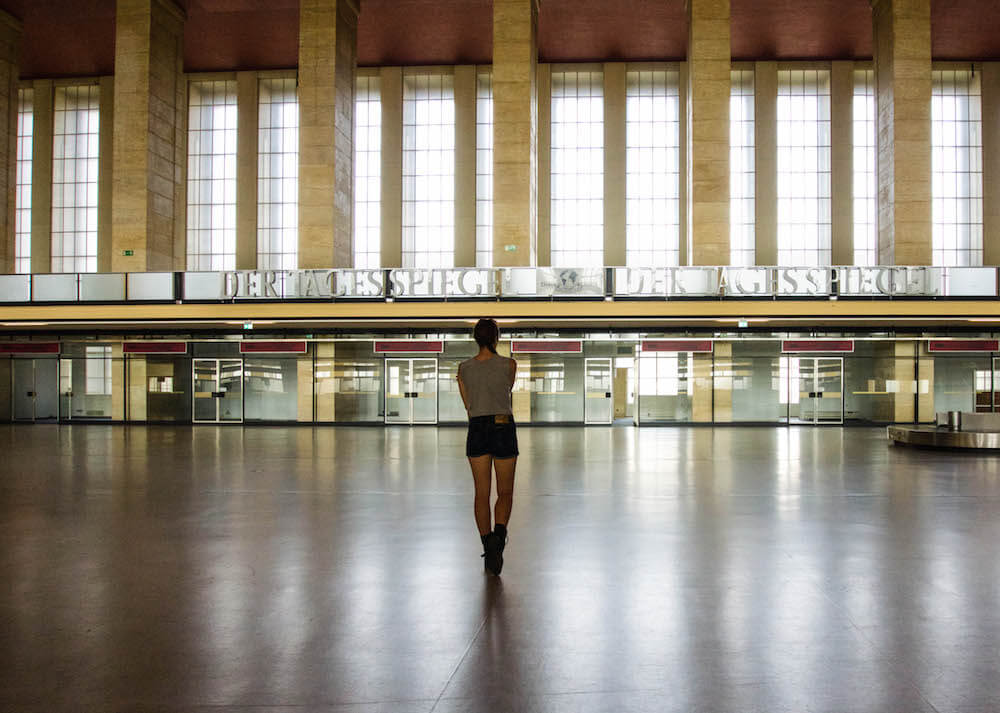 On Mondays and Wednesdays there are English tours of the inside of the Templehof airport. It feels completely frozen in time with almost everything left exactly as it was. You're also completely free to walk behind the counters, sit on the conveyor belts, and wander through history while listening to a guide to describe the Berlin airlift and what each room was used for previously. I think it's a pretty unique experience, and a great way to pass a rainy day in Berlin. Of which there are many.
Museum Island
The list is almost endless of museums to check out in Berlin. As an art buff,  I tend to take to the streets instead and save my museum time for Paris and Amsterdam, but for those who love history, Berlin has a wealth of options on Museum Island. Check it out here.
The Memorial to the Murdered Jews of Europe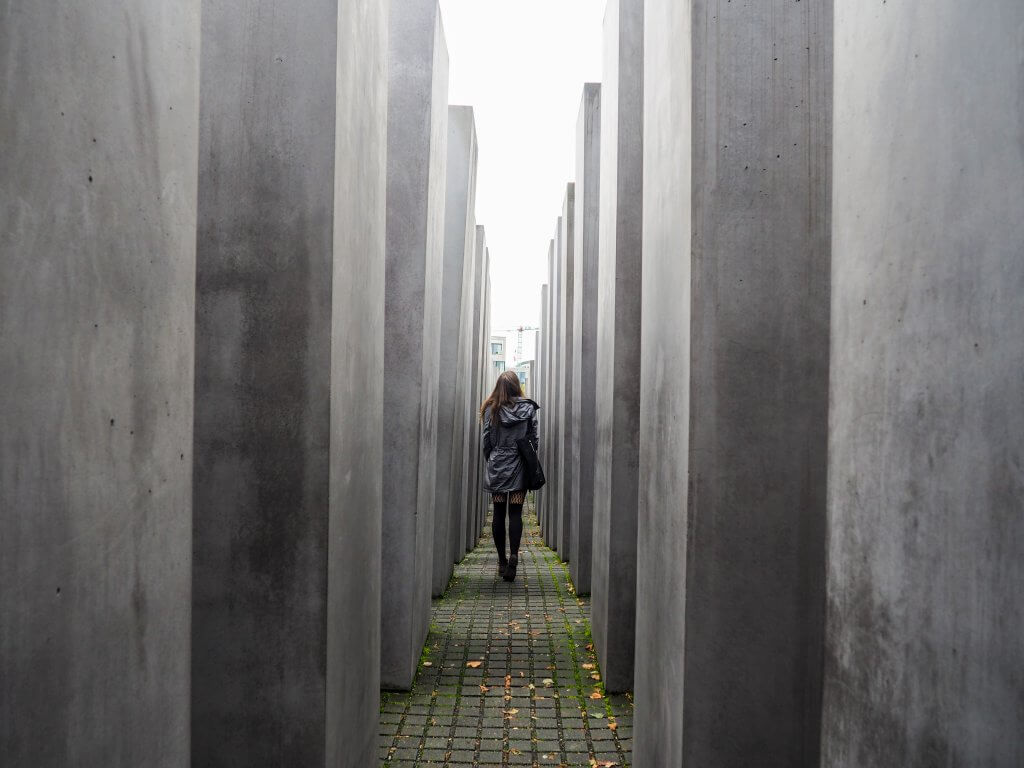 While I have not personally been to the  museum connected to the memorial, this important part of history recognizes and immortalizes the atrocities that took place here, in an effort to never forget the past while working towards a more peaceful future.
The weird and amazing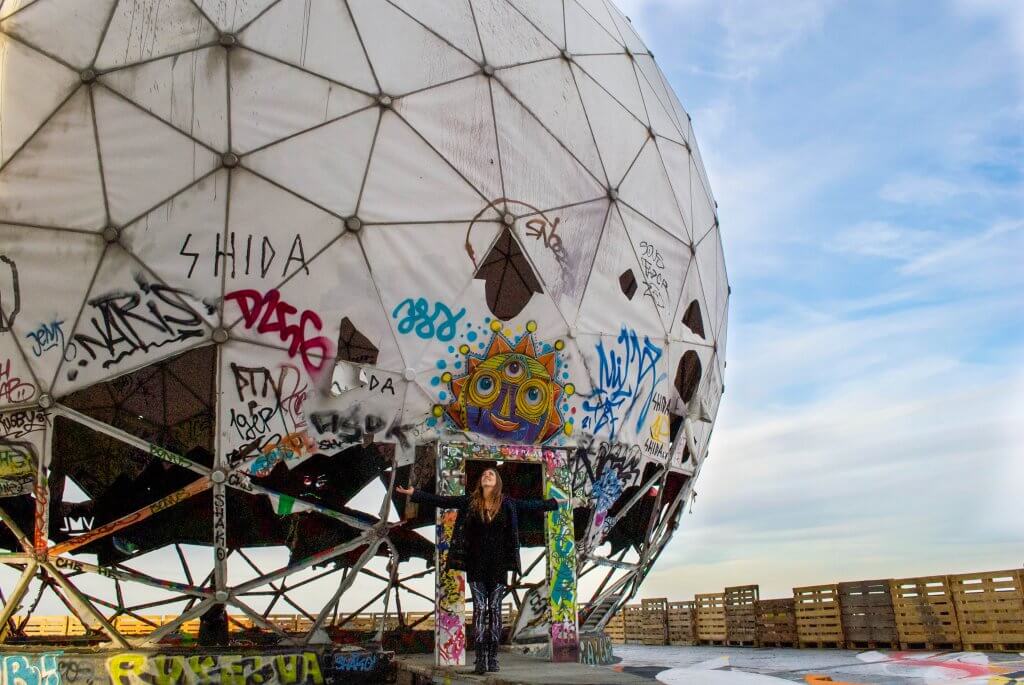 Teufelsberg
I think this is one of the coolest and most unique things to do while in Berlin. The old American spy base, now named Devils mountain, has been covered in art by some of the most prominent street artists around. The old listening domes create a unique aesthetic and it is also one of the best spots in the city to get an awesome view. The only way to see it is to take a tour. More on that here.
Urban spree
This urban space is one of my favorites to bring friends to because I love how the street is always changing, plus there is a rock wall, the largest indoor half pipe in Europe, a kung fu gym, and lots of places to see live music. There is also a flea market here on Sundays –  that's where I bought all of the furniture in my apartment too!
If you want to party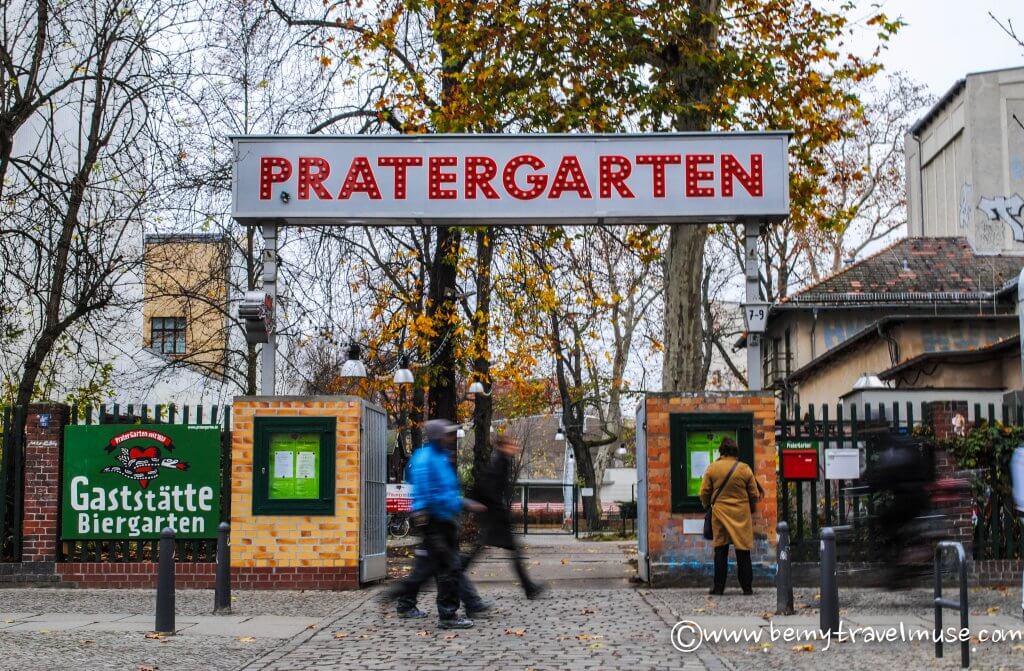 It's no secret that most young people come to Berlin because they have heard of the amazing nightlife scene. The party literally never stops. It's totally normal to wake up at 6 AM on a Sunday morning and head straight to a nightclub and dance all day, or to enter on a Friday and walk out on a Sunday morning. Many of them have food inside so that you really don't have to leave.
Most of them, intentionally, will cover up your cell phone cameras so that you can't take pictures while inside, and I also don't want to spoil the fun or the surprise. This you've got to see for yourself!
Berghain
If you are the party type, chances are you have heard of this club. It is notoriously the most difficult club to get into in Europe. It got its start as a gay nightclub and is known for its techno beats. The line is often hours long, especially in the summer.
I have been several times, and my secret is just to wear all black, don't act too eager, and to go with someone who tends to get in often. They like familiar faces. If you don't know anyone local, your best bet is dressing very casually, again in all black, and showing up alone. They tend to love it when people go solo.  If you go in a big group, wearing heels, or wearing anything but black, chances are high that you will get turned away.
For more LGBTQI-oriented nightlife options check out the Nomadic Boys' Berlin Gay Area guide.
Live music
I am not a big techno fan, which makes many locals gasp in horror, but luckily there are always options!
so I tend to peruse Songkick for tickets for shows that I want to see instead of just going out and trying my luck at nightclubs.
Späti culture
When it is warm enough, you will notice that there are chairs and tables set up outside of the small convenience stores known as spätis.
It's kind of like chilling at a small bar on the sidewalk, though they usually do not have bathrooms. However it can be a very social way to pass the time and it is not something I have seen elsewhere.
KitKat club
Since we are talking about nightlife, I can't skip this institution of Berlin. KitKat is a place where people are as naked and sexually free as they please. There is a dress code – one should be wearing latex or nothing at all. If you are open minded and adventurous, KitKat can be a fun club to check out. There is even a swimming pool inside!
What to eat: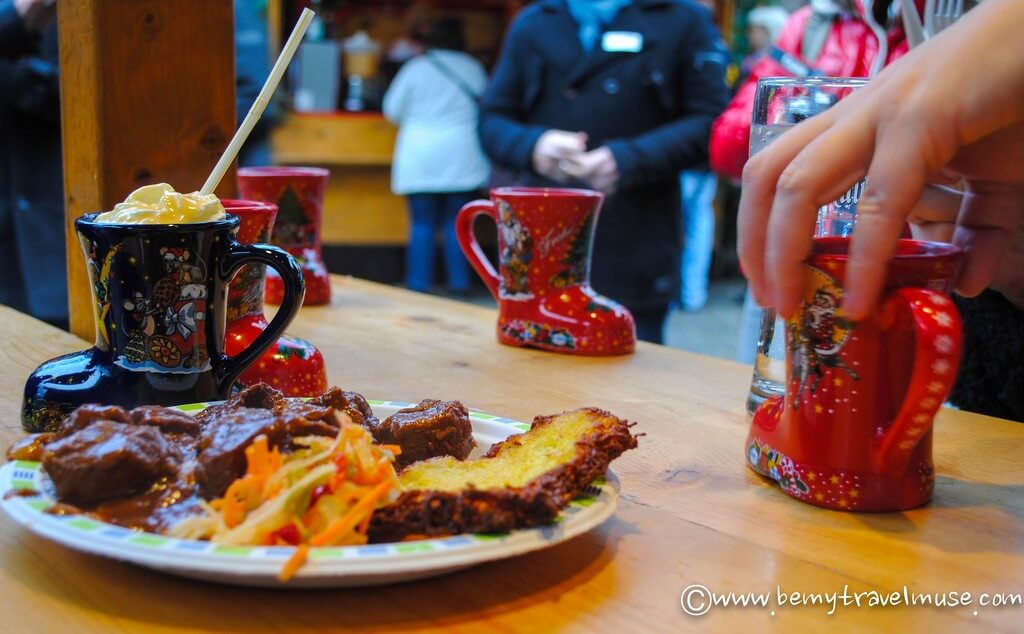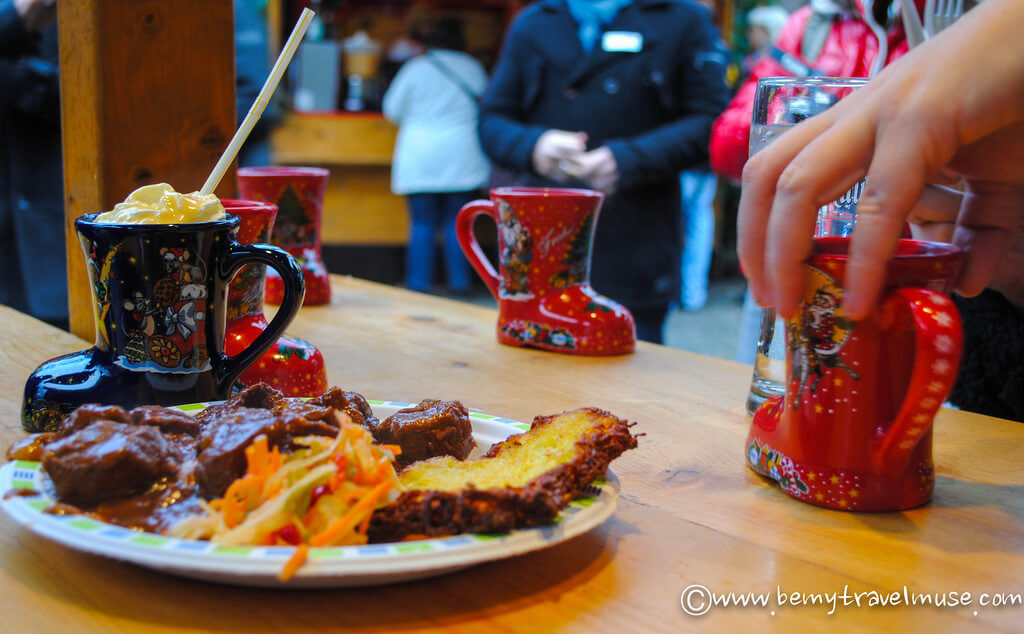 Cheap eats
Berlin is known for two famous cheap eats: Currywurst and Döner kebab. Both meals are just a few euros and can be found on nearly every street all throughout the city.
International fare
Since Berlin is such an international city, you can find food from all over the world here and much of it is authentic and delicious. Best of all, food in Berlin is usually a great value for the amount of food that you get as compared to much of the rest of Europe, so eat up!
Rosa Caleta – Jamaican Fusion
This restaurant has an ever-changing menu of flavorful Jamaican fusion cuisine. The combos are delicious and every time you go in there, you'll discover something new on the menu. Bonus points since the owner regularly makes the trip over to London so that he can get access to fresh ingredients.
Sigiriya – Sri Lankan
While you would be much better off getting delicious Indian food in the UK than in Berlin, there is a pretty good restaurant that serves up delicious Sri Lankan food, which has itsf similarities to Indian cuisine but has a lot of its own flavors and dishes as well. Their menu also goes into detail about each spice and how it complements the meal.
Tibet Haus – Tibetan
This restaurant serves up food that reminded me of what I found in Nepal. For those who are looking for a taste of the Himalayas with warm dumplings (mo mos), delicious dhal soups, and a noodle soup called thukpa, this restaurant will make you feel like you're high up in the mountains.
Angry Chicken – Korean Fusion
This place is pretty small, so it's not great for a relaxed meal out, but if you're dying for fried chicken or bibimbap, angry chicken has flavorful and delicious fried food for cheap.
Hirsch – Schnitzel
I've searched high and low and this tavern has the best and most affordable schnitzel in town. It's also served up with a little bit of Spätzle, a soft egg noodle, and potato salad, Swabian style from Germany's south. It's not a fancy place but it's cozy and friendly. Note that they open at 4pm.
Good Morning Vietnam –  Vegan Vietnamese 
This used to be my absolute favorite Vietnamese restaurant for its authenticity. Recently the restaurant went vegan, and while I still feel they're working their new menu out, it's still a good spot if you have a craving for Vietnamese food without the animal products. It's a little hidden so be sure to go through the courtyard to find it.
Every time someone visits me, I bring them to this Lebanese joint where you can get a teller plate large enough to serve three people for only €11. It's a stone's throw from Klunkerkranich and I highly recommend combining the two!
Yarok Fine Syrian Food from Damascus
This place is a recent discovery of mine and like Al Andalos, their teller plate is affordable and full of varied and delicious flavors incorporating flavorful spices, sauces, yogurts, and veggies.
The best cake
Germany is known not just for sausages, schnitzel, and beer, but for delicious cake, too. I've searched high and low and these are the winners:
This coffee and cake shop is known for having the best cheesecake in Berlin and after sampling it myself five times I can verify that it is delicious but the next spot gives it a run for its money.
This little unassuming bakery has the best cheesecake I've ever had in my life. And it's vegan! I don't know how they do it, but it's mouthwateringly delicious, as are their other cakes and coffee.
Where to stay, broken down by neighborhood:
Where you stay in a city as spread out as Berlin will dictate a lot of your activities – or how long you spend in the train. I have a post with a lot more info on each neighborhood broken down here, but here's a little bit of each one for you below:
Charlottenburg
This classy and quiet neighborhood in the west of the city is close to the main shopping street, Kurfürstendamm, Teufelsberg, and Thai park.  It's the first neighborhood I ever lived in and well, it is not my favorite, but it has a lot of higher and hotels and nice places to stay in.
Schoenberg
Similar to Charlottenburg, this neighborhood is quiet though it has a few more speakeasy-type bars and nice restaurants. While it is known as the gay area, the whole city is open, accepting, and free.  I personally find it quite boring.
Kreuzberg
This is my favorite neighborhood in Berlin and where I currently make my home. It is a Street Art mecca as well as a melting pot of cultures. It is also one of the grittiest parts of the city with lots of bars, cheap food, and awesome things to do.
Mitte
Mitte literally means center. This is the most central and also one of the most touristy places to stay in the city. It is close to the famous checkpoint Charlie, Brandenburg gate, and Museum Island. Parts of Mitte  are very corporate, like Walstraße (Wall street) and others are a bit more funky and interesting, like the area near Mauer Park. While thanks to its central location this might be a good place to stay while visiting, this is the only neighborhood I have not lived in, by choice.  I find it lacks character.
Freiderichshain
This is my second favorite neighborhood in the city. Located in the former east, it's where you will find the east side gallery, most of the night clubs, lots of great food, and a ton of other tourists. I love it for the world of things to do and the culture, but watch out for your belongings here!
Neukölln
This up-and-coming neighborhood is a mix of hipsters and rougher areas where cat calling is common.  I lived there for a summer and for that reason absolutely hated it, but I do like to go back for Klunker Kranisch and the delicious Turkish food and vegan cake.
Prenzlauerberg
Also located in the former east, parts of this neighborhood have trendy restaurants and bars and other parts are much more family oriented. This is a nice, upscale neighborhood that has gentrified dramatically from its days under Soviet rule. It's not my favorite nor least favorite neighborhood.
Wedding
This neighborhood is a bit rough around the edges. However several artists have studios here because the rent is cheap. It's pretty far from most things a tourist would want to do, so I don't see much point in staying here unless you want to be very close to Tegel airport.
After almost four years and lots of research, this is the best of Berlin from an (almost) local's point of view.
The coolest thing about Berlin is, it's always changing, and whether you're here in the popular summer months or the cooler and darker winter, there's a lot to discover and enjoy here.
This post is always being updated with new discoveries, and I'm open to what you find as well, so please leave a comment if you've got some favorites here that didn't make the list!