Looking for a solo weekend getaway that's easy to reach, easy to love, and easy to navigate? Are you hoping for plenty of things to do that are enjoyable if you're solo, but also might introduce you to local people? The following are a few of my favorite weekend getaways for solo female travelers, mostly in the western USA:
1. Maui, Hawaii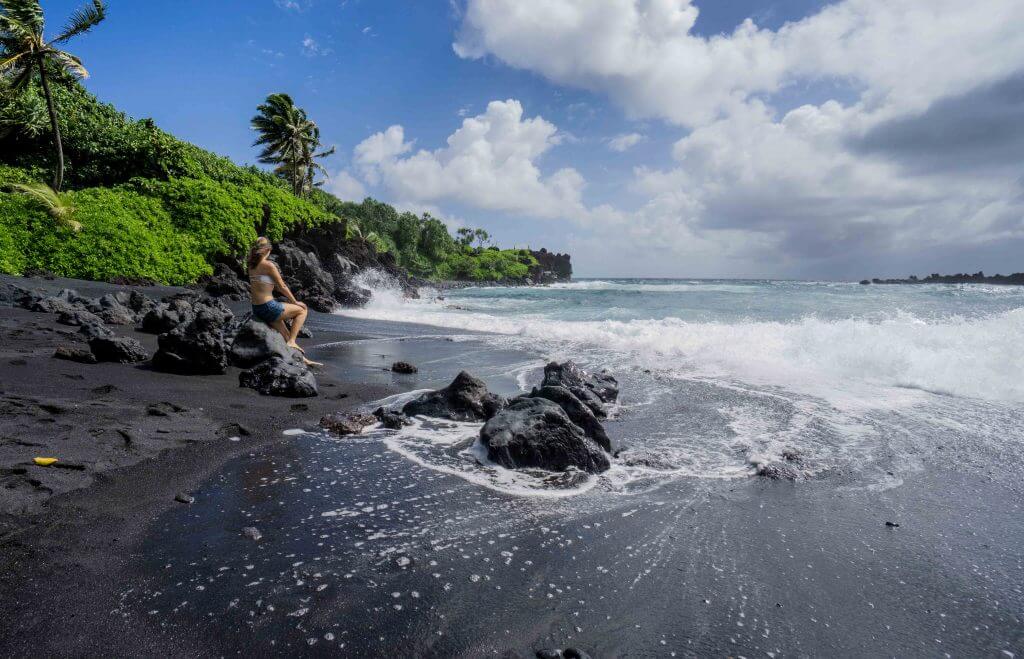 While Maui is more of a 'long weekend' option, the island has so much natural beauty and myriad of activities, it's worth the effort to get to. Start with an afternoon sunbathing anywhere on Maui's 30 miles of beach, then try an ocean activity like surfing lessons, snorkeling, or windsurfing. Explore the coves and tide pools at Kihei Beach or the natural pool surrounded by a lava rock wall at Launiupoko Beach Park in West Maui. Browse local surf shops in small towns like Lahaina and Kihei, and stop for shave ice as often as you can.
Go ziplining high above the island's incredible terrain, or take a whale-watching cruise to see migrating humpback whales. Mountain bike down a volcano, learn about Hawaii's marine environment on a kayak, canoe, or snorkeling eco-tour, or drive the breathtaking Road to Hana. At the end of the day, enjoy a delicious seafood dinner and the beautiful island sunset. Maui is truly the perfect destination for a simultaneously exciting and restful solo getaway. Read more here for the best things to do as a solo female traveler in Maui.
Stay: Airbnb offers this charming studio up in the mountains, or you could stay at this luxury boutique B&B. Here's a list of our recommended boutique hotels.
Getting there: You can fly directly to Maui's major airport, Kahului Airport, or into Oahu's Honolulu International Airport and then take a 30-minute flight to Maui. Rent a car so that you can easily cruise around the island!
The West
2. Boise, Idaho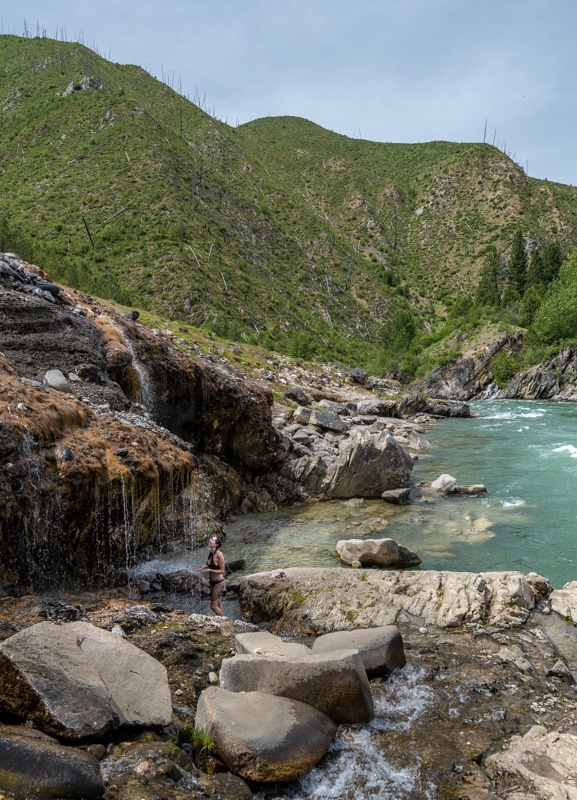 Boise is so unexpectedly cool, I was blown away by all there is to do and see there. Plus, it's so friendly, so as a solo traveler I enjoy myself there. First, head downtown to Freak Alley for some seriously cool street art. Just around the corner, to places with delicious eats, are Guru Donuts, which has vegan options, and Lemon Tree Co. for some delicious sandwiches and salads. For sunset, head out to Camel's Back Park or even out to Bogus Basin for an even better view.
If you're keen, the drive between Boise and Stanley, just a few hours away, is stunning and Stanley is an adorable little town. For outdoorsy types, it's worth heading out for some beautiful hikes in the Sawtooth Mountains and soaking in the hot springs on the way. You can read more about the hot springs here.
Stay: The Modern Hotel downtown is walking distance from most of the things mentioned above, and is a funky, comfortable place to stay.
Getting there: Boise Airport is easy to fly into, with several rental car options right near baggage claim. If you do decide to head out and explore the surroundings, always keep an eye out for deer!
3. Seattle, Washington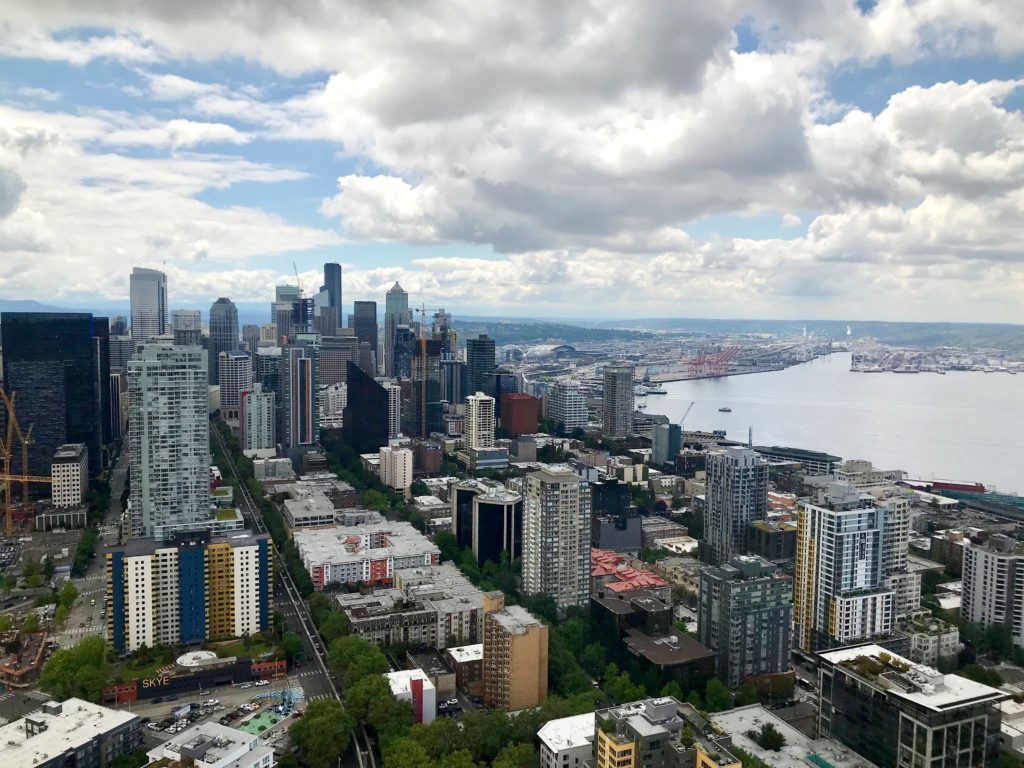 One of the go-to destinations of the Pacific Northwest, Seattle has both a beautiful waterfront area as well as a great downtown feel, complete with skyscrapers and classy hotels. A proper weekend in Seattle involves some exploring of both. Start by taking a harbor cruise to get a great tour of the whole city from the water. Then, work your way inland by stopping at Pike Place Market, a huge indoor-outdoor market full of flower booths, fresh fish stalls, and delicious lunch spots which is an essential part of Seattle's culture and character. (Interestingly enough, the very first Starbucks was born here!) After you've had your foodie fix, spend some time walking around downtown, which is full of cool shops, cafes, bars, and even a few street musicians! Or, catch a Mariners' baseball game at T-Mobile Park if you want to spend a low-key afternoon like a local.
Want to take in a great view of the city? Hang out at Kerry Park, a hilltop spot in the Queen Anne neighborhood on the west side of downtown. For even better views, head up to the top of the Space Needle and look down through the rotating glass-bottom floor more than 500 feet above the ground. While you're in this area (referred to as Seattle Center), pay a visit to the Museum of Pop Culture and then to Chihuly Garden and Glass, an exhibit of glass art installations set inside a botanical garden. Before you leave, be sure to eat some delicious fresh seafood at any of Seattle's great restaurants
Stay: This stylish studio on Airbnb would make a great solo-weekend home. The modern and centrally located Motif Seattle is also a great option for taking on the city.
Getting there: Fly into Seattle-Tacoma International Airport and rent a car to get you to and from the city. While much of Seattle is walkable, you might need the car to get you to a few destinations a bit more spread out from the city center.
4. Bend, Oregon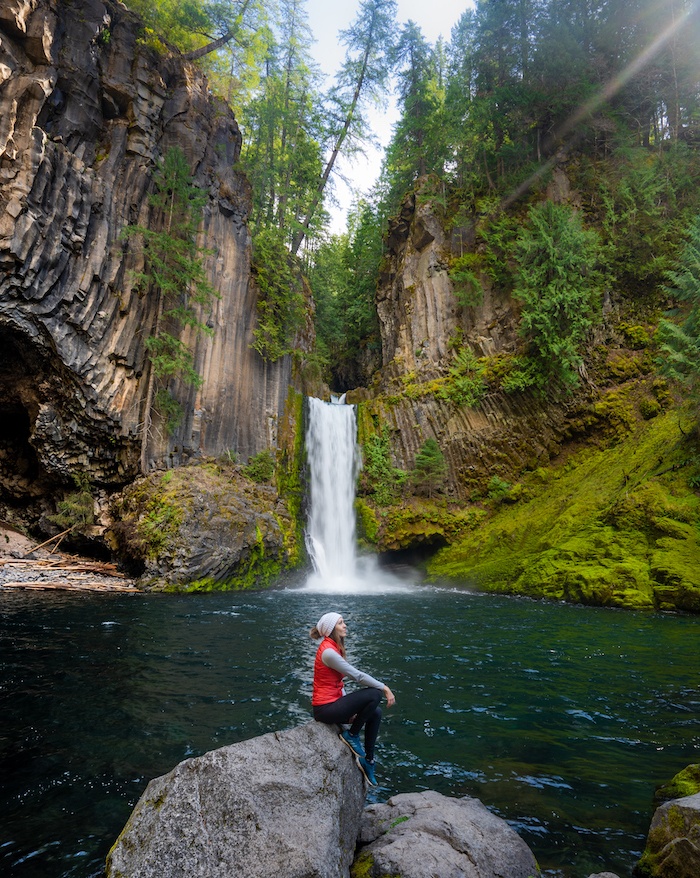 The Northwest town of Bend, Oregon is a small slice of paradise for anyone who loves the great outdoors. Referred to as "the mountain town that has it all," there is no shortage of wonderful experiences in Bend. For example, the nearby Deschutes River offers a plethora of river activities like canoeing, kayaking, stand-up paddle boarding, and tubing. You can even go white water rafting, which is a great way to meet other travelers and adventure junkies! Bend is also home to a 65-mile span of forest running trails called the Bend Urban Trail System. When it snows, Mt. Bachelor has the driest powder in the Northwest for skiing, snowboarding and snowshoeing. And believe it or not, Central Oregon's temperate climate ensures that the hiking and biking in Bend is great year-round. Other activities in Bend include taking a helicopter aerial tour of the region (or take a 66-mile road trip) and hanging out in the Old Mill District, two old lumber mills turned into the city's hub for shopping and dining.
What's more, Bend has been nicknamed "Beer Town USA" for its huge number of breweries. (In fact, Bend is home to more breweries per-capita than any other city in Oregon, third in the USA!) If you want to make a go at trying all 18 of them, embark on the Bend Ale Trail Beer Tour, where you collect stamps from each brewery you visit in a quest to win cool souvenirs from the Bend Visitor Center. Or, hop aboard the Bend Brew Bus for a guided tour of some of the best spots in Bend, complete with tastings and appetizers.
Stay: Airbnb offers stays like this cozy private room and this riverfront condo. Or, the beautiful Riverhouse on the Deschutes is cozy, spacious, and even pet-friendly.
Getting there: Fly into Redmond Municipal Airport and rent a car to drive the 20 miles south down Highway 97 to Bend.
5. Rocky Mountain National Park, Colorado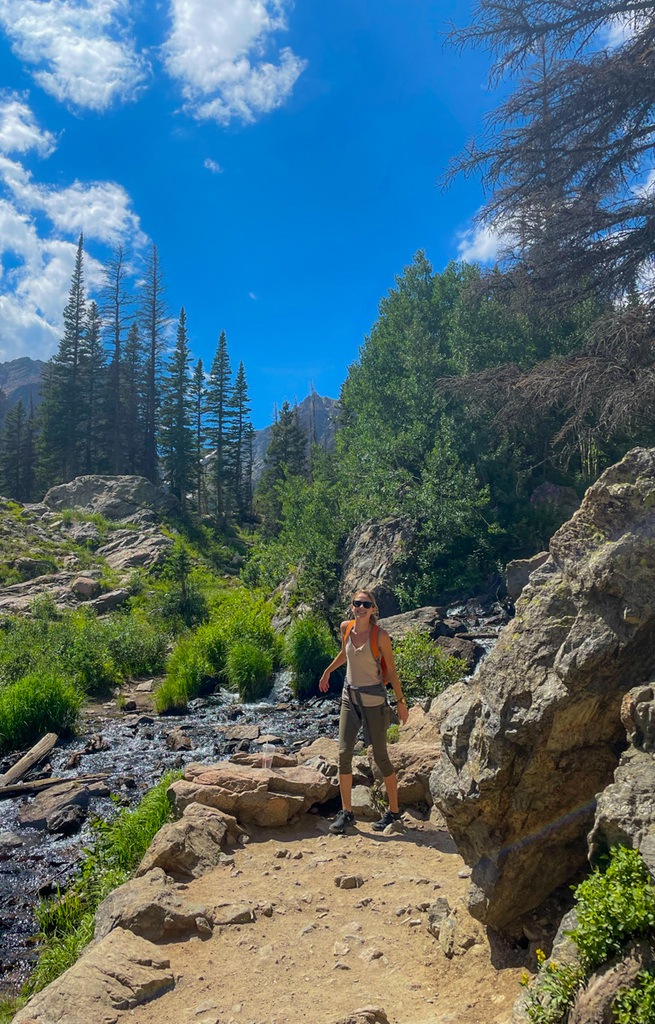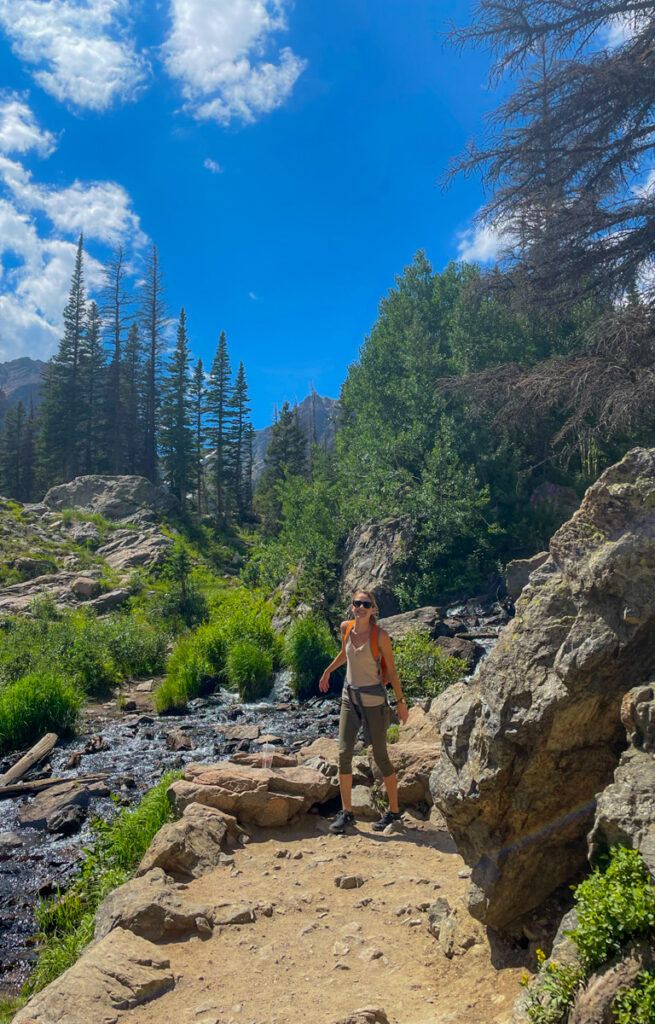 If you're looking for a peaceful solo weekend in nature, consider Rocky Mountain National Park. The wildlife like to come out in the spring. If you visit in the summer, you'll have excellent hiking to various lakes, camping and mountain-biking. The crowds will be smaller in the fall, and in the winter, you can enjoy snowshoeing, cross-country skiing and ice fishing. There are all sorts of terrains, suitable for any experience level, and the views are truly rejuvenating!
You'll want to make the visitor's center your first stop because you can pick up hiking trail maps, learn about the area and plan the rest of your stay accordingly. If you decide to roadtrip here through part of Colorado to get to the national park, the Trail Ride Road will take you right through, connecting the towns of Estes Park and Grand Lake. Be sure to bring a jacket no matter what time of year you visit, as well as binoculars, hiking shoes and a travel pack.
Stay: In Estes Park you could stay at this adventure hostel, or a Mongolian Mountain Yurt. In Grand Lake, there are some campgrounds or the Grand Lake Lodge.
Getting there: Fly to Denver International Airport and rent a car to Estes Park (an hour and a half away) or Grand Lake (three hours). You don't have to drive through the entire park to experience its full beauty.
6. Santa Barbara, California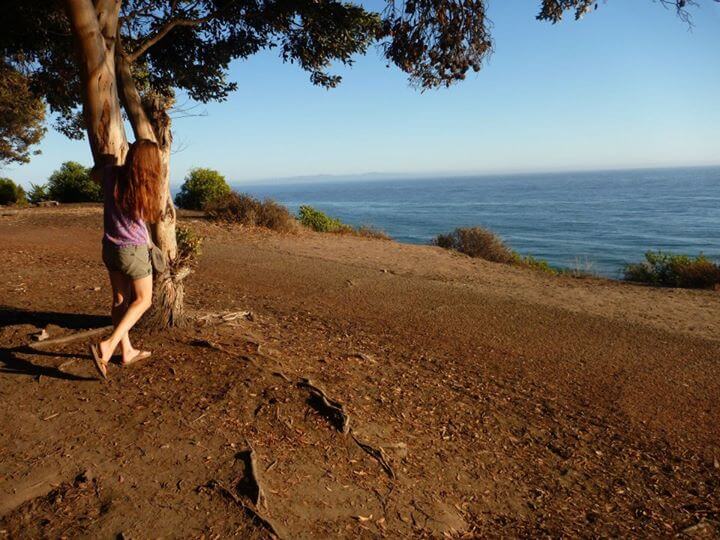 Often referred to as the American Riviera, Santa Barbara has so much to offer a female solo traveler. From the trendy Funk Zone neighborhood and shopping on State Street to hanging out on the beautiful beaches and strolling down the pier, there are countless things to do in SB. Try one of the hikes up in the mountains, like 7 Falls or Lizard's Mouth, or go up to the hilltop ruins of Knapp's Castle to watch a colorful sunset.
If you love history, head uptown to check out the Santa Barbara Mission, or climb to the top of the courthouse's bell tower for a fantastic 360-degree view of the entire city. For a slow afternoon, rent a bike and cruise around the downtown and waterfront areas for fantastic scenery and a great atmosphere. You could even consider spending a Saturday morning exploring the farmers' market two blocks off State Street! Regardless of your choice of activities, you are bound to have a great solo weekend in Santa Barbara.
Stay: The Wayfarer and Hotel Santa Barbara are both great options if you want to stay in the heart of the city. Or, check out this Mission Canyon studio up in the hills or this downtown cottage, both available on Airbnb. If you'd like to camp, El Capitán State Beach, located 20 miles outside downtown, is a great option.
Getting there: The Santa Barbara Airport is small and easy to navigate. Rent a car and you'll be set for the weekend!
More of California's hidden places here:
7. Capitola, California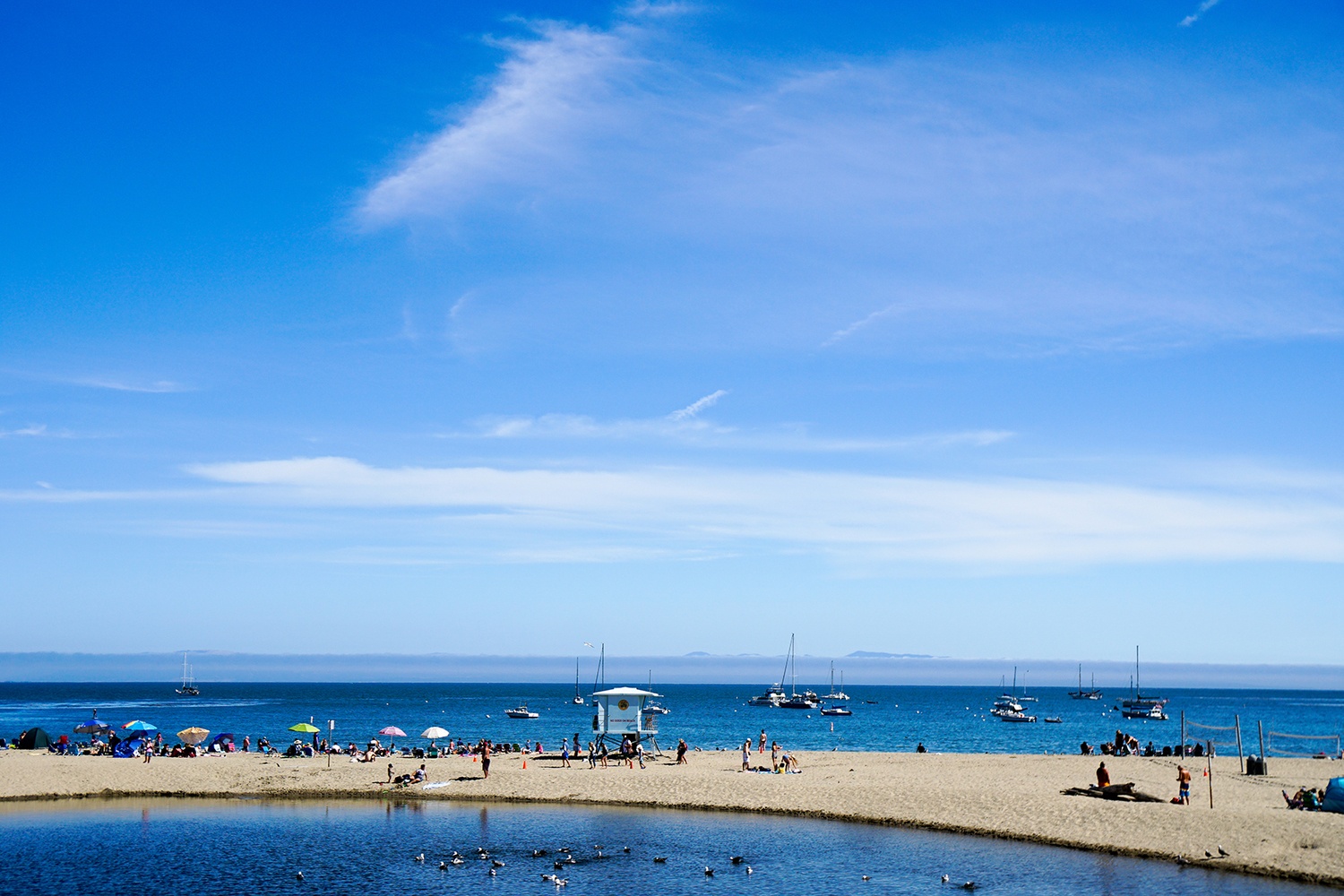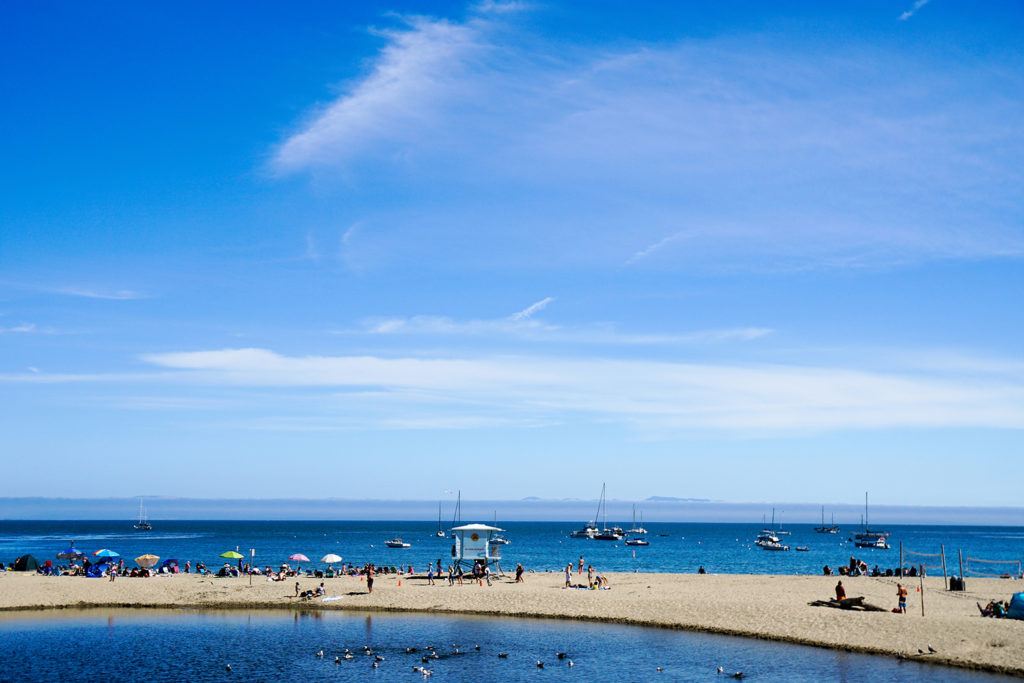 Nestled six miles east of Santa Cruz lies the quaint, sleepy beach town of Capitola. Its friendliness and charm make it a perfect destination for a girl's solo weekend trip. The town is home to both the Capitola Art and Wine Festival and the Capitola Beach Festival, taking place in mid- to late September.
Hang out on the wide stretch of beach, take a surf lesson, or rent a stand-up paddleboard. When you get hungry, grab a massive slice of pizza from Pizza My Heart, a hole in the wall which makes such delicious pizza that it led to a chain of 24 other locations throughout California. The downtown area of Capitola, called Capitola Village, offers tons of unique shops and restaurants to explore. The Capitola Historical Museum even offers free walking tours around town. Once you've done all you wanted to do in Capitola, take a day trip to the Santa Cruz Beach Boardwalk. This classic pier carnival has been around since 1907, offering plenty of rides, games, and delicious fair food. Sometimes the Boardwalk even offers free movies or concerts on the beach
Stay: Spend a relaxing weekend in this private room beach home Airbnb, or stay closer to the beach at the charming Capitola Hotel.
Getting there: The nearest airport is Norman Y. Mineta San Jose International Airport. From there, rent a car and drive the 35 miles down CA-17 South to Capitola.
8. San Diego, California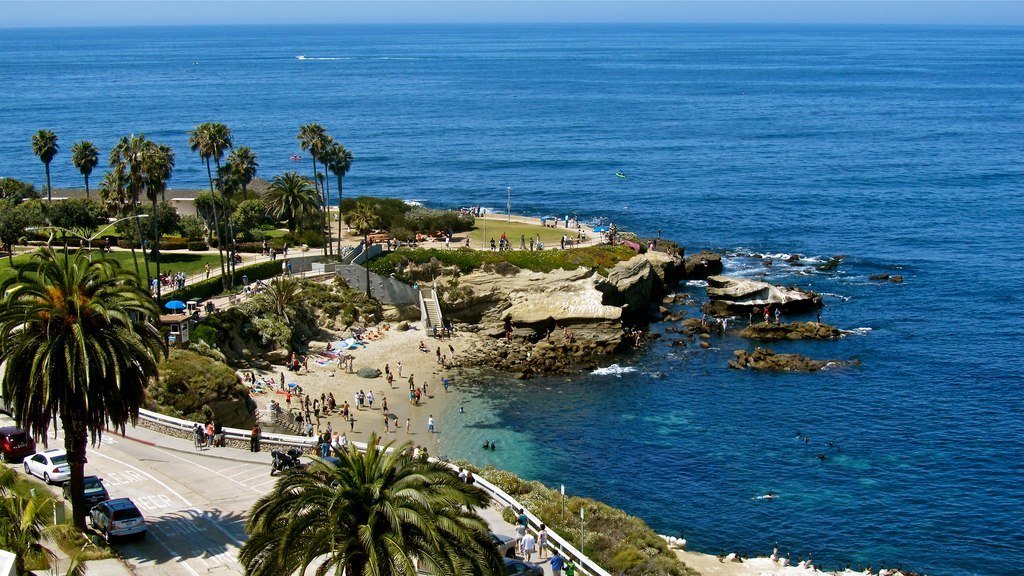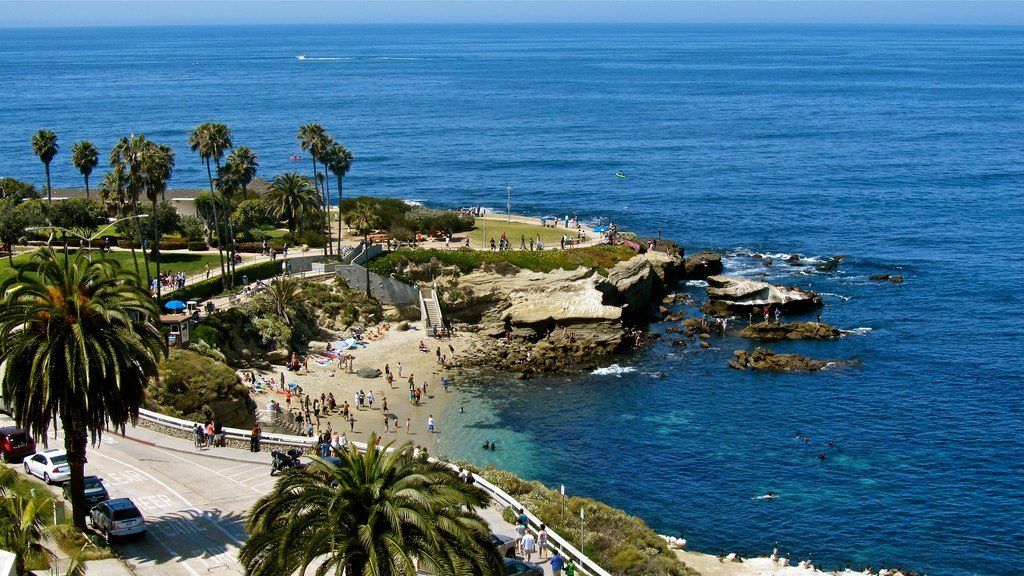 San Diego is special in that it has a unique way of combining city life with Southern California beach life. There aren't too many places where you can have both skyscrapers and wide spans of ocean! Because of this great pairing, San Diego is just packed with fun things to do. Whether you choose to explore the historic Old Town area, catch a Padres baseball game at Petco Park, or simply lay on the beach and soak up the sun, it is tough to get bored in San Diego.
One must-do: take a trolley to the Gaslamp Quarter and go on a haunted walking tour. This 16.5-block area at the heart of downtown is often referred to as San Diego's "urban playground" for its abundance of dining and nightlife (read our tips for staying safe). Also, be sure to set aside a few hours to explore the lush grounds of Balboa Park, full of gardens, museums, and the world-famous San Diego Zoo. Go shopping downtown at Seaport Village (14 acres of waterfront retail therapy), or grab some snacks and head to La Jolla Cove for a picnic, a kayak through the caves, or a picturesque afternoon at the beach!
Stay: This unique apartment in Little Italy would be a great home for the weekend. Or, check out the Pendry San Diego for a glamorous city stay.
Getting there: Flying into San Diego International Airport is super convenient. Rent a car and you're ready to go!
9. San Francisco, California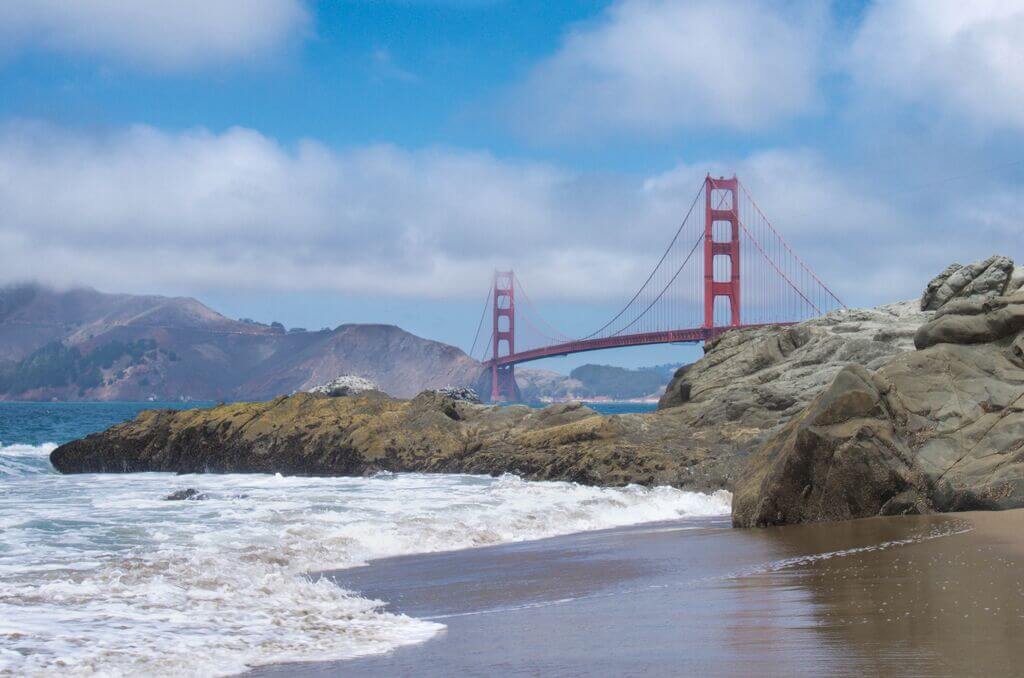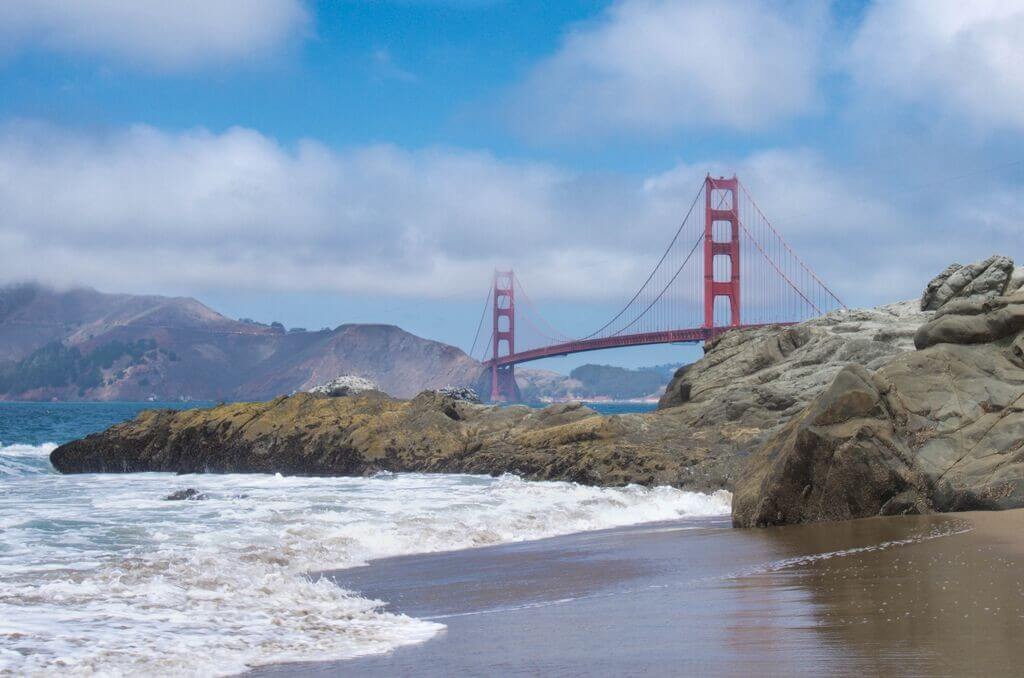 San Francisco is one of the most well-known cities on the entire West Coast, and for good reason. This bustling "City by the Bay" is full of diversity and excitement, and promises any solo traveler a weekend full of unique experiences. Start by checking out the de Young Museum in Golden Gate Park, and explore the park's different gardens while you're there. Adjacent to the park lies the Haight-Ashbury neighborhood which maintains its historical 1960s hippie vibes and is full of cool restaurants and bars, record shops, and vintage shopping. Check out the incredible architecture at the Palace of Fine Arts, and then explore the Presidio, a 1,500-acre national park. For a great view of the Golden Gate Bridge, head to Baker Beach (on the west side of the Presidio) where you'll also have beautiful scenery of South Bay. You can also go on a bay cruise and visit Alcatraz.
Drive down the crazy twists and turns of the world-famous Lombard Street, then head to the top of Coit Tower in the Telegraph Hill neighborhood for beautiful views of the city. If you're looking for that classic downtown feel, spend some time shopping in Union Square. If you plan your SF trip accordingly, you can catch a Giants baseball game at Oracle Park or even attend the yearly Outside Lands Music and Arts festival in early August!
Stay: Airbnb offers some fun, affordable options. For example, this chic suite less than two blocks away from the Golden Gate Park, and this charming guest house a block away from Dolores Park. While a hotel in SF is more expensive, places like the Grand Hyatt San Francisco offer a glamorous city experience.
Getting there: Fly into San Francisco International Airport and take BART (Bay Area Rapid Transit) from the airport into the city. Use Muni, the bus and metro system, as well as San Francisco's famous cable cars to get around the city so that you don't have to rent a car and drive in the crazy city traffic. If there is somewhere that you simply can't reach with public transportation, taxis are readily available throughout the city.
10. Big Sur, California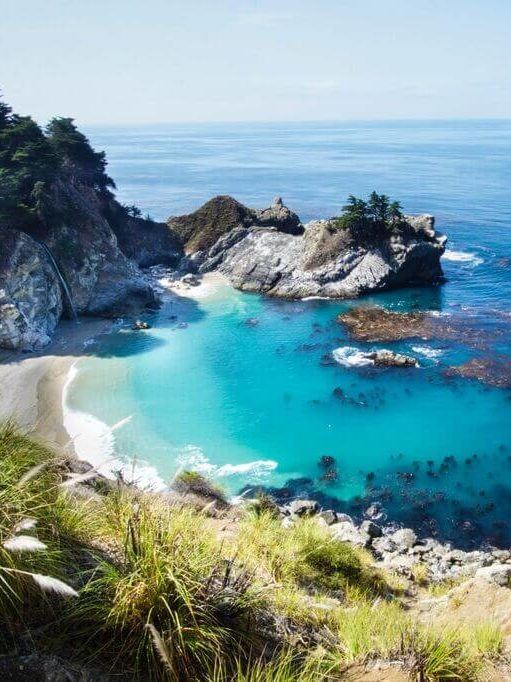 25 miles south of the city of Carmel, Big Sur is where waterfalls and seaside cliffs meet redwoods and mountains. Big Sur is home to five state parks, two state nature reserves, and Los Padres National Forest, so there is no shortage of incredible sights and outdoor activities. Perhaps start a road trip with Julia Pfeiffer Burns State Park, which has seven different hiking trails leading to coves, waterfalls, creeks, and forests. Pfeiffer Beach is home to purple-tinted sand, tide pools, and the famous Keyhole Arch, which is breathtaking at sunset when the light shines through it. Explore the groves and meadows of Andrew Molera State Park by foot, bike, or even horseback, then, go for a surf at the park's beach, which is rumored to be one of Big Sur's best surf spots.
Check out McWay Falls, an 80-foot waterfall onto a small beach with bright teal waters, or drive down the coast along the scenic Highway 1. Go beachcombing for sand dollars at the aptly-named Sand Dollar Beach, and follow its short trail up to the bluffs to look for migrating whales. Be sure to see Bixby Creek Bridge, a 260-foot high and 700-foot long bridge stretching between two rugged hilltops high above the coastline. Finally, when all of your adventuring through mountains, forests, oceans, beaches, creeks, rivers, and waterfalls is done for the day, retire to a campsite among tall redwoods or overlooking the Pacific Ocean to rest for another day of exploring.
Stay: One great campsite is the Fernwood Resort along the Big Sur River. It offers several different options for camping, including traditional camping, RV camping, cabins, and even "glamping"! Fernwood also provides access to a variety of beach, redwood, and river hiking trails. Or, for something more rustic, stay at Deetjen's Big Sur Inn, which dates back to the 1930s.
Getting there: If you plan on flying to Big Sur, the nearest airport is Monterey Regional Airport. You'll have to rent a car and drive down Highway 1 until you reach the part of Big Sur you wish to visit.
The South
11. New Orleans, Louisiana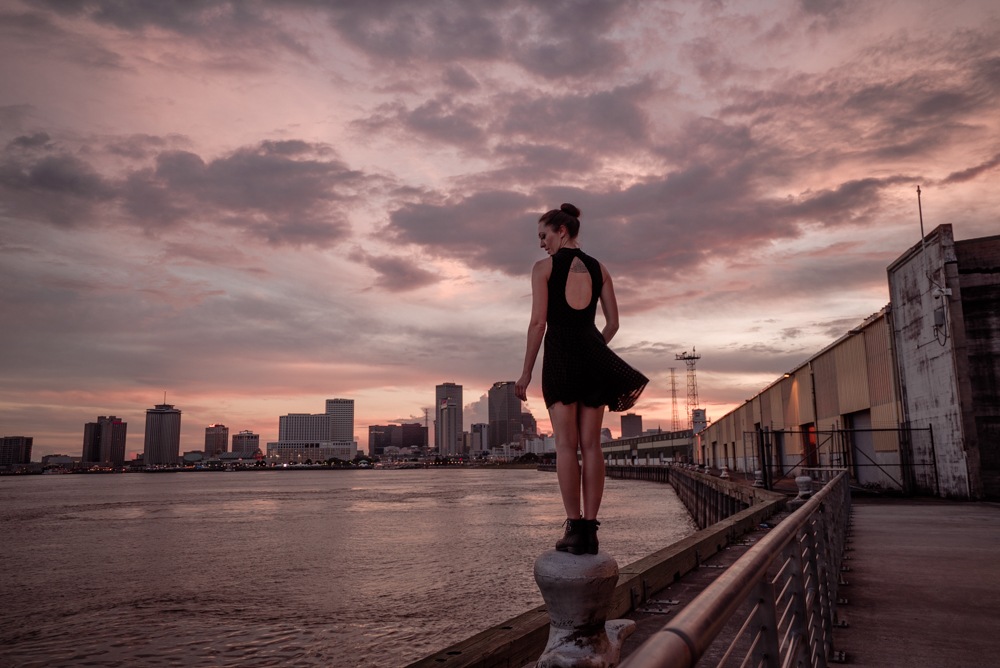 NOLA is special because it feels like a piece of the past, complete with streetcars and an architectural style that you won't find anywhere else. New Orleans offers all kinds of things to do (here's our NOLA itinerary), from trying incredible French-Creole or vegan cuisine to soaking in the city's history and culture. Start with one of New Orleans's many museums, like the New Orleans Jazz Museum or the Mardi Gras Museum of Costumes and Culture (which includes an interactive Mardi Gras costume closet). For another fun solo experience authentic to New Orleans, you can get your tarot cards read!
Take a walking tour of some of the historic plantations around New Orleans, like Whitney and Oak Alley. Then, spend time shopping and wandering through the French Quarter, where you can also try the famous beignets and a cafe au lait at Café du Monde, which has been in New Orleans since 1862. Check out the French Market, America's largest and oldest open-air market, to browse the work of dozens of artisans. Or, explore the quirky, artistic Bywater District, where you can rent a bike and take a ride along the Mississippi through Crescent Park. End the day by listening to live music on Frenchmen Street (be sure to read our recommended packing list for what to wear).
Stay: This charming Airbnb, located only a half-block from the French Quarter, would make a great home base for a weekend in New Orleans. Or, try the beautiful (and affordable) International House Hotel less than a mile from the French Quarter for that classic New Orleans feel. Alternatively, check out our list of recommended boutique hotels.
Getting there: Fly into Louis Armstrong New Orleans International Airport, then take the airport shuttle to downtown, uptown, or the French Quarter. Once you're in the city, it is easy to get around by foot, bike, or streetcar, so you won't need to rent a car for the weekend.
12. Islamorada, Florida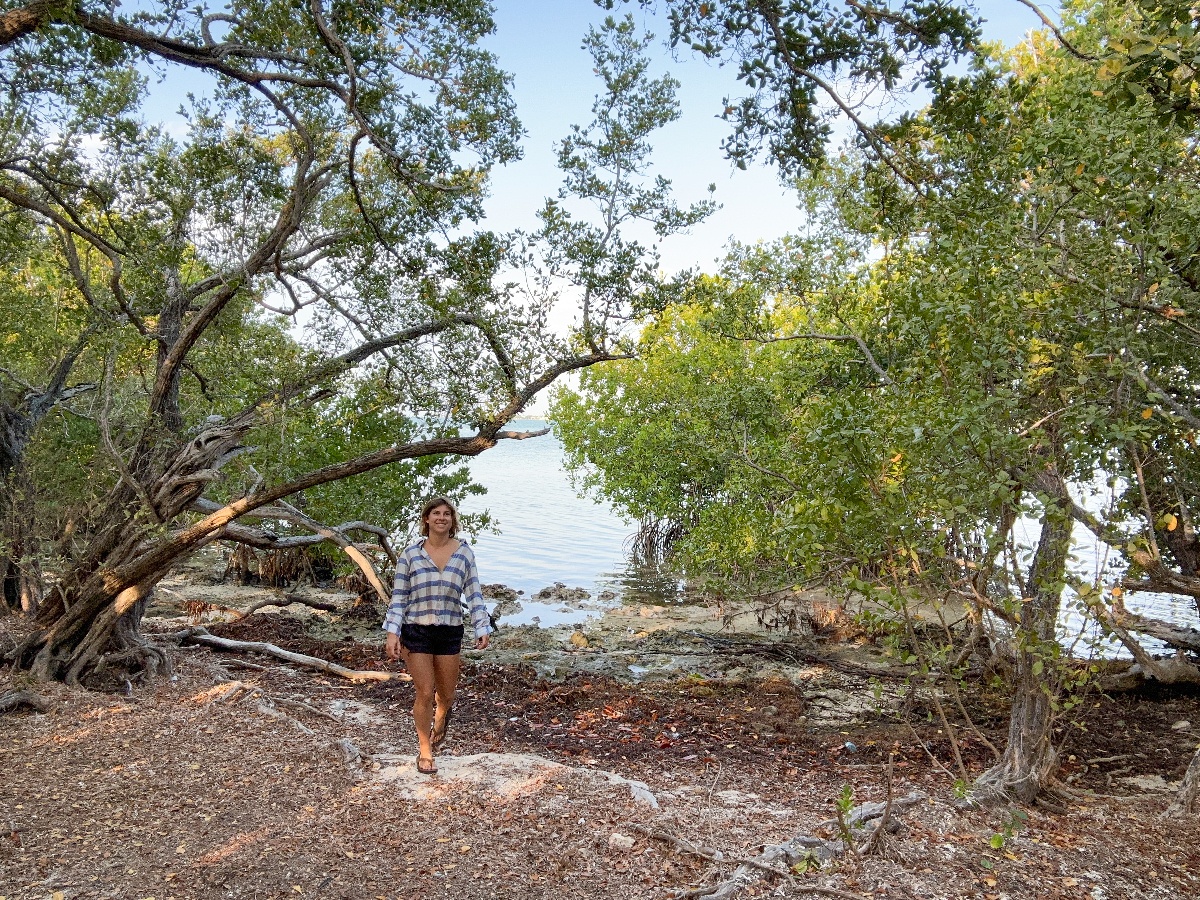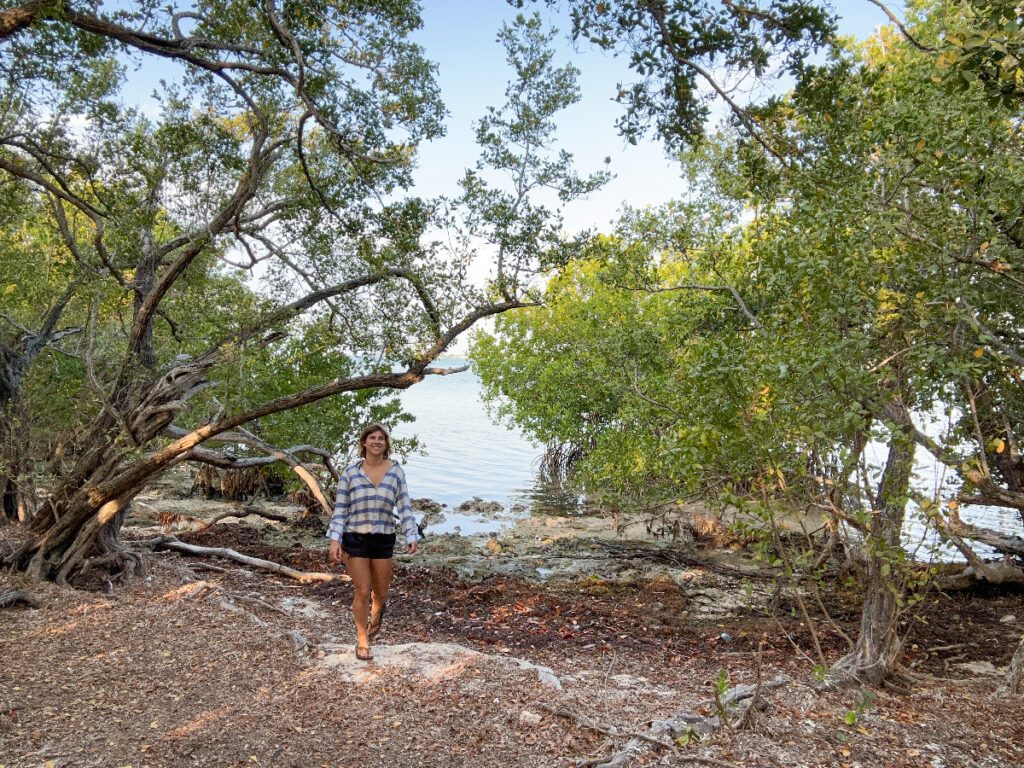 If you're looking for a laid-back weekend in the sun, head to Islamorada. The Village of Islands is a beautiful part of the Florida Keys. It's located partway between Key Largo and Key West, and is a perfect balance between touristy and peaceful. The free transportation in electric vehicles makes the village easy to explore, and the waters are warm and gorgeous. There's spectacular snorkeling where you'll feel like you're in an aquarium, and you can walk through the Indian Key ghost town. There are several state parks, or you could enjoy the outdoors with activities like eco-tours, fishing, boating, and feeding the tarpon at Robbie's marina.
Another reason why Islamorada is the perfect weekend getaway is you are so close to the other Florida Keys. If you happen to discover all that Islamorada has to offer, you can explore Marathon and even venture to see the deer at Big Pine. The Overseas Highway will take you from key to key, and as long as you start or end in Islamorada, you can use the village's free transportation.
Stay: The Sunset Inn is centrally located to all that Islamorada has to discover, has a pool and offers fishing charters. Or the Pelican Cove Resort and Marina has complimentary kayak and paddleboard rentals, a private beach and a saltwater lagoon!
Getting there: fly to Marathon and take the free Islamorada transportation to your hotel, or fly to Miami and take a Flixbus to Islamorada. Once you're there, you can use the free transportation to get around, or if you've driven, you can just use your car!
The Mid-West
13. Chicago, Illinois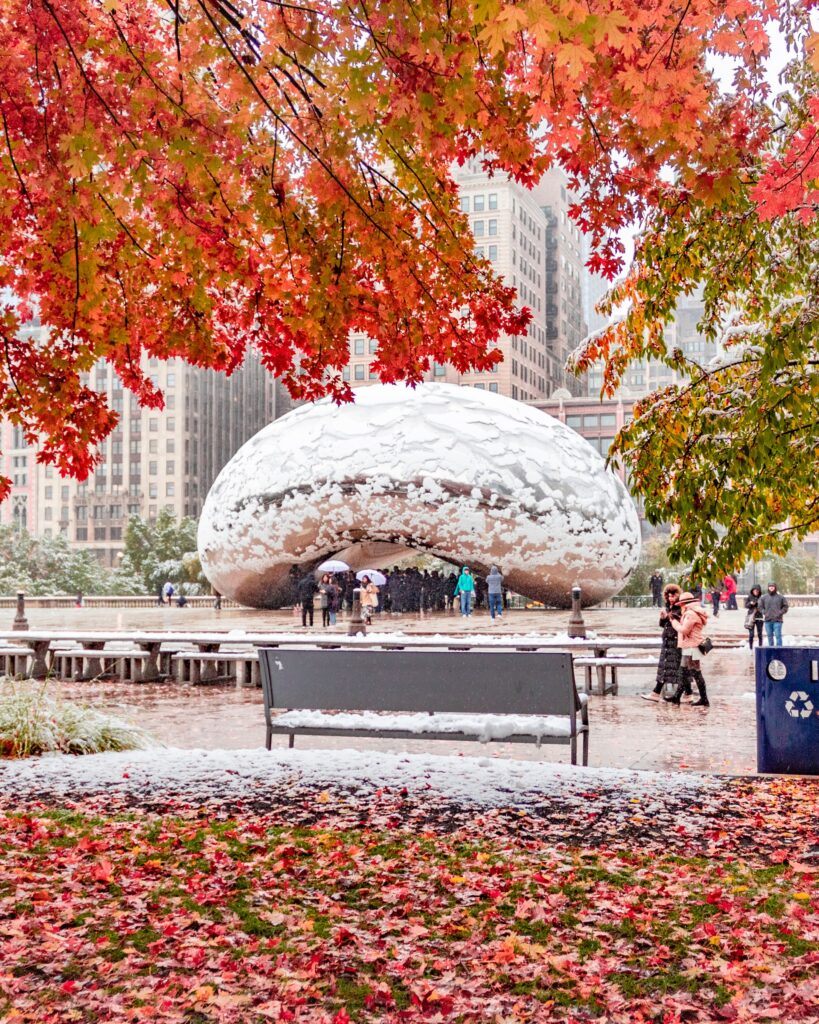 Chicago is a very enriching, and also affordable city for a weekend vacation. As with many other U.S. cities, there is a relatively high crime rate, so be sure to check out these safety tips from a local before you go. The weather in Chicago can also be somewhat unpleasant at times, but you can still visit at any time of year and have a full schedule if you know what you want to do and pack accordingly (read our article on the best time of year to visit Chicago).
You can kayak in the Chicago River, go on food tours, enjoy beaches on Lake Michigan, walk through the zoo, go biking on 606, and of course get a selfie at the Bean, or any number of other year-round things to do. Some free activities include volunteering at a community garden, strolling through the streets, visiting museums, go to a summer street festival, and learning about sustainability.
Stay: This hostel at Lincoln Park (a charming area) includes breakfast, or you could stay at an Airbnb in LGBTQ+ friendly Lakeview, but there are several neighborhoods worth exploring, especially if you are visiting Chicago for a particular vibe.
Getting there: Fly into Midway and then hop on the Orange Line L to get downtown. The L line is the best way to get around the city once you get there.
***
Ready to head out on a solo adventure? I hope this list helped you to find something appealing, whether it's an island or beach escape, bustling city with its own culture, or a foodie paradise.
Have more to add to the list? Let us know in the comments!