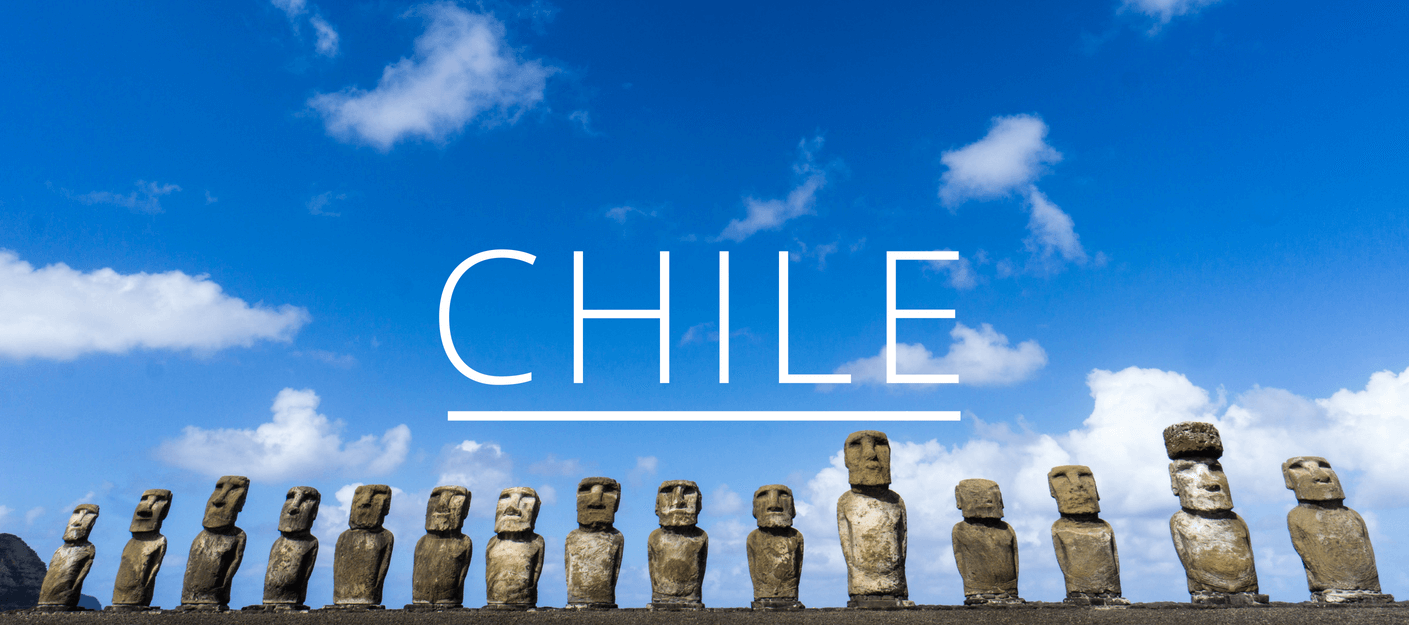 After spending two months in Chile, I left thinking it really does 'have it all' in terms of landscape. 
Chile is one of the longest countries in the world, narrowly beaten out by Brazil, is home to the driest desert on earth, the most remote island on earth, and partial home (shared with Argentina) to the third largest frozen body of fresh water in the world. For those who adore hiking, rock climbing, sailing, red wine, and an all-in-one vacation destination, Chile is it. 
Chile is also the most prosperous nation in South America, and leads Latin America in peace, income per capita, and democratic development, making it a great place to explore for first-timers to South America.
Quick Tips
'Hello' and 'Thank You' in Spanish:

 "Hola" and "Gracias"

Currency

: Chilean Peso

(

click here

 

for current conversion rates)

Visa

: 90-day visa on arrival for US citizens. Australians must pay a reciprocity fee 

(

click here

 

for more info).

Safety rating

: Ranked 27 on the

Global Peace Index 

with a score of 1.63 (USA is ranked 128 with a score of 2.40).

Solo Travel Friendliness

: The locals are friendly, there's an excellent transportation network, and a low rate of violent crime. Chile is a great country for solo travelers to start their South American journey. That said, in major cities like Santiago, pickpocketing does happen so always keep an eye on your belongings. Additionally, catcalling is normal in Chile just like the rest of South America.

Climate

: Since Chile is so long, it depends on where you go. In the far north, expect scorching hot summers and in Patagonia, be prepared for heavy winds, rain, and cold all year-round. Winters often experience snow in the mountains and in Patagonia.

Best SIM cards

: Claro or Virgin. Easily purchasable from street vendors who also sell air time. Spanish speaking ability (or a friend who can help) required.

Random useful tip

: If hiking in Patagonia, bring waterproof hiking shoes, a waterproof and windproof jacket, and clothing that can handle all temperatures, seriously!
Accommodation
Budget Solo Travelers ($5 - $20): Camping is awesome in Chile! In Patagonia, it will be available just about everywhere you go. If you have a tent with you, expect to pay $5 - $20 to camp at campsites with kitchen facilities and showers. In the San Pedro de Atacama Desert, free camping is available at the park entrance at the Valle de la Luna, and there are plenty of places where you can simply follow car tracks off the road and find a nice, totally secluded spot for the night. Camping is also an option in popular places like the Easter Island. Dorms on the mainland generally cost about $10 - $15 per night, offering free Wi-Fi and breakfast. Consider a HI Network membership to get better rates if you plan on staying exclusively in hostels.
Mid-Range Solo Travelers ($20 and up): Expect to pay about $35 - $40 for a private room in a hostel or a budget hotel. Airbnbs average at about $20 for a private room, and at about $55 for an entire unit. Cabanas are very popular in Chile, and you'll find them in popular areas, especially by the coast. Staying and sharing a locally-run cabana will save a bunch of money – a cabana can often accommodate six or seven people for around $50+ per night. They come with a kitchen so that you can cook your own food as well to save money - this is a particularly good option on Easter Island.
Transportation
Getting There: The main international airport is Comodoro Arturo Merino Benítez International Airport, located in Santiago. Direct flights are available from the US, Canada, New Zealand, Europe, and Australia. Crossing borders overland is possible by bus from Argentina, Bolivia, and Peru. Go for the full-cama beds so that you can recline fully if on an overnight bus. Note that many passes close in winter due to snow. I once missed a flight in April due to this!
Getting Around: Public transportation is reliable, cheap, and comfortable in Chile. Local buses (called micros) cover a wide range of routes, and a short single trip typically costs less than $1. Destinations are usually displayed on the window, and a ticket is issued by the bus captain at the point of boarding. Shared taxis (called colectivos) usually cost only slightly more than the local buses, and are much more comfortable. Similar to the local buses, destinations are displayed on the windows. Taxis are metered and widely available in major cities. In Santiago, trains are incredibly efficient, though they get very crowded during peak hours.
Inter-city Traveling: Long distance buses are reliable and comfortable. Most inter-city buses have reclining seats, plenty of legroom, and frequent departures. Prices vary between companies, and the most popular bus companies are Tur Bus and Pullman. Buy tickets online, at your hostel, or in person at the bus stations. To reach the wilderness areas that are not accessible by local transportation, it makes sense to rent a car, though my personal recommendation is to rent a campervan and have it double as your accommodation as well. Make sure to double check everything when you pick up the vehicle. Hitchhiking is widely common and sometimes the only option in Patagonia, where the locals are used to hitchhiking and picking up hitchhikers.
Food
Local Eats ($5 - $10): Local staples include potatoes, avocados, and sweetcorn. Beef is excellent throughout the country. Eating out can be expensive in Chile but it's worth it now and then. Budget travelers can buy groceries at the local supermarkets and cook their own food at the hostels or campsites, which typically have kitchens and cooking utensils available for guest use. Expect to pay about $30 - $50 for a week's worth of groceries. Small meals like empanadas, sandwiches, pita bread, and sausages are sold by street vendors. Lunch deals, or menu del dia, offer a complete meal with starter, main, and dessert for about $7 - $10.
Restaurants & Bars ($20 - $30): Great quality restaurants and cafes are ubiquitous in major cities. Beef is the country's pride and it's definitely worth splurging now and then on a meal out. Expect to pay about $20 for a steak with a glass of wine. I have also had some of the best lamb ever in Patagonia, cooked on a spit and called cordero patagonico, so keep a lookout for that! If you are in the coastal areas, make sure to order Chile's fish and seafood, which rank among the best in the world. Bars in major cities and coastal areas serve great fruit juices, beer, and wine.
Things to do
Get Artistic in Valparaíso: Valparaíso is a colorful menagerie of narrow alleyways, spray painted self expression, and colorful houses up steep streets. The entire district is a UNESCO World Heritage site. It's characterized by tall and narrow streets with tall and narrow houses and funiculars, and in some ways reminds me of San Francisco, which would make sense given its nickname is 'little San Francisco'. One can easily spend a couple of hours (or even a day or two!) wandering and getting inspired by the street art and its people in this gem of a spot.
Explore Easter Island: Standing right in front of the giant Moai statues, towering above us mere mortals, is an incredibly humbling experience. It's like taking a walk into the past, and contrary to popular belief, it can be done affordably and without the crowds. It is not necessary to go with a tour company, as the island is small, and transportation is available in the form of car rentals, quads, and motorbikes. Other than the humbling, giant statues, other activities on the Easter Island include exploring the Ranu Kau Volcano, going SCUBA diving, surfing, and chilling on the only beach on the island.
Camp in the San Pedro de Atacama Desert: The San Pedro de Atacama desert in Northern Chile is famous for a few good reasons: It's the driest desert in the world, has some of the best viewing for stars in the night sky, and it's full of otherworldly-looking canyons, lakes, and landmarks. It's also got plenty of awesome camping spots. Rent a cool campervan, make sure it has a kitchen, bring blankets (it gets very cold at night), plenty of water, and find your own sweet spots. My personal favorite was at the Laguna Chaxa, where I saw the clearest milky way ever.
Hike Torres del Paine: Each year this national park gets exponentially more popular as trekkers discover that Torres del Paine in Chile is a stunning adventure, full of changing landscapes and a glimpse of the Southern Patagonian Ice Field, especially from the full O circuit. The trek typically takes about 8 days, with several starting point to choose from. A good tent, shoes, and hiking poles are necessary for this trek. Here is a full guide to trekking the Torres del Paine.
Snowshoe in el Cani: The park was founded by locals who wanted to protect this area from the woodworking industry. One of the oldest trees in the world, Araucaria tree, can be seen here. The trail to the private national park is pretty steep, but it's a great spot to snowshoe in, walking along a former volcano crater, lagoons, and the beautiful trees is a wonderful experience.
Get to know Siantiago: Chances are you'll be flying into or out of the capital of Chile at some point during your exploration. This vibrant city has street art, great nightlife, and a culture all its own. Read more about things to do there here.