When winter rolls around and many choose to hibernate indoors, it becomes one of my favorite times to explore. Places are less crowded, the experience is festive, and snow brings its own special magic to any situation.
If you're looking for beautiful, entertaining, and good for the soul types of weekend trips from Montréal to the surrounding areas of Québec, these suggestions are all about eating well (including maple things!), enjoying adventures in nature, and R&R.
1. Spa, Farm-to-Table Eats, and Snow Activities at Le Baluchon Éco-villégiature (Eco Resort)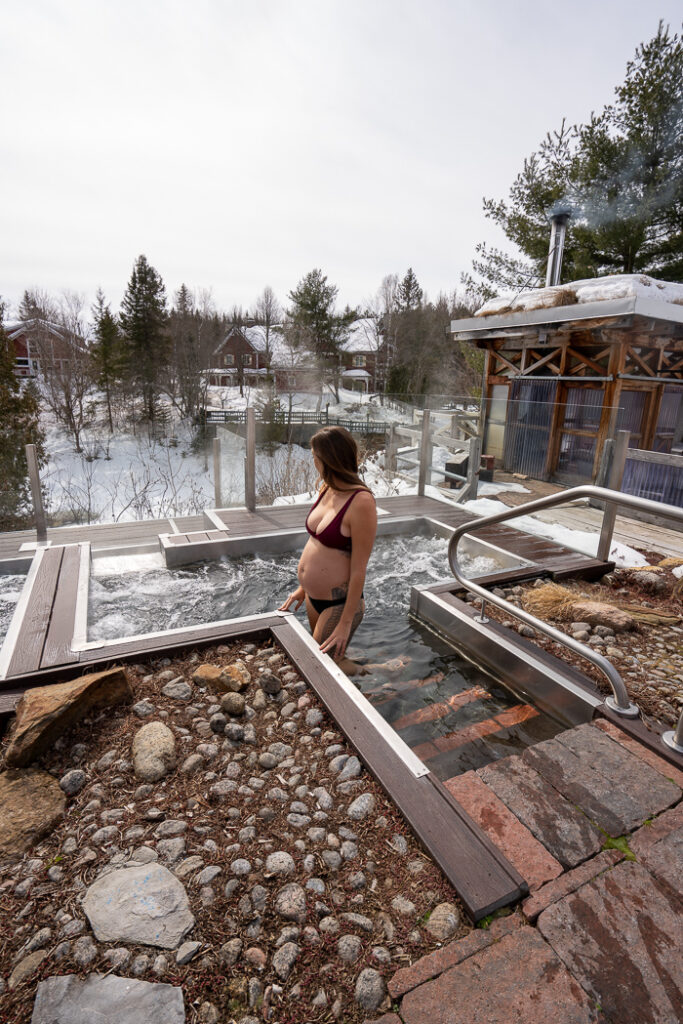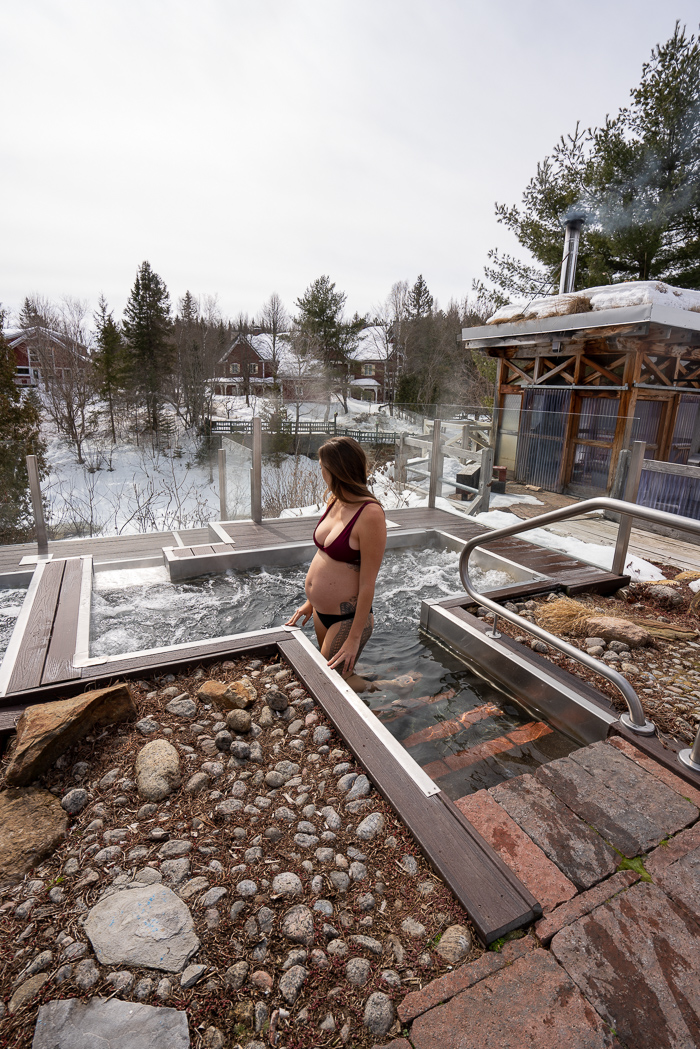 Le Baluchon Éco-villégiature sits on 1000 acres in the Mauricie region and offers everything from activities to a Nordic-style spa and delicious farm to table food.
The rooms feature a big comfy bed, fireplace, and furniture that's made on-site using locally-sourced materials.
I loved that the food is local too, with the eco resort growing much of its own offerings, including raising its own animals and sourcing 80% of the other ingredients from within Quebec. They have their own vegetable garden, hazelnut trees, vineyard, and their animals are raised eating and living well.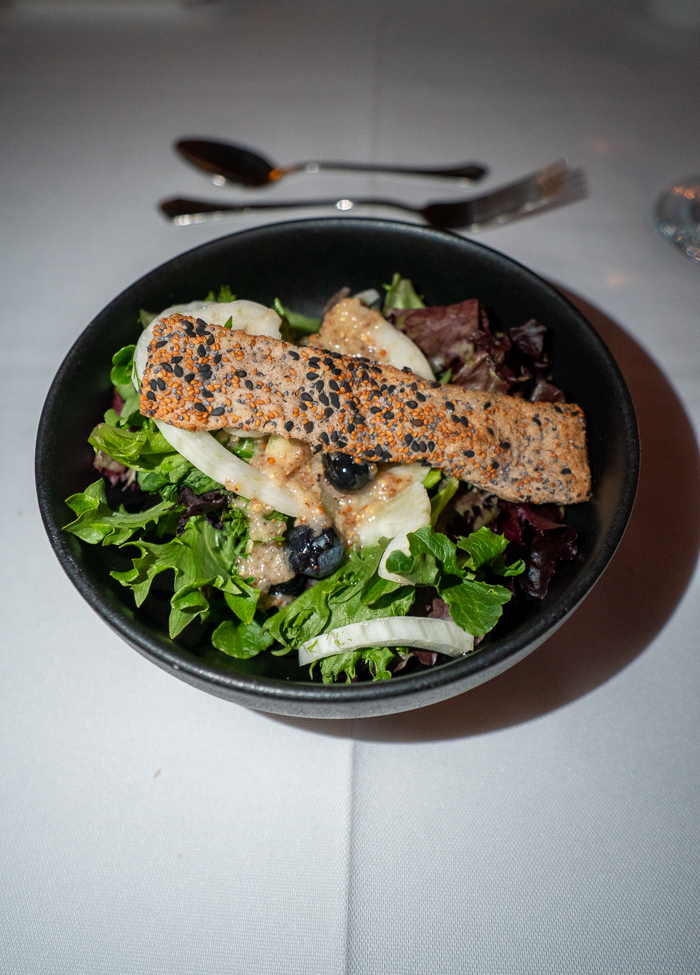 For dinner, I enjoyed a winter salad with fennel and blueberries and for my main, a wild boar pasta with maple glaze and Brussels sprouts – it was so unique I just had to try it! Plus I'm easy to sell on anything with maple syrup.
There's an abundance of winter activities, too, including a winter horse carriage, fat biking, Nordic skiing, horseback riding, snowshoeing, and snowmobiling. The grounds are charming, with a picturesque windmill, chapel, and 35km of trails to choose from.
My personal favorite was the Nordic spa – something I miss dearly from my days living in Europe and wish we had in the US. For those not in the know it features pools of varying temperatures, sauna, and relaxation rooms. I also enjoyed a prenatal massage with Stephanie who knew just how to relieve my lower back pain.
Rarely have I stayed somewhere that had so many things to offer all in one place. I loved that it's also not only family-owned and operated, but several extended local families work at the resort as well, making it a true community effort. Le Baluchon Éco-villégiature is about 2 hours from Montreal.
2. Ma Yourte au Coeur des Collines Yurt Stay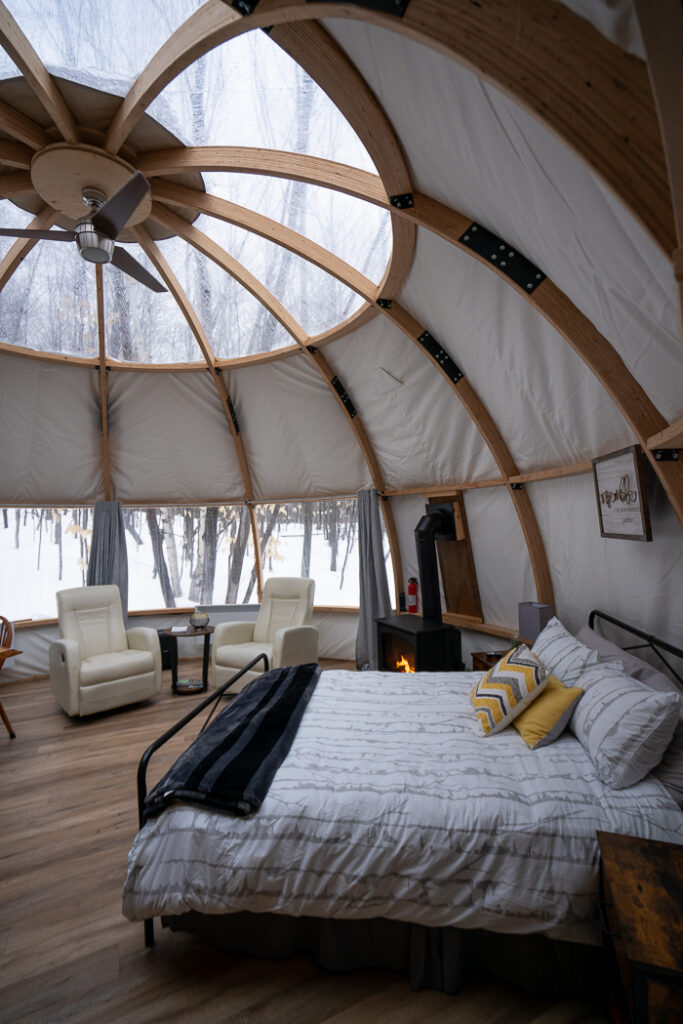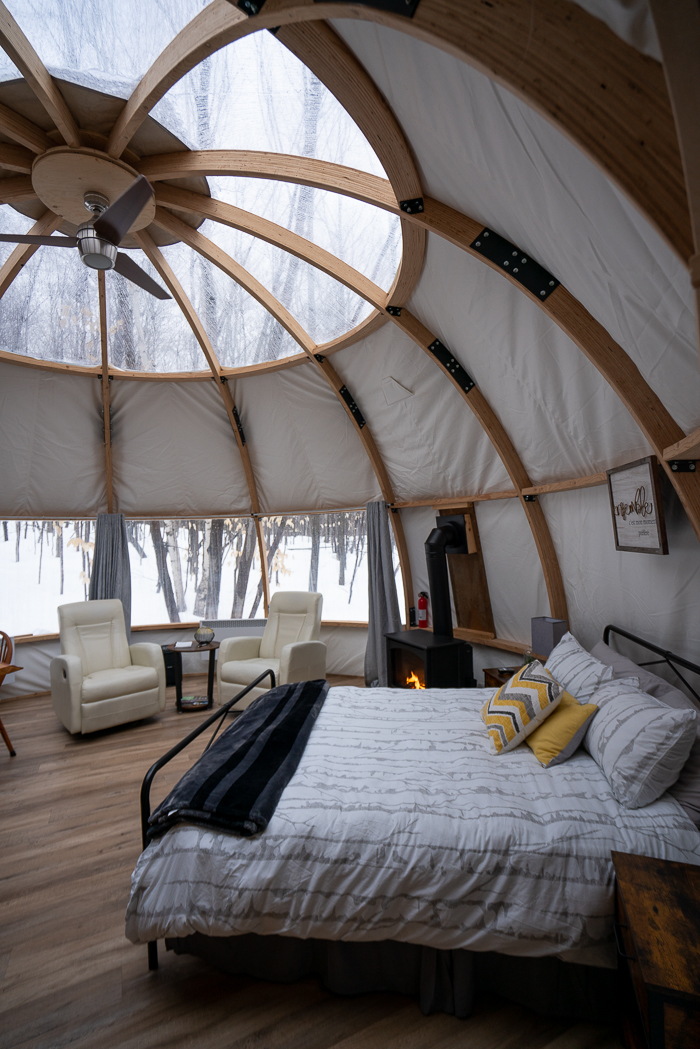 I adored my stay at Ma Yourte au Coeur des Collines. It's set in a charming forest where I experienced nothing but pure peace and quiet.
I stayed in the Kamook, which has windows to the forest behind and allowed me to watch the falling snow from within my well-heated domicile, complete with a full kitchen, sitting area, comfy bed, deck, fire pit, and composting toilet.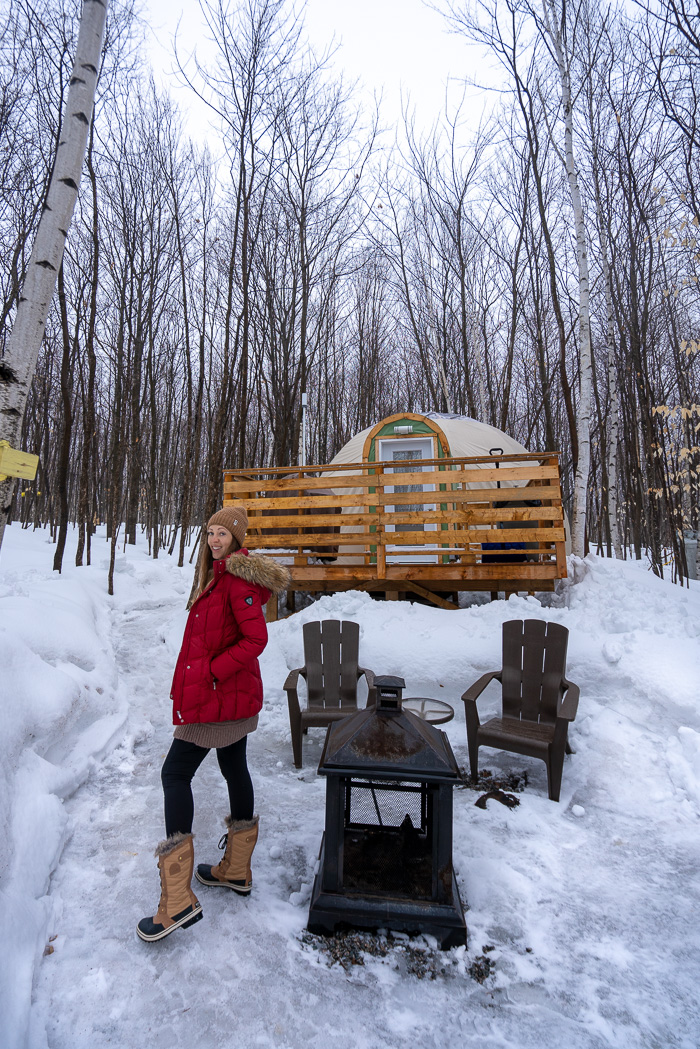 The grounds feature several yurts, which I was also able to visit, that can accommodate small families, as well as a chalet, jungle gym for kids, a short walking/snowshoeing trail, and a hot tub. I was there in the early spring, but in the colder winter months when the lake is fully frozen, guests can play ice hockey, too.
I was also treated to a fondue dinner and charcuterie breakfast, also with locally-sourced ingredients, two add-ons you can ask the wonderful owner, Guy, about. Book it here (though this page is only in French, Guy speaks great English and can be contacted while booking if you need assistance).
3. Sugar Shacks in the Eastern Townships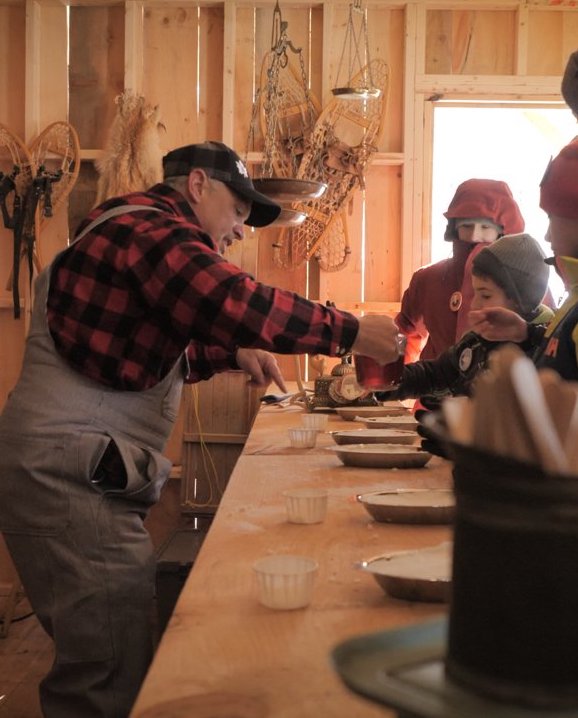 If planning your getaway in March to early April, get excited, because it's maple harvest time! This is a Québecois specialty that I loved experiencing for a peek into local culture and obviously, LOTS of maple syrup tasting.
Though there are many, I visited two very different, but both wonderful, maple farms while in the area.
Érablière Bernard in Granby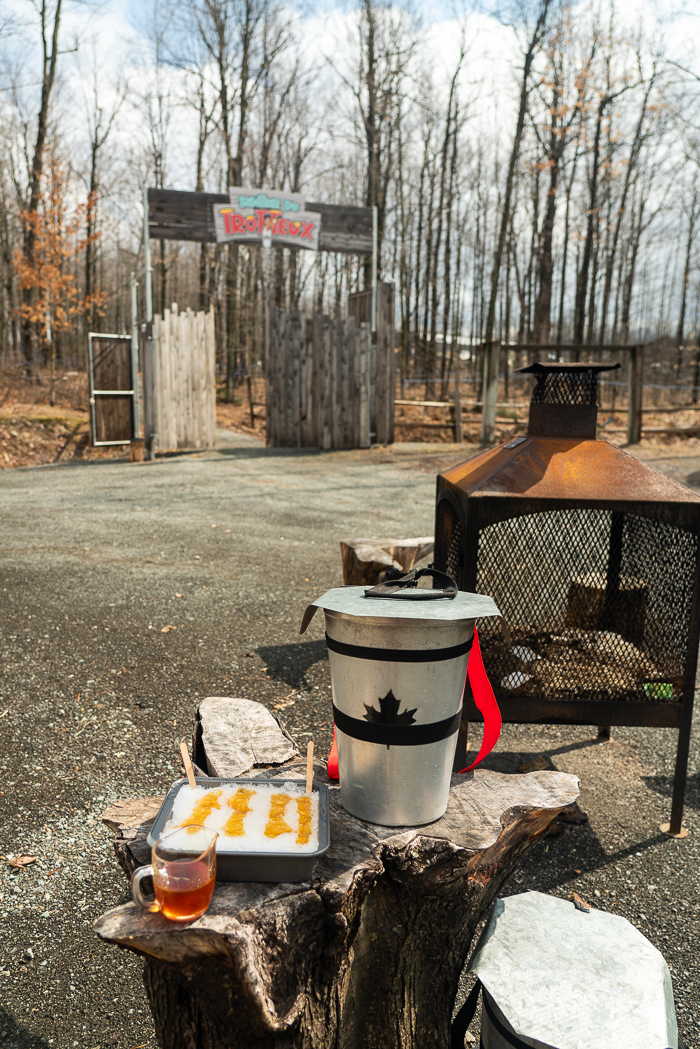 This female-owned, sixth generation maple producer and sugar shack offers weekend festivities during harvest season, picnic in a bucket, and year-round maple products in their shop.
Their farm and property features an interpretive trail with their history of maple production and harvest, as well as maple taffy on snow with various toppings during the weekend sugar shack season. You'll notice they have a clever tubing system between the trees that allows them to pump the maple water to their facility where they run it through a reverse osmosis system, followed by boiling to create the end product – delicious maple syrup and more. Learn more here.
Cabane du Pic Bois in Bromont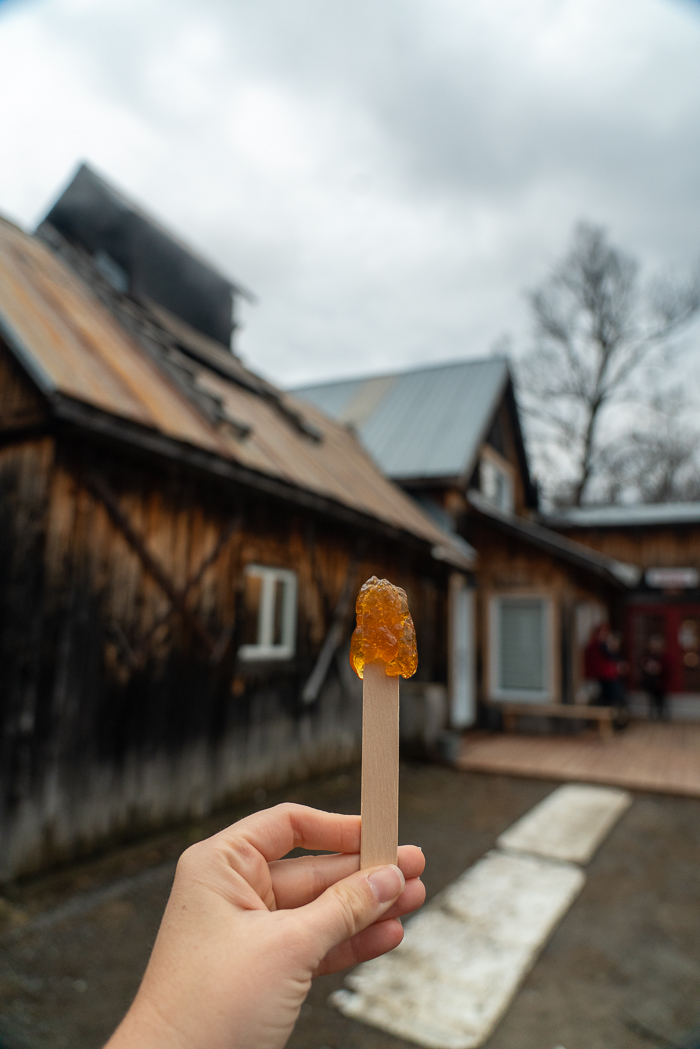 Steeped in tradition, the Cabane du Pic Bois is a great chance to see how maple syrup, taffy, and maple butter are produced the old-fashioned way. The 4th generation owner, Andre, still collects his harvest directly from buckets individually hanging from each tree, and boils the maple syrup for hours using a wood-fired boiler.
I sincerely have never tasted better maple syrup in my life. He offers a weekend sugar shack during the harvest season featuring taffy on snow, and guided tours that can be booked by phone. Learn more here.
Stay: I stayed in Bromont at the BEATNIK hotel near the Balnea spa. I recommend eating in town at Chardo Restaurant for some delicious local offerings focused on local game, forest products like mushrooms, and wine, or for the veggie lovers out there, Gaia Cafe was wonderful, too. There's also a small ski resort nearby!
4. Mont-Mégantic National Park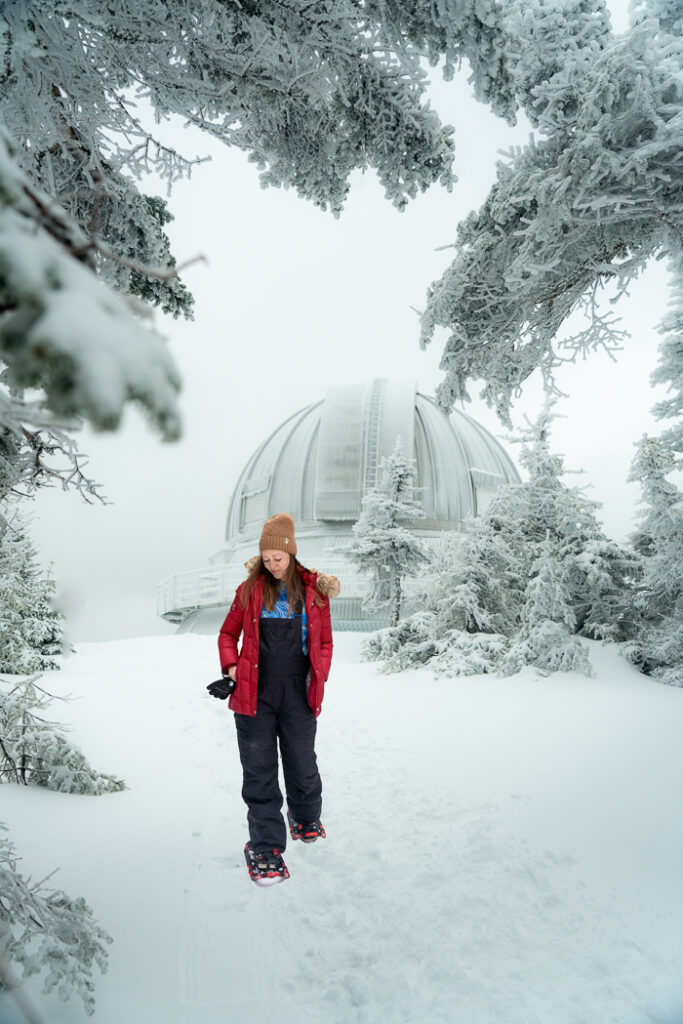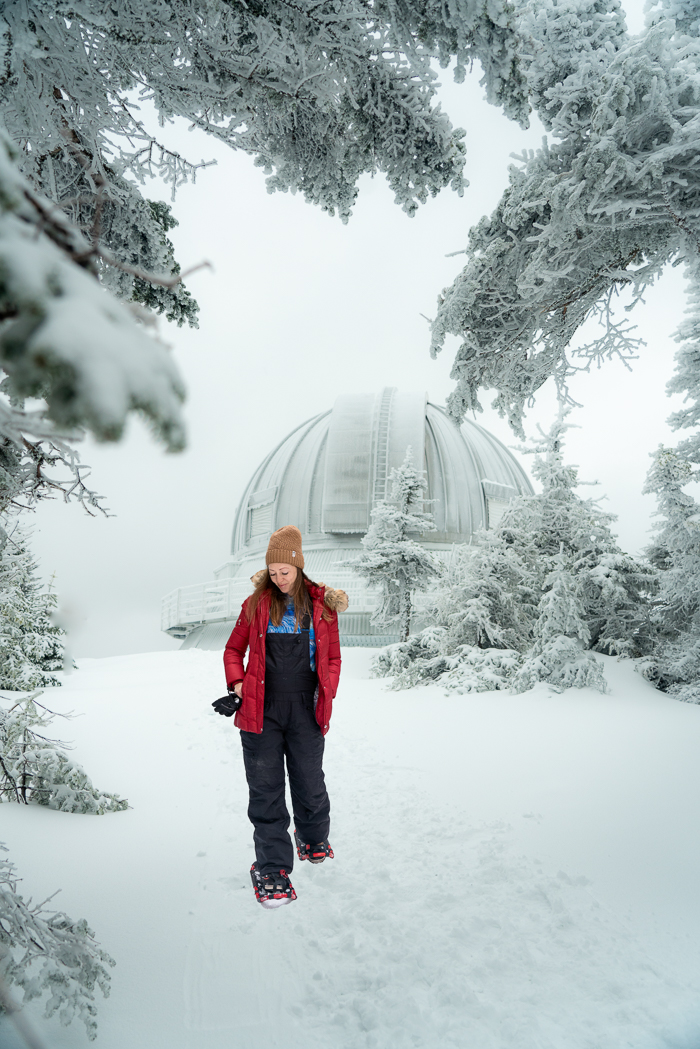 Parc national du Mont-Mégantic is not only lovely for hiking, but perfect for star-gazing, too. As the first International Dark Sky Reserve in North America, it's been hosting star viewing during their astronomy evenings for the public since the '80s and features a very well-done ASTROlab onsite with interpretive signage in both French and English.
The national park is in the snowiest part of southern Québec and offers over 60km of trails, 40km of which are perfect for snow-shoeing. You can rent snowshoes or crampons at the national park HQ if needed.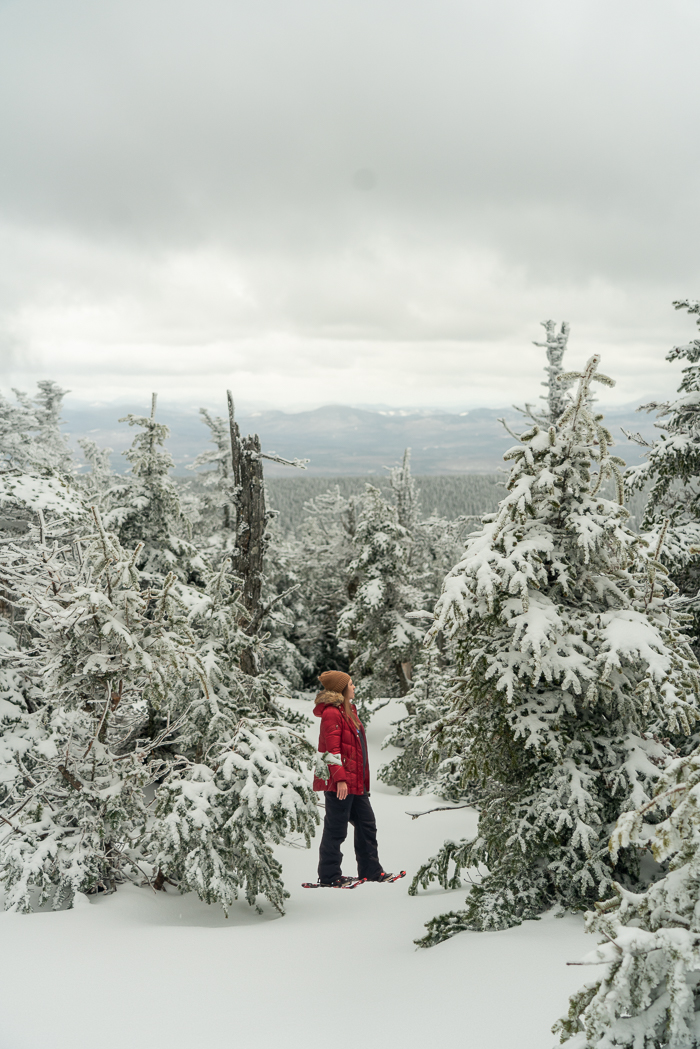 If you have the time and the energy, I recommend hiking to the telescope for some incredible views of the icy trees and surrounding mountains. I didn't have a clear enough day for stargazing or sunsets, but I still loved the view from the top and especially the Whoville-like trees. If you have less time or want to do a shorter trail, the rangers in the HQ speak English well and can provide some recommendations based on the current weather and your desires.
Stay: Aux Berges de l'Aurore is a small BnB in a house that's over a century old, about a minute's drive from the park entrance. They serve a lovely dinner each evening (let them know in advance that you want this) and a breakfast in the morning with fresh fruit, coffee, and when I was there, crepes!
5. SPA Eastman for a Mini Retreat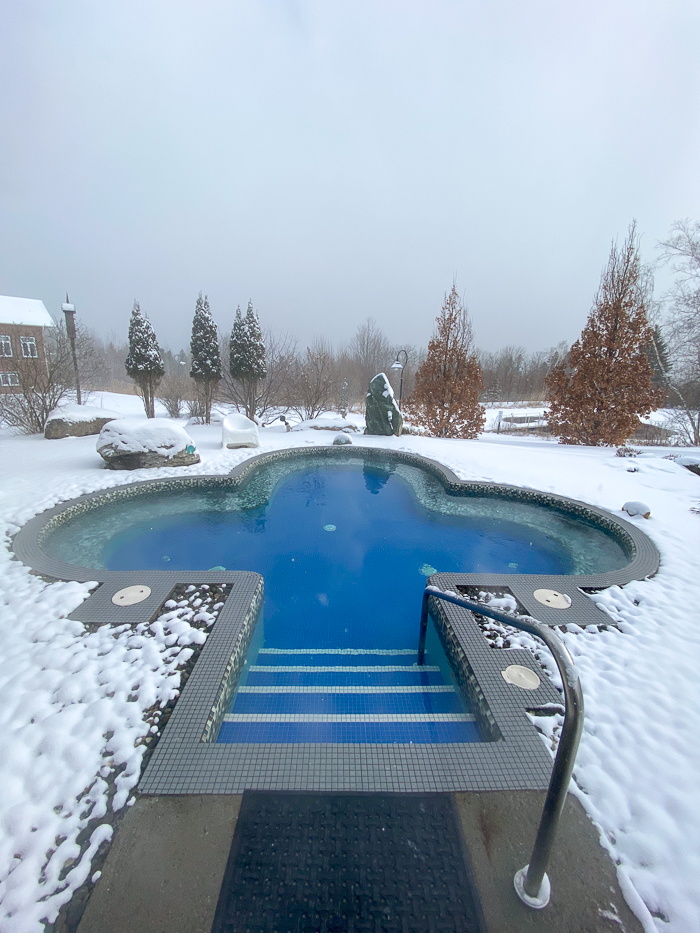 Located in a 356-acre estate, the SPA Eastman is the first spa in Canada and throughout the years has offered holistic wellness from the food to the activities, spa, and accommodation.
Founded in the '70s by Jocelyna Dubuc, a former schoolteacher, the spa is based on her personal experience of self-healing through food, meditation, and lifestyle. Each day there are several activities ranging from Qi Gong to Essentrics, all based on mindfulness and movement for the body. There's also a Kinesiologist and Naturepath onsite, massage, several pools of varying temperatures, saunas, and even a lake for the ultimate cold plunge.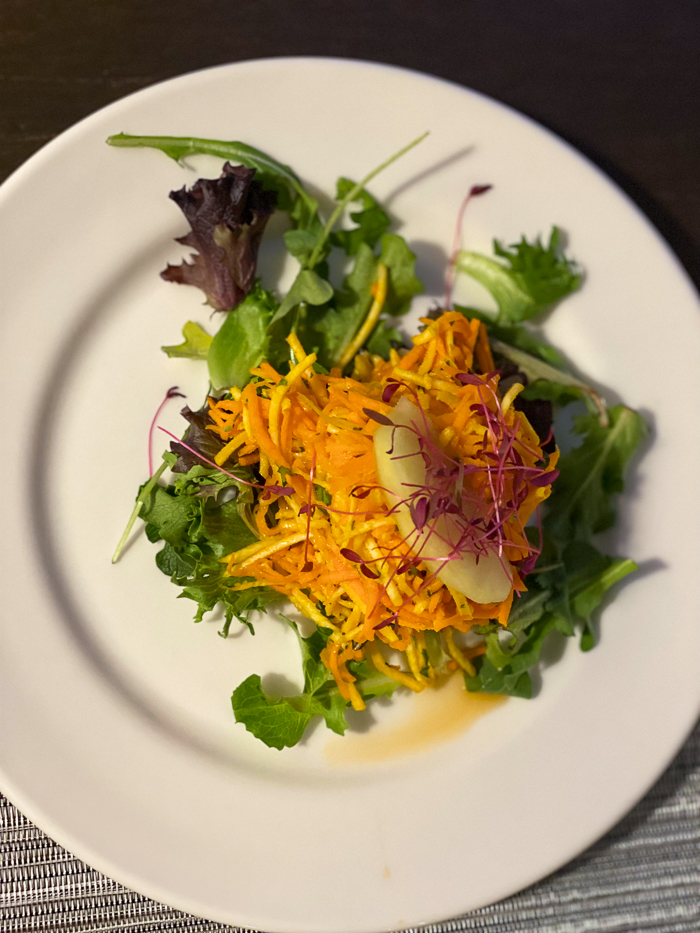 I loved the food the most, with a focus on anti-inflammatory gourmet cuisine. Everything served is gluten and dairy-free, featuring locally-sourced ingredients, many of which they grow themselves without using chemicals or pesticides. Learn more and book here.
6. The Laurentians and Options to the West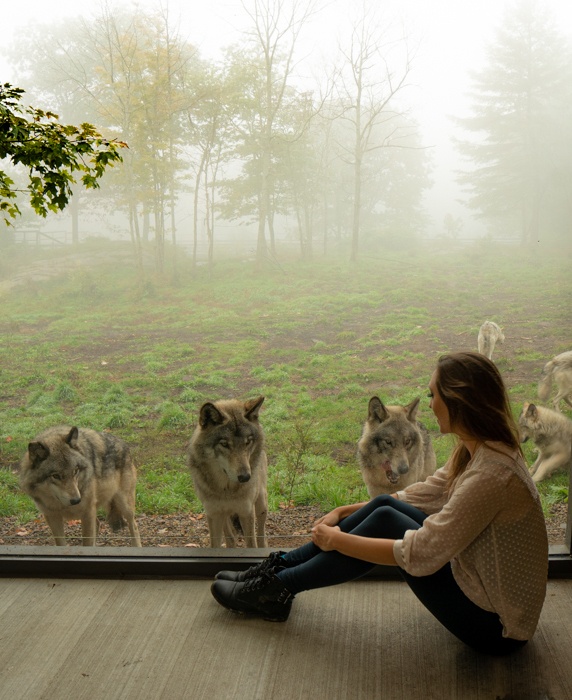 This was my second visit to Québec, with the first taking place in the fall exploring the Laurentian region, including Mont Tremblant ski resort, Parc Omega Wolf Cabin, and more amazing food. Read more here for my suggestions for this region as well.
Throughout both of my visits, I've come to appreciate Québec for its emphasis on keeping things local and family-owned and run. It makes responsible tourism so much easier and is better for the planet, our palettes, and the experience overall. There's always a personal touch that I find inviting and charming, and when there's maple syrup involved, well, that just seals the deal!
Pin me for later: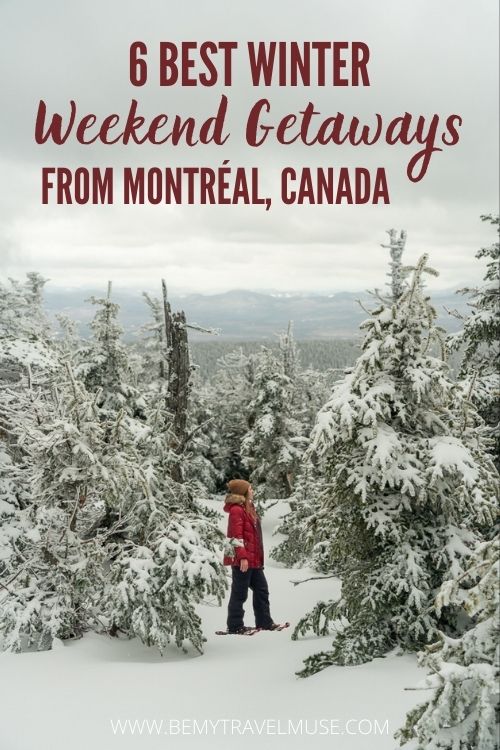 *This post was brought to you in collaboration with BonjourQuebec. All thoughts on the delicious maple everything and gorgeous wintery experiences are, as always, my own.