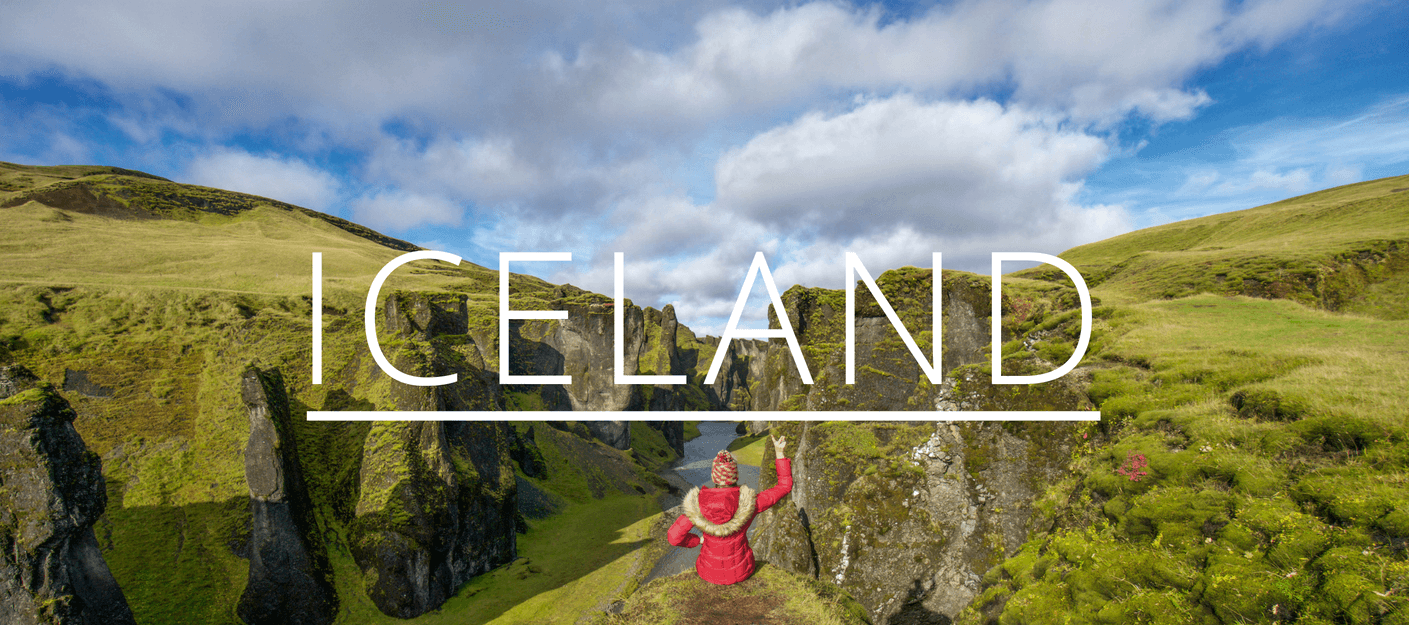 Iceland is a land of extremes - extreme weather, extreme landscapes, and extreme beauty. The way that the country changes constantly as one drives through is mind-boggling, and there are so many waterfalls that it's pointless to try to count them all. Each vista becomes more spectacular than the last and the particularly lucky even get to see the most spectacular feat of nature: the aurora borealis. 
Even though Iceland is well on the tourist trail these days, that doesn't mean you can't get plenty of amazing experiences and sights all to yourself. The following posts are full of tips and beautiful photos to help you plan out your perfect Iceland holiday, chase the northern lights, and pursue the most adventurous yet affordable and comfortable trip possible. 
Quick Tips
'Hello' and 'Thank You' in Icelandic: "Halló" and "Takk Fyrir"
Currency: Icelandic króna (click here for current conversion rates)
Visa:90-day Schengen visa on arrival for most nationalities (click here for more info)
Safety rating:Ranked 1 on the Global Peace Index with a score of 1.07 (USA is ranked 128 with a score of 2.40), meaning Iceland is currently the safest country in the world!
Climate:Weather is unpredictable and changes rapidly – invest in good quality gear to keep yourself warm and dry. Summer comes with possibility of 24 hours of daylight during the magnificent Midnight Sun, and Winter the opposite; Autumn offers pleasant weather and beautiful color-changing leaves
Best SIM cards: Vodafone – cards can be purchased at the airport, major convenience stores and petrol stations. IDs and passports are not required
Random useful tip: Be prepared to get naked in the showers before going swimming in Iceland – it is mandatory and there are even bath guards that ensure you have washed your body well enough before entering the pool
Accommodation
Low budget solo travelers ($30 - $60): Hostels in Iceland are pretty much monopolized by HI Network so it will make sense to sign up for their membership to get discount, especially if you are planning on staying exclusively in hostels. An important tip is to book your accommodation in advance, as the ones with excellent reviews and low pricing get booked out quickly.
Mid budget solo travelers ($100 - $150): Expect to pay more than $100 for a private room with shared bathrooms. Expect to pay a lot more for a private bathroom. Hotels are really expensive in Iceland and I would suggest opting for other options, unless privacy and comfort are a priority.
Other accommodation options: Camper van is the best accommodation option in my opinion. It costs almost the same as staying at hostels, except that you are able to camp right next to a glacier lagoon, or a famous waterfall if you want to. You can also consider couchsurfing and Airbnbs. Find a full range of suggestions by town here.
Transportation
Getting Around: It is pretty straightforward to get around Iceland. If you visit Iceland in the Summer, you can obtain the "Bus Passports" – there are different companies offering different routes and packages so do your research beforehand. Car rental allows you to stop whenever and wherever you want and I highly recommend getting a 4X4 camper van to conquer the road condition in some areas. Gas is expensive in Iceland but it is definitely doable when split between two or more people. Depending on weather, cycling and hitchhiking are also good ways to get around.
Inter-city Traveling: Inter-city traveling is easy in the Summer, as you can catch a bus or fly to all major centres from Reykjavik. However, things could get tricky during Winter, as reduced bus service and road condition may limit your option to flying only. Keep the same thing in mind if you are planning to rent a car. Again, I highly recommend getting a 4X4 camper van, which could be the only way to help you get through the gravel.
Food
Grocery Shop & Cook Your Own Food ($5 - $15): Food is not going to be the most exciting part of your trip in Iceland. It is expensive to eat out, and if you are traveling with a camper van that will most likely come with a sink, stove and cookware, your best bet is to grocery shop and cook your own food. The cheapest grocery stores are Kronan, Netto, and Bonus. Most of the cheaper stores are closer to Reykjavik, so stock up on imperishables before you leave. Also, water in Iceland is free and safe to drink so bring your own bottle and save yourself $3 / bottled water.
Eating Out ($20 and up): Expect to pay at least $20 for a main. If you want to eat out, stick with lunch specials and fixed-price set meals. Other options include hot dog vendors that are everywhere, petrol stations that are well-stocked with pre-made fast food.
Alcohol: Fun fact - alcohol was banned in Iceland until 1989. If you think you'll want alcoholic drinks during your trip, make your purchases in duty free before you leave your home or at Reykjavik airport. You can find liquor outside of the airport but they're expensive and beer is weak and expensive as well. Expect to pay about $7 - $10 for a beer during happy hours.
Things to do
Iceland Ring Road: This can be done with a tour or independently. I recommend doing it independently as the drive alone makes an unforgettable experience. Allocate a minimum of 7 days for this. Hike and camp at Landmannalaugar, wake up to a massive waterfall at Seljalandsfoss, visit Fjaðrárgljúfur, a canyon that was likely created during the last ice age, admire the glacier lagoon and northern lights, and visit more waterfalls (Aldeyjarfoss is my favorite!). Read the full itinerary here.
The Golden Circle: Allocate one day for Iceland's Golden Circle, starting early in the morning so that you can fully enjoy each stop. Start from Þingvellir, a national park full of cultural, historical, and natural significance for Iceland. Proceed to Haukadalur next and watch the geyser that shoots up every 5-6 minutes, a phenomena cause by the volcanic activities underneath the surface. Drive towards Gullfoss to see the 105 feet deep waterfall, check out the lakes, hike Krýsuvík, and end your day with a visit to the Icelandic horses. Read the full itinerary here.
The Blue Lagoon: I suggest making The Blue Lagoon your last stop before heading to the airport. Yes it is touristic and crowded, but it's still magnificent and out-of-the-world. This huge and dreamy spa originates its water 2000 metres below the surface, and its temparature is generally 98°F - 104°F, with water warmer in some places than others so move around to get the best spot.
National Parks: You will be happy to find out that all national parks in Iceland are free. There are 3 national parks in Iceland and if time allows, visit all 3 of them - Thingvellir National Park houses the largest lake in Iceland, Snæfellsjökull National Park is referred to as "Iceland in a miniature", and Vatnajökull national Park offers the most powerful waterfall in all of Europe.
Whale Watching: The best time to do this is from April to September, when it is playtime for the 23 whale species found in Iceland. While there's no guarantee, as there shouldn't be, they were spotted 98% of the time in 2015. Take the chance, you have nothing to lose!
Snorkel at Silfra Lava Fissure: I did not get to do this (and I regret it so much!) but you should snorkel at Silfra Lava Fissure, a crack between the North American and Eurasian continental plates. It is a UNESCO World Heritage Site 45 minutes away from Reyjavik. The water is clean and clear enough that you can drink it while snorkeling. 
Apps to download
112 Iceland (it sends your location to response center and track your locations. Great for emergencies), Google Maps
Iceland on BMTM's Instagram