This post was written by Sara Lindström, an adventure photographer based by the arctic circle in Sweden.
When hearing the word Lapland, most people tend to have their minds wander off to northern Finland. But did you know that a little further west, there's a part of this enchanting arctic region with landscapes even wilder, even more dramatic?
Cross the national border and you'll find yourself in Swedish Lapland, a place that will greet you with majestic mountains, old-growth forests, untamed rivers, a rich indigenous sami culture, world-class food and accommodation, and an army of local people passionate about sharing the magic of their home with visitors.
This is the place where I was born and bred, but like many young wanderlusters with a deep desire for new horizons, I took off out into the world as soon as I was done with high school. It wasn't until a global pandemic forced me back home over a decade later that I finally took the time to truly start exploring this corner of the globe. Long story short, I fell head over heels in love with what I found.
Here are 7 reasons why you too should consider visiting this arctic paradise:
1. Top place in the world to watch the northern lights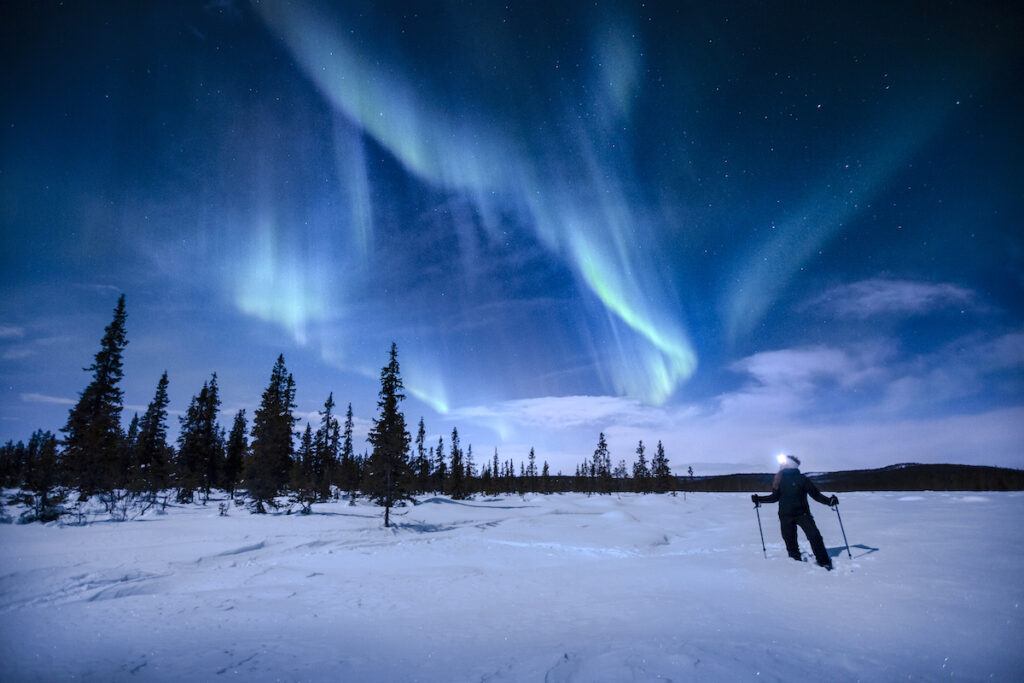 The aurora borealis didn't end up on the bucket list of millions of people for no reason. Even for me, who grew up seeing this phenomenon on the night sky on a regular basis, it remains fully capable of blowing my mind.
Although its spellbinding dance can be witnessed all throughout northern Scandinavia, the tiny mountain village of Abisko – home to the Aurora Sky Station – is well known as one of the best places in the world to watch the northern lights. Why? Beacuse here you have some of the highest chances to find clear skies in winter, which, along with darkness, is the number one prerequisite for seeing them. 
December to February is generally the best time to go due to the extra long nights, but it's possible to spot them from around September to April, until the darkness eventually gets replaced by endless summer nights.
Book a northern lights tour here:
2. Midnight adventure in the sunshine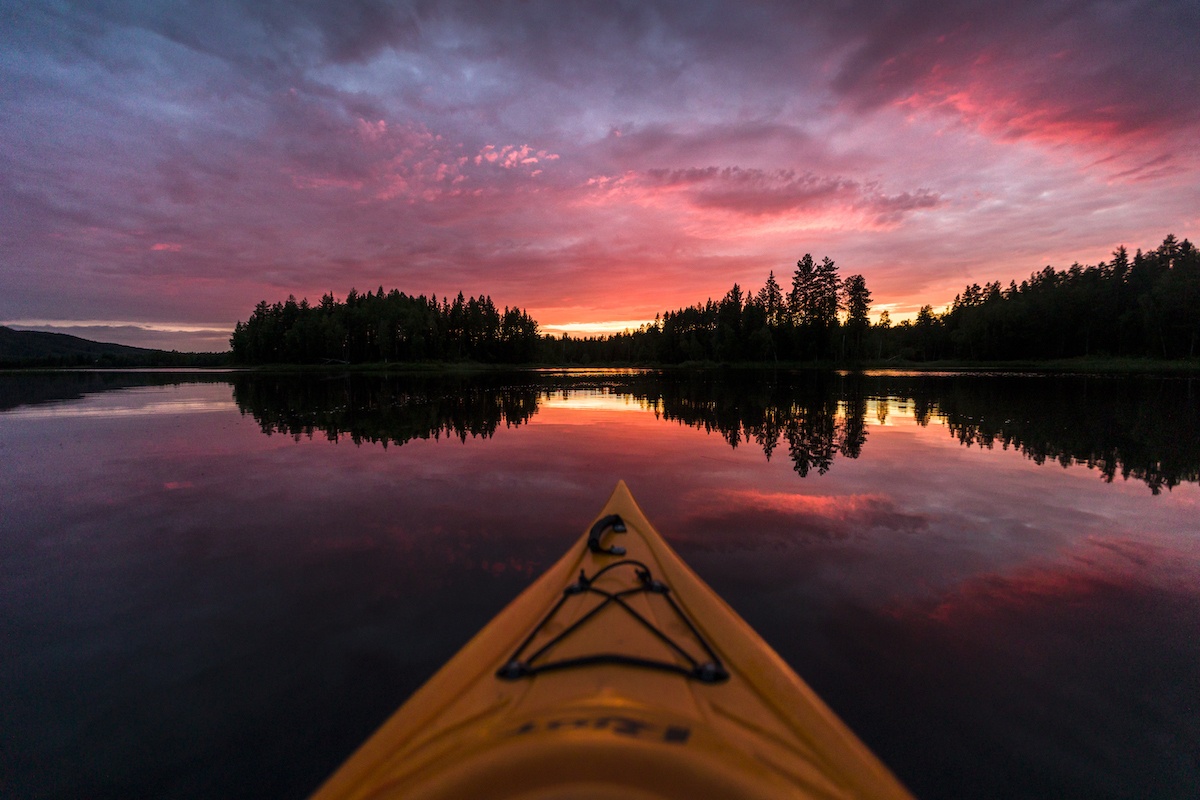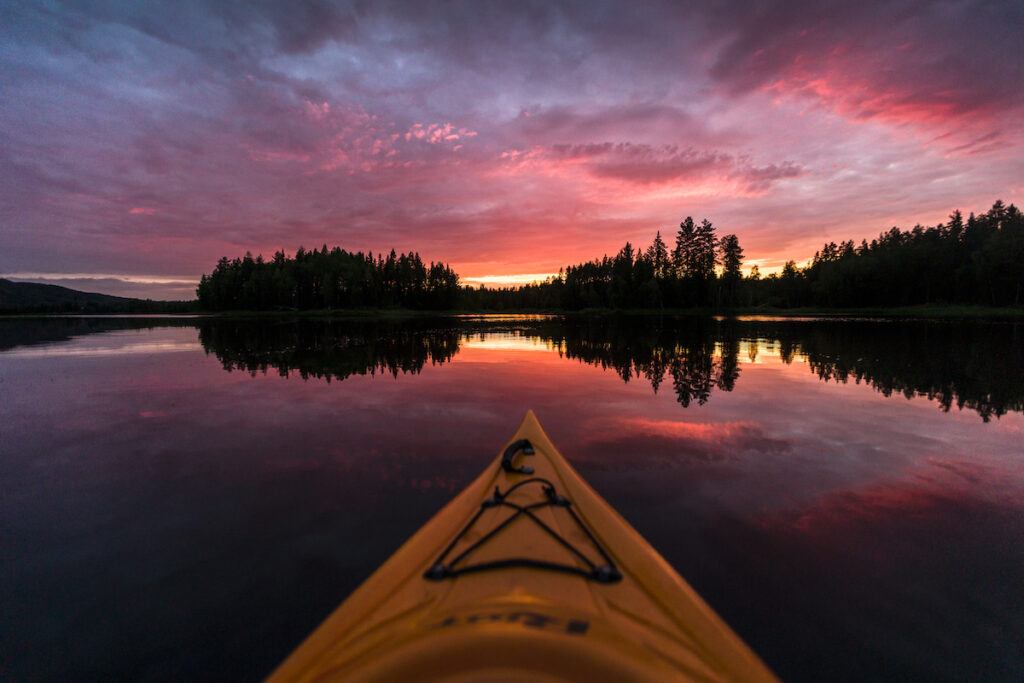 Imagine waking up at 4am and not being sure whether it's morning or afternoon. In summer, Swedish Lapland is blessed with the gorgeous soft light of the midnight sun, making sunset and sunrise blend. You could start a hike at 8pm in the evening and return at 3am, with no need to bring a headlamp or worry about getting lost in the dark! 
Another special thing to do is to rent a canoe or kayak, and go explore one of the countless lakes and rivers. Often late at night there is no wind, which could leave you floating on a spectacular mirror.
And don't worry, once you're finally ready for bed, most accommodation have thick blinders covering the windows to reassure you a good nights' sleep, despite the never-ending daylight.
3. Food under an open sky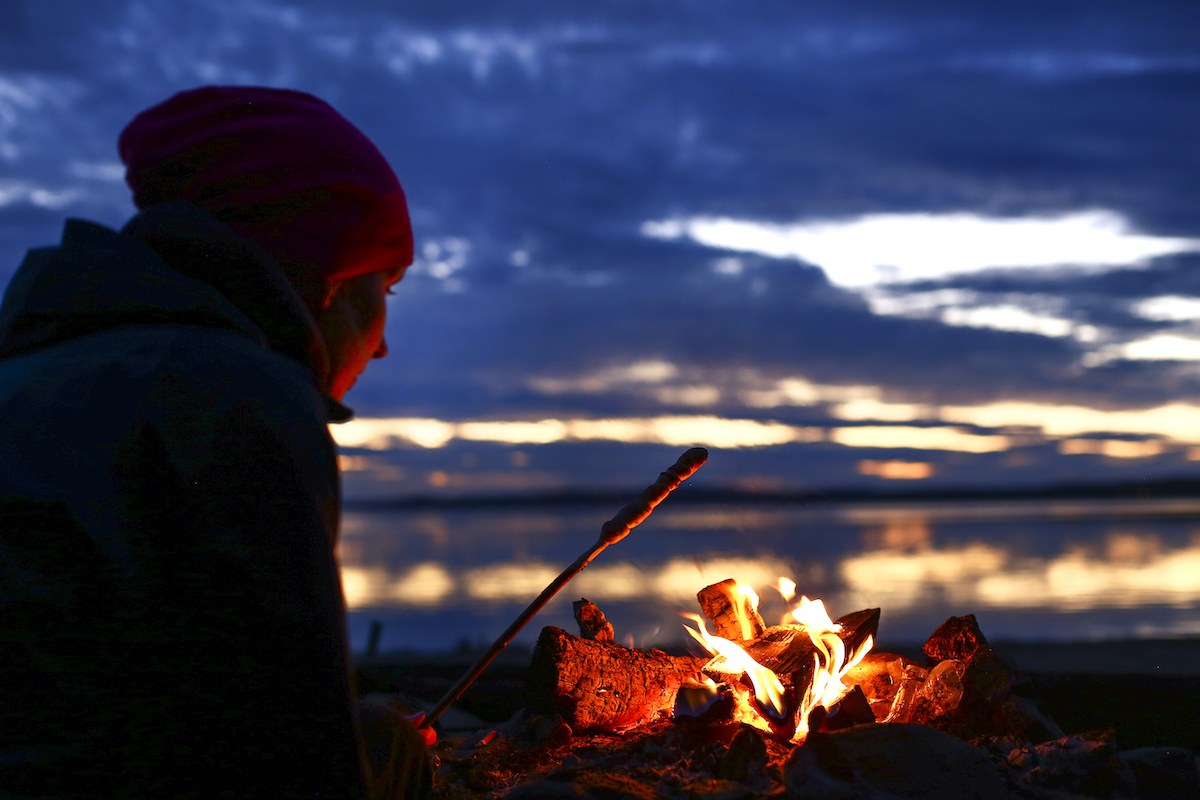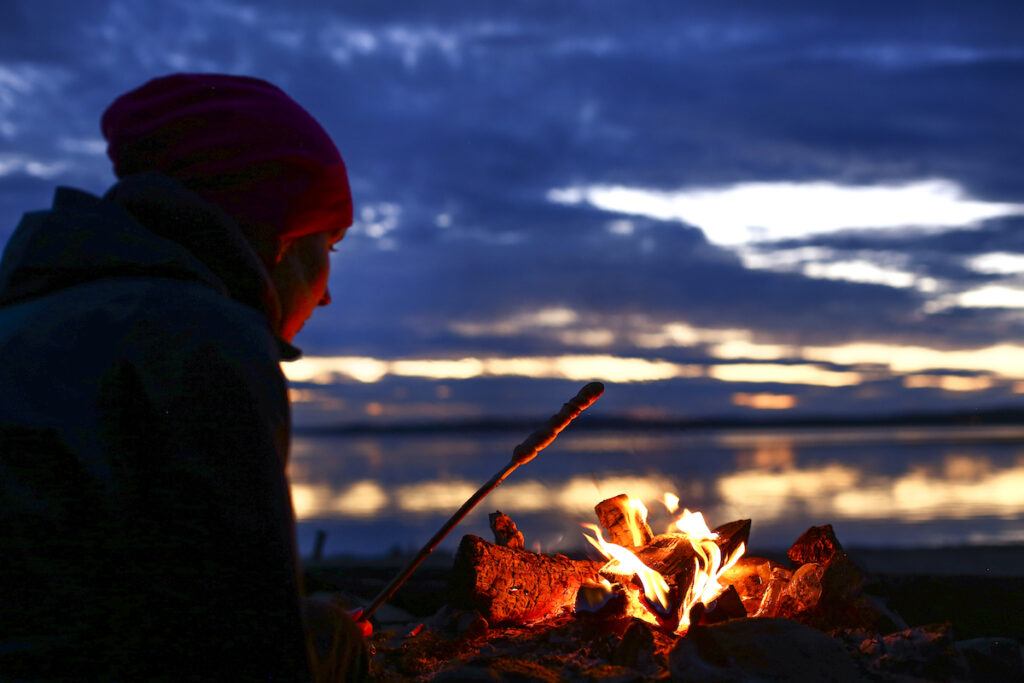 In Swedish Lapland eating out can mean two things; enjoying incredible food in many of the world class restaurants, or eating out by cooking over the fire, under an open sky.
Food rarely ever tastes as good as when its savoured in nature. In Sweden there is something that's called "Allemansrätten" which basically means "Everyone's freedom to roam". Apart from hiking, picking berries, and pitching a tent pretty much anywhere in nature (on a respectful distance to private property owners AND in respect for nature), you're also allowed to make your own fire.
End your meal with a classic "kokkaffe" and "fika" – coffee boiled over the fire and a sweet treat like a warm cinnamon roll – and the experience is complete.
This is such a common thing among locals to do on a weekend, and unless you have the equipment and want to try practice this "freedom to roam" thing yourself, many local tour operators happily organize this type of experience for you.
Another option is to join amazing forager and arctic flavour expert Eva Gunnare, founder of Essence of Lapland in Jokkmokk. She will take you on a fascinating guided tour through her own backyard to teach you everything about edible plants and berries in the wild north, before preparing an amazing meal based on your findings. 
4. Mighty mountains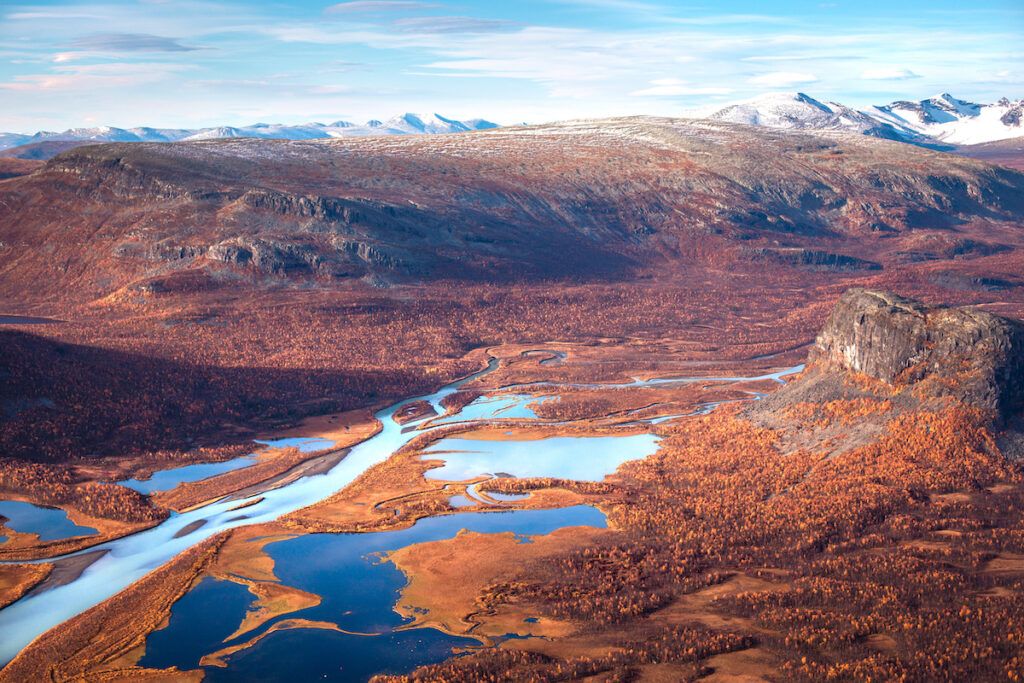 This is one of the things that really sets Swedish Lapland apart from it's Finnish neighbour. Way out west, close to the border with Norway, you'll find one of the last reminding true wilderness areas of Europe – a huge mountain chain with glaciated peaks that stretches hundres of miles from north to south.
This is a mecca for those who love the outdoors. In summer you can go hiking, horseback riding or mountain biking, and perhaps make use of the wide network of overnight cabins and huts along many of the major trails. In the snow-covered months you may want to go skiing, snowmobiling, join a multiday dogsledding expedition – or simply enjoy the breathtaking views from down the valley, with a cup of coffee.
Many of these mountains are remote and sometimes a bit tricky to get to without your own vehicle, but Abisko National Park is an exception with a train passing by daily, basically dropping you off by the start of the hiking trail. With numerable places to stay and restaurants to nibble on amazing local flavours, it has quickly become a popular spot for mountain lovers from all over the world.
5. Try cold bathing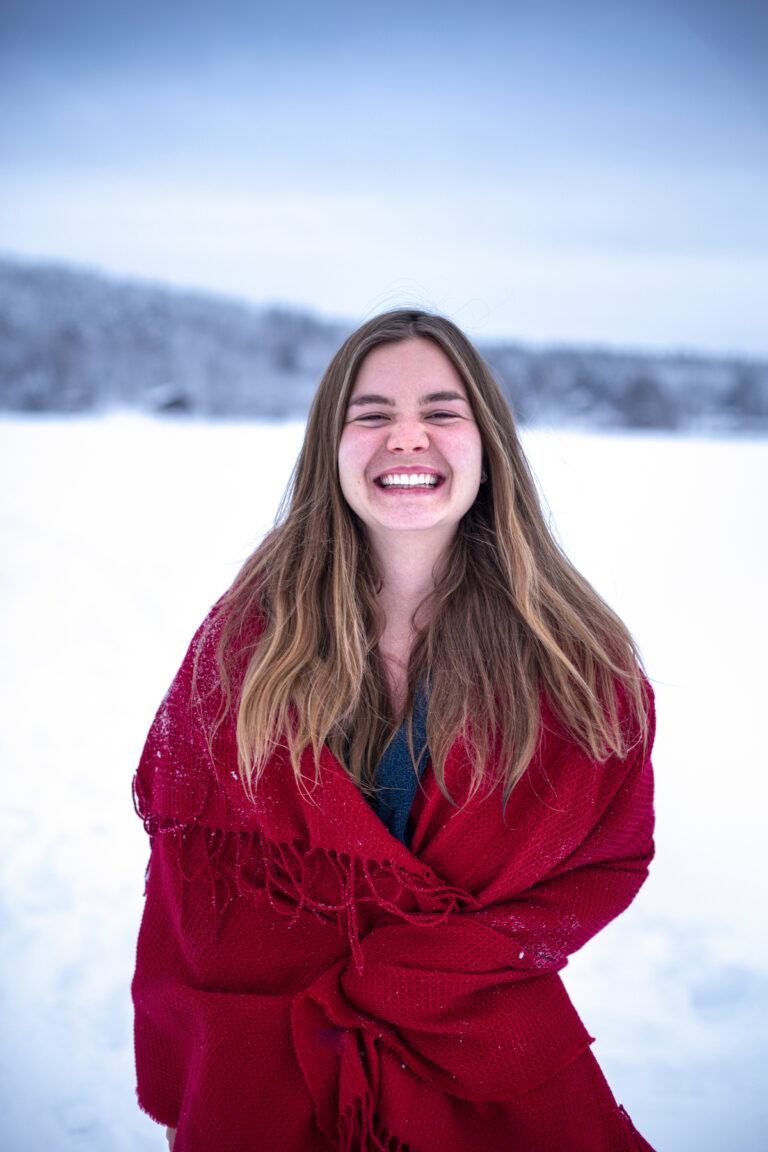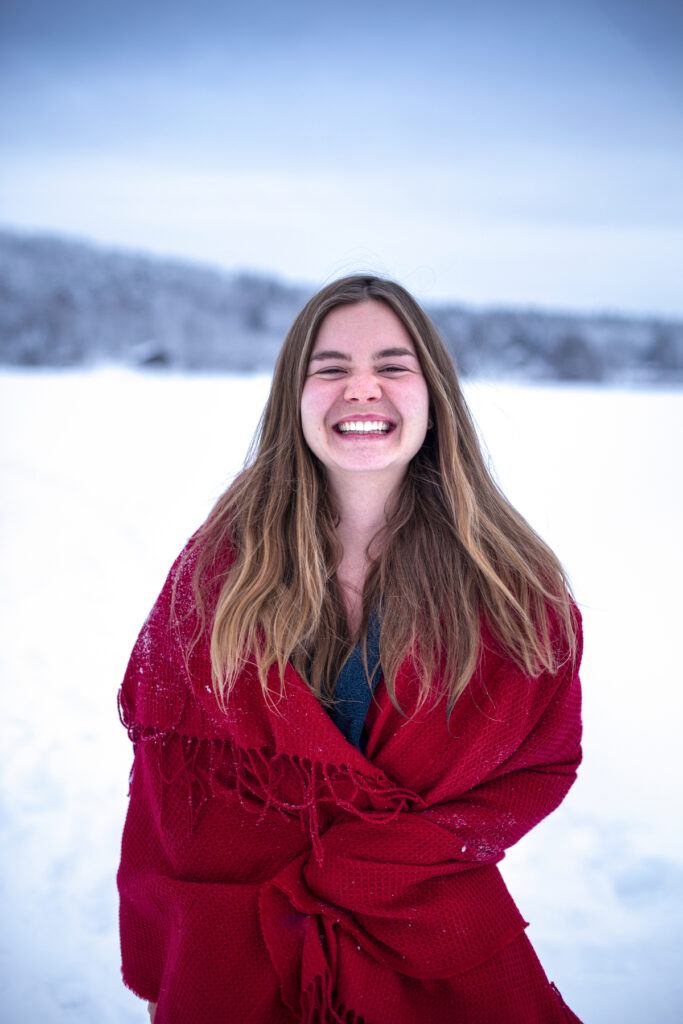 Cold baths are part of the history in this northernmost corner of Europe. And yes, sure, if you never tried your brain will desperately try to convince you it's crazy and that you'll freeze to death. As a seemingly logical response you will most likely find yourself either flat refuse to even get near the water, or to partly get in only to bounce back out in a fraction of a second. But the magic happens when you get in with a belief that this is in fact beneficial to you, and with an intention to stay in the water until you can breath calmly. Even just waiting 10 seconds before you head back up will bring you a rush of adrenaline and an amazing feeling of aliveness afterwards.
Being home to hundreds of thousands of lakes and rivers, Swedish Lapland is the perfect place for anyone looking to explore the many health benefits of cold plunging; like bringing relief to aching muscles and demanding your body and mind to slow down, but maybe most of all; stretching your belief in your own human potential.
Many lodges have a hole in the thick ice cut out and ready of you in winter, complete with stairs, towels, and a wood-heated sauna only a few steps away. In the village of Harads, you'll even find a stunning floating spa hotel, called Arctic Bath. Here they have taken the experience to the next level by inviting you to try a cold bath in luxury.
6. Go on a safari with the "moose whisperer"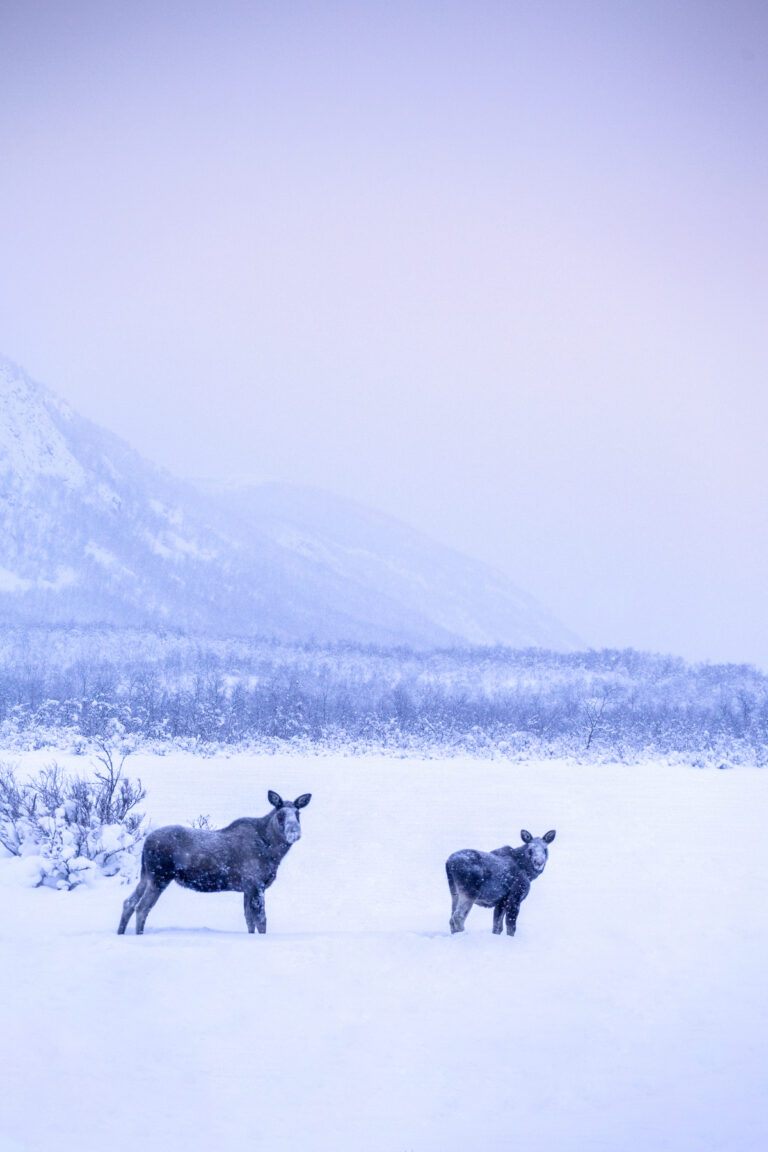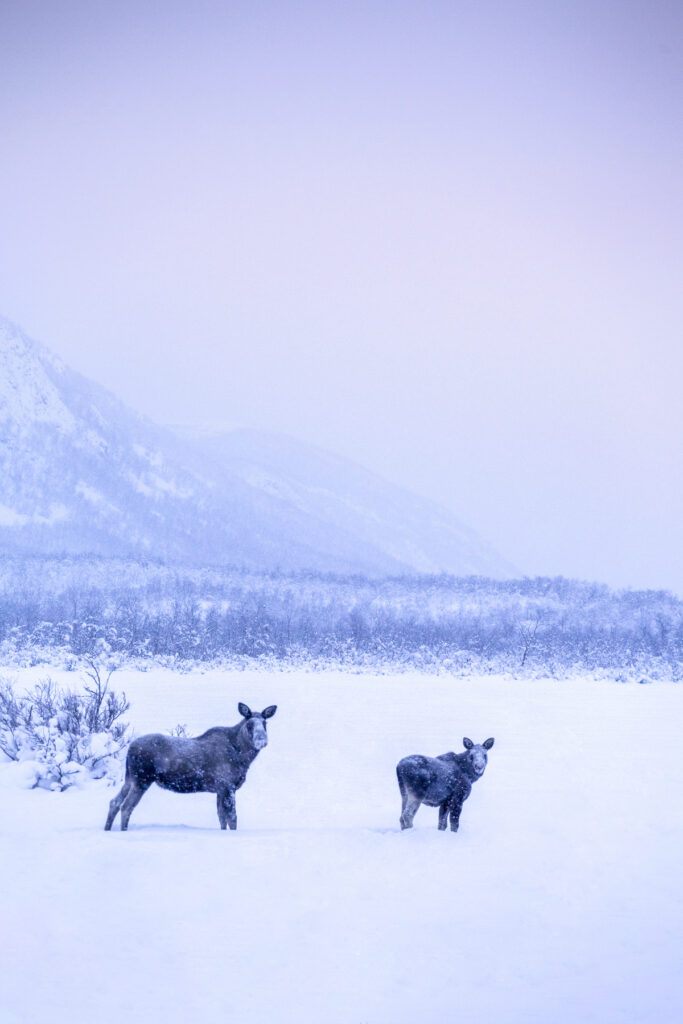 In a recent interview at The Ellen Show, Lily Collins spoke about her amusing experience doing exactly this, while she was staying at the famous Treehotel in Swedish Lapland on her honeymoon.
Although there is never any guarrantee with wildlife, "speaking moose" is a surprisingly efficient way to call this giant deer close. Micke, the owner of Hide & See near Boden is a true man of the wild and has been doing this for years. While previosuly using his skills to help local hunters, today he much more prefers to attract them to give his guests a memorable moment with these impressive creatures. And even if you're not lucky, just hearing him immitate their sounds is an experience on its own!
If you're around in summer, you can also stay in their cosy and comfy overnight nest for a good chance to get a glimpse of the shy brown bear.
7. Digital detoxing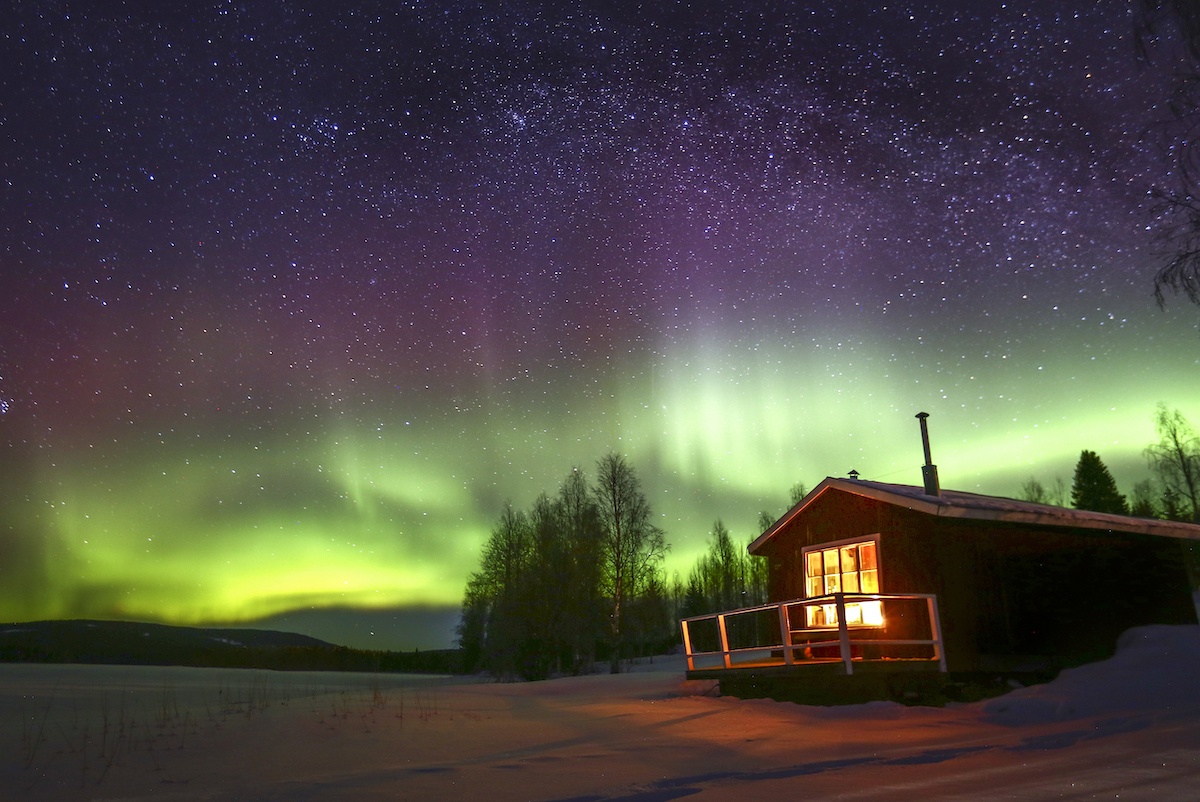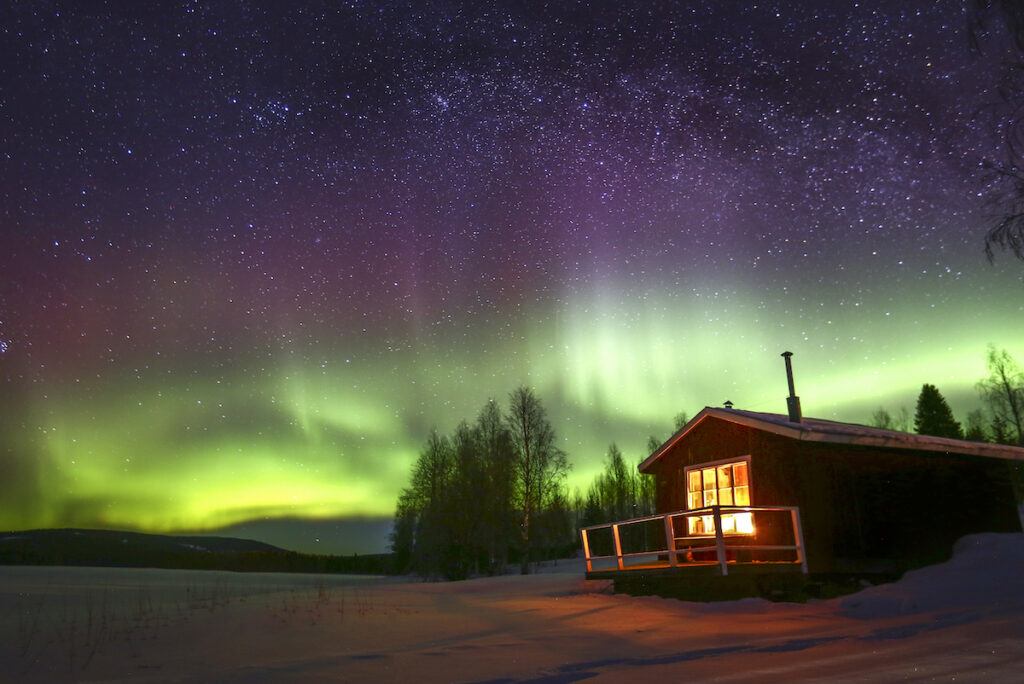 Last but not the least, in case you didn't read it in between the lines, the wild north of arctic Sweden is the perfect place to go if you're looking to simply disconnect from screens, notifications and the overall stresses of a busy everyday life.
Like, when was the last time you got still outside, sharpened your ears and heard absolutely nothing, apart from a soft breeze in the trees perhaps? Possibly frightening at first for a mind used to go 200 mph, but combined with prestine nature, silence is a true medicine for the soul and here you'll find an abundance of it.
Even though many wilderness lodges and hotels offer a varying degree of peace and quite, it could be even more rejuvenating to go all in and claim some time totally alone in one of many remote cabins for rent on Airbnb. For an exotic mix of Lapland and Mongolia, make sure to check out Lapland Yurts – a unique Airbnb in the woods outside the small town Boden. 
Regardless of what floats your boat, Swedish Lapland has something to offer for every visitor. You don't have to be a total nature nerd to enjoy it – although you are highly unlikely to leave unaffected by the natural beauty of these untamed lands at the end of the European continent. Which one of my above recommendations intrigues you the most? 
About the author: Sara Lindström is an award-winning professional travel & adventure photographer + retreat leader, based in the woods of arctic Sweden. Intense curiosity caused her to take the first trembling steps to start roaming the world solo at the tender age of 19. Since then she's been collecting memories in over 60 countries on 6 continents, both for work and play. Follow her journey on Instagram.