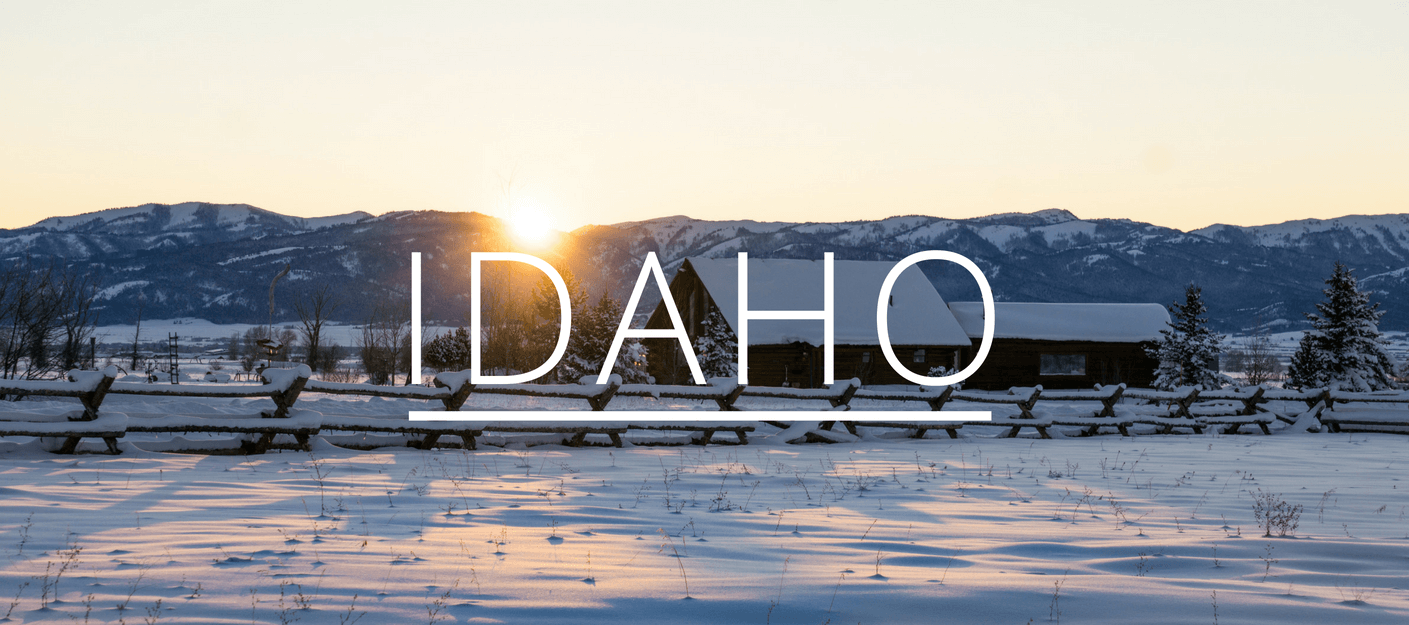 When people consider a trip to the US, they don't often think about visiting Idaho. We Americans rarely do, either, which is probably why it has retained so much of its charm and thin crowds.
In the summer months, Idaho is perfect for rafting and hiking. In the winter, it's a skier's paradise whether you like backcountry skiing, alpine skiing on maintained slopes, or Nordic skiing. Idaho is also a friendly state, and probably one of the most gorgeous winter destinations in the US!  
Where in Idaho?

Idaho
Watch my vlogs from Idaho
Accommodation
Budget Solo Travelers ($0 - $30): Bureau of Land Management (BLM) land that is owned by the public out in Idaho provides more than 100 free campsites. That means you can find free camping in these areas as long as you Leave No Trace and are not visible from the highway. This website is really helpful if you need some help finding options in your area. Hostels aren't widely available, and could get booked out easily. Expect to pay about $20 - $30 for a night. Perhaps a better option would be motels and inns, which cost about the same for a private room.
Mid Budget Solo Travelers ($35 and up): Budget hotels start at about $40 per night for a double room. There are also plenty of hotels, resorts, and lodges available. As for Airbnb, a decent private room can be found at about $30, whereas an entire unit averages at about $90. Personally, I stayed at the beautiful Owl Barn in Driggs, and it was hands down one of the most beautiful barns I've stayed in!
Transportation
Getting There: Idaho is not the easiest state to get into, but the pristine landscapes and water will make up for it. The main airport is Boise Airport, which connects with several hubs across the nation. However, there's no direct international flights into Idaho. Driving from Washington and Oregon takes about 5-6 hours. Greyhound offers bus trips from its neighboring cities, whereas Amtrak offers train rides between Chicago, Milwaukee, St. Paul/Minneapolis, Glacier National Park, Spokane, and Portland/Seattle.
Getting Around: The best way to get around Idaho is with a rental car, as the public transportation network is fairly limited. Boise, the capital, has a ValleyRide public bus system that covers 25 routes, and that's pretty much it! Drive into Idaho from a neighboring state, or you can easily rent a car at the airport upon arrival.
Food
Local Eats ($5 - $15): Idaho food is mostly middle American, though there are a few unique foods worth checking out. The state is famous for its potatoes and huckleberry production. In fact, you can easily spot and pluck a few fresh huckleberries for a quick snack when you are in the mountains. Taco shops and retro drive-ins are great spots for a cheap and good fix. In the city areas, there are farmers and art markets that sell fresh local produce.
Restaurants & Bars ($20 and up): Most of the midrange to high end restaurants are located in Boise. Expect to find many great grills and steakhouses along the street, on top of trendy restaurants that have been mushrooming rapidly. Most resorts and hotels have excellent in-house restaurants. The bar scene is booming in the main tourist areas.
Things to Do
Visit Sun Valley in The Winter: There's just so much to do in Sun Valley in the winter. The hot springs with various temperatures allow visitors to hop back and forth between the cold and hot waters; the powdery, snowy mountains are perfect for skiing and snowboarding; snowshoes can be rented for a beautiful walk in the snowing mountains, and the town is buzzing with warm hospitality – can you tell that I had a really good time there?
Go On A Week-long Roadtrip: Idaho is big and filled with stunning landscapes, pristine lakes and hot springs, which makes it a perfect spot to go on a week-long road trip. Some of the must-sees are Twin Falls, Craters of the Moon, Boise, Stanley, and Goldbug Hot Springs.
Enjoy The Hot Springs: Idaho stores the most usable hot springs in the United States. While most hot springs can be easily located and navigated through GPS, there are many remote ones that are only known to the locals, so get friendly and ask around!
Visit the neighboring National Parks: Driggs, Idaho is a good base for exploring the parks of Wyoming without spending as much on accommodation. The country's first national park, Yellowstone, spans across Wyoming, Idaho, and Montana. Elks, deers, bison, moose, black bears, and grizzly bears can be found hanging out in the national park. Aside from its legendary "Old Faithful" geyser, there is much more to do within the park, depending on your time of visit. You can do a day hike or multiple-day hike, check out the Grand Canyon of the Yellowstone, go rafting, camping, and more!