Hi, I'm Kristin, and this site is designed to help you travel more adventurously, and especially solo!
I'm guessing that you ended up here because, like me, you're looking for the ultimate escape, a chance to get to know yourself better, or you just want to plan an immersive trip that isn't the same thing that everyone else is doing. You want the life-changing experience, the kind that only adventurers have.
Maybe you're looking for ways to maximize your paid time off, or maybe you're looking to change your life completely, leaving behind the cubicle and embracing an adventure on the other side of the world. Maybe it's something you've wanted your whole life, and nobody around you understands, but your desire for the adventure of a lifetime keeps the dream alive.
I know that's not easy, and it can be pretty scary to go somewhere you've never been before, especially if you're going it alone.
Does it sound familiar?
Well I totally get you, and I'm here to make it easier and more accessible for you!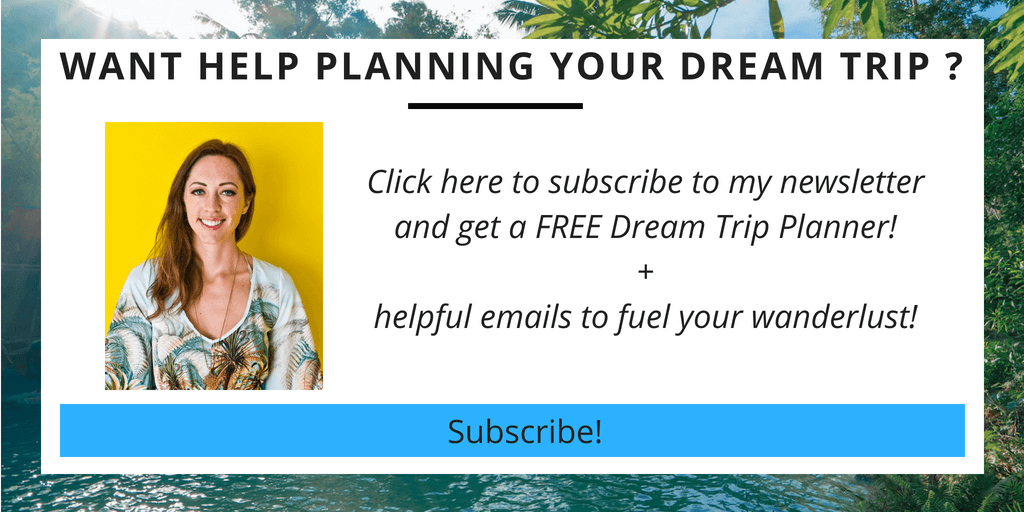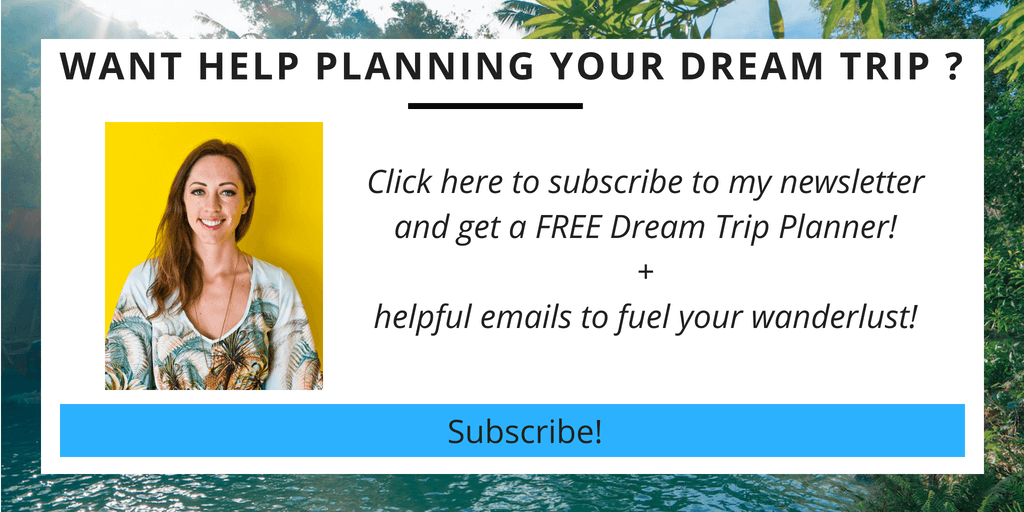 So who's this girl on the other side of the computer screen?
I'm just a normal girl from Southern California who has been adventuring around the globe nonstop since September 2012.
I never had a trust fund, and never thought of myself as particularly brave, but over six years later, I'm still traveling the globe and sharing the exact way that I do it on this blog.
I was the kid who used to play Civilization and the Amazon Trail video games. I was the one who spent hours searching the weather and capital cities of far-off places around the world, just to imagine how it would feel to be there. I used to write imaginative stories and paint all the time. I was a dreamer.
Somewhere along the way, however, I started to doubt my passions and instead went for a stable career. I worked as an investment banker for four years in Newport Beach, which burned me out and pushed me to make a change. So...
I sold my belongings and, armed with nothing but a carry-on bag and no company but my own, became a solo female traveler.  
Since then, I've hitchhiked solo across China, been invited to countless events by locals, climbed some of the tallest mountains in the world, done some of the deepest SCUBA dives, did a 35-day safari in Africa, spent two months hiking in Patagonia, and even became a Buddhist nun for 10 days.
I came to realize over time that talking to locals, ditching guides and group tours, and always taking local transportation immersed me in the local culture and showed me the real parts of the countries I was visiting - things that tourists almost never get to see or understand.
When other travelers took the tourists boats, I found my way onto the cargo ferries, when others would hire a car and driver, I hung out of the door of a moving train, and when others would take a bus, I hitchhiked.
My journey is endless, and I want to help you do the same thing. 
*If you'd like to know more about my personal history, you can read the full Be My Travel Muse story here.*
How this site can help you live out your travel dreams
Be My Travel Muse is a resource for like-minded travelers who want an enriching cultural experience when they travel.
This is a travel blog for those who want an adventure, who like to feel challenged, who want to see things differently, who want to learn more, engage more, and experience more during their travels and vacations. Be My Travel Muse can help you plan an immersive off the beaten path trip without spending months in the country or countless hours researching.
When you subscribe to my newsletter, you also get access to a 7-day Dream Trip planner so that you can breeze through the time-consuming process of planning, plus you'll be the first to know when new BMTM Adventures tours go on sale, will get access to personal insights that don't always make it onto the blog, and the occasional fun quiz to fuel your wanderlust. The emails are tailored to your interests and personal needs (just open the first one and click on the link that best describes you!).
On the blog, I post every Sunday, Tuesday, and Thursday with inspirational posts, practical packing lists, country cost guides, how-tos, food and exercise tips, and all kinds of info about countries in every continent in the world (except for Antarctica, but we're working on that!)
This blog has an emphasis on solo travel and outdoor adventures such as hiking, SCUBA diving, camping, hitchhiking, and much more.
Traveling solo? This is the perfect resource for you
After I had traveled for almost three years exclusively on my own, I realized that I was getting the same questions from women around the world.
They wanted to travel on their own but nobody in their immediate circle really understood how to help them reach that goal, or maybe they weren't supportive at all.
I remember being scared of the unknown back before I started traveling solo too, and I had just wished so badly that there was a one-stop resource to make it all easier for me. Since that didn't really exist, I decided to write it myself.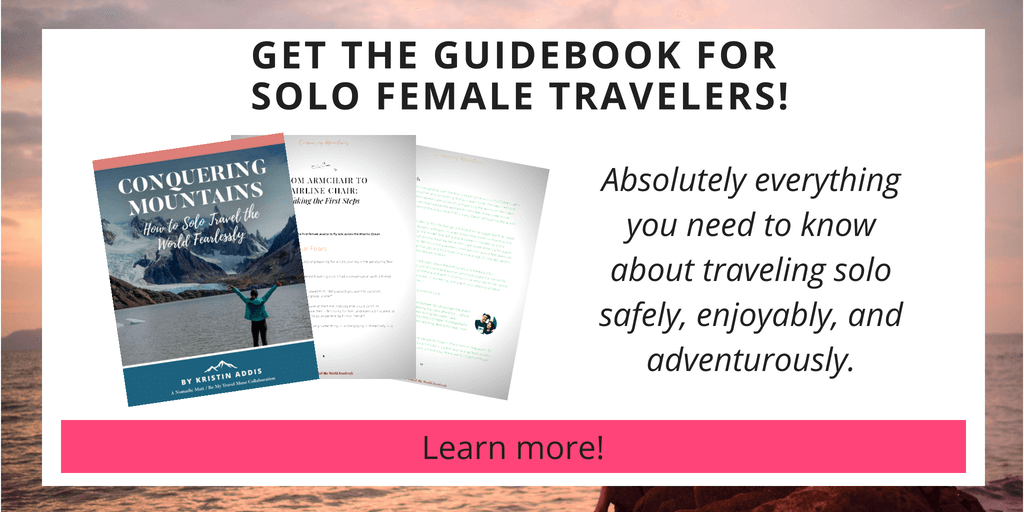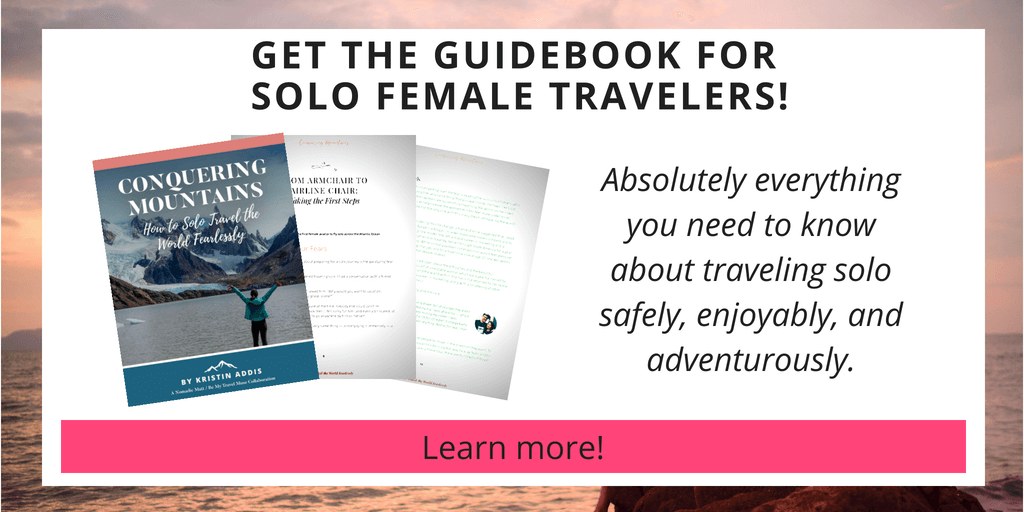 It's chock-full of info on getting over the fear, saving up with practical advice that actually works regardless of your income stream, working on the road to earn more and keep going, what to bring and how to stay safe. It also has advice from a dozen solo female travel experts and case studies of women out there living their travel dreams.
If you're looking for inspiration, I also authored a memoir about my first year of traveling solo as well! The reviews on Amazon speak for themselves; it's a hit with women who are dying to travel the world, or those who already do and want to read a little something to keep their wanderlust soaring.
If you're new around here, check out the Best of the Blog for some of the most helpful, inspirational, and wow-that-really-happened? reads.
International press has also featured BMTM. You can read more on our press page.
Want more? Check out the the archives for the most epic stories and most helpful travel advice.
Want to work with me? Please have a look at this. 
More ways to connect: Facebook, Twitter, Instagram, Pinterest