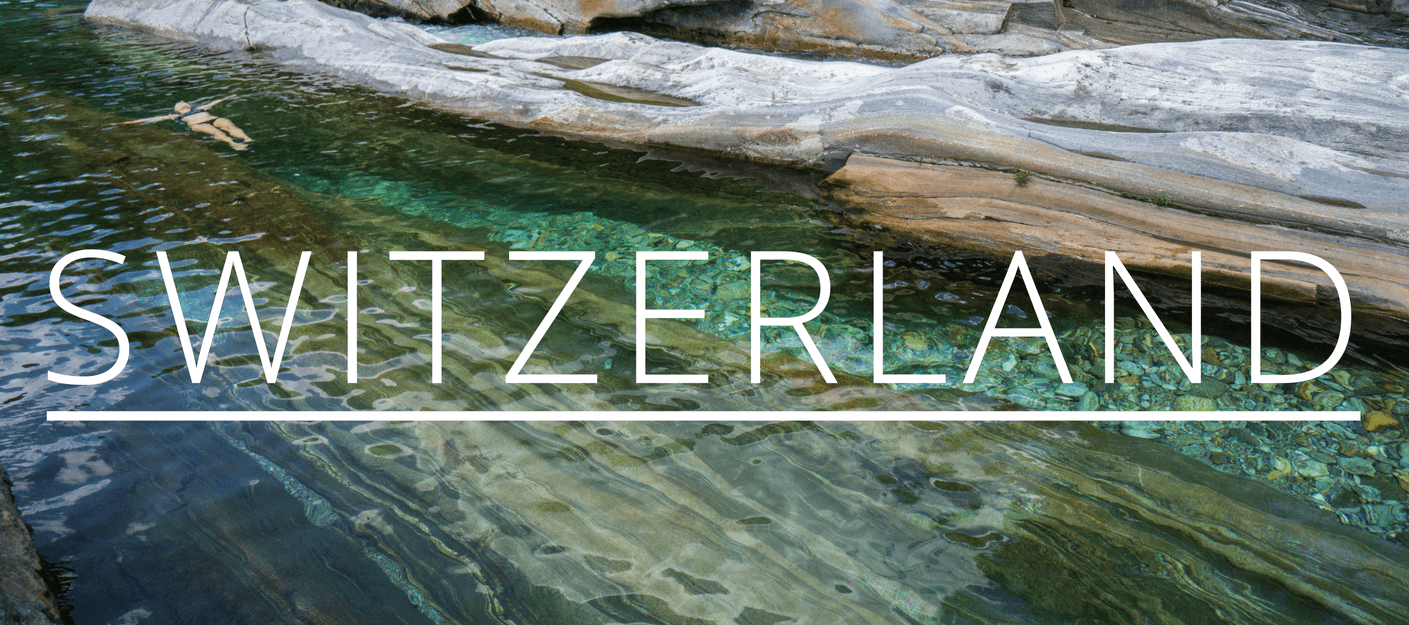 Switzerland is the type of place where you might visit with the express purpose of crossing items off of your 'must see' list, however the danger is that you'll leave with an even longer list because behind every mountain peak and in each valley, there is something magical to uncover.  Switzerland might look small on the map, but it's so mountainous that if one were to stretch it out, it would likely double or triple in size. 
In any season, Switzerland is picturesque and full of outdoor activities from mountain biking to hiking, swimming, skiing, sledding, paragliding, boating, and so much more. It's also multicultural, with four official languages: French, German, Romansh, and Italian.
The only drawback about visiting Switzerland is the high cost. However, if you plan ahead and stay off the tourist track a bit, you can cut your costs significantly. 
Where in Switzerland?

Switzerland
Quick Tips
'Hello' and 'Thank You' in German and French: "Hallo" and "Danke", "Bonjour" and "Merci".
Currency: Swiss Franc (

click here

for current conversion rates).

Visa: Visa free for most nationalities in North and South America (including US, Canada and Mexico), Australia, Schengen area of Europe (even looser there with ID requirements, just a national ID or passport if don't have that), and a few others.  A 90-day Schengen visa on arrival for most other nationalities (

click here

for more info)

Safety rating: Ranked 11 on the

Global Peace Index

with a score of 1.38 (USA is ranked 128 with a score of 2.40), meaning Switzerland is one of the safest countries in the world

Solo Travel Friendliness: As far as safety and friendliness goes, Switzerland is for everyone and anyone. I felt super safe and welcome during my time there.
Climate: Summer is warm and crisp, autumn and spring are temperate, and winters are cold, when you can experience snow and freezing temperatures, particularly at high altitudes.
Best SIM cards: Swisscom can be purchased in person at any phone shop. Bring your passport.
Random useful tip: Switzerland may be landlocked, but it has over 1500 lakes so pack your bathing suit or skates, depending on the season!
Accommodation
Budget Solo Travelers ($30 - $50): Rated as one of the most expensive countries to travel in, finding cheap accommodation could be a challenge. Expect to pay a lot more than you normally would even for a basic dorm room. However, you will be compensated with great social vibes and high chance of meeting fellow backpackers. Couchsurfing and Airbnbs may be great alternatives for those who are on a tight budget. There are also campsites close to train stations with decent facilities.
Mid-Range Solo Travelers ($60 - $100): Privacy comes with a high price in most places in Switzerland. More and more hotels offer basic single rooms, though by Switzerland's standards, a  "basic" room typically comes with a flat-screen TV, toiletries, and gorgeous mountain views.  They are quite worth the splurge, if you asked me!
Other Accommodation Options: I personally stayed at the two hotels below when I visited Switzerland, and I highly recommend both of them! Morosani was luxurious for the most part but the rooms themselves were warm, charming, and nice and quiet, whereas Silvana was a family-run joint that was cute and peaceful.
Transportation
Getting There: The main airports are Geneva Airport, Zurich Airport, and Basel-Mulhouse Airport. They are generally well connected with major international flights coming in constantly, although you are more likely to be taking the train if you are coming from other parts of Europe, such as Paris, Munich, Milan, and Salzburg. Another option is by bus, which is available from Paris, Rome, Munich, and Florence. Finally, you can also take the ferry from France, Italy, and Germany to get to Switzerland.
Getting Around town: Buses and trains within major cities in Switzerland are punctual and efficient. Expect to pay $2 - $5 for a single trip. Another option is carpooling – BlablaCar is a popular ridesharing site in Switzerland, however trip cancellation is very common so it's wise to use it when you have flexibility. Uber is currently available in Basel, Geneva, Lausanne and Zurich.
Inter-city Traveling: If you plan to stay for a while and travel frequently, make sure to get the Swiss Travel Pass that allows unlimited traveling throughout the country by train. With the pass, you can just board and enjoy the ride, and even get discounts and free entrances to some attractions and many museums, all at an average cost of about $35/day (15 day pass). Booking last-minute is hideously expensive so try to avoid it!
Food
Grocery Shop & Cook Your Own Food ($5 - $15): Food is expensive in Switzerland – even McDonald's costs about $15 a meal! The best way to save up on food is to do your grocery shopping at the local supermarkets and cook your own food at the hostel or Airbnb. You can also purchase pre-made meals and heat them up at the supermarket if your hostel doesn't have a kitchen.
Cafes & Bars ($15 - $30): I personally did not try this but it is recommended to get the Swiss Coupon Pass which comes with 100 coupons offering discounts on not only dining but also attraction entrances and tours. Keep a close eye on lunch promos and happy hours.  
Restaurants ($30 and up): If you are in the mood to splurge on eating out, Switzerland is the right place to be. From a long list of Michelin-starred restaurants, to a dining experience on a mountaintop, you will find yourself spoiled for choice. Price-wise, the sky's the limit. My personal preference is to dine at the hotel restaurants, and both Morosani and Silvana did not disappoint. I still think about Pöstli, and their delicious beef carpaccio, sometimes.
Things to Do
Skiing: Switzerland has some of the most dramatic snowy mountains I've ever seen. In Davos, prepay for your lift tickets online to get a discount, and enjoy skiing (with real snow!) at Parsenn, Pischa, Madrisa, Rinerhorn, and Jakobshorn. Matterhorn, the world famous mountain peak, offers skiing opportunities all year round. As for the experts, Verbier is highly recommended for its challenging high-altitude terrain.
Hiking & Trailing: These are perfect activities if you are in Switzerland in the summer! I personally recommend Edelweissweg and Stellisee in Zermatt, while others rave about Mt. Pilatus which offers a gorgeous Swiss Alps view at the top. As for a leisure hike, check out Mt. Rigi. There are a great many more, but these can get you started!
Chase Waterfalls: Surround yourself with the thunderous roar of the biggest waterfall in Europe, The Rhine Falls. You can take a boat tour to the middle of the waterfall, or view the falls from both sides of the river. There is also a castle nearby that doubles up as a youth hostel. Another beautiful waterfalls that blew me away is at Oeschinen Lake. The waterfalls are located along the rocky beach trail, marked with rock cairns, that you can walk under, around, and in.
Swim in Lavertezzo: Ready to jump into the clearest water that you have ever seen? Take a train to Tenero, and board bus 321. Pack some food and beverage, as well as sunscreen, go for a swim, lie on the rocks, and soak it all in.
Explore Zurich: Spend a few nights here after all that skiing and hiking as there is plenty to do in this beautiful city that's rich with café culture and nightlife. Be sure to try out the infamous Swiss fondue which I think is perfect for a cold night, and take a nice, long stroll along the Zurich River, or even better, grab one of the free bikes and cycle around. Old town is perfect for aimless wandering, and if you are feeling fancy, wander to Bahnhofstrasse, one of the most expensive shopping streets in the world.
Visit Geneva: Lake Geneva is not the only thing that the city can offer. There are 40 museums, a 140-meter high fountain (Jet d'Eau), art galleries, cathedrals, monuments, and more. While it could be tough to keep your budget in check in Geneva, one of the most expensive cities in the world, you can get the Geneva Pass, which comes with free transportation and free entrance to many of the 40 museums in Geneva.
Get to the Top of Europe: The highest-altitude railway station in Europe is in Switzerland. To get there, simply ride your way to Jungfraujoch by taking the Jungfrau Railway.
Apps to download
Citymapper (for navigation), TheFork (for restaurant recommendations and discounts), Fly Europe