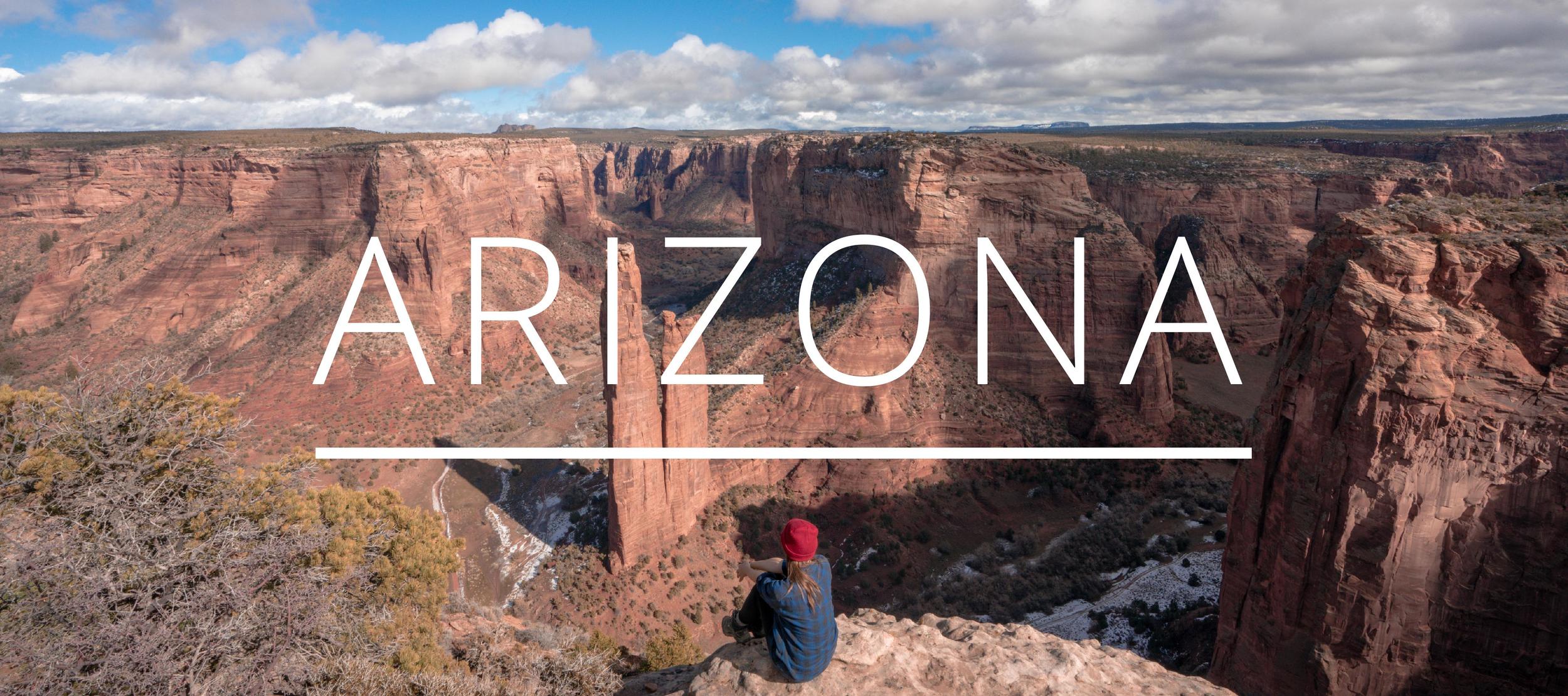 When it comes to some of the most famous and most-shared landscape shots in the USA, Arizona and Utah are always battling it out for first. If you've seen photos of Horseshoe bend, the Grand Canyon, and Antelope Canyon, those are from Arizona!
This state has scorching hot summers and some parts experience snow in the winter, but at any time of year it can be a joy to travel through. Full of golf resorts and national parks, Arizona's lovely deserts have me in awe.
Where in Arizona?

Arizona
Accommodation
Budget Solo Travelers ($0 - $30): Free camping is available, as there is a lot of Bureau of Land Management (BLM) land that is owned by the public out in Arizona. This website is really helpful if you need some help finding options in your area. Just be careful not to go into the deep sand, as I saw two cars got towed out of there! Also, campgrounds close to the Grand Canyon fill up quickly during the summer, and booking in advance is recommended. Hostels aren't widely available, and could get booked out easily. Expect to pay about $25 - $35 for a night. Perhaps a better option is motels and inns, which cost about the same for a private room.
Mid-range Solo Travelers ($40 and up): At most mid range hotels, a private room with an en-suite bathroom starts from about $40. Guest ranches are also popular across Arizona, ranging from authentic local ranches to downright luxurious. Airbnbs average at about $25 for a private room, and at about $75 for an entire unit.
Transportation
Getting There: The main international airport is Phoenix Sky Harbor International Airport, which offers direct flights from more than 100 cities in the US, as well as around the world. Amtrak offers train rides from neighboring cities. A train ride from San Francisco to Arizona costs about $75. Greyhound offers bus rides from its neighboring cities. Expect to pay about $35 to get from Los Angeles to Arizona. Finally, driving into Arizona from its neighboring states is generally fuss-free.
Getting Around: Arizona is the sixth largest state in the US, and because the top attractions are mainly national parks, national monuments, and other natural areas, a car would be the best way to get around the state. At the airport and in the major cities, car rental agencies are widely available. If you are planning to go on a road trip, a camper van would be perfect. In Phoenix and Tucson, public transportation options include trains, with an all-day pass from Light Rail costing $4 in Phoenix. Buses, Uber, Lyft, and zTrip are also available in most cities.
Food
Grocery Shop & Cook Your Own Food ($5 - $10): To save money, you can buy your own groceries at the local supermarkets and farmers markets and cook your own meals. If you are doing a road trip, try to get a campervan that comes with cooking utilities, so that you can buy your groceries at the local supermarkets and cook your own food. A week's worth of groceries costs about $80 - $100 at the smaller grocers.
Local Restaurants & Bars ($7 - $15): As a melting pot of Anglo, Hispanic, and Native American cultures, expect to see a diverse culinary scene in Arizona. Be sure to try out the state's Southwestern and Mexican restaurants, with dishes packed with fierce and bold flavors. A Mexican dish that seems to only be available in Arizona is the Sonoran hot dog, which has arguably become the Southwest icon. On the flip side, you can also find simple, hearty dishes preferred by the Native Americans. You can find indie bars dotted along the streets in major cities like Phoenix - if it's your thing, you go on a pub crawl on Light Rail. It's safe to say that there's something for everybody!
Things to Do
Visit Antelope Canyon: No trip to Arizona is complete without seeing the incredible Antelope Canyon, a striped and bright orange Navajo Sandstone canyon in Arizona carved by flash flooding and erosion. There are actually two of them, and both canyons are located on Navajo land. The only way to see them is by taking a guided tour. I only saw Navajo guides, which made it feel more authentic and connected. Visit both if you can, but if you can't, I posted a comparison of the upper VS the lower Antelope Canyon for you.
Go on White Pocket Tour: White Pocket is the closest thing to being on a different planet I've experienced. Imagine a group of domes and ridges covering a massive area, dominated by white, light grey, and orange rocks. It is located at Vermillion Cliffs National Monument, and is the second-most visited site in that area after the famous wave. Though, when I went on a White Pocket tour with Kanab Western Adventures, the place hardly had anyone else around.
Climb Camelback Mountain: Camelback Mountain is a popular hiking spot located in Phoenix Valley with an elevation of 2700 feet. It makes a challenging but rewarding hike and could take from about 25 - 75 hours to ascent. There are two trails to choose from, Echo Canyon and Cholla. Guided hikes are also available.
Go on an American Southwest Road Trip: This is hands down, one of the best road trips in the world. I used to think that the best things to see were international until I did the American Southwest road trip and realized what incredible canyons and wide open spaces I'd been missing all this time that were never all that far. Gear up, because this is one of the finest adventures in the wild west! I have also broke down the cost of an American Southwest Road Trip for you on the blog.
Apps to download
Roadside America (locate attractions, statues, and sunset points – perfect for roadtrips), Waze (for navigation)
Arizona on BMTM's Instagram
This error message is only visible to WordPress admins
Error: Access Token for bemytravelmuse is not valid or has expired. Feed will not update.
There's an issue with the Instagram Access Token that you are using. Please obtain a new Access Token on the plugin's Settings page.
Error: Hashtag limit of 30 unique hashtags per week has been reached.
If you need to display more than 30 hashtag feeds on your site, consider connecting an additional business account from a separate Instagram and Facebook account.