It was clear to me when I pulled up to the car rental lot and saw nothing but jeeps that Lanai wasn't going to be the same adventure as the other Hawaiian islands.
Lanai isn't jungly or particularly green (more orange). It isn't covered in resorts, and you won't see many other tourists here. It's rugged, rocky, and rustic.
The entire island is about 140 square miles. And there are no traffic lights. In sharp contrast to the resorts of Maui and the efforts I took to avoid the crowds there, on Lanai I rarely saw another person. I rarely saw a paved road, either.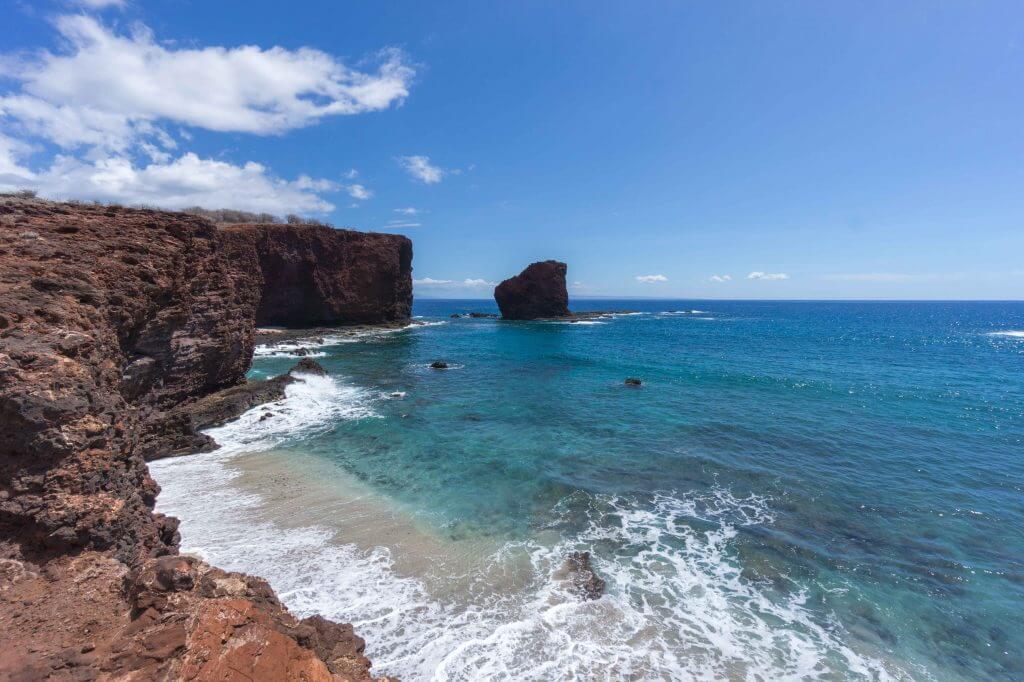 It was just my Jeep, Jasper (he needed a name, right?), and me adventuring around the island most of the time, taking in Instagram-worthy sunset views solo and enjoying the total silence — unless I did want to talk to people, which was easy to do at the B&B I stayed at, with its live music and friendly staff.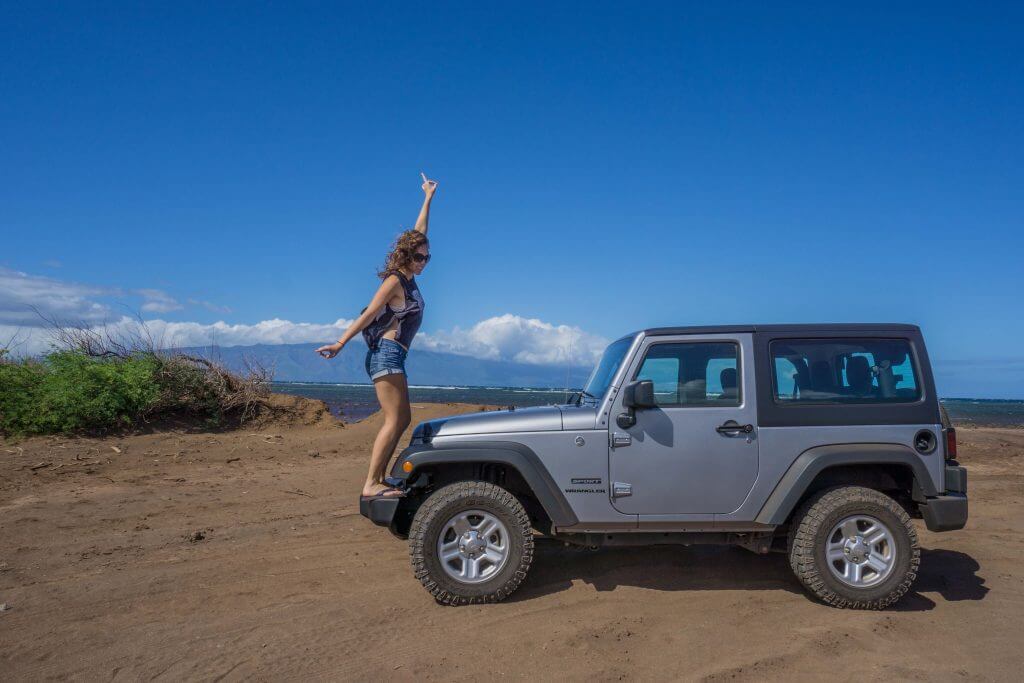 I felt the family vibes all around, and noticed that people always waved when they passed me on the street. It felt good to be so welcomed and to be transported back to the past in a way, to a time and place where people still know and recognize each other, and acknowledge that in passing.
Lanai Activities & Places to Go
Manele Bay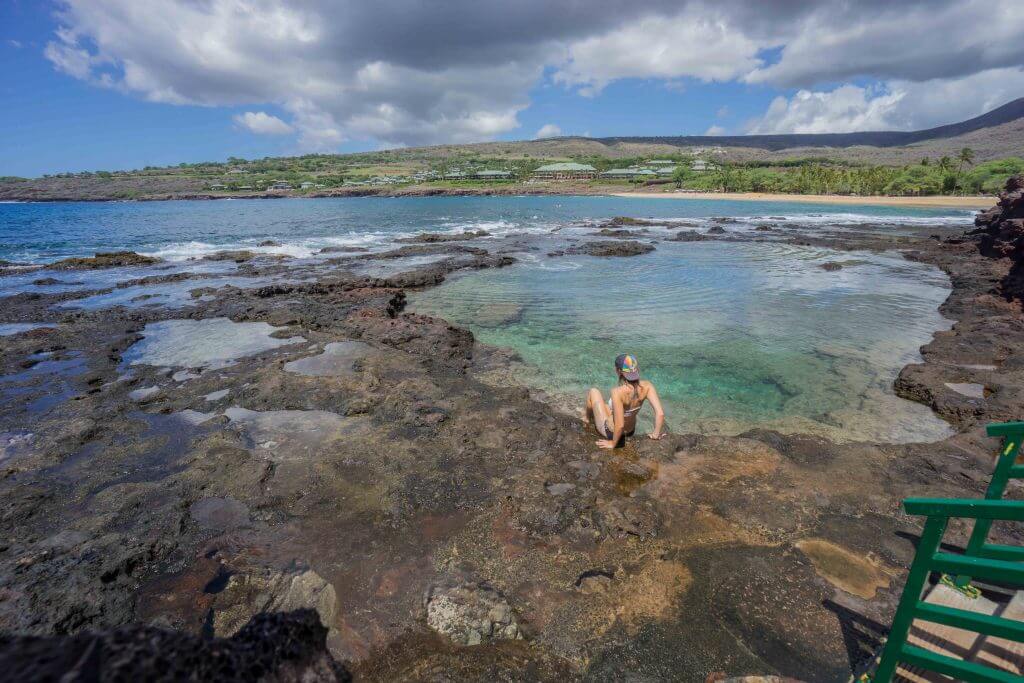 This is the busiest place I encountered during my stay on Lanai, which is to say there were a few people around. This is mainly thanks to the Four Seasons nearby — the only resort on the island — and the day trips from Maui.
I still didn't have to share the tide pools pictured above with anyone else during the 20 or so minutes that I spent swimming around in the warm water (and taking selfies like the one above, admittedly). From here you can snorkel or do beach dives, which can be fun if you like technical dives with swim-throughs.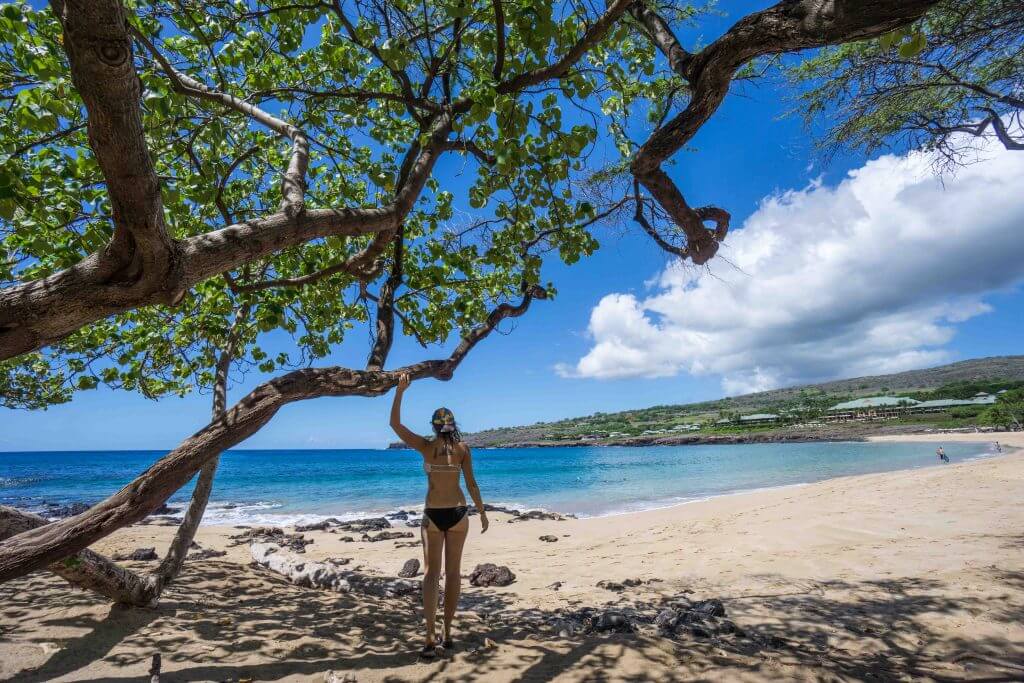 If you keep walking, you'll see Pu'u Pele, or Sweetheart Rock, depicted in the first photo of this post. It's a massive orange rock rising out of the ocean and is frequented by dolphins. Whether you see them or not, the sweeping views from the surrounding cliffs all the way over to Maui on a clear day are lovely.
(update: swimming with spinner dolphins is now banned in Hawaii. Source here)
An unspoilt Polihue Beach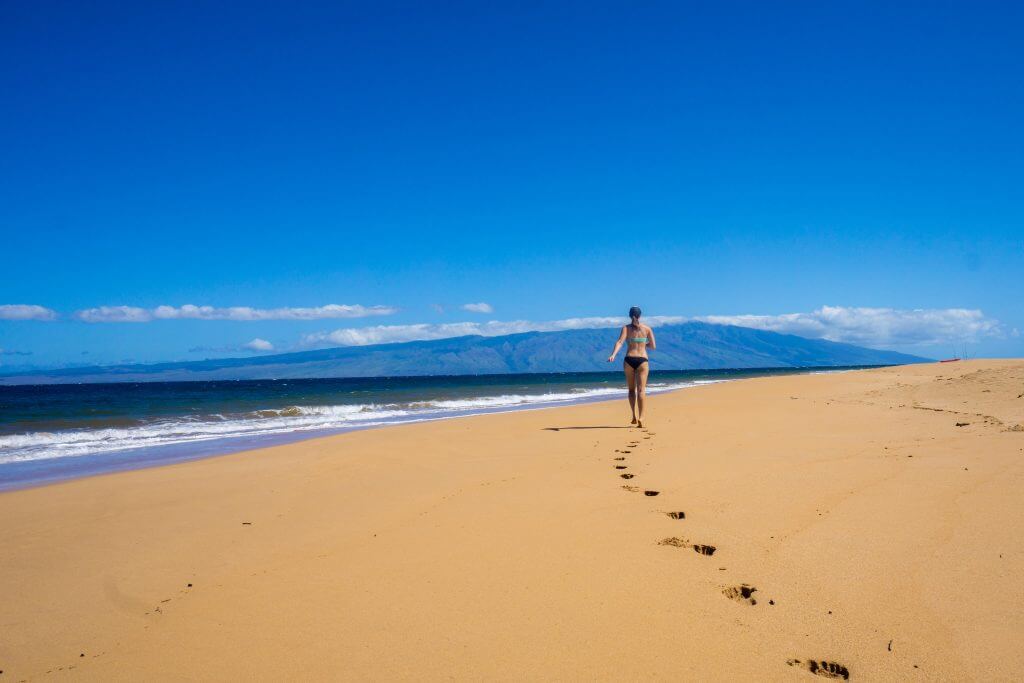 Though the tide is way too strong for swimming, unless you're crazy, Michael Phelps, or both, this three-mile beach is unlikely to have anyone else around.
On a clear day, you can see all the way to Molokai, and on a particularly lucky day, there are seals and turtles nearby too.
I kept thinking that a beach this clean, with such soft yellow sand and gorgeous views, would be absolutely packed on almost all the other islands. Never mind that the waves were coming in sideways (have you ever seen such a thing?!) — people would still be storming the sand with umbrellas and drinks with paper umbrellas.
On the way, you'll pass Keahikawelo, or the Garden of the Gods, which is a rock garden full of boulders and towers. Some say the rocks were dropped from the sky as gods tended to their gardens, and others claim that they are formations containing the spirits of Hawaiian warriors.
Lanai Cat Sanctuary
If you need a snuggly break from all the rugged adventures on Lanai, head over to the Lanai Cat Sanctuary to make a furry friend. It's home to over 600 cats. You can pay a visit from 10am to 6pm any day of the week and hang out with some of them. If you want to help out, you can also spend a day volunteering.
Kaunolu for sunset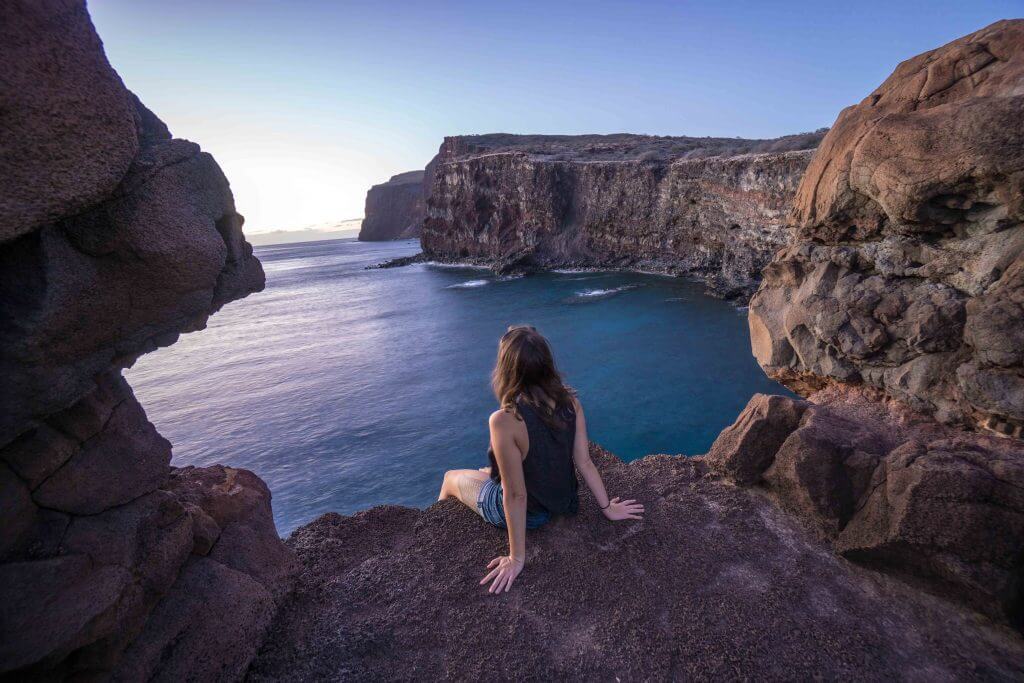 Kaunolu was a favorite fishing spot for King Kamehameha I and is considered one of the most sacred places on Lanai, with remains of shrines and petroglyphs still at the site today.
Halulu Heiau, a temple in Kaunolu, was a refuge for anyone who broke kapu (Hawaiian laws). To escape the penalty of death, a person violating kapu would go to the temple, ask for forgiveness, and be allowed to return to their family without being killed.
Koloiki Ridge Trail
A moderate five-mile loop, the Koloiki Ridge Trail is a fantastic hike that features breathtaking views of the island's mountains, forests, and beaches. The trail starts near the Four Seasons at Koele and will take you to towering sea cliffs, where you can see Molokai in the distance, before looping back to the trailhead.
Shipwreck Beach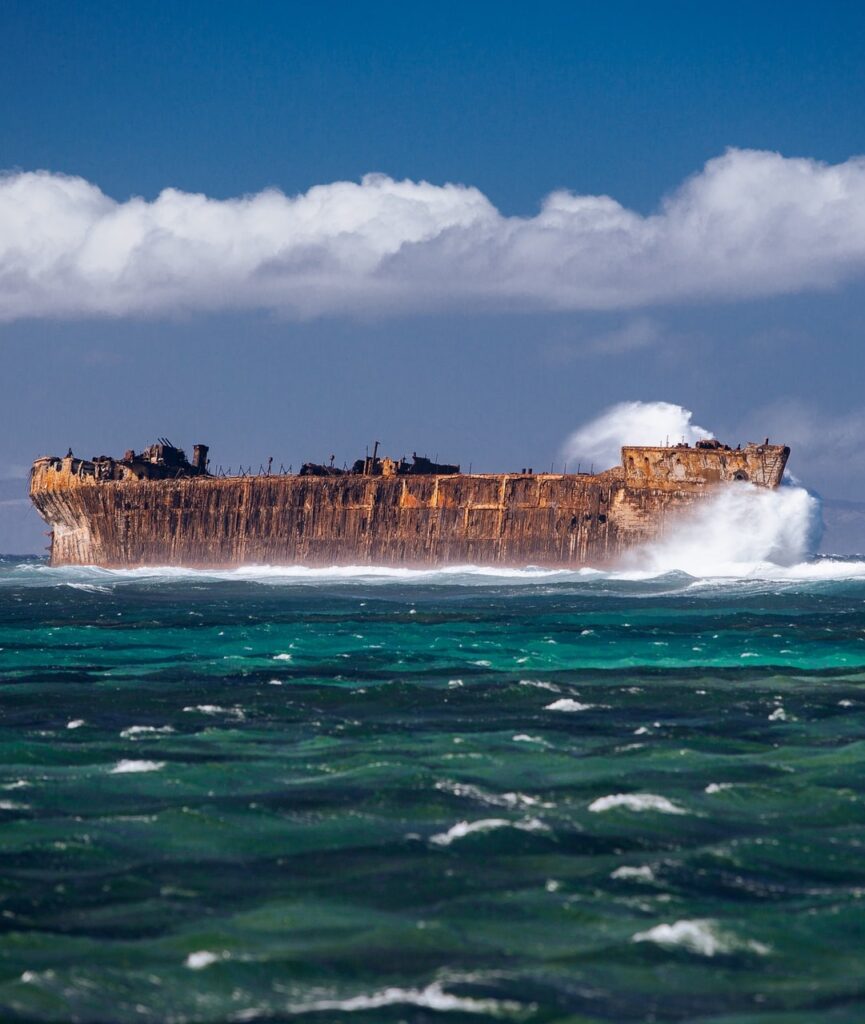 Although the rough, choppy waters at Shipwreck Beach make it dangerous to venture out to sea, it is definitely worth a visit. The six-mile beach is the site of several shipwrecks, one of which sticks out prominently offshore. The rusty ship you see above is a YOGN-42, a US Navy concrete fuel tanker from 1942, which reached its final resting place in 1954. It's a creepy sight, ideal for adventurers who want to see a piece of history on Lanai.
Hulopoe Beach
Considered Lanai's best snorkeling destination, Hulopoe Beach should definitely be on your itinerary. Featuring golden sand and calm waters, it's a serene spot to bask in the sun or go for a swim. Plus, you might be able to see humpback whales in the distance if you visit in the winter months.
Make sure to come prepared to walk on a spiky reef to get to Hulopoe Beach, as the trail leading to the soft sand requires durable footwear.
Shark's Bay
This quiet and uncrowded beach is on the south coast of Lanai. The cozy white-sand cove is the perfect place to find some solitude and connection with nature. You shouldn't swim here because of the dangerous currents, so admire the sea from the shore. This is a hot spot for Hawaiian monk seals, so you might be able to see some sunbathing here. You can reach Shark's Bay by walking along the tide pool trail at Hulopoe Beach.
Just drive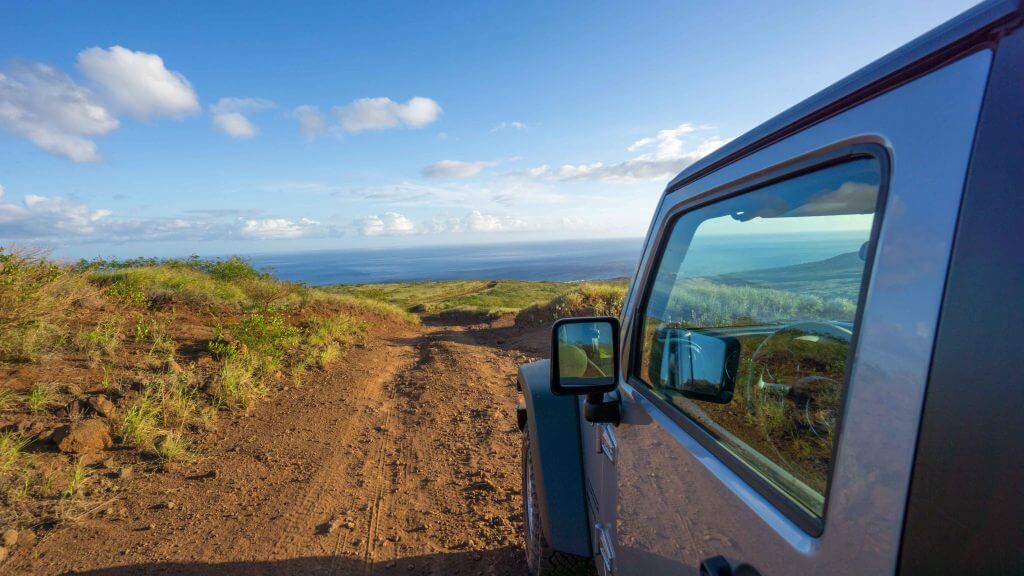 I read online that the drive to Kaunolu required a four-wheel drive and a "very skilled driver."
Even though it was my first time on road like that, I'd already been spending the better part of the day joyriding all over the rugged sand and dirt roads of the island, so off I went.
It was very rocky and steep, but that's the whole point of four-wheel driving right? And without anyone in the passenger seat to say things like "this is a bad idea!" I had a blast!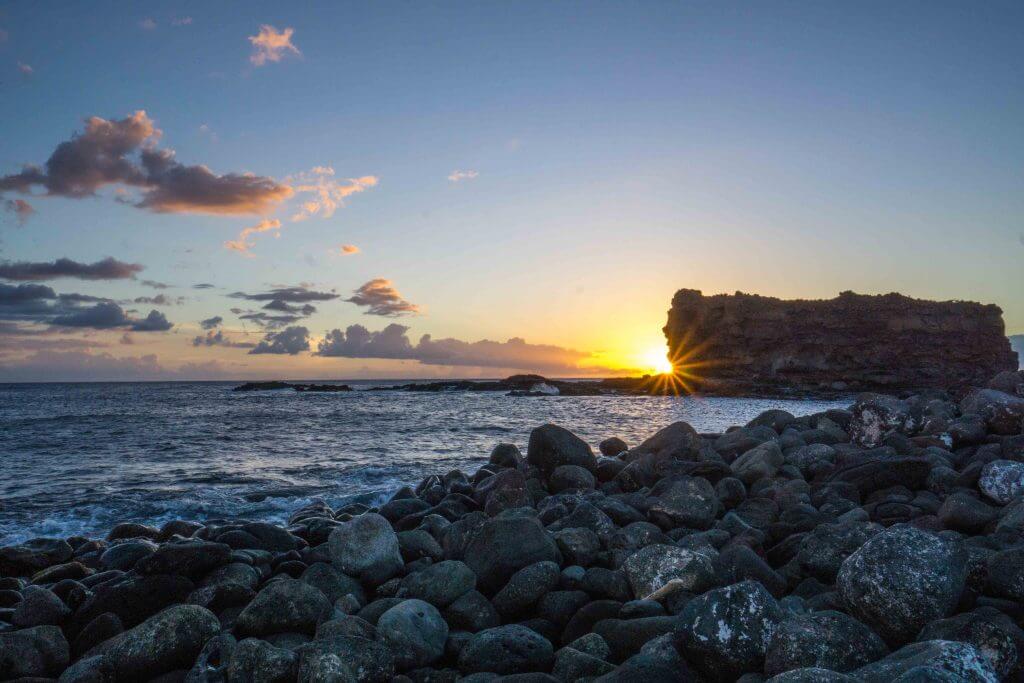 Though the drive back up such rocky terrain after dark was new to me, pulling off partway to take in the sunset to the very last drop and see the stars was such a treat.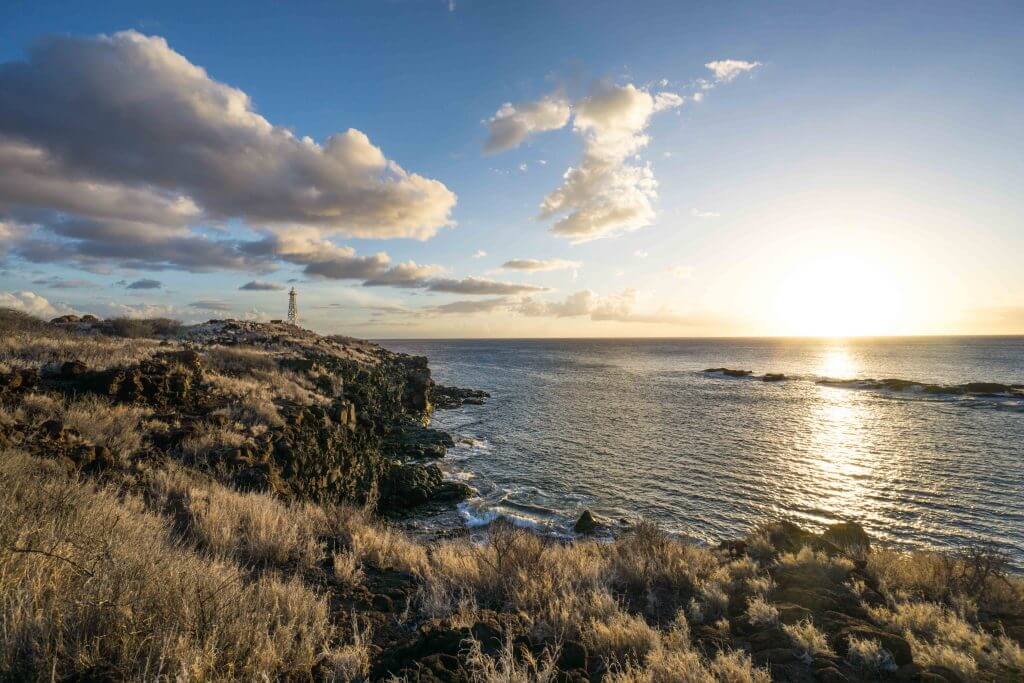 The views are gorgeous just about everywhere. Get in the car and just go. Head over to Shipwreck Beach and drive the coast over to Lopa, or head to Kaumalapau Harbor for another great sunset view. Just go off and explore! It's awesome to get just a little bit lost down those rough roads.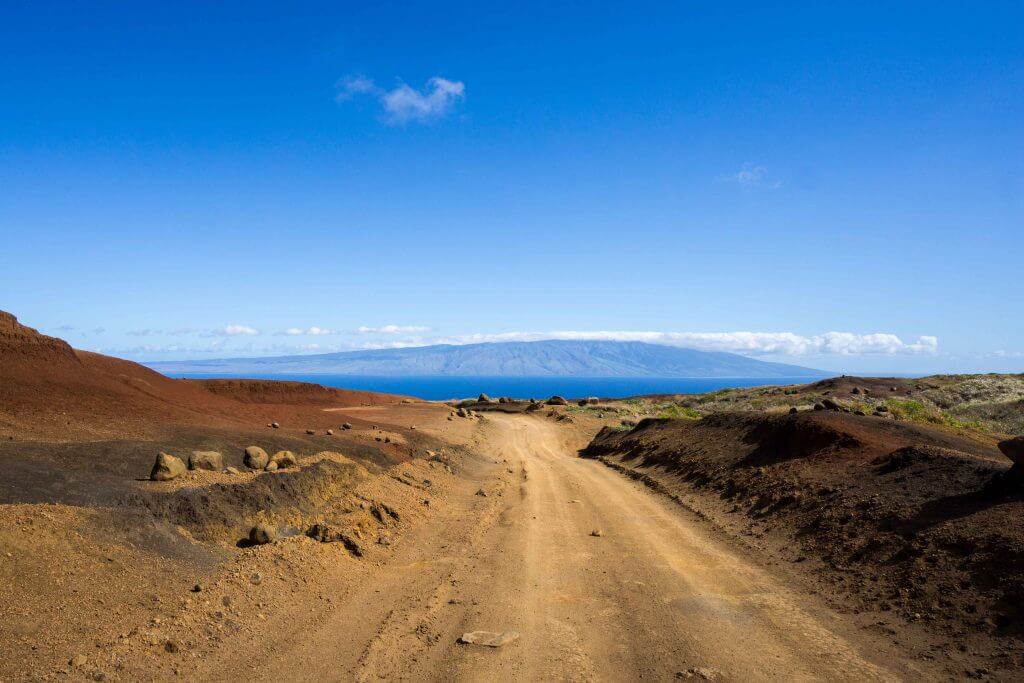 I returned the car the next day, beaming, and the gal behind the counter was genuinely excited that I enjoyed my solo adventure in Lanai so much.
Even if you don't have experience driving on 4×4 only roads (like me), and even if it's a little daunting, don't let the adventurous side of Lanai scare you. I'm so glad I went for it!
Poaiwa petroglyphs
Petroglyphs are an ancient form of writing in Hawai'i, and they are found on all its islands. On Lanai, it takes a bit of adventuring to find them, but the payoff is totally worth it. To find the Poaiwa petroglyphs, start at Shipwreck Beach. From there, you'll find a trailhead to Poaiwa Valley, which is just a half-mile long. This is where you'll see the petroglyphs carved into volcanic rock, including symbols that tell stories of ancient Hawai'i.
Where to Stay on Lanai
There are only two hotels on Lanai. Hotel Lanai is the only locally owned guesthouse on the island, and it's also significantly cheaper than the $1K-per-night Four Seasons (but hey, go for it if you've got the cash!). The food there is excellent, and I loved the friendly staff and quaint atmosphere. Plus, it's a local favorite, and sometimes there's live music.
Driving on Lanai
Definitely rent a Jeep! Without the right wheels, you'll miss almost all of the cool stuff on the island. The only rental place I saw was Dollar. Call 808-952-4264 and request an airport pickup if you're coming in that way, as it's located in Lanai City.
What to Eat on Lanai
There are very few restaurants on Lanai, but what the island lacks in variety it makes up for with quality. Poke Bowl is a great spot for cheap eats, and the Hotel Lanai is excellent for dinner. Blue Ginger Café is a favorite among locals because of its laid-back atmosphere and homemade pastries.
The Four Seasons Resort has a few restaurants, including award-winning Nobu, which has delectable fresh sushi that is definitely worth the splurge.
*This post was brought to you in collaboration with Go Hawaii and Visit Lanai, who had me out as part of a photography project. The adventure and choices of location were my own, as are all opinions. Happy adventuring!