Have you ever wondered what it takes to become "the world's best city"? Even more, have you thought about what city that might be? Barcelona, Spain? Berlin, Germany? Actually, according to Travel and Leisure's 2021 Best Cities in the World list, it's San Miguel de Allende, Mexico. I'm here to show you why I think it deserves the title.
I first heard about San Miguel when it won the title back in 2017. I saw a lot of solo female travelers posting about how safe and charming the city is. Seeing other women write so favorably about San Miguel was a huge "green flag" for me, so I decided to check it out.
This is my complete guide on San Miguel and its incredible potential to be one of the best cities in the world for solo female travelers, complete with things to do, places to stay, and much more:
Things to Do in San Miguel de Allende
1. Take a walking tour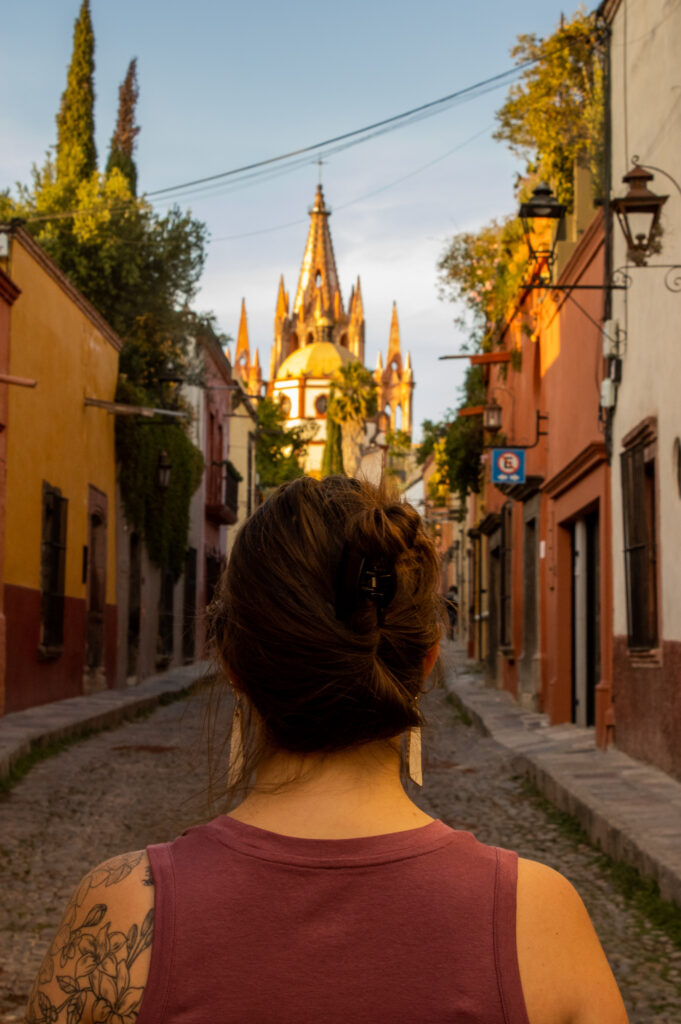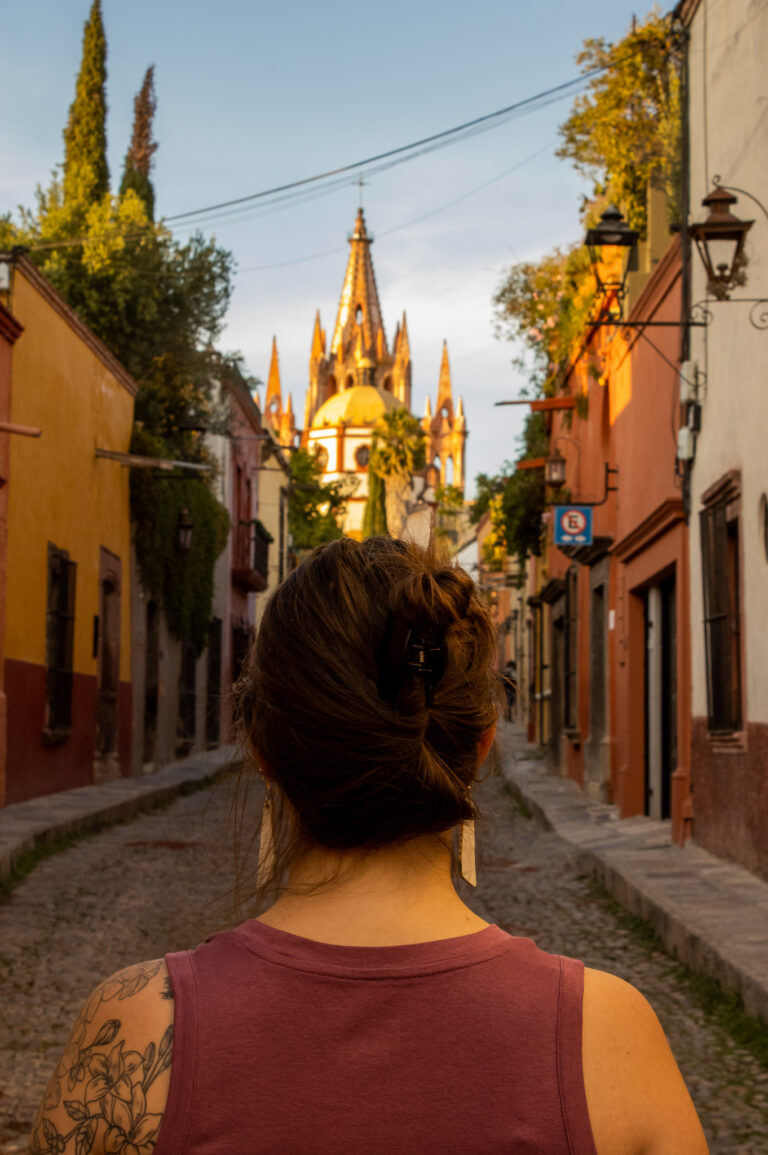 The first thing I noticed about this city was its breathtaking architecture and European-esque cobblestone streets. I did most of my exploring of San Miguel on foot, which was a blast. There are a lot of small streets with colorful buildings, like Callejón del Pueblito, which have little traffic and are fun to walk down.
With so many prominent landmarks as well, I suggest starting out your trip with a walking tour. The Historical Walking Tour of San Miguel has tours every Monday, Wednesday, and Friday at 10am for 300 pesos ($15 USD).
Another great tour option is this landmark tour which includes a three-course Mexican lunch.
2. Hang out in the main square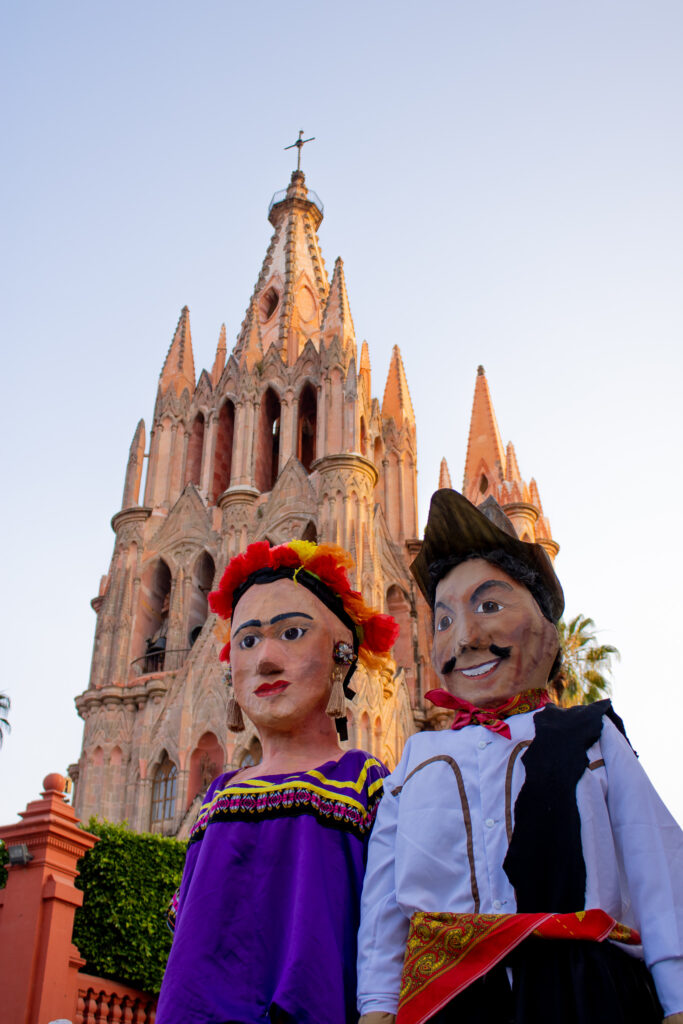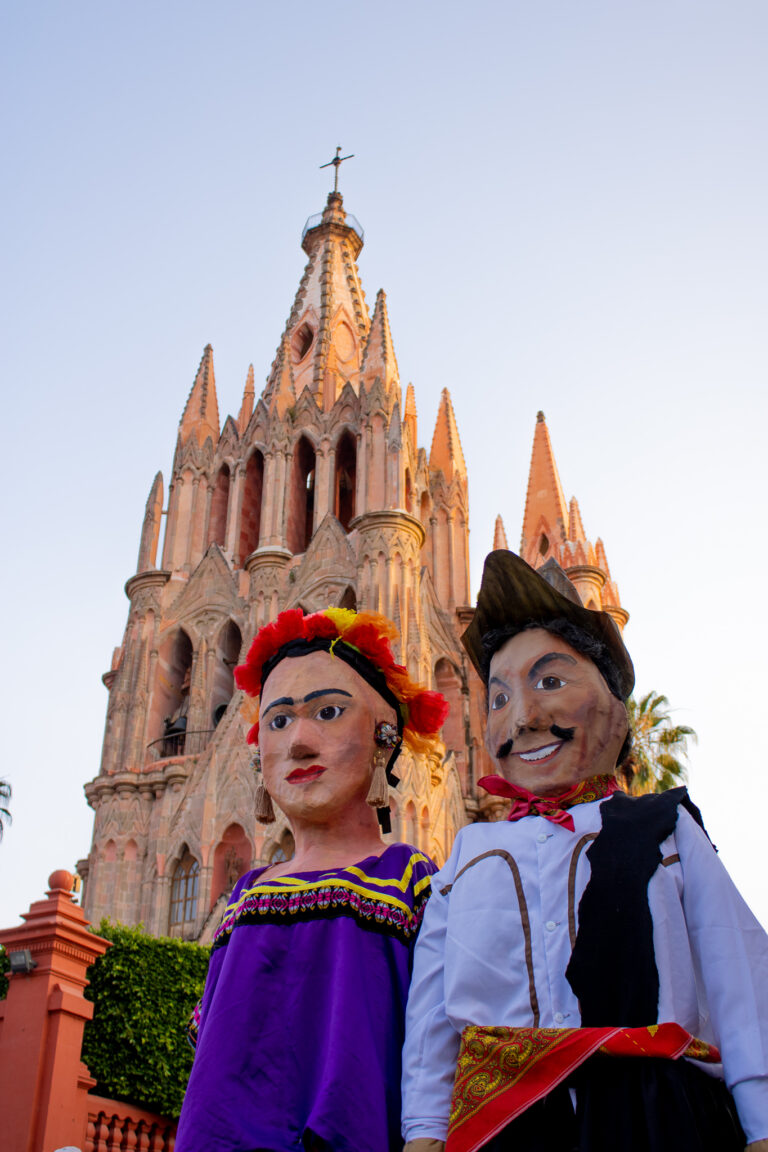 The main square in San Miguel, like a majority of Mexican towns and cities, features the town's most important Catholic church. In front of the church is Jardín Allende, a small park with plenty of benches to sit on and take in the scenery.
Apart from being the historic heart of San Miguel, the main square is also the economic and touristic center. Each of the streets that shoot off from the square are closed to traffic, allowing only pedestrians. This makes wandering from shop to shop much easier.
3. Catch an impromptu mariachi show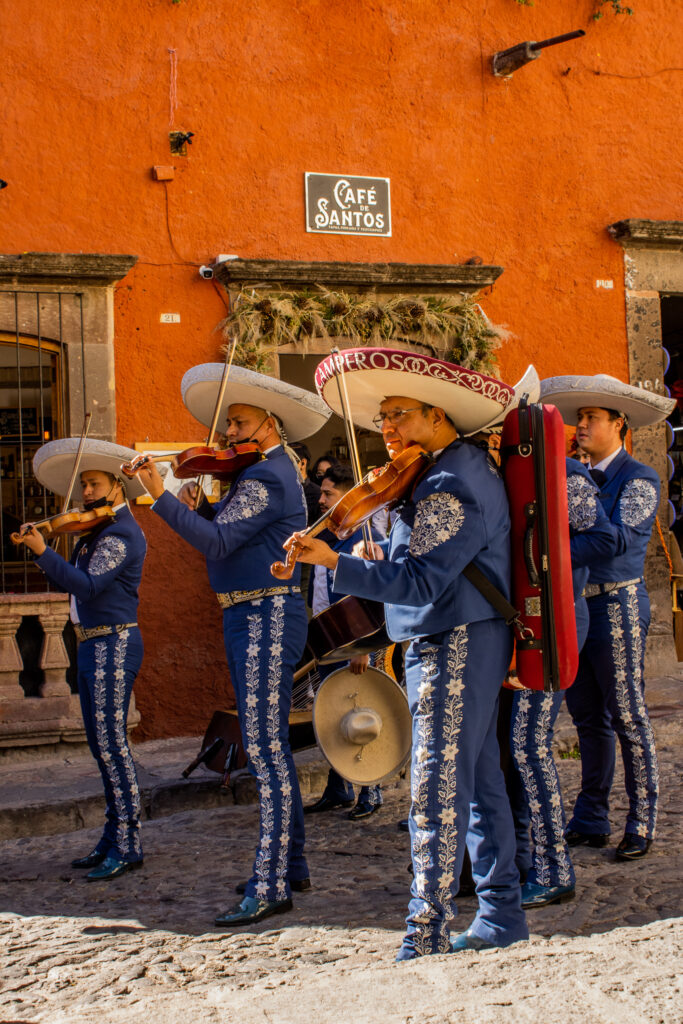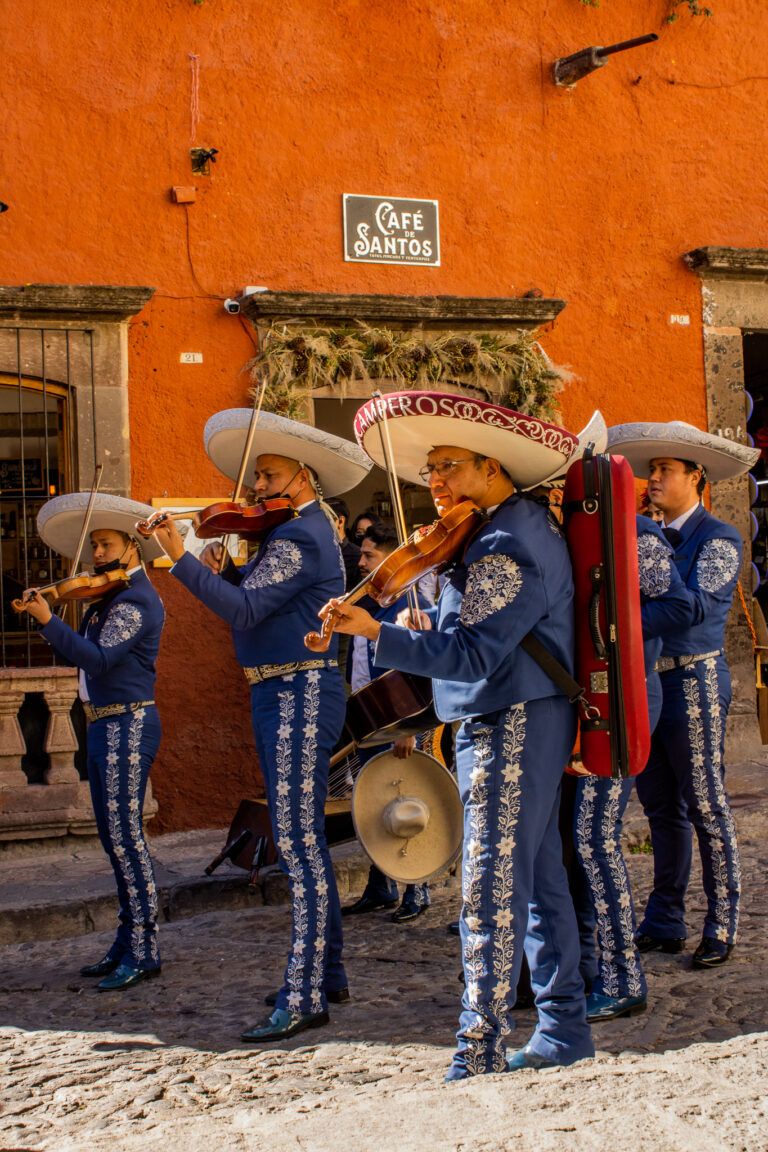 Since I live in San Cristóbal de las Casas, where mariachi music isn't super popular, I've missed out on this quintessential part of Mexican culture.
Typically, the bands are hired for private events. However, some of them in San Miguel hang out in the main square and play for interested people, who pay around 50 pesos ($2.50 USD) for a special song. Especially at nighttime, with the twinkling lights and families strolling about with their hot chocolate in hand, the sound of mariachis playing feels like the soundtrack for the sweetest Mexican Christmas movie you can imagine.
4. Look for San Miguel's most famous donkey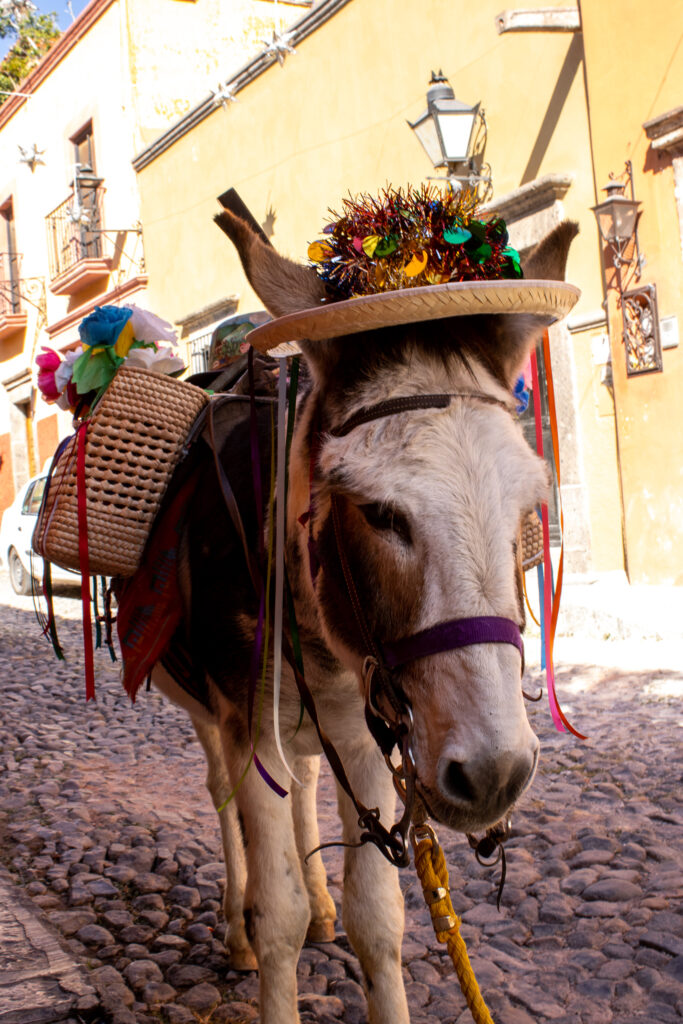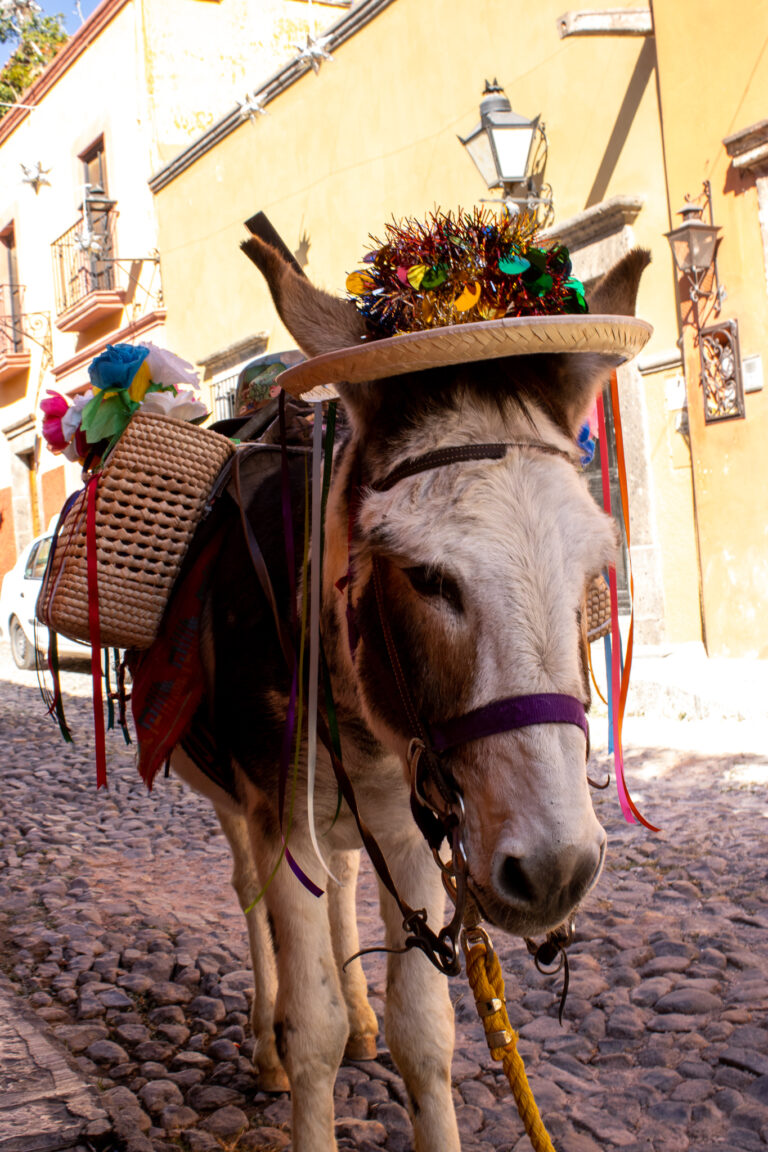 As you can see, this little guy has a lot of style. Although I don't condone riding donkeys (I've seen a lot of tourists do this), catching a glimpse of this one is a rite of passage when visiting San Miguel. His name is Burrito Filemon and he has is own Instagram handle, @burritofilemonsma.
5. Art-peep at La Fábrica de Aurora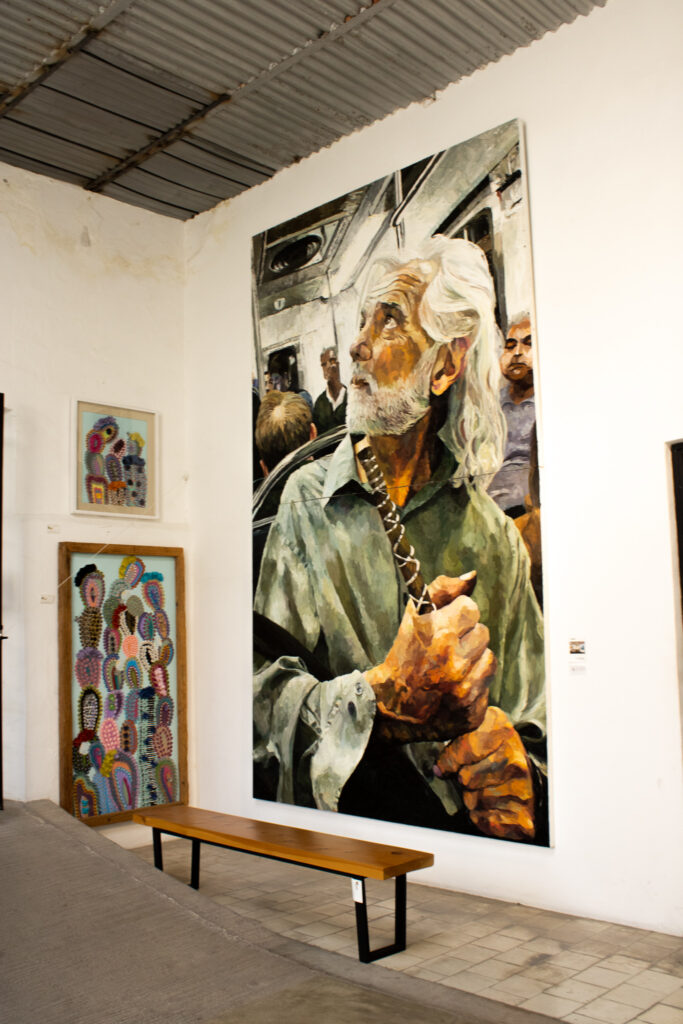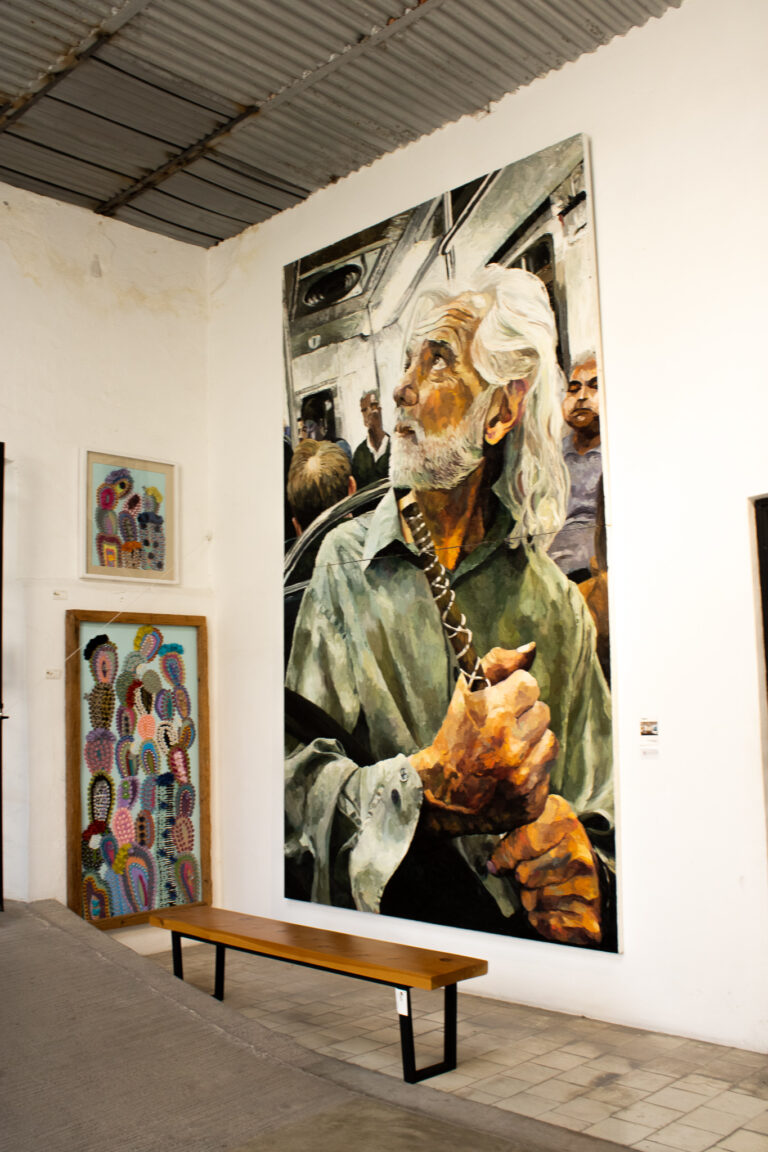 Once a textile factory for 90 years and now an enormous collection of art galleries, La Fábrica de Aurora is one of San Miguel's most beloved attractions.
I wasn't sure what to expect before I stepped foot inside, but I was impressed by the carefully curated collections of both Mexican and international art. You'll find sculptures flown in from across the world in a gallery right next to the paintings of a San Miguel local, an eclectic mix of near and far. There are 43 galleries in all, along with several small shops and even a couple of restaurants.
You could easily spend an entire morning or afternoon here, which I definitely recommend! I took it slow, savoring each and every gallery, large and small.
6. Visit smaller galleries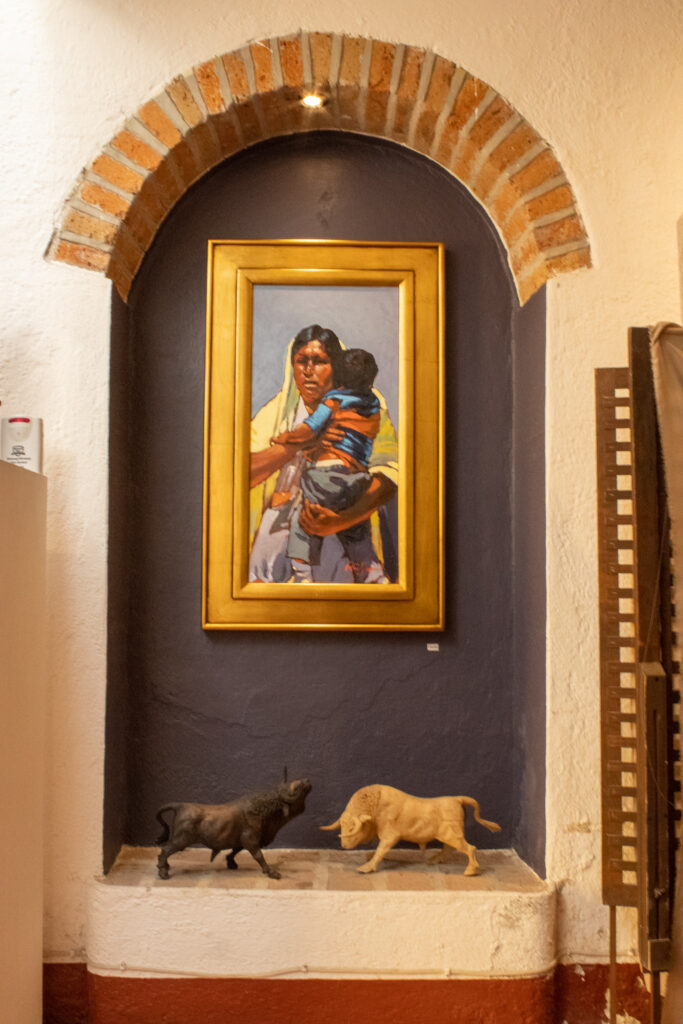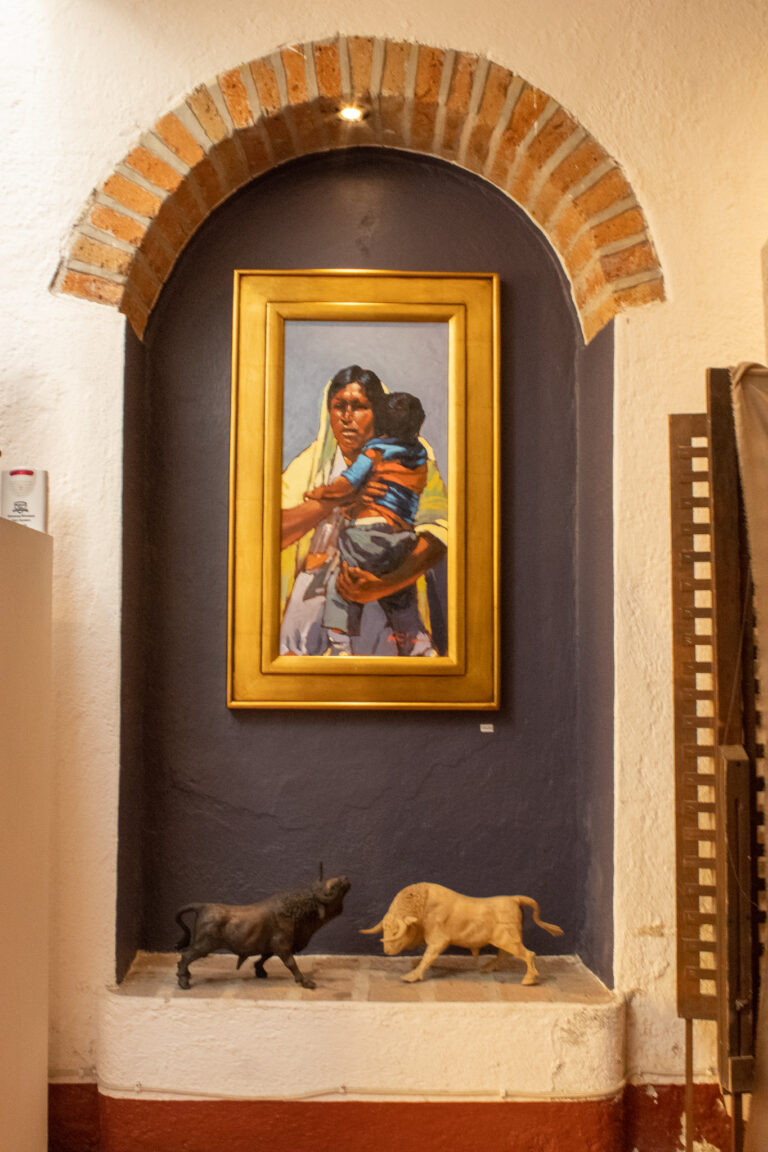 If you can't get enough of San Miguel's art scene, pop in to any of the small galleries around town. Most of those I visited featured Mexican artists, many of them from San Miguel or nearby cities. My favorite was Galería 15 (Sollano #15, Centro). It features art from local artist Daniel Rueffert, whose paintings depict quotidian Mexican life in San Miguel and nearby Los Pozos.
7. Learn about Mexican toys at Museo La Esquina del Juguete Popular Mexicano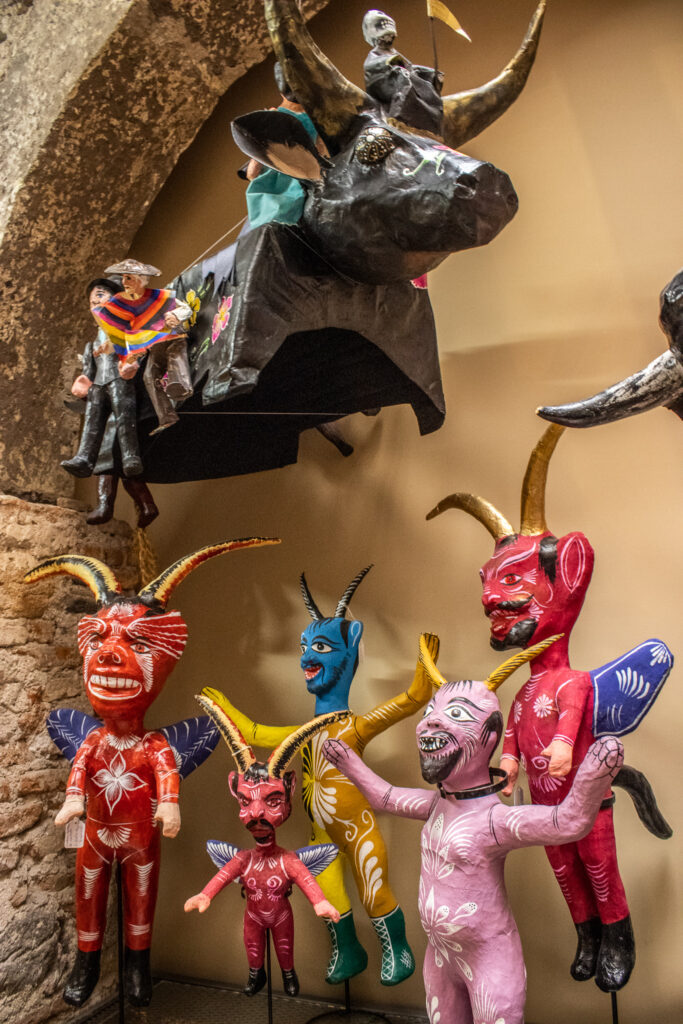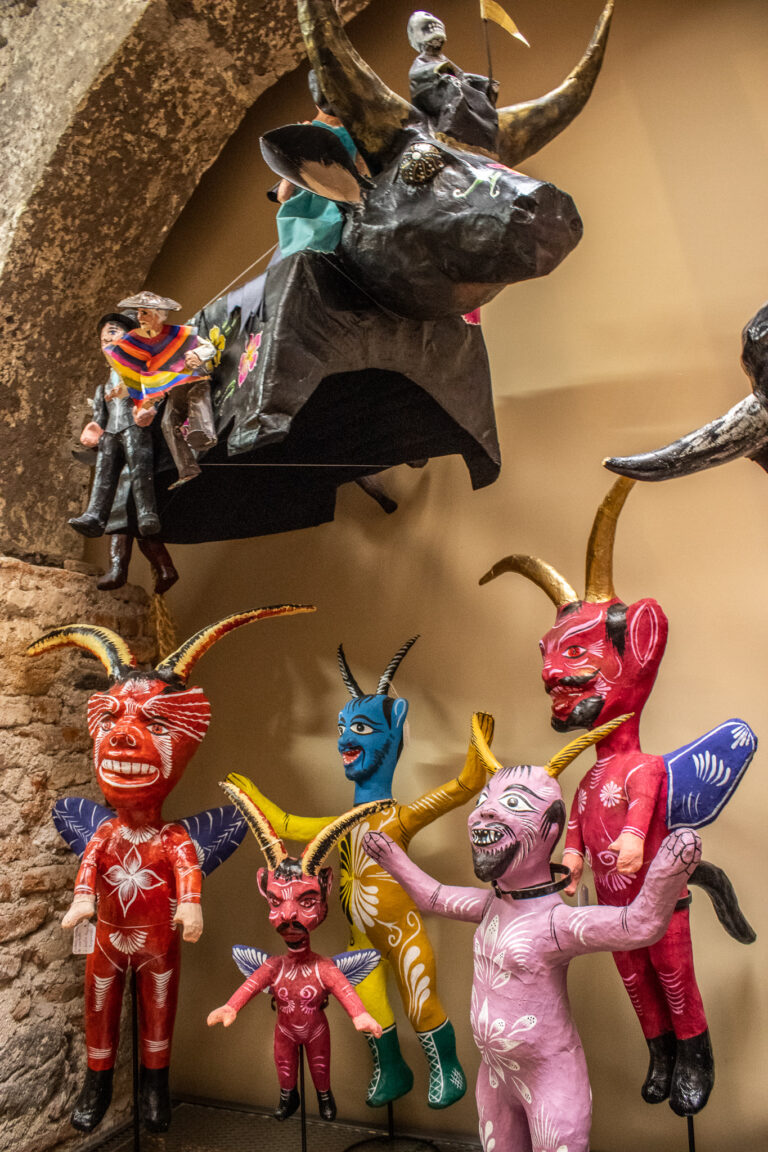 I have to admit that I wasn't sure what to make of all the recommendations to visit this museum. I gave it a chance and was surprised at how interesting it was!
The Museo La Esquina del Juguete Popular Mexicano has an extensive collection of different types of toys from every state in Mexico. From (very creepy, IMO) baby dolls to lucha libre (Mexican wrestling) figurines and everything in between, this museum has surprises around every corner.
I especially liked the collection of judas, characters made of papier-mâché that depict corrupt politicians, thieves, and other villains as devilish creatures (see the photo above).
8. See all the cacti at El Charco del Ingenio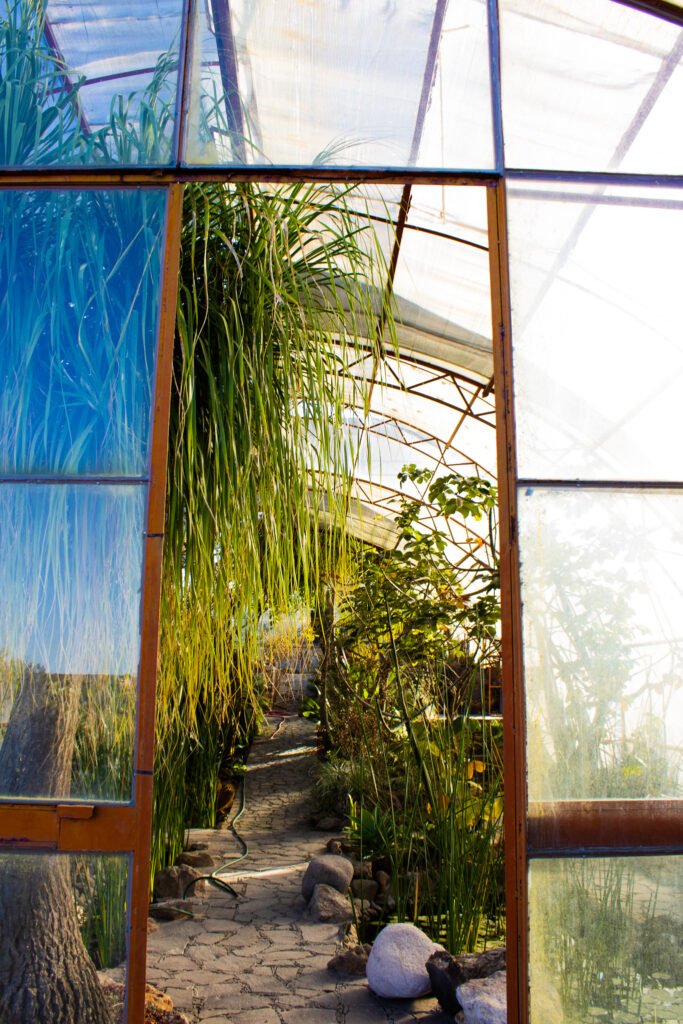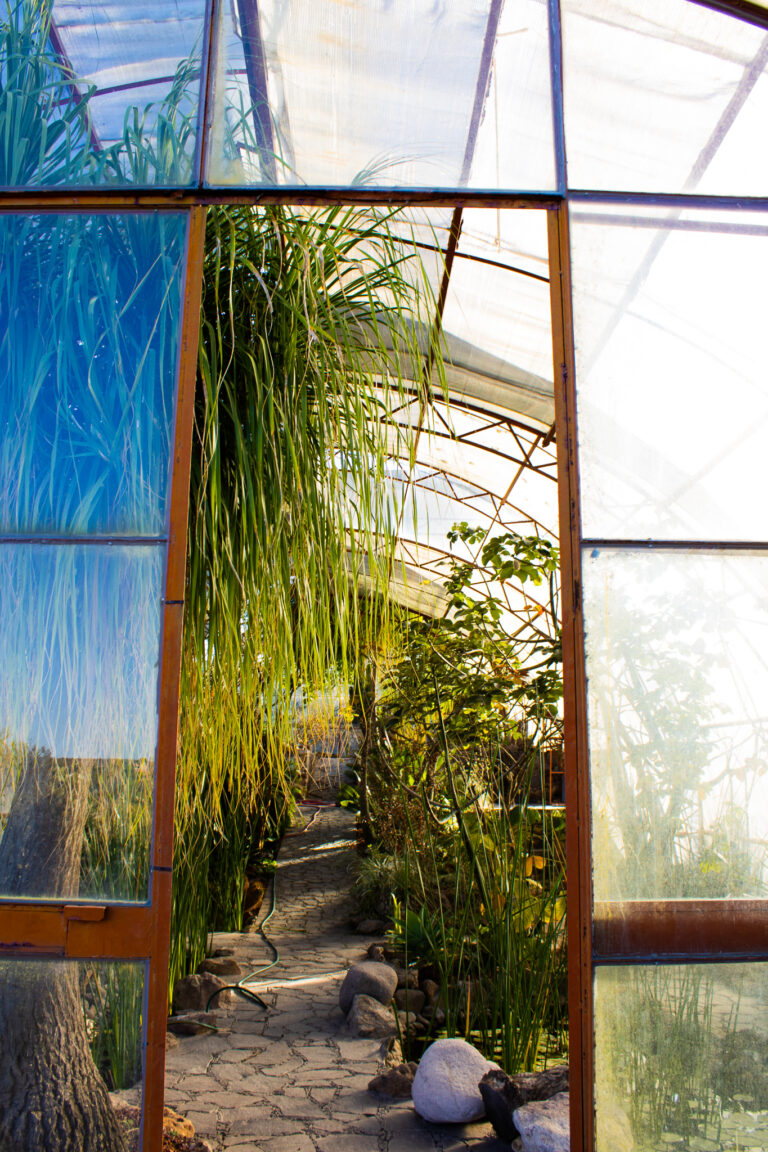 Just a short taxi ride from downtown, El Charco del Ingenio is a cacti-filled paradise on the outskirts of San Miguel. This botanical garden and nature preserve features over 500 species of cacti and 300 species of succulents. El Charco specializes in preserving native plant species and rescuing others from various parts of Mexico and abroad. Spend a day walking the trails, checking out the greenhouse, visiting the café, or having your own lakeside picnic.
9. Hop on a trolley tour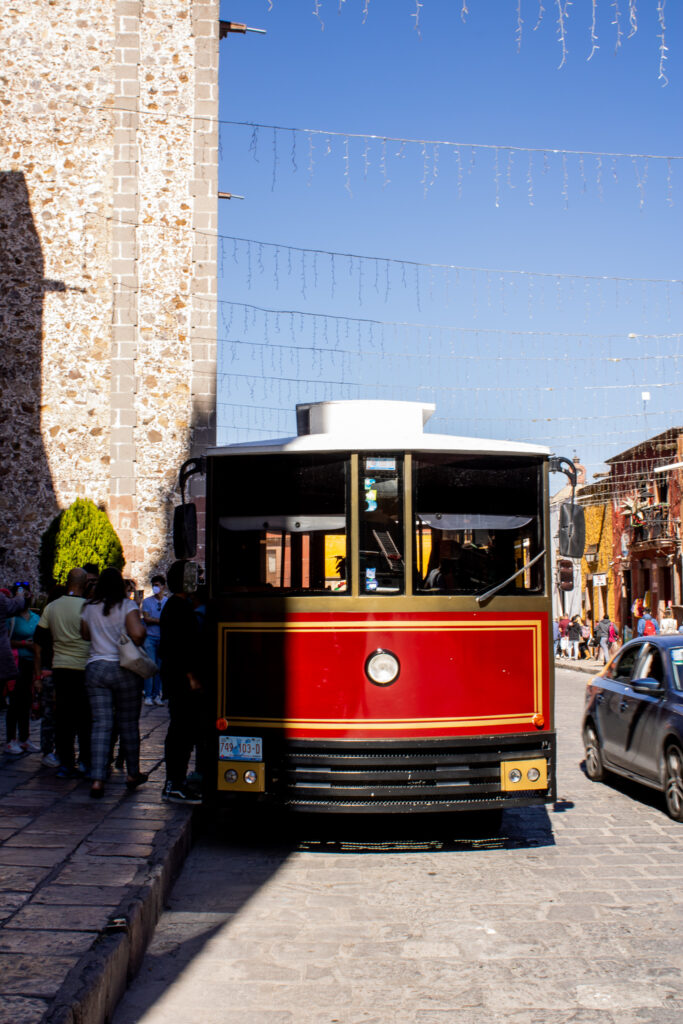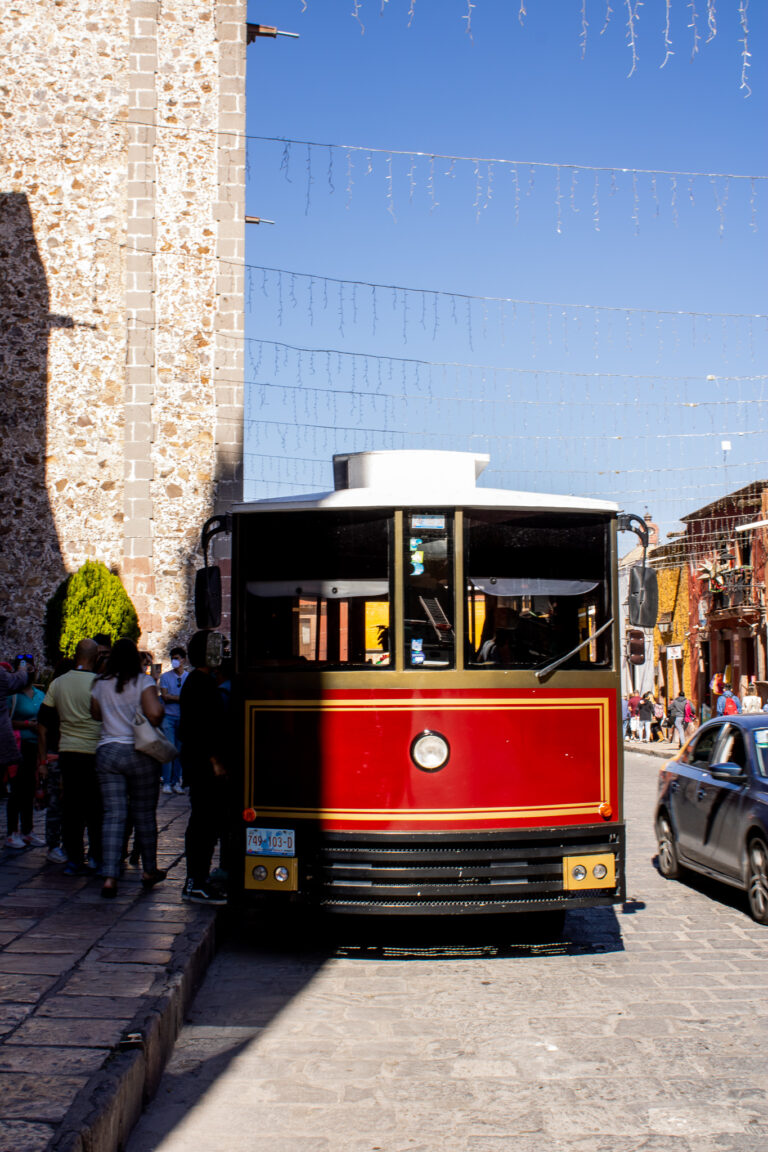 As you walk around the historic center of San Miguel, you're bound to see these trolleys carrying eager tourists. Especially if you're new to town, hopping on a trolley tour is a great way to get acquainted with the basic history of the city and see some of its most iconic attractions.
Tours in English operate every Tuesday and Thursday at 10:15am and 2:15pm; you can buy tickets at the trolley itself or at the stand next to the Portal de Guadalupe. Find more information about trolley tours here.
10. Find the best (secret) bird's-eye view of the city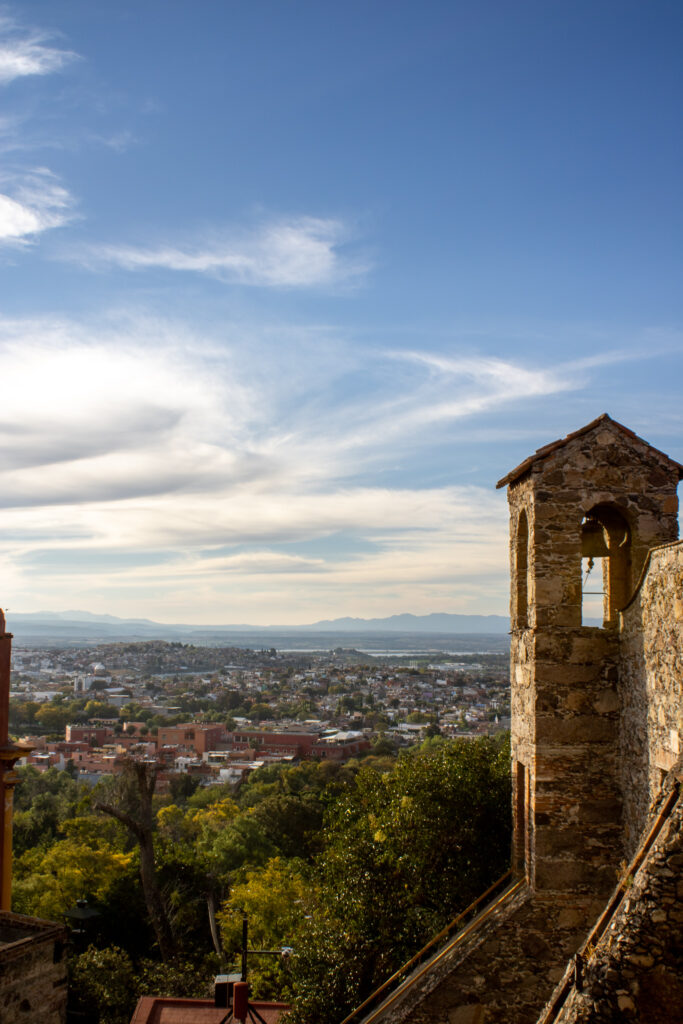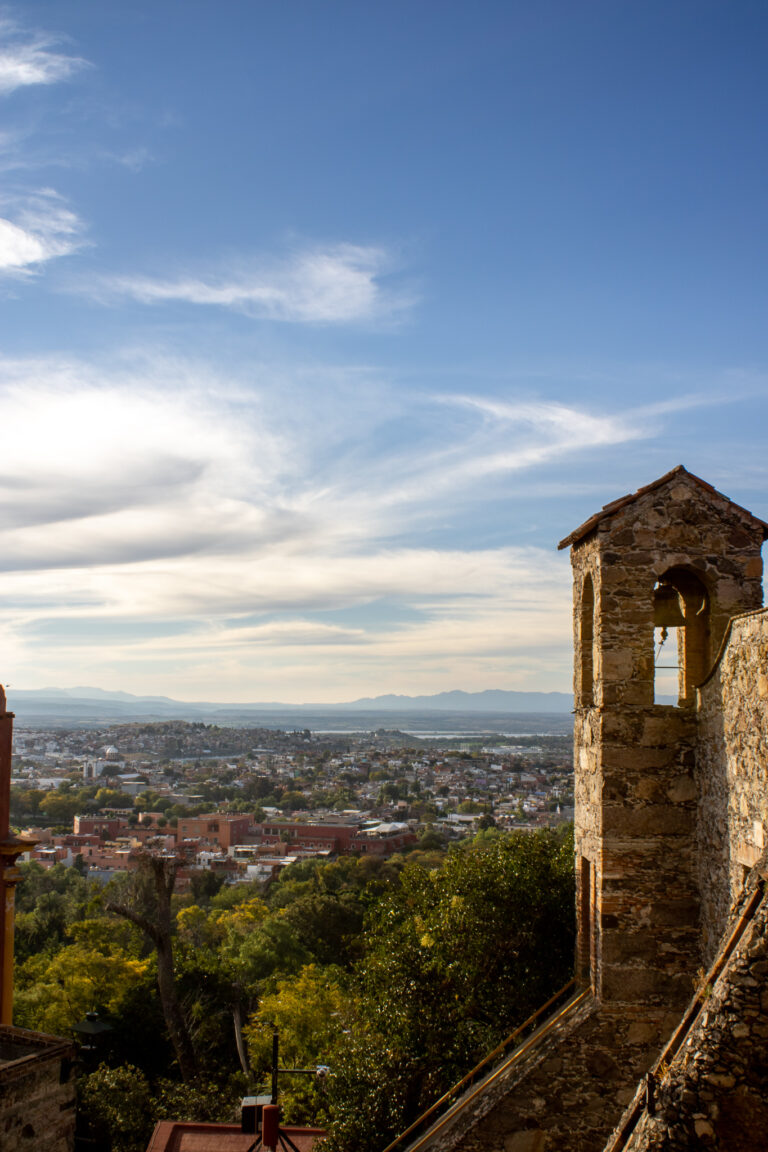 I found this spot by complete accident after wandering around Parque Benito Juárez (more on that later). After leaving the park, I noticed some stairs and decided to climb them. After a breathless ascent, I came to an amazing little perch with the best view. There was almost nobody there, so I relished in the peace and serenity.
Once I climbed all the way to the top, I realized that the stairs led ultimately to the most famous mirador (lookout point) in town. There were tons of people there to see the sunset over San Miguel, and I think the view from there wasn't as good as the one I had just below.
To get to my secret spot, find the Centro de Allende and climb the steps, or you can take a taxi to the mirador and walk just a block past it to Callejón del Chorro, where you'll find the stairs that lead to the secret lookout point.
11. Check out the giant murals at the Centro Cultural Allende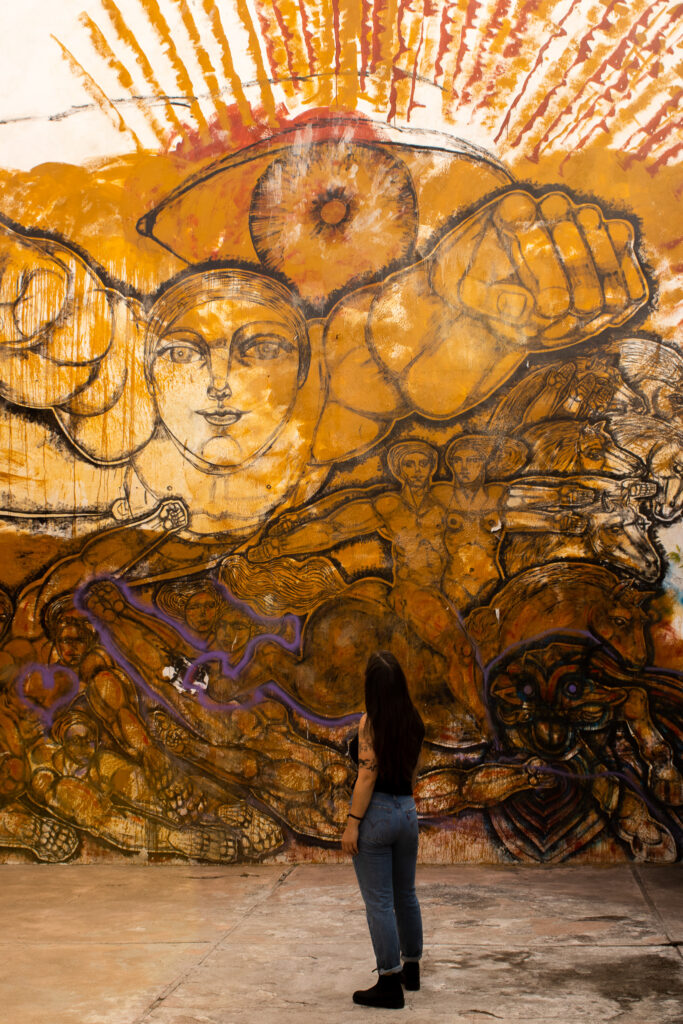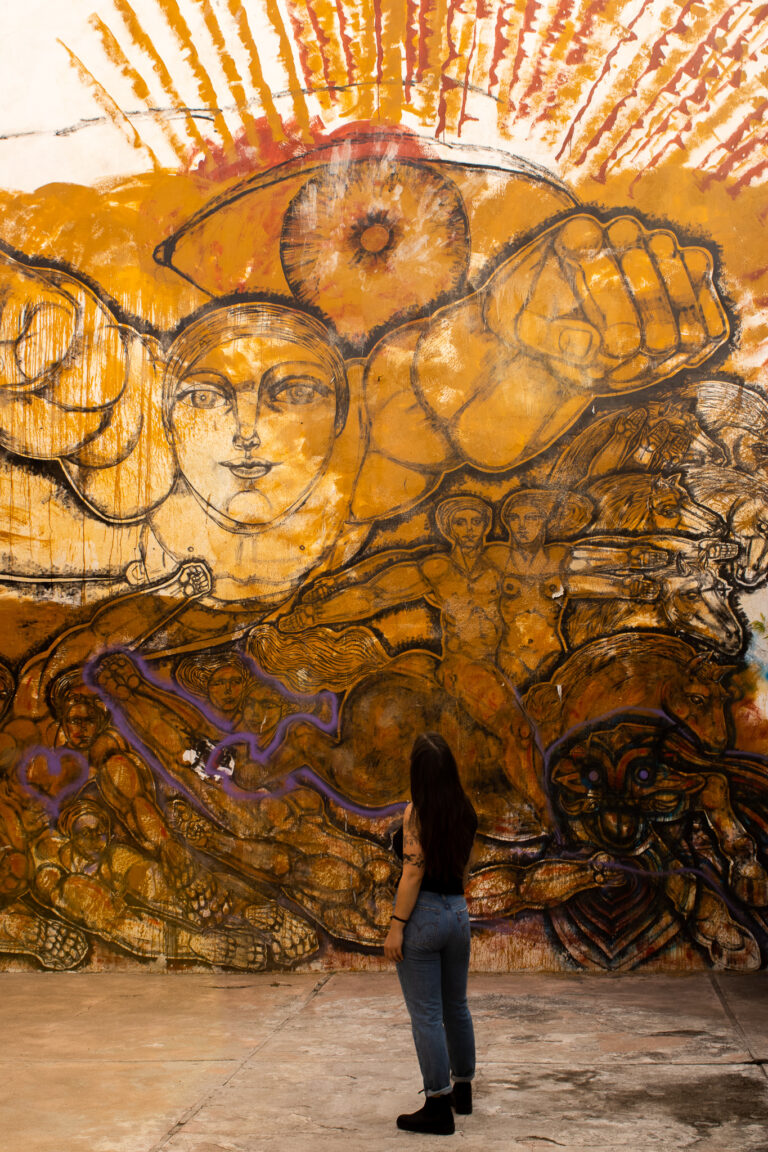 One of my favorite aspects of the Mexican art scene in general is the emphasis on murals. In cities all around the country, you'll find some of the world's best muralists. San Miguel is no exception, and the Centro Cultural de Allende has an incredible collection, and it's totally free.
Upon entering, you'll immediately see the burst of colorfully painted walls beyond the reception counter. After you admire the murals inside, you can walk through to the garden. There, you'll see sculptors working and tables where you can sit and enjoy the artsy atmosphere.
12. Find trinkets and souvenirs at the Mercado de Artesanías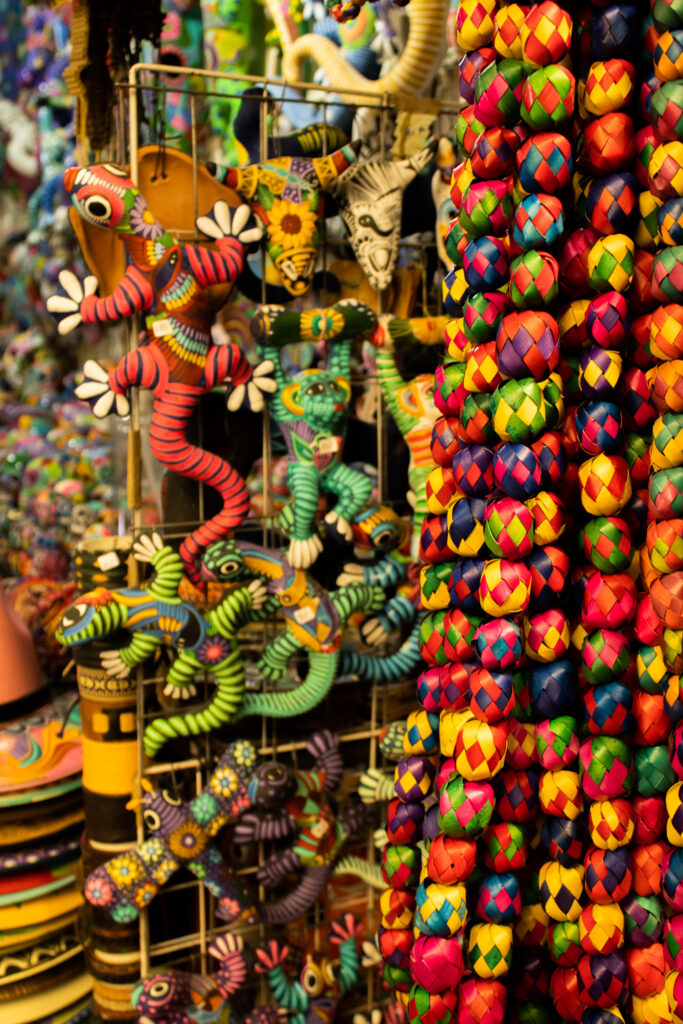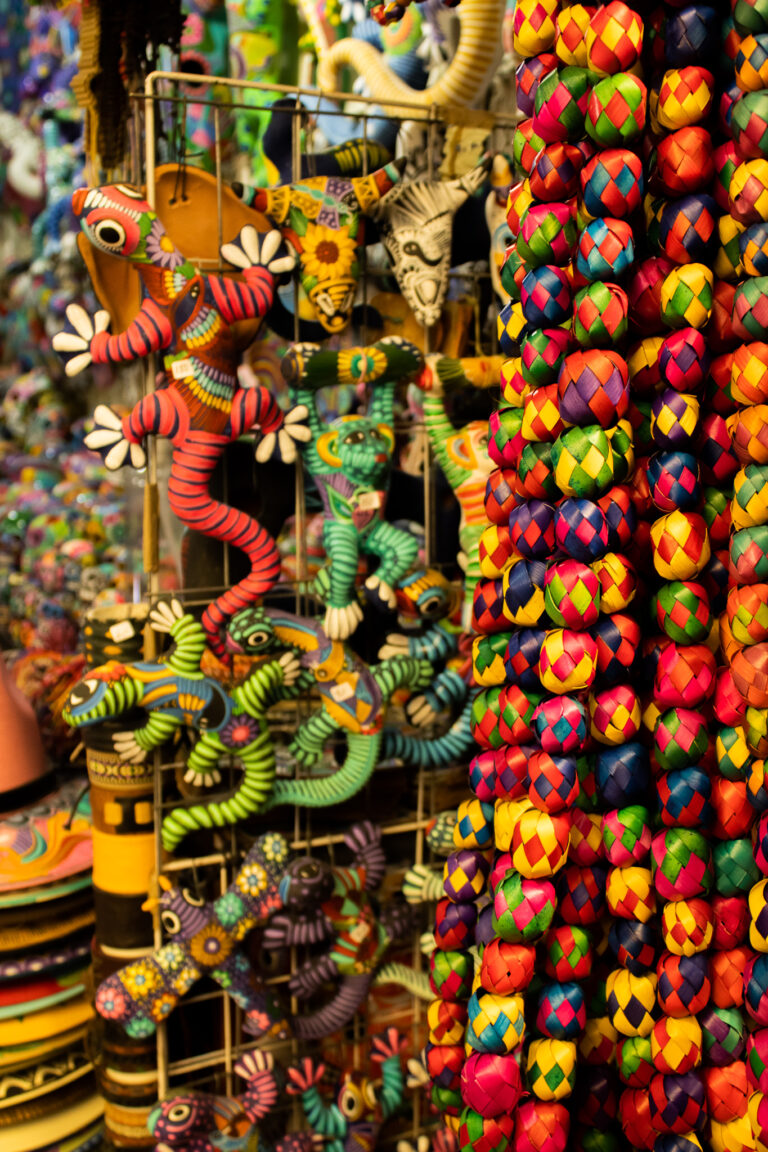 If you want to take home something special from your travels, hit up the Mercado de Artesanías for some Mexican delights. I adore these markets, because nearly everything is handmade by local artisans. From jewelry to small figurines to handwoven rugs, this market has it all. The prices are also quite low compared to other places in Mexico, and haggling is possible if done respectfully.
San Miguel is known for a few handicrafts specifically, among which are tiled mirrors and stained-glass sconces. Since the city is so close to many copper and silver mines, you can also get authentic copper and silver items as well.
13. Stroll through Parque Benito Juárez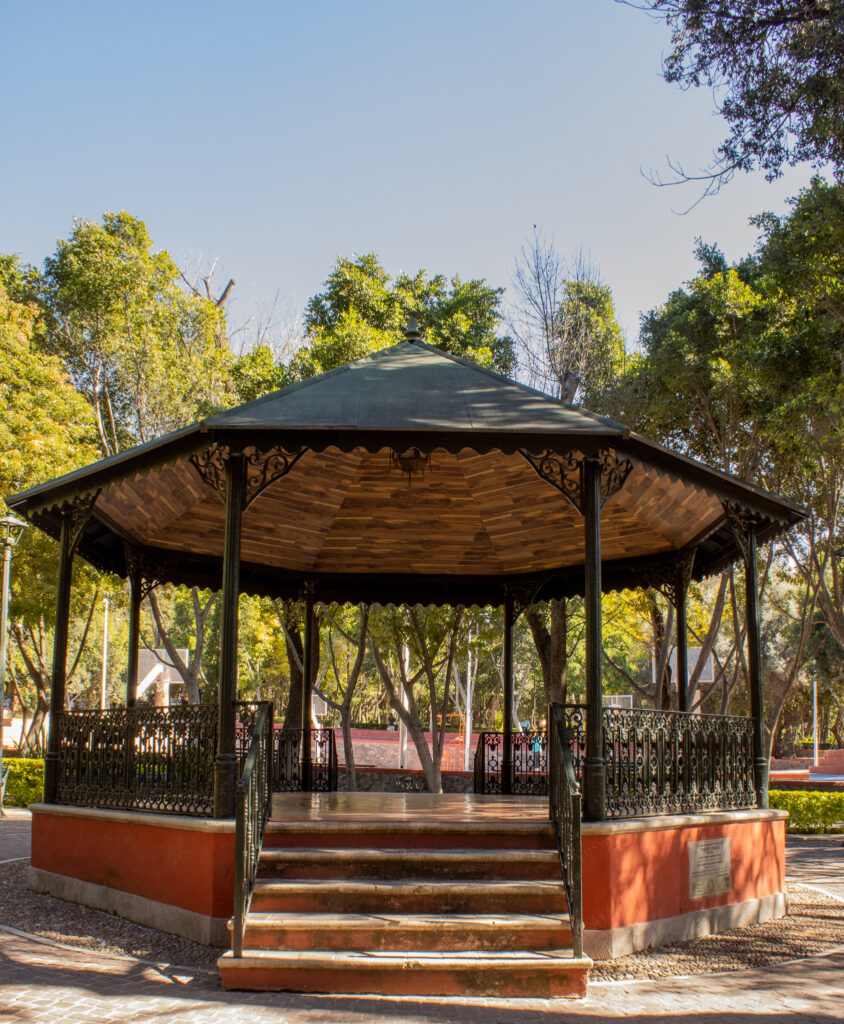 With towering hundred-year-old trees, native plant species, and quaint walking paths, Parque Benito Juárez is a gorgeous natural oasis that is perfect to picnic or go for a stroll. I loved that I could cut through this park on my way to other places, as it provides that perfect breath of fresh air after walking through the cobblestoned city all day.
14. Take a quick trip to Mexico's Sistine Chapel: El Santuario de Jesús Nazareno de Atotonilco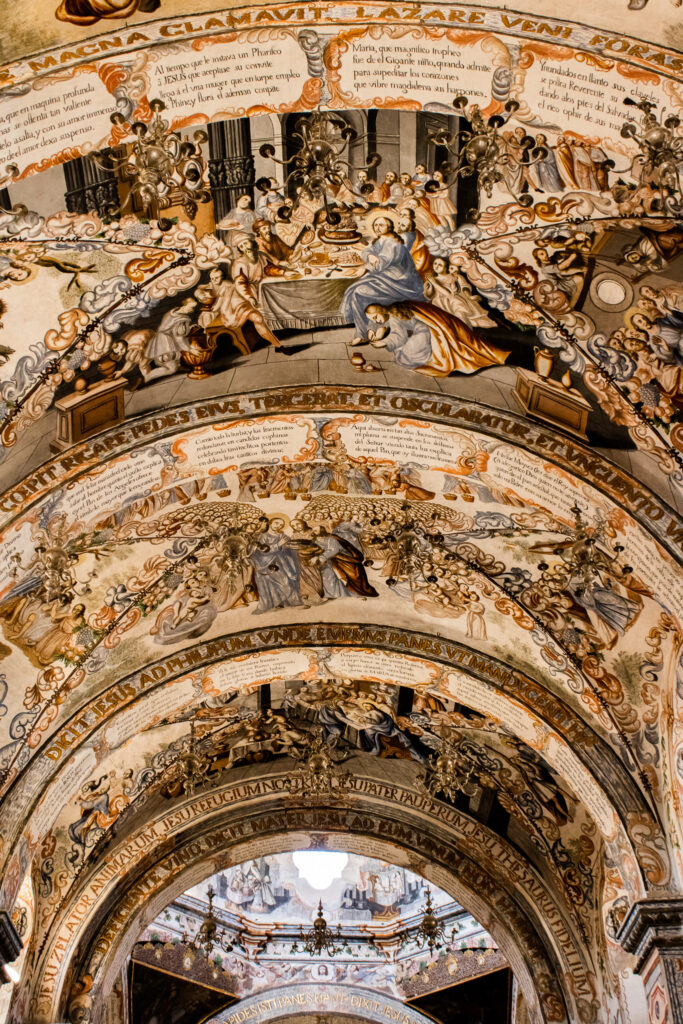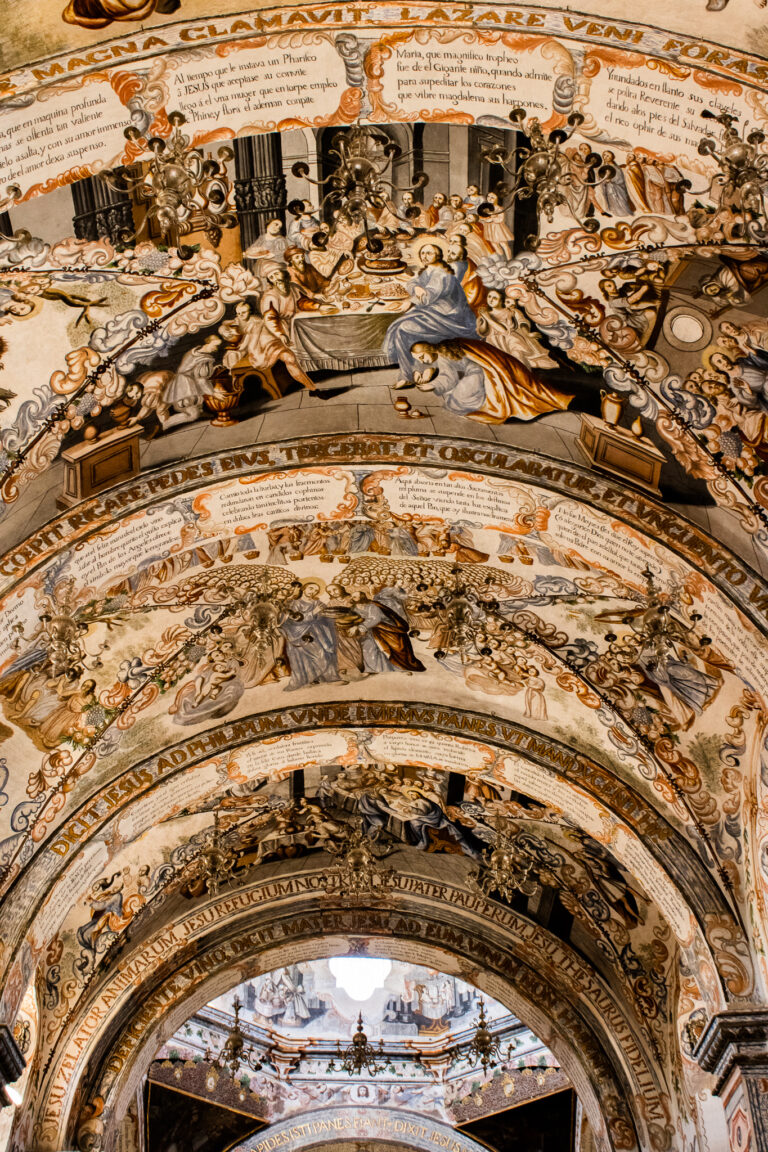 The Santuario de Jesús Nazareno de Atotonilco is just a 20-minute drive outside of San Miguel's center (about 100 pesos ($5 USD) in an Uber, which was well worth it). This ancient chapel is known as "the Sistine Chapel of Mexico" because of its intricate fresco murals.
I found the chapel itself to be a little eerie, mostly because of how graphic some of the murals are. If you look closely, you can find depictions of the devil and other oddities. Even though the paintings were a little creepy, they tell a graphic story of the importance of Catholicism in Mexico. It was a fascinating day trip, one I recommend to anyone traveling to San Miguel.
Where to Stay in San Miguel de Allende
Best bang for your buck
Lool Beh Hostal Boutique: Beyond the superb location and hospitality, Lool Beh Hostal Boutique is the best budget option I could find in San Miguel. It has a comfy, cozy vibe, and lots of natural light in the rooms. Plus, the price is unbeatable at just 650 pesos ($32.50 USD) per night for a private room with a shared bathroom.
Mid-range treasures
Airbnb: There are great options on Airbnb if you want a more luxurious stay for a lower price than a hotel. For example, this one-bedroom villa has a beautiful garden and great location for just $47 per night (plus tax + fees).
Selina: You'll find Selina hostels throughout Mexico, and I've stayed in a few. I generally find them to be a bit too rowdy, but the prices are decent, and they're always centrally located, as is the one in San Miguel.
Luxury stays
Live Aqua Urban Resort: I didn't stay here, but I've heard all about Live Aqua and have driven past it a few times. First of all, this urban resort hotel has a pool with an impressive view of San Miguel and its surrounding nature due to its location outside the city center. It's also known for its luxurious amenities and in-house spa. Rooms start at around $285 per night, depending on the season. Check out Live Aqua's rooms here.
Rosewood Hotel: Apart from having one of San Miguel's best terraces, Rosewood Hotel has a great location and offers a taste of Mexico's classic luxury. Rosewood boasts the iconic architecture that San Miguel is known for, with a touch of modern flair and elegance. Rooms start at around $500 per night.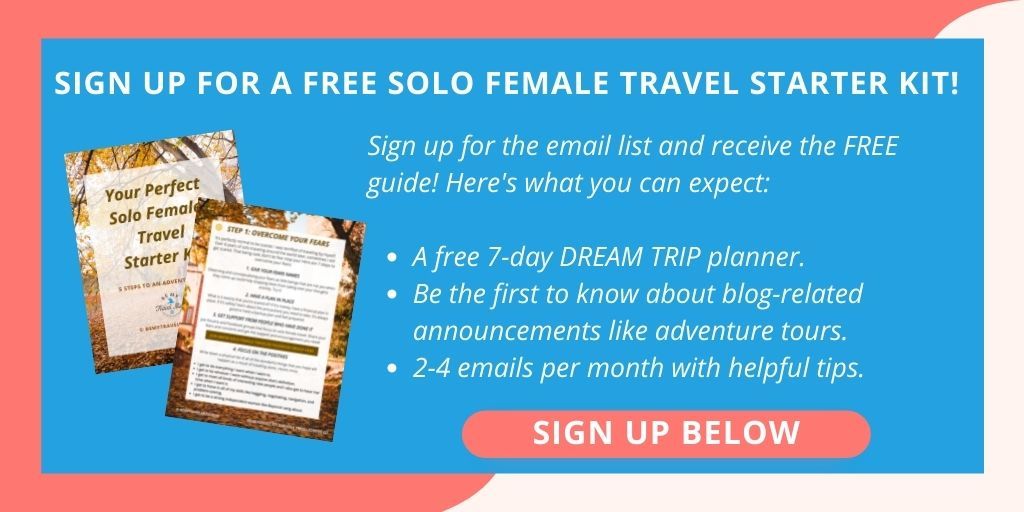 Best Places to Eat in San Miguel de Allende
San Miguel is a foodie's paradise. When traveling in Mexico, sometimes it's a bit challenging to find vegan or vegetarian options, but I was pleasantly surprised to find not only completely vegan restaurants but also extensive options at non-veg places. What's more, I found plenty of places where there was not only excellent food but also a great atmosphere.
These are my top spots to eat and drink in San Miguel:
Vegan options galore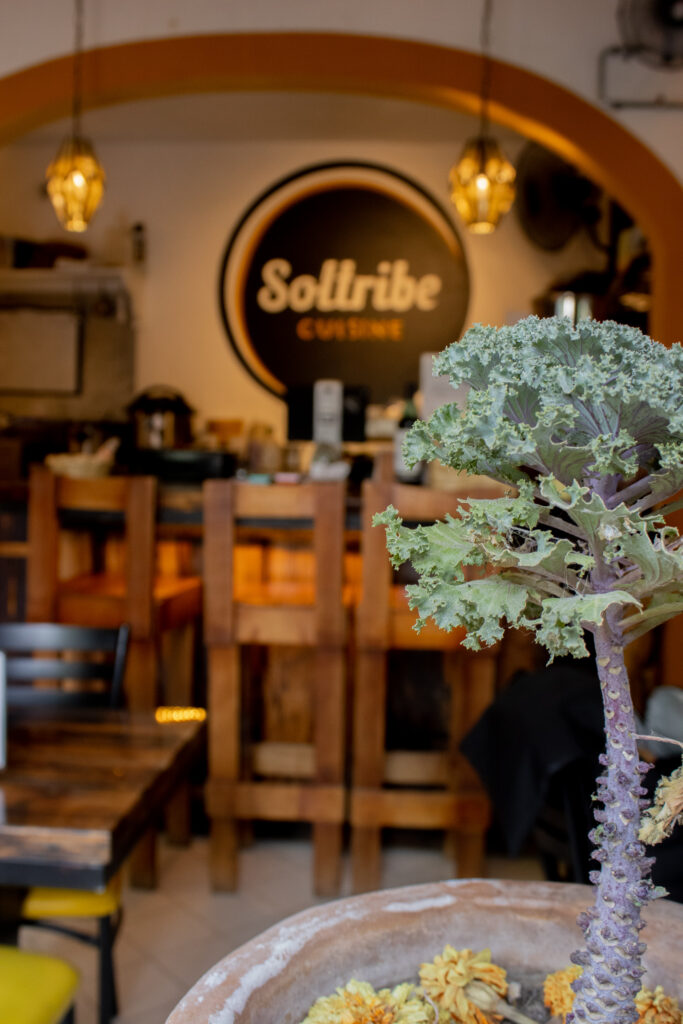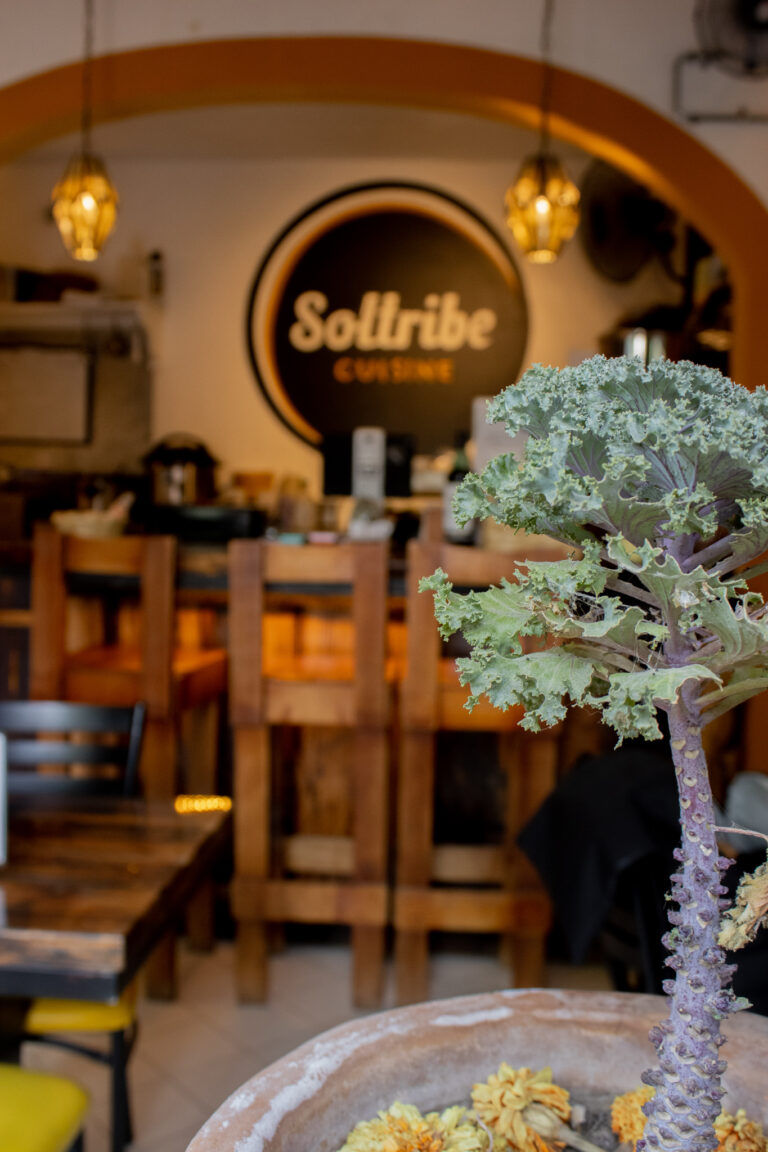 Soltribe Cuisine: Serving up veganized Mexican favorites like ceviche and nachos, this was my favorite vegan restaurant. You can see what specials they have each week on Soltribe's Instagram.
La Cabra Iluminada: Finding a vegan coffee shop was an absolute dream. La Cabra Iluminada has a cool minimalist vibe and serves high-quality coffee, tea, and pastries.
Don Taco Tequila: With an impressively extensive menu of Mexican cuisine, Don Taco Tequila has something for everyone, vegan or otherwise. This is a great spot for dinner, but it tends to fill up, so consider making a reservation.
Best rooftops and terraces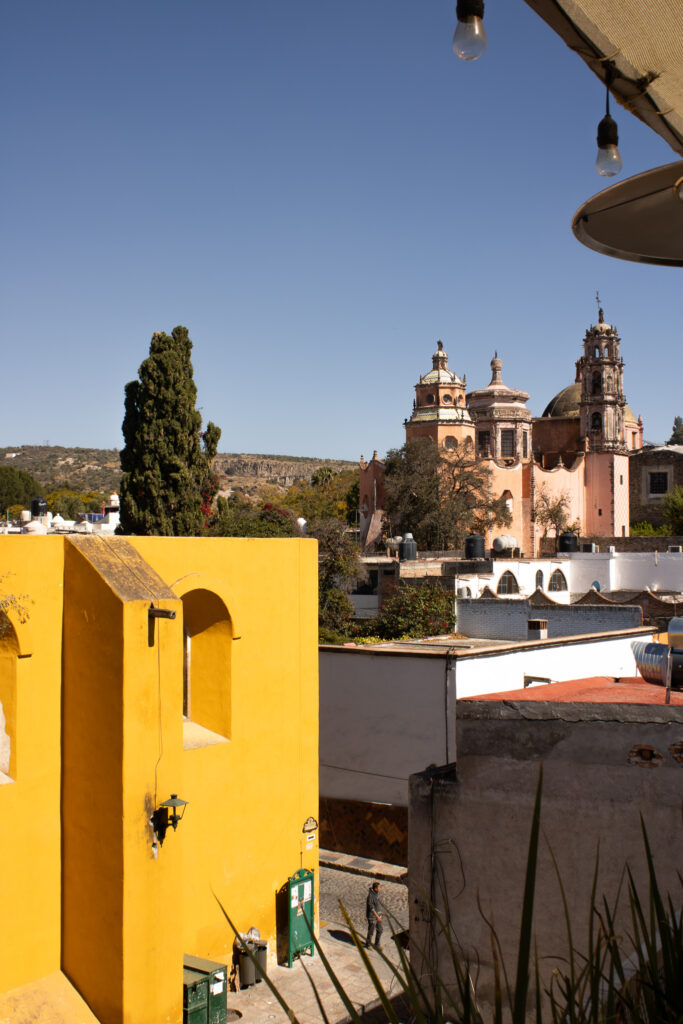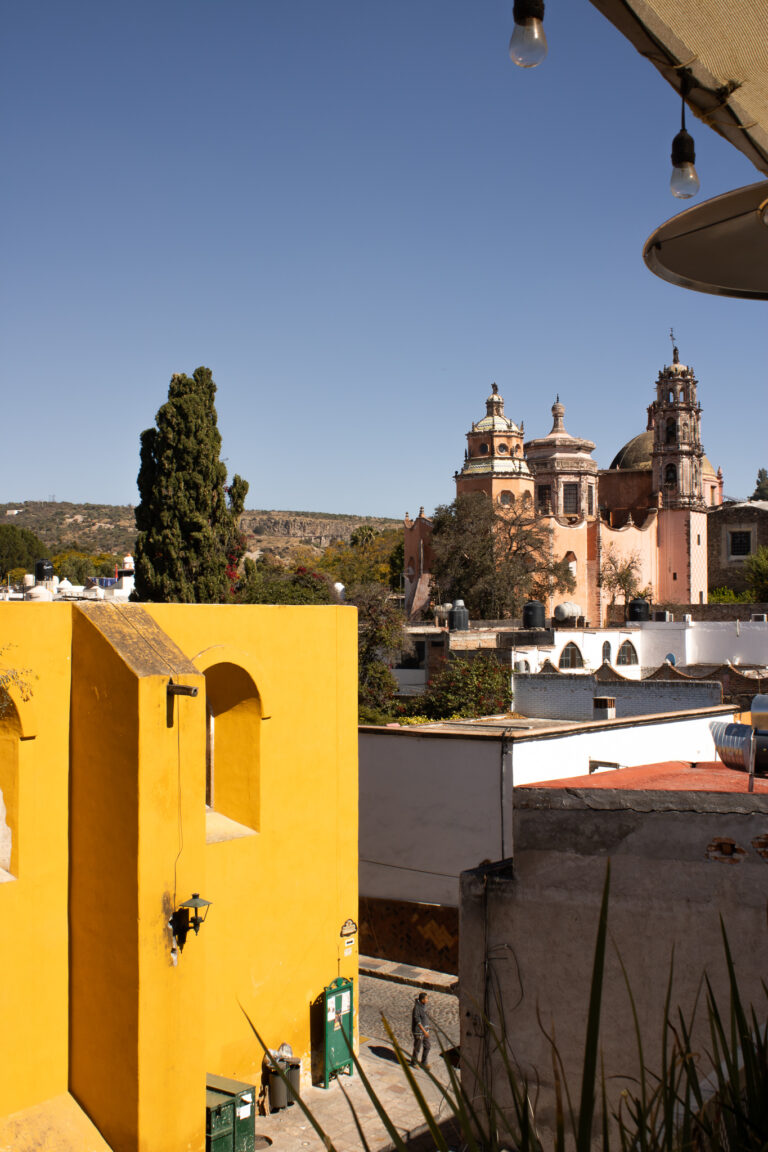 Inside Café: If you blink, you might miss the entrance of Inside Café, as it's a bit hidden on one of the city's most bustling streets. After climbing several flights of stairs, you'll arrive at one of the best terraces in San Miguel. The best part, though? The food is amazing and the drinks are delicious and refreshing. Try the jamaica lemonade!
Jacques: Located on Callejón del Pueblito (an adorable corridor), Jacques serves scrumptious food, with the added bonus of a breezy terrace and good vibes all around. It's also pet friendly, and the menu is mostly vegetarian or vegan.
Cafés that are a digital nomad's dream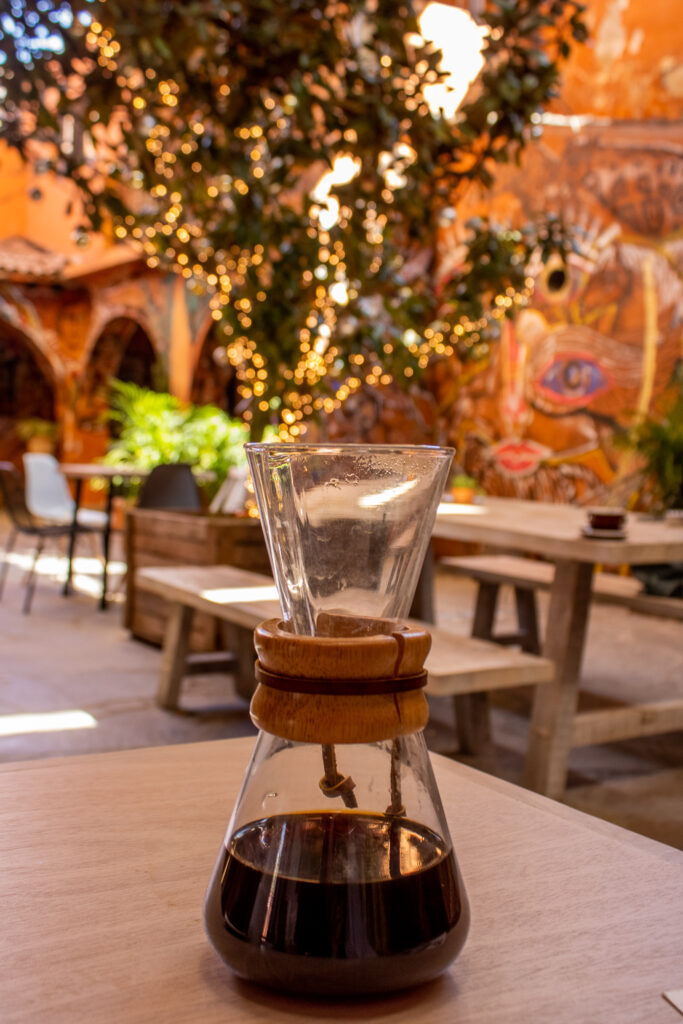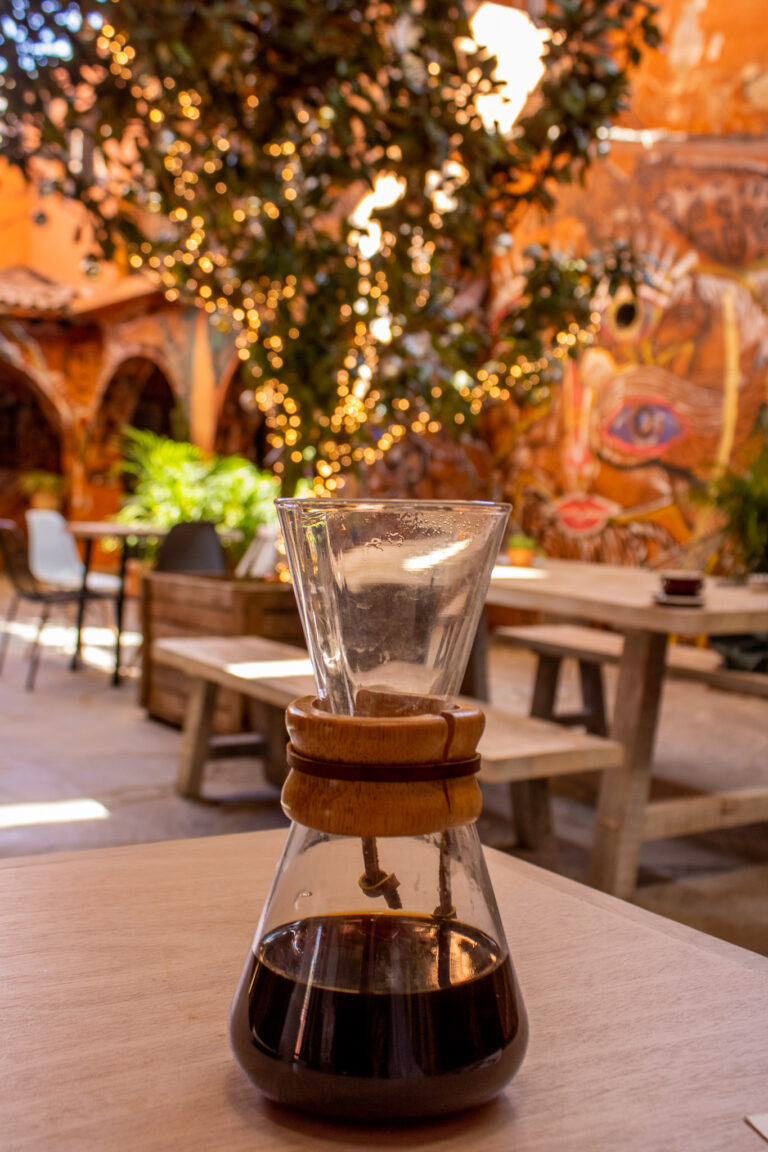 Murmullo: Housed in what used to be a graffiti-covered, abandoned colonial building, Murmullo was by far my favorite place to grab a coffee and work on my laptop. The coffee was divine, the food was high-quality and affordable, and the entire place has an artsy vibe. The café is part of Centro Cultural Allende, which is an art gallery/cultural center that hosts art workshops and exhibitions.
Amapola: In the heart of San Miguel's historic center is Amapola, a hip café perfect for chilling or working on your laptop. There's a patio inside with a couple small shops, and the atmosphere is laid back, with a cool mix of young professionals and locals working, eating, and hanging out.
Getting Around San Miguel de Allende
City buses
It may be intimidating to use public transportation while traveling in an unfamiliar city, but I found the city buses to be pretty easy to navigate. If you're a bit outside the city center and want to get back to it, just look for a bus heading in that direction that has "Centro" written on it.
I know these directions sound vague, but that's how public transport works in most of Mexico, especially in smaller cities like San Miguel. The best rule of thumb is just to ask the bus driver if they will pass by your destination, so having a good grasp of Spanish might be helpful. If you aren't able to ask the driver where the bus is going, you'll run the risk of ending up lost somewhere — which isn't the worst thing that could happen.
Taxis
I found the city taxis to be a bit sparse, so I would end up waiting a long time to catch one that was empty. Expect to pay around 60 pesos ($3 USD) for a taxi ride anywhere in or around downtown, or around 80-100 ($4-5 USD) if going somewhere farther away, such as El Charco del Ingenio.
Rideshares and private transportation
There are two major rideshare apps that you can use in San Miguel: Uber and DiDi. I found Uber to be more reliable and it has more drivers, making your wait time significantly shorter. DiDi was fine, but sometimes it would take up to 15 minutes just to find a driver.
I ended up using a private company called Línea Dorada more than taxis or rideshares. All you have to do is send them a message on WhatsApp and they'll send a driver to you, charging the same as a taxi would. This was much more convenient than a taxi and quicker than an Uber or DiDi.
Getting to and from the airport(s)
To get to San Miguel de Allende, you have a few options. You can fly into Mexico City and take a bus directly to San Miguel, which takes about 4 hours. You can also fly into either Querétaro or Guanajuato's airport and take a cab to San Miguel, but it will cost you around 1,000 pesos ($50 USD).
I flew into Querétaro, then took a taxi (for 300 pesos ($15 USD), which I thought was a bit ridiculous) to the bus station there. Then, I hopped onto a bus to San Miguel for 100 pesos ($5 USD). This is the cheapest way to do it and it wasn't a hassle at all.
Staying Safe in San Miguel de Allende
San Miguel de Allende is a bit of a paradox. On one hand, it's in the state of Guanajuato, which some refer to as the murder capital of Mexico. Then, you have San Miguel, which is known as one of the safest cities in Mexico — which doesn't really make sense until you get there.
I felt totally safe in San Miguel as a solo female traveler. It's normal to have my guard up when traveling solo, but the city has such a laid-back vibe that I didn't feel like I had to be as vigilant as in other places. I walked around the city center at night, but was careful to avoid leaving the downtown area. I used Línea Dorada to get from place to place at night, which is about as safe as you can get when it comes to transportation.
Overall, any safety tips on traveling alone will apply when traveling to San Miguel, but there's no particular reason to be afraid to visit on your own. This city has a huge population of retired Americans, Canadians, and other foreigners, who definitely wouldn't choose San Miguel if it weren't safe, so keep that in mind.
Pin me for later: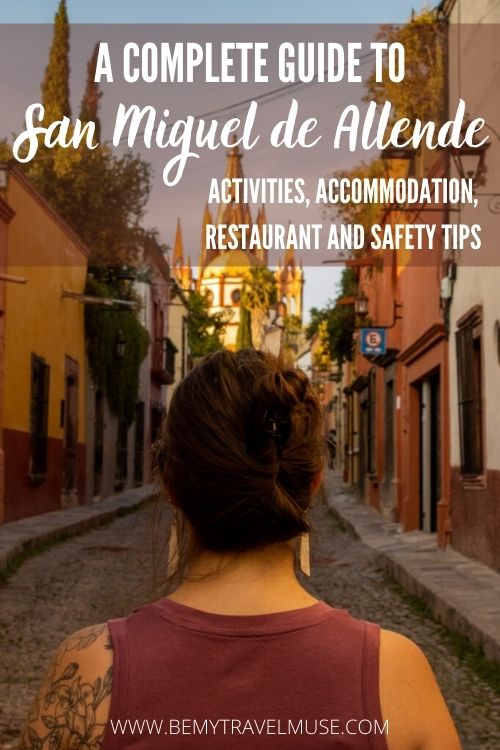 If you're not convinced that San Miguel de Allende deserves its title as the best city in the world, consider checking it out to see what all the hype is about. As a solo female traveler, this is by far one of the best cities I've ever visited for its sights, gastronomy, and overall safety.
Have you visited San Miguel? How does it stack up against your favorite cities?
This post was written by Emily Becker, a Mexico-based freelance travel writer.