Ever since I was a kid, logging hours upon hours on the Amazon Trail video game (anyone else play that?), I've been obsessed with the idea of visiting the Amazon jungle to see it with my own eyes.
Now I've been to jungles before, but nowhere had been this vast, remote, and unreachable by typical means. First, we flew into Iquitos, Peru, the largest city in the world without any roads leading to it, and took a speed boat for another two hours down the Amazon river to reach our ecolodge.
I didn't just want to be on the outskirts for this experience, I wanted to head deep into the jungle, off the grid, for the ultimate Amazon, Peru experience.
The Amazon is the largest tropical jungle in the world spread out over nine countries in South America.The Peruvian Amazon covers more than 60% of the country and is one of the most biologically diverse regions on planet Earth, with Peru as a nation containing the largest number of bird species and the third-largest number of mammalian species in the world.
Want to experience it for yourself? These are the things to know:
There's a lot to choose from
Considering how much of the country is covered in the Amazon jungle in Peru, how will you know what to choose?
There are two distinct regions of the Amazon in Peru: The lowland and the highland jungle. The highland jungle reaches into the foothills of the Andes and offers both warmer and cooler temperatures, plus a great deal of biodiversity.
I wanted to be super deep in the jungle rather than along the outskirts and therefore headed to the lowland jungle with my BMTM Adventures group, and I flew into Iquitos first (which I don't recommend staying in – it's a city) before taking a boat further into the forest to the Tamshiyacu Tahuayo Regional Conservation Area. We chose this since there is no malaria or Zika in this part of the jungle, and because of the Tahuayo Ecolodge which does conservation in the area, contributes to the local communities with clinics and schools, and respects the environment. Plus, they had the top-rated ecolodge in the area.
These animals are wild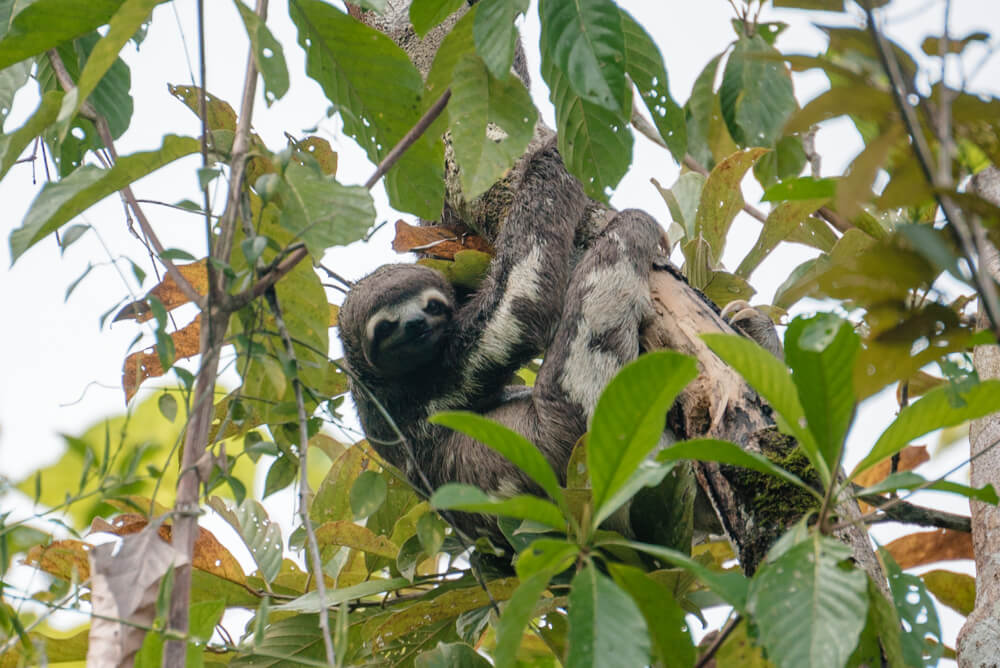 Bird and monkey sightings in the jungle are common, as are sloths and river dolphins, at least during the season that I was there (April, which is in the rainy season). We got lucky and saw nine sloths in one day, plus went swimming with pink river dolphins!
That said, these animals aren't habituated like the Gorillas in Uganda or the Orangutans in Sumatra. You're not in a small area like the Serengeti or Ngorongoro Crater. The lodge we stayed at doesn't feed the animals, which is great because otherwise I wouldn't have wanted to stay there, but that does mean that any animal sighting comes down to luck and timing. The animals are shy and would rather not be spotted easily. I say this just to manage expectations. Bring binoculars and get excited when you do see these truly wild animals!
You'll be in the jungle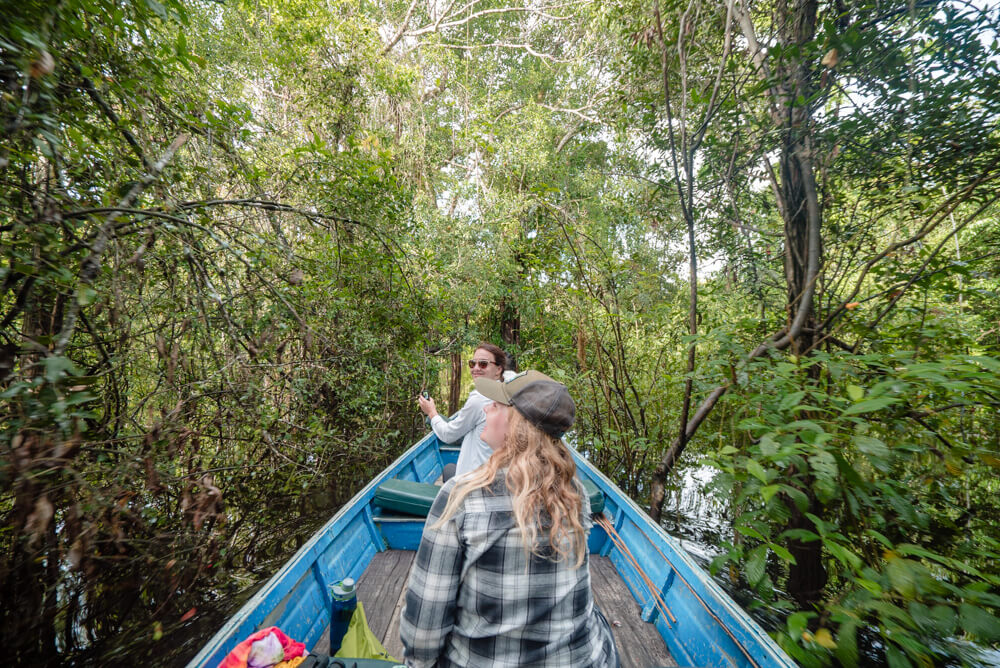 Perhaps this point sounds obvious but what I mean is you will be deep, deep in the jungle. There is no electricity, 4G signal, roads, or power lines. This was the point for me – I wanted the full experience and to forget about the outside world.
However this also meant that everything in the lodge I stayed in was solar-powered. There wasn't enough juice for us to have fans or air conditioning running. There was WiFi, but it didn't really work (I didn't actually try it but everyone who did reported this to be fact), and there were many mosquitoes. I'd asked for it, I'd gone into their house, but I wasn't as prepared as I should have been for the amount I encountered.
Next time I'm bringing a mosquito jacket onesie so that I can fully enjoy the jungle treks. It doesn't look pretty but it will give you a chance to be totally in the jungle without worrying about bites if you're a mosquito magnet like I am.
Most lodges offer lots of activities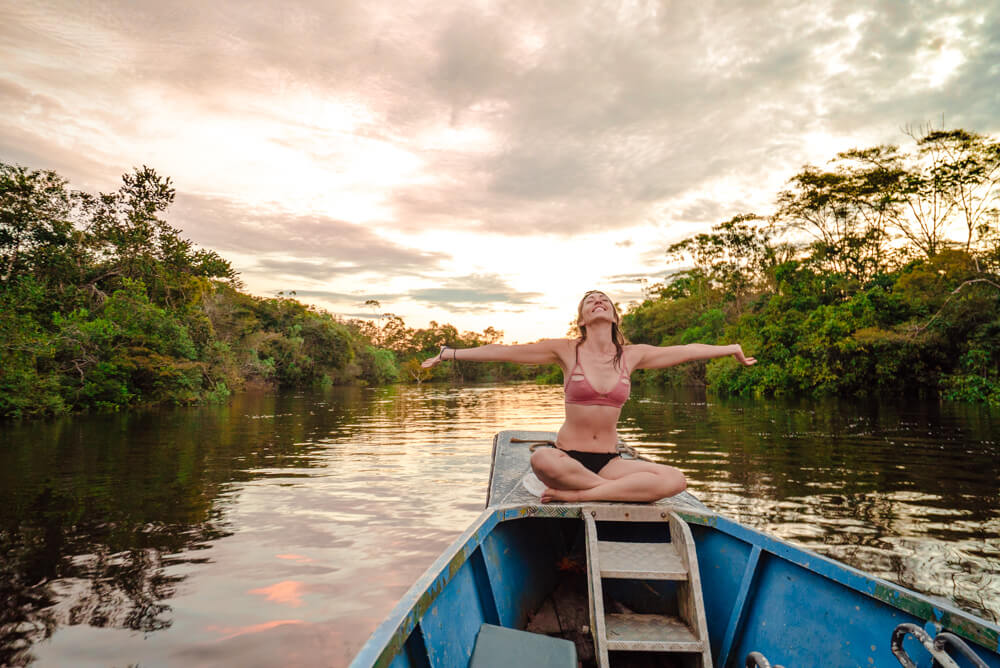 Most lodges come as a package deal that includes your meals, lodging, transport, and activities. Each day, we had 2-3 activities that we could choose from that included searching for poison dart frogs in the jungle, zip-lining in the canopy, learning how to do weaving with women from the local village, bird watching, night hikes, dolphin cruises down the river, cultural visits to the village where we played soccer with the locals, fishing, and more that I'm probably forgetting.
I was also really impressed by the food at our lodge, which had fresh veggies every day and a variety of meat and veggie options, plus two cakes on the day that a girl from the trip, Julia, and I shared a birthday!
Swimming in the river is like getting a spa treatment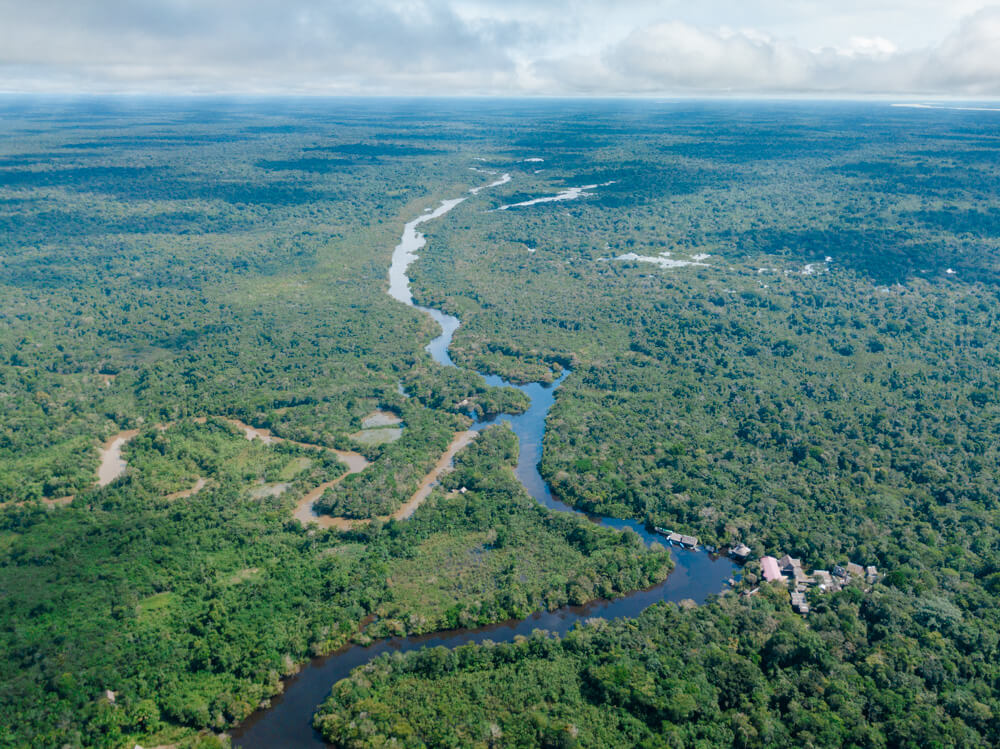 I just had to add this in because I couldn't believe how soft my hair and skin were after swimming in the tea-colored acidic waters of the river. It lasted for days afterwards! I'm still rubbing my skin feeling a marked difference from the dryness the week before hiking the Inca Trail.
Different parts of the river can be white or black, as seen in the photo above where two river offshoots meet, and it all depends on the rains as well.
The Amazon in Peru is a one-of-a-kind Experience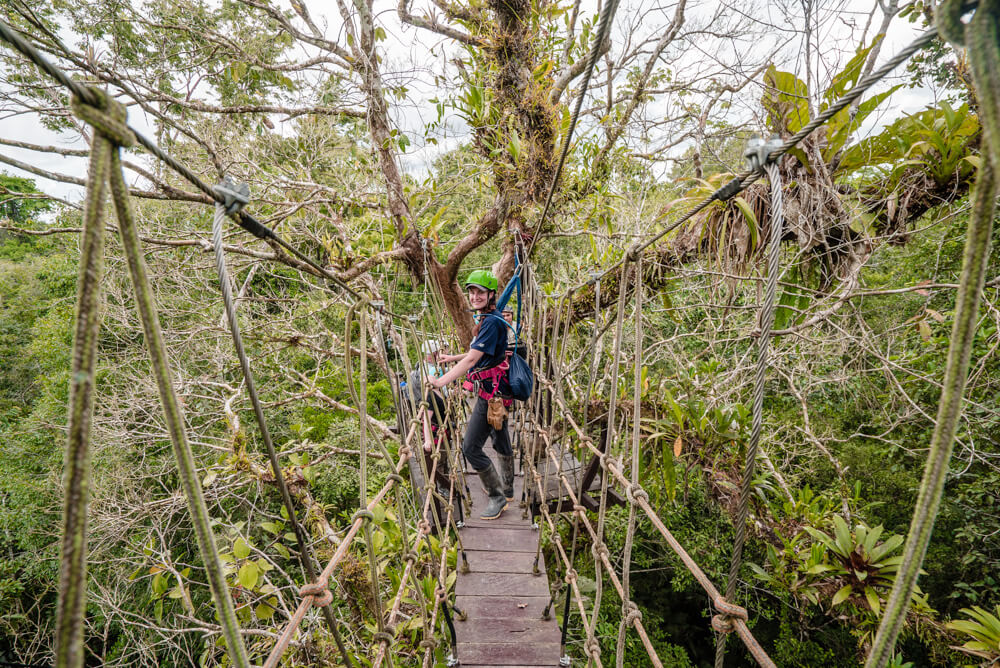 If you've been dreaming of seeing the Amazon, do it. I've been to jungles all over the world from Africa to Southeast Asia and Central America, but never anything as vast and remote as the Amazon in Peru. In every other case, I could just get into a car and drive in or out, sleeping in a hotel that night that was nowhere near as remote as the Tahuayo Lodge we stayed in.
There's nothing quite this wild or off the grid that I've done before, and I really valued each animal we saw because I knew that they were truly, 100% wild and that it was a gift to be seeing them. The experience is so unique, so if you want to do it, dooo it!
Do it yourself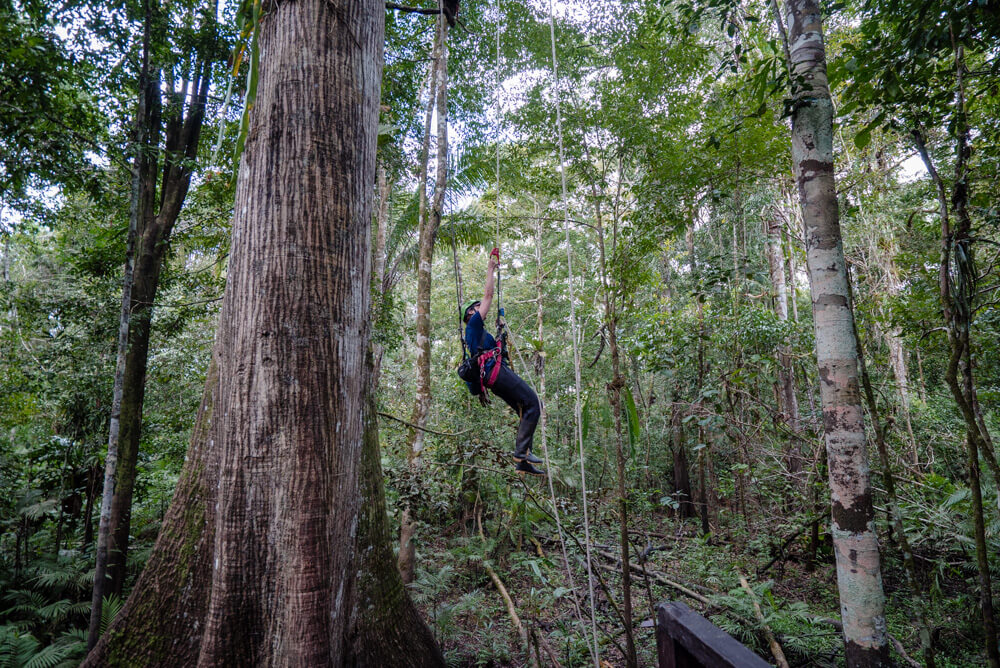 If you want to repeat my Amazon Experience, book a flight into Iquitos on any of the local airlines including Peruvian, LATAM, and several others, and book with Tahuayo lodge.
In addition to the Amazon, my tour group went to Rainbow Mountain, hiked the Inca trail, swam with sea lions near Lima, and sand boarded in Huacachina, plus a bunch of other awesome stuff. We're likely repeating the trip in April 2019. Click here to read more about my tours and to pre-register for Peru!