Days 94-104
It was a starry night on Koh Tao in Southern Thailand. I was lying on a wooden deck, staring up at the stars as party revelers danced away at the bar to my right. I was tired of dancing, I was tired of reckless tourists — I was tired of the whole Thai island backpacker party scene in general.
A Finnish guy, whose name escapes me now, asked if he could watch the stars with me. I reluctantly agreed, hoping he wasn't like the rest of the guys on this island: overly eager to get in the pants of anything that walks and has boobs.
To my delight, he felt like I did, and was simply tired of the parties. He spoke of a place where one could meditate for ten days, a Buddhist monastery in the forest where the attendees don't speak, use technology, or even read books. They just meditate.
The next morning, I immediately began my research.
The retreat would begin on December 31st, meaning I would miss celebrating New Years. I had booked the Full Moon and New Years parties on Koh Phangan, but quickly decided that they weren't for me given how annoyed I already was by the comparatively tamer party scene on Koh Tao. I cancelled my reservations that day.
It turns out I'm simply not that kind of backpacker.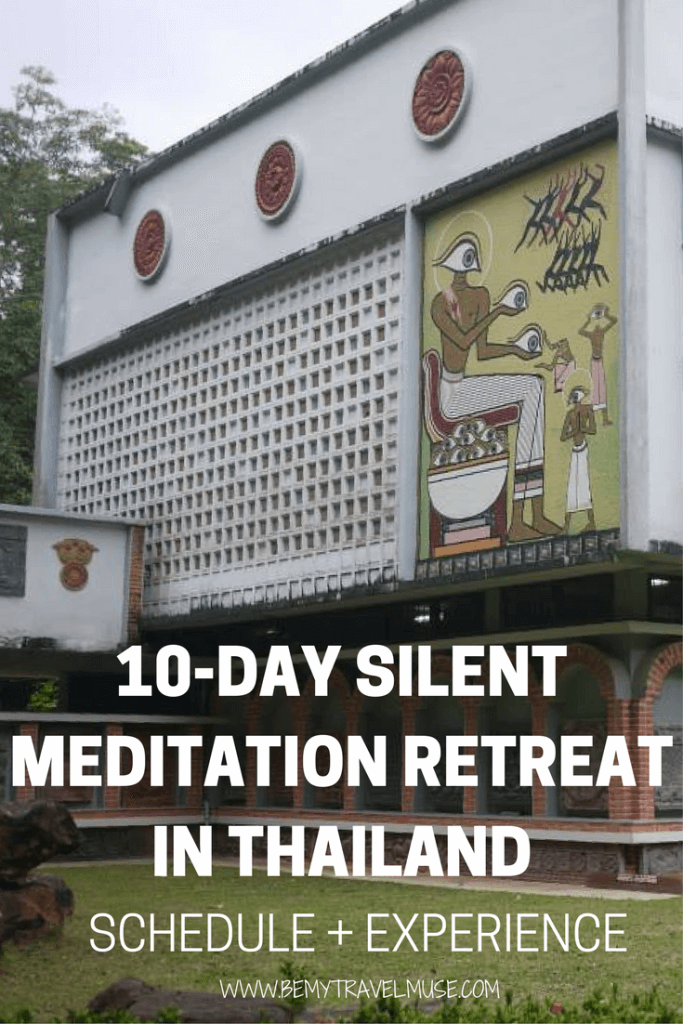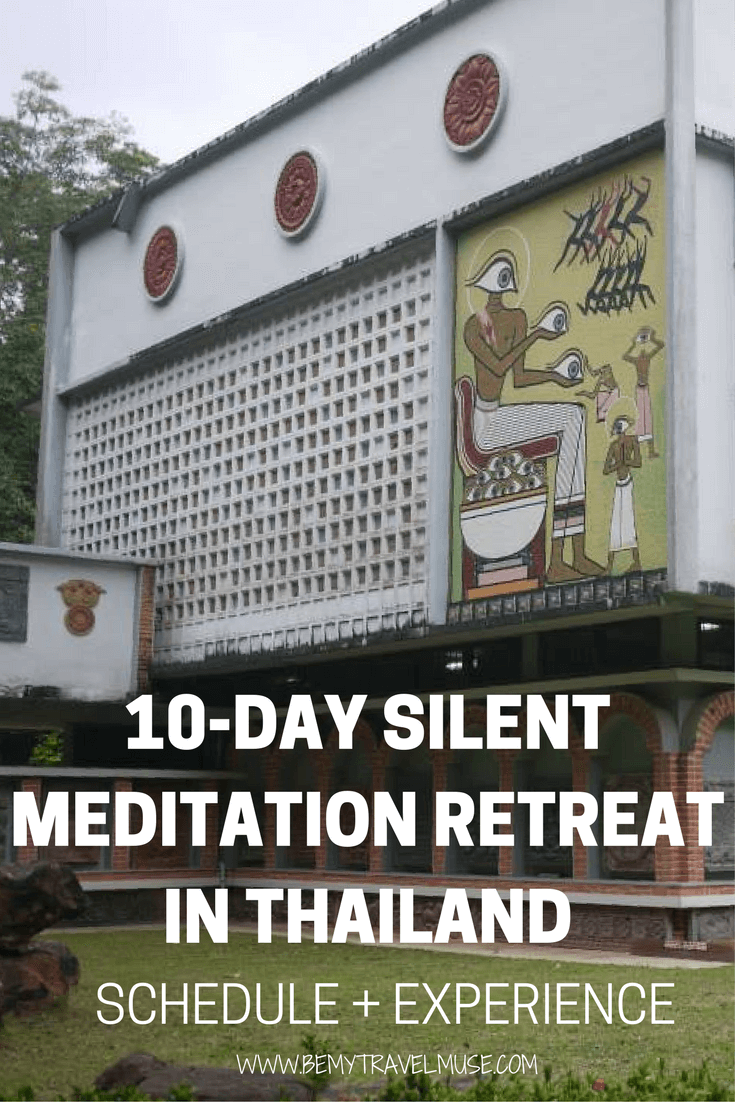 Flash forward several days:
Eve of December 31– The Silence Begins
I sat silently on a small mat over a coconut sack on the sand in the open-air meditation hall at Suan Mokkh Forest Monastery, surrounded by 40 other women and about 50 men, as the fireworks of the celebration in the nearby town of Chaiya exploded and boomed in the distance. I smiled to myself – I knew I had chosen the best way to ring in the New Year.
4am on January 1 – Wake up Bell
I awoke with a start on my concrete bed as the bell rang out over the grounds of Suan Mokkh. I made my way to the water well we all shared and washed my face and brushed my teeth silently. I was not to utter a word for the next 10 days. I almost blew it when I shrieked in my room, afraid my mosquito net brushing against my arm in the darkness was a scorpion – we had been warned we might encounter them in our rooms.
I did not put on makeup – we vowed not to. I did not apply perfume – another vow we took. I dressed conservatively, grabbed my headlamp, and made my way back to the meditation hall for the morning reading. It was a passage by Jeddu Krishnamurti about making use of the early morning hours. How fitting; crickets were chirping and birds were just beginning to sing.
4:45am – Sitting Meditation
I sat and tried to pay attention to my breathing. There was no way this was happening. My mind, slippery as it was, had no intention of focus. I took a mental trip to Burning Man, returned to the beach back home, headed back to Vang Vieng…
No! Focus, Kristin! Ok, breathing, in, out, in, out… I wonder what Michael's up to? No! He's probably sleeping because it's freaking 4am. Breathe in…breathe out… Oh, that's a nice pair of hippie pants she has, wonder where she got them?
Ding! The bell rang and it was time for an hour and a half of morning yoga.
For the first time, I did sun salutations as the sun rose.
7:00am – Dhamma Talk and More Meditation
An old Thai monk with striking blue eyes sat at the front of the hall and repeated phrases that would come to define my struggles with meditation over the next few days – we had to let go of our sense of self. We had to let go of 'me' and 'mine' in order to let go of desire to find the true path to meditation. In other words, we couldn't want it, we couldn't expect it.
It's pretty hard for a Westerner, raised the way we are, to grasp this.
We sat in meditation for another 45 minutes after his talk. I was lost in my subconscious, going over past arguments, having future conversations in my head, writing mentally, thinking of what this blog post might hold; anything but taming my bucking bronco of a mind.
Ding! It was time for breakfast.
8:00am – Breakfast and Chores
Our breakfast meal was the introduction to what the rest of them would be for the next eight days: brown rice porridge with various specks of vegetables, and leafy greens and cucumber to stir inside. Some small bananas served as the digestif (the final two days there was just one meal – no breakfast).
My chore, lucky me, turned out to be raking the sand in the meditation hall. I came to love my chore. The act was therapeutic and so symbolic to me that I was lucky enough to lovingly comb and flatten the sand in the very hall where, in the coming days, I'd have profound realizations about myself, my relationships, what I wanted out of my future, and what was really important to me in life. Moreover, this hall would be the very place where I'd finally meditate for the first time (on day four, for only 10 minutes, but it's a start!)
It sure beat the hell out of cleaning toilets or foot baths.
10am – Dhamma Talk
This talk usually consisted of learning more about Buddhism, which should have come as a shocker to nobody considering we were sitting in a Buddhist monastery.
I came to find a lot of stock in what we were learning. Some of the most pertinent being: let go of the past; don't angst over the future. Be present. This is much more easily said than done, of course. The keys to happiness are, however, in being in the moment.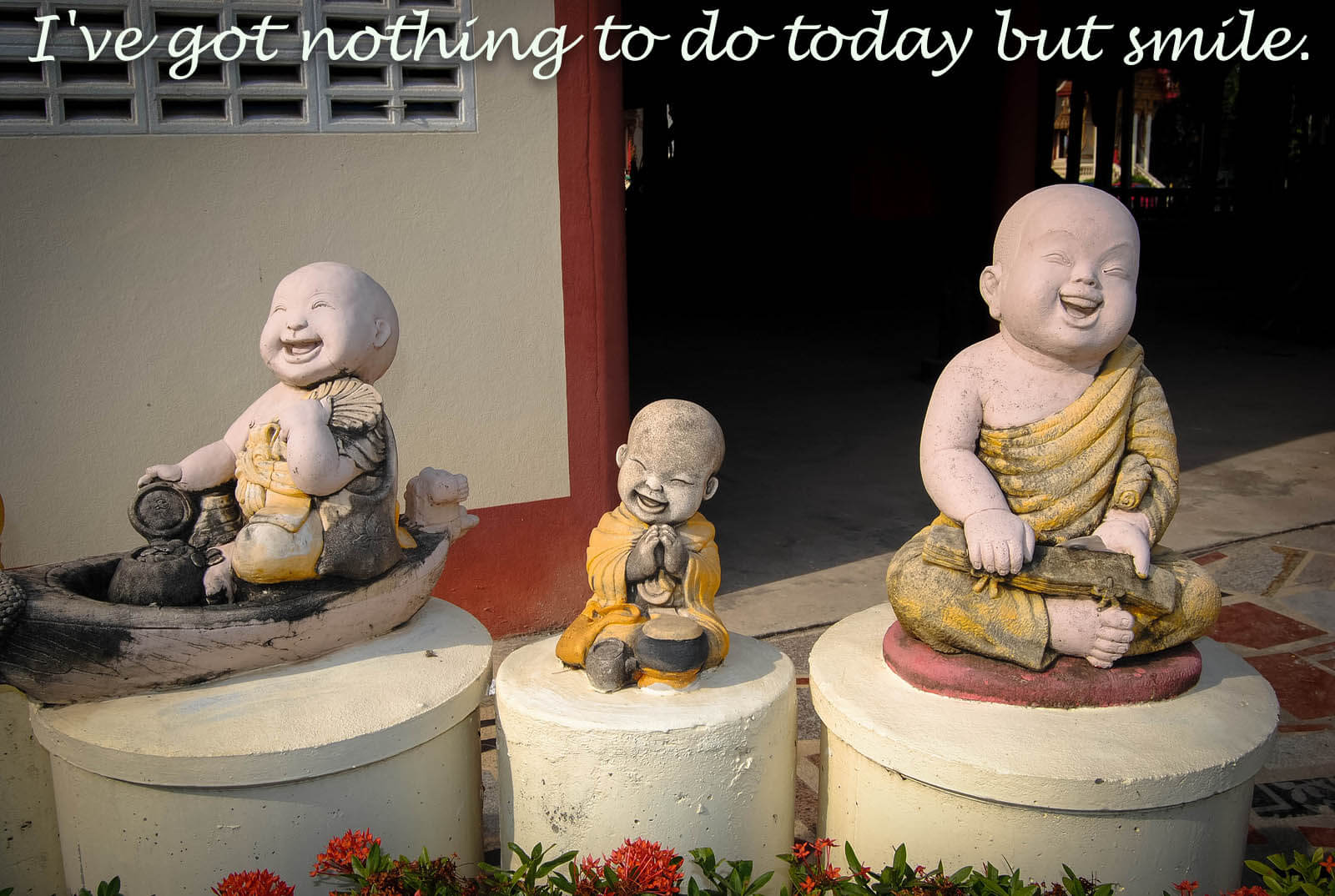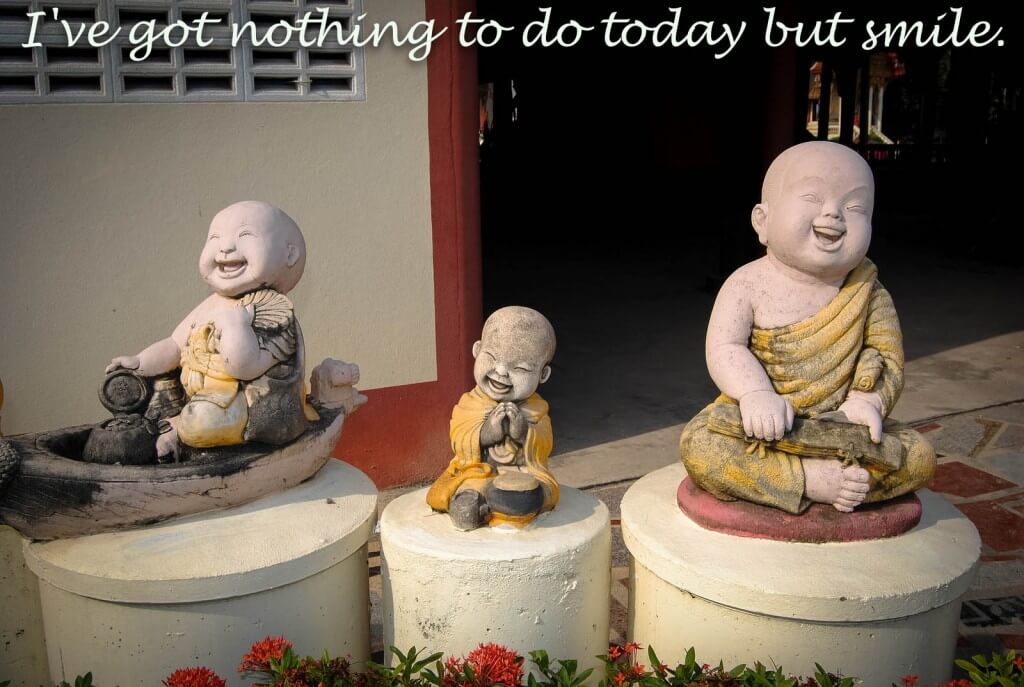 11am – Walking Meditation
I had never before seen, 'walking meditation,' which consists of taking about 5 full seconds per one step. I watched as my fellow meditators lumbered about like zombies around the forested grounds of the wat looking dazed in the eyes.
At the very least, I was becoming that much more prepared for the zombie apocalypse.
I stole the moment to find my refuge amongst a forest of coconut trees. I noticed things about the trees I had never seen before. I stared at them, I actually appreciated them. I watched a colony of ants for 20 minutes. I found a scorpion and followed it for another 20 minutes, absolutely mesmerized by the way it walked. I would have never done this otherwise.
11:45am – Sitting Meditation
Back to Burning Man, No! Focus! I wonder what Michael's doing now? Shhh! Quiet, you stubborn mind. Is that a mosquito? I will annihilate it! Oh wait, I took a vow not to take away breath. Shit.
Ding! went the bell again.
12:30pm – Lunch and Chores
Lunch was our second and final meal of the day. It was a mild vegetable curry over brown rice, some sort of tofu salad, and a banana coconut milk dessert. Over the days, it would vary, but would always keep the same theme: a vegetable curry, a coconut milk dessert, and some other surprise of noodles, tofu, or papaya salad.
I really came to love lunch time.
I raked the sand once again.
I slathered on DEET.
2:30pm – Dhamma Talk
My very favorite speaker, the English monk, took this time slot today and each day moving forward. He spoke of how to rid our lives of dukkha (suffering) by letting go. He used examples of dukkha from his own life prior to becoming a monk. The reflection on his own past mirrored many of our present situations of daily confusion and lack of mindfulness.
He helped me to understand.
3:30pm – More meditation
Walking, standing, sitting meditation. My slippery mind remained slippery, so I finally went with it and focused on a few things that had been bothering me. I worked them out in my head and felt better. Over the following days, this would continue until my mind, with no books, pencils, cell phone, speaking with other humans, or computer to occupy it, got tired of thinking, and finally submitted to paying attention to my in-and-out breathing.
5:00pm – Chanting and Loving Kindness
We chanted from a book of praises. Just one verse still sticks with me now:
"One ought to not long for what has passed away,
Nor be anxious over things that are yet to come.
The past has left us, the future has not arrived."
We breathed loving kindness to those who we loved, and those who had wronged us, made peace with our pasts, and enveloped the world in our puppies and rainbows feelings.
Given we were not supposed to kill mosquitoes, this was the hardest part of the day for me, as the sun usually set during loving kindness time.
I watched as one of my fellow meditators clapped her hands and killed a mosquito in the row in front of me, boldly breaking the rule. I resolved to direct my loving kindness towards her.
6:30pm – Tea and Bathing Time
Which was not tea, as caffeine was not allowed, but rather a welcome cup (or in my case, three) of steaming hot chocolate.
I followed this up with splashing cold water from the shared well onto my sarong-covered body. This is how we bathed. I yelped in spite of myself at the first bucket of water – 'twas a cold surprise.
7:30pm – Sitting, Group Walking, then Sitting Meditation
The evening culminated with more meditation. We walked as a group around the two ponds – the men in one row and the women in another. Dim candles lit our way as we paraded, ever so mindfully and silently, under the stars in the forest monastery, in the small town of Chaiya, Southern Thailand.
9:30pm – Lights Out
I ventured back to my dorm, and checked the area for scorpions and centipedes. Satisfied that there were none, and somewhat thankful for the spiders in my room (after all, they were not required to practice loving kindness towards mosquitoes), I laid back on my concrete bed, covered myself with my mosquito net, and drifted off to sleep rather easily.
For practical information on how to do the meditation yourself, read this post.