When I think of the Japanese winter, I picture that feeling of being in a snow globe, or sitting in a steaming onsen (hot springs), or beautiful views of Mt. Fuji. It's a tall order, to be sure, but like always, Japan delivered.
We recently spent two delicious weeks there, getting a taste of big cities, tiny villages, some of the most famous sights, and of course, delicious food. Honestly? I think we did a great job.
This is the ultimate two-week Japanese winter itinerary:
Kyoto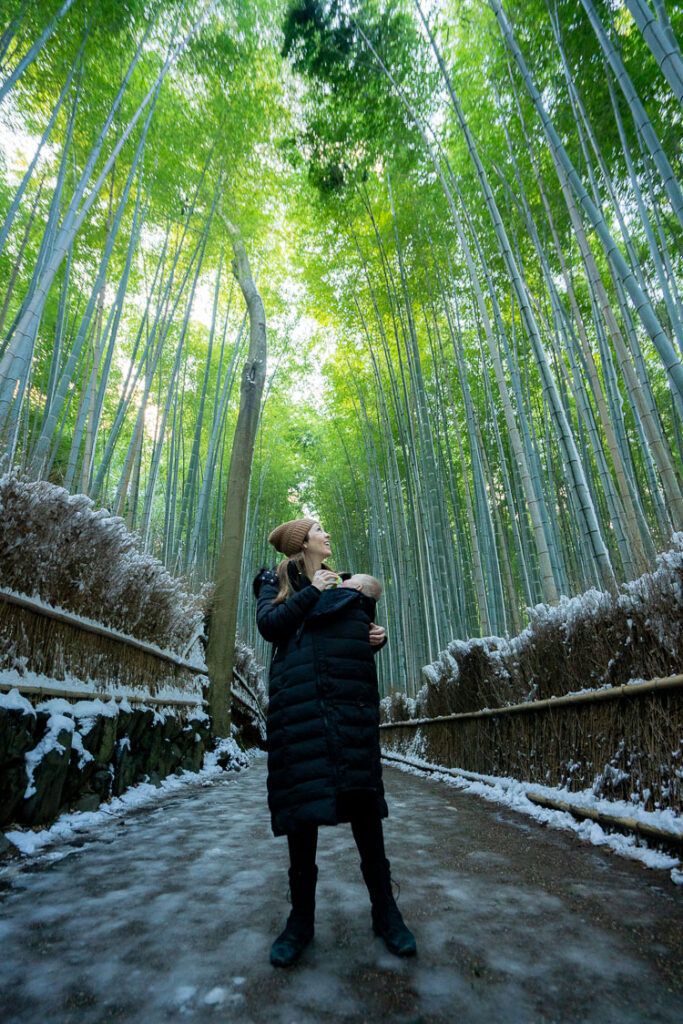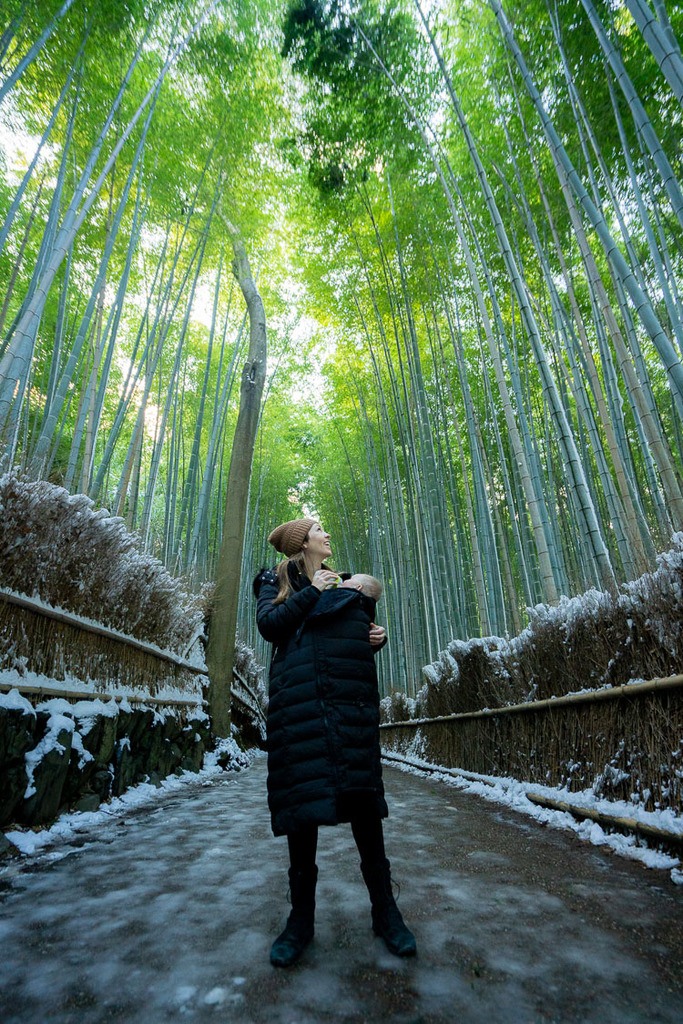 Our journey began in Kyoto and finished in Tokyo. If you can book one-way flights, this eliminates a transit day. You can also consider taking the two-hour bullet train from Tokyo over to Kyoto for the start of your trip.
Though it's never a guarantee that you will get snow in Kyoto — in fact, it's a rarity — seeing some of the most famous sites with the white stuff was magical.
Day 1: Bamboo grove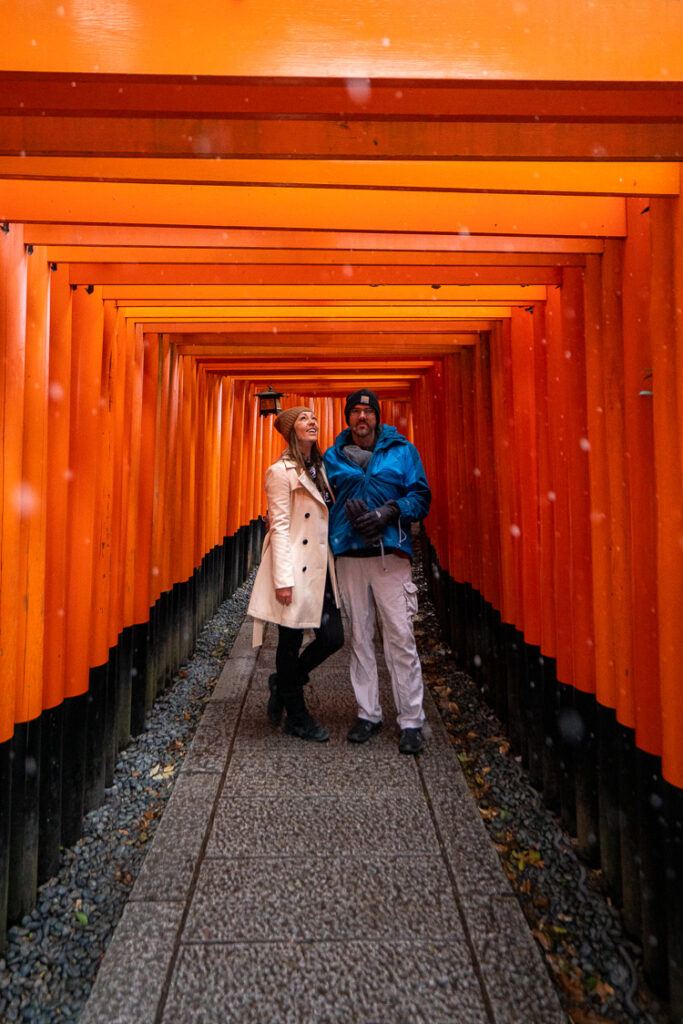 Head to Arashiyama as early as you can to walk through the bamboo forest and check out some of the shrines. The earlier you go, the smaller the crowds should be — however, the bamboo is thick and it can be dark super early in the morning. Though the shrines often have entrance fees that are usually around ¥500, the bamboo is free to walk through and enjoy.
You'll see busy stands selling snacks close to the entrance, but honestly, they were a bit on the pricey side, and we found better ones elsewhere.
Jet lag took up more of the early part of our journey than intended, but if you are able, try to see the Kinkaku-ji temple, a golden pagoda surrounded by tranquil gardens and a pond. Finish the day with sunset on the famous street leading up to Hokan-ji temple.
Day 2: Kaiseki and torii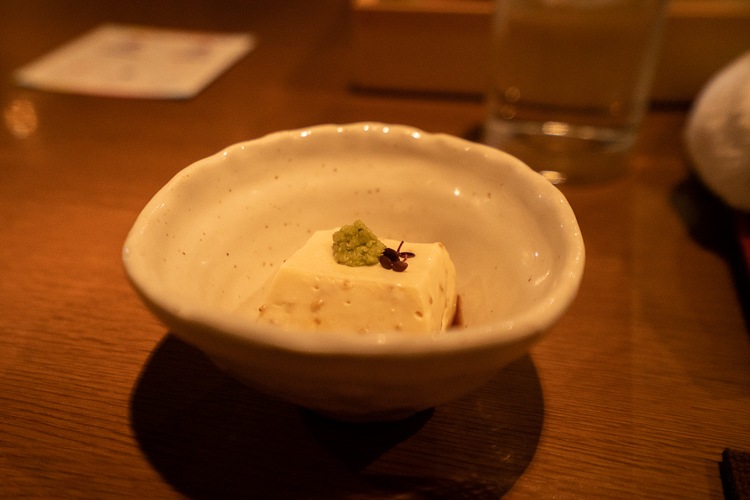 Our second day began with an early journey to Fushimi Inari Taisha, a Shinto shrine dating from 711 CE, with its famous walkways straddled by thousands of torii gates, and is free to enjoy. This and the bamboo forest were the sites I most hoped to see in Kyoto, and it was just as magical in person as I'd dreamed it would be.
It's open 24 hours, as is the bamboo forest, so heading there early is a great idea. We happened to get there around 8am on one of the coldest, snowiest days of the year in the lowest season, and therefore had it almost to ourselves for a few minutes, but by 9am, busloads of people were showing up.
From there, check out the Kojingamine outlook for an overview of the city, followed by a visit to the Tō-ji temple, the tallest wooden pagoda in Japan dating back to the year 796.
Finish the evening with a stroll through the historic Gion district, or better yet, take a food tour. Ours involved a few hours of walking around, learning about the local culinary history, tasting traditional snacks and spices unique to Kyoto, and finishing with a kaiseki dinner, a ritual meal consisting of several courses created by a team of chefs. Each one features a different cooking style, though you can usually count on a rice dish, miso, sushi, and some kind of dessert. This is the highest level of dining in Japan and should not be missed! (The exact tour we took is no longer available, but you can book something similar.)
Day 3: Tea ceremony and shrines
Have you ever wanted to don a kimono? Participating in a tea ceremony is one of the best ways to get your chance. You'll have the opportunity to learn the ritual around drinking green tea while wearing this traditional garment, plus get a photo doing so.
Finish the evening with sunset at Kiyomizu-dera, a Buddhist temple that is part of the Historic Monuments of Ancient Kyoto UNESCO World Heritage site.
Where to stay: Since we have a little one and arrived late at night into Kyoto, I booked a nice, affordable Airbnb near Kyoto Station. We loved our little spot!
(Due to our desire to catch an event that I'll discuss later on in the post, we could only spend three nights in Kyoto, but it deserved so much more! I'd recommend staying at least three, if not more.)
Takayama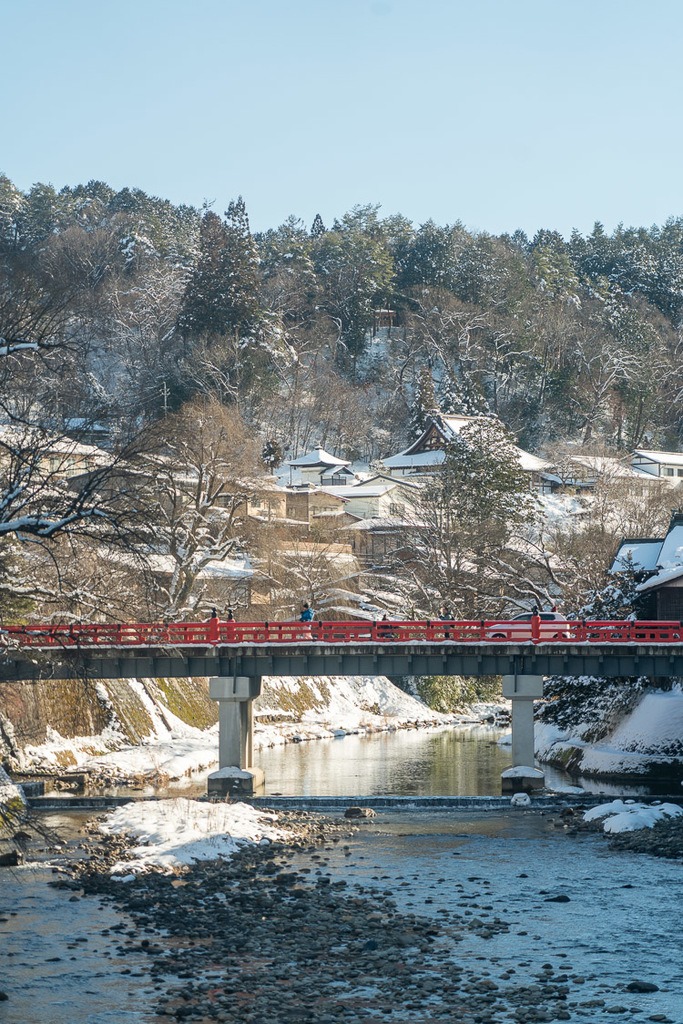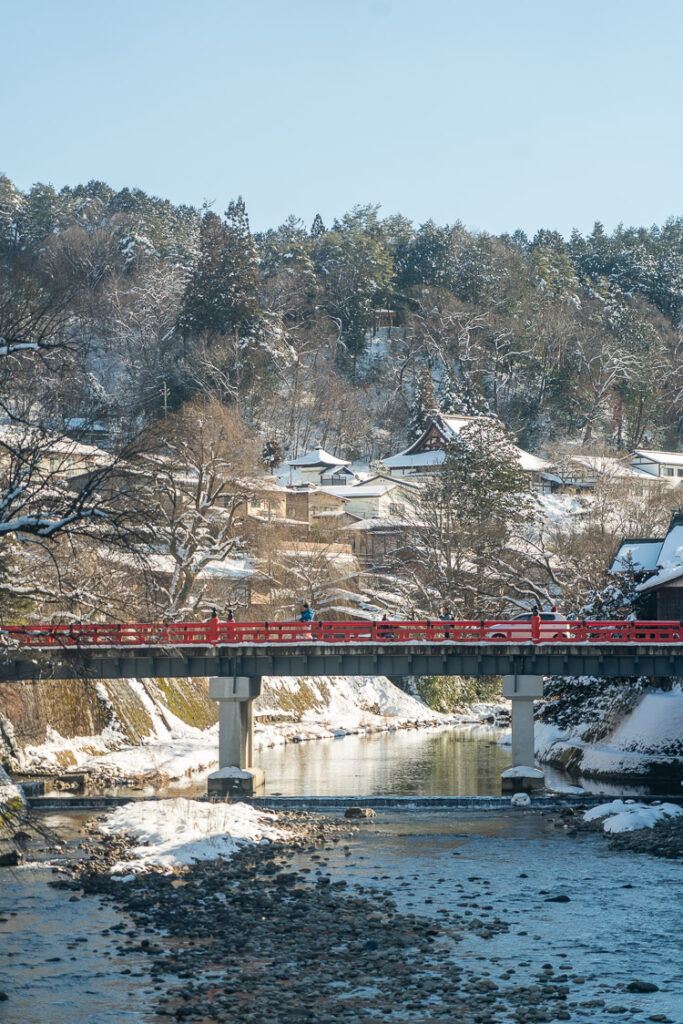 This adorable town full of friendly people is the gateway to the Japanese Northern Alps, as they're called. We picked this town for its historic feel and famous food, and the likelihood of it being a winter wonderland (it was!).
Day 4: Journey to Takayama, known for delicious Hida beef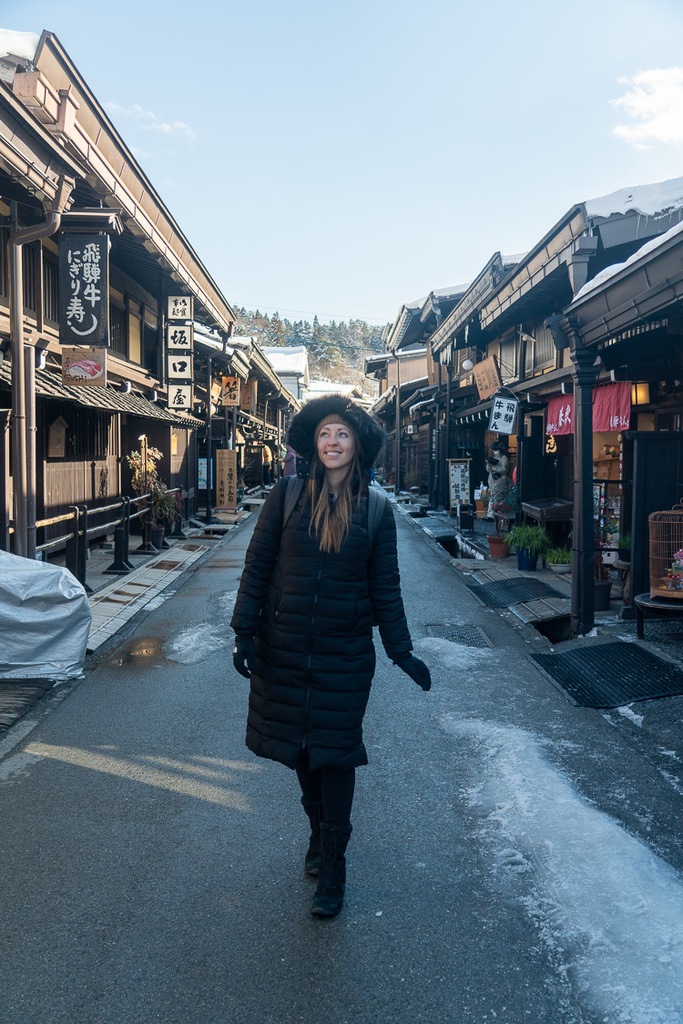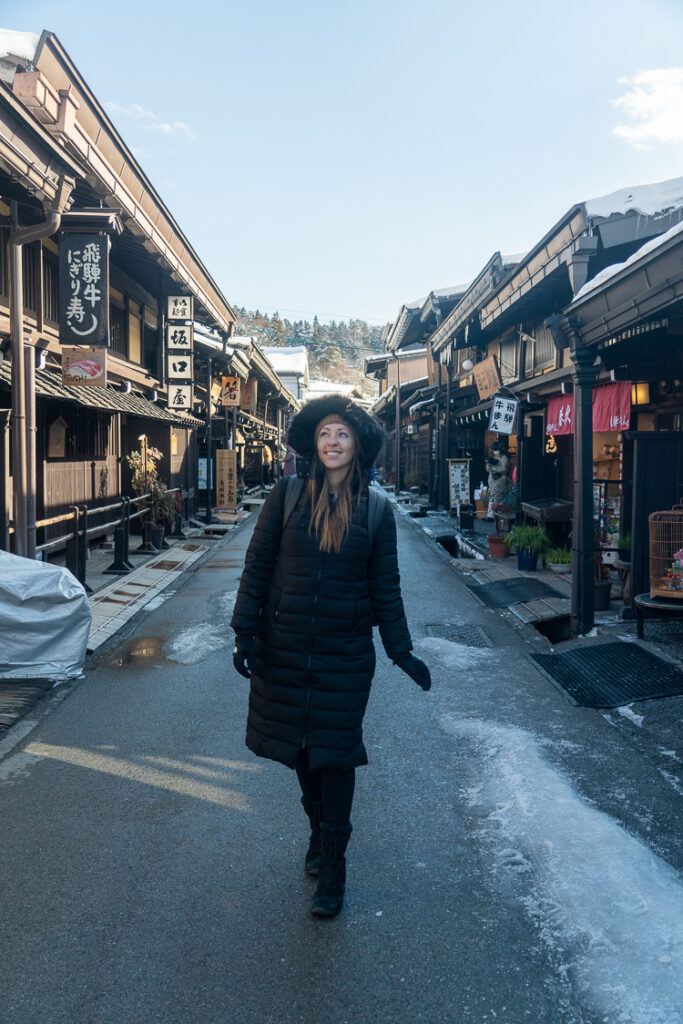 You'll spend a good chunk of the day getting to Takayama, which is best accessed on Japan Rail (JR) via Nagoya. The ride there is beautiful, most of it alongside a deeply blue river. (Sometimes there's also a direct bus, though, so be sure to check! We tended to use Google Maps for our planning, which I suggest doing when weighing your options.)
Spend the afternoon and evening sampling some local Hida beef, which is incredibly flavorful and tender, at Kyoya restaurant, where you cook your meal over a charcoal grill at your table! It was a delicious experience at a place we didn't even realize was famous — we just stopped by, since it was near our Airbnb. Apparently a reservation is normally essential, so be sure to call ahead.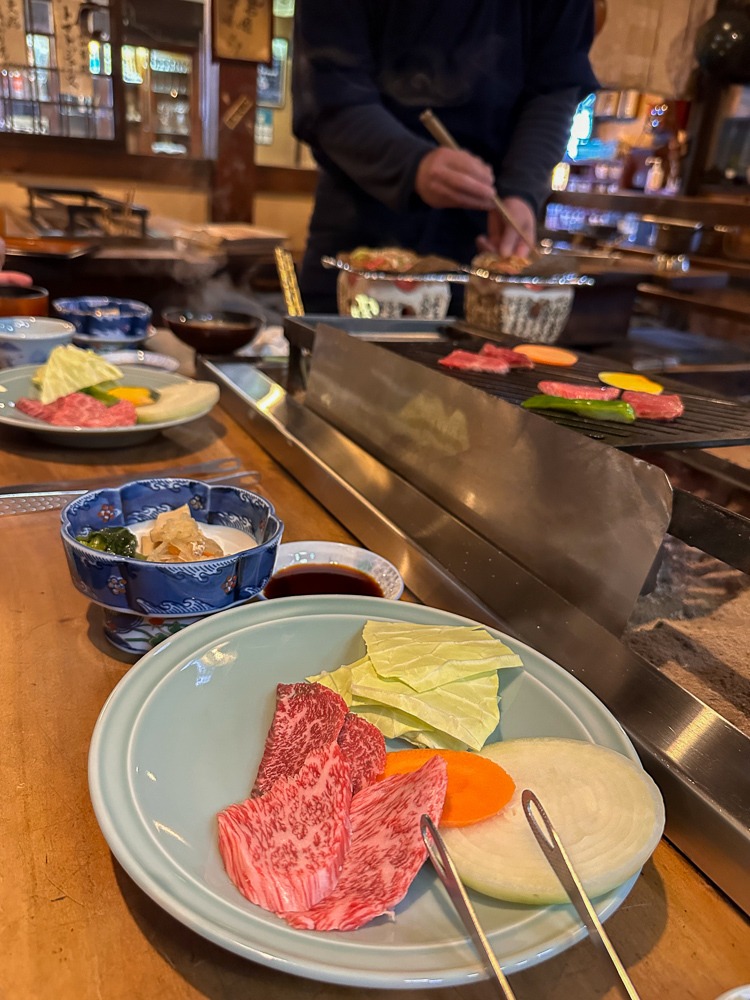 Day 5: Sanmachi and Hida no Sato folk village
Check out the historical houses (pictured below the subheading above) in Sanmachi, a neighborhood with traditional Edo-era architecture dating back to the 1600s through the 1800s. You'll find small eateries, shops, and houses all along the way.
There's a morning market along the river as well, where you can find food vendors. It's perfect for an early stroll.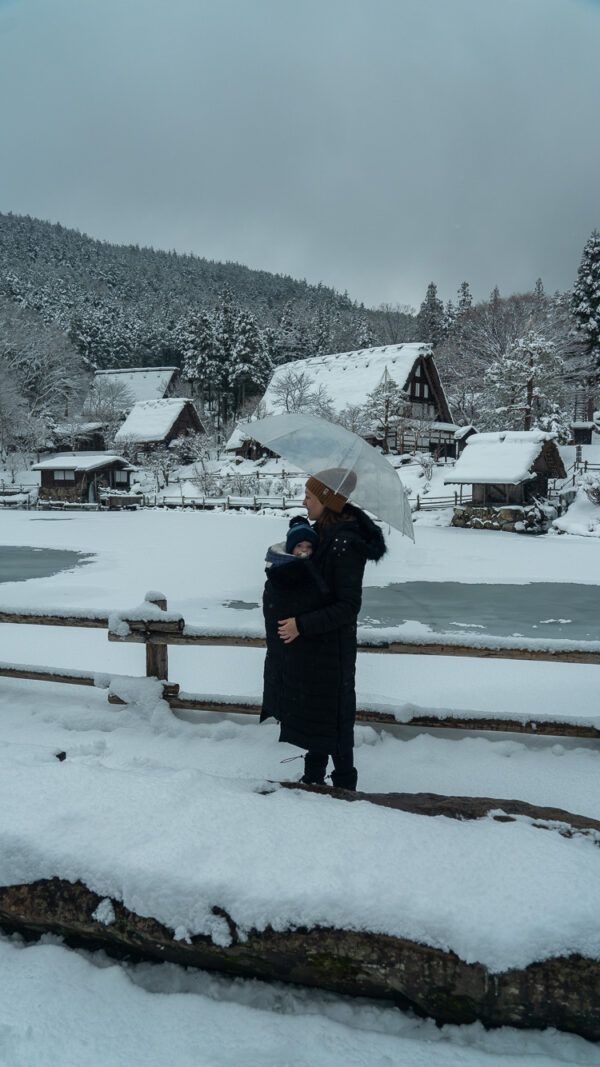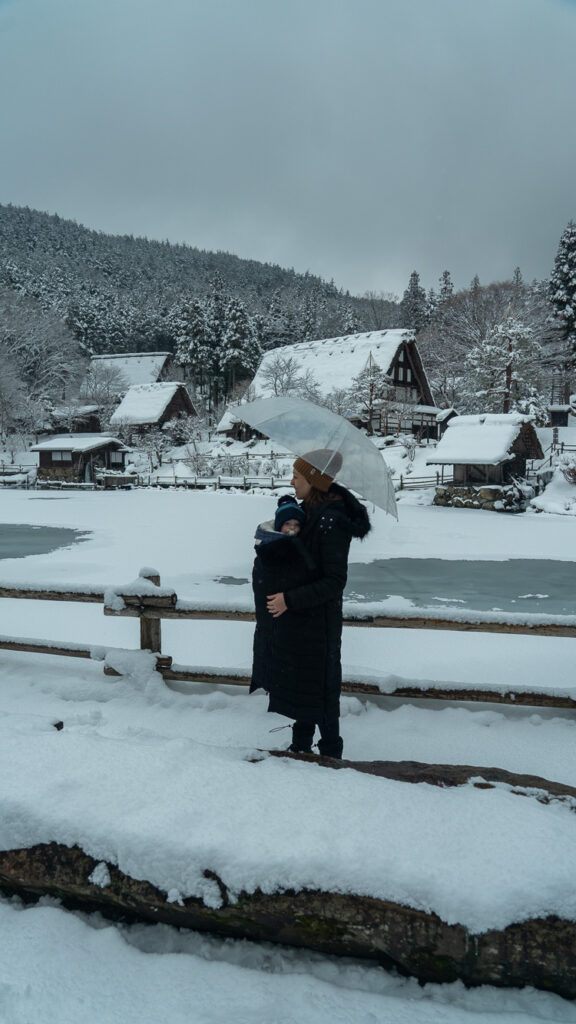 Spend the afternoon checking out the Hida no Sato folk village, an open-air museum featuring more Edo-era farmhouses. In the summer months, you'll see grass growing on the thatched roofs, and in the winter, the village is famous for having feet of snow packed to the tops of the houses. It was magical to see them that way! Entrance is ¥700.
(The village also a great primer for the next stop, Shirakawa-go, a larger UNESCO World Heritage village from the same era.)
Day 6: Shinotaka ropeway or Gero onsen
Head out of town to the Shinotaka Ropeway (¥3,300 per adult), about a 1.5-hour bus ride each way, or consider heading to the town of Gero, south of Takayama, for a night. It's one of the most famous onsen towns in Japan, known for its particularly smooth water.
(Due to my tattoos I can't use most onsen, which I'll discuss later, but for this reason, we opted to skip Gero.)
Where to eat: In Takayama, we loved the Tori Coffee and Sabou Usagi cafés, as well as Uemura for dinner. The latter is a truly tiny restaurant serving organic food the chef grows himself. I cannot recommend it enough! I messaged him via Instagram to book. Sakurajaya is also a fun experience, sitting at the bar and watching the chef make the food in izakaya fashion (informal, small dishes).
Where to stay: I loved our Airbnb here! It was the cheapest of the trip, at around $90/night, and had its own outdoor bathtub, which was magical with the snow!
Shirakawa-go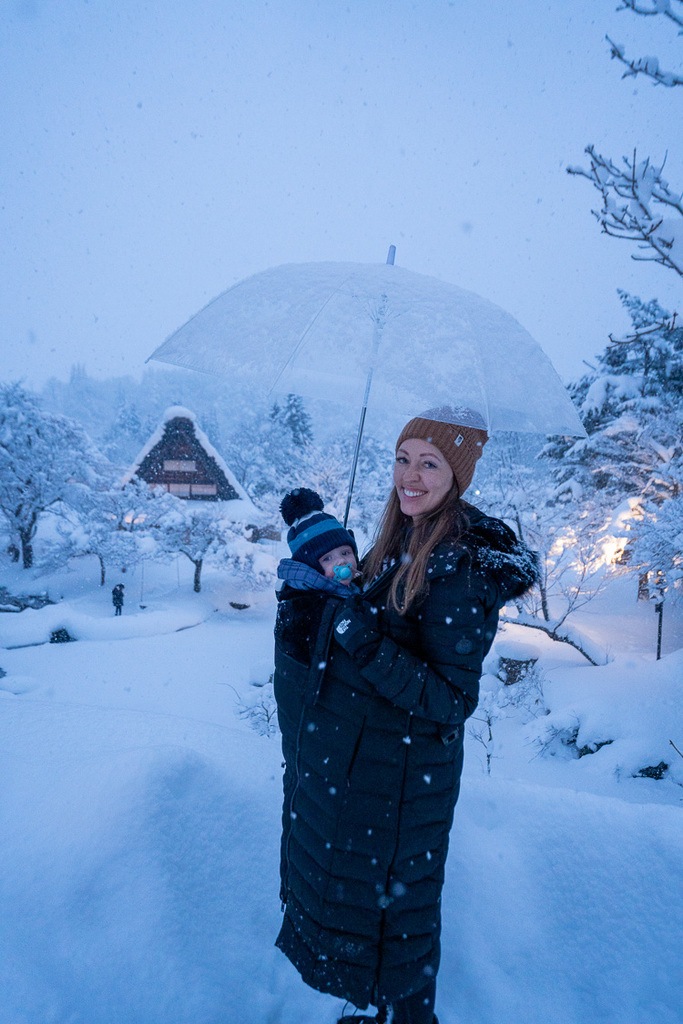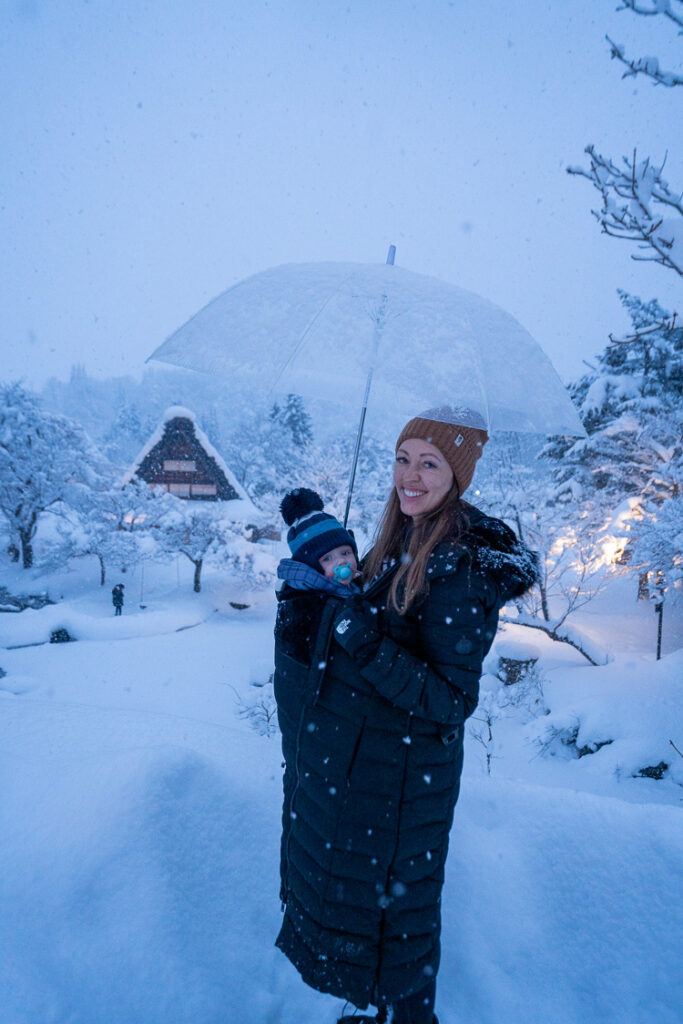 Day 7: UNESCO site Shirakawa-go
Light Up Shirakawa-go was the event I mentioned that caused us to leave Kyoto a bit earlier than I normally would have. Each winter, for six Sundays over January and February, Shirakawa-go lights up all of its buildings in the evening. If you are planning way ahead and can snag a reservation to stay overnight, do it, but if not, you can take a bus tour to the event from Takayama.
Tickets for this may sell out, as the number of visitors is capped. I logged on right when they went on sale in November and had to refresh the page for a couple of hours before finally getting through, but I'm happy to say that it was worth it. It truly felt like we were in a snow globe.
If you can't get tickets for the light-up event, be sure to head there during the day. It is easy to access from Takayama via a bus that runs hourly (the bus costs ¥700, village admission is free). The village and buildings are quaint, there are a few museums you can enter for a couple hundred yen, and there's an observation deck as well. The village would be delightful in every season, though I loved seeing it so snowy!
Stay: it's possible to overnight in Shrakawa-go in the traditional houses. They book up well in advance for the light up event, though other times of year or other evenings would be easier. You're only allowed to stay for one night in each house and they ask that you don't bring large suitcases as there isn't room for storage.
Day 8: Journey to Mt. Fuji
This was our longest travel day, making our way down to Yamanashi prefecture. It was so worth the journey, though, as staying on a lake with a view of Mt. Fuji was a highlight for us.
There were dozens of ways we could have chosen to get there, though we opted for the JR back through Nagoya, followed by a bus. (In 2023, the bus that runs between Takayama and Kawaguchiko was not running, but it would be by far the best and cheapest way in the future.)
Kawaguchiko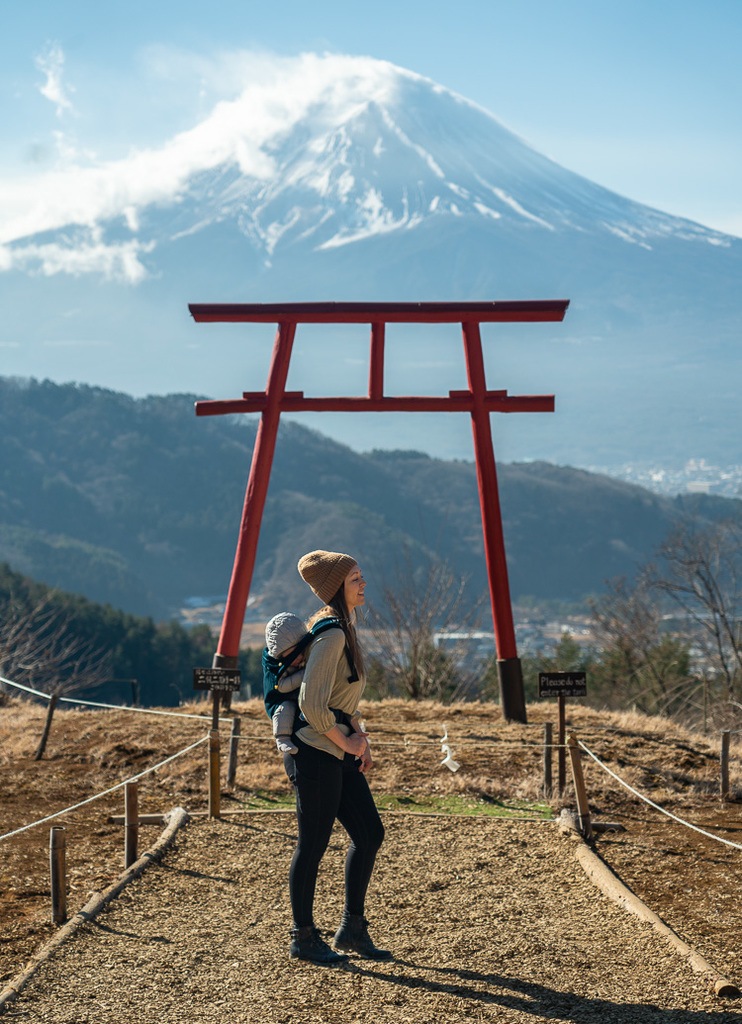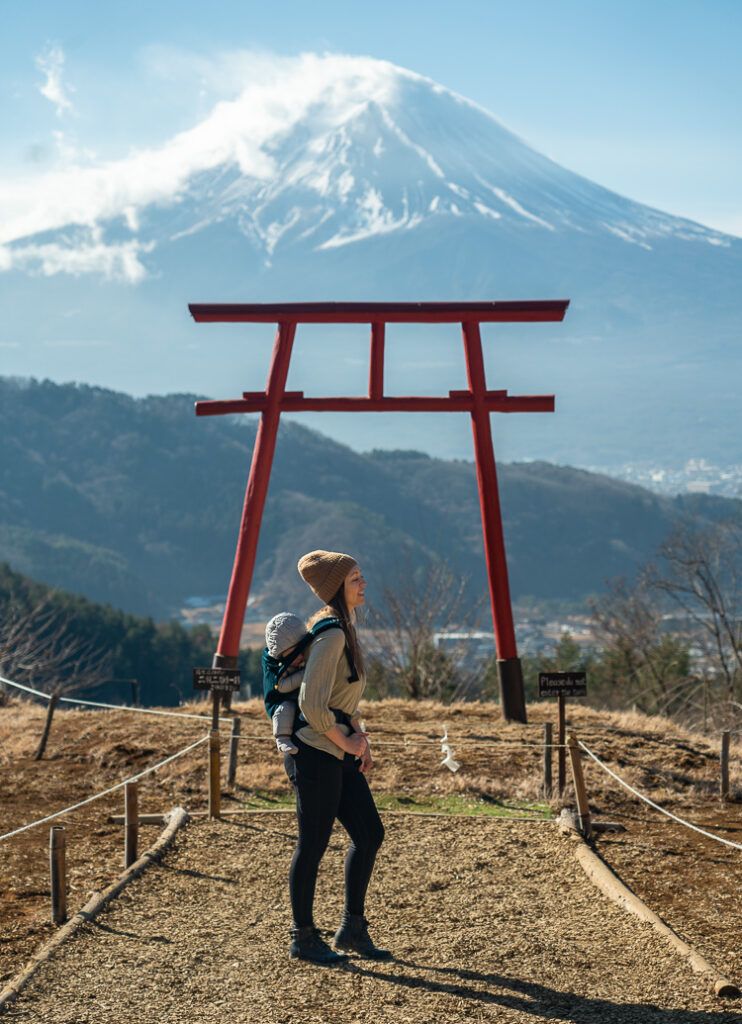 Wintertime is generally the clearest time of year and offers the best chance to see Mt. Fuji, one of the most famous sights in Japan.
When we were deciding between Kawaguchiko and Hakone, another popular spot an hour south, one of my Instagram followers suggested Kawaguchiko (and Takayama!), and I'm so glad we took her advice. We had gorgeous mountain views over the lake day after day.
Day 9: Chureito Pagoda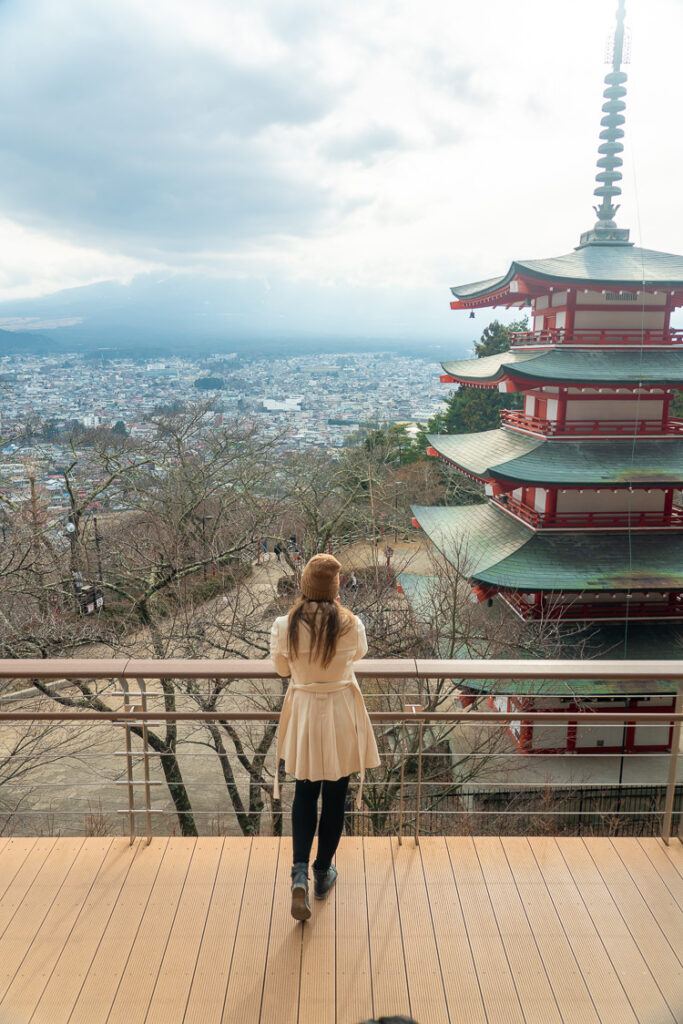 You can't visit Kawaguchiko without seeing the Chureito Pagoda, which as one of the most iconic views in Japan.
That said, it was also my biggest heartbreak of the trip, having wanted to see this view of Mt. Fuji for years. The clouds rolled in just as we were getting off the train. C'est la vie!
The pagoda is free to visit. You'll have to climb quite a few stairs to get there, though, but it's worth it.
Consider also stopping by Oishi Park, which is easy to access from the sightseeing-loop bus, for another iconic Fuji view.
Day 10: Soak and stare at Fuji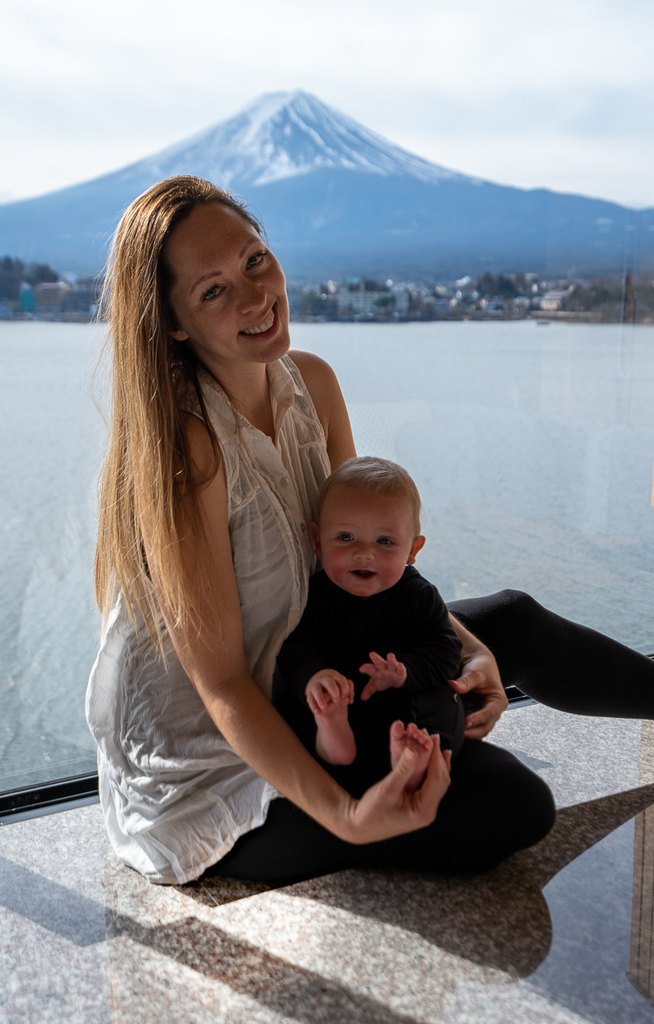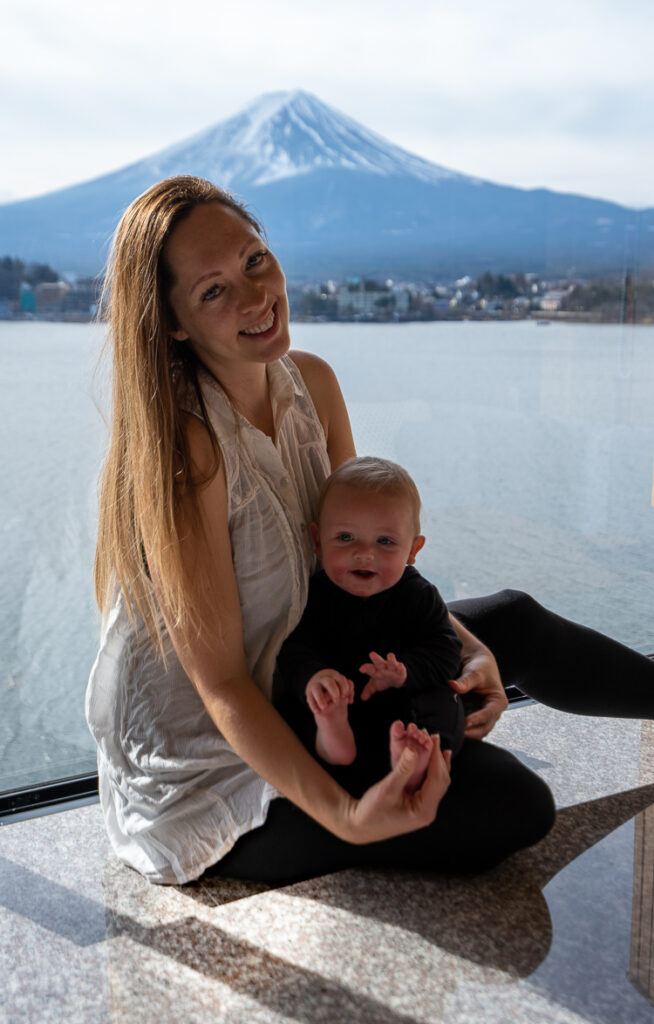 We spent a good chunk of our tenth day hanging out at our hotel, to be honest. I recommend booking a place to stay on the opposite side of the lake from Mt. Fuji (the northern side), so that you can take a day or so to just relax and enjoy the view.
We booked Ubuya, a ryokan (traditional Japanese inn that typically features tatami-matted rooms) that had private hot springs on the balconies. Since I have tattoos, this was the only way that I was going to get to enjoy onsen that are so iconic in Japan in the winter.
Due to tattoos' association with gang culture, almost all onsen and even hotel spas in Japan ban those with tattoos, unless it's very small and can easily be covered with a Band-Aid. You can't cover them up with a swimsuit, either, as one is fully nude in onsen.
This ryokan was definitely a splurge for our trip, but it was worth it! We also ate breakfast and dinner in the hotel, the latter a kaiseki meal in a private room set up for us and the baby.
Day 11: Fuji ropeway and Asama shrine
Are you down for an Insta-famous photo opportunity? There are two big ones in the area, including the Mt. Fuji Panoramic Ropeway. It's a short journey, so I normally would not feel the ¥1,800 per person round-trip is worth it, since you can get a great view of the mountain from the lakeside. But you can get some pretty cool pictures swinging with Mt. Fuji at a swingset at the top. You'll have to queue up and pay an additional ¥500 for the photo op, which we didn't do, but part of me wishes we had.
Next, take the bus bound for the Asama shrine and either walk from there, which is a 30-ish-minute uphill climb, or take a taxi to Tenku no torii. They'll ask for ¥100 per person at the entrance and there will be another queue, but I loved the photos we got! (pictured at the beginning of the Kawaguchiko section).
Note: The "suicide forest" is also in the Kawaguchiko area, but it's generally regarded as disrespectful to visit. Please pick other activities instead. There are many other beautiful forests in Japan!
Stay: As mentioned above, we booked Ubuya and loved the experience. If it's out of your price range, I re commend staying on the same side of the lake and booking another hotel nearby so that you can still get the Fuji view from your room.
Tokyo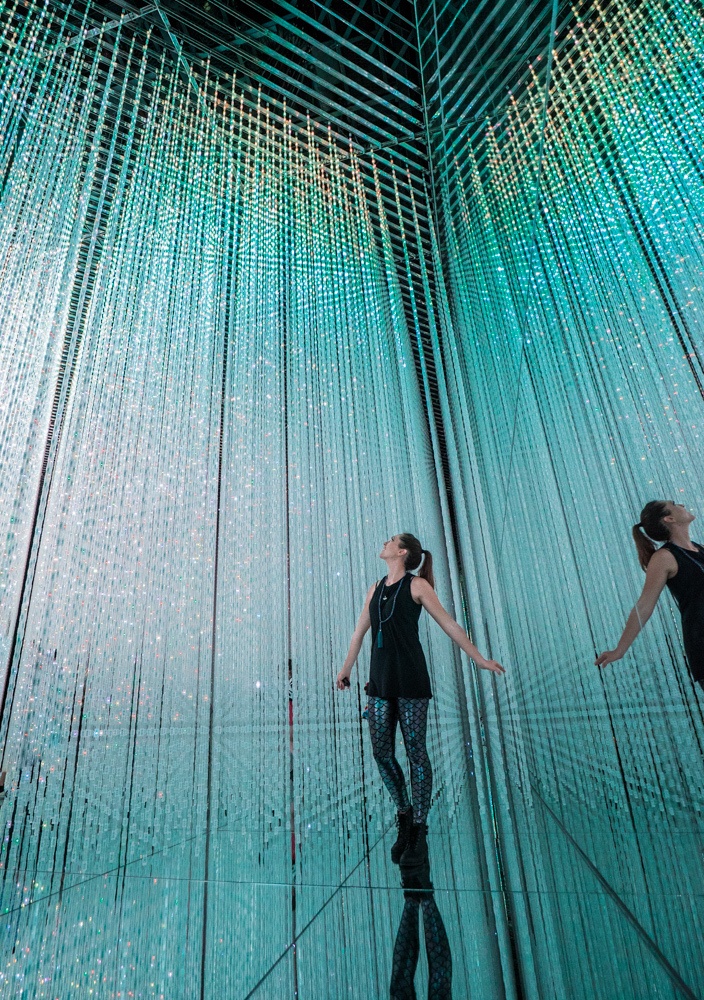 Welcome to the largest city in the world! I am usually not a big-city person, but Tokyo is a different animal. It's one of the most unique places I've ever been, and there's almost a limitless supply of things to do. Though you can only ever scratch the surface, these are some of my favorites:
Day 12: TeamLab and Harajuku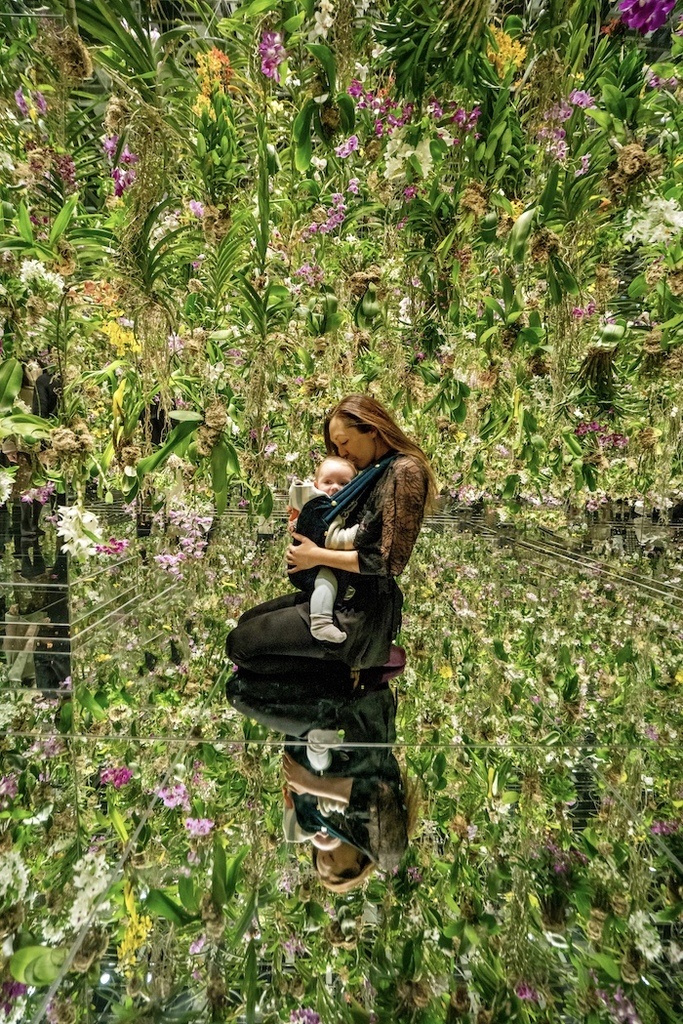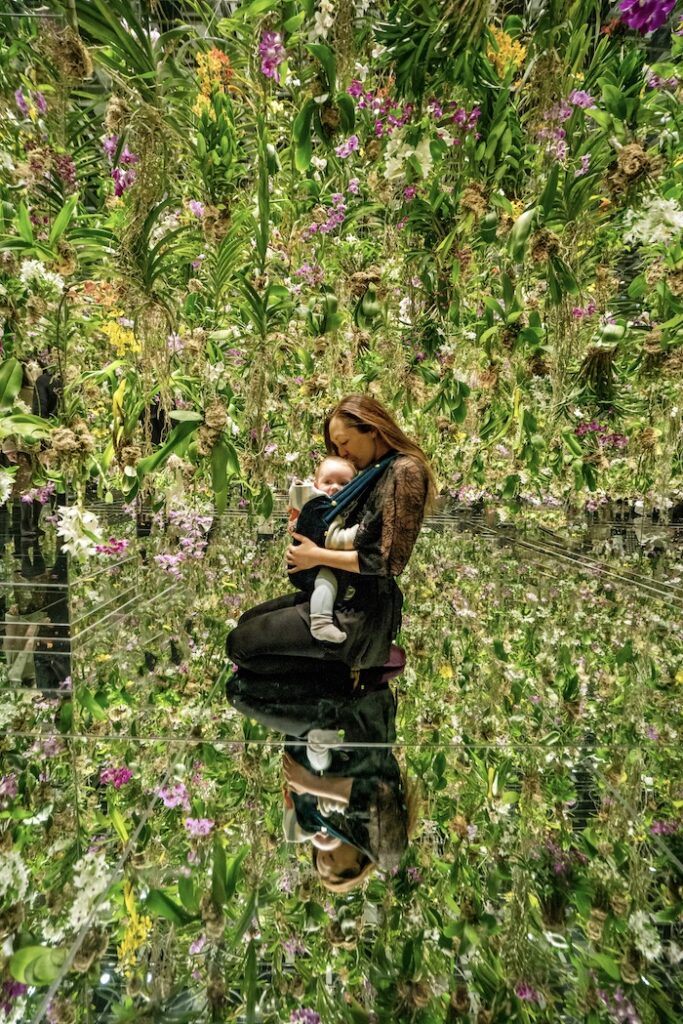 Harajuku is one of the most famous areas of Tokyo — and for good reason. There's awesome shopping, creative cafés, and some famous local culture to check out. If you're looking for something more traditional, in the same area, you can walk around the Meiji Jingu Shinto shrine.
From there, pop by the Hie shrine for another opportunity to walk through a smaller version of the Kyoto torii gates, as well as view one of the lovelier shrines in Tokyo, featuring white walls and a green roof.
Finally, do not miss a TeamLab exhibit! This art collective's immersive art experiences get me every time. They tend to only remain open for a few years; TeamLab Planets should be open for another year or so, and it's a must-see. I highly recommend going in the hours before closing so as to have fewer people in your photos. Book your ticket ahead of time too: this one somehow let us skip the whole line! Entrance is ¥3200.
Day 13: Nakano, Shibuya crossing, and ramen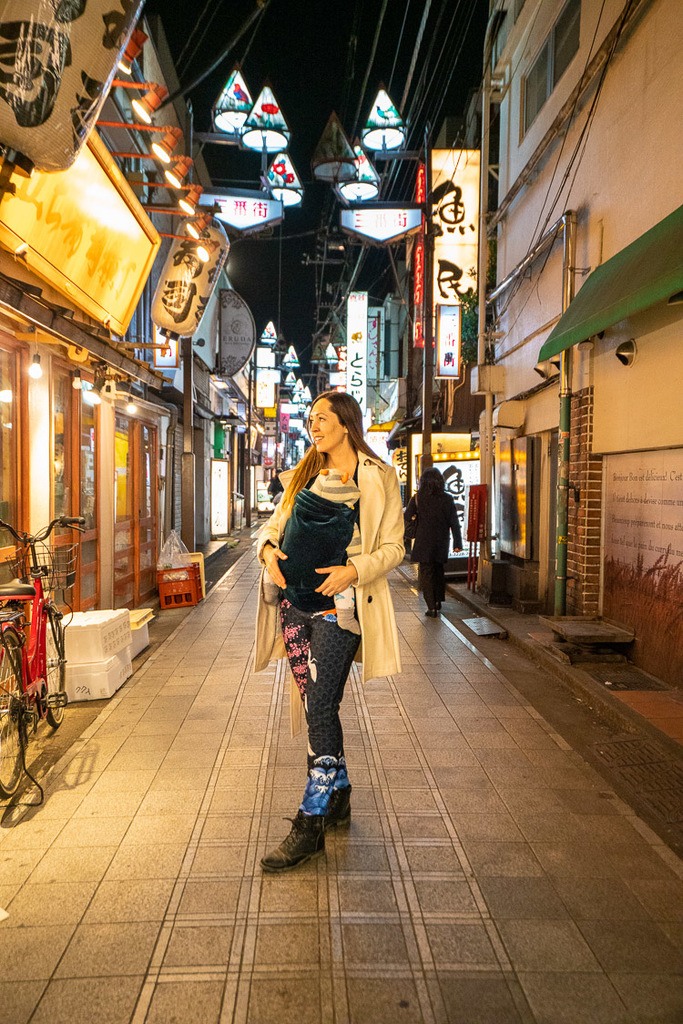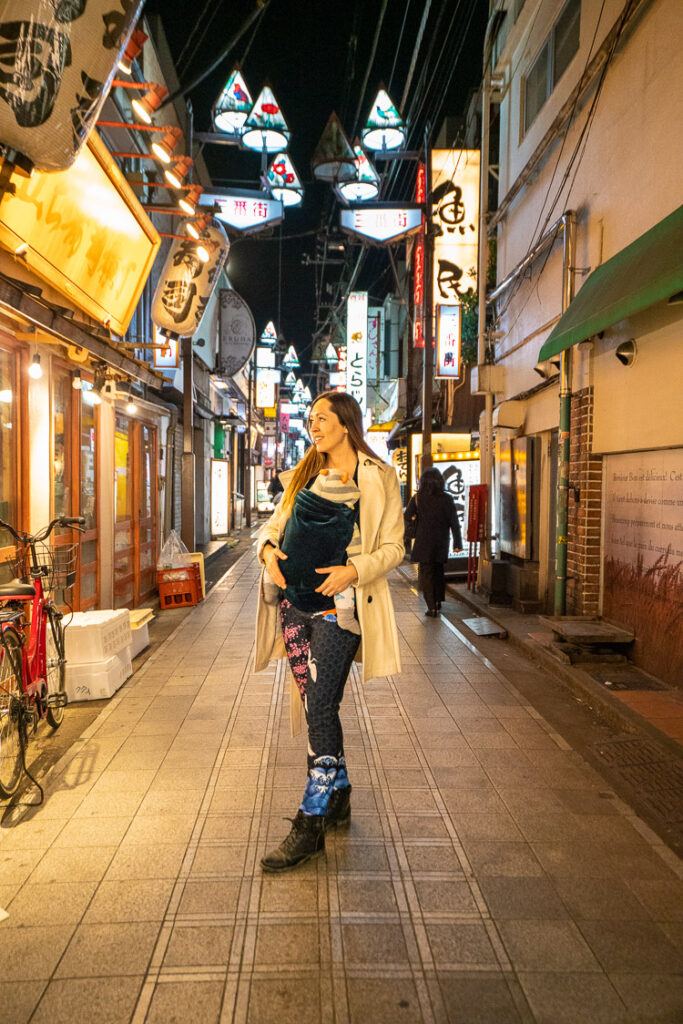 On our second-to-last day, I knew I wanted to do another food experience. There are a couple that I was looking at, including a walking tour in the famous Tsukiji fish market and a six-bowl ramen tasting. The latter just happened to fit better with our schedule, and it was delicious! We visited three ramen shops, all of which featured several unique flavors and styles. Garrett and I also shared each of our bowls, so that we could sample all of the flavors, so we ended up having 12 ramen samplings. Our favorite was the inventive pesto ramen, though I always love the curry version and was surprised by how much I enjoyed the squid ink as well.
Give yourself some extra time to check out Shibuya crossing, where the tour begins, which is the famous all-direction crosswalk that as many as 3,000 people use at a time! It's quite a sight. If you want to see it from above, the Starbucks is a popular place to check it out.
We followed our ramen tour with a giant ice cream at Daily Chico at the Nakano broadway, pausing to take the photo featured above on one of the adjacent streets, which you can find by glancing to your right as you walk up the broadway.
Day 14: Imperial Palace, Disney, and unique kaiseki in Ginza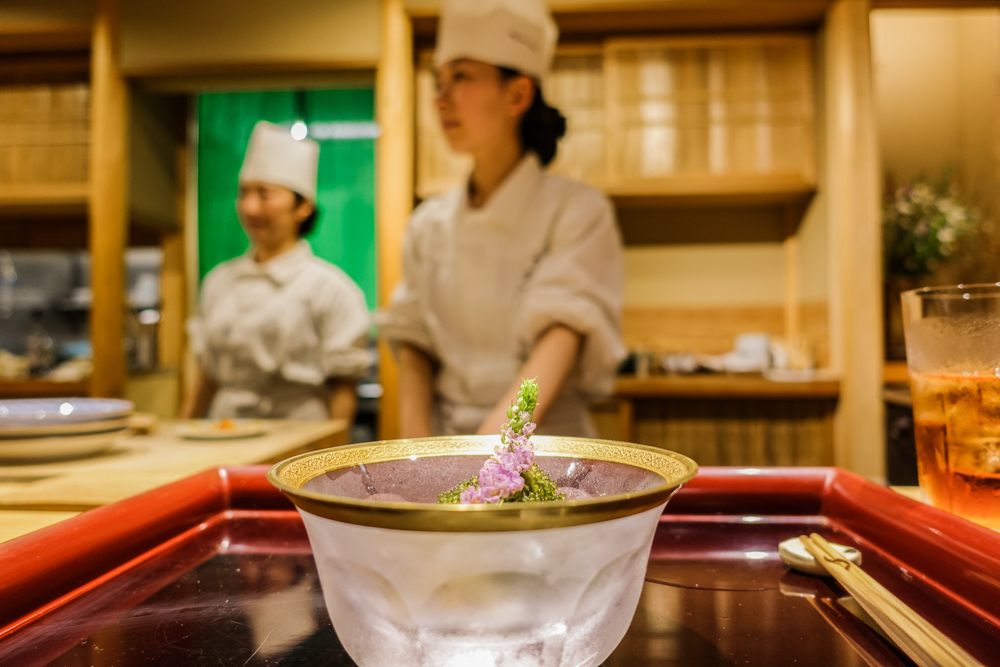 On your last day, you'll have to make a difficult choice about what to see. I have a complete Tokyo itinerary here with a bunch of options. If our son were a bit older, we would have loved to go to Tokyo Disney or Disney Sea. Better believe it's on the docket for the future!
Since our hotel was near the Imperial Palace, we opted to take a walk around the grounds. Keep in mind that you actually have to take a tour in order to get closer. The gardens are lovely, though, and the trees lining the streets near Tokyo Station are a great winter photo op.
I'd finish your trip with one of the most unique kaiseki experiences, in the high-end Ginza district of Tokyo: Tsurutokame, the only all-female kaiseki restaurant in Japan, featuring not only delicious food but incredible presentation. I was vegan when I visited a few years ago, and they even created a completely vegan menu for me! It was a highlight of all of my trips to Japan. It's also popular, so book well in advance!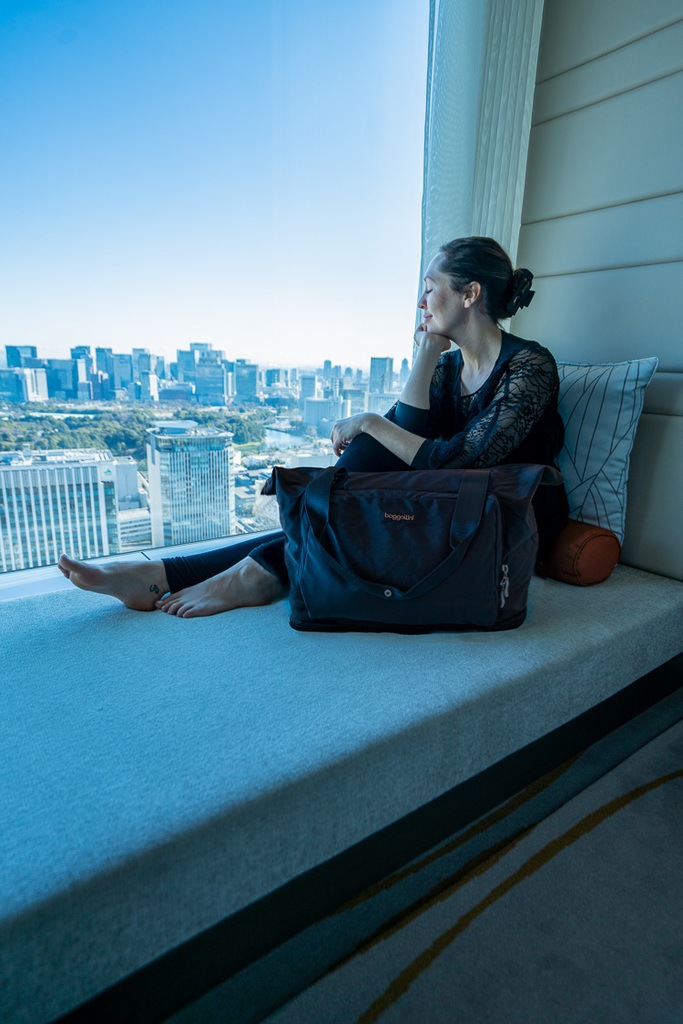 Where to stay: I splurged a bit on this part of the trip as well, booking us at the Prince Gallery Kioicho Hotel. The view from the room made it so worth it! The breakfast was delicious, and the location was central, but the best part about it was definitely the service, which was top-notch.
Although many of you won't need to worry about this, it was also the only place we stayed in Japan that had a crib!
Hokkaido
Hokkaido, Japan's northernmost major island, is important to mention. Many people choose to ski its famous powder (known in the ski world as Ja-pow), during all or at least part of their winter trip.
From Tokyo, you can take the bullet train and be in Hokkaido in about four hours. Although it was under consideration for us, since we are not really ski people (who live in a ski town — it's weird, I know) and had a baby with us, we passed.
But there's good reason to visit. Sapporo, the largest city, has a snow festival each year that features massive ice and snow sculptures. It usually only lasts for a week, so plan your trip accordingly if you'd like to see it.
Getting Around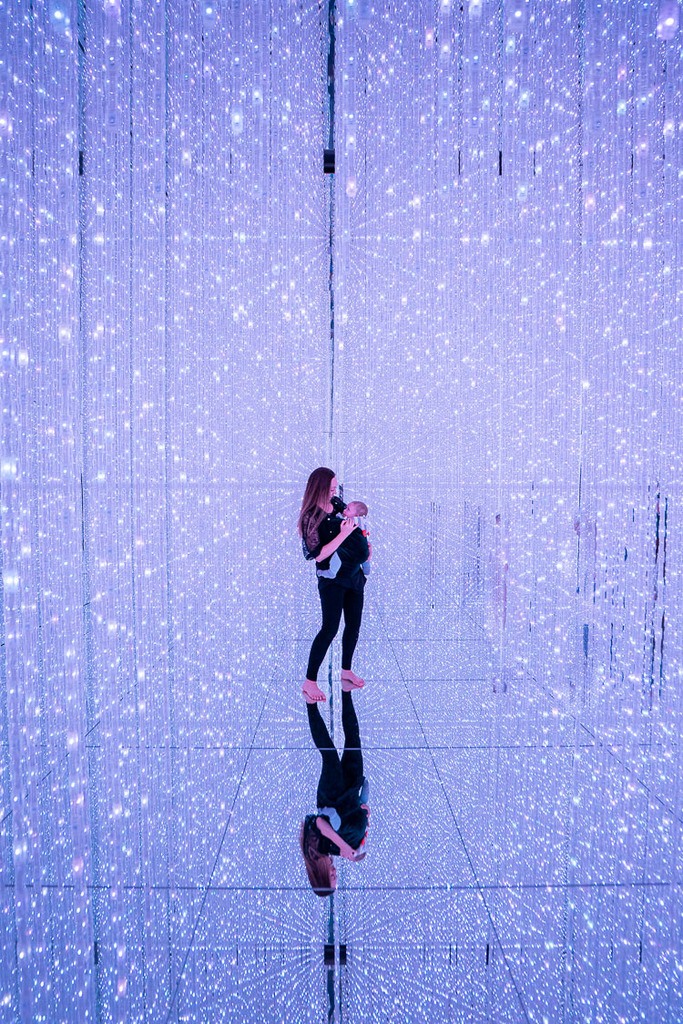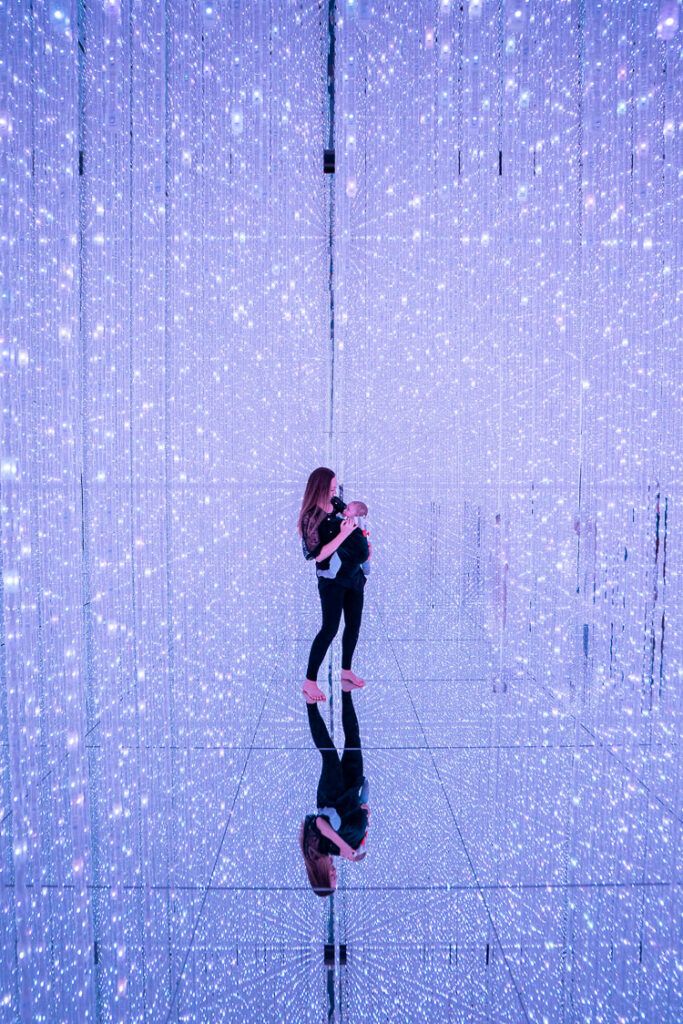 Getting around Japan was pretty straightforward using Google Maps. I would sometimes cross-reference with blog posts that specifically discussed the journey between certain destinations, just to be sure, but Google Maps was almost always correct. I also appreciated that it would usually give me the exact platform and even car to use in order to make a quick exit.
That said, both Kyoto Station and Tokyo's larger metros can be confusing, although there were information desks scattered throughout, and they were super helpful — I would just show them where I was trying to go, and the staff person would point in the right direction.
To Rail Pass or not to Rail Pass?
Should you get the Japan Rail Pass? Only foreigners are allowed to get this pass, which for a one-time fee gives you unlimited rides on the Shinkansen (bullet train) and Japan Rail lines. If you are going to be taking long-distance trains between Kyoto and Tokyo or Hokkaido, for example, it could make a lot of sense.
We opted not to do it, however, since two of the towns we visited — Takayama and Kawaguchiko — involved bus travel. It didn't work out to be financially advantageous for us, just barely. We did, however, get the Tokyo metro pass, and I recommend the Hakone pass if you opt to go there.
If you do plan to take trains during the high season, it will probably make sense to get the JR pass and book your seats ahead of time. There are only a few cars on each train that are unreserved, which only worked out for us because we were there during low season. Book highway buses ahead of time as well, either in person at the station or online. I hadn't realized this was important — we were lucky to grab the last seats on our bus to Kawaguchiko, which would've been such a pain to have missed!
Also, be sure to have cash on hand. There are ATMs in most convenience stores and train stations. We found that the ticket machine did not take our foreign credit cards, but if we waited in line for in-person service, we could buy a train or bus ticket with a card. Many restaurants also prefer cash.
Language and other notes
Although I can read a bit of Japanese, thanks to my years studying Mandarin and the similarities between the two, I don't speak it beyond hello (konnichiwa) and thank you (arigato). Thanks to Felix, I learned that the word for "cute" is kawaii.
I found that people were always willing to try to communicate, though, since Japanese people are friendly and wonderful hosts. So I highly recommend downloading Japanese on Google Translate before you go. That way you can access it offline if you need to show somebody something or ask a question.
Also keep in mind that people bow as a sign of respect, a greeting, or thank you. Be sure to bow back, fully facing the person.
Japan is easily one of my favorite countries to explore because it's just so different from anywhere else on earth. You get the opportunity to travel back in time, to feel blasted to the future in the big cities, and the friendliness is incredible.
Note: Some links in this post are affiliate links to the hotels and activities that we participated in. Purchasing through these links supports us at no extra cost to you