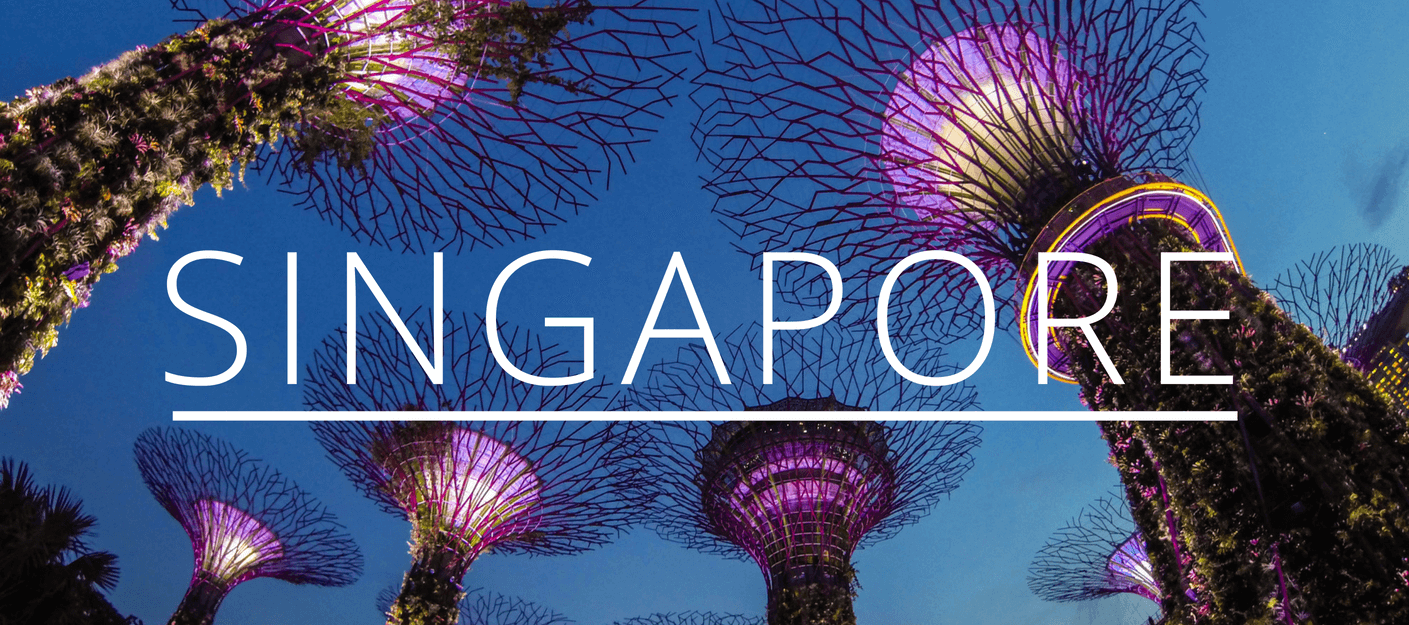 Singapore, known as the Little Red Dot, or the Lion City, is tiny but mighty. It is the smallest yet the most prosperous city in Southeast Asia. People speak excellent English, the streets are spotlessly clean, laws are strictly enforced, and the escalators go really fast! The living standards, average salary and currency strength have also earned Singapore a reputation of an expensive country to travel in, in comparison with its neighbors.
While that is true to a certain extent, if done right, Singapore can still be an affordable destination. Getting around using public transport, for example, is convenient and cheap. Eating street food is also a delicious and affordable way to get to know the country. As tiny as Singapore is, there are a ton of things to do and see. I was advised not to spend more than 3 days in Singapore, and ended up spending 6 and wanting more - the country is compact with attractions, sights and fun activities. Just the fact that the country is completely different from the rest of Southeast Asia makes Singapore an interesting and unique destination to be in. Goodbye tuk-tuks, and hello, skyscrapers.
Where in Singapore?

Singapore
Quick Tips
'Hello' and 'Thank You' in English: "Hello" and "Thank You" (while Malay is the national language, English is the most commonly used Language)
Currency:Singapore Dollar (click here for current conversion rates)
Visa: 90-day entry without a visa available for most nationalities
Safety rating:Ranked 7 on the Global Peace Index with a score of 1.35 (USA is ranked 128 with a score of 2.40)
Solo Travel Friendliness: Singapore is an excellent destination for solo women - laws are strictly enforced and people are highly respectful of personal boundaries
Climate:Hot and humid year-round. Rainy season lasts from November to January
Best SIM cards:StarHub and Singtel - cards can be purchased at the airport and major convenience stores
Modesty Considerations: Most temples and mosques require visitors to have their shoulders and knees covered
Random useful tip:At hawker or street food centers, placing a packet of tissue on empty tables is a Singaporean way of reserving a table. The gesture is called "Chope" among the locals. Try doing that to make sure you get a seat, and do not "steal" seats that are already reserved!
Accommodation
Low Budget Solo Travelers ($12 - $15): Unlike its neighbors, accommodation in Singapore is relatively costly – it is almost impossible to find a $5 dorm here. That said, most hostels in Singapore are squeaky clean, air-conditioned and well located. They also usually provide breakfast and offer excellent Wi-Fi. You will find most budget accommodations located in Bugis, Little India, and Chinatown.
Mid Budget Solo Travelers ($30 & up): Feeling fancy but still want to keep your budget for accommodation in check? Top up a little and you will find yourself in a beautifully decorated, pod-style hostel that offers more comfort and privacy than a regular dorm. A 3-star hotel room typically costs $70 - $120, whereas luxurious accommodations such as Marina Bay Sands and Raffles Hotel could easily cost $300 - $400 a night. Airbnbs and Couchsurfing are popular in Singapore as well.
Food
Local Food Spots ($5 - $10): Street food in Singapore takes variety to a whole new level. You will find yourself spoilt with choice in any local hawker centre, with stalls offering both local and international cuisine. My personal favourite are the carrot cake (with no carrot!) and Bak Kut Teh (pork ribs soup). Be sure to check out Maxwell Hawker Centre, Golden Mile Food Centre and Chinatown Complex Food Centre.
Cafes and Restaurants ($15 - $50): Café culture is very prominent in the Little Red Dot, with café-hopping being one of the most popular weekend activities among locals. Just be sure to make a reservation beforehand, otherwise you might find yourself waiting for an hour for a table. As for restaurants, seafood is a Singapore specialty. Indulge on one night and try out the infamous Chili Crab. A typical meal in a restaurant could cost anything from $30 to a kidney.
Transportation
Getting There: The only airport in Singpaore is Changi International Airport. Just like the rest of Singapore, the airport is small but mighty. It is one of the main airhubs of Southeast Asia, and direct flights are available from the UK, the US, Australia, New Zealand, South Africa, and the entire Southeast Asia. Crossing borders overland is possible through Malaysia, though you'd want to avoid peak hours as there are thousands of Malaysians crossing over for work on a daily basis.
Getting Around: BMW is the way to get around in Singapore – Buses, MRT, Walk! Public transportation is excellent and cheap, making it super easy to get around. For instance, you can get from Changi Airport to Orchard by MRT for about $1. Local buses are air-conditioned and clean, and they are a fun way to get around town the local way. It is also safe to walk around Singapore, with (mostly) shaded footpaths, crosswalks, and bridges everywhere. Just make sure to get yourself an Ezlink card that can be used for both trains and buses at a lower price.
Other transportation options include local taxis, Uber and Grab.
Things To Do
Stay in Touch with Nature: Visit the Gardens by the Bay (make sure to stay for the Grove Light show at the Supertrees in the evening!), Botanist Garden, Bukit Timah Nature Reserve and MacRitchie Reservoir Park. Who says Singapore is only a concrete jungle?
Get Cultured: Check out the beautiful National Gallery Singapore, Singapore Art Science Musuem and National Musuem of Singapore. They are well constructed and interactive, and overall a wonderful way to get to know The Little Red Dot's history and culture. If you are a bookworm like me, make sure to squeeze in some time for the beautiful library@Orchard.
Get Wild with Animals and/or Roller Coasters: If you are interested in some thrilling fun, check out Singapore Night Safari and Universal Studio Singapore. It's best to go in a group so make sure to say hi to your dorm mates and organize a trip together.
The Night is Always Young: There are plenty of gorgeous bars, pubs and clubs in Singapore. Make sure to experience The Singapore Sling, a signature drink unique to the country, at one of the many roof top bars such as Ku De Ta, Loof and 1-Altitude. Ready to dance til dawn? Hit Club Street, Zouk and Attica. One thing to note is that alcohol in Singapore is a lot more expensive than its neighbor so take note of the happy hours!
Be Amazed by Singapore Architecture: During my visit, I was really impressed by how well Singapore conserve some of its architecture heritage. Amongst the modern skyscrapper, take a stroll around Tiong Bahru, Haji Lane and Joo Chia and you will find yourself surrounded by buildings with history well preserved (also, perfect for that Instagram shot!)
Apps To Download
SG Busleh (public bus tracker), Maps Me, The Entertainer (for coupons and special discounts)