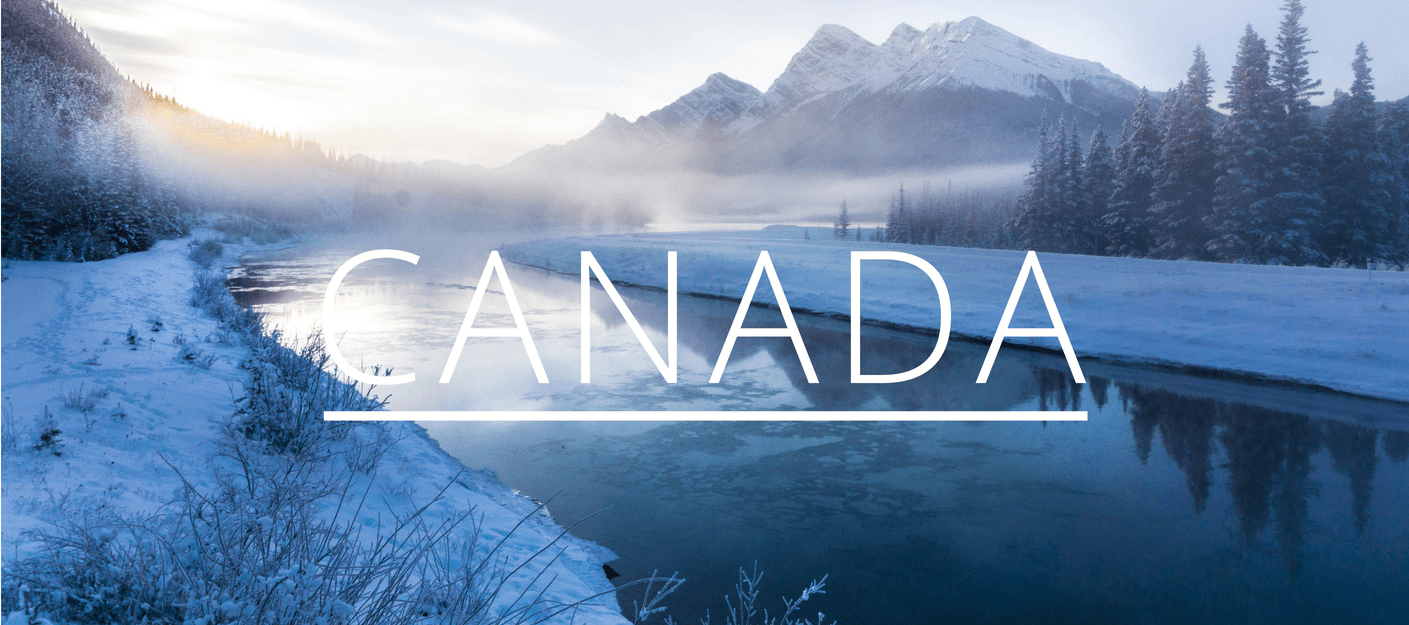 Oh Canada, how I love your gorgeous national and provincial parks, your wide-open spaces, and lovely skies full of northern lights and sunshine. Canada, the world's second largest country, is also one of the safest countries to travel in. The locals are deserving of their friendly reputation, and the landscape is equally deserving of its Instagram fame.
Perfect for a road trip, ski trip, or exploration of some of the northern areas where animals like belugas and polar bears hang out, Canada is so massive, it would take a lifetime just to get to know one corner of it well. Regardless, I'll still keep trying to see more and more of it. From coast to coast, Canada has mountains, plains, great lakes, tundra, and enchanting islands. Regardless of the time of year, there's something awesome to do in Canada.
Where in Canada?

Canada
Watch my vlogs from Canada
Quick Tips
'Hello' and 'Thank You' in French

: English is the official language of Canada, while 22% of the Canadian population speak French - "Bonjour" and "Merci"

Currency

: Canadian Dollar (

click here

for current conversion rates)

Visa: 6-month entry without a visa for all European countries, Australia, the Bahamas, Barbados, Brunei, Chile, Israel, Japan, Mexico, New Zealand, Papua New Guinea, Samoa, Singapore, Solomon Islands South Korea, Taiwan, and UAE, and US. Electronic Travel Authorization (eTA) is required for all visa exempt travelers except Americans (click here for more info).
Safety rating

: Ranked 6 on the

Global Peace Index

with a score of 1.33 (USA is ranked 128 with a score of 2.40), meaning Canada is one of the safest countries in the world

Solo Travel Friendliness

: Canada is a wonderful country filled with equally wonderful people, making it a carefree place to travel solo. Solo travelers can enjoy the cosmopolitan cities, countrysides with breathtaking scenery, and incredible outdoor adventures, and it's easy to meet other solo travelers or strike up a conversation with the locals. They deserve their friendly reputation!

Climate

: Summer can have periods of relatively hot and dry conditions (mid 80's or higher maximum temperature) in the southern prairie provinces, with similar heat but humid in southern Ontario and Quebec further east, and mild on the coasts; winter in interior prairie provinces, northern Quebec and Ontario, and in the mountains gets as cold as -40°F

Best SIM cards

: Rogers - cards can be purchased online, at the airport, or in their authorized shops. Bring your passport

Random useful tip

: Canada is the second largest country in the world, making it an awesome country to do an extended road trip in
Accommodation
Budget Solo Travelers ($10 - $25): Travelers on a shoestring budget can camp at both government-run and private campgrounds throughout the country. Campgrounds tend to get busy from July – August, and it is advisable to book in advance or show up as early as possible. Expect to pay about $10 for a night, though in most wilderness areas you can camp anywhere you please for free. Dorms cost about $15 - $20 in most parts of the country, and about $5 more in major cities like Vancouver and Toronto. If you are planning on staying exclusively in hostels, consider signing up for a HI Network membership to receive discounts and better deals.
Mid-Range Solo Travelers ($35 and up): A hostel private room costs about $35 - $40. The most budget-friendly hotels will set you back about $70 for a private double, with basic amenities and minimum facilities. Some budget hotels offer weekly rates that could be much cheaper. Airbnbs cost about $30 for a decent private room, and about $80 for an entire unit.
Other Accommodation Options: If you are interested in a unique accommodation experience, many farms in the west double as B&Bs. Expect to pay about $100 with meals and some activities included. Not only do you get to mingle with the hosts and know the farming life better, but you can also work on the farm if you want.
Transportation
Getting There: The main international airports are Toronto Pearson International Airport, Montréal–Pierre Elliott Trudeau International Airport, and Vancouver International Airport. Direct flights are available from the US, the UK, most parts of Europe, Australia, New Zealand, and South Africa. Most US travelers drive into Canada, whereas buses, ferries and trains are also available for border crossings.
Getting Around: Most major cities have decent public transportation networks, and buses and trains are reliable and affordable. Bike rentals are widely available, and many major city roads are bike-friendly with designated path for cyclists. Uber is available as well in most major cities. Outside of the major metro areas, public transportation is scarce. The most convenient way to get around is to rent a car.  
Inter-city Traveling: Greyhound Canada is the main long-distance bus company that offers frequent departures and extensive route coverage throughout the country. Booking tickets in advance will help secure a seat, especially during the peak season. Sometimes the website offers discounts for booking in advance as well. To travel between Montreal, Toronto, and Vancouver, VIA Rail offers train rides with gorgeous scenery along the way. Renting a car or even better, a campervan, is another great way to get around the country.
Food
Grocery Shop & Cook Your Own Food ($5 - $10): To save money, you can buy your own groceries at local supermarkets and cook your own meals. Most dorms and campgrounds have kitchen facilities. Expect a week's worth of groceries to cost about $50 - $60.
Restaurants, Cafes & Bars ($10 - $30): For breakfast, check out the local cafes and coffee shops – while they cost about $10 - $15 for a full meal with drinks, they are huge in portion with great variety, and are often a good value for the money. Many restaurants offer lunch specials at about $10 - $15, though if you are still full from the big breakfast, there are also plenty of sandwich shops for a quick bite. Since Canada is so ethnically diverse, international restaurants serve all kinds of food including Chinese, Vietnamese, Japanese, and Italian cuisine. Food is also served at most Canadian bars. Local beer costs about $3 - $5 – look out for microbreweries.
Things to Do
Hang Out With Whales And Polar Bears: Head to Churchill, Manitoba, known as the "Polar Bear Capital of the World", hook yourself up with a reputable company (I went with Lazy Bear Expeditions), and be ready to see the cute yet deadly polar bears, and the equally adorable beluga whales. For whale watching, there are different ways to do it – you can take a boat out and watch them as they get closer, or kayak your way out as they swim toward you (a curious and friendly bunch, these guys!), or even snorkel with them.
Visit Nopiming Provincial Park: Camping at Nopiming Provincial Park almost felt like camping at a secret spot – there are no humming motors of RVs, no selfie sticks, and no shower queues. You could take a canoe out and paddle your day away, or swim in the refreshing water. The sunrise is beautiful, the starry night sky even better, and if you are in luck, you might even see the northern lights. This is a place that will remind you how simple and easy joy can be obtained.
Ski In Banff: Banff offers excellent trails that are perfect for skiing. The main ski areas are Sunshine Village, Lake Louise Ski Resort, and Mount Norquay. If skiing is not for you, you can also go snowshoeing, tubing, ice-climbing, and even caving! There's a ton to do in and around that area, and while it could get a bit crowded during the summer, it is definitely worth visiting in the slower winter months!
Take A Road Trip: I know this is my 3rd time mentioning this, but Canada is seriously such an amazing country to do a road trip in. With a car or a campervan, you can see the countryside, the beautiful hills, and many other places off the tourist radar. Whether solo or with a buddy, road tripping and camping is a great way to explore Canada.
Niagara Falls: The falls can be seen from all kinds of angles and vantage points – there are boats, helicopters, cable cars, viewing towers, and even a tunnel tucked behind the cascade. It is one of the most visited tourist attractions in the world, and the area is very touristy, but it should not stop you from visiting the massive falls that send water rushing down from 173-183' high.
See the Sea Walls Churchill Murals: Organized by the PangeaSeed Foundation's Sea Walls project and Winnipeg artist, Kal Barteski, several muralists from around the world joined forces in the small town and created 18 large-scale murals that promote ocean conservation not only in Churchill, but also worldwide. The beautiful murals in Churchill give travelers another reason beyond the belugas and polar bears to explore Churchill. My personal favorite was Miss Piggy!
Apps to download 
NavigonCanada (for offline navigation)
Canada on @BeMyTravelMuse's Instagram