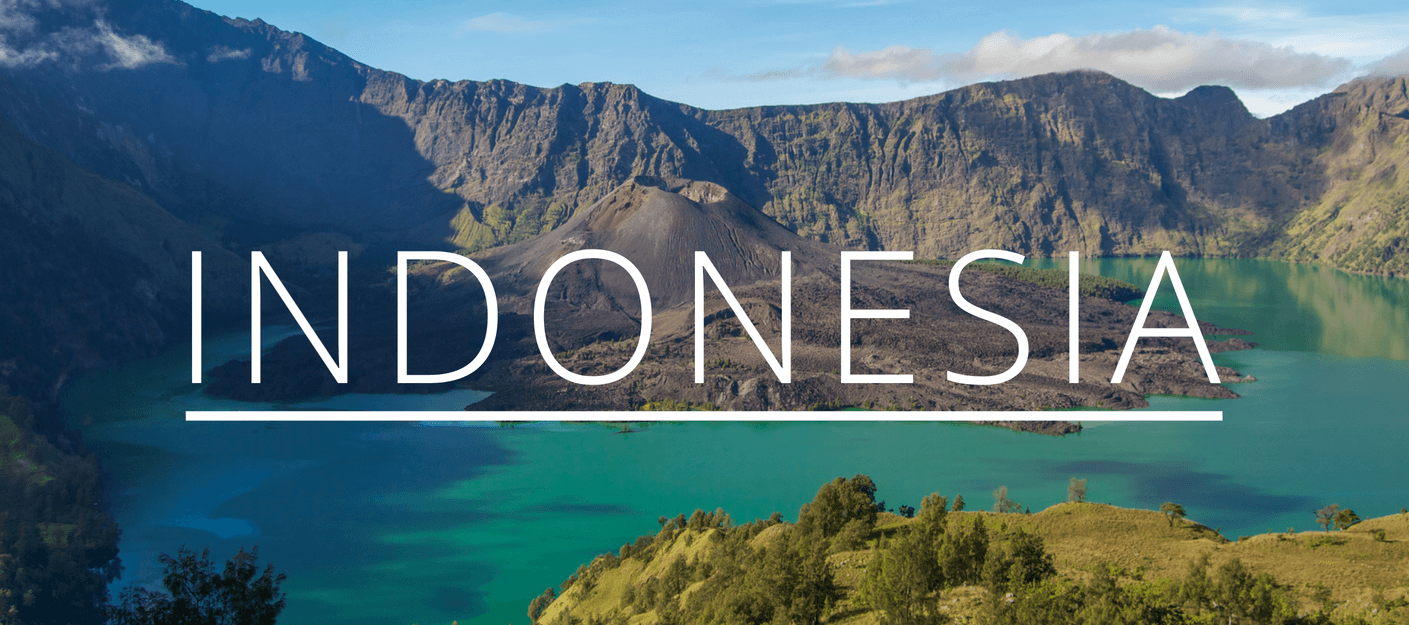 When most people picture Indonesia, their mind immediately goes to the famous island of Bali. While worthwhile to visit, the rest of the island nation has some of the most interesting and varied landscapes, cultures, and cuisines in all of Southeast Asia. From the jungles of Sumatra, to the underwater rainbow of Komodo and all of the islands in between, around, and besides them, one could easily travel this archipelago for years.
Indonesia is an outdoorsy person's dream. It's the land of beautiful beaches, volcano treks, world-class scuba diving and snorkeling, excellent waves for surfing, plus, it's home to one of the rarest creatures on earth - the Orangutan.
Though Indonesia gets tons of tourism, it mainly flocks to Bali. Head to some of the lesser-known areas, particularly taking local transport and without a tour, and you'll find you're the only tourist around. Bahasha is also a pretty easy language to pick up, and the longer you spend amongst locals and learning various words, the more immersed you can become. Moreover, the food in Indonesia is delicious. In Sumatra, it involves tons of avocados and passion fruit, in Bali, there's a cuisine all its own, and in the other islands, prepare for delicious tempeh and cashews, soups galore, and gado gado, which is peanut sauce over vegetables.
Where in Indonesia?

Indonesia
Quick Tips
'Hello' and 'Thank You' in Indonesian: "Halo" though "Apa Khabar" (how are you) is much more commonly used as a greeting, and "Terima kasih"
Currency: Indonesian Rupiah (click here for current conversion rates)
Visa: 30 day visa-on-arrival available for most nationalities (click here for more info)
Safety rating: Ranked 41 on the Global Peace Index with a score of 1.79 (USA is ranked 128 with a score of 2.40)
Solo Travel Friendliness: Personally, I dealt with catcalling and scamming in some parts of Indonesia, and had moments when I felt less than comfortable. However, in other places, I was moved by the sincerity and kindness of the locals. My advice is to be mindful always, and trust your instincts
Climate: Hot and humid year-round. Rainy season lasts from November to March
Best SIM cards: 3 is very cheap and works in major cities in Java and Sumatra, Telkomsel works best on the islands
Modesty Considerations: In most of Indonesia, with the exception of Bali which is Hindu, women will have their shoulders, knees, and usually heads covered. Short shorts and tank tops are not recommended here for women
Random useful tip: The language (especially accent), cuisine, religion, and culture changes wildly from island to island
Accommodation
Low Budget Traveler ($5 - $15): Cost of accommodation varies across the country, and there are fewer dorms available in Indonesia as compared to countries that are more firmly on the banana pancake trail. That said, you can still find hostels and homestays that are cheap and basic. Expect to pay around $5 - $10 for a bed in less visited areas like Bukit Lawang and Sumatra, and $10 - $15 in popular areas like Bali and Java.
Mid Budget Traveler ($15 - $30): Single rooms are uncommon so if you are a solo traveler seeking privacy, expect to pay the price for two for a private room, though some hotels may charge you 75% of the full price if you are the only occupant. In some areas on the islands, you can get a basic chalet for around the same price range. Airbnbs are widespread in Indonesia, expect to pay about $10 for a private room, and about $25 for an entire unit. In the rural areas, with permission from the local authorities, you can stay with locals in a village for a small fee (there's often no fixed price, and the hosting family cooks and shares meals with you).
Food
Local Food Spots ($1 - $5): I love to eat at a warung (directly translated as "little store") filled with locals, where you can order a full meal with less than $1. Indonesian food is delicious and cheap so eat out as much as you can. Some of my personal favorites are Soto Ayam (chicken noodle soup), Sate (grilled meat on a stick), and nasi campur (rice with various dishes). If you are in Indonesia during the fasting month, or Ramadan, (normally during mid-year), keep a lookout for Ramadan bazaars, where the locals sell food, snacks, cakes, drinks and more in a market after sundown.
Cafes & Restaurants ($5 - $10): A meal at a mid-range restaurant will cost about $5, typically serving the same type of food you can get from warungs, but with better quality ingredients and fancier drinks. In Bali, the vegan culture is very prominent, and you can find affordable vegan cafes dotted along the streets of Bali, with a big bowl of salad and a huge glass of smoothie costing less than $7. There are also high end restaurants, normally located in hotels and beachfront, that cost $10 and up for a meal. A large Bintang beer costs about $2.
Transportation
Getting There: The main international airports are Sukarno-Hatta Airport at Jakarta, and Ngurah Rai Airport at Bali. Various direct flights are available from Australia and most parts of Southeast Asia. Ferries are also available from Malaysia and Singapore.
Getting Around Town: When in Indonesia, make sure to install the Go-Jek application on your phone. It is a local company that provides bike and car taxi services on an app, and beyond that, you can even order food, delivery services, massages and more from the same app. Taking the local bus is also incredibly cheap and for some reason, I did not see any other tourists on them. You can also rent a bike from shops and hostels, which in my opinion is the best way to get around as you can stop whenever you want to admire the beautiful rice fields or to say 'hello' to the locals.
Inter-city Traveling: Indonesia is huge, and traveling from one city to another can be expensive and time-consuming, if you do not plan wisely. Plan your routes ahead so you don't end up going back and forth and wasting money. I learnt it the hard way when traveling from Sumatra to Flores. Buses and trains are comfortable and affordable, so are domestic flights if booked ahead. Traveling between the islands can be cheap if you follow the locals and take the local boats, sometimes costing as low as $0.5 to get from one island to another. 
Things to Do
Climb Mount Bromo: This volcano sits at the Eastern end of Java between Surabaya and Yogyakarta and is quite often lumped in as part of a tour heading out of one of those two cities. The view is gorgeous, the trek fun and completely doable, and you can go really close to the volcano itself. It is possible to do climb Bromo independently without a guide.
Visit Borobudur: This UNESCO World Heritage Site is the world's largest Buddhist temple. I have not been there myself, but based on what I've read, it is a place not to be missed. The best time to go is in the early morning, which requires you to wake up at 3am so that you will be able to watch the sunrise. You can get a free tour from local students looking to practice their English.
Learn to surf: If you mention the name Indonesia anywhere in the world, you will more than likely excitedly be told about the incredible waves and how much of a surfing paradise it is. Specifically, Bali is the perfect location for any adventurous soul hoping to learn to surf. Click on the link for a detailed guide on where to surf in Bali.
Chill on the Gili Islands: There are a total of 3 islands that make up the Gili Islands. Gili Trawangan is the largest of the 3, it is more established and overall a good party island; Gili Meno is the complete opposite, with very little party and very much the perfect place to chill; Gili Air is a little bit in between the two. The best part is all 3 islands are within minutes' reach from each other.
Trek Kawah Ijen: This was one of the most brilliant parts of my trip in Indonesia. The volcano itself is absolutely stunning - and do not miss the blue flames! It is totally worth it to leave your guesthouse at 1am to catch the sunrise. Here's how you can do it independently without a tour.
See the Orangutans in Bukit Lawang: There are many reasons to like Bukit Lawang. It is a place where everyone knows your name, where people arrive intending to stay for a few days and end up making it their home for a year. The cherry on top? You get to see the magnificent (yet adorable, how do they do it?!) Orangutans and gibbons in the jungle of Bukit Lawang.
Climb Mount Rinjani: If you are looking for an advanced trek, look no further than Mount Rinjani. I took on a 3D2N trek and it got more and more challenging by the day – even the local guides put on real shoes! But, it is one of my favorite treks ever and the views were worth everything.
See the Dragons and Dive in Komodo Islands: Visit the Komodo National Park and hang out with the komodo dragons. They are huge, swim real fast, and their saliva is venomous so keep a safe distance – your guide will not let you get too close anyway. I also did a live-abroad 6 day diving trip in the Komodo Islands and it was one of the best dive trips of my life – a manta ray came up real close, almost touching me.
Apps to Download
GO-JEK (transportation, food delivery, and door-to-door massage hub), Traveloka (Indonesian version of Skyscanner)