If you enjoy art museums, interactive science museums, pretty lights, music, or the pleasing effect of symmetry, teamLab Planets in Tokyo delivers.
teamLab is a consortium of artists, programmers, engineers, CG animators, mathematicians, architects and graphic designers. They pool their talents to create interactive works of magic straddling the line between the beautiful, the captivating, and the technology needed to create it.
I visited in February 2023, and these are my best tips for getting the most out of it:
Buy Tickets Ahead of Time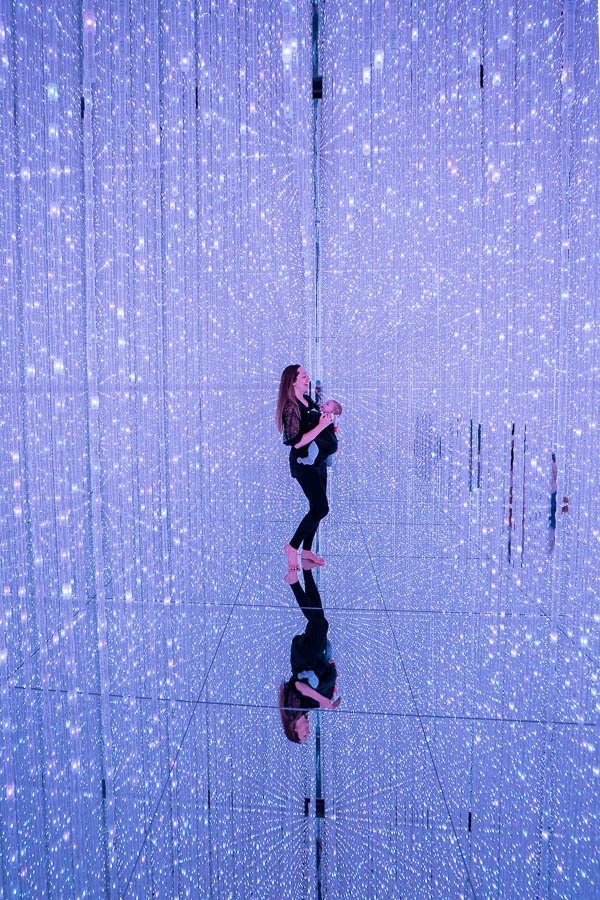 Word has gotten out about how amazing this place is and like most famous works of art, it is popular. In most cases, you'll need to buy tickets ahead of time or risk them being sold out on the day that you want to go.
These tickets also allowed us to skip the (long) line to get in. Tickets cost ¥3200 per person and can be purchased here.
Budget Lots of Time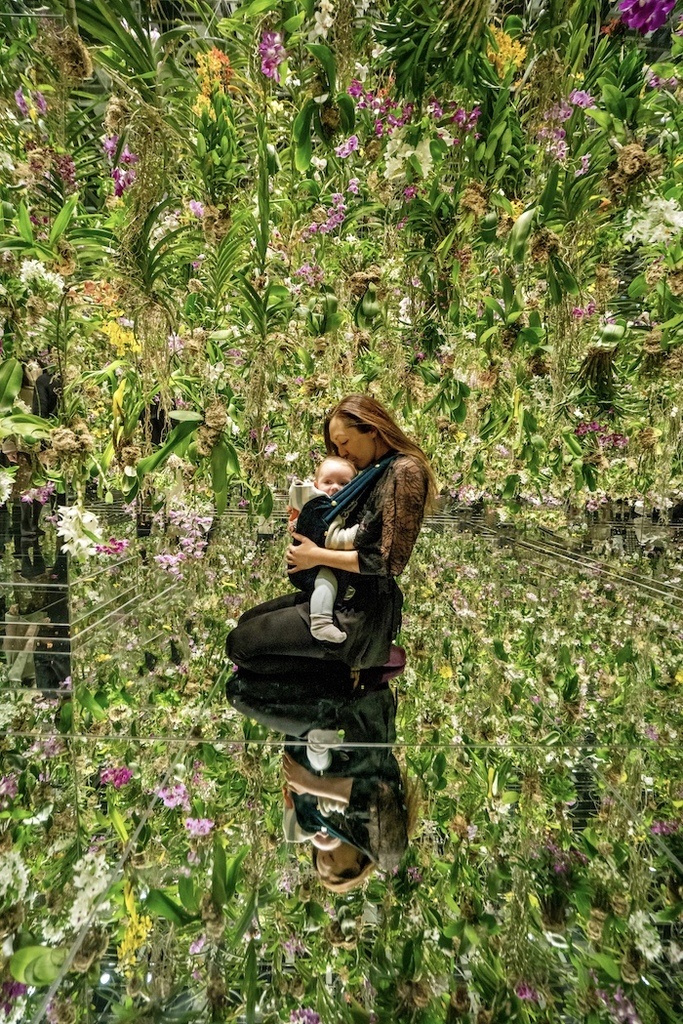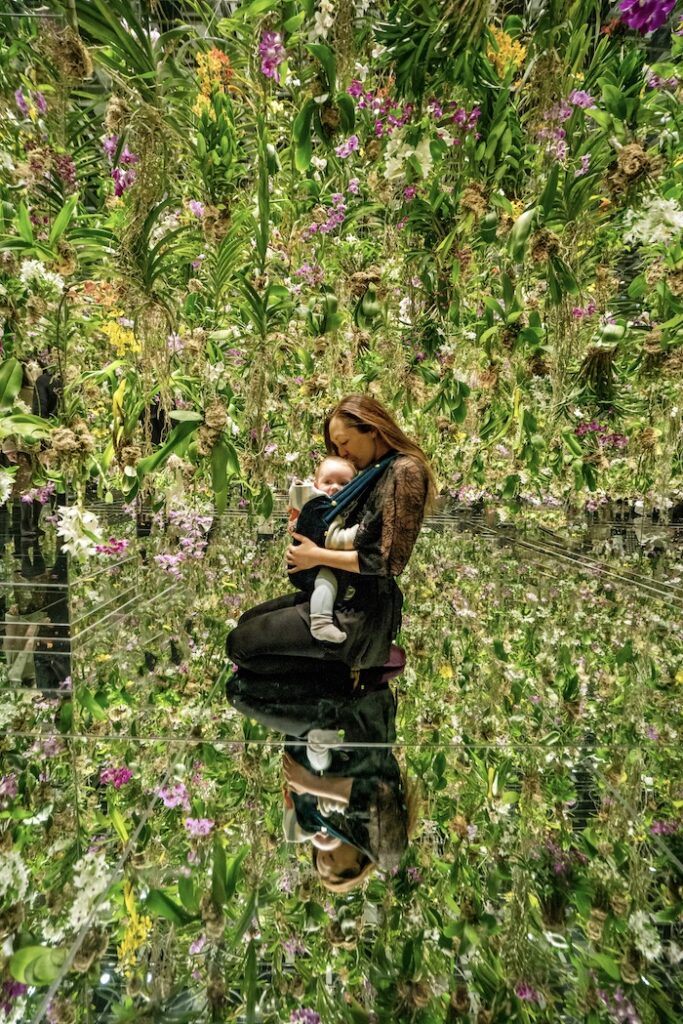 I spent about three hours exploring the exhibits at teamLab. Each room constantly changes and might be a completely different experience at one time of day than another. Part of this is because of who might be in there and how you might interact, and how the colors and sounds change in each room.
Whether you go in early, right after it opens, or later in the afternoon, allow yourself at least a few hours to see all of the exhibits and to not feel rushed.
As of now opening times are:
Mon-Fri 9:00 – 21:00
Saturday, Sunday, and holidays 9:00 – 22:00
* Last Entrance one hour before the closing time.
[July/August]
All days 9:00 – 22:00
* Last Entrance one hour before the closing time.
Vegan Ramen UZU Tokyo
teamLab Flower Shop & Art
[May/June]
Monday – Friday 11:00 – 19:00
Saturday, Sunday, Holidays 10:30 – 19:00
[July/August]
All days 10:30 – 19:00
Go During Dinnertime
Many of the famous photos that you might have seen of teamLab Borderless with only one or two people in the photo were taken by teamLab itself. Make peace with the fact that there will be people in your photos.
That said, I've found dinnertime to be the best time to go. If you enter around 7pm and stay until 10pm, you'll have three of the least crowded hours to explore and enjoy. The closer you get to closing the fewer people you'll have to contend with.

When we visited in February, we started at 4:30pm. Our first journey through was pretty crowded, but the second round was MUCH less so. By the time we left around 7:30pm, the line was totally gone. Opting for those later three hours would be the best approach.
Although you will probably be exploring with other people, I found that Japanese culture is polite and not pushy, which made it a more pleasant experience.
teamLab also encourages seeing other people as part of the art. In an interview with designboom, they say that unlike in a traditional museum where being alone is a blessing, in Borderless you may pay more attention to the action of the viewer next to you, since the art is interactive, than you would looking at a traditional painting. teamLab wants visitors to experience the art together and to interact with it both individually and as a group. They view this as an important unifying factor both of art and of the effect of people living in cities. If only there were interactive art all over the subways and crowded streets, perhaps we play with each other a bit more!
Also, make sure you eat beforehand. The vegan ramen place at teamLab isn't bad, but it's not the best ramen I've ever had, either.
You're not allowed to bring any water with you when you explore the exhibit, so make sure you hydrate before you go!
Get familiar with the exhibits so that you don't miss anything:
In the video above, I take you through each room and each sensory experience. Unlike the now-closed teamLab Borderless, which had rooms to explore in every which direction, teamLab Planets is set up more like a loop with a clear order and two distinct sides. Below I've listed each place so that you can make sure you don't miss anything!
Waterfall of Light Particles at the Top of an Incline: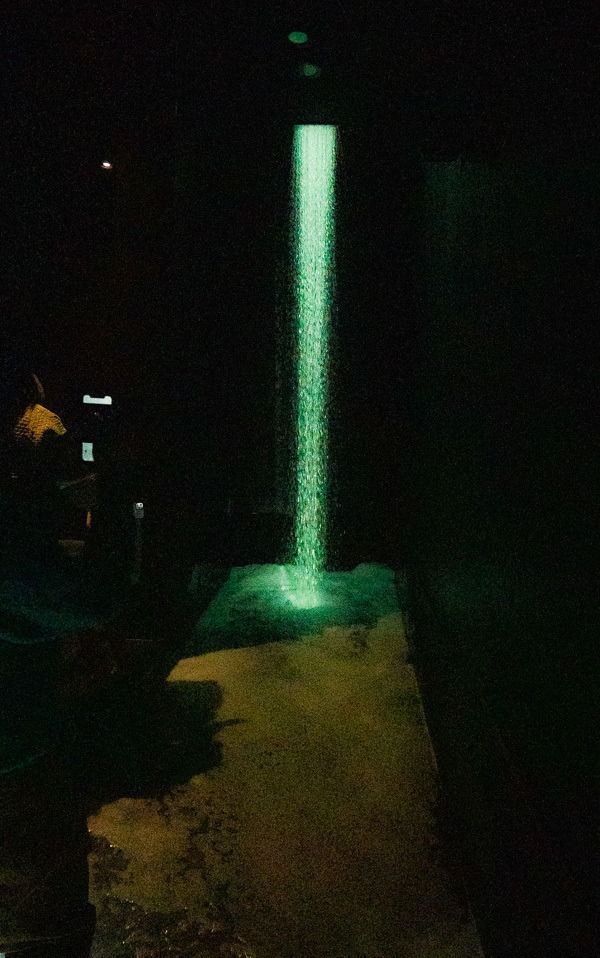 Before you begin, you'll remove your shoes and put everything into a locker. Since this teamLab has many water exhibits, which are unavoidable, you'll be experiencing everything barefoot. It's best if you wear shorts or pants that are easily rolled up.
The experience begins walking up an inclined, dark pathway with an illuminated waterfall at the end that is based on a natural waterfall in the mountains of Shikoku.
Soft Black Hole – Your Body Becomes a Space that Influences Another Body
Next you'll pass through a room best described as a giant, lumpy mattress. Garrett describes it as trying to walk on big lumpy marshmallows with everyone around you also impacting your ability to stay upright with their movements. If you need to bypass this room for any reason (I did since I was wearing my baby), there's a corridor to the right.
The Infinite Crystal Universe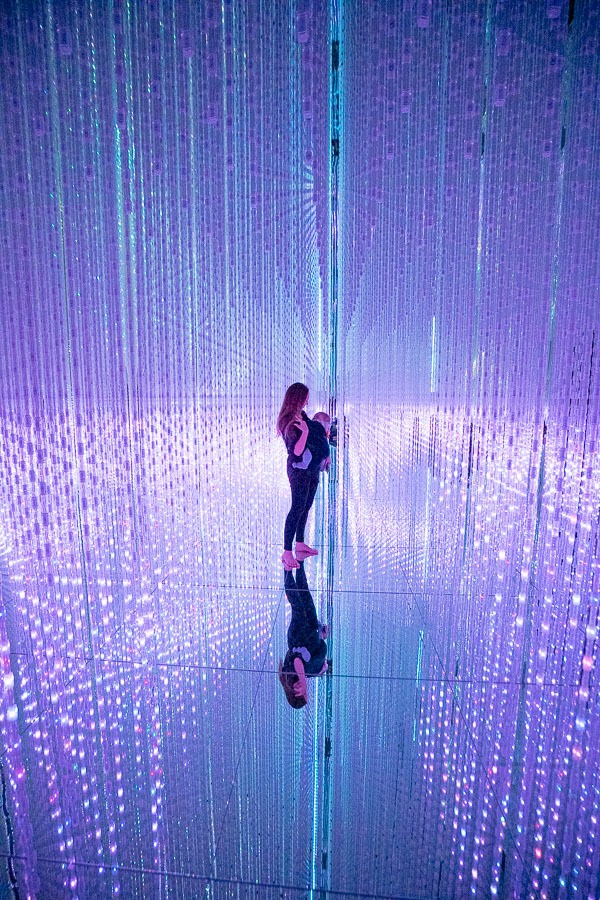 This is one of the most popular exhibits and always a favorite of mine. You'll see it repeated in other teamLab exhibits as well since it's so well done and photogenic.
The lights are synced to music and will fade and change colors in dramatic fashion. It's a little bit of a maze walking through, with several corners that can be great for photos. The walls and floors are all mirrored as well, reflecting everything even more.
Note this is a reason I don't suggest wearing a skirt to teamLab.
Expanding Three-Dimensional Existence in Transforming Space – Flattening 3 Colors and 9 Blurred Colors, Free Floating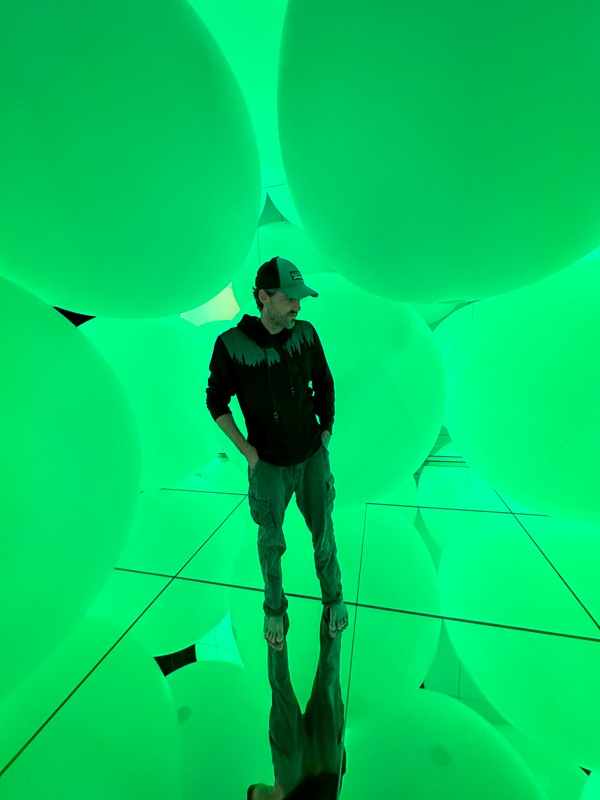 This room is best described as big, giant floating balloons that you can push up and around the room. They change colors based on touch and are also reflected by a mirrored floor.
*Note that this room is currently closed due to the helium shortage.
Floating in the Falling Universe of Flowers
This next room displays flowers as they go through their life cycle on the ceiling.
According to teamLab, "Flowers grow, bud, bloom, and in time, the petals fall, and the flowers wither and die. The cycle of birth and death continues for perpetuity. The artwork is not a pre-recorded image that is played back; it is created by a computer program that continuously renders the artwork in real time. As a whole, it is continuously changing, and previous visual states are never replicated. The universe at this moment in time can never be seen again."
Most people enjoy it by laying on the ground to watch.
Drawing on the Water Surface Created by the Dance of Koi and People – Infinity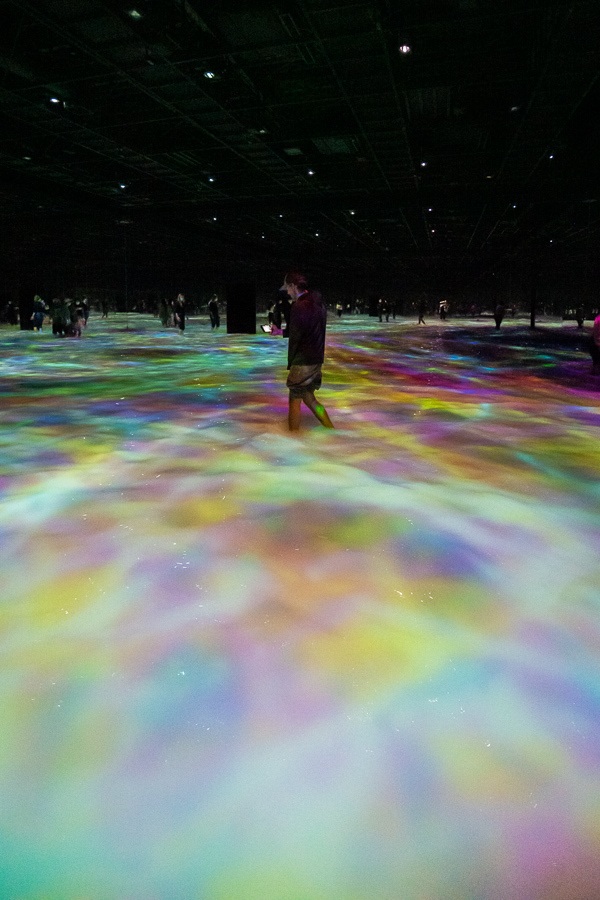 This is another one of the famous and most photographed rooms in teamLab Planets. You'll go from the otherwise dry exhibits back into the water world, walking through a wet corridor into this room with warm water up to the calves.
The Koi fish that are projected onto the water will burst into flowers as they collide with people and each other. Like the previous exhibit, no experience in this room is pre-recorded or will ever be exactly the same. I loved going through here for the second time and having it almost to ourselves for a while!
After this you'll have the opportunity to dry off before heading back to the lockers where you can put your socks on for the garden area.
Moss Garden of Resonating Microcosms – Solidified Light Color, Sunrise and Sunset:
This is the only part of the exhibit that is 'outside' in a way, with an open ceiling. This means your experience in the garden will be greatly influenced by time of day. We didn't see it until it was dark out, so the potato-shaped bulbs, called ovoids, were all illuminated.
When pushed down by a person or blown by the wind, the ovoid falls back and then rises, releasing a resonating tone. The ovoids around it also respond one after another, continuing to resonate with the same tone.
Floating Flower Garden: Flowers and I are of the Same Root, the Garden and I are One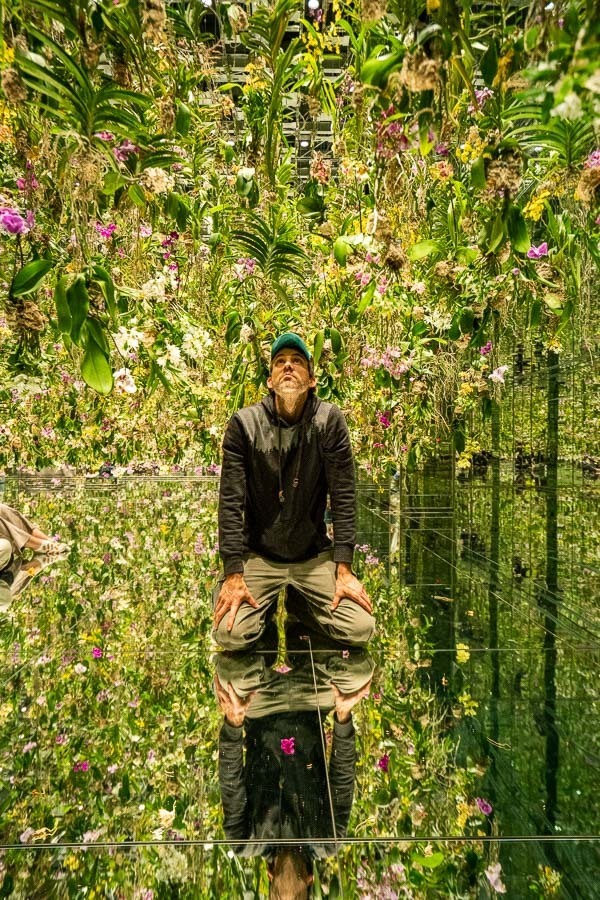 This is the other exhibit that made teamLab Planets famous. The flowers are real orchids that rise and fall in a room constructed of mirrored walls and floors. Orchids are one of few flower species that are able to grow in the air, so they are growing, blooming, and very much alive!
This room has a max capacity and cycles people in and out, meaning you can't spend as long in this room as the others. During peak times, the line can be considerable.
Put any Big Bags in Lockers and Leave your Tripods at Home
As you go through the exhibits it will become clear why they don't want tripods, selfie sticks or big backpacks – some of them have narrow areas and for some you'll be climbing, jumping, and walking through hanging lights.
Getting There
teamLab Planets is right by Shin-Toyosu Station, on the Yurikamome Line. From Shinjuku Station, take the Shinjuku Line to Ichigaya Station, then switch to the Yurakucho Line train — you can get off at Toyosu Station, from there it's a 10-minute walk; or catch the Yurikamome Line one stop over to Shin-Toyosu Station.
I hope this helps you to have a fabulous experience at teamLab Planets!
Read Next
The Perfect 2 Week Japan Itinerary