Tell me, what did your family vacations look like when you were growing up?
Mine consisted of beaches, hiking, and Yosemite. I grew up in a utopia also known as California, where the weather is fine nearly all of the time, the coast stretches for 16 hours by car from the border of Mexico to the border of Oregon, constantly changing along the way, and the mountains came along to play too, just to round things out as the most perfect place to grow up. I have a bit of hometown pride, can you tell?
California has inspired countless poets, musicians, and writers. One of my favorites is Jack Kerouac, particularly in Dharma Bums, who spoke of California in the most enchanting run-on sentences I've ever read as he vagabonded across the state. Quotes from his books perfectly illustrate the quintessential California road trip:
*Note, it's more popular to go from north to south on this route because you'll be in the lane directly next to the coast and have better views. If you're able, reverse this trip. If you live in SoCal like I do, then this direction is great, too.
First, a check list
Ready? Let's go:
Los Angeles
Dean's California–wild, sweaty, important, the land of lonely and exiled and eccentric lovers come to forgather like birds, and the land where everybody somehow looked like broken-down, handsome, decadent movie actors. –On the Road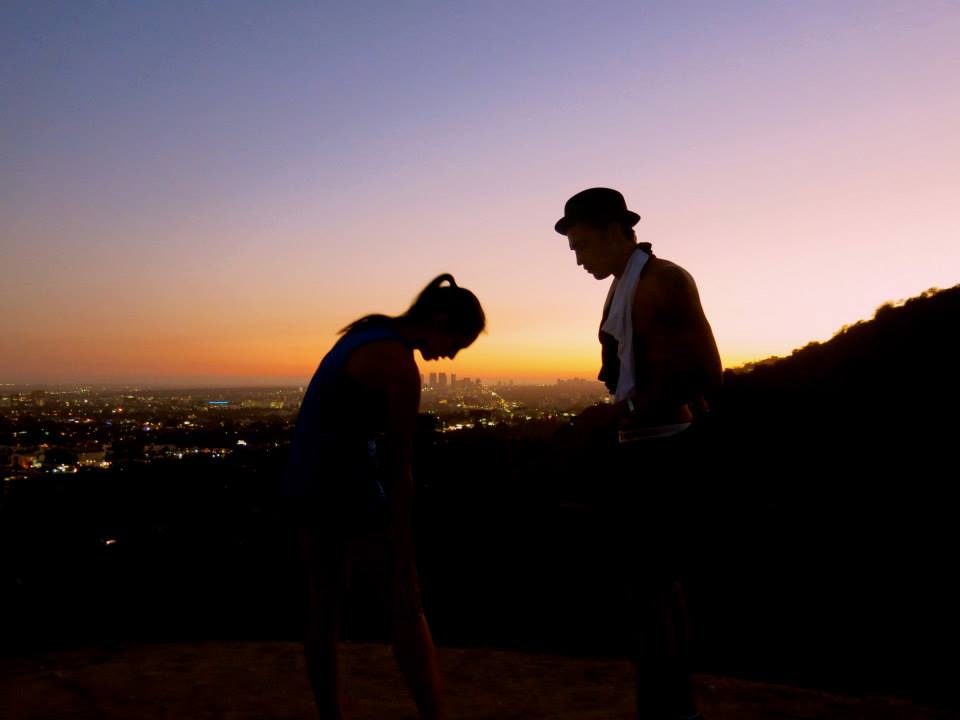 Here's a travesty – I had never done a road trip up California's Pacific Coast Highway (AKA Highway 1, but locals call it PCH). I've lived along bits of it for most of my adulthood and as a young child, but never actually drove it up to San Francisco. Mom and I decided to change that this summer when I came back for a visit. The starting point was L.A. (though you could start in sunny San Diego which is about two hours south), with plans to make it to Santa Barbara, where I went to college, by mid-afternoon.
El Capitan Campgrounds, Santa Barbara
Happy. Just in my swim shorts, barefooted, wild-haired, in the red fire dark, singing, swigging wine, spitting, jumping, running—that's the way to live. All alone and free in the soft sands of the beach by the sigh of the sea out there – Dharma Bums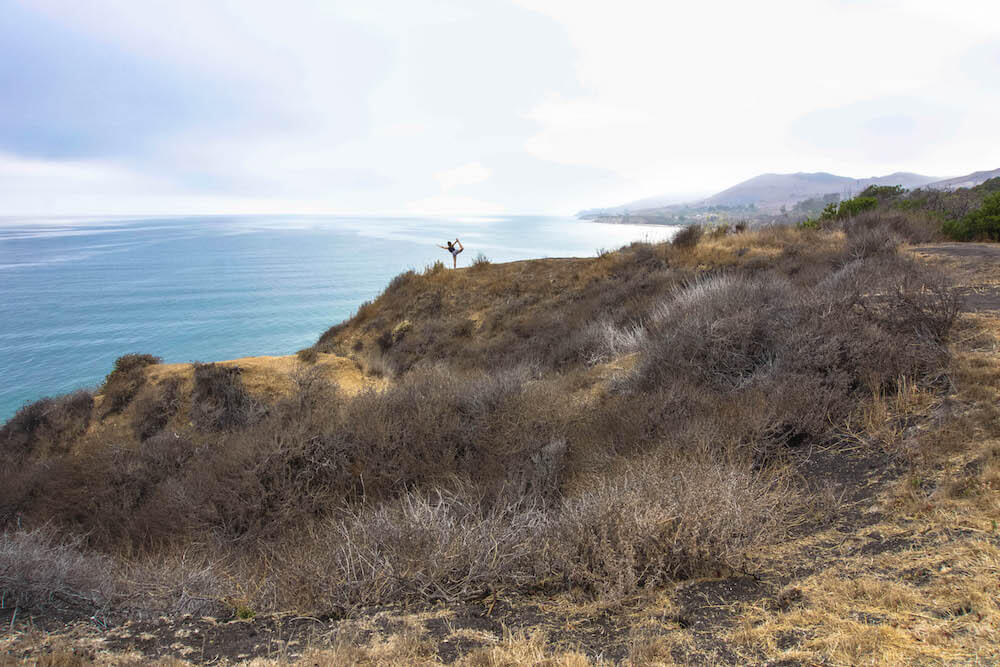 I got goosebumps when I read this quote about the Santa Barbara coast while sitting half a world away on Tonsai beach in Thailand. I felt exactly what Jack was talking about as he referenced the place where I went to university, came into my own, and realized what I wanted out of life. It was never clearer to me than when I was sitting on those quiet beaches outside of Santa Barbara, looking up at the stars, listening to the gentle roll of the waves, and thanking the universe for creating such a beautiful place.
Jack was speaking of Gaviota State Beach, which is just a few campsites over from El Capitan, a favorite of mine located just north of Santa Barbara on PCH. The campgrounds are located directly on cliffs overlooking the ocean, and every single time I've looked out at the horizon, I've seen dolphins within minutes. That is not hyperbole. Every single time!
Once you leave El Capitan for the next day's drive, there are tons of places worth stopping by on the way up to Big Sur, and they only get more spectacular as you make your way north. The Morro Bay rock is one, and as you make your way up through San Simeon you'll see more and more lovely views which almost always have space for pulling off the road for a quick photo: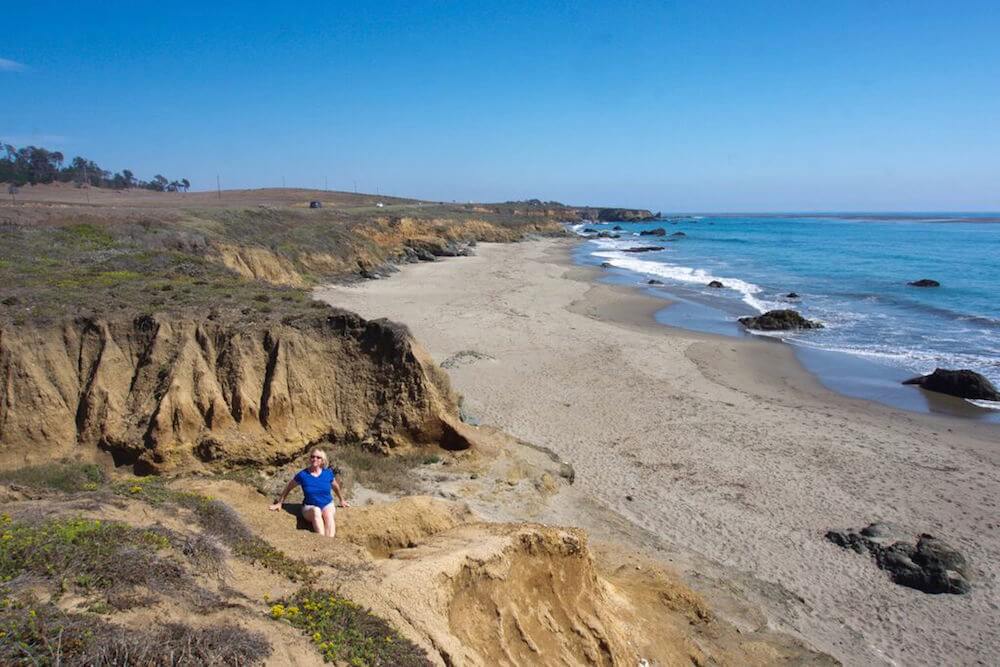 You can't really go wrong with which beach you choose to stop for lunch at – though Pismo Beach is a popular spot if you need suggestions. We elected to stop a bit before that in San Louis Obispo (at Old San Luis BBQ Company which will make you fat but it will be worth it).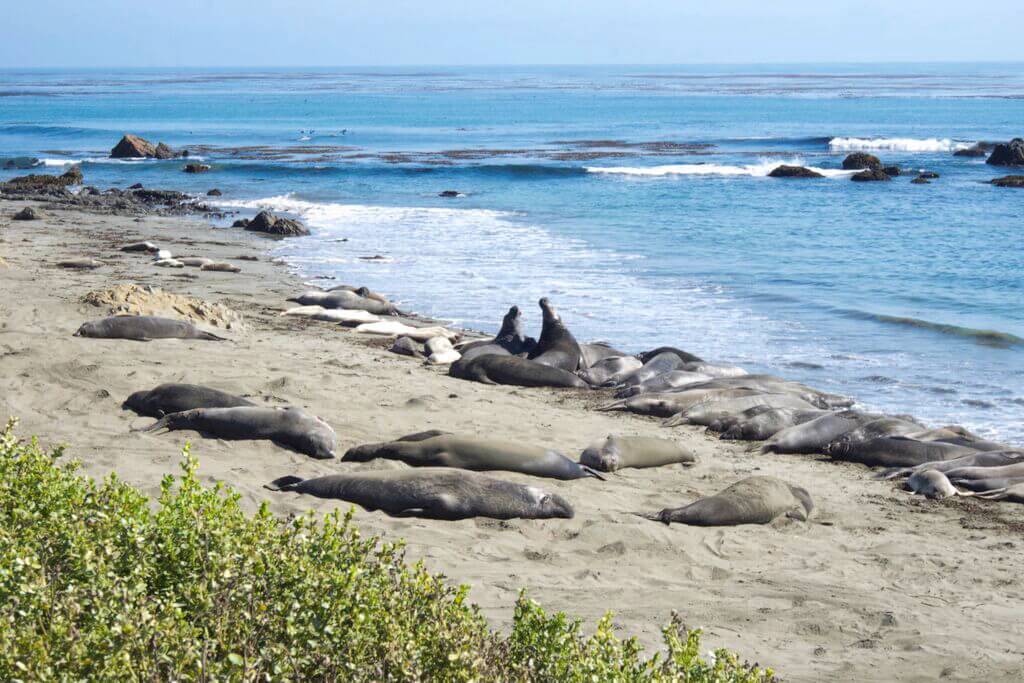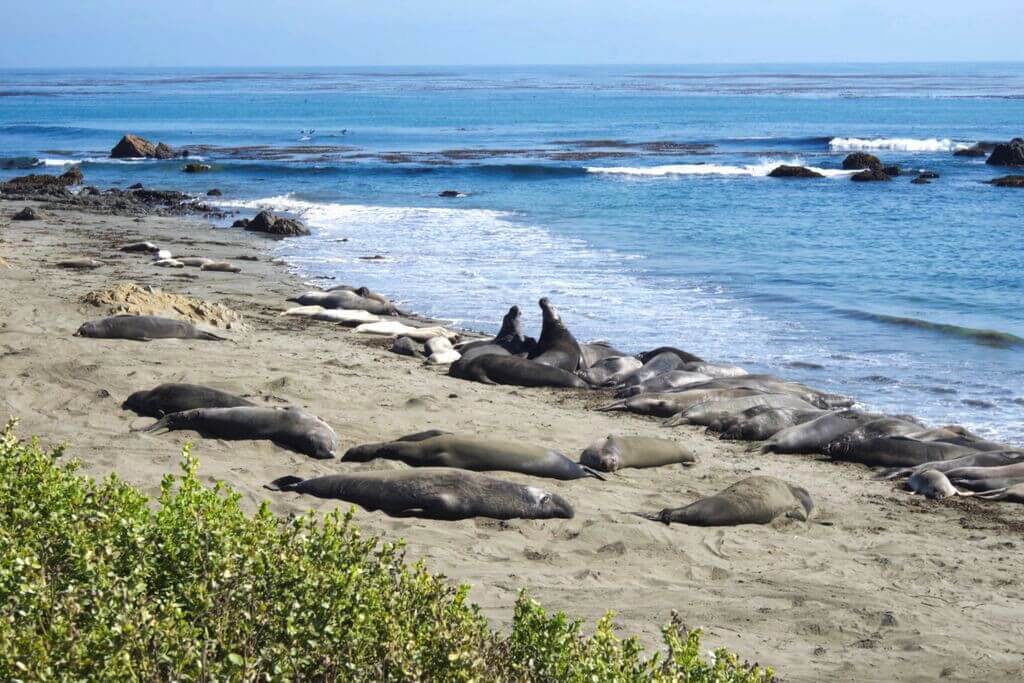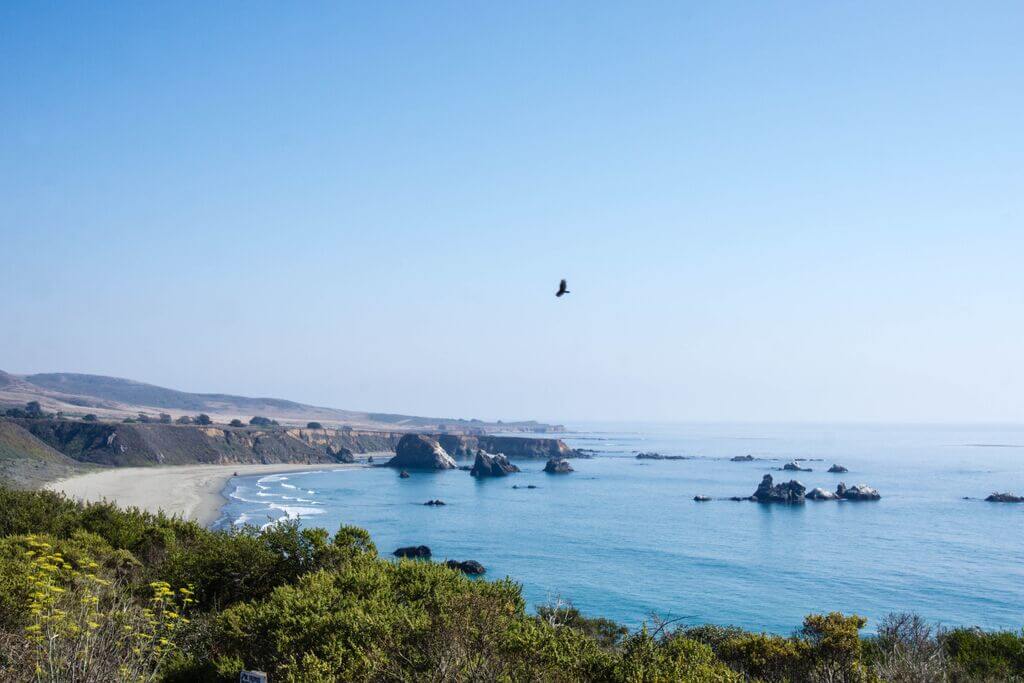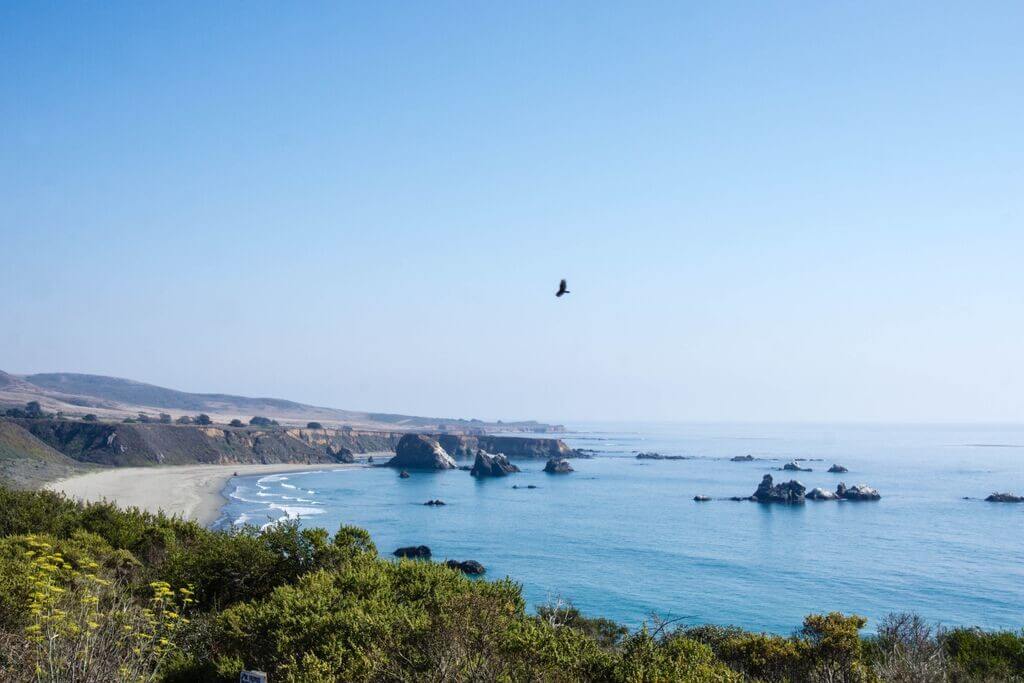 Big Sur
On soft Spring nights I'll stand in the yard under the stars – Something good will come out of all things yet – And it will be golden and eternal just like that – There's no need to say another word. – Big Sur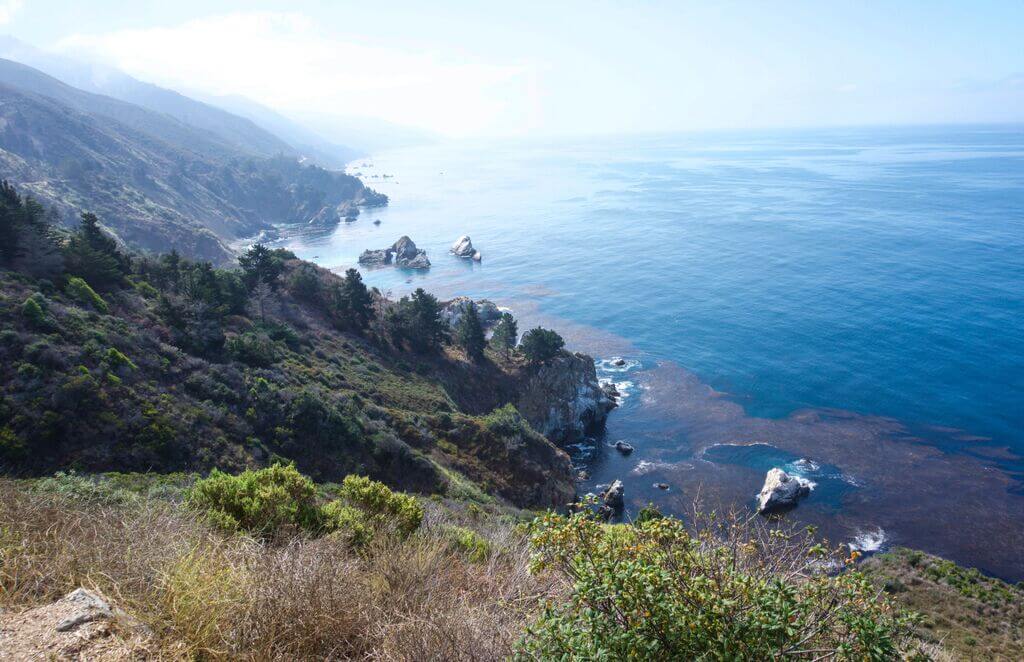 Though Jack's work, Big Sur, spoke of his battle with alcohol addiction and finally succumbing to its grasp, his words in this quote remind me of the way I often feel when staring off into the distance. Things finally start to align when I'm given the time and space to think close to nature's heart, far from big cities, crowds, and skyscrapers.
There's something about staring at the California coastal horizon and imagining the possibilities that exist out there that result in the kind of clarity I can't find elsewhere. I imagine he might have felt the same.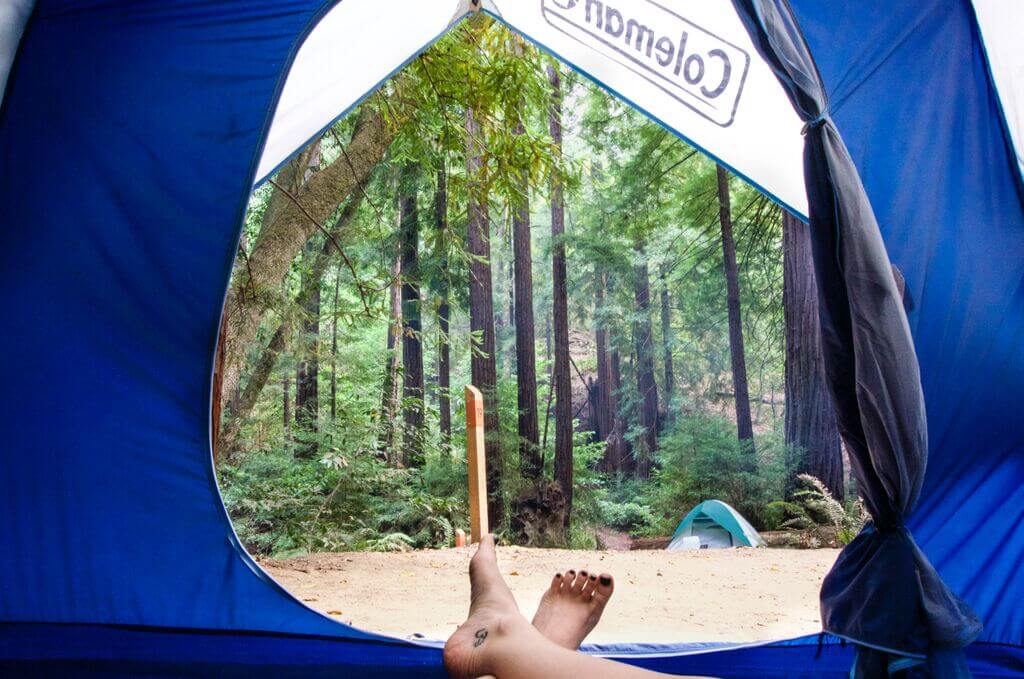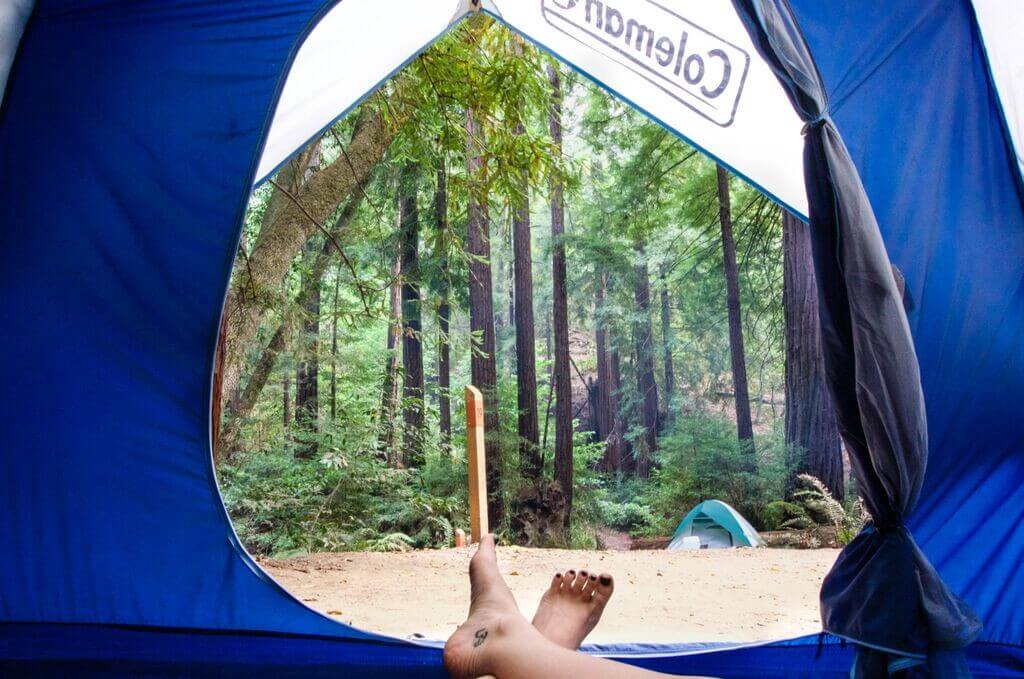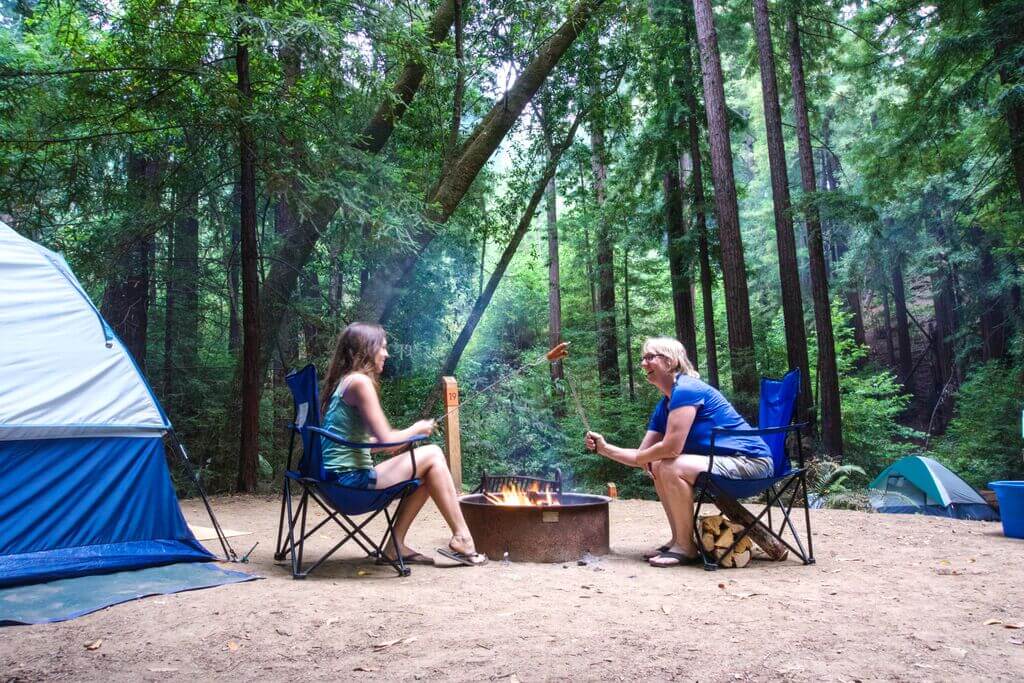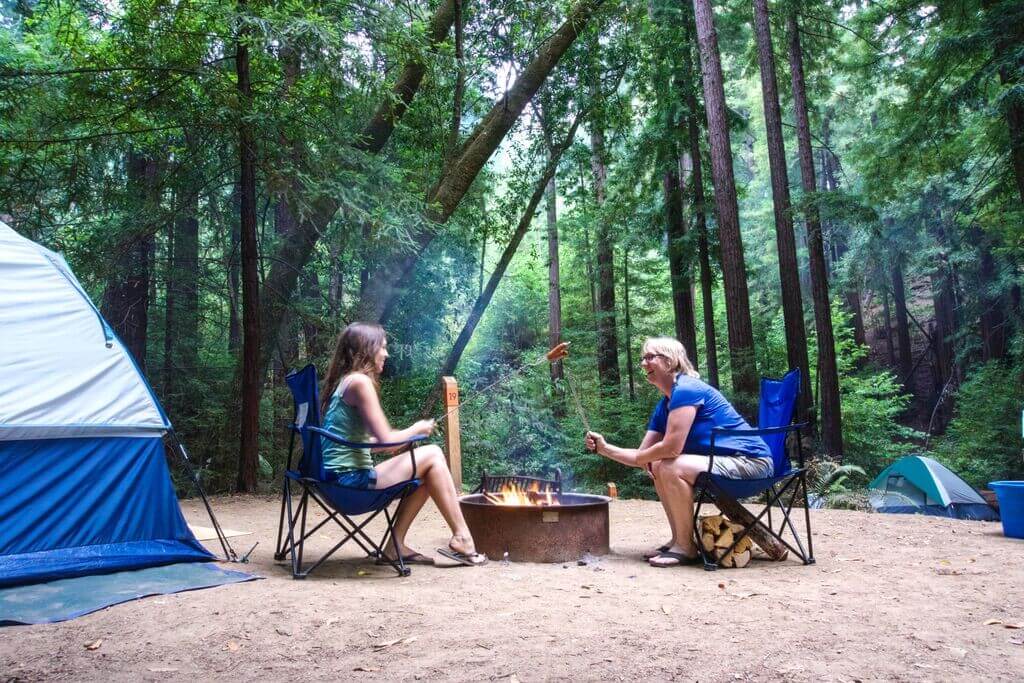 Big Sur is one of California's most famous parks, and usually books up well in advance, yet I got lucky by finding Ventana Campground (location noted in the map at the bottom of the post), which is a tranquil, tents-only campground in the middle of a patch of Redwood trees.
If you've never seen them before, prepare to be wowed.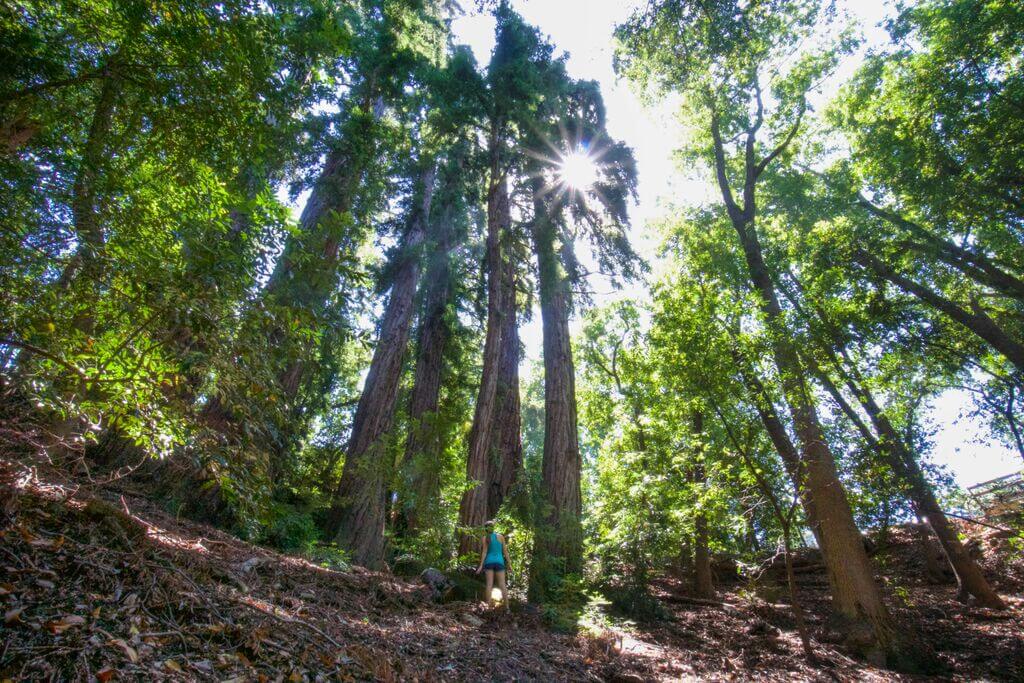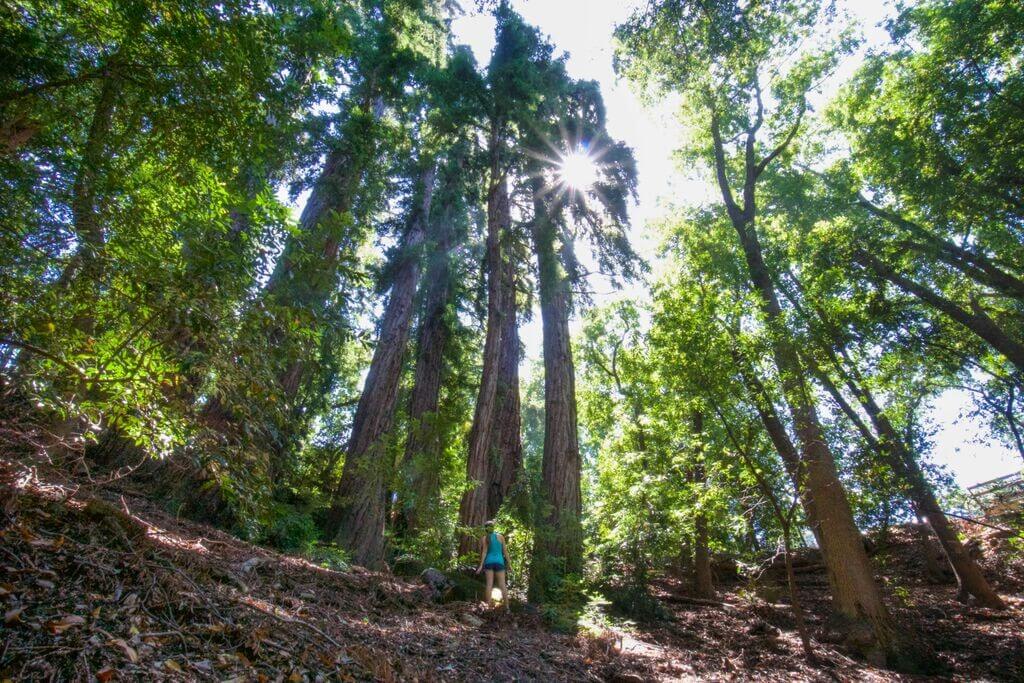 The Redwood tree only exists in California, Oregon, and China's Hubei province. The first spot you'll see them driving up the coast from Southern California is in Big Sur, and my, what a sight they are.
The world's tallest known living tree, named the Hyperion in Northern California, is of the Redwood variety and stands at 115.61 m (379.3 ft). It's incredible to imagine how resilient these trees are, as the average age of Redwoods is 500-700 years, with some living as much as 2000-2500 years!
Their fire-retardant bark and the way it splinters into tiny pieces when it hits the ground have helped them survive fires and logging, though they still are victim to both. Thankfully, conservation efforts in California have protected some of the areas where they grow.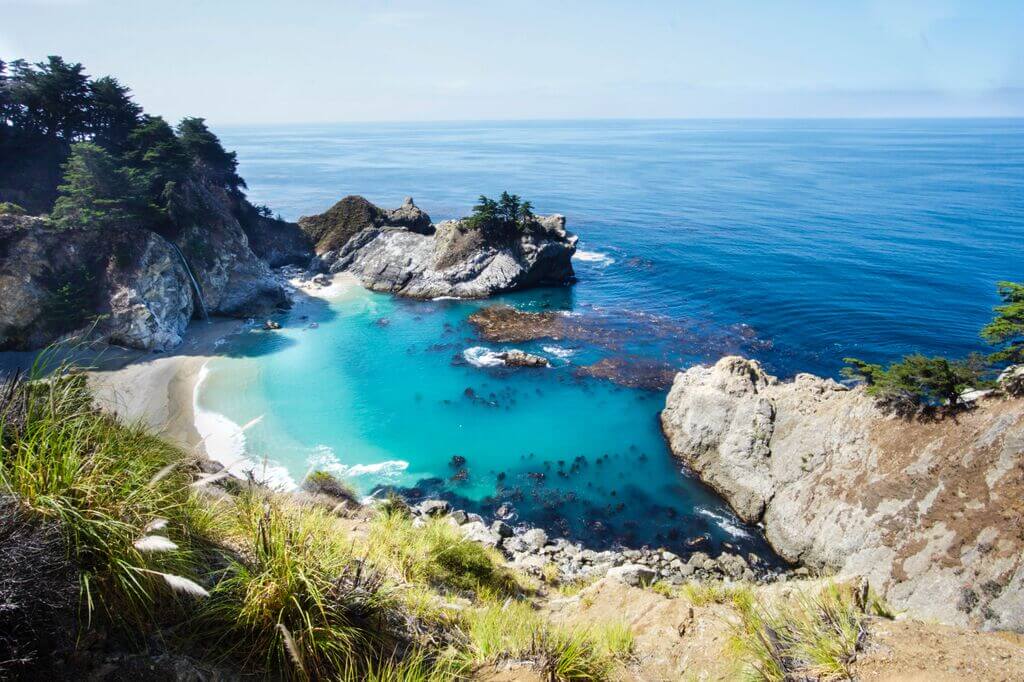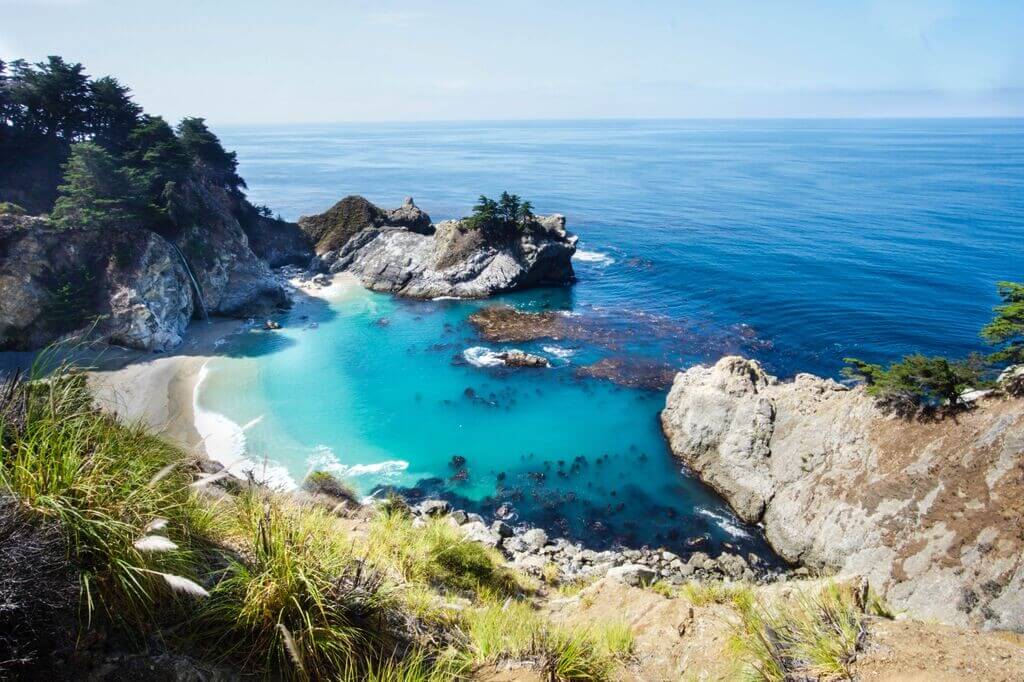 McWay Falls has a beautiful history. It's right outside of Julia Pfeiffer Burns State Park (park on the right side of the road if coming from the north in order to avoid paying park entrance fees if all you want to do is quickly see the falls).
The land where the park now sits was owned by an heiress Helen Chamblet Hooper, who married Lathrop Brown, a one term Congressman. McWay Falls is named after McWay Canyon, which was named for the first homesteader Christopher McWay who settled there in 1887.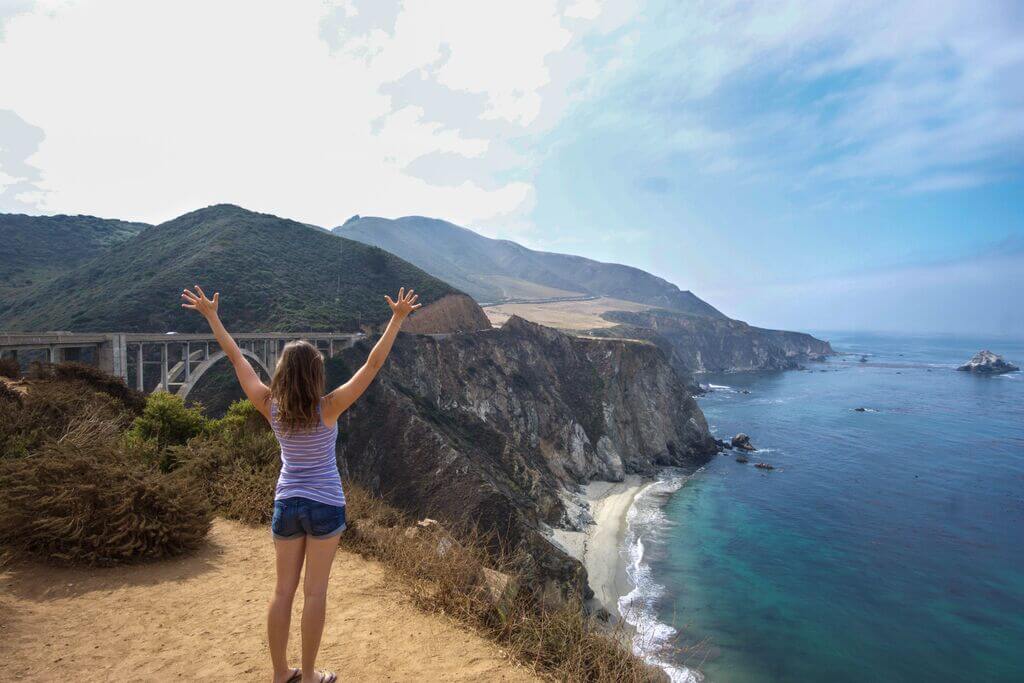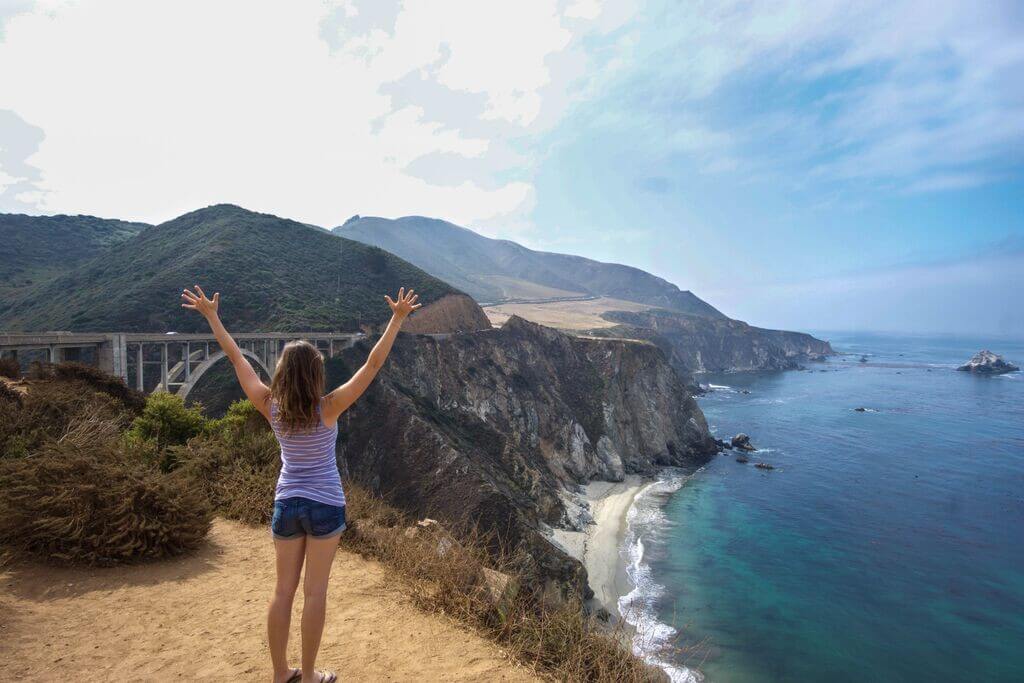 Upon leaving Big Sur to head north keep your eyes open for the famous Bixby Bridge, which will be easy to spot as it's a favorite amongst tourists for a quick photo.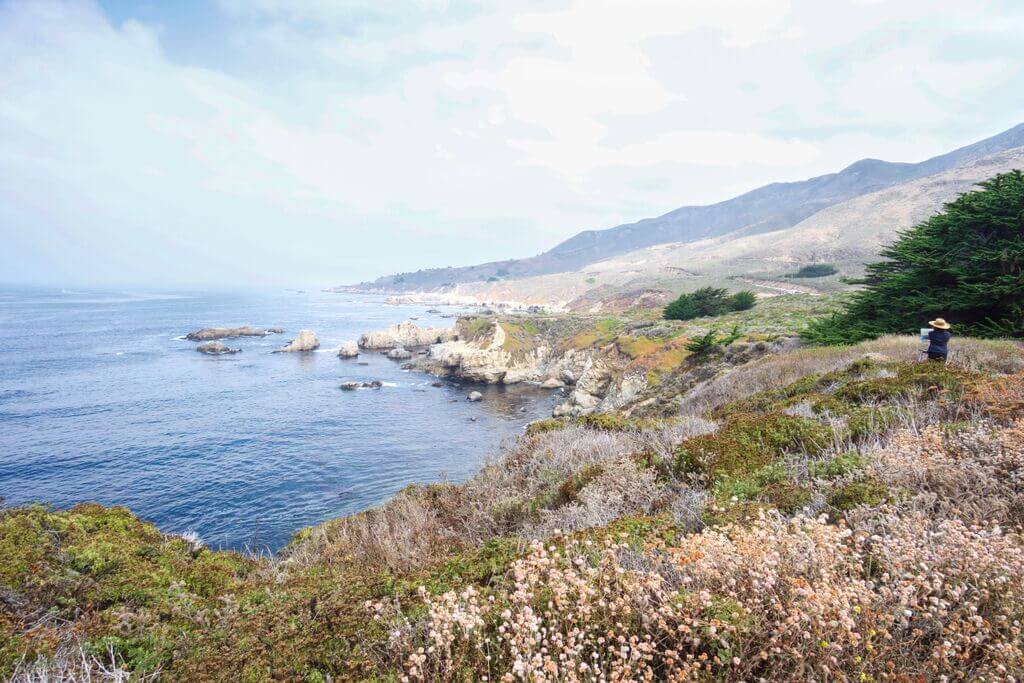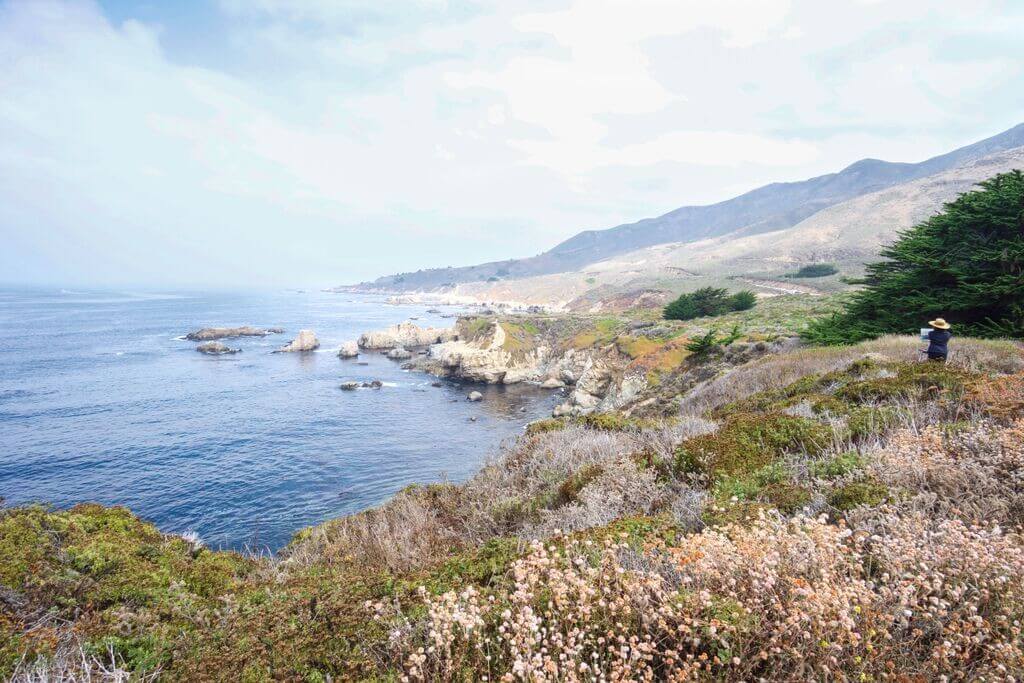 Keep an eye on maps, as just south of Carmel-By-The-Sea, you'll see a bunch of old trees lining the road and a few more cars pulled over. Stop to see if you can spot some whales from the shore. Much like the density of dolphins around El Capitan, spending some time scanning the water for clouds of mist from a blowhole may pay off. Mom and I saw two without binoculars.
If you've got time, the 17 Mile Drive between Carmel and Monterrey is a famous and beautiful one (but will set you back $15).
" src="data:image/gif;base64,R0lGODlhAQABAIAAAAAAAP///yH5BAEAAAAALAAAAAABAAEAAAIBRAA7″ alt="