When it comes to fascinating land formations, incredible stargazing, and some of the best sunrises on earth, you can't beat the deserts of the American west.
If you've been following this blog for a while (if not, welcome!), you know I'm a big fan of this part of the world for the adventure it provides and the peaceful moments of desolation.
A couple of years ago, my brother and I decided to head out to Anza-Borrego Desert State Park northeast of San Diego for Christmas. We had the best time camping out, driving around in the 4-wheel drive, and exploring this beautiful part of California. Here are some of the best things to do in Anza-Borrego:
1. Font's Point Sunrise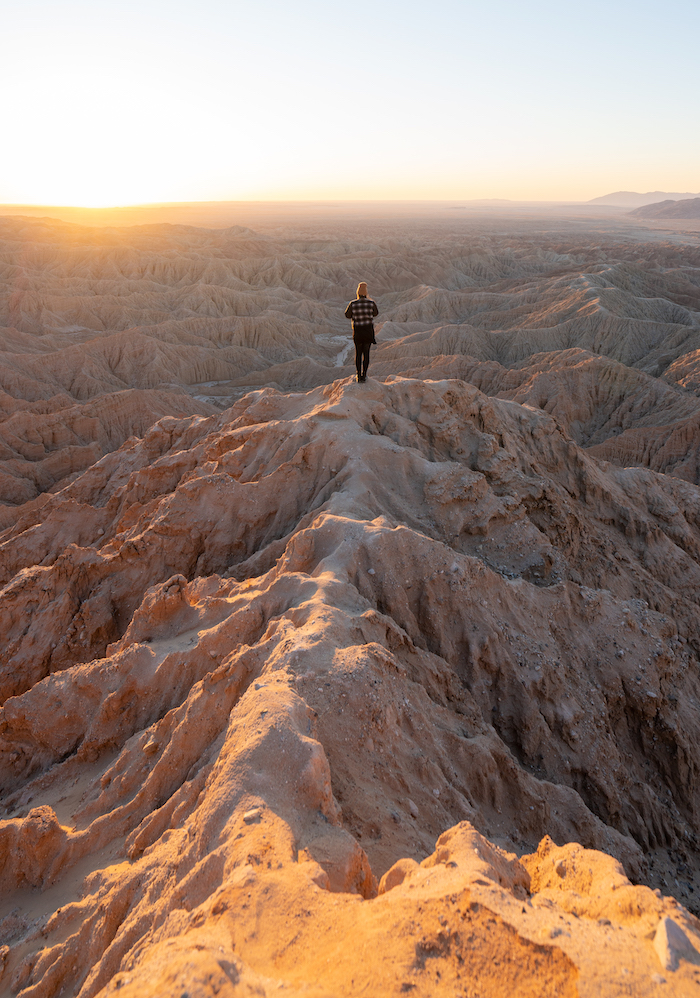 In a state famous for its sunsets, where can you find the best sunrise in California? IMHO, Font's Point is not only the most impressive part of Anza-Borrego, but the best sunrise in all of California. On a clear day, see the sun lighting up the golden landscape all the way out to the Salton Sea, seemingly forever without any people or buildings in sight.
to access it, turn right at this point off of Highway 22. Be fore-warned that there can be deep sand on this road all and throughout much of the park, so a car with 4-wheel drive is wise. 
You can see more of the sunrise in the video of my solo trip to Anza Borrego:
2. Palm Canyon Trail
The Palm Canyon Trail is a 3.5-miler close to the visitor center and easily accessible from a paved parking lot. It leads to an oasis of palms and was the original intent behind turning this land into a protected state park.
Currently the Palm Grove itself is closed for restoration, but the hiking trail is open and offers beautiful views of the park's flora. Nearby, there's also the Panoramic Overlook Trail, a one-miler that also offers lovely views.
3. 4×4 Through the Badlands Washes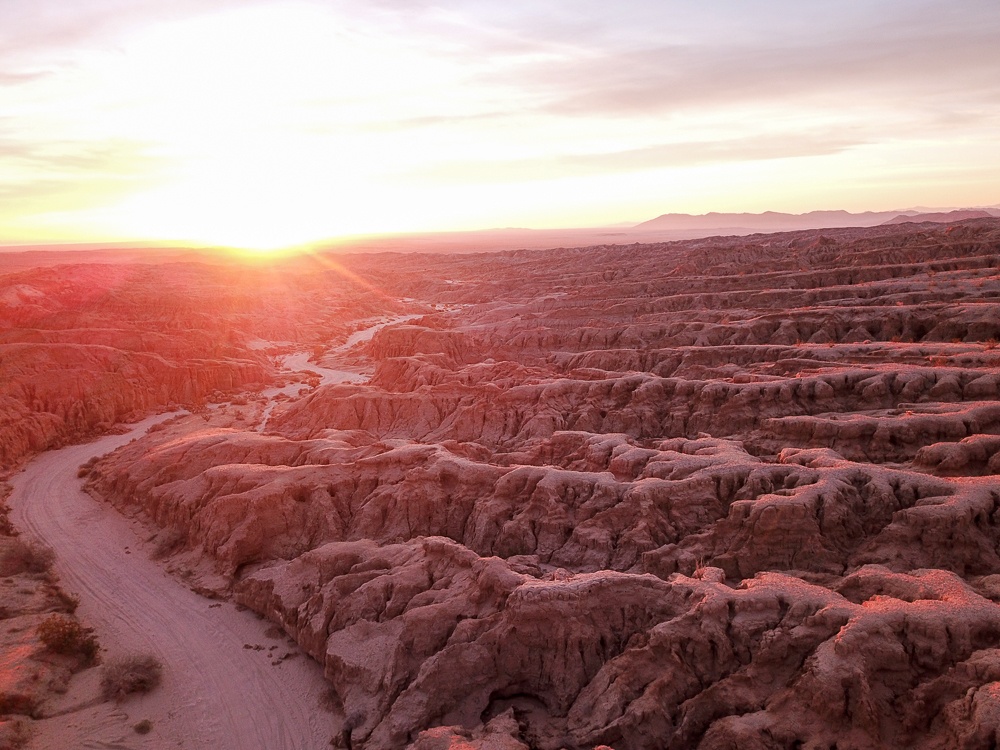 The Badlands are what make Anza-Borrego so stunning and unique. I used to think I'd have to visit the Badlands National park in order to see land formations like this before realizing it was in my own backyard!
For a little history, this used to be a tropical area full of water a few million years ago. It's rich in over 550 different types of fossils dating back 6 million years ago, showing the progression of the changing environment to the arid desert it is today. My brother was finishing up a degree in geophysics at the time, so this was particularly interesting to him!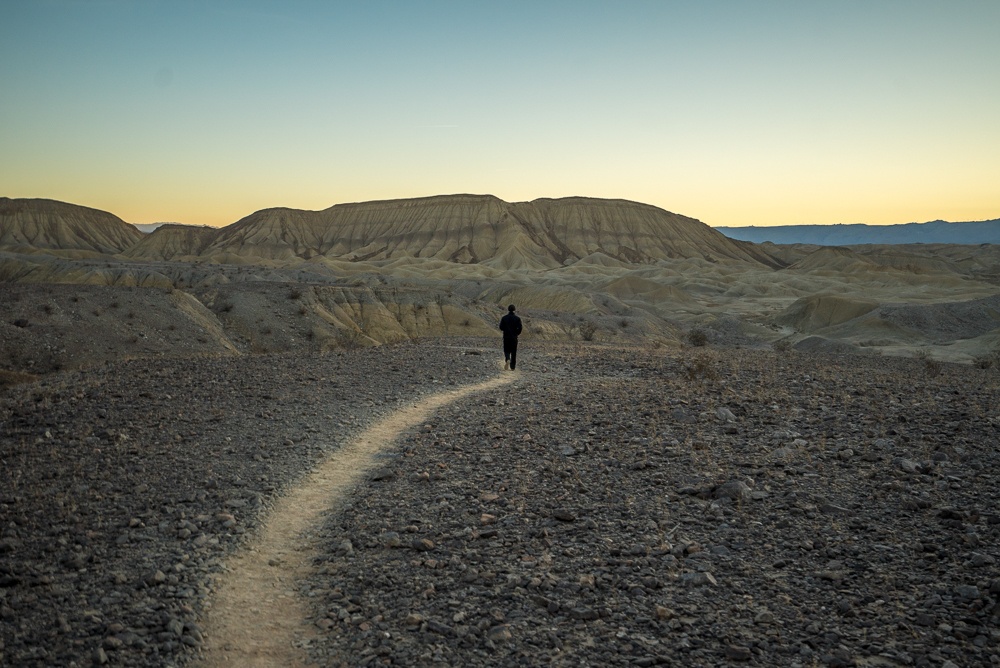 The Badlands and rock formations are incredible but vulnerable, so please don't climb directly in the badlands or vegetation, but rather stick to established trails and washes.
You'll definitely need a four-wheel-drive car for this, and I did see someone get stuck when I was there, so know your limits and check roads before you go crazy!
Additionally, washes can fill up with water quickly, so be extra alert during the monsoon season (late summer) when thunderstorms can cause flash floods.
4. Wind Caves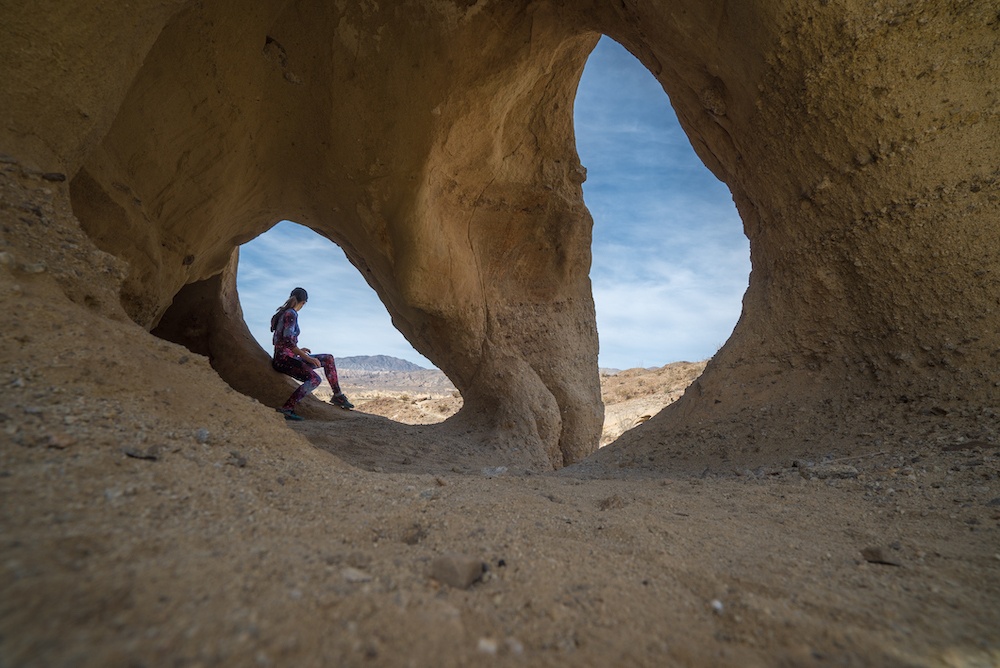 I love the wind caves, a unique geological phenomenon caused by, I suppose wind and water?
Or perhaps they're so named for the way the wind sounds moving through the holes in these caves. Either way, they're pretty cool to check out.
It's a short hike from the Fish Creek wash if you have the vehicle for it, or you can park at the primitive campsite at the end of the paved road and walk in. This elongates the day but it's doable and gives you views of lovely rock formations all along the way.
5. The Pumpkin Patch
The pumpkin patch is located just east of the Anza-Borrego park boundary. It's an area about the size of a city block covered with rocks the size of a large pumpkin.
You can access it off of highway 22, though you will need to drive some dirt roads and washes to actually get to the pumpkin patch. Like much of Anza-Borrego, you'll need a four-wheel-drive, high clearance vehicle. Find them here.
6. Cactus Loop Trail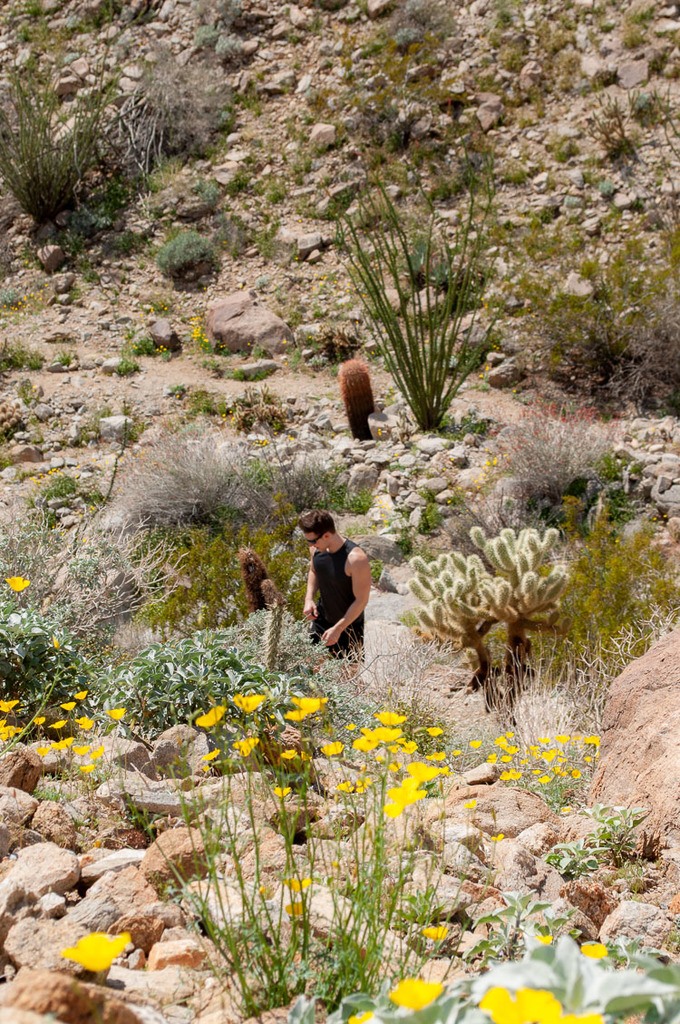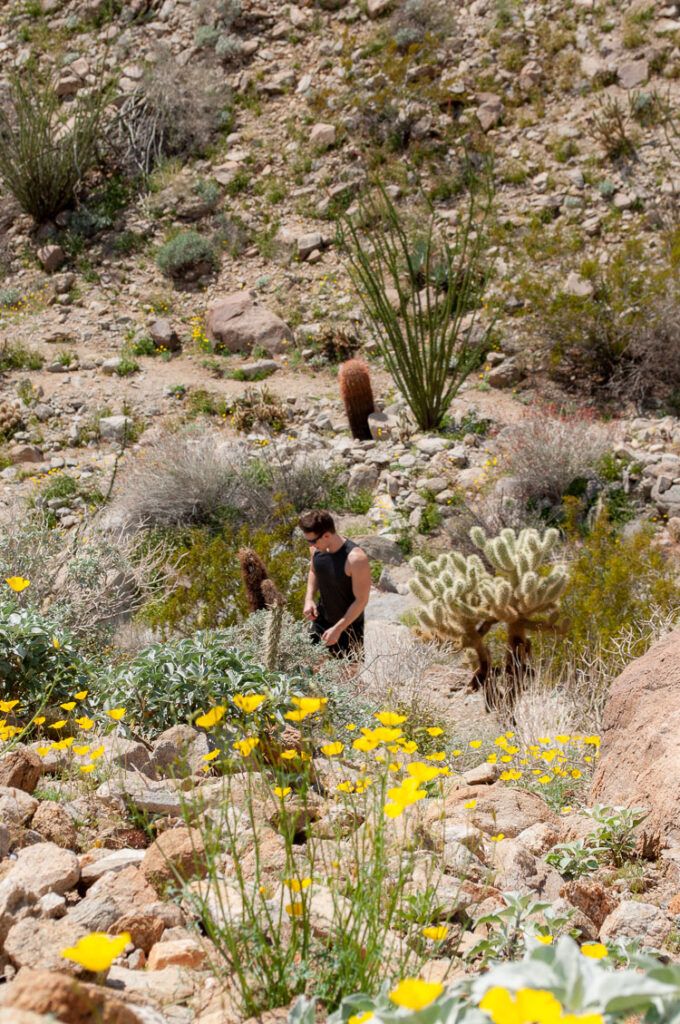 Near the Tamarisk Grove Campground, on your way into our out of Anza if coming via Julian, there's a short, easy trail that winds through Ocatillo, Cholla, and more gorgeous cacti that if it's spring, might be blooming. If it's a super bloom year like the spring we had pictured above, you may see poppies as well.
This one is easy to access with parking right along the side of the paved road.
7. The Slot Canyon
You don't have to head all the way to Utah or Arizona to check out some awesome slot canyons. They may not have the colors of Utah, but they have their own special beauty.
They can be tricky to find, so I recommend checking out this guide for more information on how to find and enjoy them. Remember to only use the slot canyons when there's no rain anywhere near them, as flash flooding is a concern with canyons and washes in Anza-Borrego, particularly during the summer monsoon season.
8. Hellhole Canyon
This moderate, 5.5 mile out and back hike is best saved for the winter, fall, and early spring. As you can gather from the name, it's roasting in the summer!
This hike is less crowded than palm canyon, and equally accessible near the southwest part of the visitor's center parking. Expect to see a palm oasis, possible bighorn sheep, and scramble a bit to the Maidenhair Falls at the end. How impressive these falls are will depend on time of year and rainfall.
9. Stargaze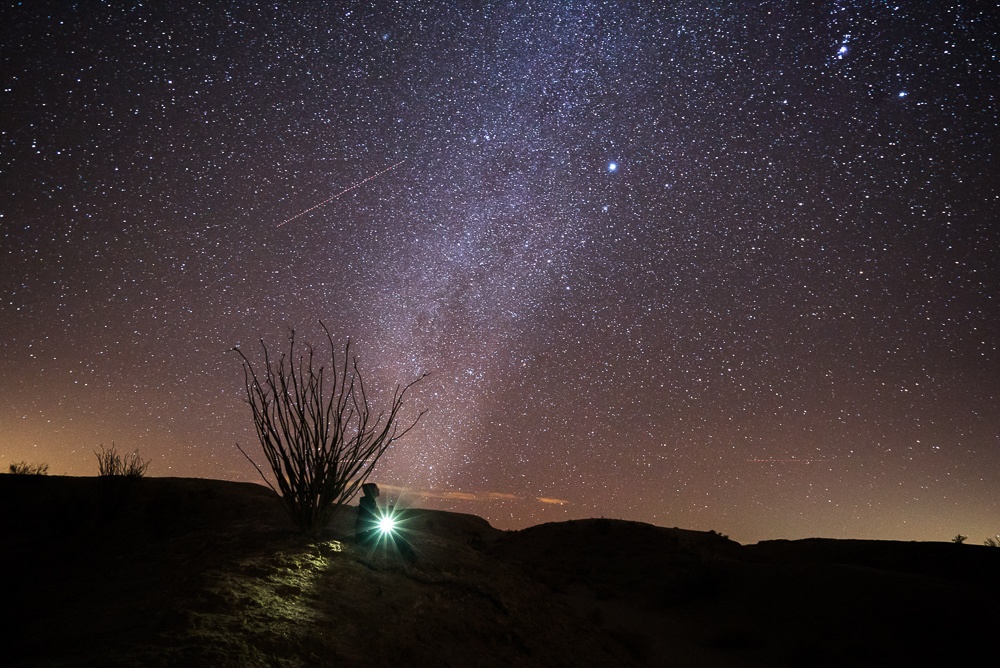 You can't beat the desert for stargazing. In a state with lots of light pollution, Anza-Borrego offers a unique opportunity to see a crystal clear Milky Way over the badlands.
Be sure to go during a new moon for the best star viewing. Alternatively, the full moon could be pretty cool too, but it would be more about the moon than the stars. If you're a photographer, the Milky Way core is out from March until October. This photo was taken in December and though 'core-less', it's still beautiful to me.
10. Galleta Meadows Sculptures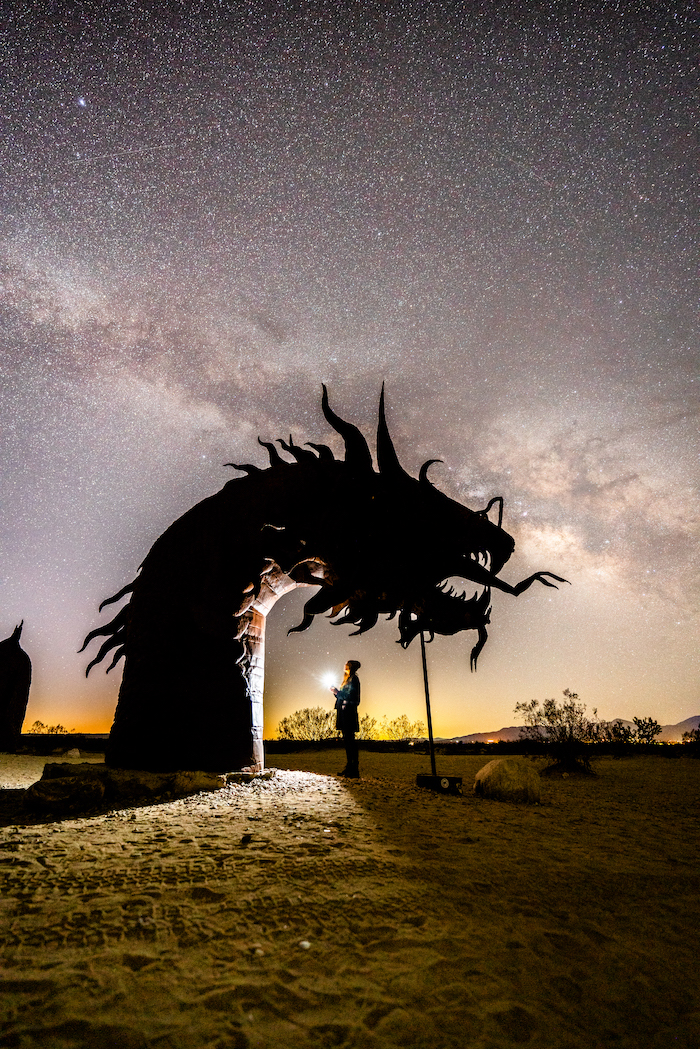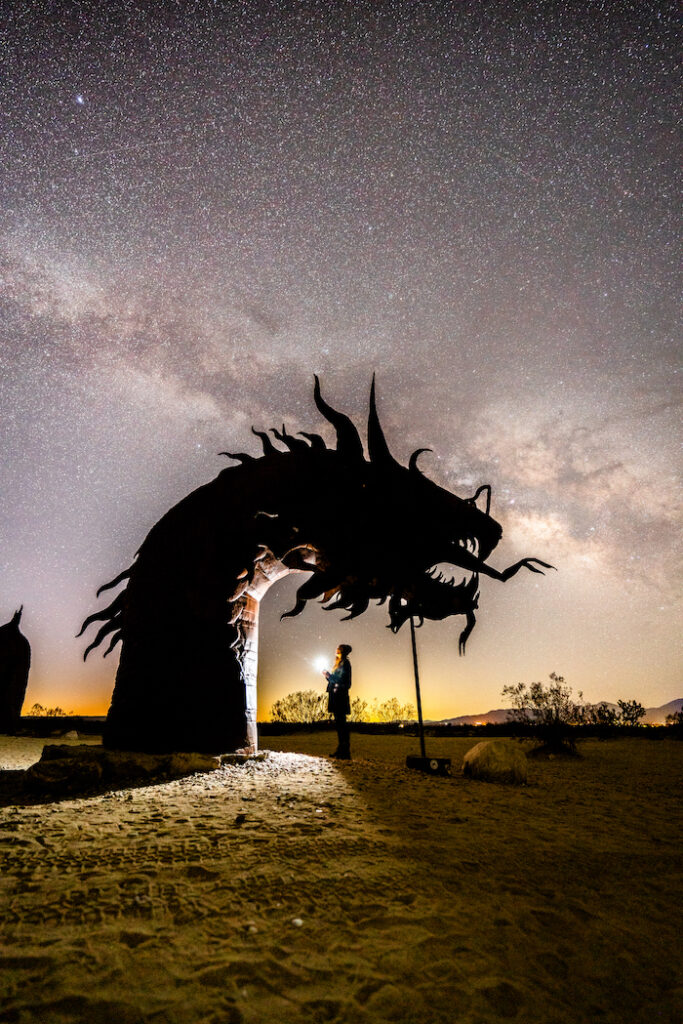 Artist Ricardo Breceda has created over 130 metal sculptures sprinkled throughout the desert that are free to enjoy. In some areas, if you have a car that can handle sand, you can drive right up to them (but parking along the road and walking up to them doesn't take much effort if you don't). My personal favorite is the Serpent, but prepare to find tortoises, camels, scorpions, and creatures that roamed the desert long ago.
There's a decent concentration of them along Borrego Springs Road. Find the map here.
Springtime Blooms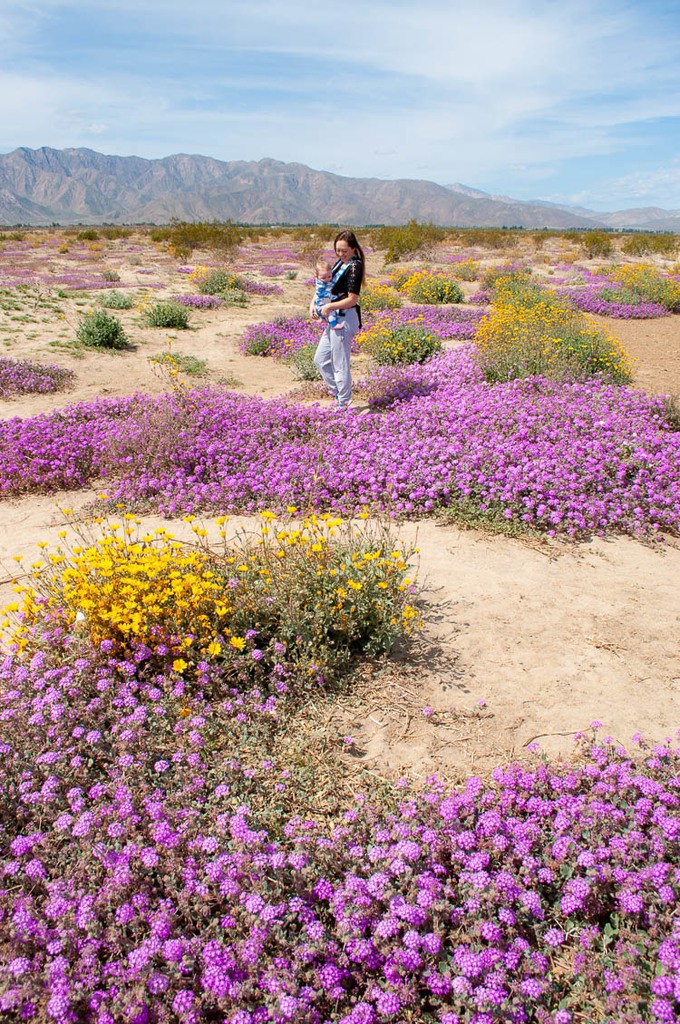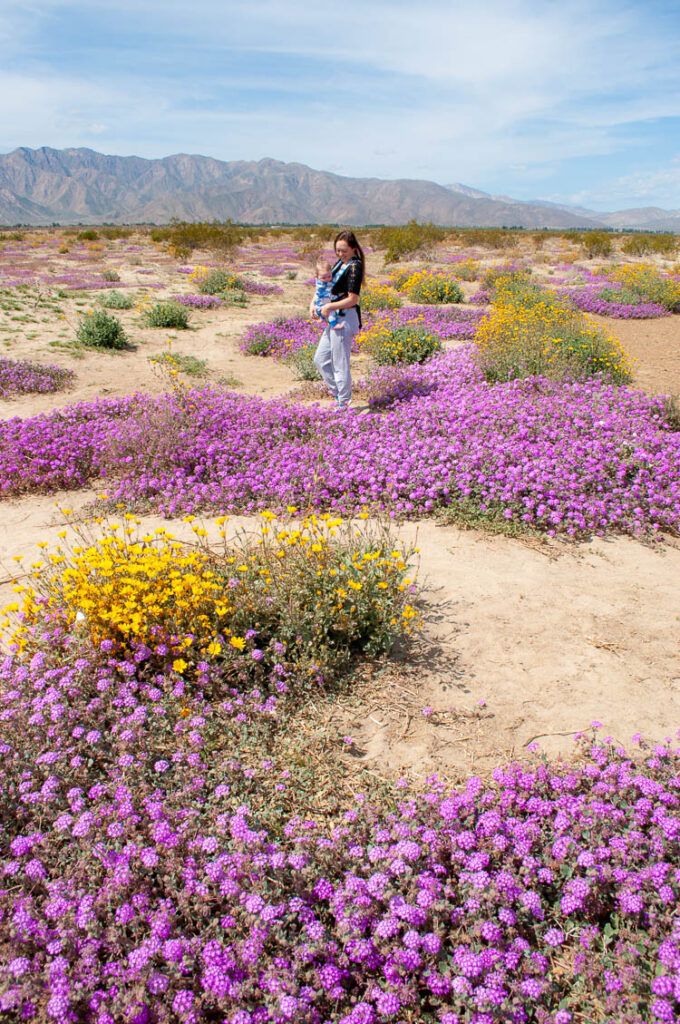 In February and March, though exact timing changes year-to-year, Anza-Borrego Desert State Park puts on a beautiful show of wildflowers.
In heavy drought years followed by heavy rain years, the flowers are the most impressive. Though the exact location changes depending on the year and timing of the season, some areas that often have blooms are Henderson Wash, Coyote Canyon, and the Cactus Loop trail. Please keep to the dirt and off of the flowers. If there's a trail, stick to the trail.
There are many areas in Southern California that have amazing super blooms, you can read more about them here.
Desert Safety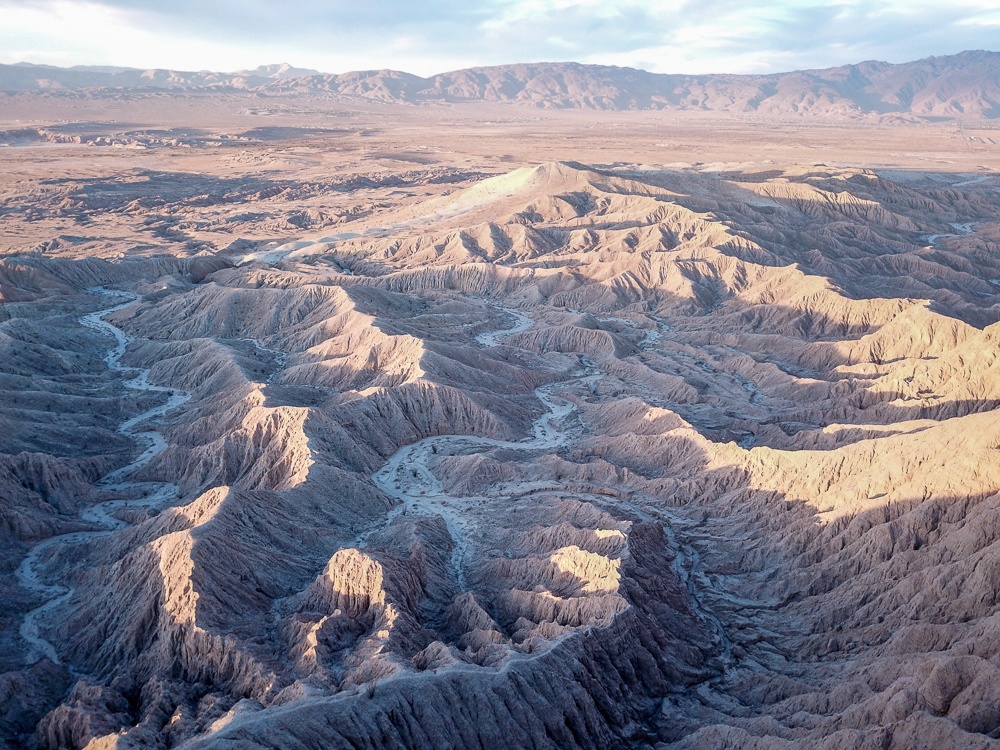 All is not lost if you don't have a four-wheel-drive vehicle, as some parts of the park are paved and there's still plenty to see, here's a self driving tour put together by the state park.
However if you will be driving through the washes and more precarious roads, don't plan on having any cell service, and please don't drive on the badlands, vegetation, or any vulnerable areas.
You should have a spare tire, know how to change it, and be extra careful which roads you choose to go down. Never drive through the washes when they are wet or if there could be rain anywhere in the vicinity.
Additionally, temperatures can reach over 120°F in the summer months. I much prefer the California desert during the winter months (check out my whole winter road trip itinerary here).
If traveling to Anza-Borrego Desert State Park during the summer, choose to be nocturnal, enjoying it during the sunset, stargazing at night, and the early morning hours. Personally, I love enjoying the outdoors this way! You can read more about how to night hike here.
Pin me for later: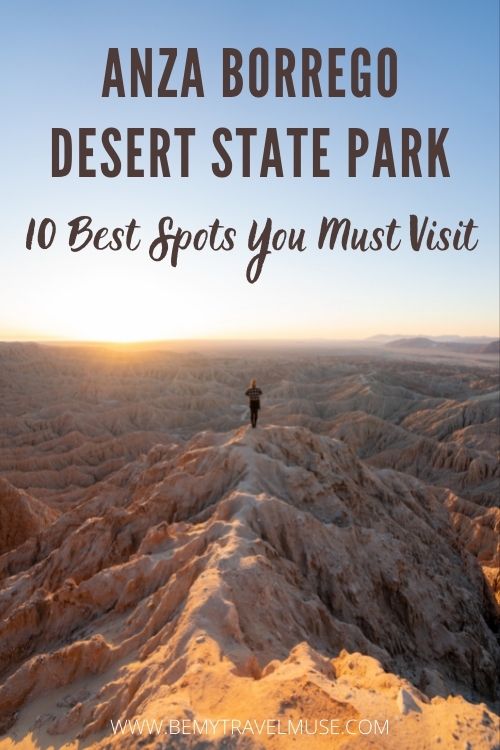 While it's impossible to write an exhaustive list for a state park that covers nearly 600,000 acres, this post has the highlights that feature the most unique land formations, the best views, and the most loved hiking trails. But I hope you also get a chance to discover your own unique adventure in Anza-Borrego State Park and that this post has helped to guide your way.
READ NEXT: