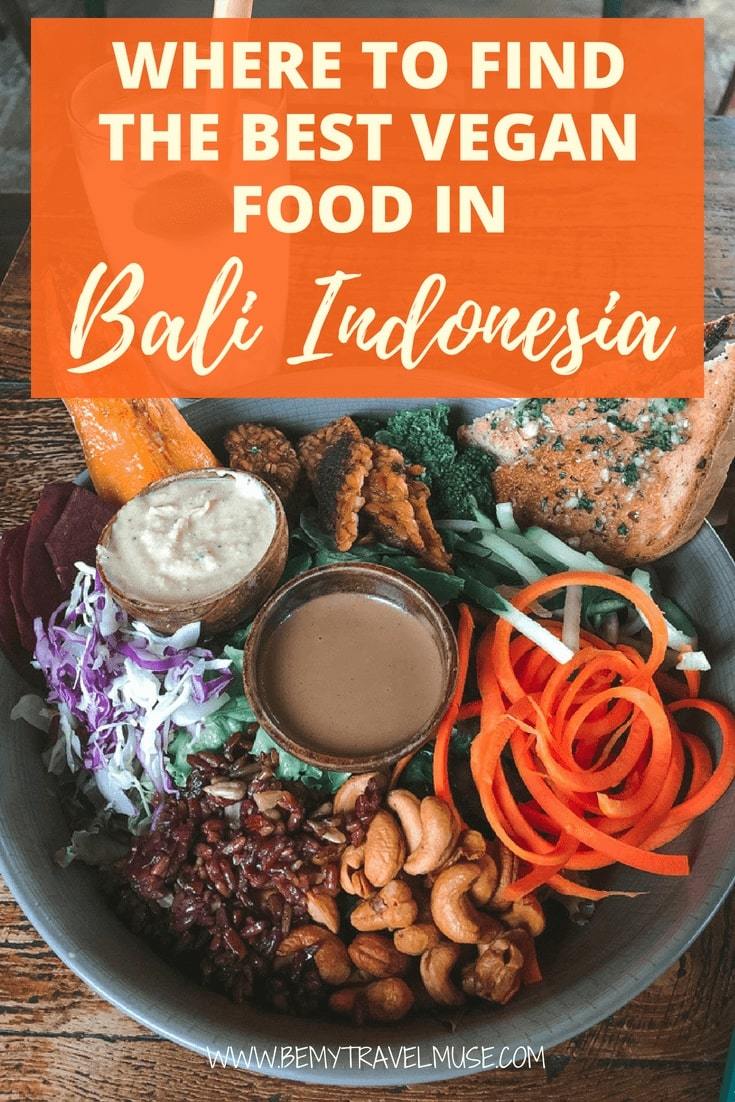 When it comes to vegan food Bali is a hotspot. In some parts of the world, being vegan can be a challenge but in Bali it's an absolute delight. With more vegan cafes popping up all the time all around this beautiful little island, we put ourselves to work to find some of the best vegan eats on Bali.
It's a tough job eating all of that delicious food but someone's got to do it, right?
Thankfully many Indonesian dishes are inherently vegan, plus Bali caters quite well to its foreign visitors. In this list, we've got a mix between cafes that have a few vegan options on their menu to ones that are completely vegan. Some have a western menu and others have local options too.
The following are a few favorite spots by BMTM team member Ashley and a few of our travel blogger friends:
Canggu
A surfing paradise for surfers of all levels, with cutesy cafes and sunset bars dotted along the coastlines, and affordable villas perfect for a getaway, Canggu is quickly replacing Seminyak as the It spot of Bali. Development is inevitable, but Canggu has been able to maintain its laid-back and relaxing vibe for its visitors. After all, how upset can one be, sitting in an adorable cafe eating delicious vegan food, after a full day riding the waves? Here are some of our favorite vegan eats in the area:
Peloton Supershop (Vegan)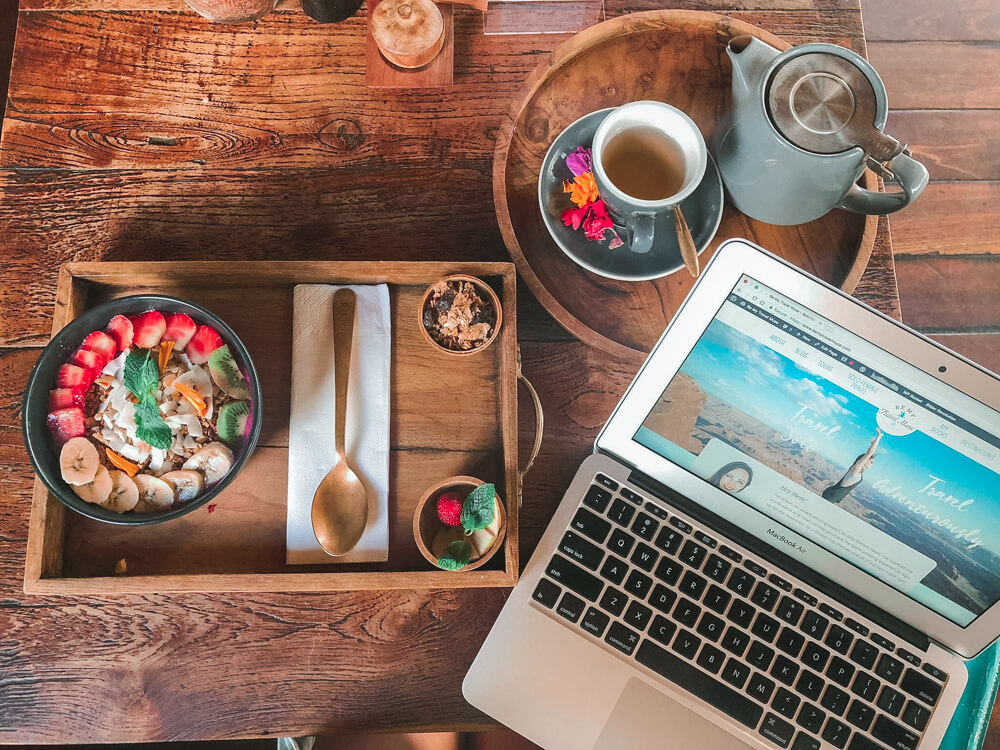 Possibly the most popular vegan cafe in Canggu, if not all of Bali! Located in the relatively quiet side of Canggu, Peloton offers a wide variety of delicious and wholesome vegan food, with popular Instagrammer Ellie Bullen's recipes added to their menu from time to time. Aside from its Instagram-worthy smoothie bowls that are perfect for breakfast, the cafe's lunch and dinner menus are also filled with delicious options.
My personal favorite? The Power House Bowl that's packed with greens, roasted pumpkin, broccoli, crunchy brown rice, marinated tempe, carrot, beetroot, cucumber, cabbage, cashews & hummus. Best way to wrap up a glorious day at the beach! As for drinks, the tumeric latte is delicious, and for something more cooling, go for their Pink Floyd smoothie, which tastes as amazing as it looks.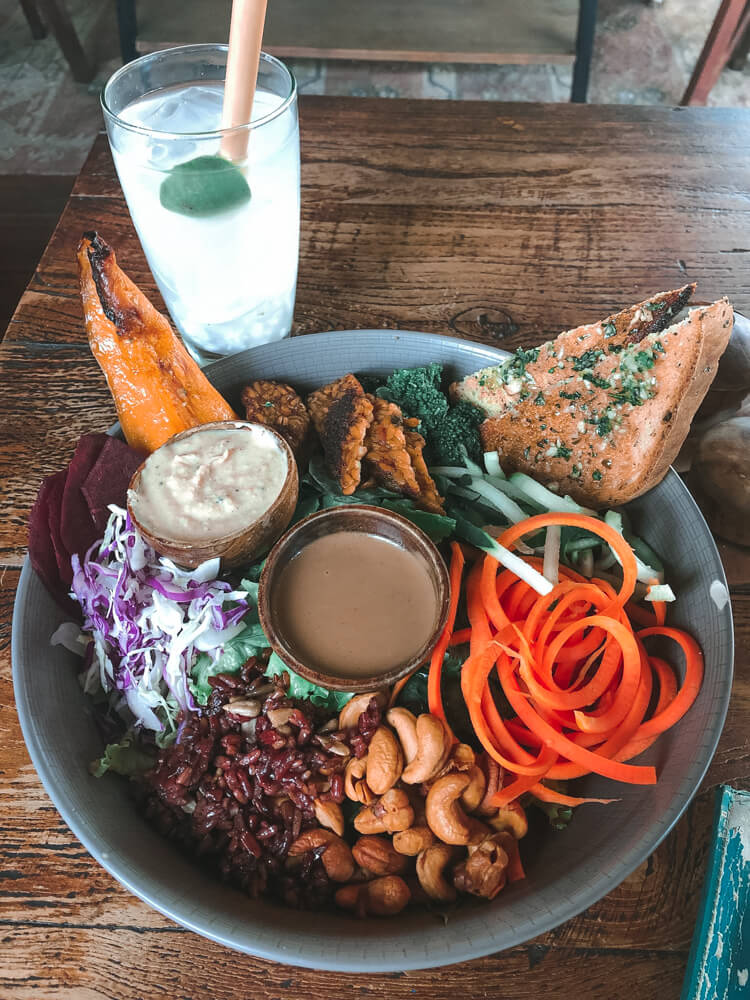 On the ground floor you will find an air conditioned setting, with big tables for sharing on your left, and individual seatings on your right. There is also merchandise for sale at the corner. Upstairs is an open air area which I prefer. The cafe also stays true to its core value, so no plastic straws and bags, which is awesome!
Address: No.46 Jln Raya Pantai Berawa. Berawa, Bali
Hours: 8:00am – 9:30pm
Matcha Cafe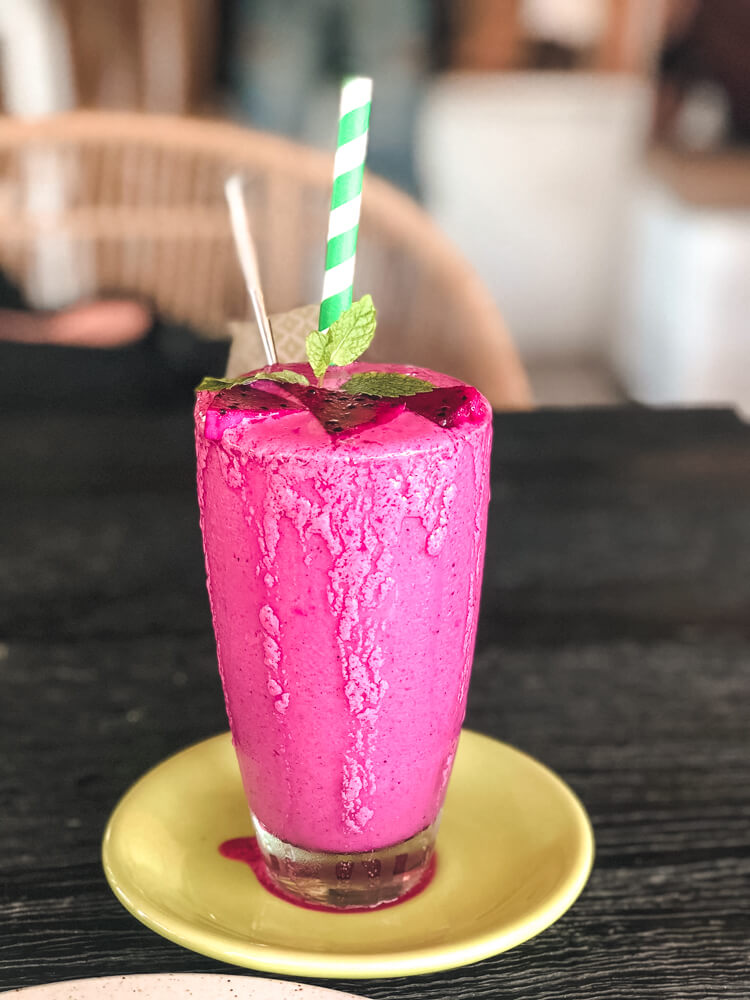 Facing pretty rice fields, Matcha Cafe serves up a huge variety of vegan food that's infused with Matcha (surprise!). It's a tiny, outdoor spot that's beautifully decorated, and the place is often packed with people, though the crowds tend to lessen between 3pm – 5pm. The crew is a friendly bunch who is always happy to give you recommendations and explain the health benefits of Matcha to you! It's a perfect hang out place after surfing at the beach just 10 minutes' walk away. Order the Macrobiotic Rainbow Bowl and Matcha Vegan Nutella Milkshake, and thank me later.
Similar to Peloton, Matcha Cafe uses paper straws. It's always lovely to see effort made to conserve the environment. The pricing is also reasonable, and the portion is decent.
Address: Jl. Pantai Berawa No.99. Canggu Berawa, Bali
Hours: 7:30am – 7:00pm
Secret Spot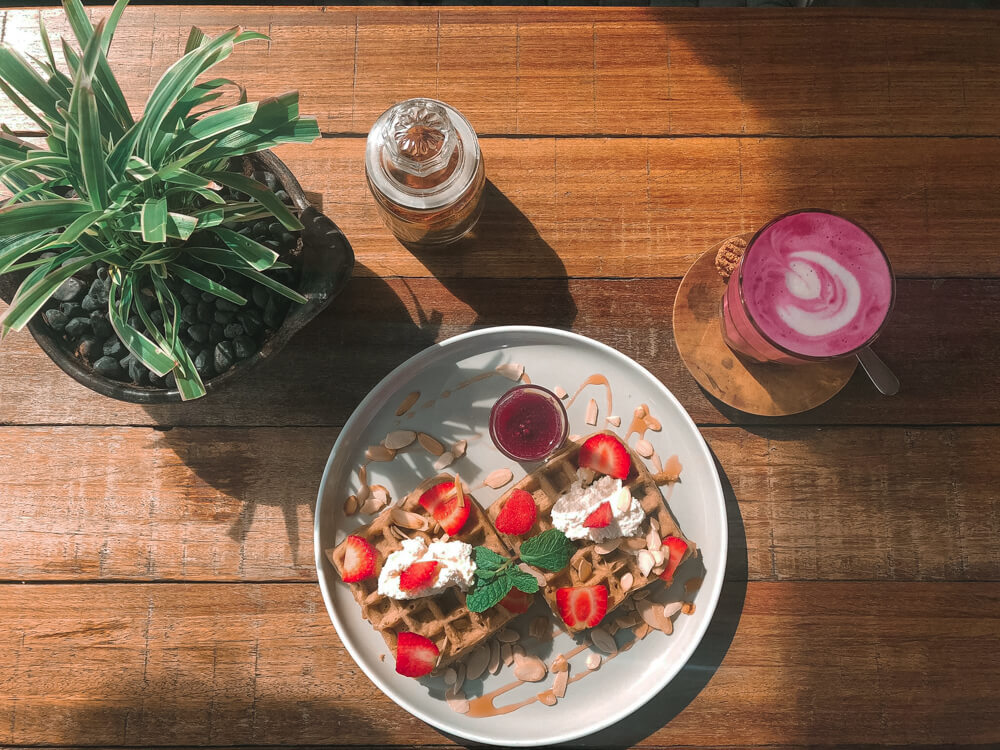 Right next to Peloton, you will find a tiny but mighty cafe, Secret Spot. This place is kind of camouflaged by the large plants and bikes parked right in front of it, but once you enter the place, it's a whole new world. I loved the cute decorations on the wall! Head upstairs for a breezy open air seat.
Secret Spot is not full vegan, but ingredients and dressings can be switched upon request. Other than the mains, I also highly recommend trying out their delicious frozen yogurt and raw sweets.
Address: Jl. Pantai Berawa No.44, Tibubeneng, Canggu
Hours: 8:00am – 10:00pm
Nude Canggu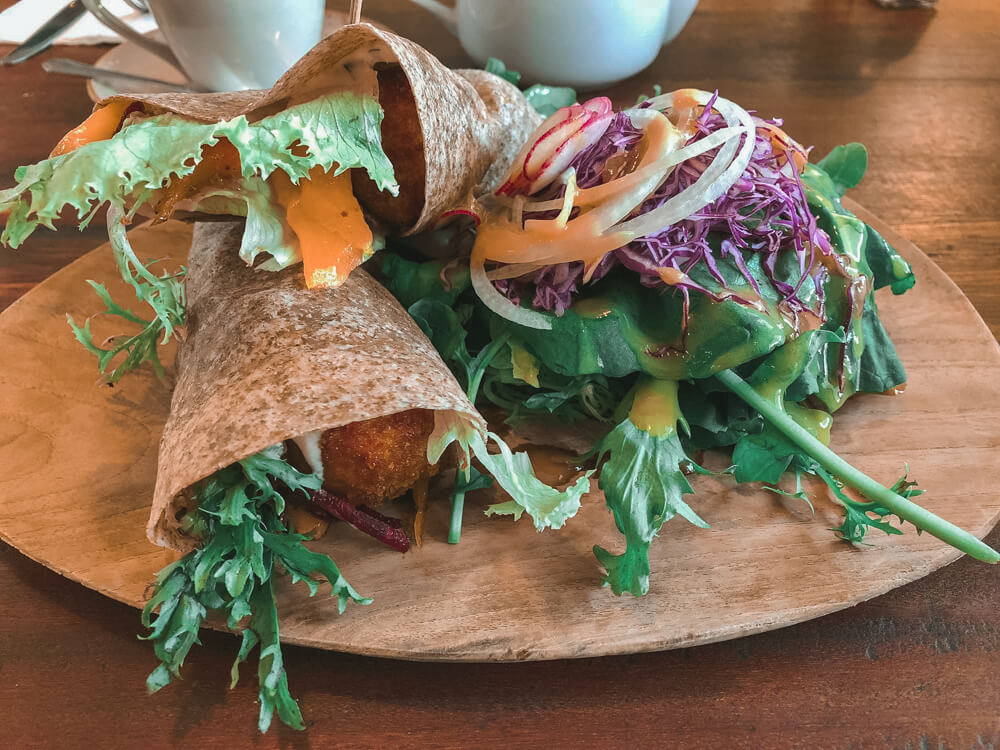 Before you even get started with the food, stepping into Nude's tasteful interior and musical ambiance should put you in a good mood already. The place has both indoor and outdoor seating, with plenty of tables available for solo diners. The cafe's menu is mainly carnivore, but the non-vegan ingredients can be replaced upon request. This is the place to go if you are dining with your non-vegan friends! I loved the falafel wrap (ask to replace the Greek yogurt with coconut yogurt) and Jamu Jamu drink.
It might not be the best place for you if you are hoping to have a vegan feast, but for a light meal (and dessert), Nude is awesome for that.
Address: Jl.Pantai Berawa. No 33. Canggu Berawa, Bali
Hours: 7:00am – 10:00pm
The Loft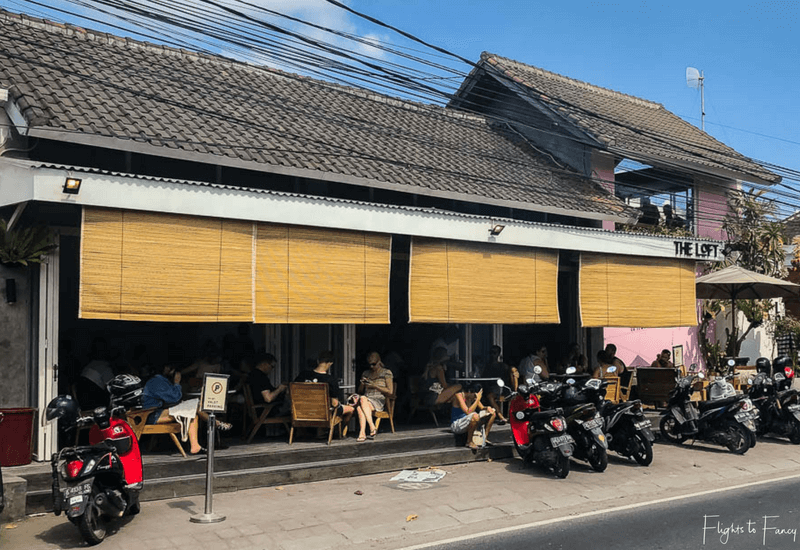 "When you have a large group with varying food preferences it's hard to find a restaurant to please everyone. Our group of eight consisted of three meat eaters, four picky kids and a vegan and The Loft Canggu did a great job of catering to everyone.
The eclectic menu runs the gamut of burgers, wraps, bowls, pasta and an all-day breakfast. Vegans are well catered for with a Jackfruit burger, a vegan wrap, a vegan bowl and the ever popular avo on toast. The portion sizes at The Loft Canggu are on the smaller side so it's perfect for a light lunch, especially when paired with a healthy smoothie. The Loft Canggu has a distinctly hipster vibe and service moves at a leisurely pace so don't bank on getting in an out quickly. If you are short on time, consider grabbing your meal to go from the handy take away window." – Allison of Flights to Fancy
Address: Jl. Pantai Batu Bolong No.50A, Canggu
Hours: 6:30am – 11:00pm
Roti Daal Homestyle Indian (Vegan)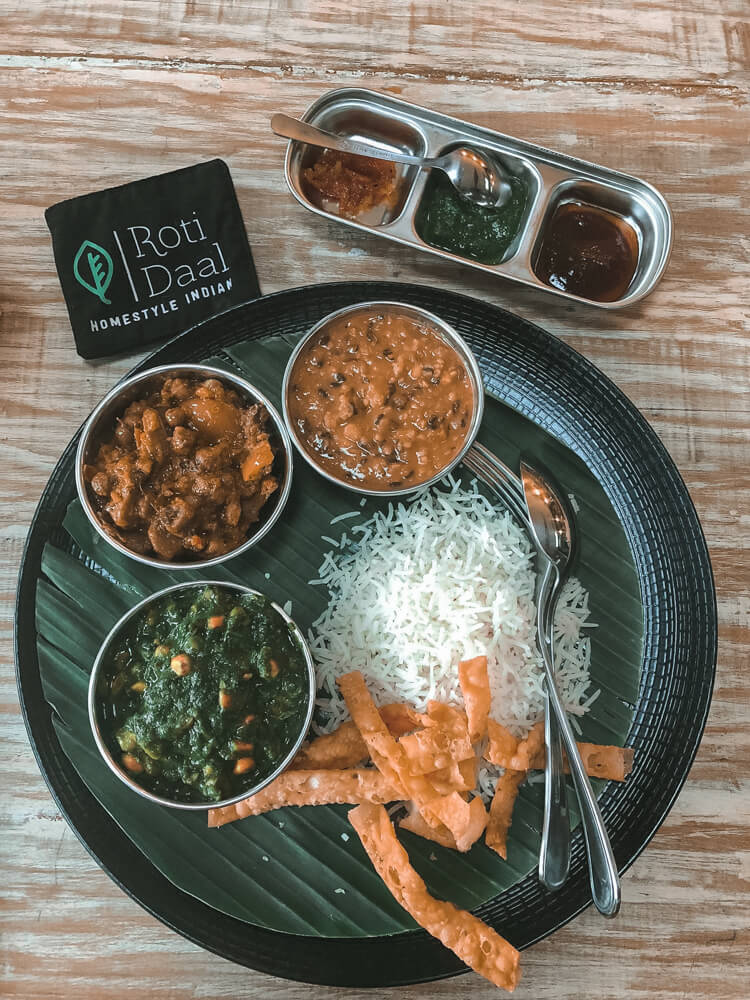 For something a little bit different, head to Roti Daal, a new Indian restaurant that serves homestyle dishes that change every day. For 90,000IDR, you get to pick 3 side dishes, served with rice and roti. Just be warned that portions are huge! I definitely struggled to finish my meal. This place is perfect for one of those days when you crave for nothing but a big and hearty meal. Accompanied by classic Indian music, Roti Daal is a great place for a change from the western cafe vibes in Canggu.
While I was eating there, I noticed many expat families coming in and out of the restaurant to order takeaway. It seems like that Roti Daal has won the hearts of many.
Address: Jl. Pantai Berawa No.48, Canggu
Hours: 11:00am – 10:00pm
Other honorable mentions:
Cinta Cafe
The Shady Shack
Betelnut
Strawberry Fields
Ubud
When one thinks of Ubud, a few things come to mind: the infamous book, 'Eat, Pray, Love', Bali flower baths, yoga, endless rice fields, and vegan culture. It's many digital nomads' top choice in Bali to base in, and for good reasons – it's beautiful, affordable, convenient, and delicious! There are SO many great restaurants, cafes, and small eateries, you can spend months there and not get sick of it. Here are some examples and a bunch of honorable mentions worth checking out:
Siboghana Waroeng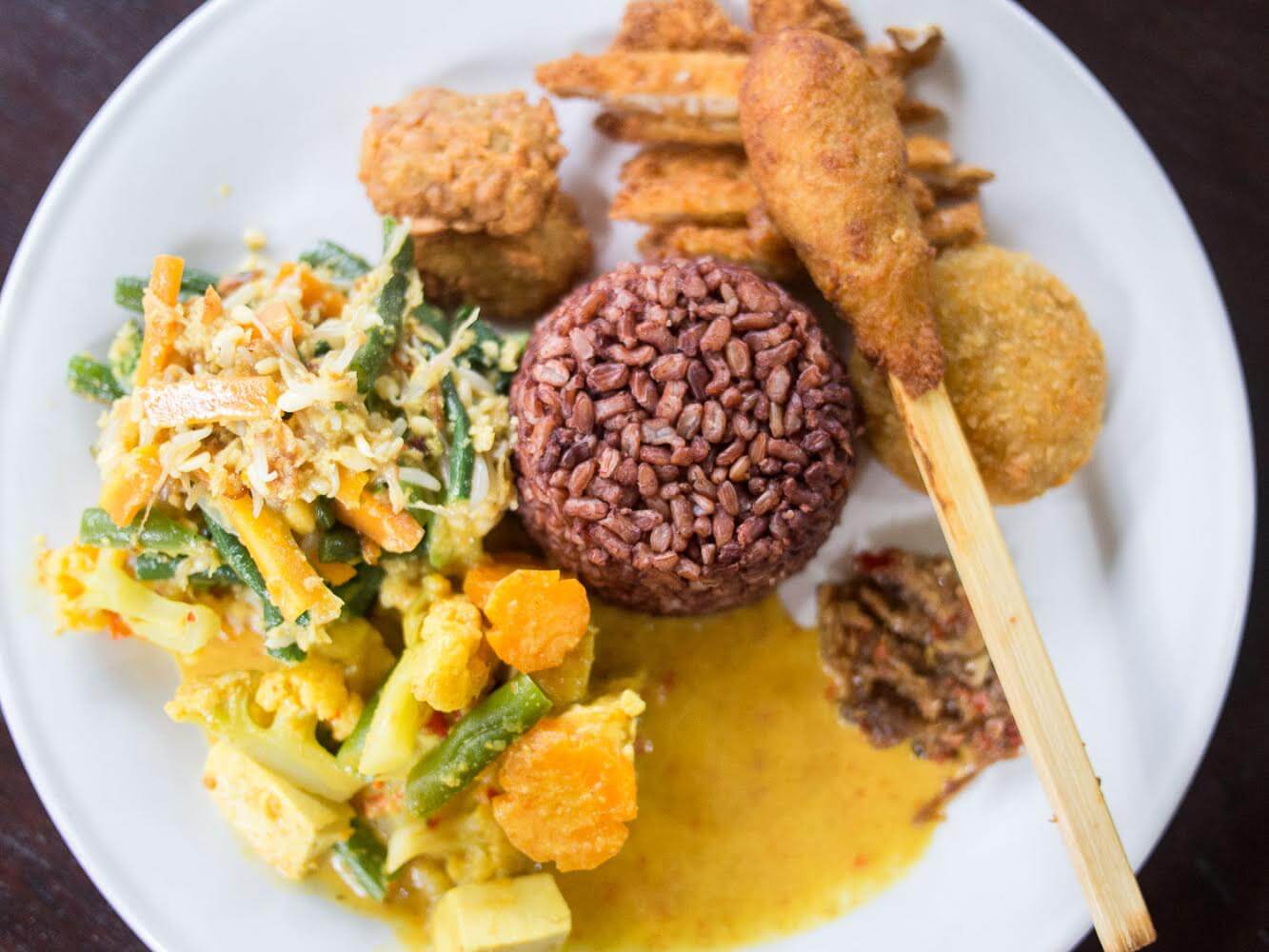 "Siboghana Waroeng is the best value restaurant in Ubud for delicious Balinese vegan food. It's set in a family compound so you get an insight into Balinese life while enjoying flavourful, inexpensive, home-cooked meals. Everything is vegan and cooked in coconut oil with no MSG. All the dishes are excellent but the highlight is the nasi campur, a mixed plate of red rice, vegetable curry, sayur urap vegetables, tempeh, satay, crispy mushrooms, potato cutlet, and a dollop of spicy ginger sambal.
Siboghana is a little off-the-beaten track in the south of Ubud, but it's only a 15-minute walk from The Yoga Barn, and you could combine a trip here with the nearby ARMA art museum." – Erin of
Never Ending Voyage
Address: Jl. Made Lebah No.36, Peliatan, Ubud, Kabupaten Gianyar, Bali
Hours: 12:00pm – 9:00pm
Warung Gauri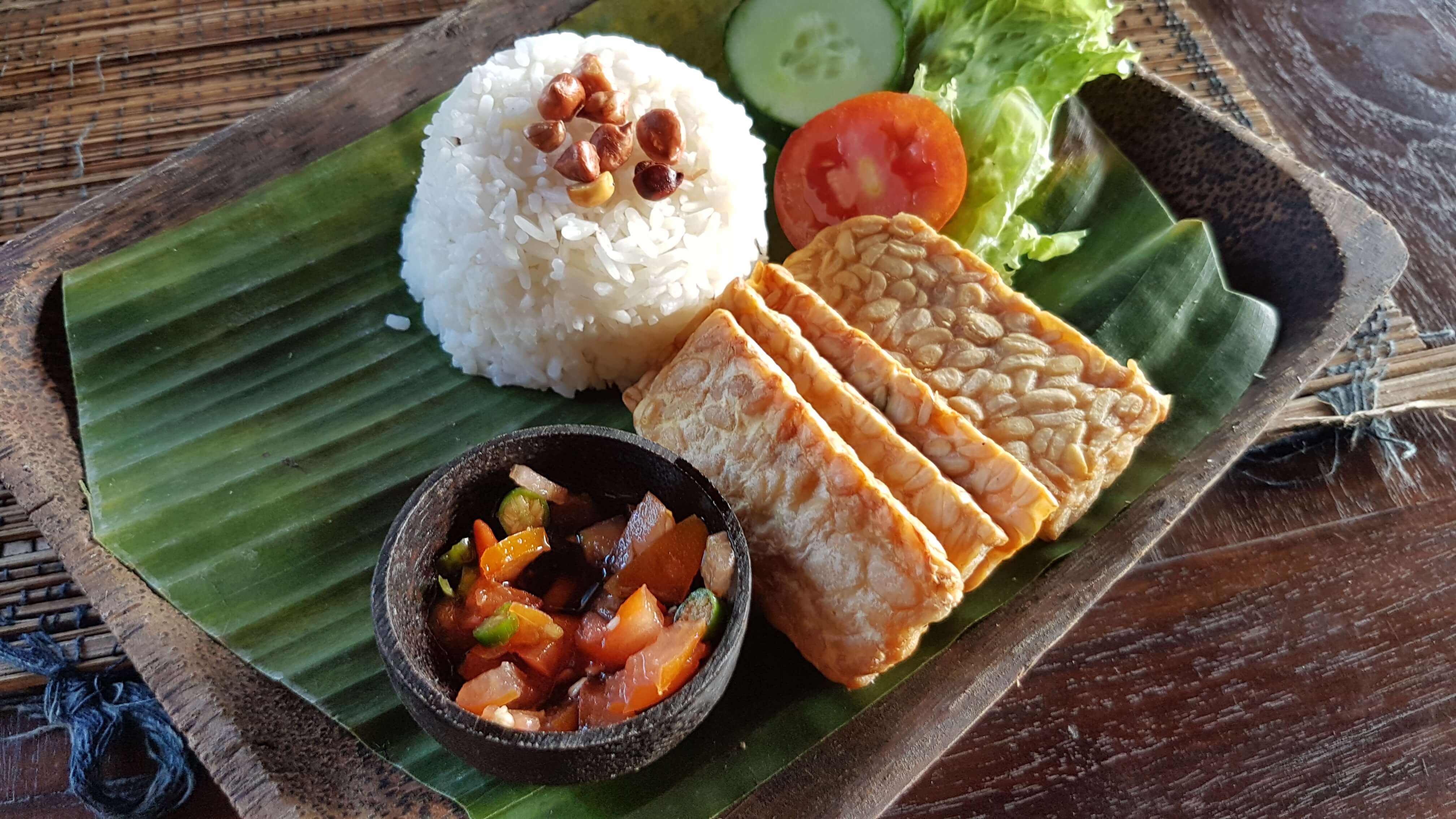 "Warung Gauri is a traditional Indonesian restaurant in Ubud. The restaurant is family-run, and it's also a homestay. The Tempeh served here is the best Tempeh I've ever eaten, and the price for a dish is just 15,000 IDR. The Tofu served at Warung Gauri is great too, and the portions are generous. The mother and grandmother who work in the restaurant don't speak a lot of English, but the menu is in English and they're always smiling.
I've eaten at quite a few vegan restaurants in Bali, but this is by far the best traditional Indonesian warung I've found in Ubud." – Alex of Swedish Nomad
Address: Sunset Lane, Jl. Bisma No.25, Ubud, Kabupaten Gianyar, Bali
Hours: 8:00am – 11:00pm
Bali Buda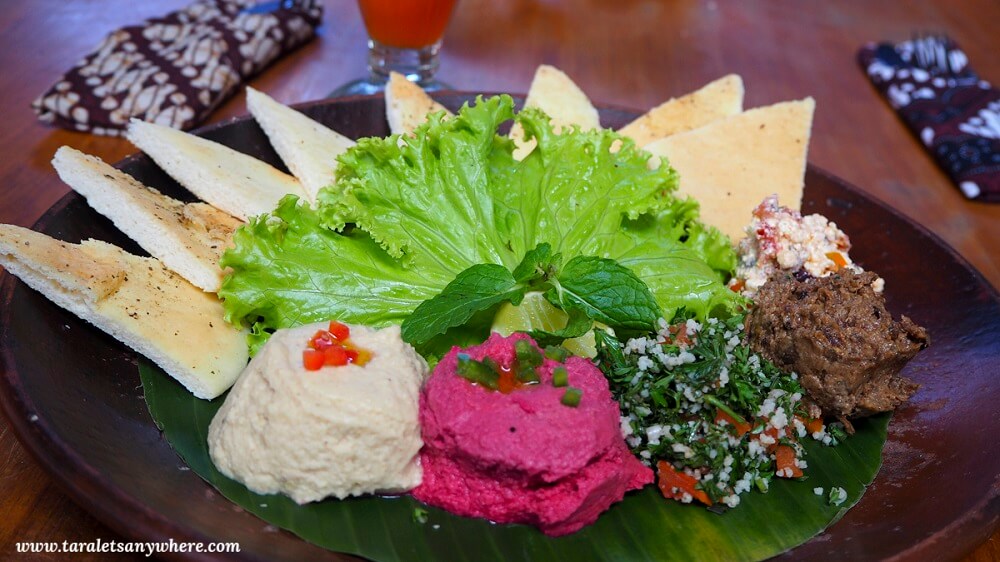 "Bali Buda is one of our favorite restaurants in Ubud. We'd been here twice and had an amazing time both times. Bali Buda has an extensive menu, which includes healthy & delicious homemade meals. There are breakfast items such as its tutti-frutti bowl, Italian & Indonesian mains such as rice, pasta, burgers and tacos, as well as desserts. It also has a separate list for Raw Vegan Menu and Raw Vegan Delights, the latter consisting of pies and balls. Our favorites here are its vegetarian lasagna, vegetarian tacos and Mediterranean plate.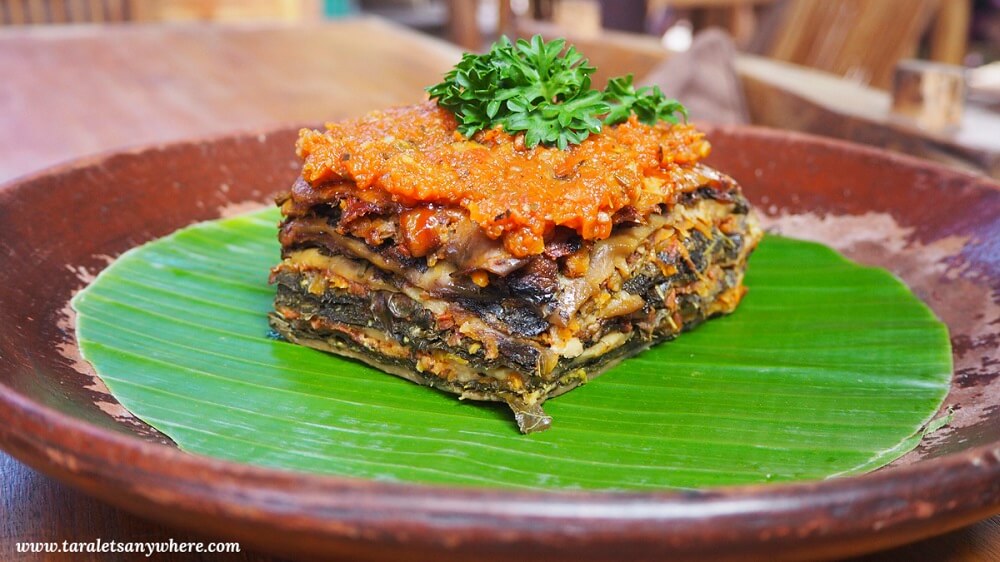 Bali Buda is just walking distance from the center of Ubud. The ambiance here is light and casual, and amazingly the prices reasonable for the quality you're getting. " – Katherine of Tara Lets Anywhere
Address: Jalan Jembawan No.1, Ubud, Gianyar, Ubud, Kabupaten Gianyar, Bali
Hours: 7:00am – 10:00pm
Warung Falafel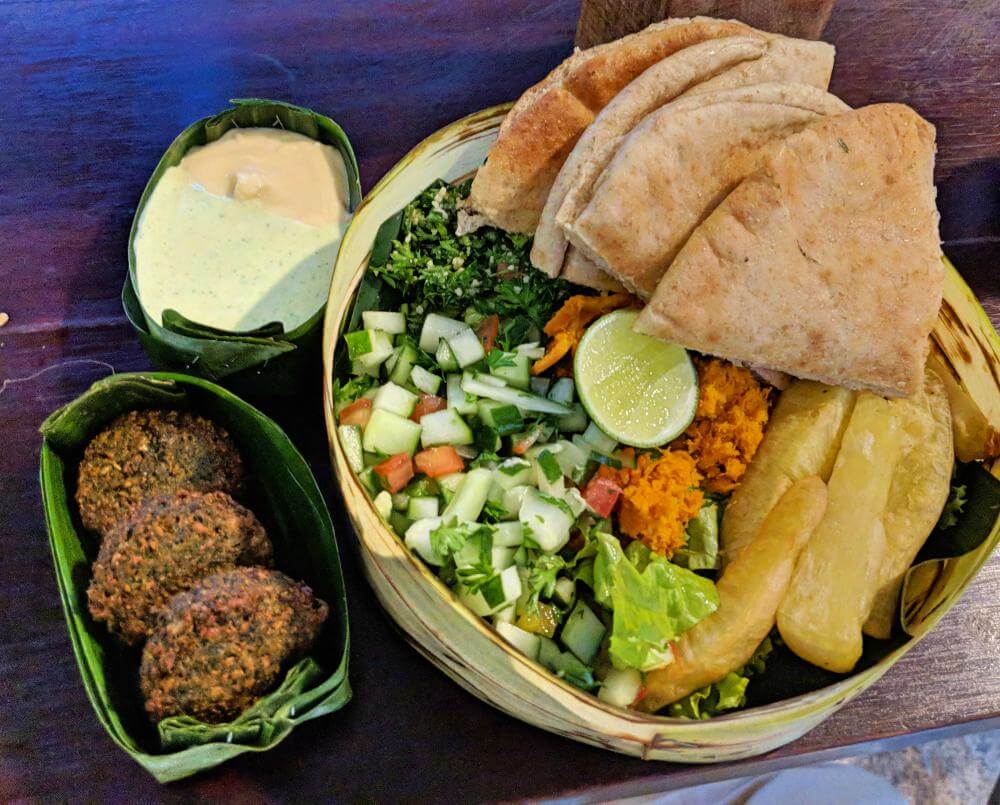 "Falafel lovers rejoice! Check out "Warung Falafel" when you're in Ubud. It's a small, casual restaurant in the Traditional Ubud Art Market area that focuses on falafels and made to order juices. Enjoy the crispy and flavorful falafels three ways – in a pita, chapati wrap, or bowl. Each meal comes with three extra toppings of your choice such as spicy carrot, eggplant salad, tabouli, sweet potato fries, and more. Fresh pressed juices and smoothies are popular drinks.
Consider dining in at the open patio in front of the restaurant or takeaway your meal. We appreciate the restaurant's eco-friendly packaging as the bowls and wrap holders are made out of banana leaves. Check out this place for a healthy option in Bali!" – Jackie and Justin of Life Of Doing
Address: Jl. Karna No.15, Ubud, Kabupaten Gianyar, Bali
Hours: 9:00am – 9:00pm
Dayu's Warung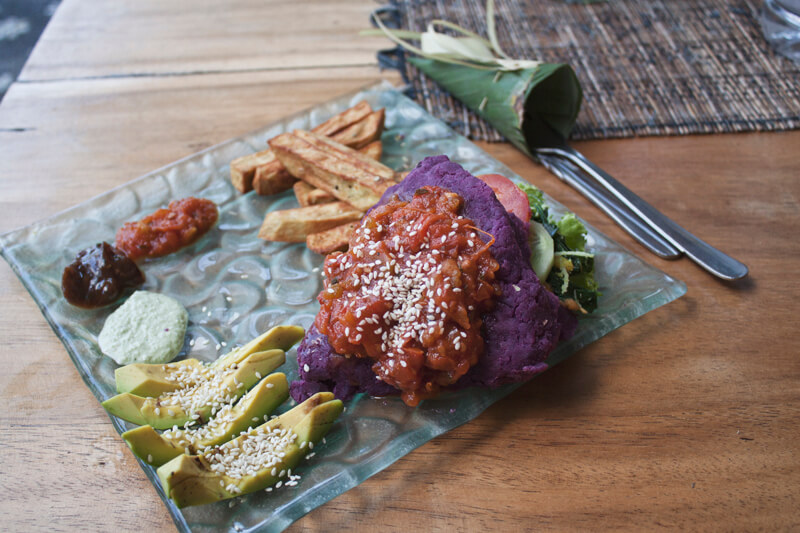 "Dayu whips up some of the healthiest, freshest fares I've come across in all my time in Asia. If you've been suffering from an MSG overload from spending too much time in this neck of the woods, this is the place to be.
Everything at Dayu's Warung is made with quality ingredients and organic, fresh, local produce – and they really shine through in the way they are prepared with minimal seasoning. On my visit, I sampled the tempeh pumpkin lasagna and the sweet potato veggie coconut sandwich pictured. They were both gorgeous, delicious, fresh, and most importantly huge! Dayu is a cozy open space restaurant with an upstairs area that is especially quiet – perfect to escape the Ubud hustle for a few hours. They also offer a vegan cooking course that I wish I had done." – Amélie of Mostly Amelie
Address: Jl. Sugriwa No. 28X, Padang Tegal Mekar Sari, Ubud
Hours: 7:30am – 10:30pm
Fresh Cafe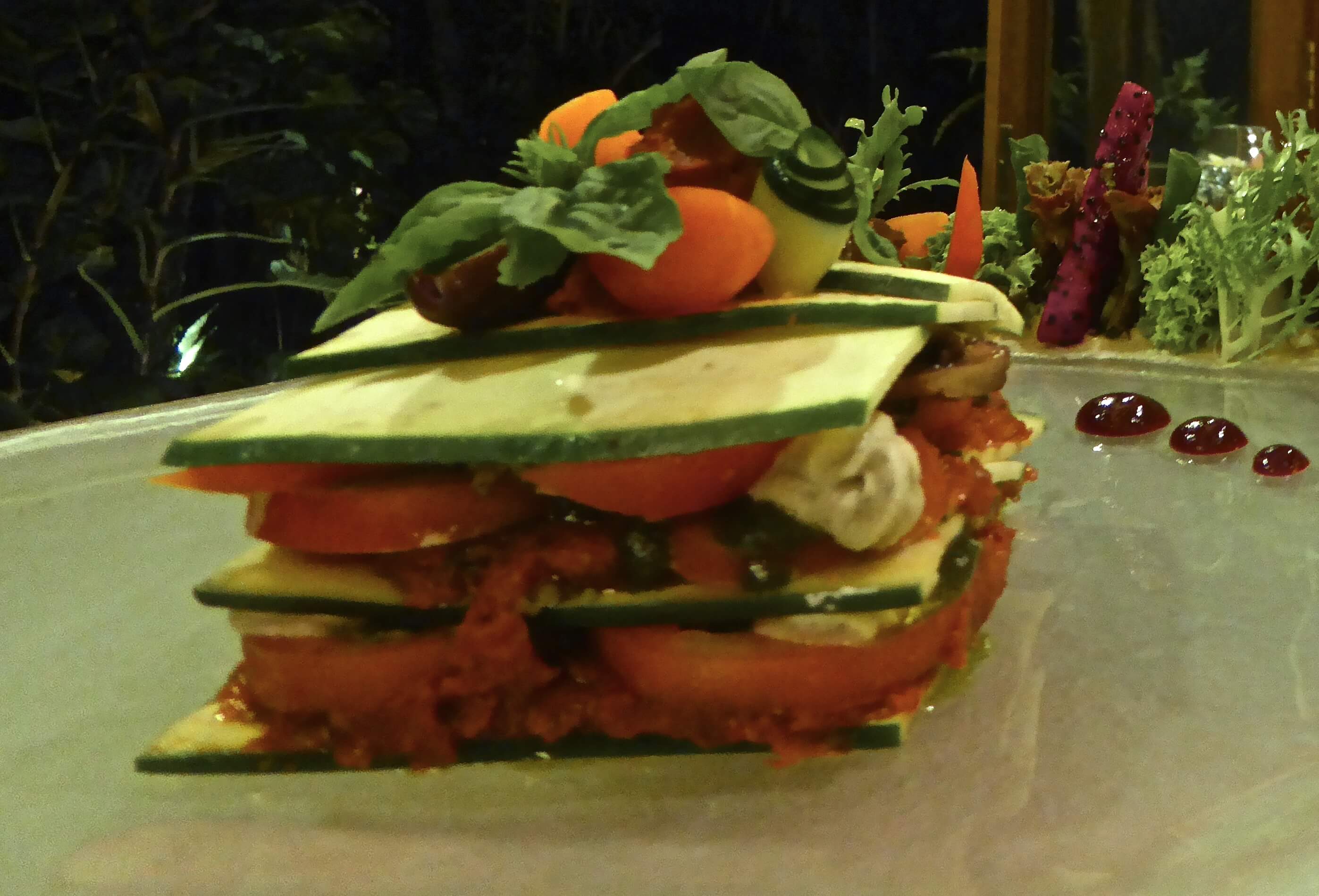 "Fresh is a really cool raw vegan restaurant in downtown Ubud who serve tasty but healthy raw vegan food. The ingredients are all locally sourced and it's not expensive at all. We came here as vegan virgins and left converted – everything we tried was not only filling, but bursting with flavour. Our favourite was the avocado tartare starter and the "Living Lasagne" (made from zucchini, sundried tomato and almond paste). We also love the fact that the chef takes great care in presentation, ensuring that each dish looks like a work of art.
The ambience is gorgeous, with a jungle-like theme in a tropical outdoor terrace, with river view; it's like you've entered another world. We definitely recommend to everyone whether you're vegan or not." – Stefan and Sebastien of Nomadic Boys
Address: Jl. Goutama Sel., Ubud, Kabupaten Gianyar, Bali
Hours: 8:00am – 10:00pm
Other honorable mentions:
Kismet Restaurant & Lounge
Seeds of Life
Atman Kafe
Clear Cafe
Alchemy
Sage
Beloved Earth Cafe
The Garden Kafe @ The Yoga Barn
Sayuri Healing Food
Seminyak
We will be honest: Seminyak isn't our favorite place in Bali. It's the sad reality of over-development – there's trash everywhere, too many bars and clubs, insane traffic at any time of the day, and tourist traps at every corner. However, if you land in Bali late into the night, or have an early flight out to catch, it's a good idea to spend a night in Seminyak. If you are not a fan of the crowded bars and malls like us, here are a few nice vegan places to spend your day in Seminyak:
Mad Pops Bali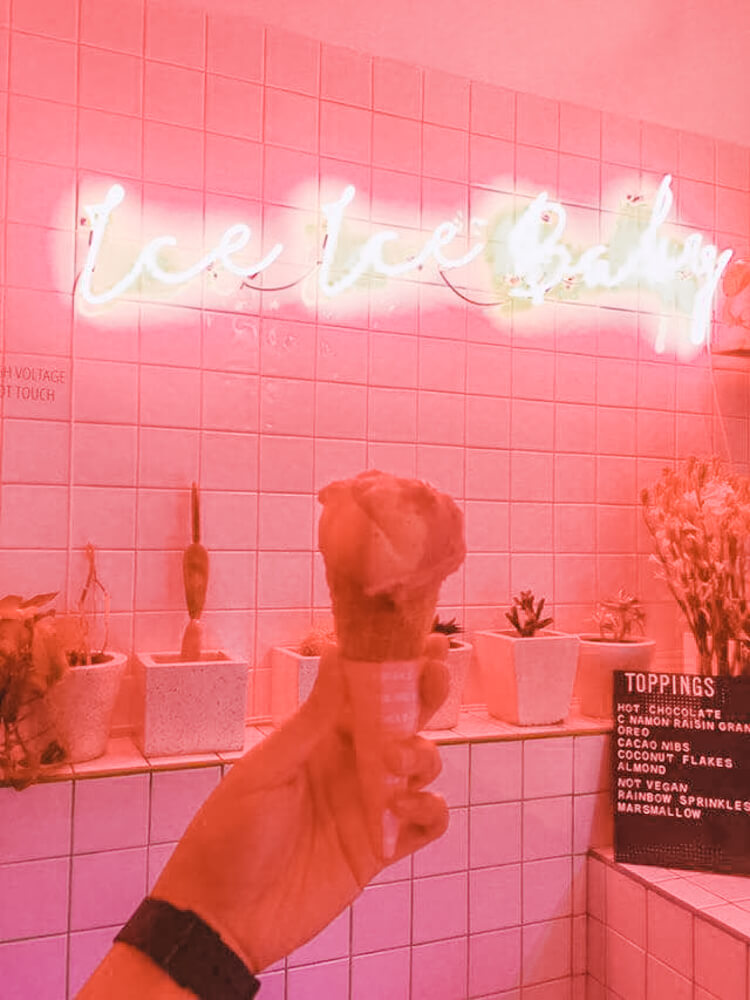 You've probably seen the infamous "Ice Ice Baby" background on Instagram while searching in Bali. This ice cream spot in Seminyak has many Instagrammers flock over to get their best shot. Other than a photogenic place, the ice cream itself is also absolutely delicious – fresh and flavorsome, perfect for the crazy heat!
To be completely honest, we are still in search of a vegan ice cream that has the same creamy consistency of a dairy ice cream, but the ones we had at Mad Pops were absolutely delicious!
Address: Jl. Kayu Aya No.48, Seminyak, Kuta
Hours: 11:00am – 10:00pm
Earth Cafe & Market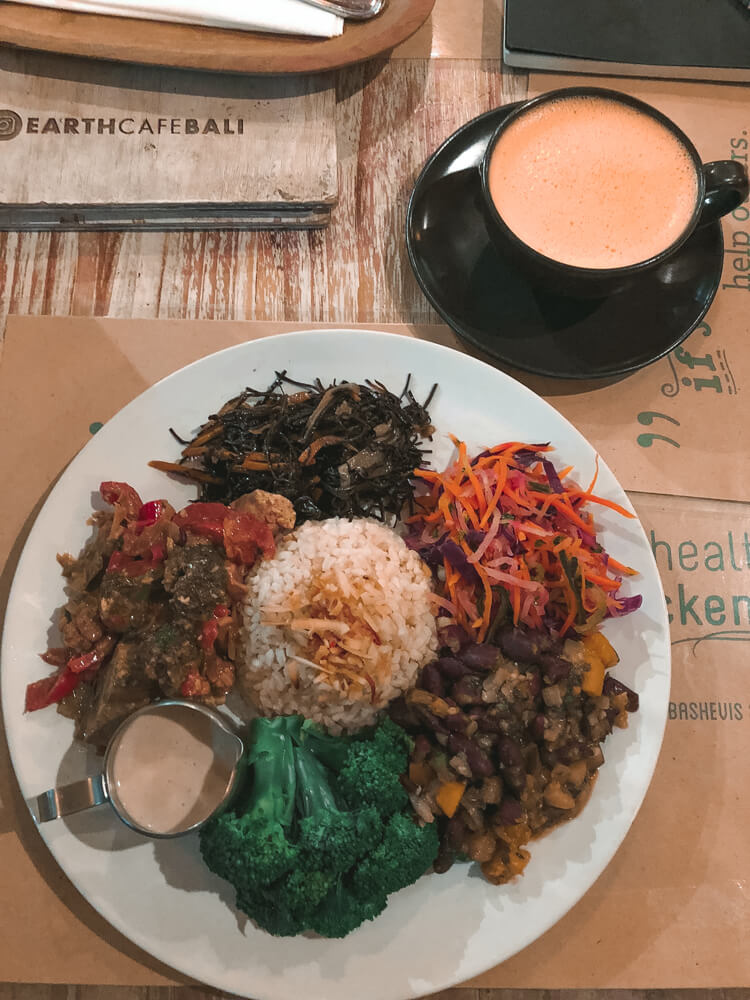 Earth Cafe has branches in both Seminyak and Ubud, offering a 100% plant based menu. I love the variety of food items offered, from the classic smoothie bowls and salads, to the creatively curated Nori Maki and raw pizzas. I've been there a few times, each time trying out different things, and never left the place disappointed. My personal recommendation is the Planet Platter, a generous serving of brown rice, 2 daily changing protein dishes, seaweed, pickled salad and greens, which will definitely hit the spot!
Right next to the cafe is a vegan market, selling goodies like vegan snacks, skincare products, books, and groceries. According to their website, they support local traditional farming and educate the local community about ways to improve their quality of life. It's always a plus to be able to support the locals!
Address: Jl. Kayu Aya 99, Seminyak
Hours: 7:00am – 11:00pm
The Cashew Tree Cafe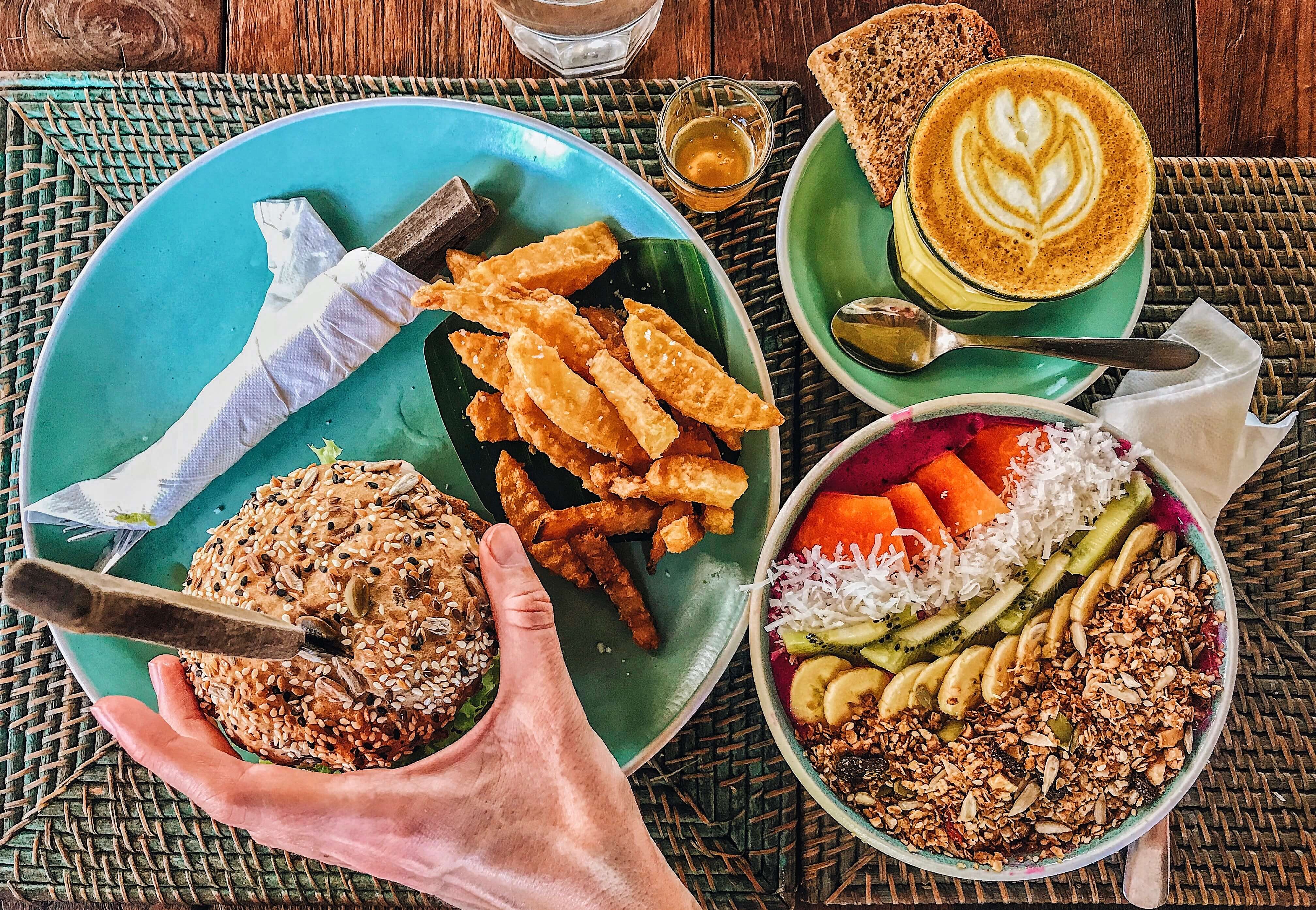 "One of our most-liked places was The Cashew Tree Cafe on Bukit Peninsula.
This place is not fully vegan but there are plenty of options on the menu offering vegetarian, vegan and gluten-free dishes. Smoothies and smoothie bowls are simply amazing and you should visit for them alone. Plant-based Benedict breakfast is so delicious that you'll want to repeat and come back. We personally fell for their quinoa bowl, organic salad, vegan burger, smoothie bowl and turmeric latte.
Just keep in mind, during the busy hours it may take up to 30 minutes of a wait time. When it comes to the location, it is a bit hard to access The Cashew Tree. You either need to ride a bike or take a taxi, but it's worth the effort. And, we guarantee you'll love a cafe's lovely relaxed environment with healthy food!" – Anya and Mark from Road is Calling
Address: Jl. Pantai Bingin No.9, Pecatu, Kuta Sel., Kabupaten Badung, Bali 80361, Indonesia
Hours: 8:00am – 10:00pm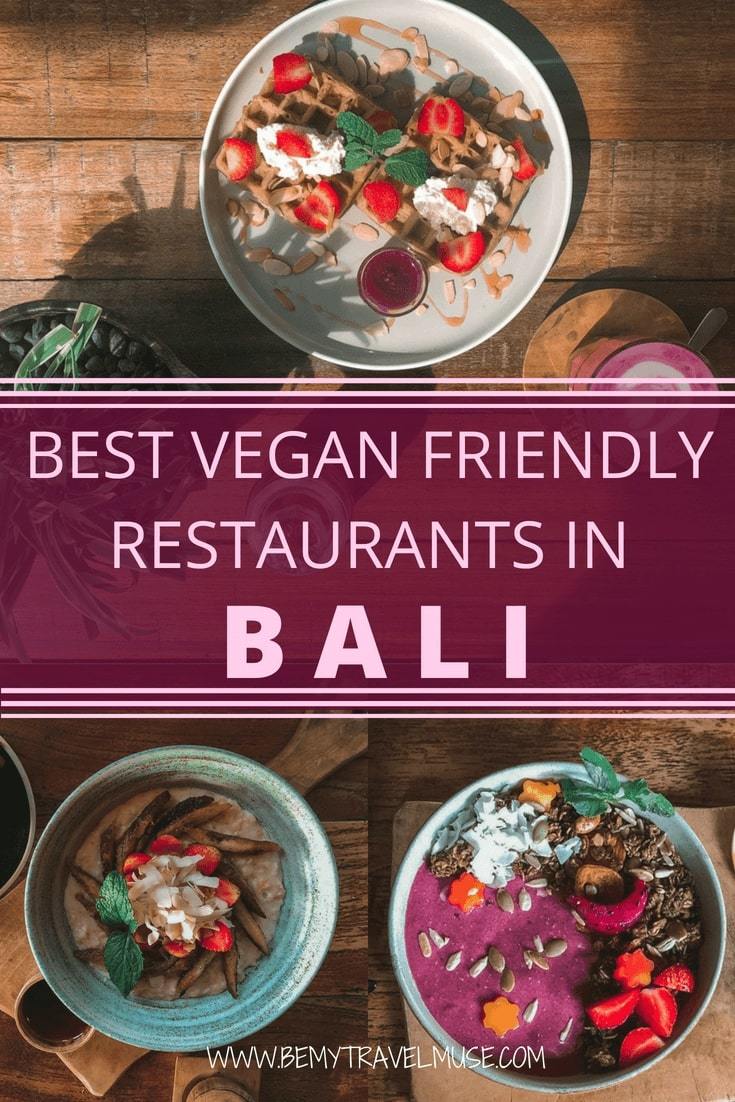 Yum! Are you hungry yet?
I hope this guide helped you find some amazing vegan restaurants in Bali. The great news is, there's so much to choose from and the healthy lifestyle options over there keep growing day by day.
What are some of your favorite places? Let us know what we missed in the comments!