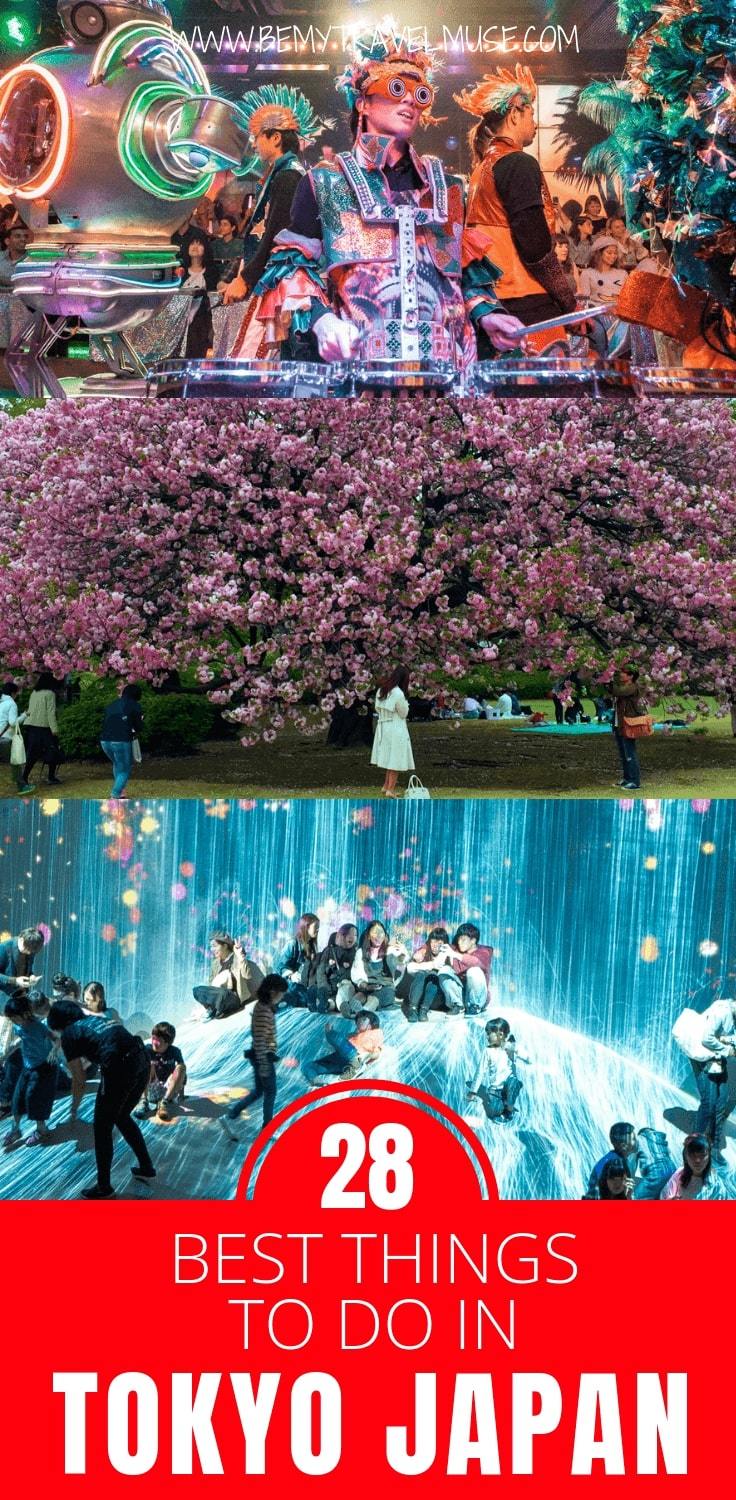 Tokyo is easily one of the most captivating cities in the world with its advanced technology, unique culture, and delicious cuisine. From themed robot cafes to the blooming Sakura trees to the digital teamLab museum, there's so much to do in Tokyo it can be tough figuring out where to start.
This guide has some of the best things to do in Tokyo, broken down into categories including the delicious, the cultural experiences, and the weird and amazing:
Food & Themed Cafes
1. Tsurutokame Kaseiki Restaurant

Tucked away in the streets of Ginza, Tsurutokame is unlike any other Japanese restaurant you have heard of. The restaurant is the only all-female Kaiseki restaurant in Tokyo, led by 7 amazing chefs aged 18-35. In true Kaiseki style, the multi-course menu changes daily. More than just an excellent restaurant, Tsurutokame is a movement that aims to shake up the male-dominated restaurant scene in Japan. It has gained well-deserved popularity, with regular guests coming back for more. Since it's so popular, it's best to book seats as early as you know you'll be in Tokyo. The experience only costs 10,000¥ to 16,000¥, which is almost unheard of for Kaiseki.
2. Kawaii Monster Cafe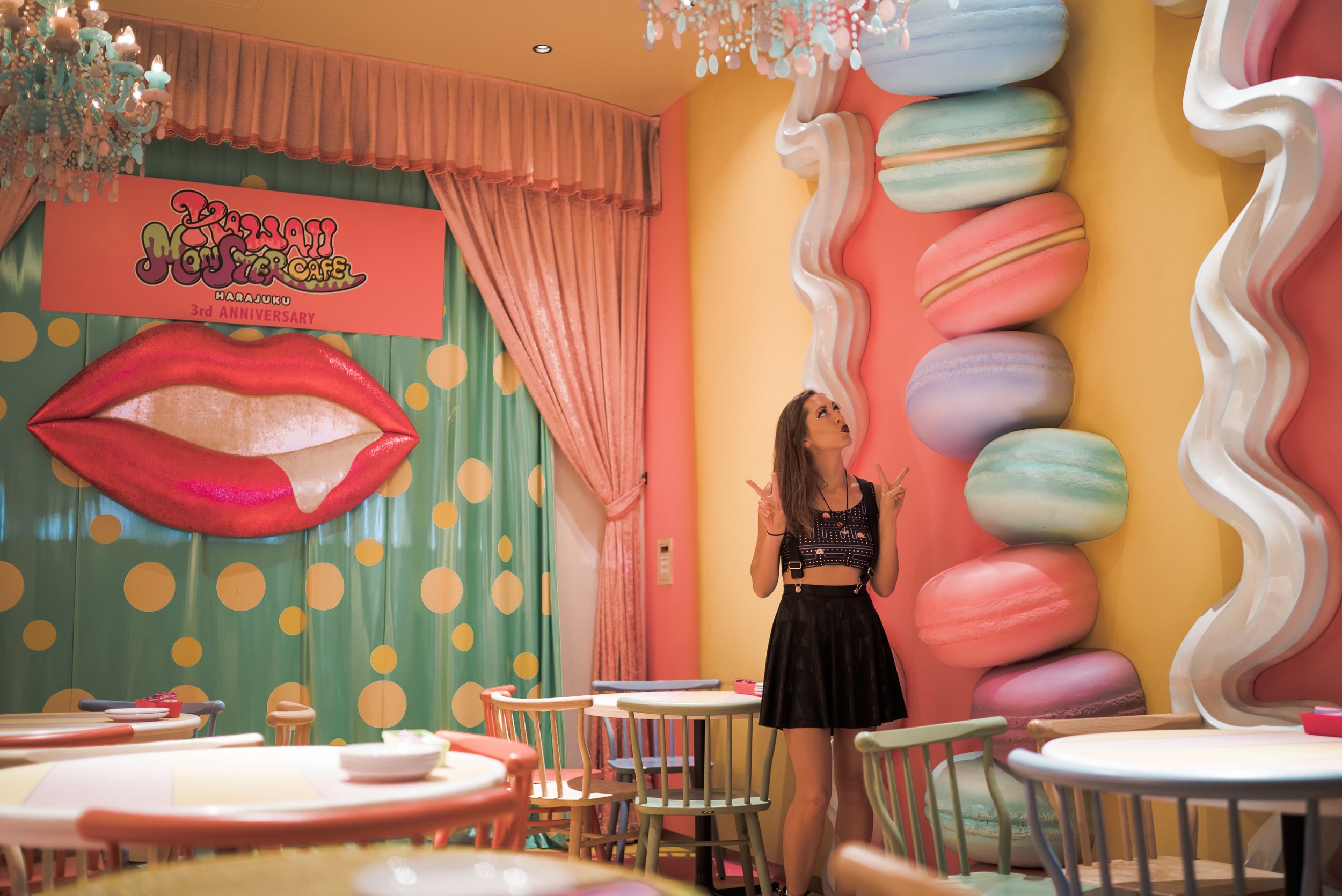 If you like bright colors, Alice in Wonderland-esque design themes, and macarons bigger than your head, then you absolutely must pop in to the Kawaii (translation: cute) monster cafe. There are four different sections, including the Mushroom Disco, Milk Stand, Bar Experiment, and Mel-Tea Room. Each is a whole new world to explore, with unique decorations that make for interesting photo ops. I visited at lunch time on a weekday and was able to get a table after 10 minutes. You can also make a reservation on their official website. Entry costs 500¥ and each guest must buy at least one dish and one drink. The food is a lot more about looks than flavor so do manage your expectations.
Read more: 10 Quirky Things to do in Harajuku, Tokyo
3. Narisawa

Michelin awarded Chef Yoshihiro Narisawa serves his unique kind of innovative Satoyama-inspired cuisine at this Tokyo institution. Narisawa has been included in the list of the best restaurants in the world several years running. The set menu showcases the satoyama scenery of Japan with forests reaching out to the sea and has interesting dishes like the self-raising forest bread, which is "cooked" on the table as you savor the amouse-bouche.
Every dish on the menu is made of entirely local ingredients from all parts of Japan, and their specific origins are listed on the menu. The food can be paired with one of hundreds of sake bottles or wine. – Mar of Once in a Lifetime Journey
4. Sunamachi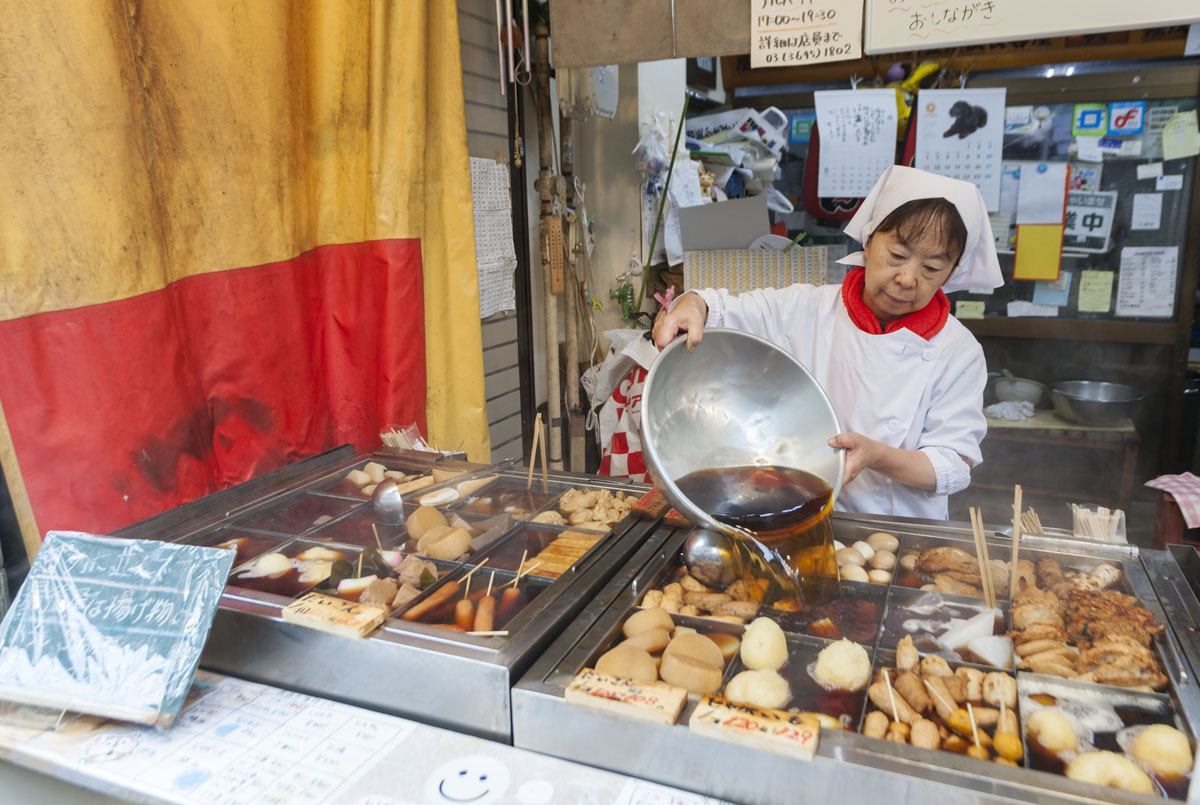 Eating street food in Tokyo is not really a thing, as eating food on the street is considered rude in Japan. However, Sunamachi, a pedestrian shopping street in Koto Ward, is one of the few places in town where eating on the street is commonplace. Sunamachi is also known as side-dish street, as it is lined with food shops and stalls selling food that is traditionally enjoyed as a side dish with rice, like tempura, pickled vegetables, yakitori, and even unusual specialties like oden (pictured above) which is skewers of tofu and vegetables in a light soy and dashi broth. – Margherita of The Crowded Planet
5. Tsukiji Market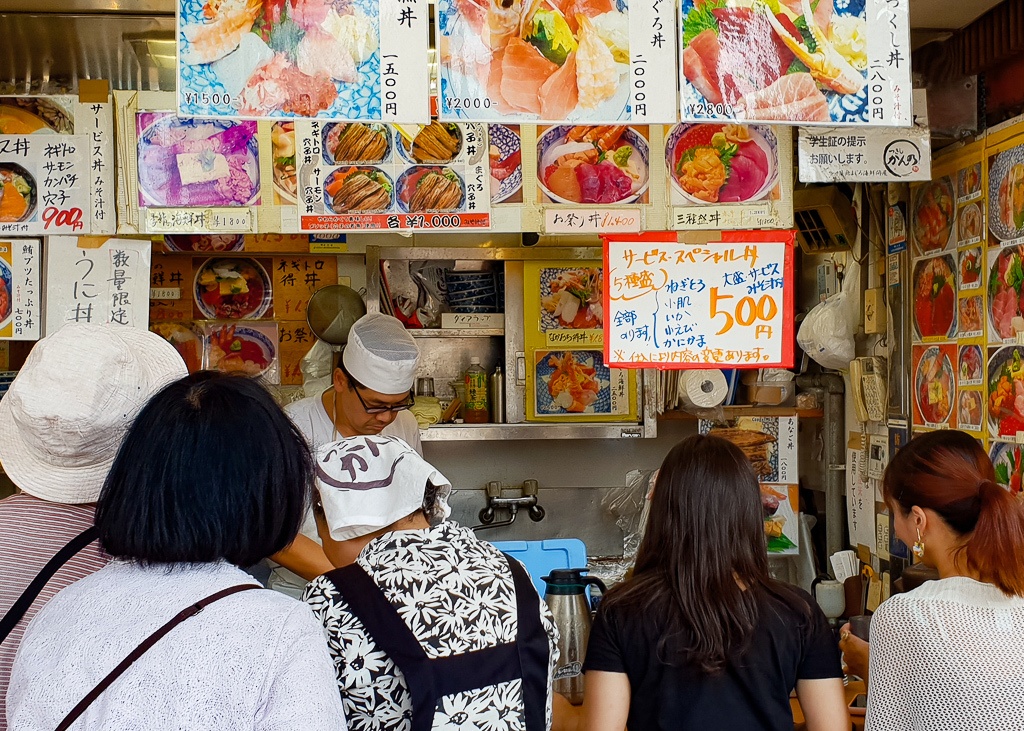 If you're hungry in Tokyo, head straight to the former Tsukiji fish market where there a dozens of street stalls and small cafés with an abundance of tasty treats. The famous tuna auction may have moved to Toyoso, but the bustling market atmosphere remains at the old outer market site. Must tries: The freshest sushi, sea urchins eaten straight out of the shell, and delicious wasabi tempura crab sticks. If you are new to Japan, the best way to explore Tsukiji is through a guided tour. – Katy of Untold Morsels
6. Traditional Kissaten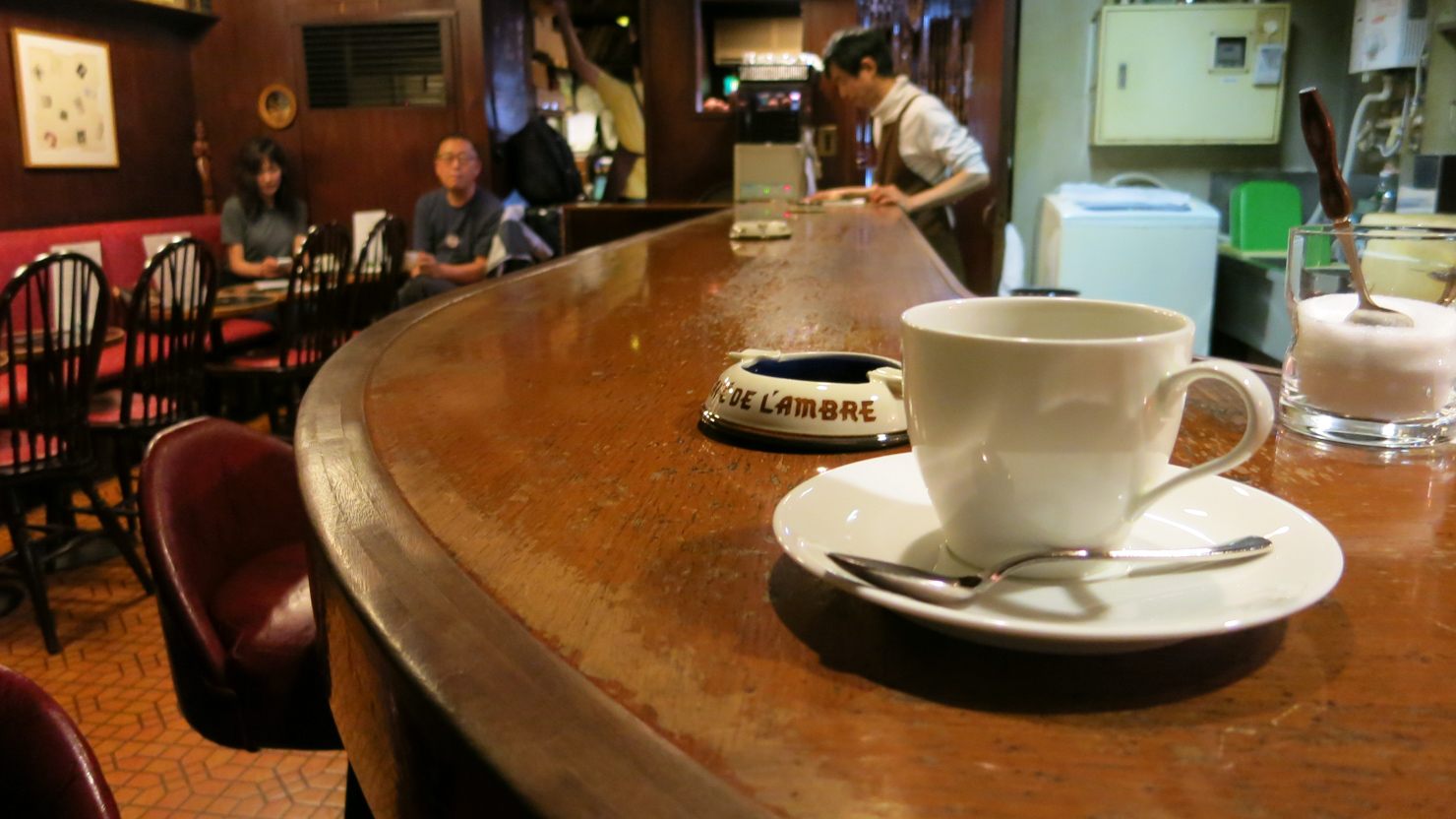 While most of Japan is going through a coffee renaissance, you can soak up older Tokyo culture at a traditional kissaten, a style of coffee shop that became popular decades before Starbucks reached the west. For one of the most classic, I would most recommend Cafe de l'Ambre – never mind the western name! – which was established in 1948 in Ginza. Their specialty is aged coffees, some of which are from the 1970s, and whose prices can exceed 1,000 yen a cup. These kissaten have the genteel atmosphere of an old club, with wood and leather furniture, and coffee makers dressed formally and behaving like sommeliers. The best part is that the owner of Cafe de l'Ambre, Ichiro, Sekiguchi, who founded it in 1948, can still be seen roasting coffee, even though he's over 100 years old! – Dana of Discover Discomfort
7. Robot Restaurant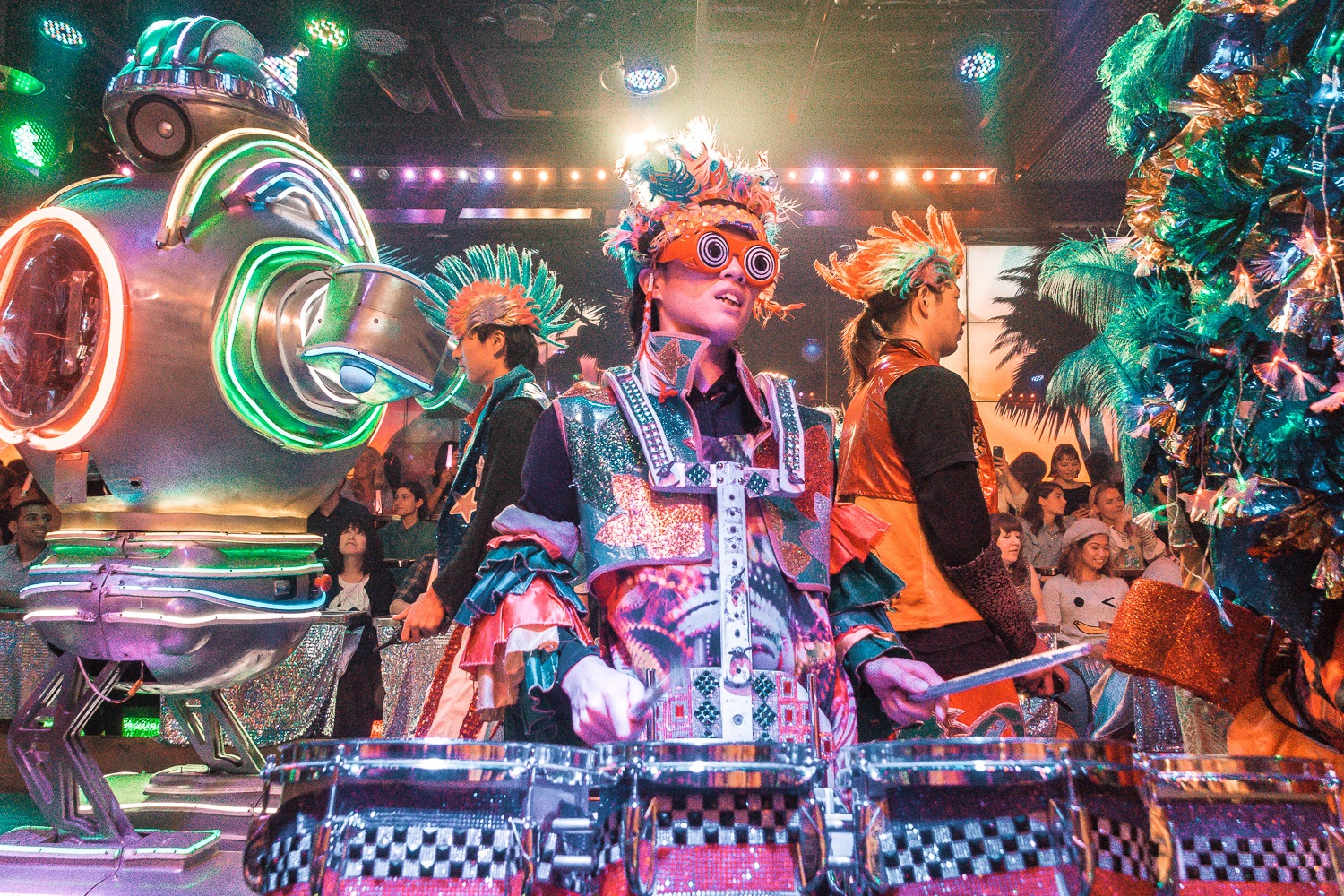 The Robot Restaurant in Tokyo is situated in the infamous area of Kabuchiko in Shinjuku. From the moment you step into the building, you will be met with glittery walls and neon colors everywhere. Here awaits a neon-colored display with robots, dancers, ninjas, warriors and, and beyond. For 90 minutes, you get the show of a lifetime where robotic machines are fighting each other, dragons are spitting out real fire, and ninjas are swinging their swords while the audience is swinging their glowsticks.
I recommend buying tickets before you go, because it's a very popular show, and tickets usually sell out. There are 3 daily shows, and the earliest one is usually not sold out during weekdays. It's also possible to buy last minute tickets at the door if there are some available. – Alex of Swedish Nomad
8. Pokémon Cafe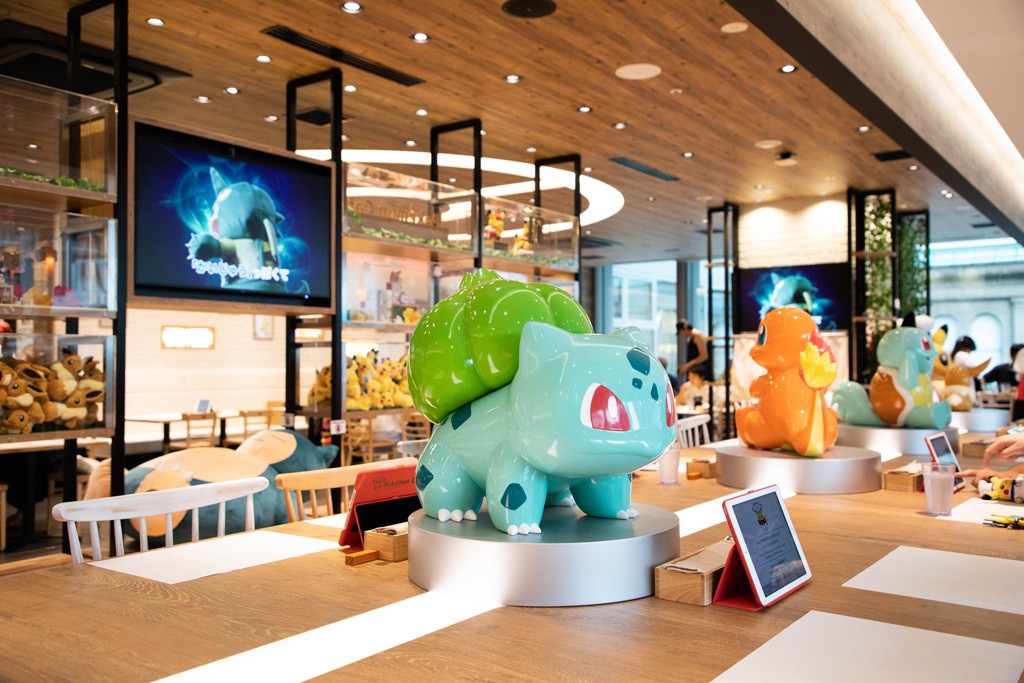 The Pokemon Cafe, located right next to the largest Pokemon Center in Tokyo, has taken the Pikachu experience to the max. As you enter, the themed cafe is decorated from top to bottom with everything Pokemon. There is a soft Snorlax snoozing on a shelf, a TV with Pokemon cartoons, as well as pictures and statues galore. The digital menu, with an English option, is easy to use, however trying to choose between pancakes, curry, or pasta is much more difficult. Every dish is decorated with Pikachu or another character. The cafe is located in the Nihonbashi area of Tokyo where there are lots of museums, shops, and parks, so it's easy to stop in for a lunch or sweet snack! – Corinne of Reflections Enroute.
9. Hello Kitty Cafe
Café de Miki with Hello Kitty offers a whimsical dining experience centered around the popular Japanese cartoon character, Hello Kitty. The café, which is located inside Diver City Shopping Mall, is the perfect place to enjoy breakfast or breakfast for dinner. The décor inside the restaurant and even the food is fun and Hello Kitty-themed. If you are visiting Tokyo with kids, they will especially enjoy getting to dine with the lovable kitten, as every table has a large plush Hello Kitty toy that sits next to you while you eat. – Melissa of Parenthood and Passports
10. Pompompurin Cafe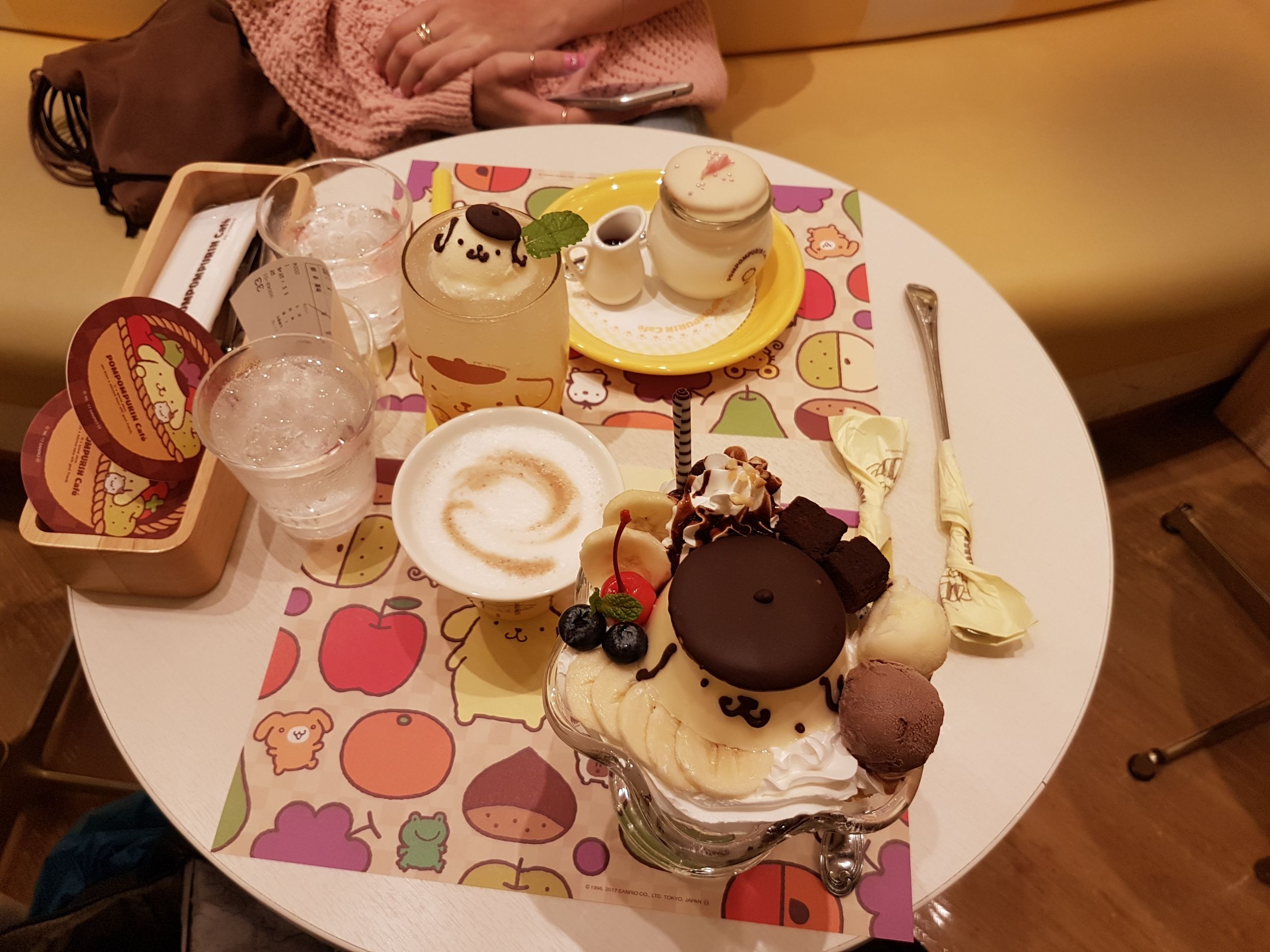 If you've ever been a Sanrio store, you've probably seen the famous character "Pompompurin". It's one of the cutest anime characters, and in Tokyo, one could visit his own cafe. In the middle of Takeshita Street in Harajuku, you'll find the adorable Pompompurin Cafe.
Here you can enjoy a delicious Ice cream that looks like Pompompurin or various other themed dishes with Purin and his friends. The whole place is really cute. The food is quite nice, but of course, you come here for the themed experience and not primarily for the quality of food. Prices are reasonable as well and all in all, I can heartily recommend this cute little anime cafe. – Christine of Christine Abroad
Nature & Culture
11. Shinjuku Gyoen Park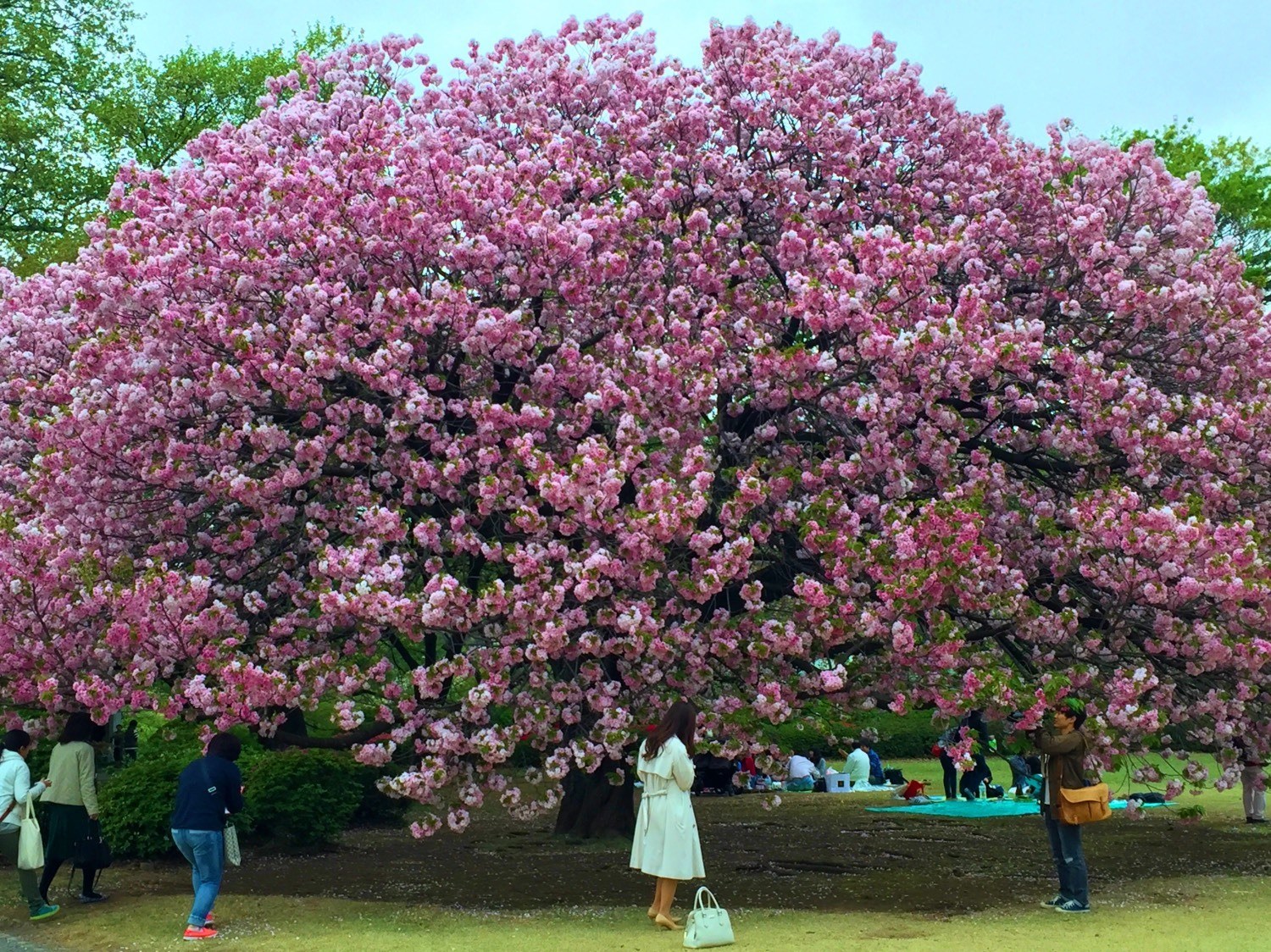 We loved visiting Shinjuku Gyoen during spring, a huge park that's like an urban oasis in the middle of Tokyo during sakura (cherry blossom) season. You can see hundreds of trees with over 12 different varieties of blossoms all blooming with delicate pink and white petals. Another bonus when visiting at this time of year is watching the tradition of hanami, where groups of Japanese families, friends and colleagues celebrate the arrival of spring under the cherry blossom trees with picnics and songs. – Kylie of Our Overseas Adventures
12. Yoyogi Park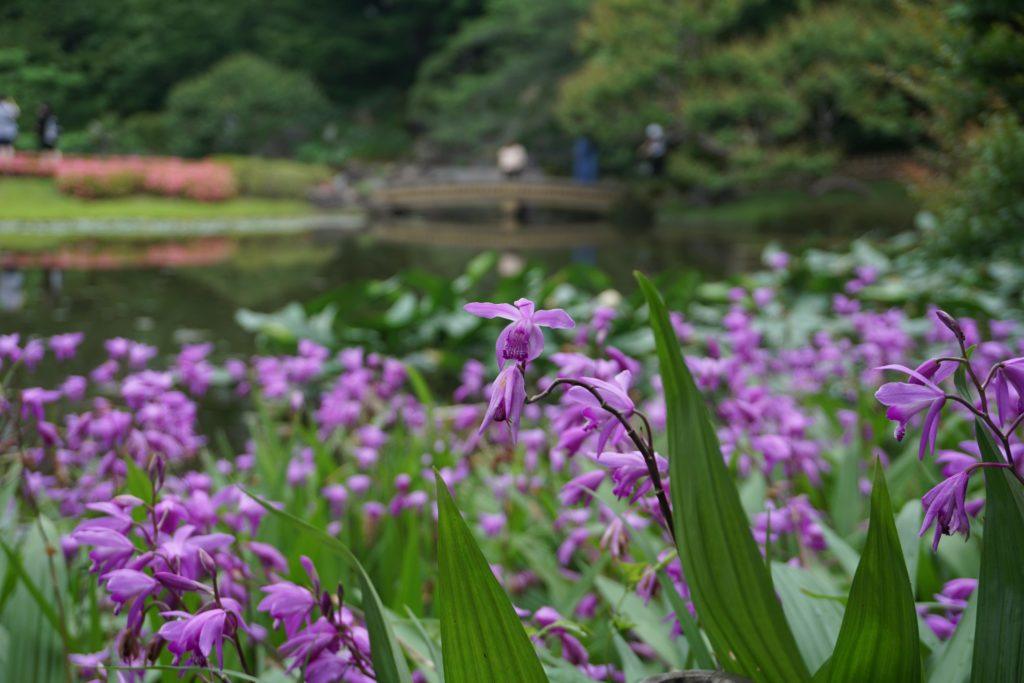 When staying in Tokyo you must visit Yoyogi Park. It's a great opportunity to flee from the hustle and bustle of the big city and relax a little bit in peaceful nature. On the weekends, you can find many local families here and children playing all over the park. That's what we loved so much about this place – While many other parks in Tokyo feel rather like a tourist attraction, the Yoyogi Park has a much more authentic and local vibe.
The best time to visit this beautiful park is around spring or summer when it is comfortably warm outside or, of course, during the cherry blossom season. – Vicki of Vicki Viaja
13. Meiji Shrine

Just behind the hustle and bustle of Harajuku, an ancient little temple sits in the middle of a peaceful park oasis. Dedicated to Emperor Meiji and his Empress, who rules in the late 1800s, this shrine is beautifully maintained and a a great way to learn more about Japanese culture. Out the front of the shrine you can leave a wish on a tablet and hang it around a tree which will be offered in the morning ceremony, called the Mikesai, the following day. This half-day tour includes a stop at Meiji Shrine. – Emma of Explore Shaw
14. Senso-ji Temple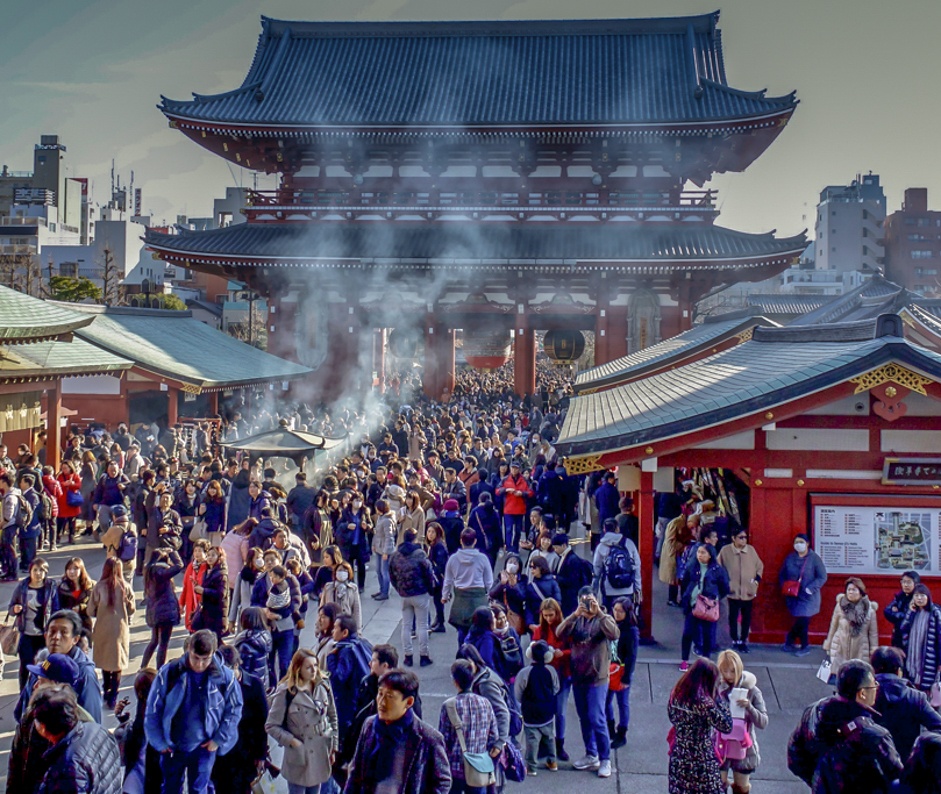 Senso-ji is an ancient Buddhist temple located in the Asakusa neighbourhood of Tokyo. While the temples vibrant colors and towering pagodas are stunning to see, what I loved most about visiting Senso-ji was watching the locals come to pray and throw coins in exchange for a prayer or wish. As one of the oldest and most significant religious sites in Japan, a visit to Senso-ji should be on your list of things to do when you're in Tokyo. – Lora of Explore with Lora
15. Sumo Wrestling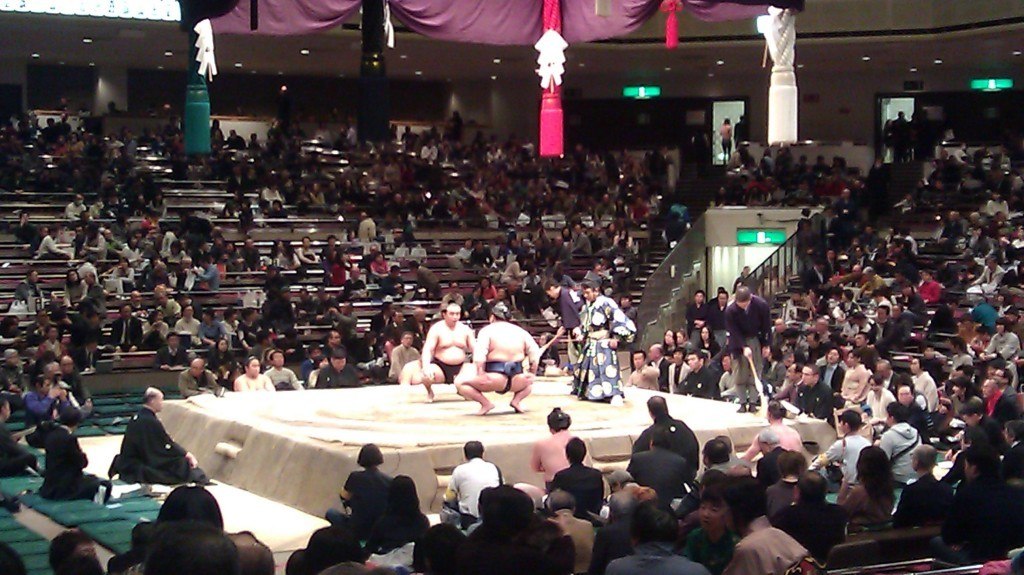 Watching sumo wrestling at a professional sumo tournament is one of the most unique and interesting things you can do in Tokyo.  Sumo is considered Japan's national sport and watching a sumo tournament is exciting, especially since the crowd is very passionate about the matches. In addition to being a sporting event, sumo is also a fascinating cultural experience as the matches include many ancient Japanese rituals and traditions such as singing and foot stomping. Tokyo hosts three professional sumo tournaments at the Ryogoku Kokugikan arena each year (in January, May and September) each lasting fifteen days.  If you are visiting in September, you can reserve your tickets here. Just make sure to book in advance, as tickets sell out quickly. – Matilda of The Travel Sisters
16. Kabukiza Tokyo National Theater
For hundreds of years, traditional Kabuki has been performed on prominent stages across Japan. I loved being overwhelmed by the over-the-top costumes and makeup on the performers, who were traditionally male. Don't forget to bring a bento box for the lunch intermission. – Halef of The Round The World Guys
17. Dress Up in Kimono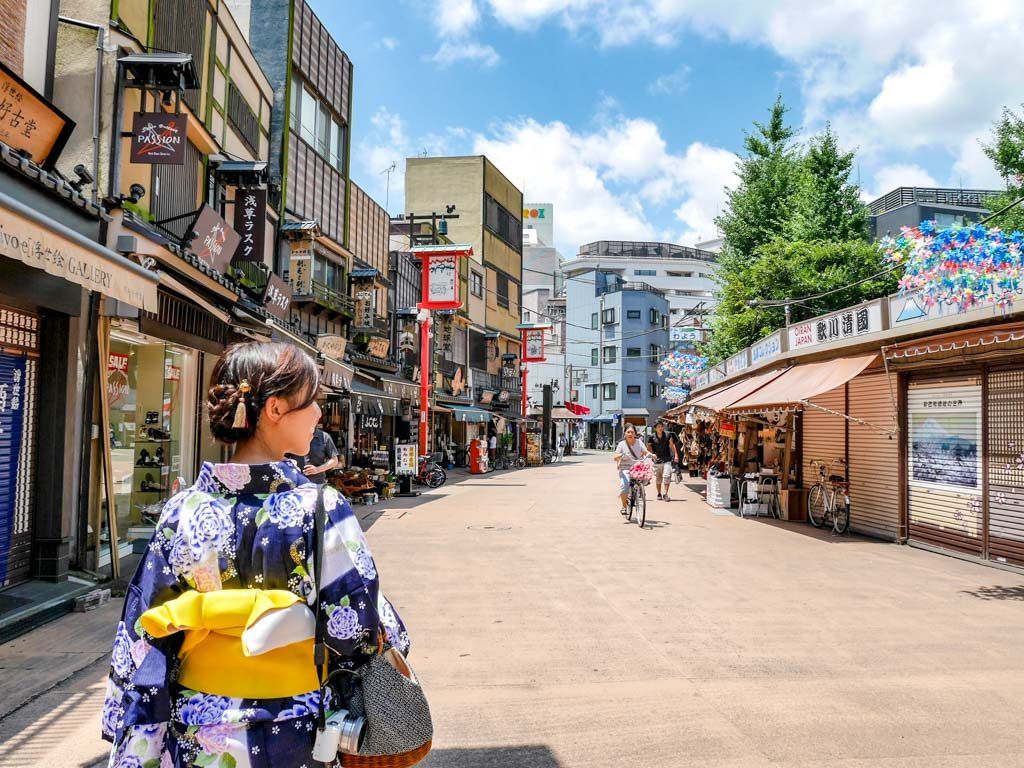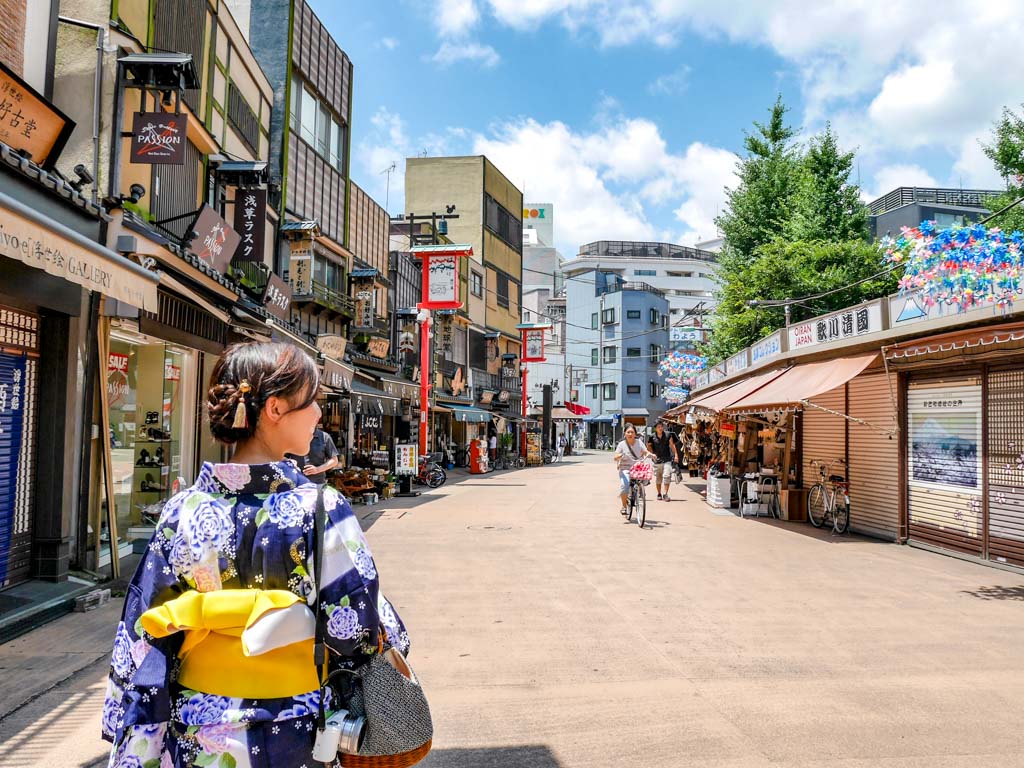 There are numerous kimono rental services as well as places that sell kimonos in Asakusa. As an older part of Tokyo with the historic Senso-ji, this is the ideal place to put on the traditional garments and roam the streets like it's the 19th or 20th century. It also makes for great photos! If you are visiting during the hotter months, I recommend asking for a yukata, the summer version of kimono, instead. It has fewer layers and looks pretty similar. – Nam of Laugh Travel Eat
Weird & Amazing
18. teamLab Borderless Digital Art Museum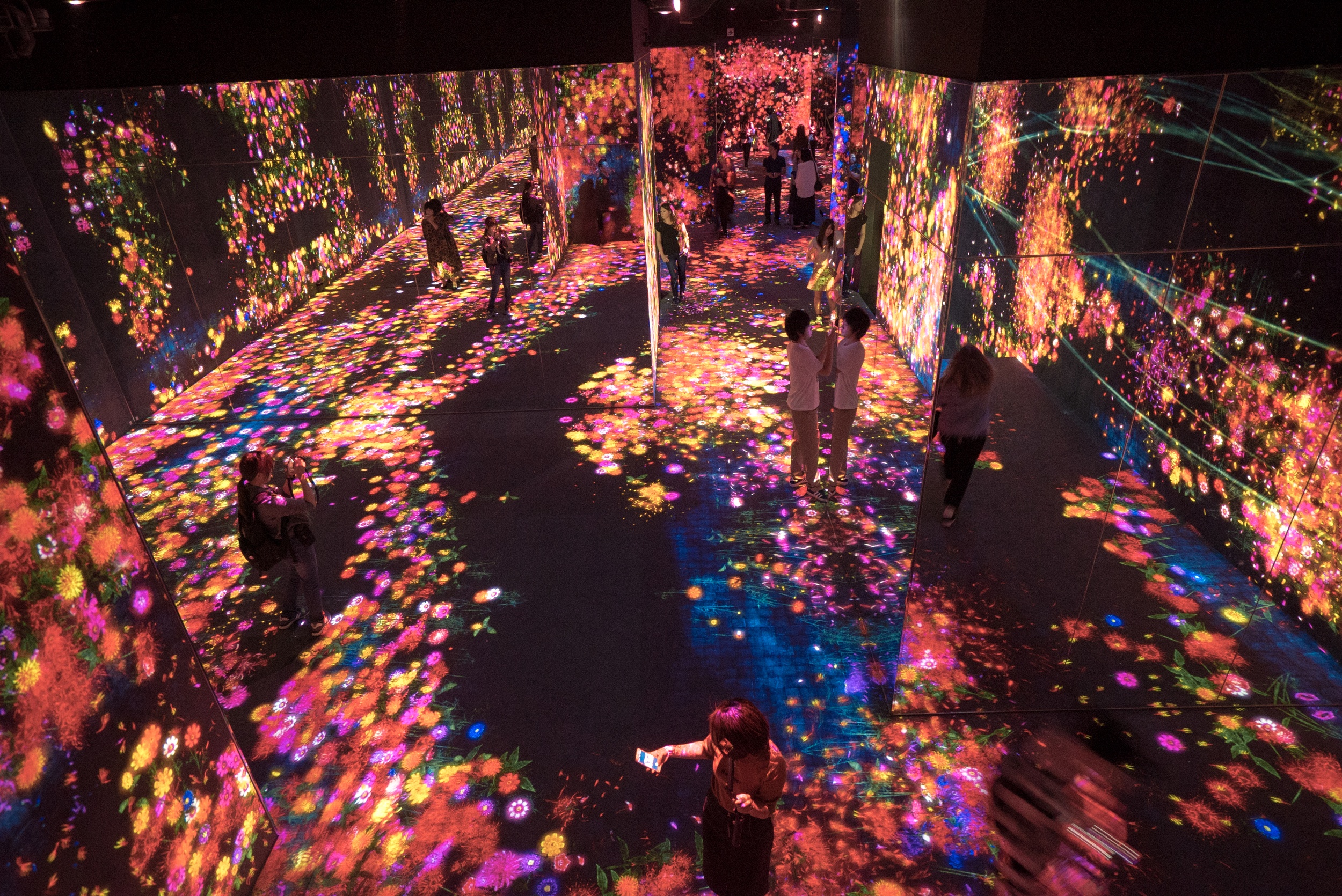 If you enjoy art museums, interactive science museums, pretty lights, music, or the pleasing effect of symmetry, the Mori Building Digital Art Museum Epson teamLab Borderless (what a mouthful!) delivers.
teamLab is a consortium of artists, programmers, engineers, CG animators, mathematicians, architects and graphic designers. They pool their talents to create interactive works of magic straddling the line between the beautiful, the captivating, and the technology needed to create it. Book your tickets online from Klook in advance, and budget lots of time for this amazing experience.
Blog post: How to Maximize Your teamLab Planets Tokyo Experience
19. Mario Kart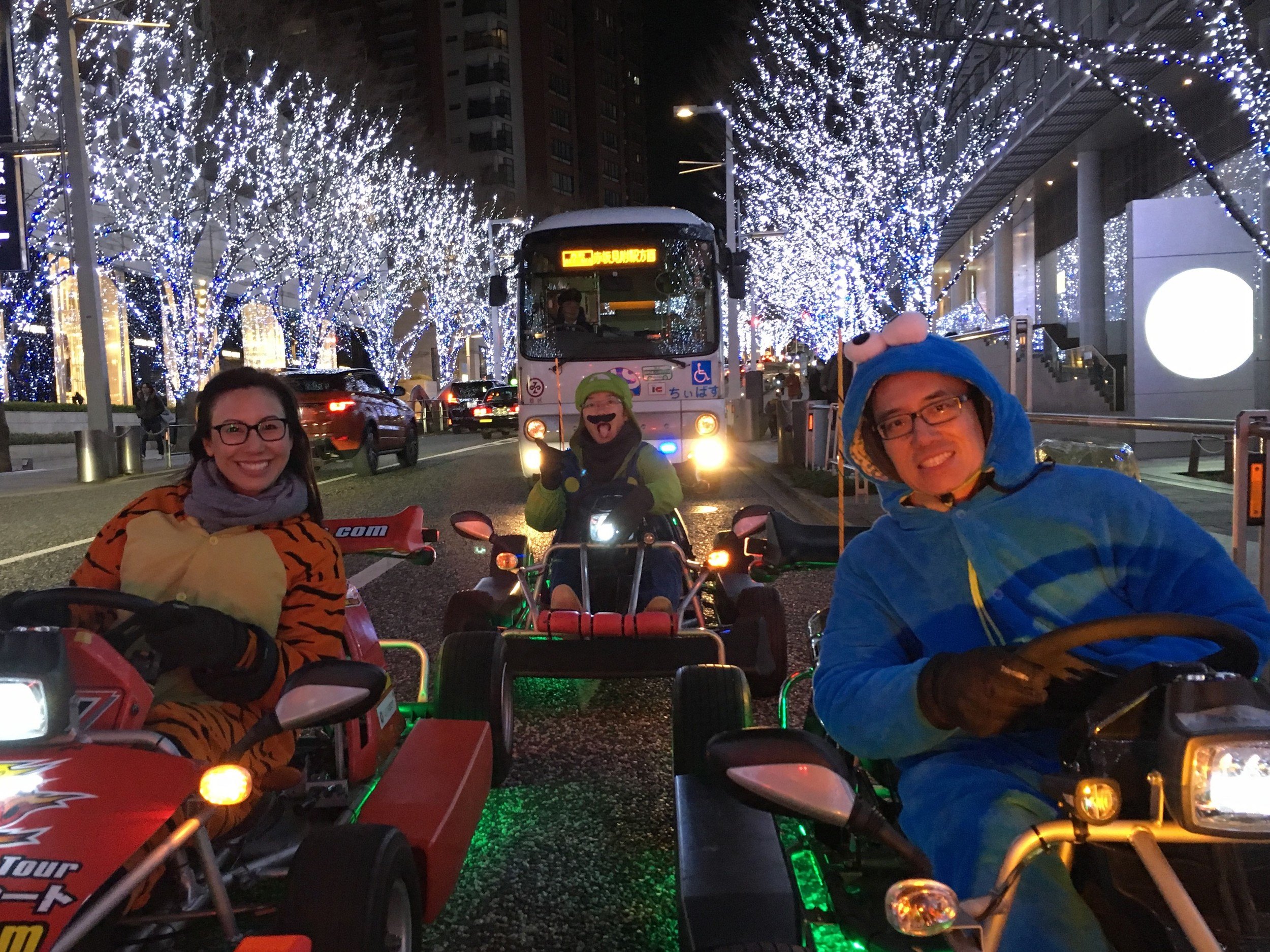 At any of the MariCar shops in Tokyo, one can dress up as a Mario Brothers character and take a red go-kart for a spin. It's a quick and fun way to see the city because the tours pass tourist attractions such as Shibuya Crossing, Odaiba and Tokyo Tower. While daytime and nighttime slots are available, pick one that coincides with sunset – Roppongi is more spectacular when it's lit up. Best of all, the way we turned heads and cameras, we felt like celebrities. No-one regrets picking the longer three-hour option when they have this much fun.
To book a tour, contact MariCar via their
website
, but not before checking their
driving license requirements
. Don't worry about the cost of the costumes; it's included in the price and the guides take care of photographs on the road." – Nicholas of
Rambling Feet
20. Purikura

Who needs Photoshop when you have Purikura? Purikura is a Japanese photo booth that's incredibly popular among the local youngsters. You can easily find one (or ten) in just about every arcade in Japan. A session generally costs about 200 – 400 Yen, and you are able to choose different backgrounds, designs and effects for your Purikura. Instructions are mostly in Japanese but the guessing game is part of the fun! I personally find it hilarious yet interesting to see an almost Anime version of myself with enlarged eyes, smoothened skin, and full makeup on from the Purikura taken in Harajuku, as shown above. For less than 5 USD, it was a lot of fun and laughter!
Watch: A day in Harajuku, Tokyo
21. Cat Cafe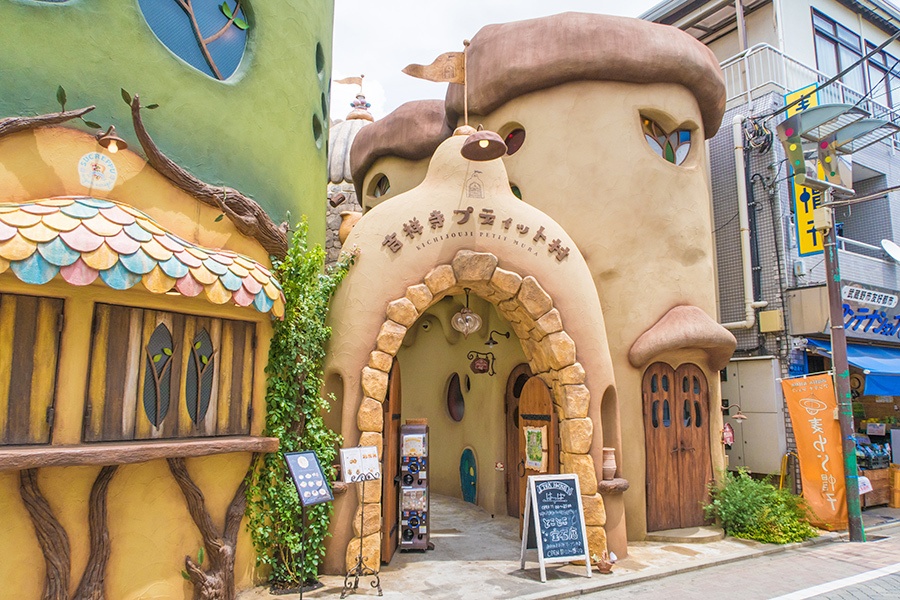 The Kichijoji Petit Mura (Temari No Oshiro) is a cat café located near the Ghibli Museum in Tokyo. Every cat at this café is treated by a nutritionist and has a data sheet where the staff members have to write down how many times they have eaten and how much. I've personally seen them furiously scribbling down while making sure that every cat was eating in his own bowl!
Guests aren't allowed to give food to the cats (unless they buy specific snacks at the cat café) and they can't pick them up or bother them when they are sleeping. At Kichijoji Petit Mura everything is squeaky clean and there's only one rule: their cats can do everything they want!
If you have ever spent a few days in Tokyo you will know that not many people can have pets. So the Kichijoji Petit Mura has quickly become a place to go to cuddle with cats and relax. You'd be surprised to know how many locals bring presents to the cats every week as if they were their own! – Danila of Traveling Dany
22. Daiso (100 Yen Shop)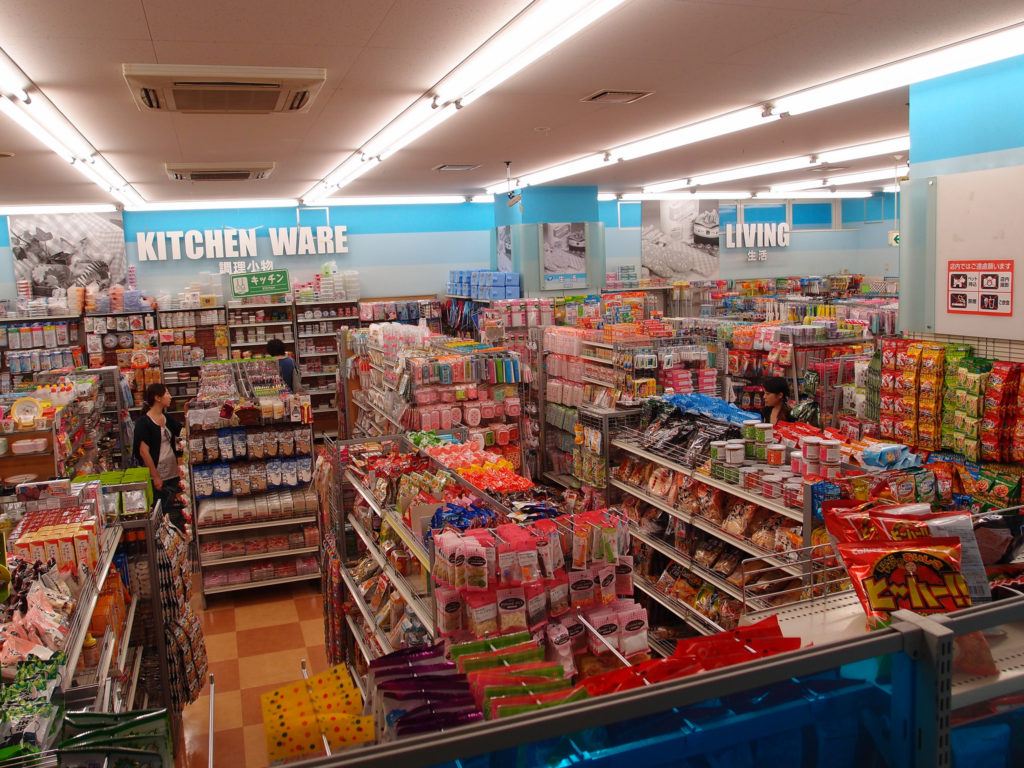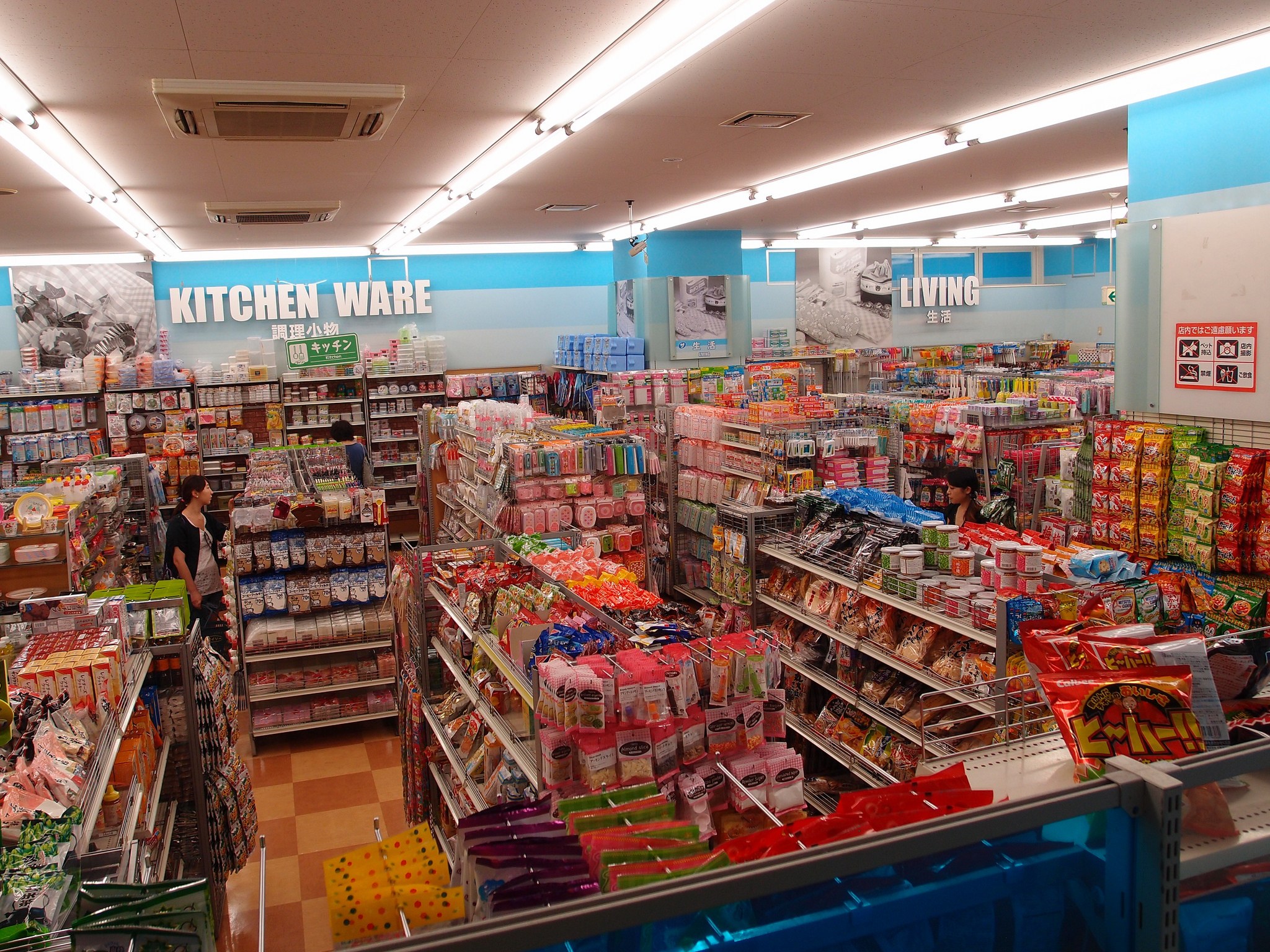 If you love budget souvenir shopping, you'll adore nationwide chain Daiso, a 100 Yen store (all items are 100 Yen plus sales tax). My favorite branch is the three storey one on Harajuku's Takeshita Dori, and I have whiled away an hour or two inside on more than one trip to Tokyo. Daiso sell anything and everything from food and drinks to simple electronics, from kitchenware and tableware to items for your bathroom and bedroom, from stationery to toiletries and make-up, and a lot more. I always enjoy the odder offerings such as tiny socks for pet cats and dogs, and fun shaped miniature soy sauce bottles to use inside a bento lunch box! – Kavey of Kavey Eats
23. The Miraikan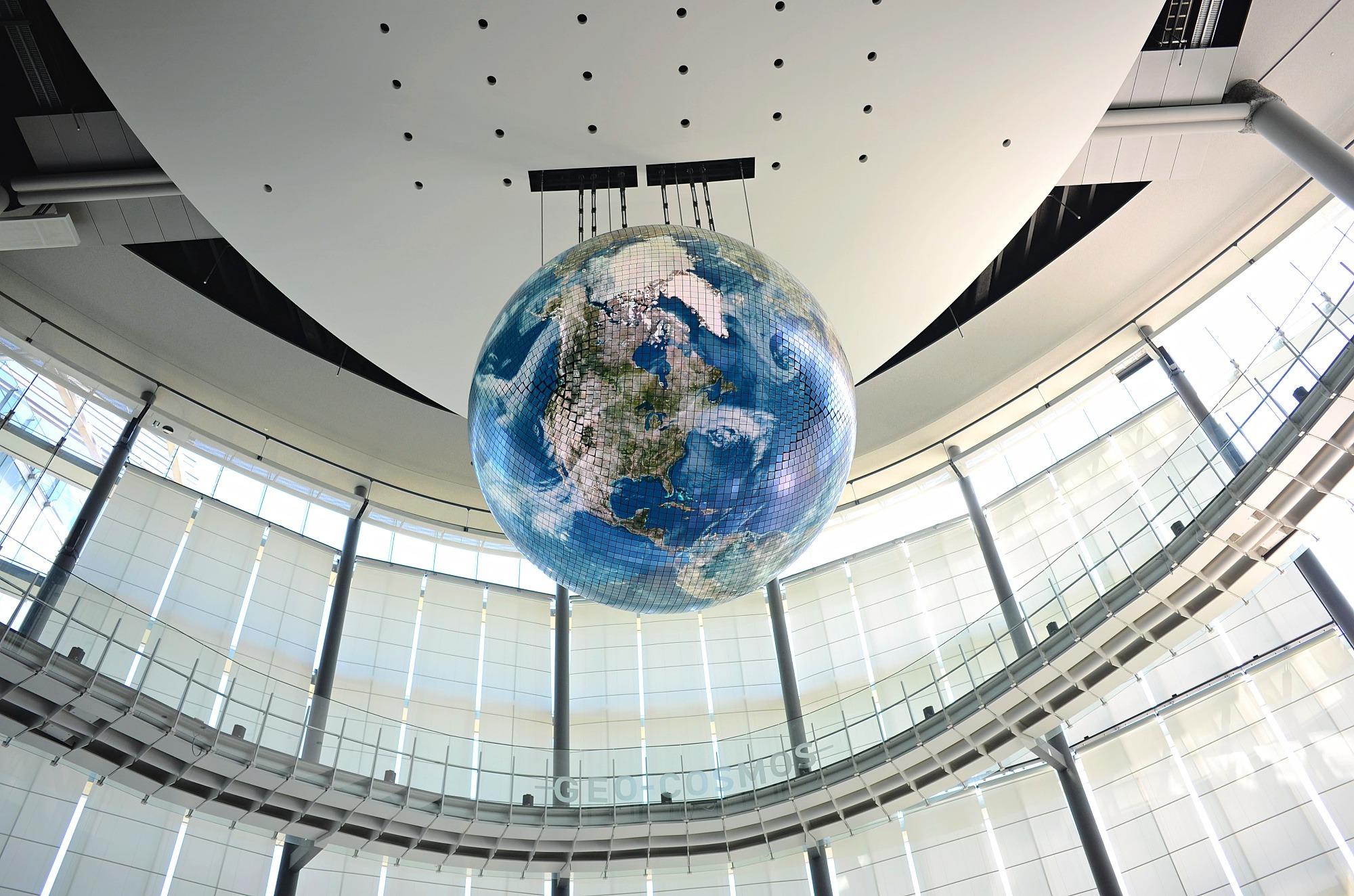 If you're coming to Tokyo to see the futuristic side of Japan, then the National Museum of Emerging Science and Innovation, known as Miraikan, is a must-visit. The building itself looks straight out of a sci-fi flick, and the rotating exhibits chronicle various advances in everything from nano-robotics to facial recognition technology. Make this part of a day to Odaiba, Tokyo's man-made island connected to the mainland via monorail. – Jason of An Epic Education
24. The Ghibli Museum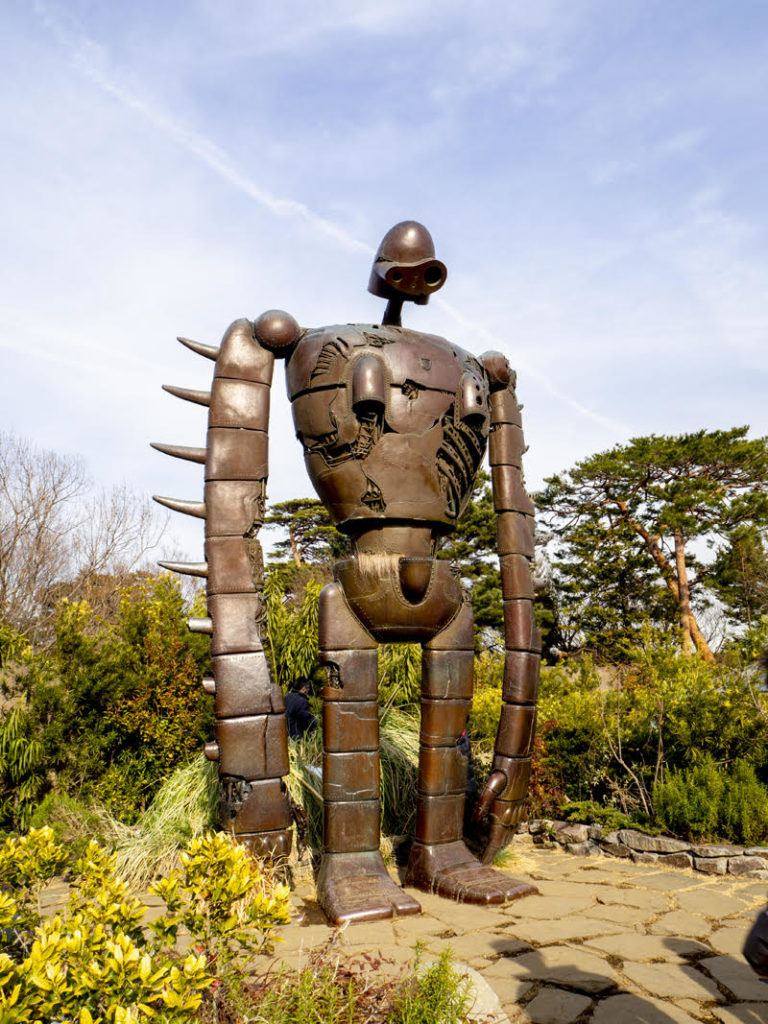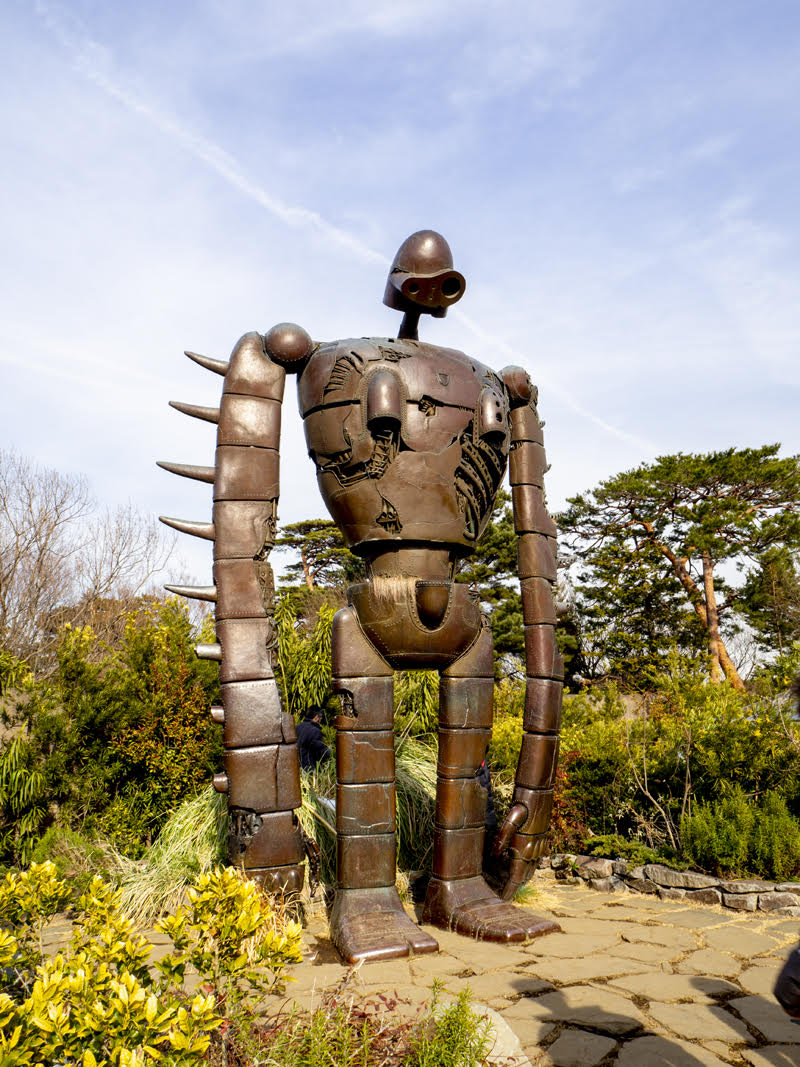 The Ghibli Museum is a must for people who love animation, especially the classic Japanese movies such as My Neighbour Totoro, Kiki's Delivery Service, The Grave of the Fireflies, etc. Every little thing is perfect, and it's highly informative, besides being entertaining. You can see the tricks used to make the animations before the computer era, see how the movies were made, and even enter one scene of a movie!
People spend an average of 3 hours in the museum, but if you wish to have a meal there, it can take quite a little longer, so plan ahead. – Thais of World Trip Diaries
Amazing Views
25. Shibuya Crossing

Watching hundreds, if not thousands of people rush through the infamous Shibuya Crossing / Hachiko Crossing / Shibuya Scramble (they are all the same thing!) is an exciting experience from any angle – from the viewing deck on top of Shibuya 109, Starbucks, or even on the scramble itself. If you want to have the full experience, try coming during peak hours or on the weekends and be ready to get sandwiched between people as you make your way from one end to the other. I personally preferred how it looks at night, with the lights from the buildings and cars making the iconic spot so cool and futuristic. The Shibuya Crossing is just a short walk from Shibuya train station.
26. Tokyo Skytree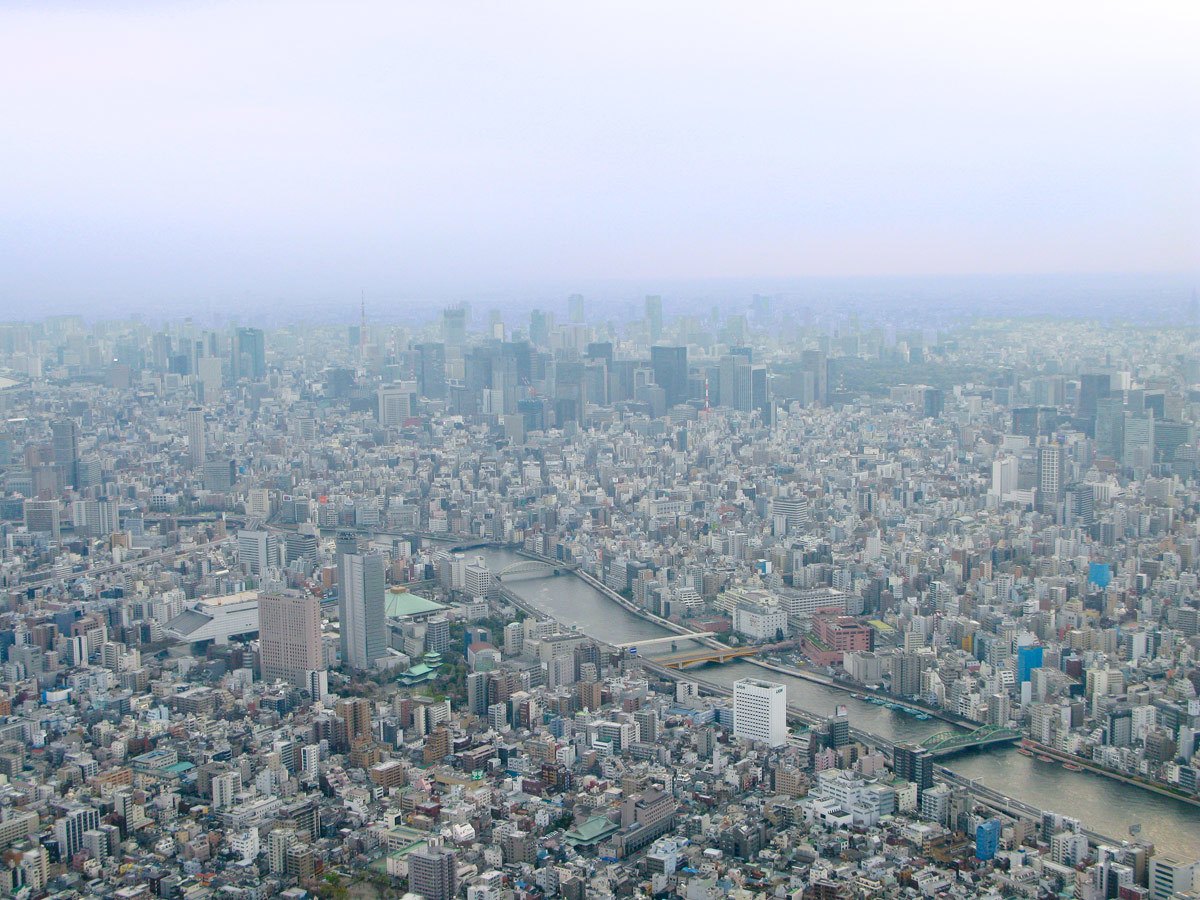 There's no better place to marvel at the astonishing size and scale of Tokyo than from the top of the Tokyo Skytree. The tallest tower in the world, the viewing platform at the summit almost feels closer to the moon than the surface of the earth. To be able to see the entirety of the metropolis of Tokyo from a single vantage point is truly breath-taking. Make sure you pick a clear and sunny day for the perfect view of the snow topped dome of Mount Fuji in the far distance. – James of Where You're Between
27. Tokyo Tower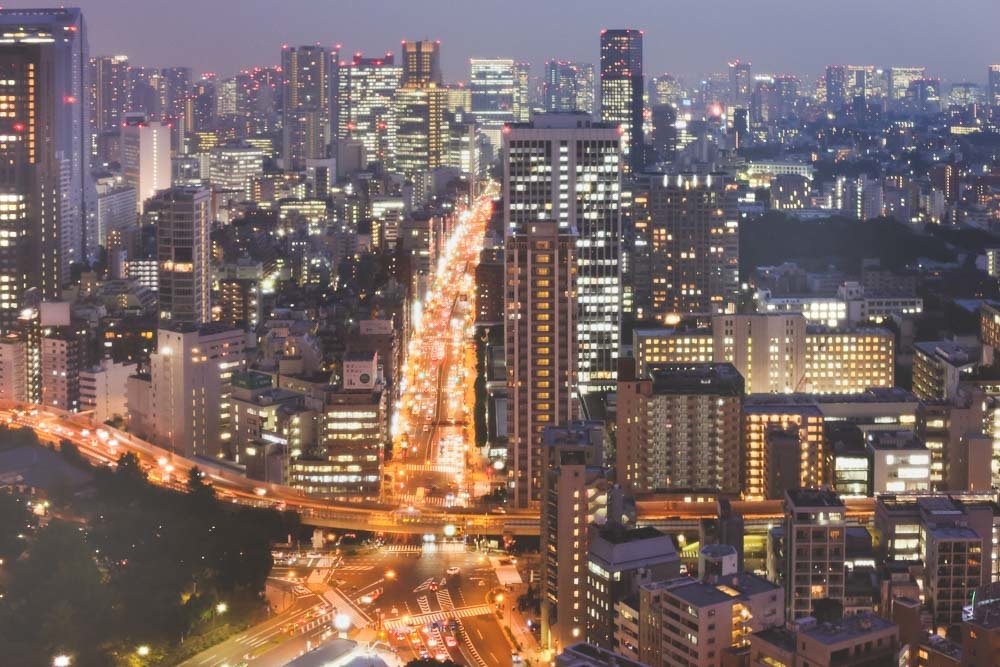 Modeled on the Eiffel Tower in Paris, the Tokyo Tower is instantly recognizable among the skyscrapers of Japan's capital city. From Tokyo Tower, you get e a birds-eye view of Tokyo's skyscrapers interspersed with pockets of traditional architecture and traffic-filled arterial roads. On a clear day, you get far-reaching views supposedly all the way to Mt Fuji. We suggest you go at sunset and see the city light up.
Tower is open for visitors daily from 9AM – 11PM. There are two observation decks for the Tower with different pricing. You can only visit the top deck on a specific tour, which you will be allocated a reserved time. Reservations for the top deck can be made on Klook. – Shobha of Just Go Places
28. Metropolitan Government Building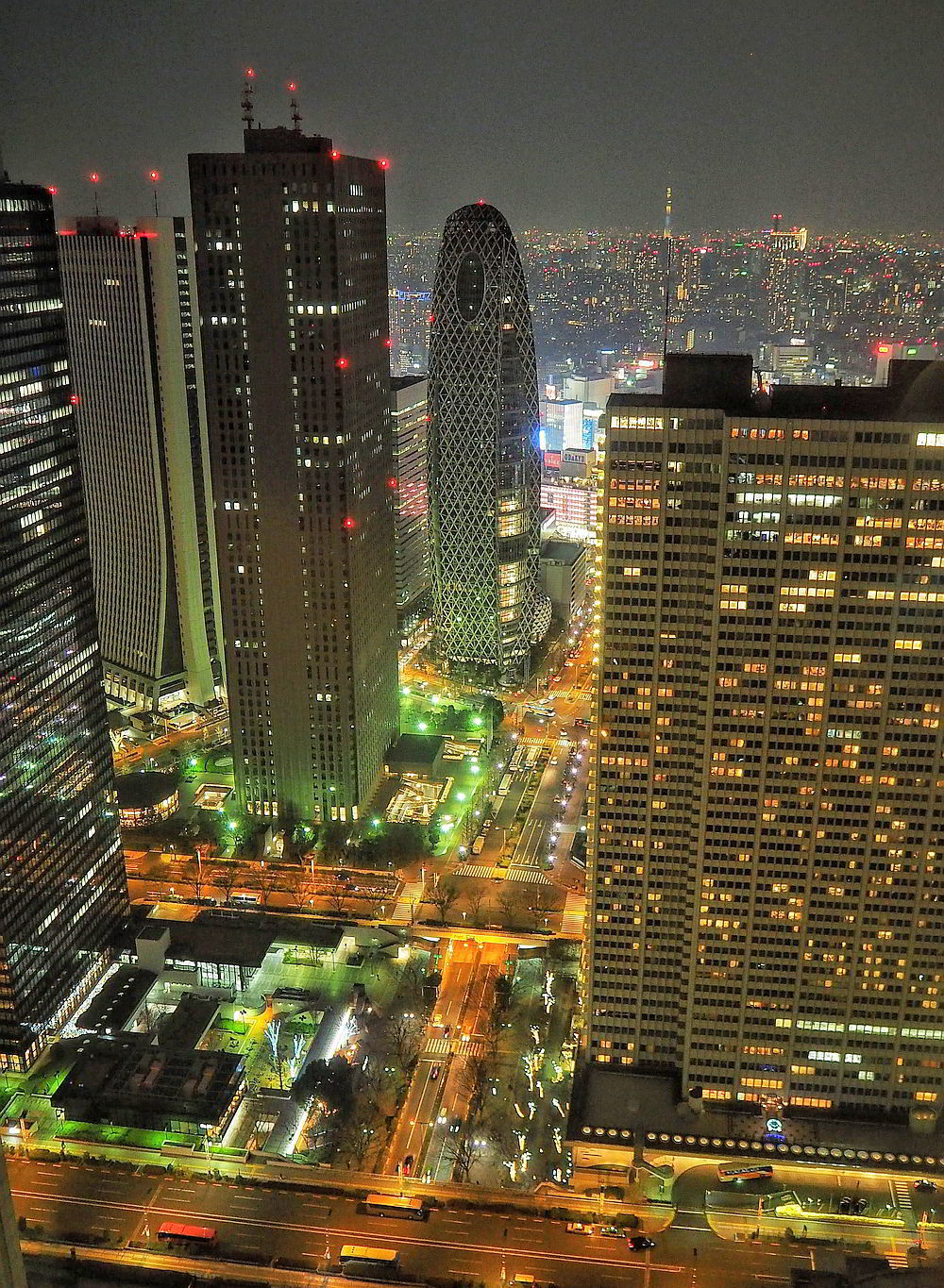 A visit to Tokyo wouldn't be complete without a trip to the top of a tall building to take in the skyline at night. Greater Tokyo is one of the most populous metropolitan areas in the world and seeing the glittering lights go on forever in every direction is quite a sight.
There are many places to take in the Tokyo night view. Our favorite is the Observation Deck at the Metropolitan Government Building. Why? Not only is it 202m high, it has 360 degree views across the city and a bar at the top. But the best thing? Entry is free. In a city known for being pricey, it is outstanding value. – Rachel of Adventure and Sunshine
While the list of what to do in Tokyo is practically endless, this guide has the best sampling of this delicious, energetic city.
One thing's for sure: Once you visit Tokyo, you'll want to keep coming back again and again – I sure do!