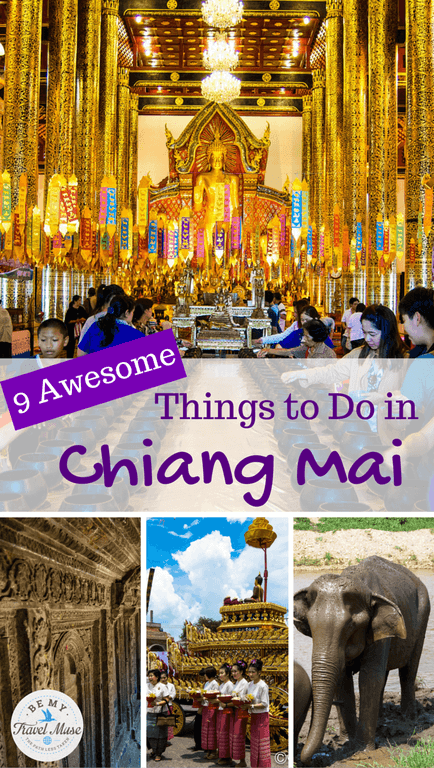 I've gone through Chiang Mai about 8 times now, usually spending at least a few days there in between journeys to Pai and Chiang Rai. I realized that in all that time, I've never given you guys a post on my favorite things to do there. It's time I changed that.
Chiang Mai is awesome for all kinds of reasons, including its natural beauty, amazing street food, cheap prices, and plentiful night markets. It's no surprise that so many digital nomads call it home, and most travelers going to Thailand add it to their itineraries. The following are my nine (yes, nine, not ten, but nine) favorite things to do there:
9) Temples
Chiang Mai has over 300 Buddhist temples (wats), so there is no shortage of temples to check out in and around the city. That said, plenty of people can get "templed out," so I suggest checking out two of the more famous and magnificent ones – Doi Suthep and Wat Chedi Luang. Doi Suthep is located about 30 minutes outside of the old town but can be accessed by songthaew for around 50 baht per person. It has a cable car which grants access to a vista of the whole city. Wat Chedi Luang is located in the old city, right in the middle.
(By the way, these are my favorite hotels and hostels in Chiang Mai)
8) Sunday Night Market
The Sunday Night Market can, as the name suggests, only be attended once per week. So, if you're passing through Chiang Mai, try to make it on a Sunday. The market is full of delicious food, clothing, jewelry, art, sunglasses, you name it. It runs right down the center of the old city from Tha Pae Gate.
Now that I've experienced it multiple times, I actually tend to enjoy walking on the streets parallel to the main one the market takes place on. They tend to have some funkier clothing options and are less crowded.
7) Massages Galore
Can we talk about how amazing massages are for a moment? Being massaged with oils for hours for only a few dollars? Yes please, sign me right up.
Most massages in Chiang Mai take place in a nice air-conditioned room (a luxury in the Chiang Mai heat!) and can be found for as low as 120 baht per hour (about $4!). I usually go for two hours – an hour for feet and legs and an additional hour for head and shoulders. Tips are always appreciated.
6) Motorbike 
If you're confident on a motorbike, the mountains surrounding Chiang Mai are some of the most beautiful in all of Thailand. Full of waterfalls and monasteries, I was truly blown away by the natural beauty.
5) Ladyboy Cabaret
I attended a ladyboy cabaret in Phuket (where I accidentally made it to second base with one of them, but that's another story), and wasn't that impressed with the dancing and the price tag. Then I heard that the one in Chiang Mai is really good, with phenomenal dancing, and free. Yes, free!  
Head to the night bazaar and catch the show at 9pm. All you have to do is buy a drink to gain admission. Be forewarned that if you're sitting in the front few rows you're likely to get a lap dance or even get pulled up on stage.
4) Festivals
Chiang Mai is an awesome city to be in for both Yi Peng and Songkran. Both Buddhist holidays are big all over Thailand, Laos, Cambodia, and beyond, but Chiang Mai is really where it's at as far as having a great time and being part of a huge celebration. Yi Peng is characterized by a big lantern release and Songkran is basically a giant water fight.
I regret that I was on a SCUBA dive boat (well not the diving, but the timing) for the whole of the only Songkran I've experienced in Thailand. I aim to rectify that this coming year.
3) Cooking Classes
I kept putting off taking a cooking course, feeling that I'd be able to follow a recipe book myself if I ever felt like making Thai food at home. I was missing the point, though. There's a technique that was very helpful to learn in the class, not to mention it was tons of fun and really delicious. Considering it cost us 1000 baht per person (about $30), and we made 5 meals plus a curry, I'd say it was definitely worth it.
I went with Basil Cookery School which was pretty healthy and very well-run. Call them to make an appointment.
2) Elephant Play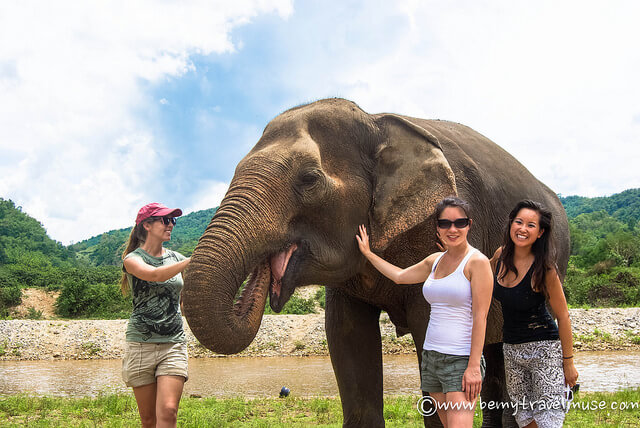 I was sad to learn that elephants are tortured into submission during their youth, and many lead very sad existences toting tourists around on their backs. I vowed never to ride one, but felt that something was missing from my Thailand experience.
Then, I discovered Elephant Nature Park which rescues elephants from tourism and logging and gives them a new lease on life. Elephants here are free to roam, and visitors can feed and bathe them. Check out this post for the full writeup on why this is my second favorite activity in Chaing Mai.
1) Eat Everything
A friend of mine asked me to come up with a one-word description for every place I'd been in Thailand. We simultaneously said, "food" for Chiang Mai. Before I started traveling, I just didn't care that much about food. Sure, I needed it to survive, but it wasn't that exciting.
Then I started traveling and became a full-blown foodie. The first question I ask people when they talk about where they've traveled to is whether they ate a certain dish there. When I think about home, other than my loved ones, what I really miss is the Mexican food. I'm already salivating over the thought of returning to Vietnam, and I can't wait to step outside my flat in Berlin later for some potato salad.
The street food in Chiang Mai is delicious and plentiful. It tends to be fresh and super cheap. If that scares you a bit and you'd rather do restaurants, I go with a few main rules: no tablecloths (that comes from my friend James), the restaurant should ideally be full of locals, extra points if the menu is not in English, and you get a gold star if the tables are on the street.
What NOT to Do: 
While I'm not one to push my opinions on anyone, I'd just like to make it clear that riding elephants, or going to Tiger Kingdom (where the tigers are drugged, not fed properly, and are kept in tiny cages), are two things I strongly caution against. As tourists, we vote with our dollars. Think twice before participating in animal tourism.
In closing, Chiang Mai is so full of great things to do, it's almost impossible to be bored there.
Have you been? Is there anything you would add to this list?