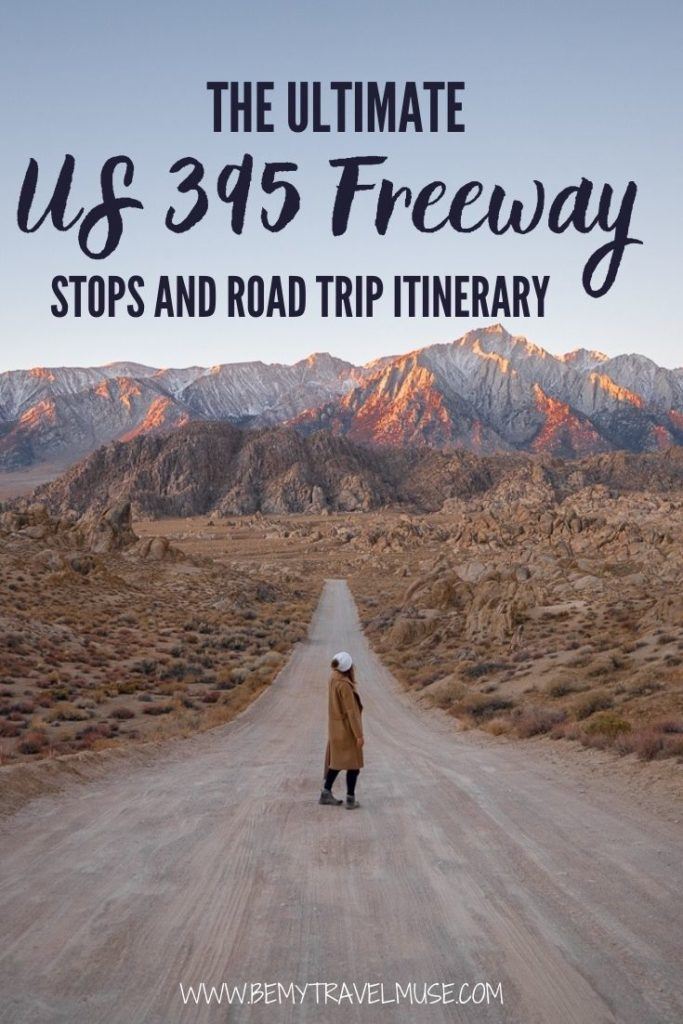 The US 395 road trip is one of the most action packed adventures in the west.
Having driven it many times between where I grew up (SoCal) to where I live now (Reno), I keep discovering new things to do along the way regardless of the season.
Here are some of the best things to do, slight detours, and stops to make on the US 395 freeway, my (second to PCH) favorite road trip in California.
1. Red Rock Canyon
If coming from Los Angeles, your first exciting stop is the Red Rock canyon.
This isn't much of a detour at all and you'll reach it before the town of Ridgecrest and after Mojave at the 14 junction.
If you don't feel like stopping, you can see some of it from the road, but the seasonal four-wheel-drive route through the canyon is pretty impressive!
2. Lone Pine – Alabama Hills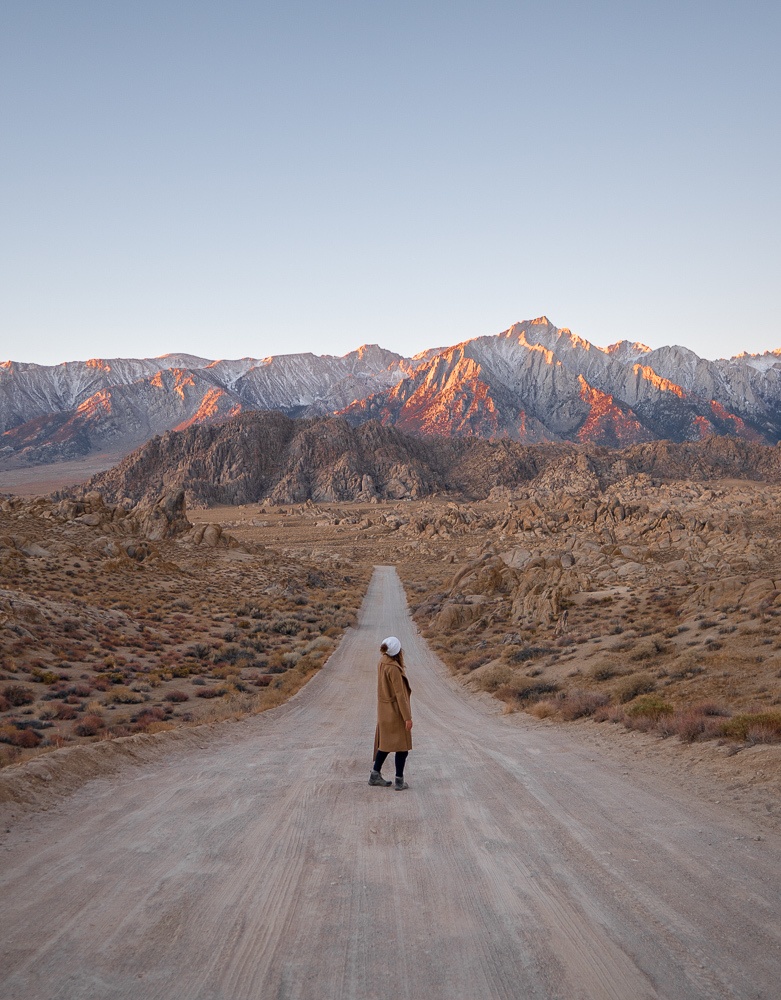 Lone Pine is proudly the gateway to Mount Whitney, the tallest mountain in the lower 48. One of the best places to see the beauty of Whitney is in Lone Pine's Alabama Hills.
I recommend making this your first stop and overnighting in the Alabama Hills, where camping is permitted provided that you leave no trace.
My favorite things are the Mobius arch at sunset, which perfectly frames Mt. Whitney, the stars at night, and the iconic sunrise spot right off of movie Road. Click here to read my ultimate guide to the Alabama Hills and for all of the best photo and hiking spots already mapped!
Sidenote on gas: I fill up at the Shell station right after the junction of the 14 and 395 for the best gas prices, but otherwise Lone Pine is the last place where you should fill up unless absolutely necessary until you reach the Nevada border. Gas can be up to $2.50 more in Lee Vining! Alright back to the main event…
3. Death Valley National Park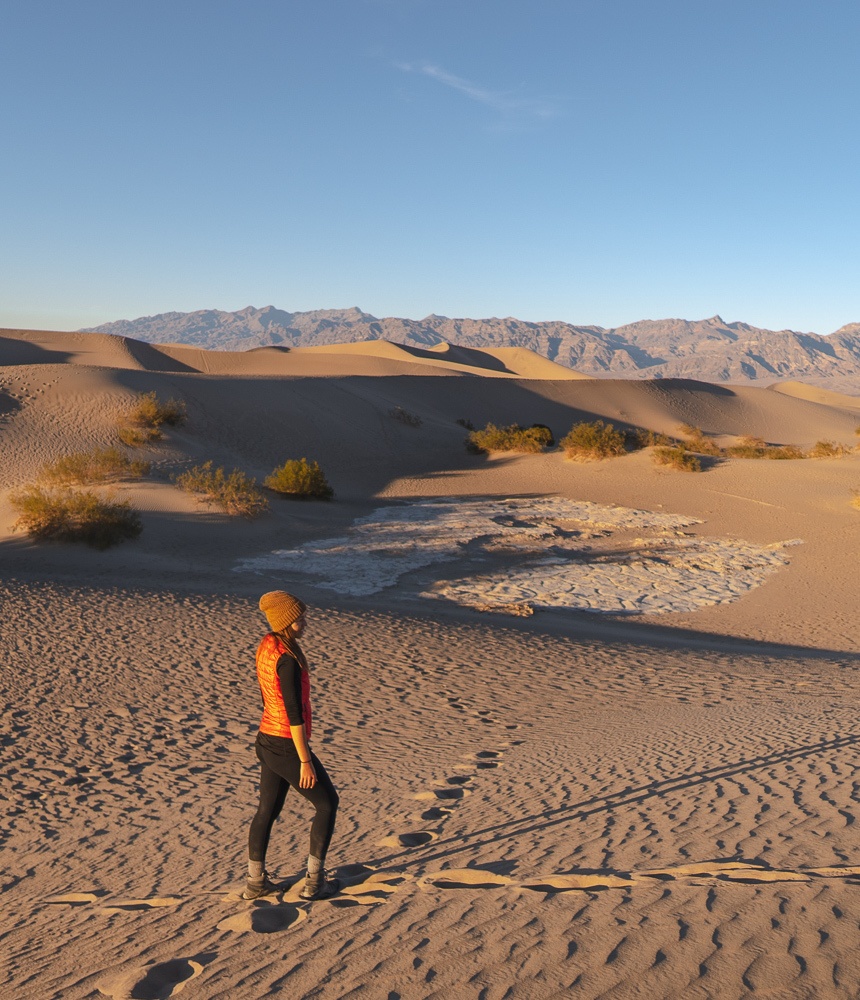 This will be quite a detour, but a worthy one. Death Valley is one of my favorite national parks in the system, and I promise you will be amazed by the land formations there!
The closest entrance is about 80 miles east of Lone Pine on mountain roads, and once you're there you'll be doing a fair amount of driving as well, as Death Valley covers a huge area.
If driving the 395 freeway in the summer months, I would skip this stop but if it's the winter, then go!
4. Manzanar
I remember reading the book, Farewell to Manzanar, when I was growing up. Manzanar was the site of a Japanese internment camp during World War II, and a monument stands there to this day.
It's not often that we really acknowledge where we went wrong, so stop by to learn a little something, because maybe you didn't in history class (we barely glazed over it in mine).
It's barely a detour off of the 395 to the left, right after Lone Pine. It's informative and open air!
5. The Bristlecone Pine Forest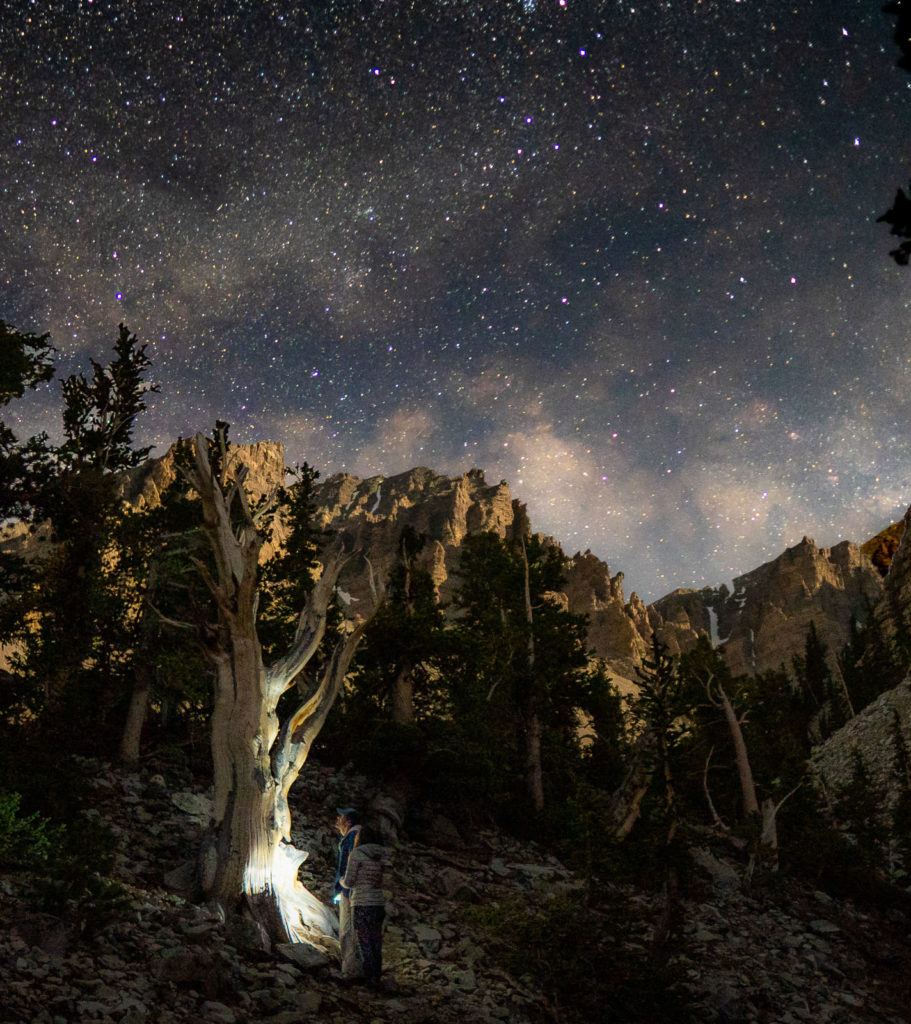 In the vicinity of Manzanar, off to the right you'll find the Bristlecone Pine Forest. The Bristlecone Pine is the oldest living organism on Earth, living for thousands of years!
They grow in such strange and interesting ways, and are hauntingly beautiful to look at.
Candidly I have never stopped at this grove because we have some Bristlecones in the Sierras and in Nevada at Great Basin National Park, so I get to see them there, but if you've never seen one before you should definitely check them out! It's a humbling experience to stand in front of something older than the Pyramids, modern cultures, the Bible, and pretty much everything we know and hold dear.
6. Convict Lake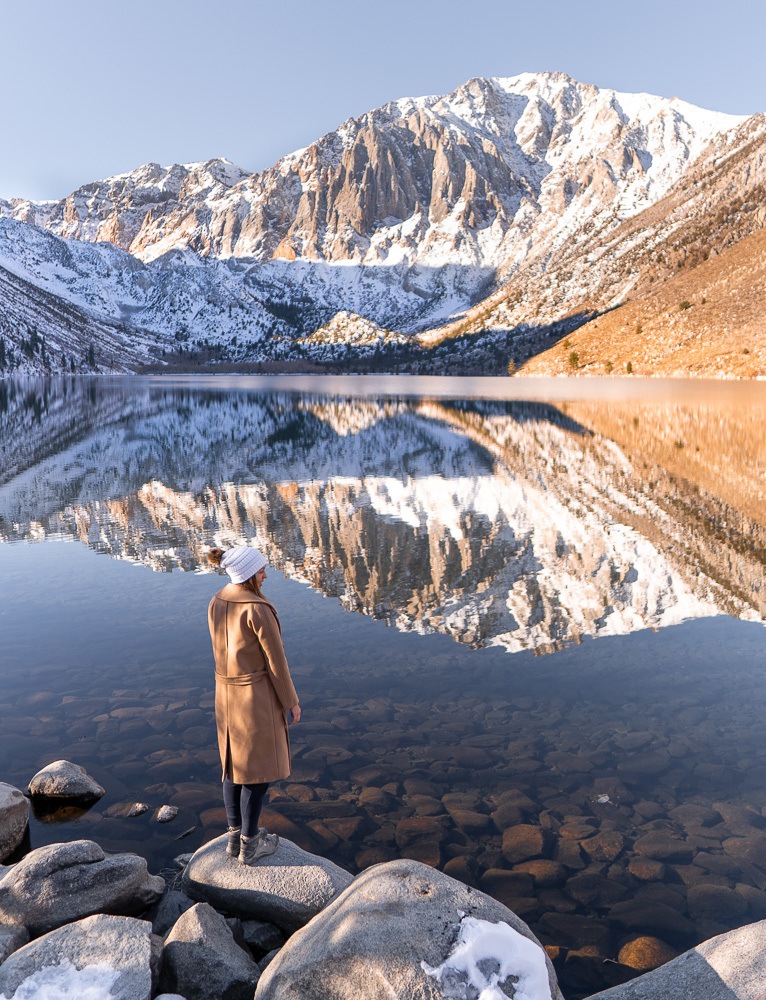 This is a short detour towards the left on the 395 after Bishop, but a worthy one!
You only need 15 minutes or so to get to the lake, get out in the park and take some photos, and drive back out. But just look how beautiful it is!
If you have more time, you can rent a cabin in the area and take a hike around the lake!
7. Hot Creek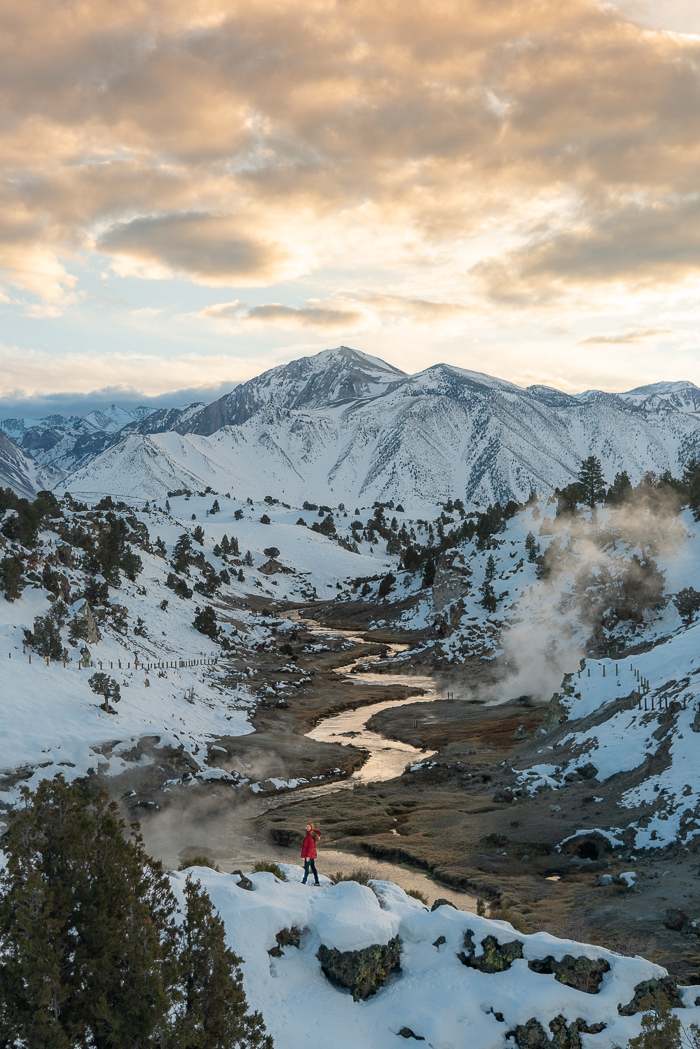 This overlook is just after Convict Lake to the right, and while the water is too hot to swim in, The overlook is quite the view.
Though sunset is spectacular, if you can manage visiting for sunrise, you'll get the alpenglow on the mountains.
In the summer months, it's easy to access Hot Creek via dirt road. However in the winter months, the road is closed and you'll need to hike in on a snowy road, about 3 miles roundtrip.
It's worth the effort. I was able to get it all to myself!
8. Mammoth Lakes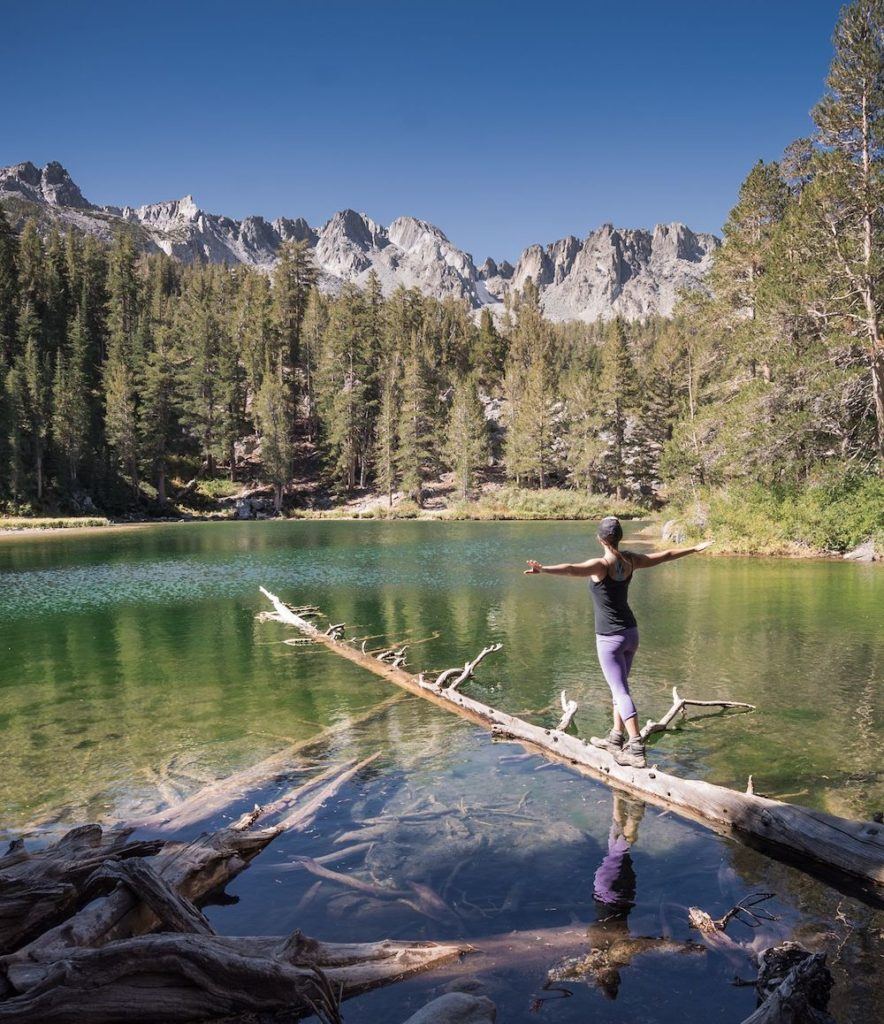 Pass through the town of Bishop and consider stopping by Erick Schat's Bakery – arguably the most famous bakery in California (with the line around the block to prove it), on your way to Mammoth Lakes.
This area is famous for skiing, but it's also a wonderful hiking destination in the summer months. Here are some things worth doing:
Duck Lake Pass: a moderate hike with a beautiful viewpoint of green and blue lakes. You'll pass an Emerald Lake (pictured above) on the way!
Minaret Vista: You can see these jagged rocks that almost look like teeth from the 395, but get yourself to the viewpoint, particularly for sunset and at night, for an amazing look at the Milky Way through the mountains.
The Devil's Postpile: You don't have to go to Iceland to see incredible basalt columns, we have them in California!
Rainbow Falls: this pumping waterfall is close by the other suggestions and gorgeous at any time of year. It's accessible via a short, easy hike.
Mammoth is a stop that could easily occupy several days, but if you don't have time consider just stopping at the following Lakes:
9. June Lake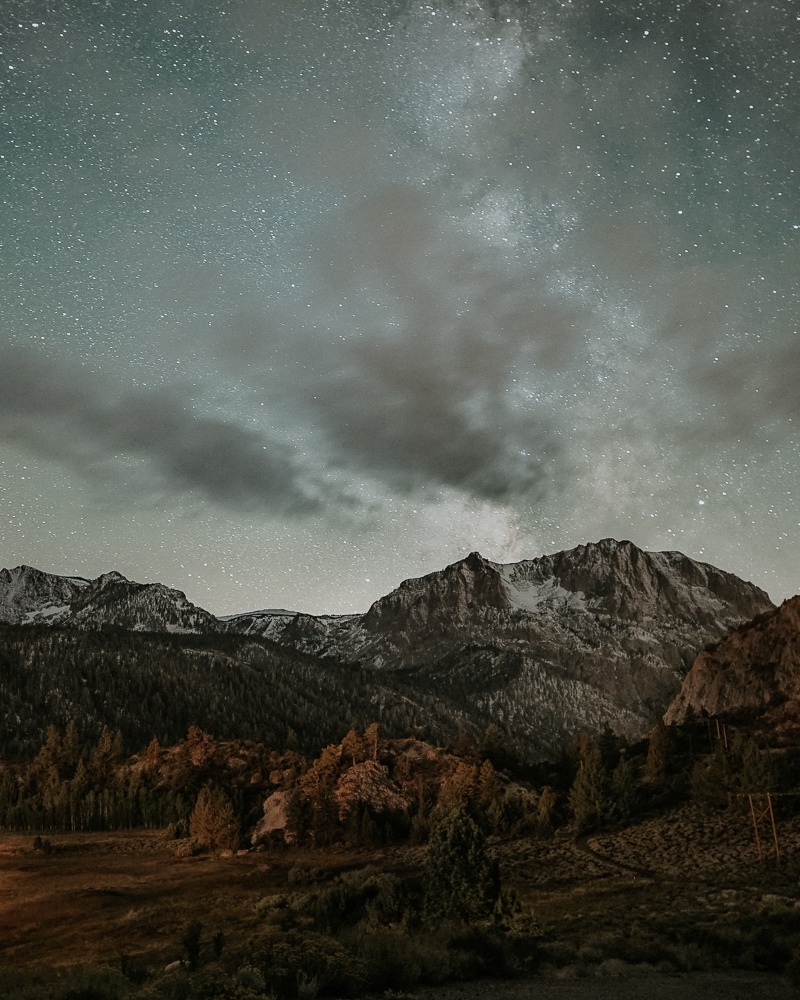 I especially love June lake in the summer, when you've got crystal clear water that is just so amazingly blue, and a nice large beach area to hang out at. It's a favorite stop of mine on the way to or from Burning Man in late August.
But it's also lovely in the winter, with snow covered mountains and a good chance of being able to snowshoe!
10. Yosemite via Tioga Pass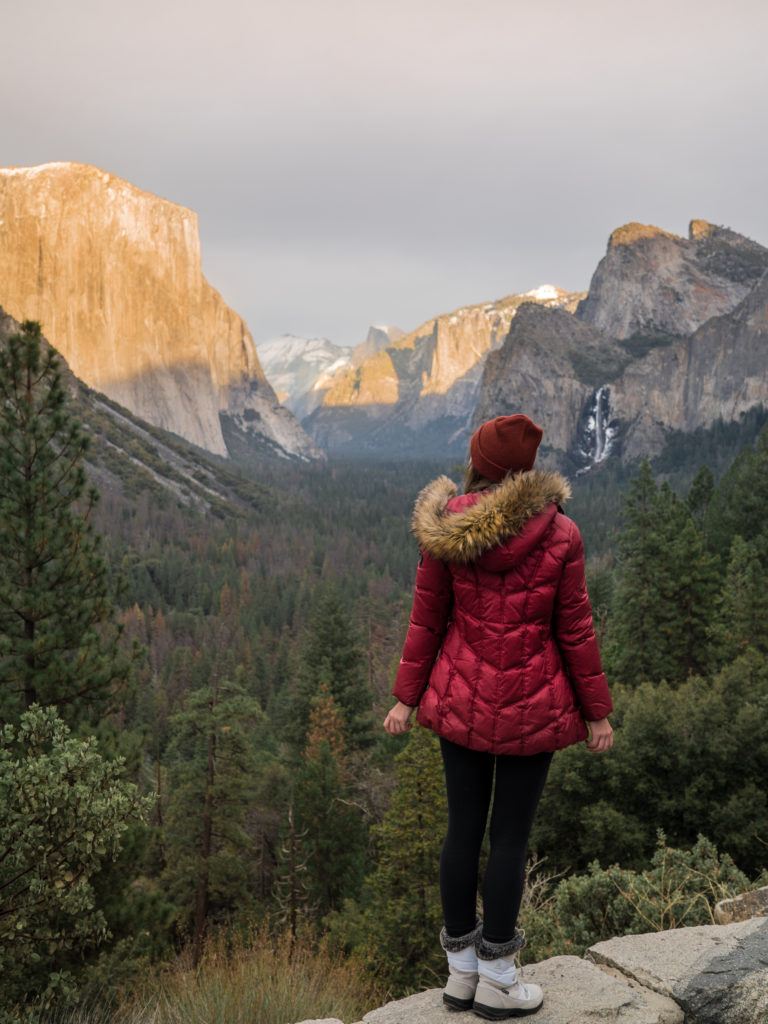 In the summer months only, Yosemite is accessible off the 395 on the Tioga Pass Road. Be on the lookout for it before you get to the town of Lee Vining.
This is one of the most popular national parks in the whole national park system, and having grown up frequenting Yosemite, I'll tell you exactly why: There's nowhere in the world quite like it. This glacier-carved valley is gorgeous at any time of year, including when it has snow, but you won't be able to access it from this freeway until the snow has melted.
This is much more than a quick detour, so only stop if you can give it at least one full day to see the highlights!
Still want to visit Yosemite in the winter? You can access it off of the 120 via the 88 if you'll be heading back south after. For more California stop ideas, check out my California bucket list.
11. Mono Lake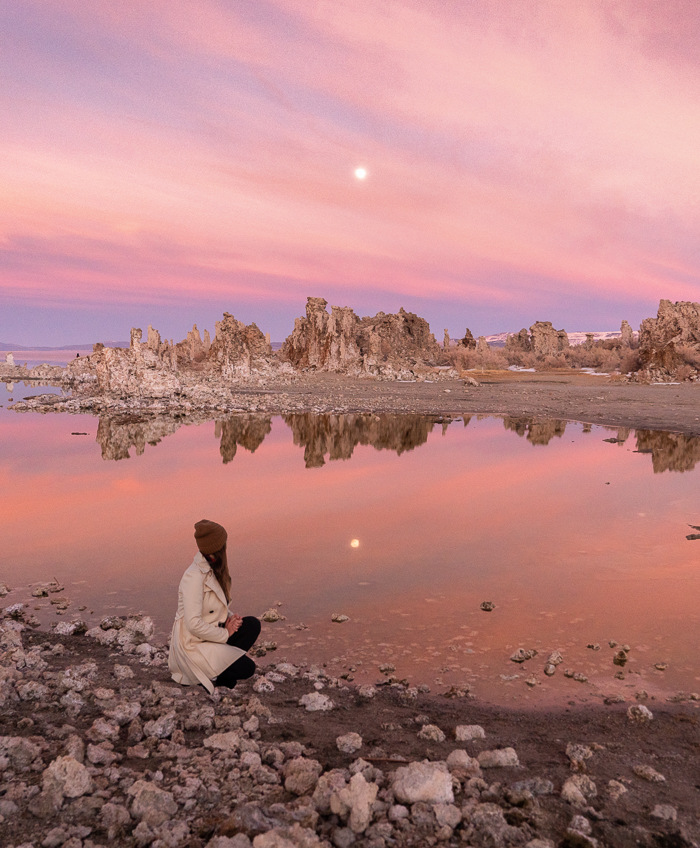 This salty lake has curious minarets poking out from it. It's enchanting both in the winter and the summer months and most famously photographed during the sunrise and sunset. There are several campsites nearby as well as free dispersed camping near the lake, and the town of Lee Vining has provisions as well.
My personal favorite area is the South Tufa, where you can catch but the sunrise and the sunset. This has some of the more famous rock formations that you'll often see in photographs. Pictured above, I got a stunning combination of the full wolf moonrise along with a stellar sunset. If you can catch this otherwise windy area on a still day, don't skip Mono Lake!
12. Bodie State Historic Park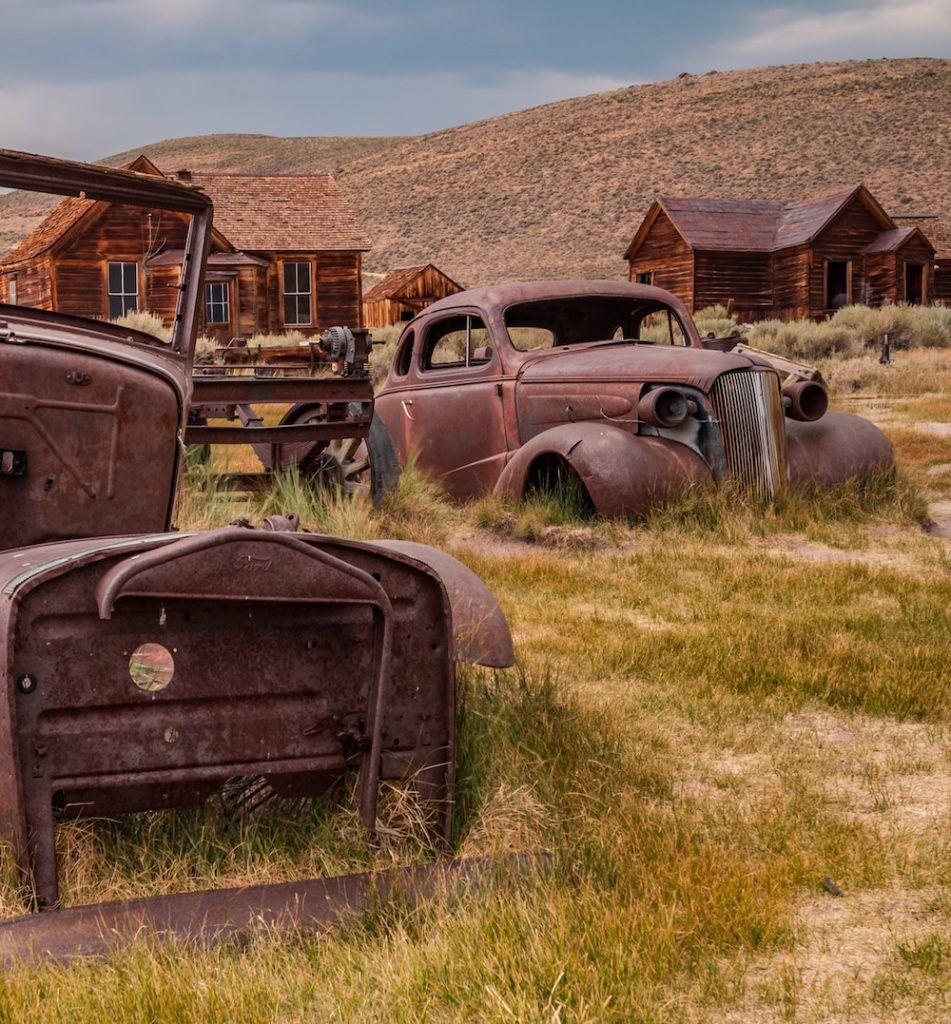 This is a bit of a detour to the right off of the 395, and one that I candidly have not made myself, but I've heard it's a great ghost town.
Entrance is eight dollars and unlike the disappointment of Rhyolite, you can actually wander through and explore these ruins. People recommend giving it at least two hours.
13. Travertine Hot Springs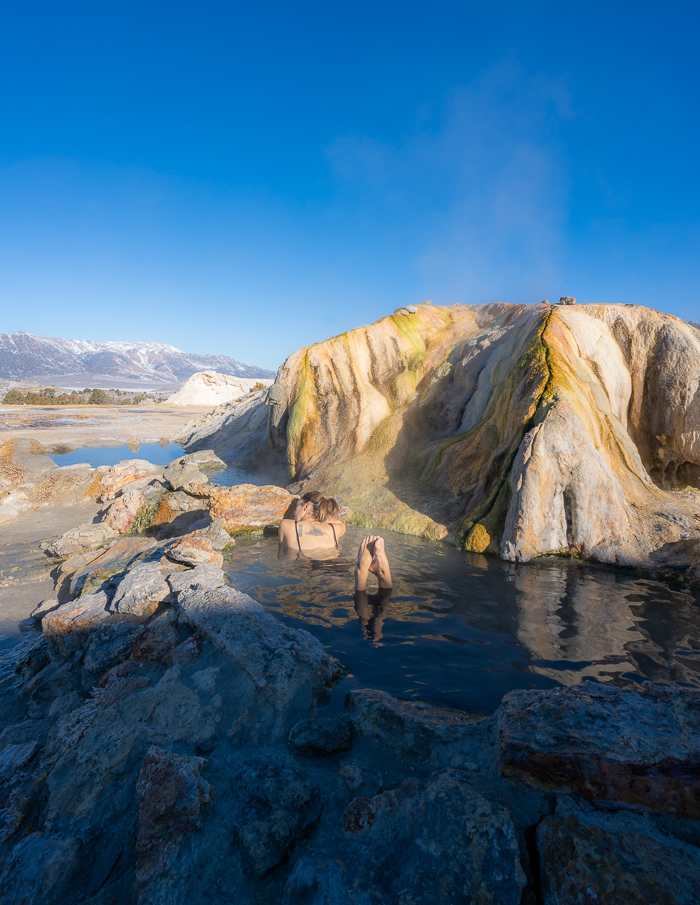 This one is a slight detour to the right on an unpaved road, but one I've been able to do in an RV in the summer. In the winter you will probably want a 4-wheel-drive vehicle.
The pools are not the hottest I've ever experienced, but the cool travertine formations sure are photogenic!
This is a popular hot spring, and it's also clothing optional. In the summer months when it's more accessible, plan on sharing it with lots of people. Pictured above on a Wednesday morning in January, I was able to get these springs to myself for over an hour.
Though you can enjoy the springs at any time of day, you cannot camp in the parking lot. There's some dispersed camping along the dirt road in, including a large space right before the hot springs sign where I RV camped over the summer.
14. Lake Tahoe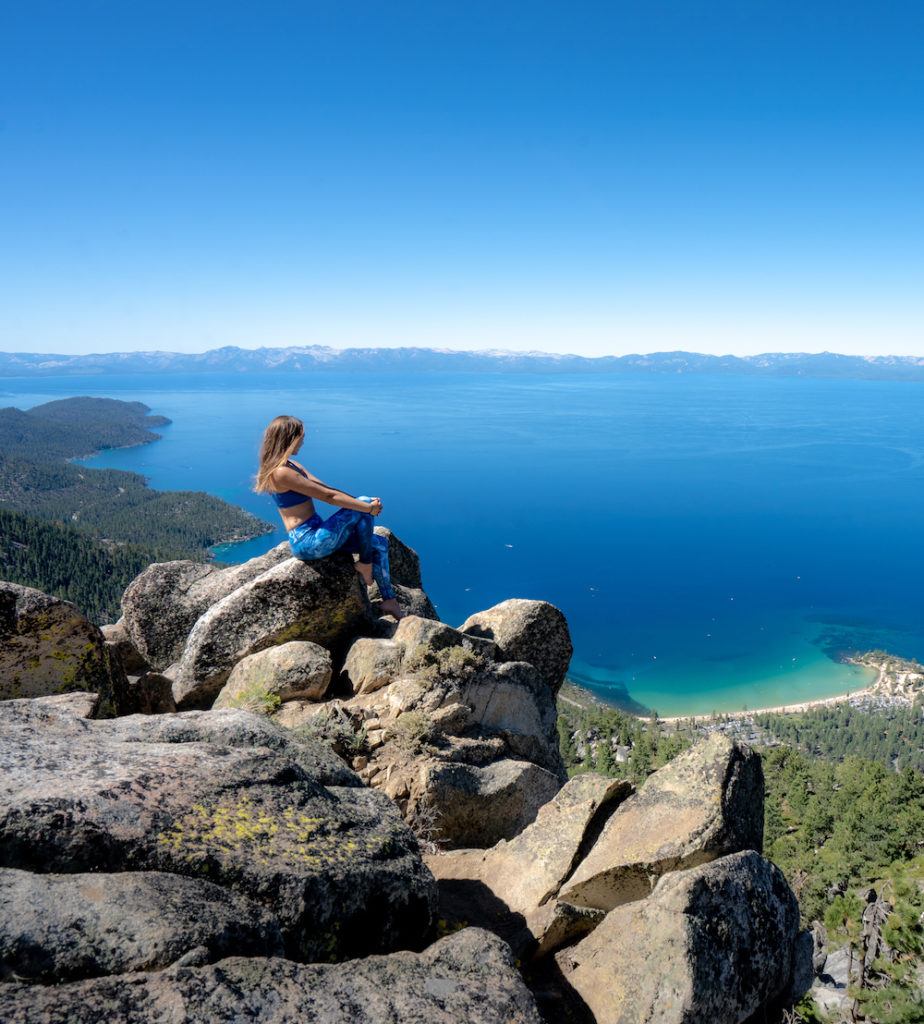 Now we're getting closer to my neck of the woods. Lake Tahoe is the most beautiful lake in the world, I can honestly say. It's so clear and vast, it satisfies my need for the ocean – one of the things I miss most about living in coastal California.
In the winter, plan on lots and lots of snow. This makes for some awesome activities, you can read about my favorite things to do in Lake Tahoe in the winter here. Be sure to check the road conditions before you try to go.
In the summer, it's a wonderful hiking destination. I have a guide of the best things to do during those months here.
You can access it either through Minden or Carson City, depending on which part of the lake you want to see. It's huge, by the way!
15. Reno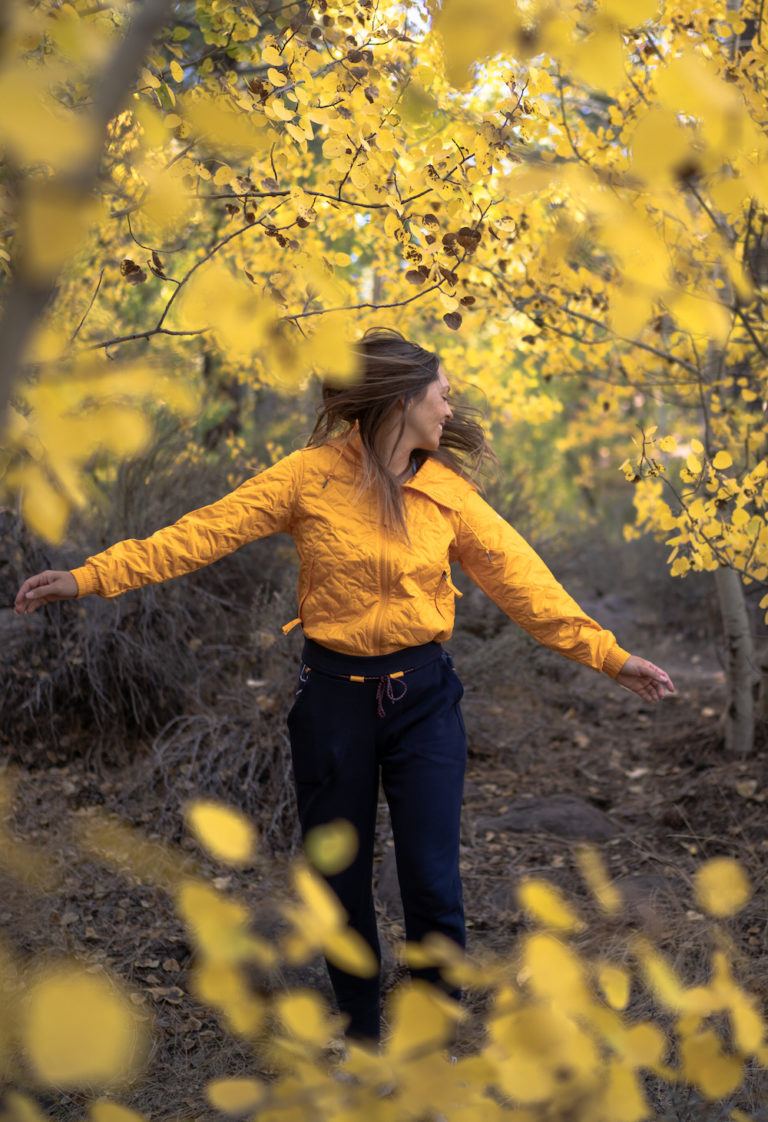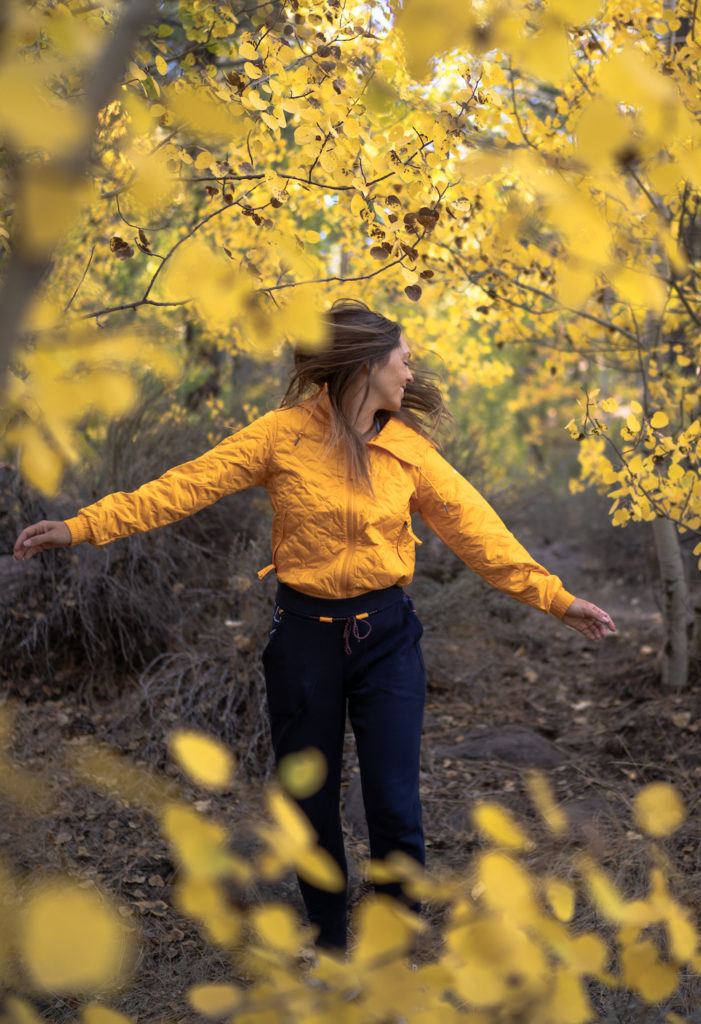 Welcome to the biggest little city in the world! Prior to passing through for Burning Man, I never really thought much of Reno until I fell in love with one of its residents and moved here.
Now I'm a fan, given all of the delicious restaurants, abundance of outdoorsy things to do, and easy access to Lake Tahoe and the Bay Area – where almost every friend I have decided to move to!
I know I'm long overdue for a post all about Reno, and it is coming, but I want to really do it justice before I publish!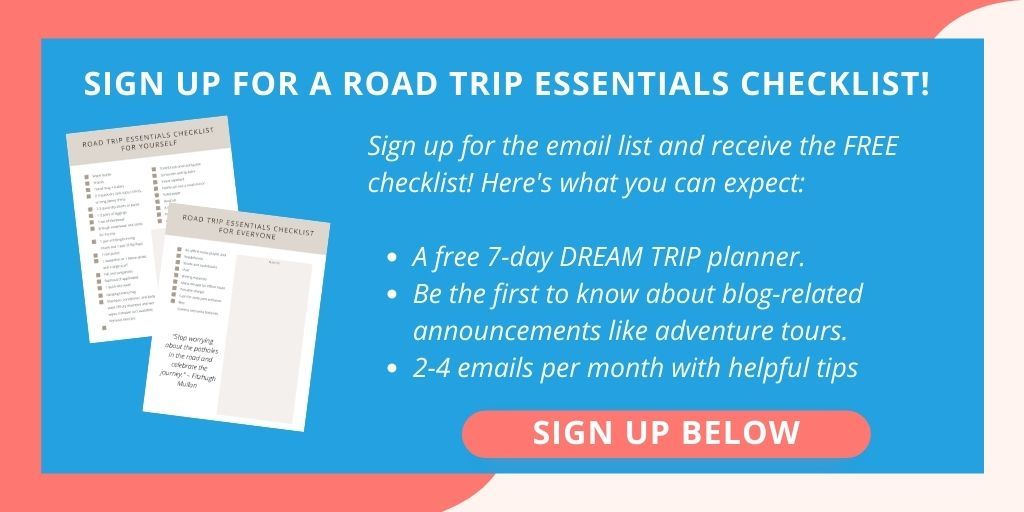 I know I've provided a lot of variety here, so I hope you don't feel overwhelmed by the burden of choice, but there's just so much to do off of the 395 freeway!
Enjoy the road trip, and if you find any worthy stops that are not on this list, please come back and let me know! Happy road tripping.
READ NEXT: