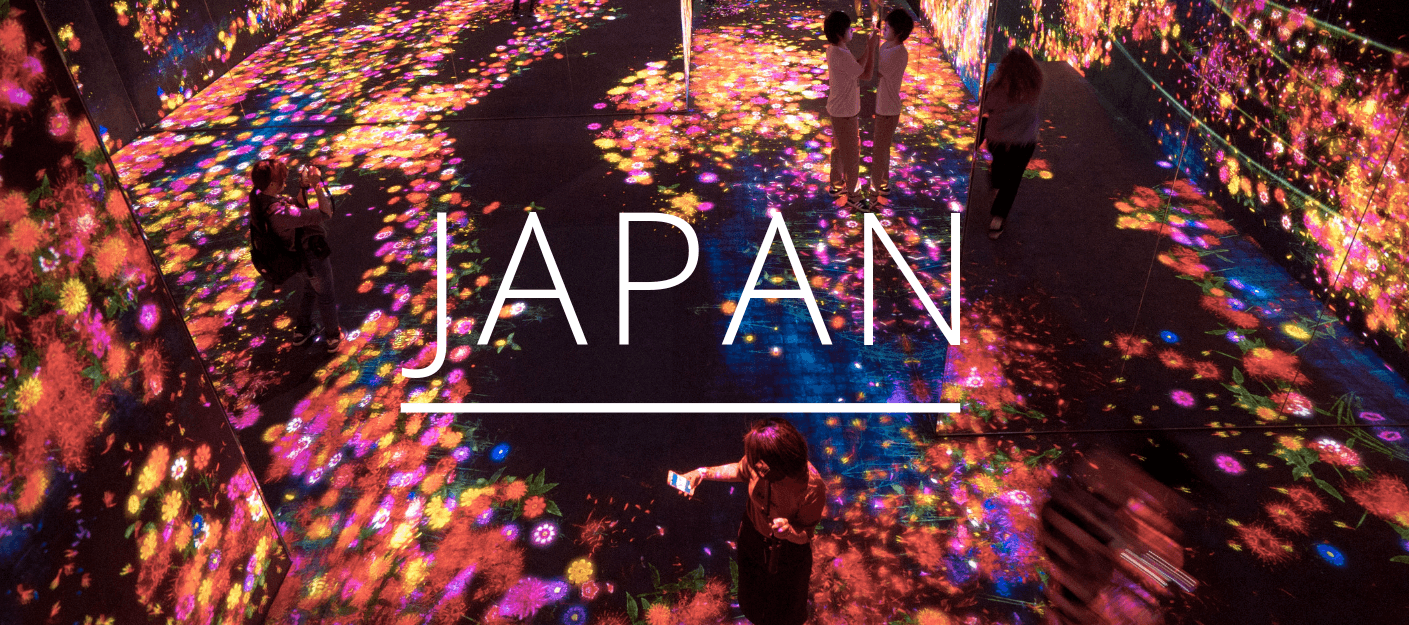 The land of the rising sun is an intriguing country to journey through. The unique culture, advanced technology (just wait until you walk into a bathroom, trust me), friendliness of the locals, and gorgeous scenery make it a stunning destination regardless of season.
Japan is one of few countries in this globalized world that has preserved much of its culture, and though there are sometimes language barriers, the hospitality is top notch and makes it pleasant to travel in even when it's confusing. In terms of safety, ease of getting around, and reliability of transport, it's also a great place for solo travelers.
Interested in traveling through japan? This guide can help you through:
Where in Japan?

Japan
Quick Tips
'Hello' and 'Thank You' in Japanese: "Konichiwa" (pronounced as "koh-nee-chee-waa") and "Arigato" (pronounced as Ah-Ree-Gah-Doh)
Currency: Japanese Yen (click here for current conversion rates)
Visa: 90 day visa-on-arrival available for most nationalities (click here for more information)
Safety Rating: Ranked 9 on the Global Peace Index with a score of 1.37 (USA is ranked 128 with a score of 2.40).
Solo Travel Friendliness: Japan is well known for its safety and its people's politeness. Aside from the potential language barrier, solo travelers tend to enjoy Japan, and the locals are always happy to help. Eating alone is not only acceptable but a total norm in Japan. In fact, you will find single seats in most restaurants.
Climate: Spring (March - May) can have a mix of weather, to bring layers for both warm and cold temperatures. In winter (December - February), prepare for cold weather and snow. Summer (June - August) gets pretty dry and hot, though it'd be perfect if you are hoping to surf or dive in places like Okinawa and Kamakura. In the fall, (September - November) the weather is mild and again layers are best.
When to go: Overall, Japan is good to visit during anytime of the year, but avoid Golden Week (end of April - beginning of May) if possible, as you will be fighting for space not only with the tourists but also the locals who are on holiday. Spring is high season as people around the world flock to Japan to see the beautiful cherry blossoms. In the winter, it's a snowy wonderland, though flights to popular ski destinations like Hokkaido can get expensive. If you want to avoid big crowds, visit Japan in the fall (September - November). The weather is beautiful, the fall foliage is gorgeous, and there are slightly fewer people around.
Best SIM cards: NTT Domoco - SIM card can be purchased online and collected at the airport or hotel. Another popular option to get data in Japan is to rent a Pocket WiFi device, which is great and possibly less expensive if you are sharing in a group. Sometimes hotels provide MiFis as well.
Random useful tip: Always have cash with you and bring a coin purse! Cash is preferred over credit cards, though some places do accept them. Opt for a backpack over a suitcase as there will be lots of stairs, and leave room in your luggage for shopping!
Accommodation
Budget Solo Travelers ($20 - $30): Unless you are couchsurfing, which is popular and an interesting way of soaking in the local culture in Japan, accommodation in Japan is pretty costly, compared to the rest of Asia. However, most hostels are spotless, strategically located, and well facilitated, so you do get what you pay for. There are also many capsule hotels around Japan (click to explore!), which are essentially an upgraded version of a hostel - bigger bed space, full amenities, more privacy, and some of them even come with an in-house sento. Expect to pay about $20 - $25 for a hostel room in the city center, and about $25 - $30 for a night at a capsule hotel.
Mid Budget Solo Travelers ($30 and up): Private accommodation can be pretty costly in Japan, especially in popular cities like Tokyo, Kyoto, and Osaka. A room at a mid-range hotel can easily cost $50 - $80 per night, and if you are looking for luxury, the sky's the limit. If you are considering Airbnb, make sure that the registration number of the listing is stated clearly, as the local government has recently shut down thousands of listings without a registration number.
Transportation
Getting There: There are several international airports in Japan that are well connected with most major airlines. The busiest airports are Tokyo's Narita Airport, followed by Osaka's Kansai Airport, and Nagoya's Central Japan Airport, of which you are likely to begin or end your Japan trip in. Quite a number of airlines offer direct flights from the UK, the US, Canada, Australia, New Zealand, and Asia.
Getting Around: Be prepared to be blown away by how complex the rail system is in Japan. It is convenient and wide spread, but also overwhelming, especially for first-timers. There are various lines and routes so it would be very helpful to download the Hyperdia app and use it to navigate your way around the city. The train tickets are actually quite costly but you will find online agents selling passes at a discounted rate. Have at least a rough idea of where you are going and see if purchasing a pass is worth it. Public buses are punctual and convenient as well. Taxis in Japan can be very expensive (a trip from the city center to the airport could cost you hundreds of dollars) so you'll want to reserve them for short and urgent trips only. Uber is available in big cities but it has yet to really catch on in Japan.
Inter-city Traveling: Taking the Shinkansen (bullet train) is an experience itself. It is punctual to the second, and the train's speed can go up to 198 miles per hour, yet you'd barely notice it. Tickets are expensive, but you can purchase a JR Pass, which costs about 280 USD - 570 USD, depending on the valid dates. The hefty price is worth it if you are planning to do a lot of inter-city traveling during your stay. For travelers on a budget, your best bet is buses, which are much cheaper but also comfortable and reliable. To put things into perspective, a bus ticket from Tokyo to Kyoto costs about 27 USD, and the journey takes about 8 hours, whereas a Shinkansen train ride costs about 130 USD, and the journey takes only 2 hours 20 minutes.
Food
Convenience Stores and Cook Your Own Food ($3 - $5): There will be at least one convenience store at every corner of Japan. Food choices at the convenience stores like Family Mart and 7-11 may surprise you with a variety of warm and cold food, snacks and full meals, starters and desserts, and so on. One could spend a day eating just convenience store food in Japan! If your accommodation has a kitchen, you can also buy groceries from the local supermarkets and cook your own meals.
Restaurants & Bars ($15 and up): The Japanese take their food seriously. Most chefs spend their whole life perfecting their dishes behind the kitchen counter, using only the freshest ingredients they can find. You don't have to go to an expensive restaurant to experience that - even a small ramen establishment offers memorable meals to its customers. One thing about the restaurants in Japan is that if it's really good, they tend to keep it to themselves. This means no English menu, and no marketing on social media. For that reason, I recommend joining a food tour (most hostels offer that) that's guided by a local. If you are ready to splurge, ask around for a kaiseki restaurant recommendation, though some require reservations weeks ahead.
Things to Do
Kaiseki dining experience: A Kaiseki course is the epitome of Japanese haute cuisine and is considered the highest-level genre of restaurant in Japan. It is more than just a dining experience, it is an art form that I've learned to appreciate after having the opportunity to dine at a all-female chef Kaiseki restaurant in Tokyo, and I urge you to try the same.
Japanese Tea Ceremony: A ceremonial preparation and presentation of Japanese green tea will help you learn more about the culture and appreciate the beauty and intricacies of what seems like a simple act - drinking tea. You will find places offering Japanese tea ceremony experiences all over Japan, but particularly in Kyoto. In some places, the ceremony is led by a Geisha, and they sometimes even offer for you to dress up in Kimono for a complete experience.
Check out some themed cafes: While we are unsure of the linkage between Japan and themed cafes, one thing's certain - they are incredibly popular and creative in this country. From robots, to monsters, anime, maids, and animals, you will find something that's up your alley. Based on my personal experience, these themed cafes are more about the fun and less about the food, but that's kind of expected of themed cafes in general. As for animal cafes, do your research and if something feels off, it's best to avoid them.
Spend a day at the theme park: In Tokyo alone, there are Tokyo Disneyland and Tokyo DisneySea; outside of Tokyo, there's Universal Studio in Osaka, Fuji Q Highland at the foot of Mount Fuji, and the list goes on. There are some smaller scales ones built in the bubble economy, which I think could also be very interesting to visit.
Have a picnic at the park: Japan has some truly gorgeous parks with beautiful views and a relaxing ambience. Pack some light snacks from the convenience store and head to the nearest park for a quiet afternoon of people watching. Not only does it make for a good break from all of that intense traveling in Japan, it's also a good way to take a closer look at the locals' lifestyle. You will see mothers taking their children for a walk, elder people reading by the pond, and couples holding hands, which are all calming and pretty to see.
Visit the beautiful shrines: Japanese shrines are typically massive and at times, chaotic thanks to the surge of tourists. However, if you visit early in the morning, the atmosphere is much calmer. You will see locals paying respect on their way to work, volunteers cleaning the space, and sometimes, monks chanting in the hallway. Some iconic shrines in Japan include the Meiji-shrine in Tokyo, Kiyomizu-dera in Kyoto, and Hozen-ji in Osaka.
Take a bullet train ride: A Shinkansen (bullet train) ride is Japan in a nutshell - precise, efficient, and punctual. The bullet trains are so punctual that you can miss your ride by being 2 seconds late. They are so fast yet you may barely notice the speed from your seat. The Shikansen meals are often the highlight of one's ride. You can expect no-nonsense, colorfully and carefully packaged meals that you can devor while making your way from one city to another in no time.
Dress up in kimono: I mean, what better way to fully soak in the Japanese culture than dressing the part, right? In Kyoto, you will find dozens of kimono rental shops with beautiful options to choose from. Don't be shy, you will not be the only one donning the kimono in the street. If you want, you can even get a full Geisha makeover!
Thrift Shopping: There are so many awesome thrift shops in Japan! The quality is great, too. If you are looking for unique clothes, cool vintage items, or old books and CDs, head to areas like Shimokitazawa and Harajuku in Tokyo, American Village in Osaka, or simply keep a lookout for pop up stalls and markets the locals often hold - just ask your hostel!
Try the Local Delicacies: If you have an adventurous food palette, horse meat sushi, Puffer Fish sashimi, natto (fermented beans often eaten with a raw egg) are just some of the stranger things you can try in Japan.
Japan on @BeMyTravelMuse's Instagram