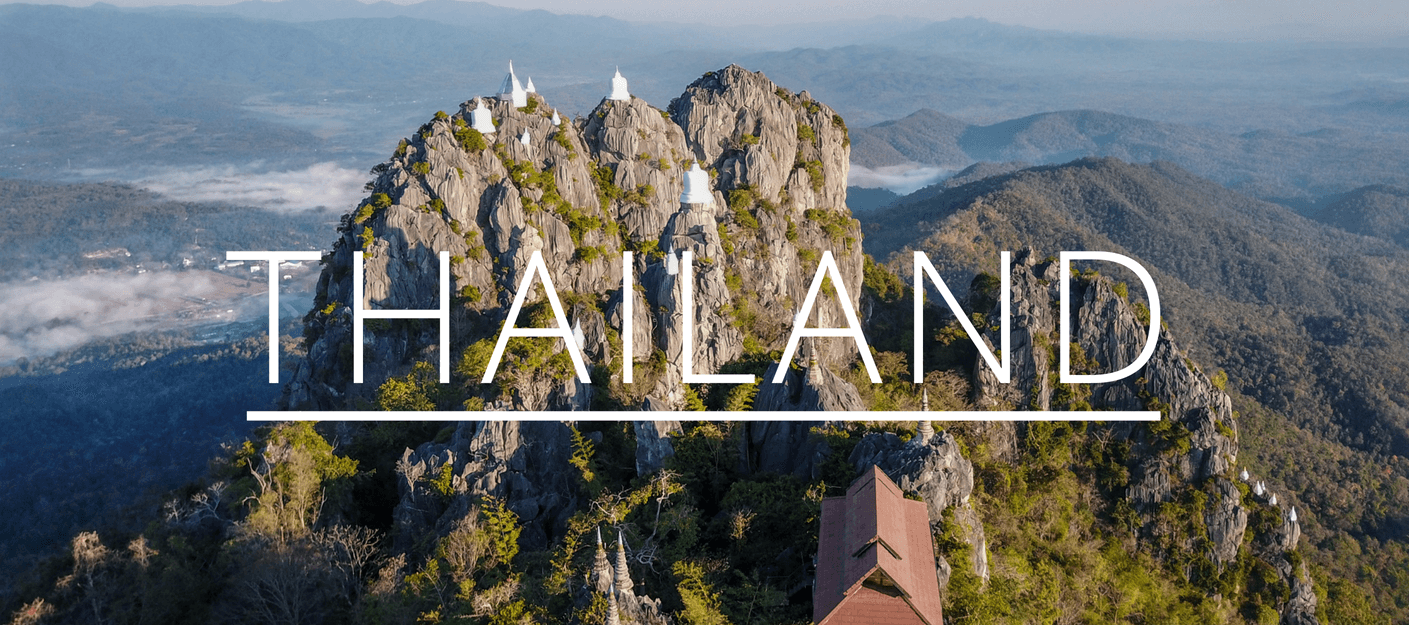 For those chasing summer, for lovers of history and culture, for beach bums, and for those who love a good party, Thailand offers up some of the best of what Southeast Asia has to offer. Known as the Land of Smiles, Thailand also carries a rich cultural history as the only nation in Southeast Asia never to be colonized, retaining a strong identity that can be seen from the ancient kingdoms to the street food stalls serving up authentic and delicious favorites. Thailand is the land of elephants, home to beautiful national parks, and famous for activities like trekking and scuba diving. Though a bit more touristy than other countries in Southeast Asia, Thailand is the perfect place to begin your Southeast Asian travels, and to return to again and again.
Where in Thailand?

Thailand
Watch My Vlog from Thailand
Quick Tips
'Hello' and 'Thank You' in Thai: "Sa wat dee ka" (females) and "Sa wat dee kap" (males), and "Kap kun ka" (females) "Kap kun kap" (males)
Currency: Thai Baht (click for current conversion rates)
Visa rules: Generally 30-day visa-on-arrival (click here for your specific country's guidelines)
Safety rating: Ranked 117 on the Global Peace Index with a score of 2.28 (USA is ranked 128 with a score of 2.40)
Solo Travel Friendliness: A well-worn destination, Thailand is super easy to travel in, and locals are used to seeing tourists. I have not once felt unsafe in Thailand, not even during the Coup D'etat.
Climate: Hot and humid year-round. Rainy season lasts from May to October
Best SIM card: dtac- prepaid SIM cards can be purchased at 7-11 but data credit must be applied at a dtac location
Modesty Considerations: All of the Buddhist temples will require you to have your shoulders and knees covered up. On the islands, bikinis are totally acceptable but it is polite to cover up when you are not on the beach.
Random useful tip: It is considered rude to point one's feet at anyone else, especially in religious institutions, and to touch children on the head.
Accommodation
Low Budget Solo Travelers ($5 - $7): With thousands of hostels and guesthouses competing with one another, you are in for a treat when picking a place to stay in most parts of Thailand. Even in major cities like Bangkok and Chiang Mai, as little as $5 could get you an air-conditioned room with strong Wi-Fi and great shower, and in smaller towns even cheaper, if you're willing to do it on a shoestring! However, expect to pay a little bit more for dorms on the islands. Click to read my full guide to the best hostels in Thailand!
Mid Budget Solo Travelers ($10 & up): By topping up $10 , you can easily get yourself a cozy little room at most hostels, or a simple bungalow by the beach with a priceless view. A 3-star hotel room typically costs $20 - $40; Airbnbs run from $10 for a shared room to $50 for a private unit, and Couchsurfing is popular in major cities.
Food
Local Food Spots ($0.5 - $5): Street food is incredibly delicious, plentiful, and cheap in most places in Thailand. A plate of steamy Pad Thai on the roadside could run as low as $1 and one can easily eat at a night market, sampling several different eats, for just a few dollars. Generally, prices are not negotiable and the asking price should be paid. There's really no need for negotiation when you can fill your tummy up to the point where moving becomes an obstacle with only $5, though!
Cafes & Restaurants ($5 - $10): All major cities have dynamic café and restaurant scenes, serving local and international cuisine of all kinds. Inexpensive restaurants are typically located in shopping malls, costing about $5 for a complete meal. In Bangkok, there are specialty restaurants that serve "royal Thai" cuisine that use premium quality ingredients, giving classic Thai cuisine a royal spin. Fast food chains are available everywhere, with a set meal costing $3 - $5.
Transportation
Getting There: There are six international airports in Thailand, the most popular one being Bangkok's Suvarnabhumi Airport, which is very likely to be your first and last stop in Southeast Asia. There are direct flights from the UK, Australia, New Zealand, South Africa, and all of Southeast Asia. Crossing borders overland is simple and cheap from its neighbouring countries using buses, trains and private cars.
Getting Around Town: Options include Tuk-tuks, buses, moto taxis, cabs and songthaews. With Tuk-tuks and moto taxis, make sure to negotiate and confirm the price before you get in. You can also easily rent a motorbike or bicycle from shops and hostels. Make sure to check the vehicle's condition and take pictures of any existing damages because while the rental and fuel is cheap, repair costs could make you drop your jaw. For solo travelers who can't ride a bike, take a moto taxi. In certain areas like Chiang Mai, there are red Baht buses (Songthaews) that go everywhere including the airport for a fixed price of 20 THB within the city walls and slightly more to head outside of them. Uber and Grab are also available in major cities, though protests from cab drivers are making it difficult for them to enter and exit certain areas.
Inter-city Travel: Long distance trains and buses in Thailand are efficient and comfortable for the most part. There are different classes (1st, 2nd and 3rd class for trains; VIP and non-VIP for buses) at different price points so how much an inter-city journey costs depends on how much you value comfort. Minivans are cheap but almost never come with assigned seats, and you will wait for the driver to pick you up at a designated bus stop, with the minivan usually already over occupied. As for island hopping, it is usually cheaper to get the bus/boat transfer packages than buying them separately. Always make sure that your valuables are close to you.
Things to Do
Northern Thailand
Play with elephants: Get up and close with those beautiful, regal creatures. Pick a reputable organization that actually focuses on taking care of the elephants and not milking them for money. I personally recommend Elephant Nature Park in Chiang Mai, where the elephants are not threatened with sticks or hooks, and are given a chance to be elephants again.
Take part in the local Festivals: There are two main festivals celebrated in the North – Songkran in April, and Yi Peng in November. Many people head to Bangkok for the annual water fight, but up North in Chiang Mai is where the real party's at. Yi Peng in November involves releasing decorations made out of flowers and banana leaves down the river, and releasing lanterns up into the sky. Chiang Mai is also the place to be for this festival.
Chill in Pai: Pai is a hippie haven about a 2.5 hour bus ride from Chiang Mai. Personally, I have returned 4 times. That says a lot about this place considering that I am always on the lookout for new places to discover. Rent a motorbike and ride to the waterfalls, canyons, and the land split.
Check out the White Temple in Chiang Rai: Trust me when I say this temple is like no other. It started construction in 1997 and is on track to be finished in 2070. Words can't describe the White Temple but you can check out my attempt here, or better yet, go see it yourself.
Central Thailand
Hike Khao Yai National Park: While I have yet to check this national park out myself, I have only heard of good things about this place. It is apparently an excellent hiking and swimming spot, with opportunities to chance upon wild elephants. Sounds pretty darn good, if you ask me!
Shop at Chatuchak Market: Known as the ultimate Bangkok market, Chatuchak stretches out more than half a mile, with more than 10,000 booths selling everything and anything. Dress light and put on sufficient sunscreen as you will very likely spend the entire day there.
Picnic at Lumpini Park: I call this place Bangkok's version of Central Park. Pack some light snacks with you, find a quiet spot to sit down and people watch. If you want to see how life is lived away from tourist-packed areas, this is the right place to be.
Visit Thailand's ancient capital, Sukhothai: Think Angkor Wat, minus the crowds. Rent a bicycle and explore the ruins by yourself.
Southern Thailand
Go Island Hopping: My personal recommendations include (but are not limited to) Koh Chang, Koh Yao Noi, Koh Pha Ngan, Koh Tao, Koh Samui, and Khao Lak. Whether it's a quiet, isolated beach or a party island that you are looking for, there has to be an island that fits the bill. Read the complete list here.
Join a 10-day Silent Meditation Retreat: There is a monastery on the mainland in the south of Thailand that offers a monthly 10 day silent meditation beginning at the end of every month. I attended the meditation that took place over New Year's in 2013 and it was one of the more challenging but rewarding experiences of my travels.
Apps to Download
BangkokGate (helps finding routes when navigating through Bangkok via trains), Wongnai (an awesome local food guide)
Thailand on BMTM's Instagram