This post was written by Emily Becker, a Mexico-based freelance writer for BMTM.
If there's one place in Costa Rica that truly stole my heart, it's Tortuguero National Park. Located on a small island off the Caribbean coast, it's a gem that is truly underhyped. Since there isn't a lot of information out there about visiting as a solo female backpacker, I'm here to give you all the details that I wish I knew before I went.
Here's everything you need to know about visiting Tortuguero National Park, especially if you're heading there solo:
1. The sunrises are worth waking up for…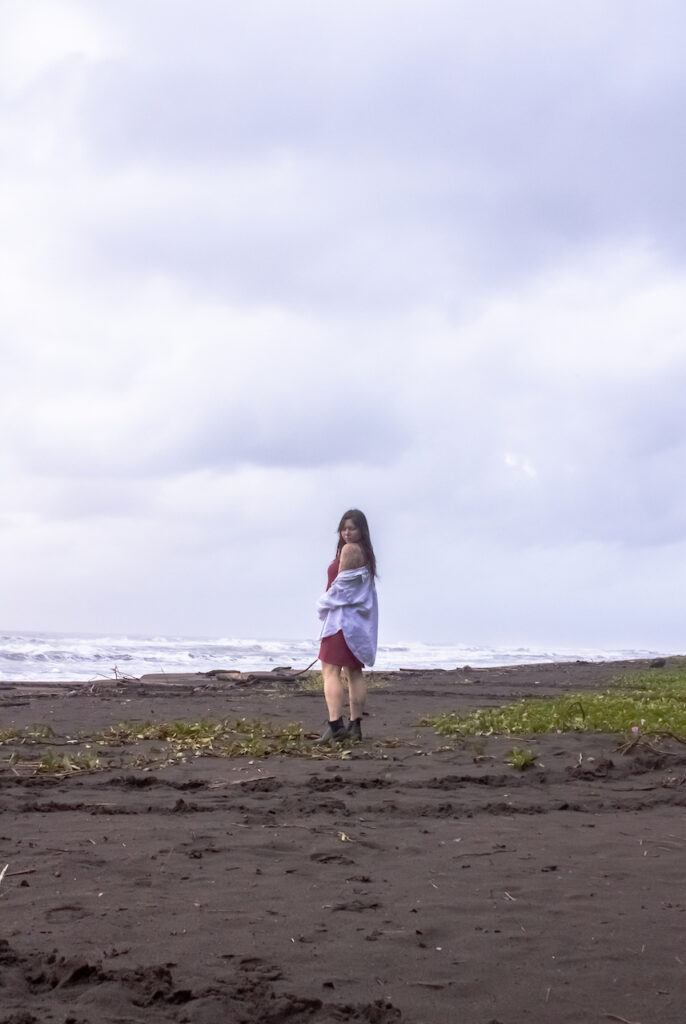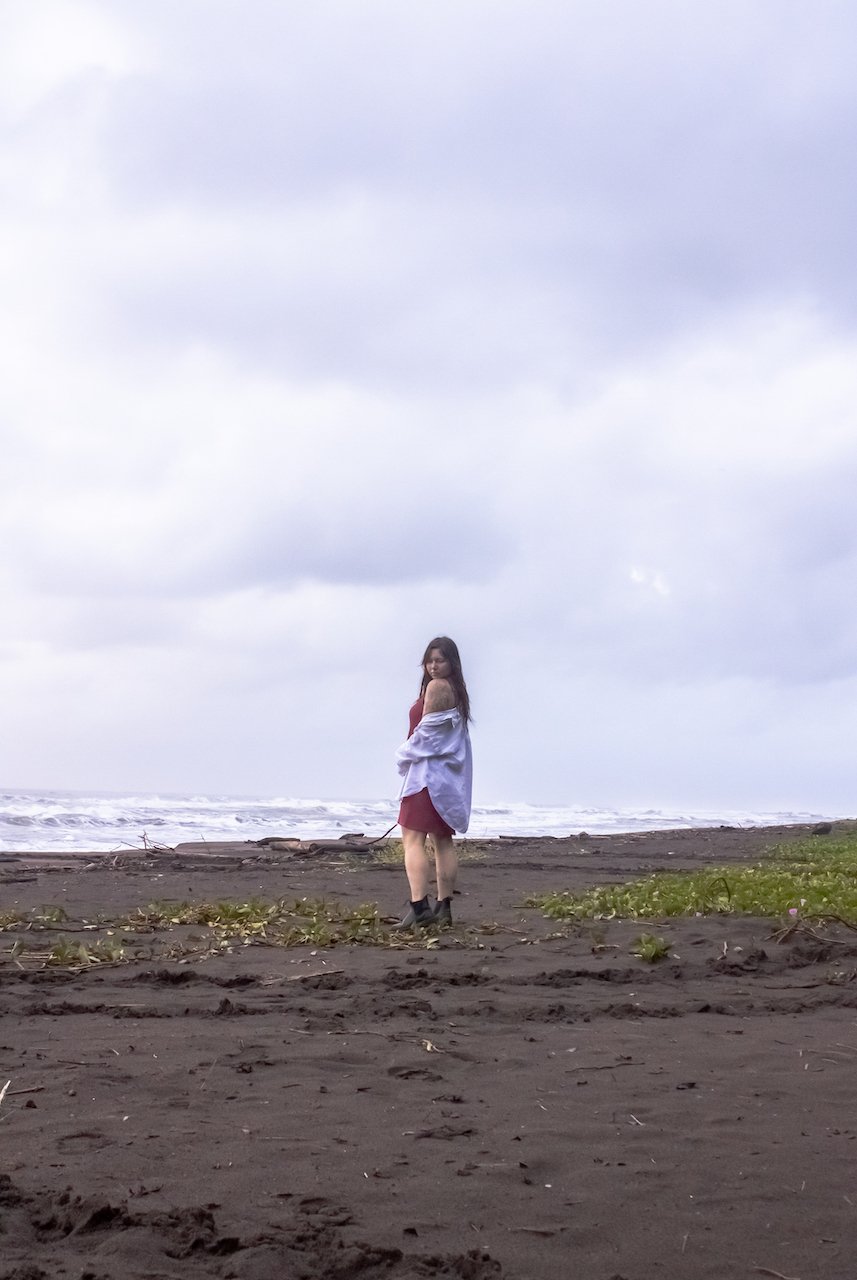 I visited Tortuguero in July, and the sun rose every day at 5:30am. The sun rises over the ocean — a spectacular sight any time of year. Since it was the rainy season, the clouds often covered the sun, and I didn't see vibrant colors, but it was magical nonetheless. The mist from the waves, paired with the gentle sunrise glow, made for a peaceful scene that was definitely worth the daily 5am wake-up call.
2…but the sunsets over the river slay, too.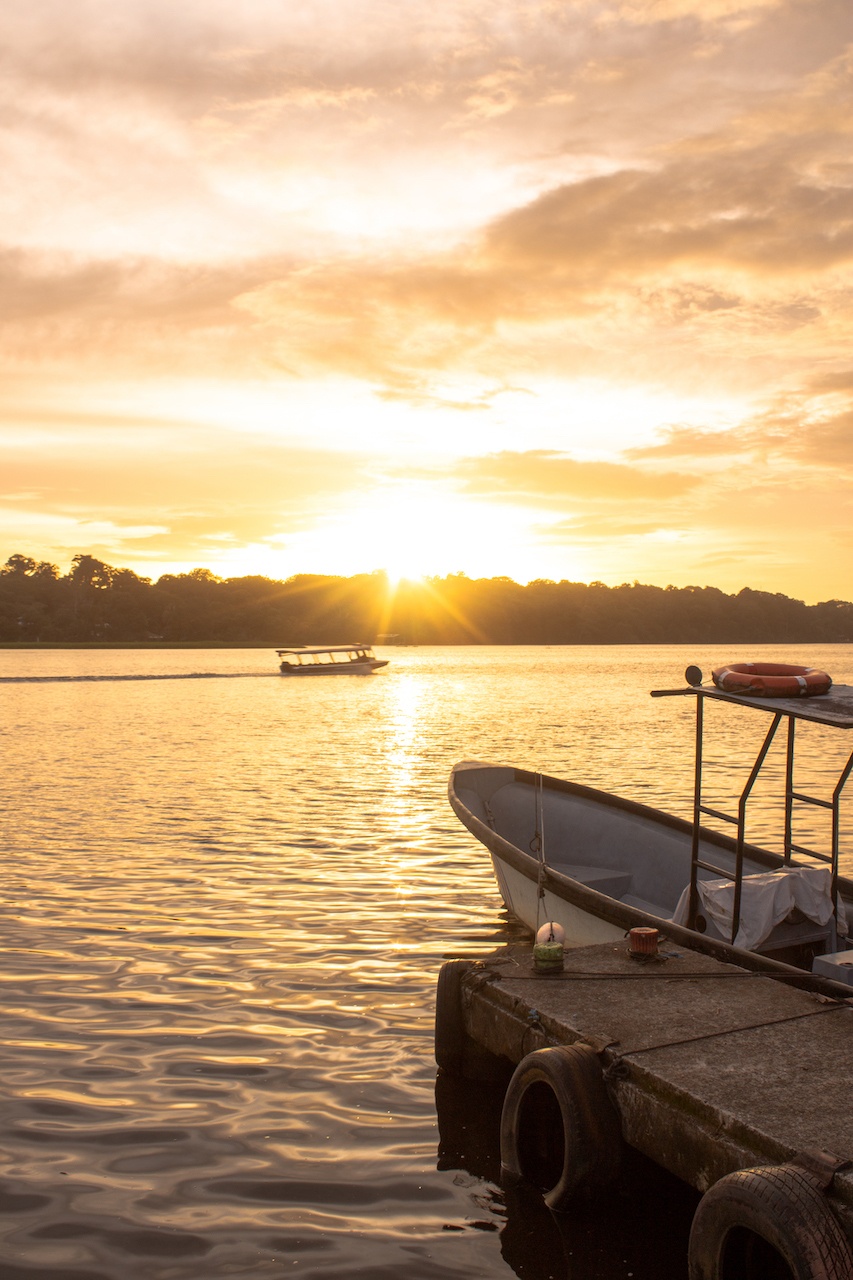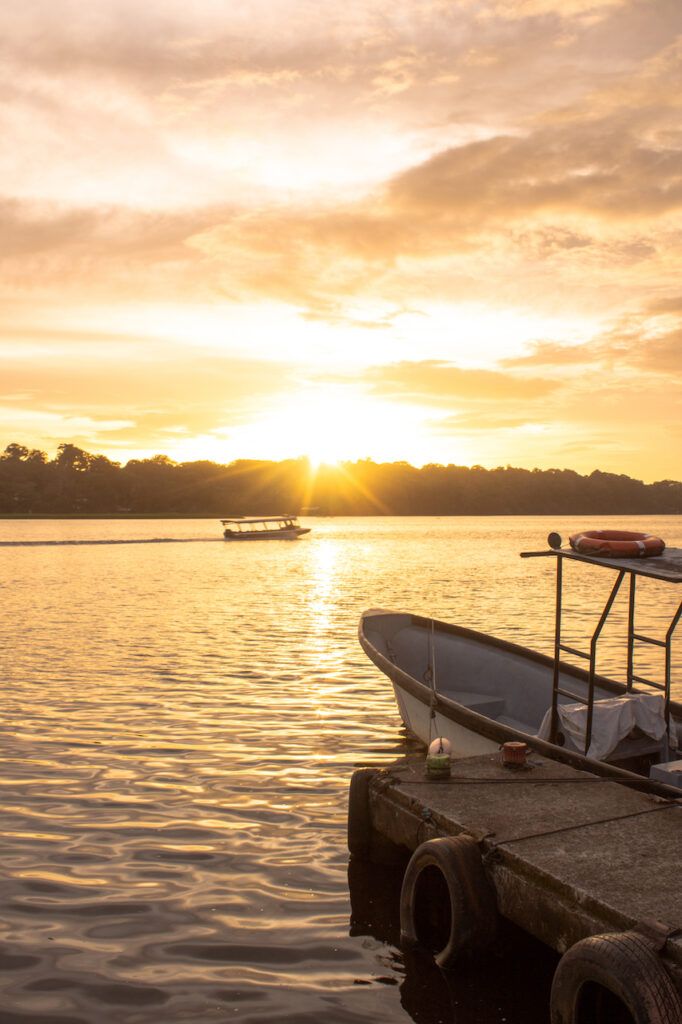 Although the sunrise in Tortuguero had its magic, so did the sunsets, which reflect beautifully off the river. There are a few restaurants and cafés that have riverside seating where you can enjoy a meal or a drink while watching the sunset.
My favorite spot was El Patio, which had delicious Caribbean-style Costa Rican food and an awesome view. The sun set at 6pm each night, so I snagged the closest table to the water's edge around 5:30pm. Another great spot is right next door at Buddha Café, which is a little fancier and has a great selection of wine and desserts.
You don't have to grab a table at a restaurant to watch the sunset, though. Head to the park at the edge of town or sit at the main dock for an equally sweet view.
3. You can't swim at the beach.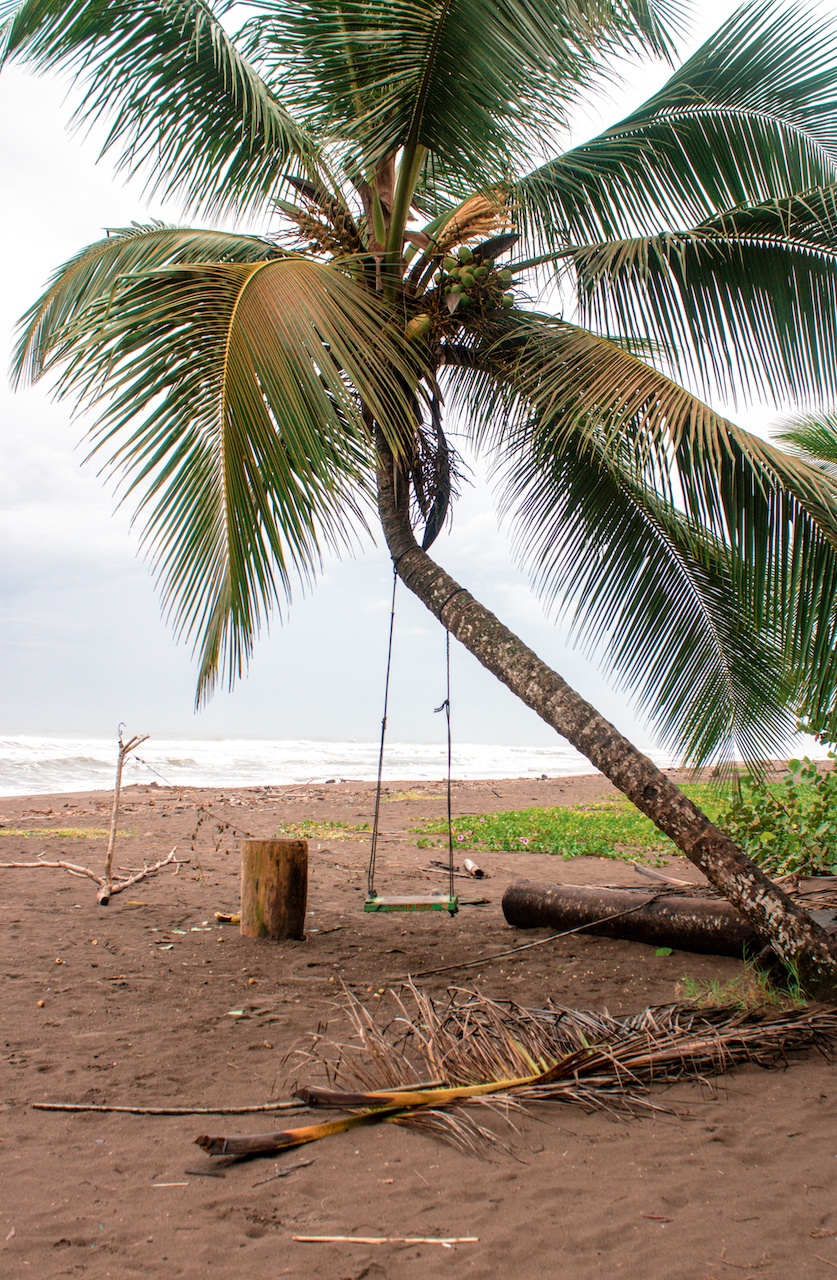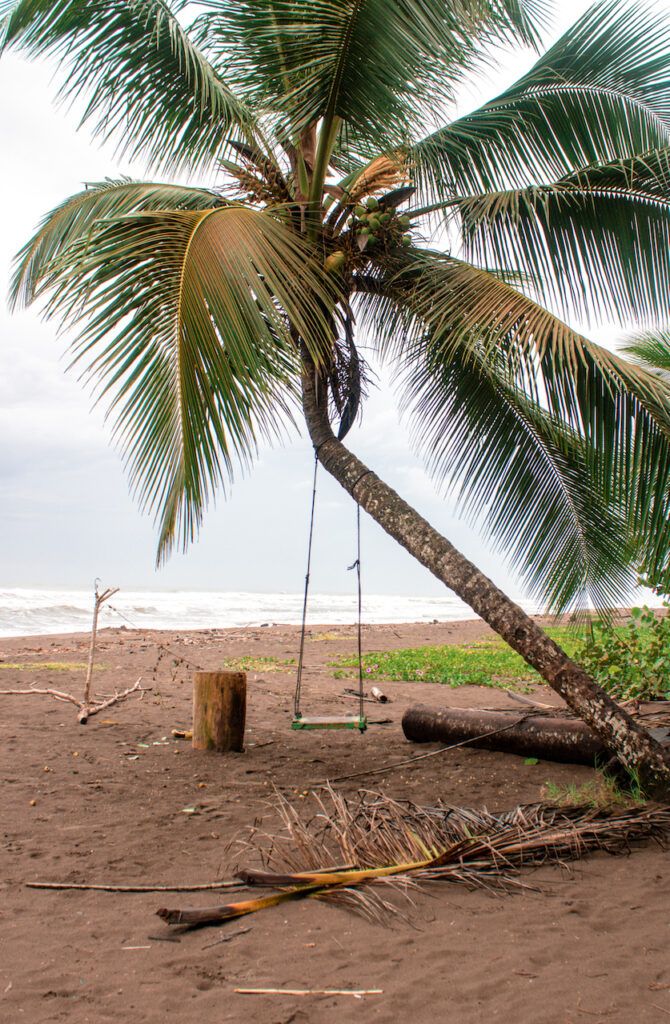 Due to strong rip currents and big waves, it isn't safe to swim at the beach in Tortuguero. You won't see anyone in the water, and there are no lifeguards to help out in case you are in danger. I was surprised that I didn't see any signs explicitly saying to stay out of the water, but locals warned me not to go in. I took that as enough of a reason to obey, though I was temped because of the heat.
Even though you can't swim here, the beach is still a chill spot for hanging out. There are plenty of palm trees to relax under, and I saw hardly anyone else here in the mornings.
4. You have to take a boat to get there.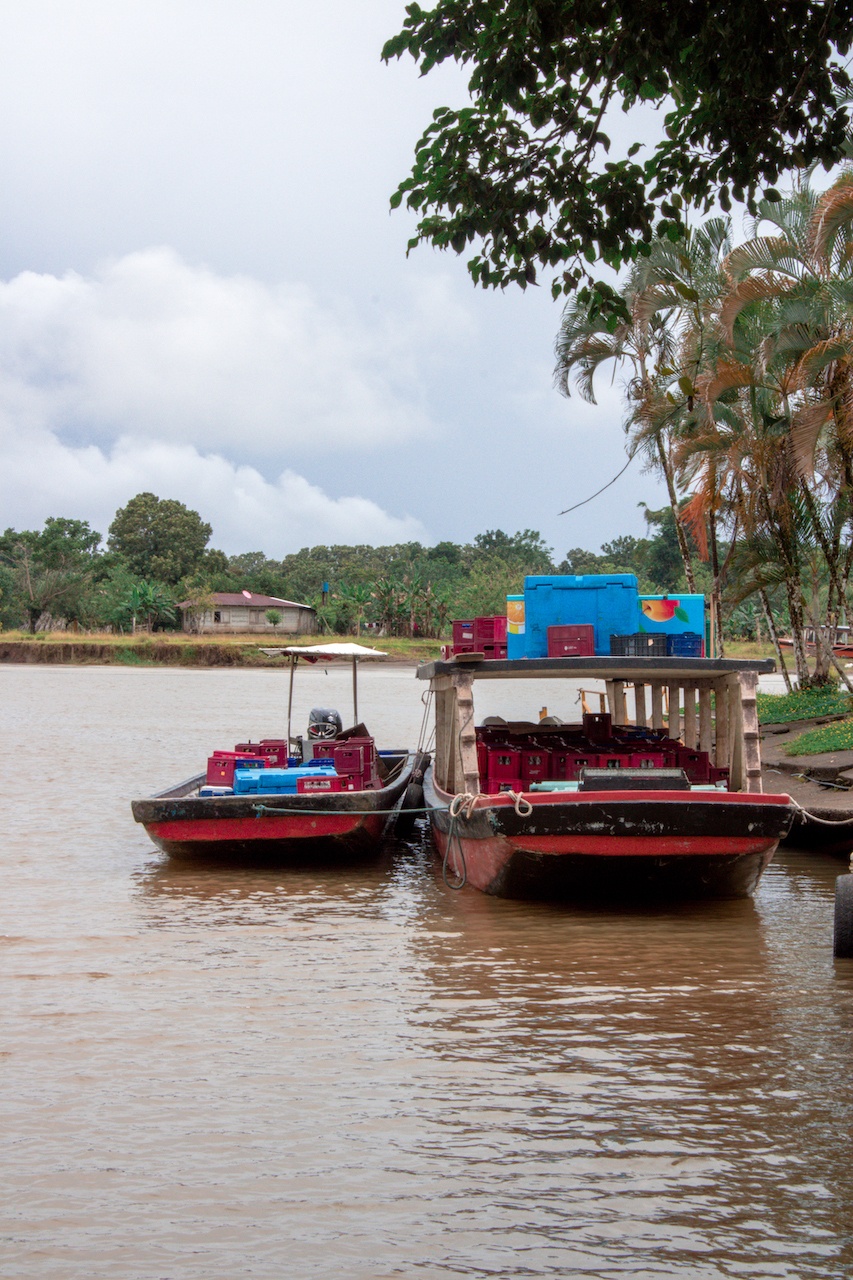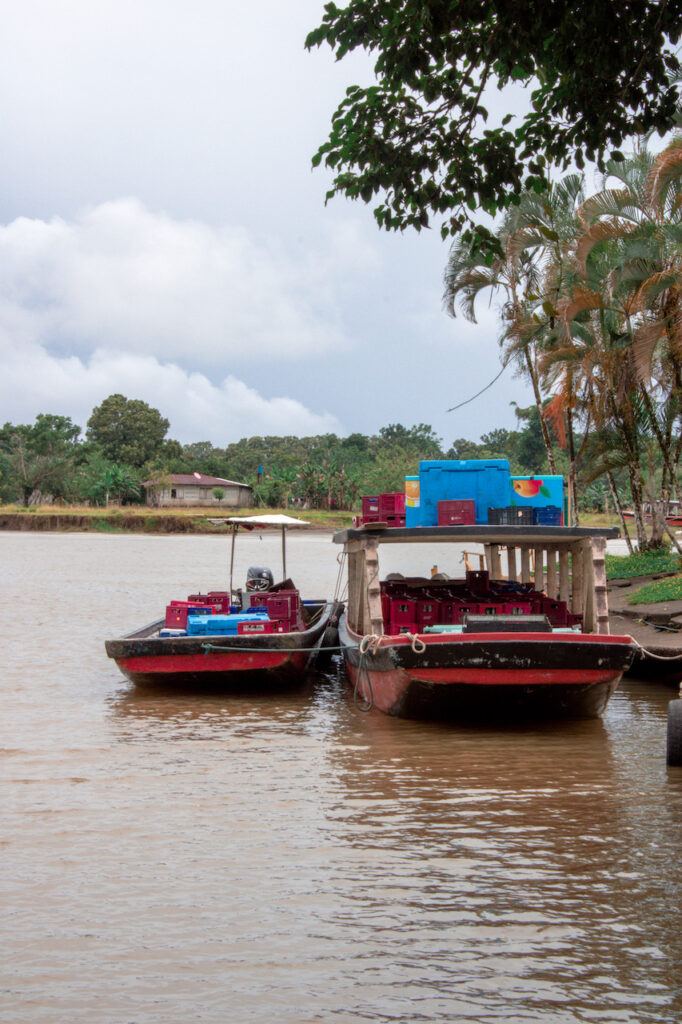 As Tortuguero National Park is on an island, it makes sense that the only way to get there is by boat. However, it's not as quick of a ride as you might think. Since Tortuguero is quite remote, just getting there is an adventure in itself.
But considering the fare is only 2,000 colones ($3 USD), it's pretty cool that your first taste of the beauty of Tortuguero is riding through the canals without paying for a tour.
5. There are no ATMs in Tortuguero, but you're not totally out of luck.
It would not be wise to arrive to Tortuguero without stopping at an ATM before you go. Most cities and towns in Costa Rica have ATMs, but Tortuguero is an exception. If you forget to bring colones, you have only one option for withdrawing cash.
There's a small restaurant in town that does informal cash withdrawals. It's across the street from the small grocery store that has the big concrete turtles out front. There's no address (like most places in Costa Rica), but you can ask around and somebody will help you find it. The big downside of withdrawing cash this way is that they charge 8%, which is pretty ridiculous IMO. If you're in a pinch though, it works fine.
6. Forget about booking tours in advance.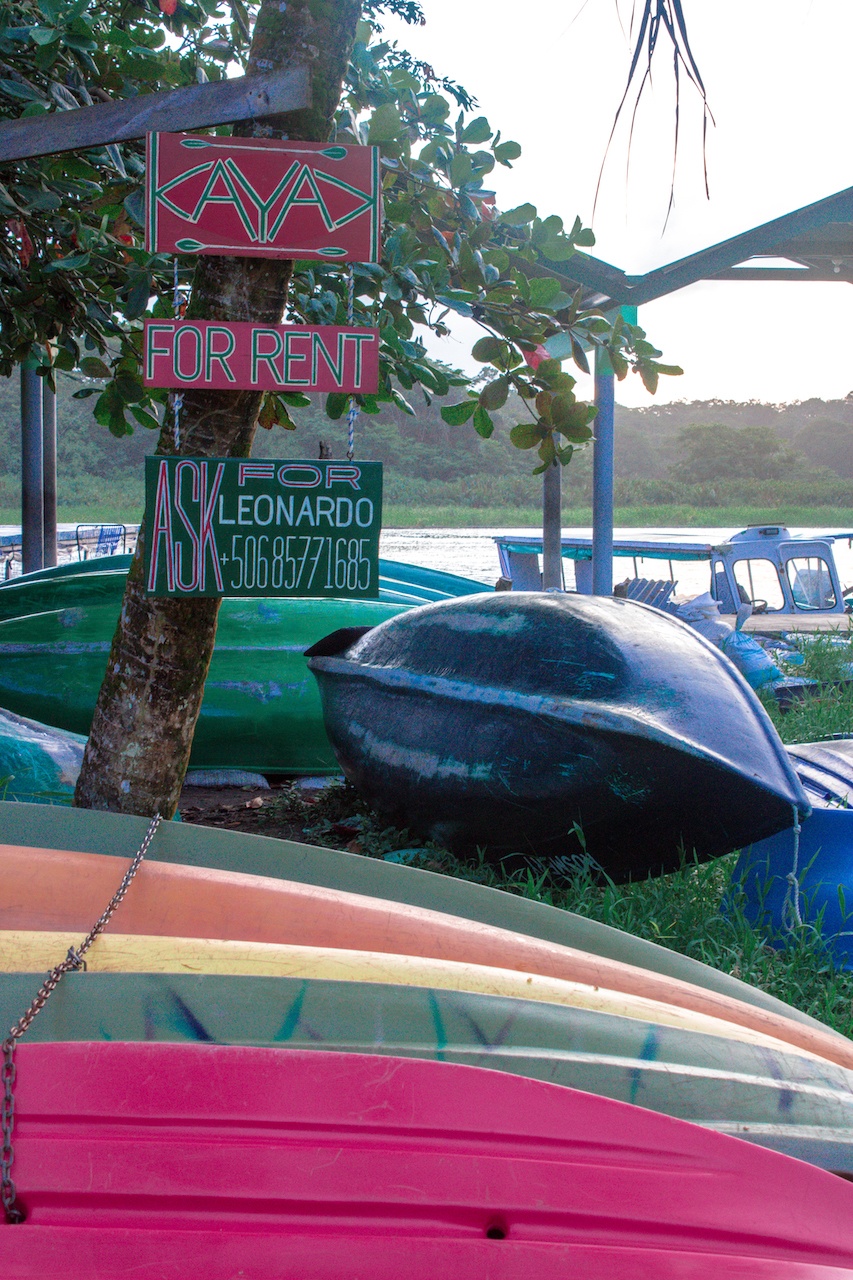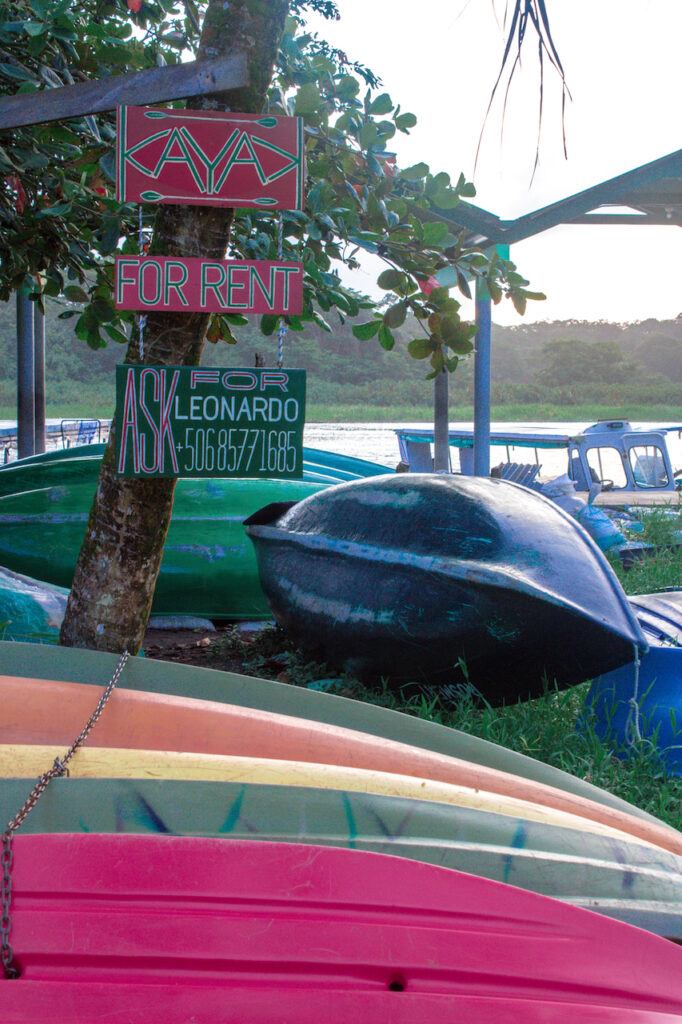 Considering that Tortuguero has a mostly cash economy, it's no surprise that booking tours ahead of time isn't common. Since there are so many companies on the island, it's very simple to book once you get there; there's really no need to book online. I also noticed that the tours available online are significantly more expensive than those you can book in person.
Most of the tours available from local companies on the island are nearly identical, and have about the same price point. I only took tours through Miss Junie's Lodge, per the recommendation of my tour guide in San José. If you'd like to book a tour with them, just head to Miss Junie's at least a day before you'd like to book, and they'll let you know what they have available.
7. Make sure to book your park admission ahead of time, though.
Just like Manuel Antonio National Park, it's necessary to book your park admission at least one day in advance for Tortuguero National Park. You can choose your time slot when you purchase your ticket. I recommend going to the park in the morning, as there's a better chance of spotting wildlife then.
When you book, you will also choose which part of the park you'd like to visit. Admission is $15 plus tax, which you can use to access multiple areas during the same day.
8. Hang out where the locals do.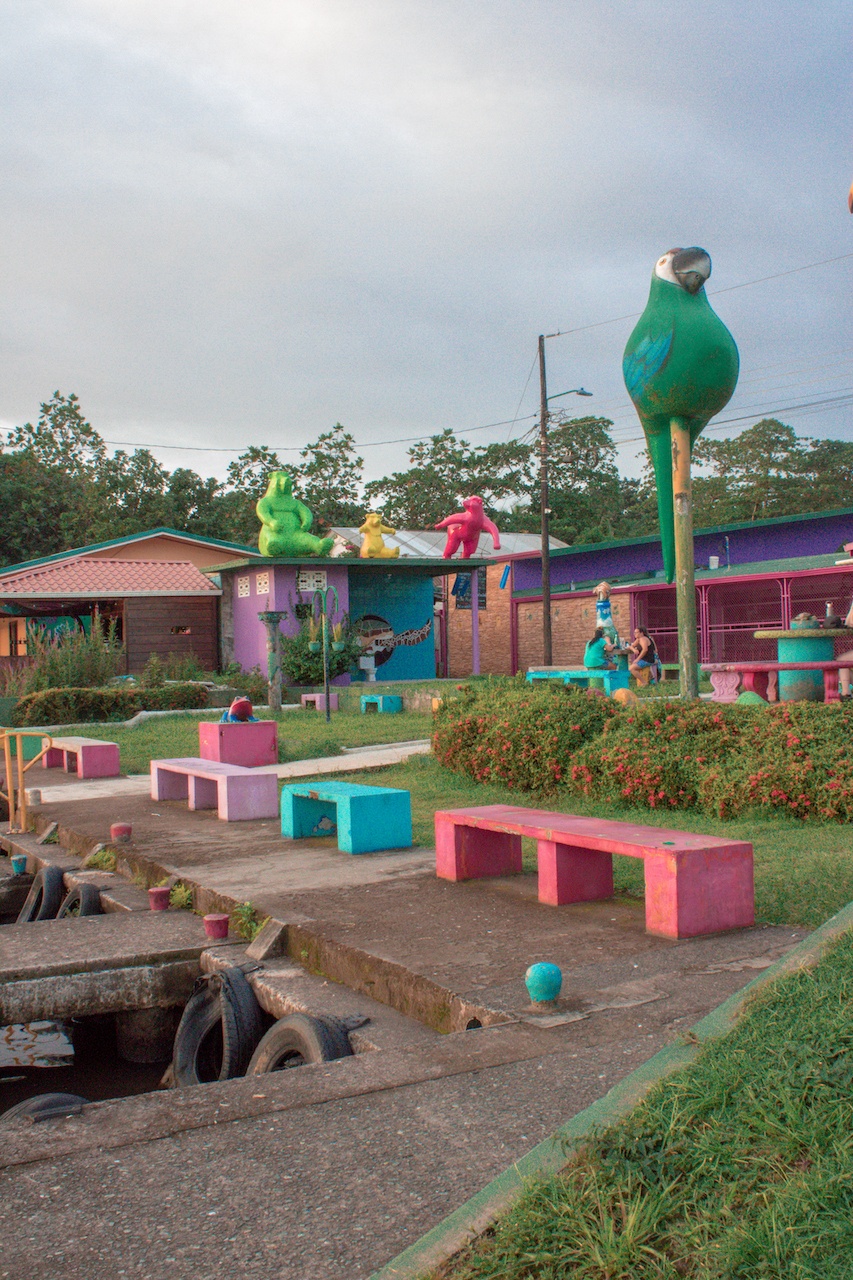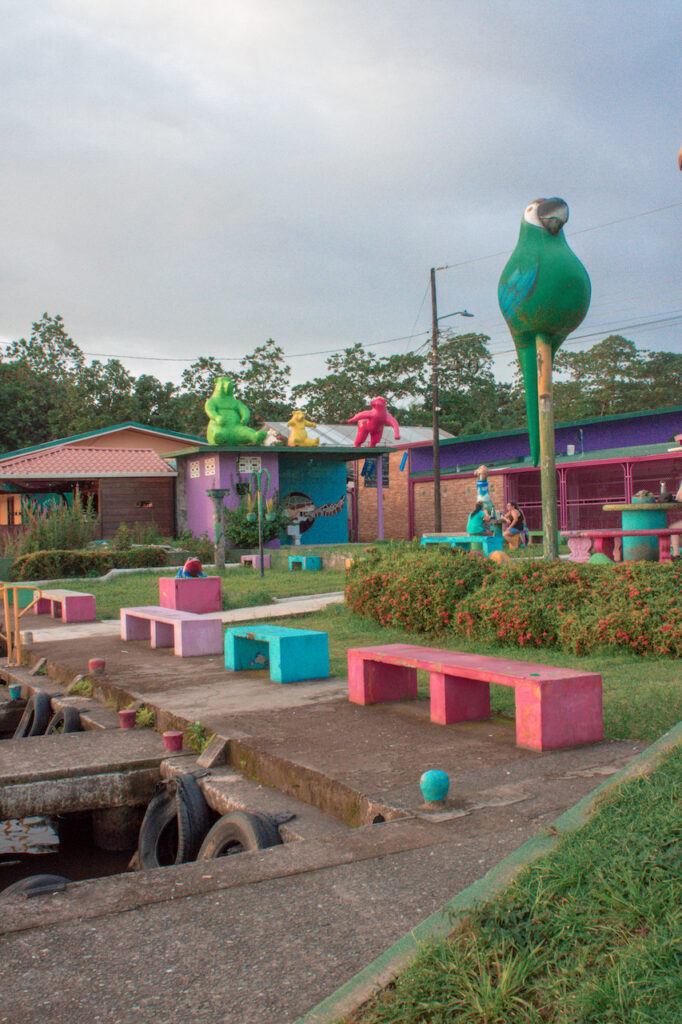 Tortuguero's laid-back vibe was refreshing. I noticed right away that this town was tiny and close-knit. Walking down the main road — the only paved one — I saw the same faces again and again. The same guy selling arroz con leche from a box on his bicycle was met with excited greetings of "Hi, teacher!" Everybody knows everybody in Tortuguero, which is a large part of the town's charm.
It was very easy to chat with locals here and hang out at their favorite spots. Being a small island, there's really no other choice. The main park in town is right on the water, and many people gather there in the evenings to watch the sunset. I joined them, chatting and enduring jokes about my gringa accent.
I think this is a big part of why I enjoyed Tortuguero so much, and I think other travelers who also want to learn about the local culture will as well.
9. Avoid walking around Tortuguero alone at night.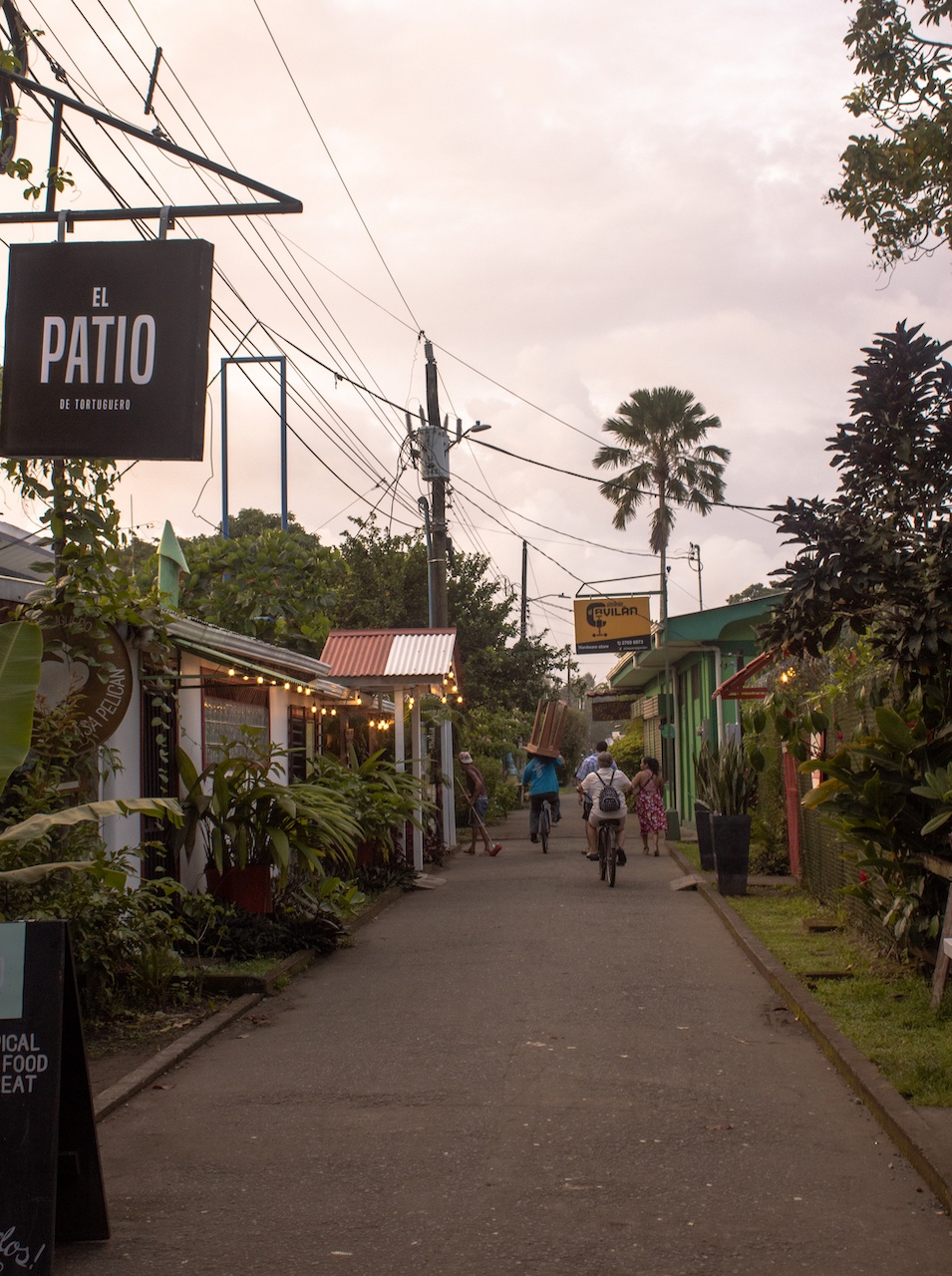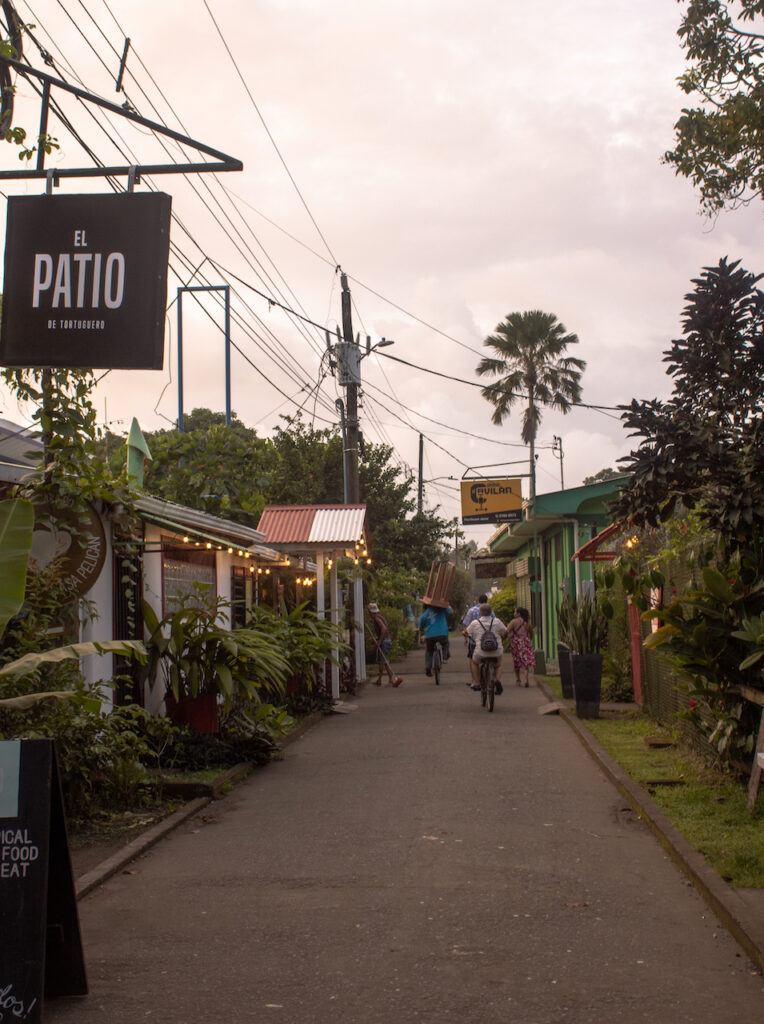 Although chilling out with the locals was a great part of my experience in Tortuguero, I only did so during the day, making sure to head back to my hostel after sunset. I didn't experience much street harassment here, but I've heard stories about other solo female travelers not feeling as safe in Tortuguero. I decided not to risk it, considering that beyond the main road, the town isn't very well lit. Walking around at night was thus a no-go for me.
I did a night tour to see the turtles nesting, which started at 9:30pm. To avoid walking alone after dark, I decided to have dinner close by and hang out at the restaurant until it was time to head to the meeting point. Afterward, my tour guide Cloide walked me back to my hostel; you can ask your guide to do the same for you. They seemed used to this kind of request, which gave me the impression that they knew that it wasn't safe to walk home alone in the dark.
10. There are no cars in Tortuguero.
Considering that it's an island, it's unsurprising that there are no cars in Tortuguero. That means you have to rely on the small boats if you want to go to other parts of the national park. The boats only charge about 2,000 colones ($3 USD) per ride.
11. Visit during turtle season!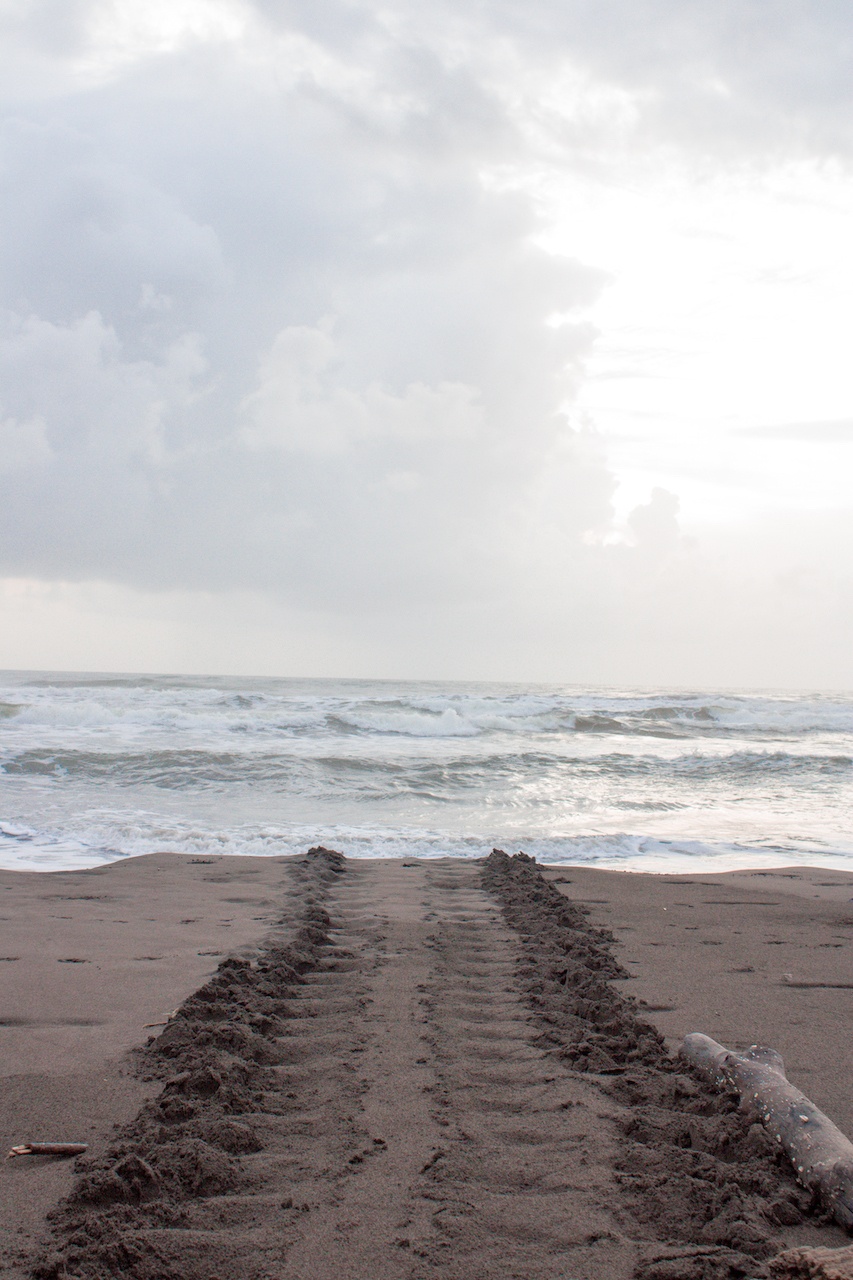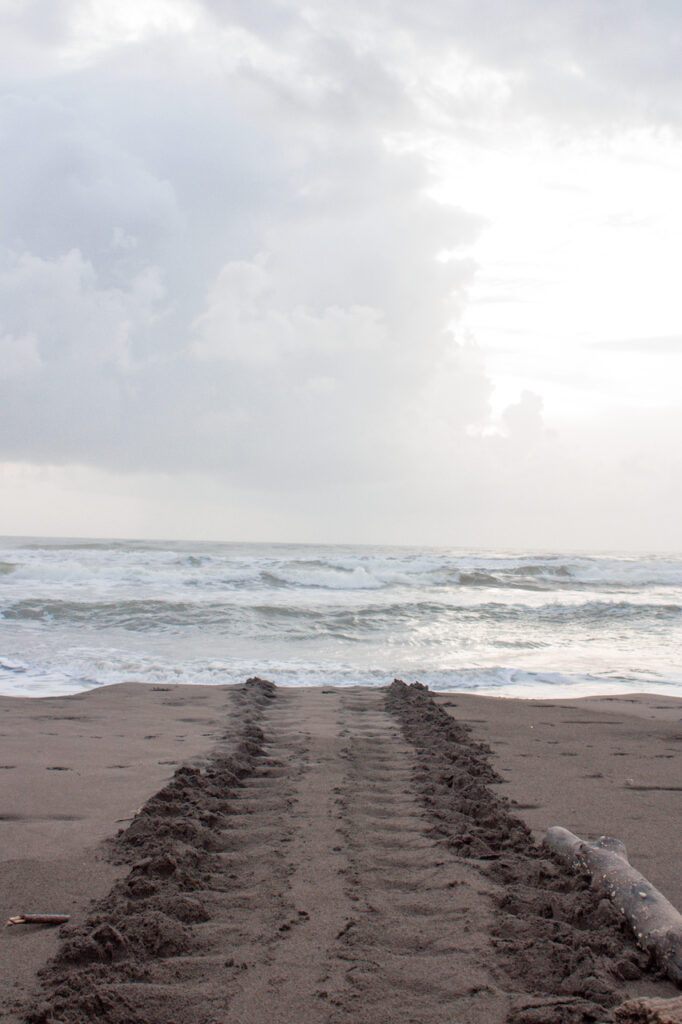 Green sea turtle nesting season in Tortuguero is from July to October. These beauties are endangered, yet tens of thousands of them lay their eggs on the shores here each year. As I visited in mid-July, I was eager to see these spectacular animals in action.
I could not have anticipated how amazing of an experience it would be to see green sea turtles laying their eggs. I did a night tour with Cloide from Miss Junie's Lodge, which cost $25 and was worth every penny. We had to wear all black and promise to arrive to our meeting location without any electronics, as to avoid disturbing the turtles with the white light from our phones or cameras.
Cloide led me and the rest of the group to the beach, looking for any turtles that we could find nesting. I didn't know how close we would be able to get, but when we found one, we took turns getting closer to watch her lay her eggs. The whole nesting process took about an hour and a half, and we got to watch her make her journey back to the ocean. The experience was priceless and by far my favorite activity in Costa Rica.
If you'd rather see the baby sea turtles hatch, opt to visit between September and November. Since I visited during the beginning of nesting season, the little guys weren't ready to make their courageous journey to the sea quite yet. Word on the street is that September is a great time to visit Tortuguero, because you have the chance to see both nesting and hatching. However, it's one of the rainiest months of the year and that makes it more challenging to truly take advantage of everything else Tortuguero has to offer.
12. Canoe tours with local guides are the way to go.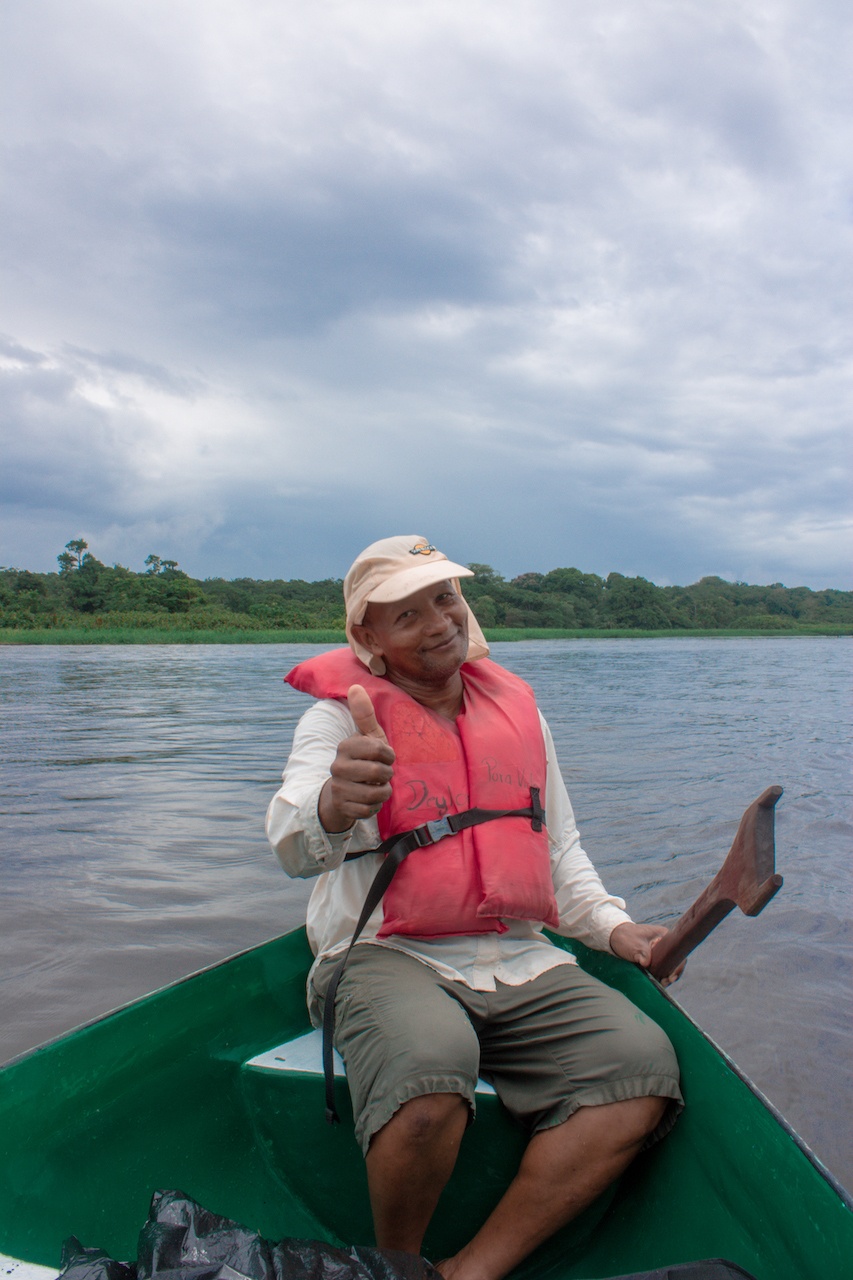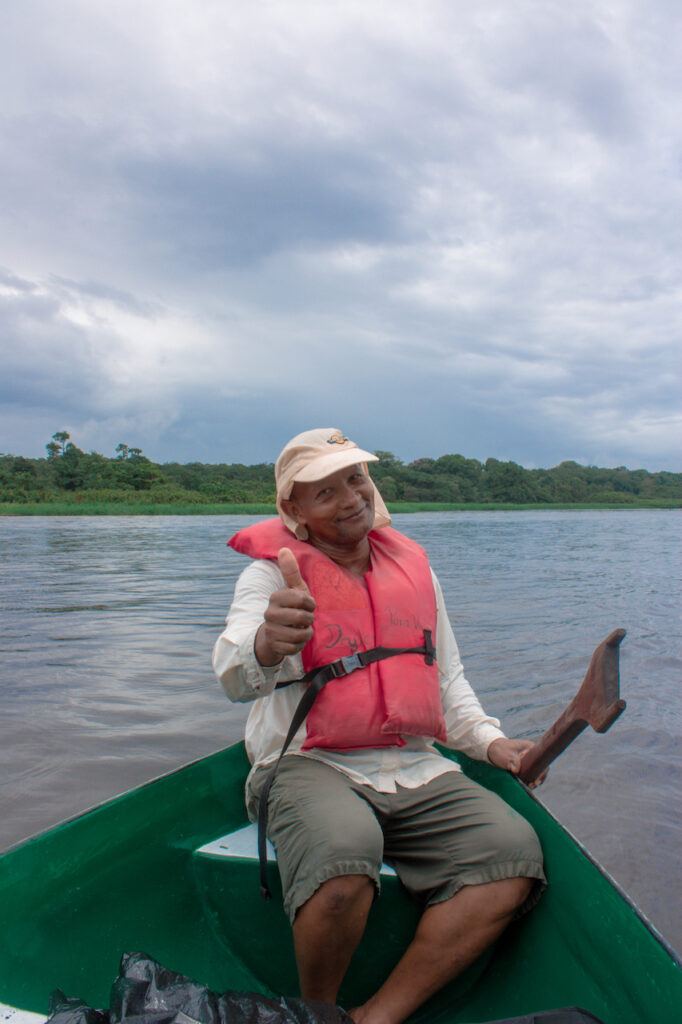 As I mentioned before, my guide in San José recommended taking a tour with local legend Cloide. I didn't know what to expect before meeting him, but I had heard that he was one of the original eight families that founded the town. When I arrived at Miss Junie's lodge to book a tour with him, I was enthusiastically greeted and given a quick history lesson about the town and the origins of the national park.
The next morning, I went on a canoe tour ($30 USD) with Cloide through the canals of the national park. It was the best tour I had in Costa Rica, hands down. Not only was Cloide able to spot animals from far away, giving us all the details on the wildlife and ecosystem, but he told us about his life and went into depth about the history of the area.
I recommend taking either a canoe tour or renting a kayak to explore, as opposed to the motor boats. Paddling without the noise of the motor makes it more likely that you'll see wildlife, plus you can get into the tighter areas where animals like to hide.
13. Keep an eye out for the "chickens of the trees."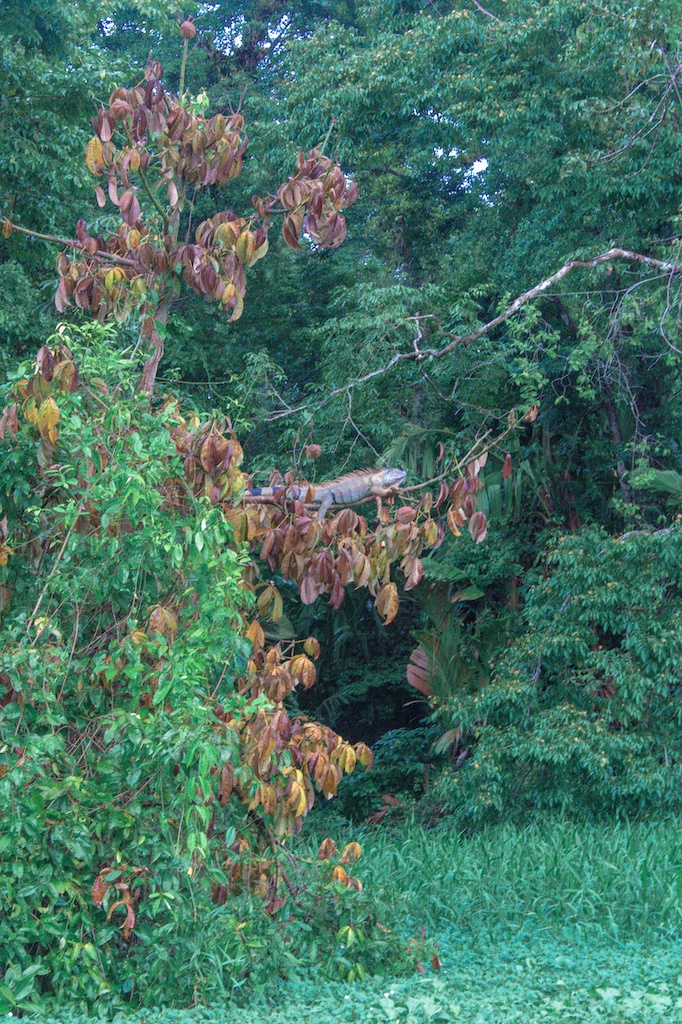 Chicken of the sea? No, chicken of the trees. While floating through the canals in Tortuguero National Park, keep an eye out for these huge iguanas resting in the trees. I had never seen such large ones before, and certainly had never seen them resting on branches so high up. They do this in order to get the most sunlight possible, without becoming vulnerable to predators like the cayman. I had fun looking for them, as their camouflage made it difficult to see them with the naked eye.
Iguanas were just one of the many animals I saw in Tortuguero. From scarlet macaws flying in tandem above to the sneaky cayman waiting for their prey in the water below, this place is absolutely buzzing with wildlife.
14. The best food in town is at Miss Junie's.
If you can't tell already, I'm a pretty big fan of Miss Junie's. Not only did I book my tours there, but I had the best meal at her restaurant. Serving up Caribbean classics like rice and beans and Caribbean-style fish and chicken, Miss Junie's has a reputation for being the best restaurant in Tortuguero, maybe even the entire Caribbean coast of Costa Rica.
Although the prices here are a bit higher (about $15 per entrée), it was completely worth it. It's a family-run establishment with warm hospitality and mouthwatering food. You don't have to make a reservation, but the hours and days of operation are unpredictable. Usually they only open for dinner, starting at 6pm, so your best bet for trying Miss Junie's restaurant is to show up around 6 or 7 to see if they're cooking.
15. It's a great alternative to visiting the Amazon.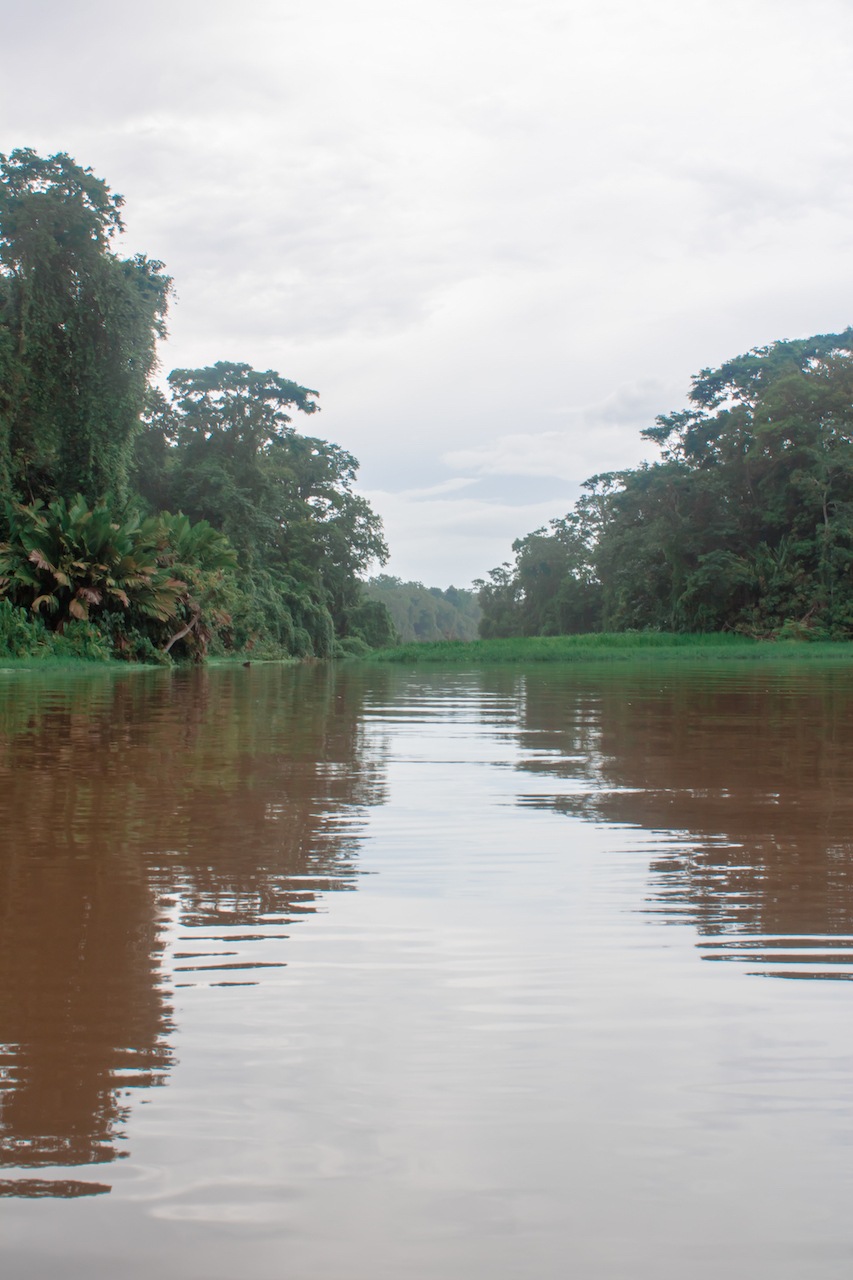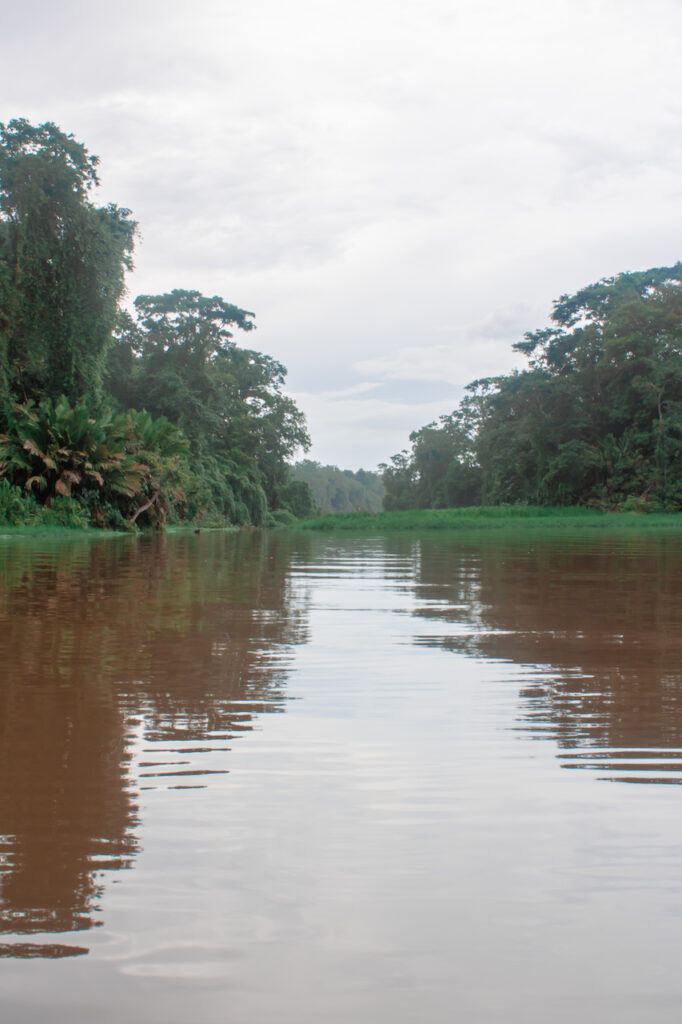 I read before arriving in Tortuguero that many travelers compare it to the Amazon rain forest because of the winding canals, biodiversity, and climate. I have never been to the Amazon, so I can't make a firsthand comparison. However, the experience of paddling through the canals was one that I won't likely forget.
Considering how much closer Costa Rica is to the US and how much more accessible it is, visiting Tortuguero is a great alternative to the Amazon. Even if you plan to visit the Amazon someday, consider visiting Tortuguero first to dip your toes in (literally and figuratively) this kind of adventure. Compared to the more remote areas of the Peruvian, Colombian, or Brazilian Amazon, Tortuguero is much easier to reach, and perhaps even more affordable.
Where to Stay in Tortuguero
For backpackers: Aracari Garden Hostel
I stayed at Aracari Garden Hostel, which has dorms and private rooms. My private room was just $35 per night, which is below the average price for a single private room in Tortuguero. The garden was peaceful here, and the overall vibe was chill and friendly. They offer their own tours, which were a bit pricier than the ones I booked through Miss Junie's.
I would recommend Aracari for solo female travelers or backpackers, although I saw couples and families staying here as well. There was a good mix of travelers, and a social atmosphere that made the place feel more welcoming.
For mid-range solo travelers, couples or families: Miss Junie's Lodge
Miss Junie's Lodge is a bit more pricey, with rooms starting at around $75 per night. However, the price includes breakfast, which is a big perk, considering how great the on-site restaurant is. Miss Junie's is just a hundred meters from the beach, meaning you'll be able to hear the waves crashing and see the sunrise.
Getting to and from Tortuguero National Park
San José to Tortuguero
To get to Tortuguero from San José via public transportation, first take a bus to Cariari (2,000 colones, or $3 USD) at the Gran Terminal del Caribe station in San José. Buses depart for Cariari at 6:30am and 9am and take about 2.5 hours.
Once you get to Cariari, you can take a taxi colectivo from the station or wait for the one bus that goes from Cariari to La Pavona port at 2pm. Either the taxi colectivo or the bus should cost only 1,000 colones ($1.50 USD). The trip takes about 1.5 hours.
In La Pavona, you will take a boat to Tortuguero for 2,000 colones ($3 USD), which takes about an hour. The boats leave at 7:30am, 11am, 1pm, and 4:30pm.
I recommend taking the 9am bus to Cariari from San José and taking it easy. You can grab a bite to eat in Cariari before the bus leaves at 2pm and then catch the last boat from La Pavona to Tortuguero. The other option is leaving at 6:30am, with no guarantee that there will be taxis colectivos running from Cariari to La Pavona.
Tortuguero to San José
To get to San José from Tortuguero, take a boat from the main dock at 6:30am to La Pavona (4,000 colones, or $6 USD — and no, I don't know why it's more expensive this way). Then, you can take a taxi colectivo to Cariari for 2,000 colones ($3 USD). I didn't know that this was standard practice but went this way anyway and it was fine. The driver was friendly and gave me and the other passengers rambutan (a fruit like lychee) to snack on.
Once in Cariari, you can take the next bus to San José. They leave at 9:30am (if you left Tortuguero at 6:30am, you'll catch this one), 12pm, 1:30pm, or 6:30pm. The fare is 2,000 colones ($3 USD).
This route was incredibly smooth, and I ended up getting to San José earlier than I anticipated, rolling in around 11:30am. I thought I would get there around 1pm, so it was a nice surprise that things went so smoothly. I can definitely credit the early start to the trip's success.
Pin me for later: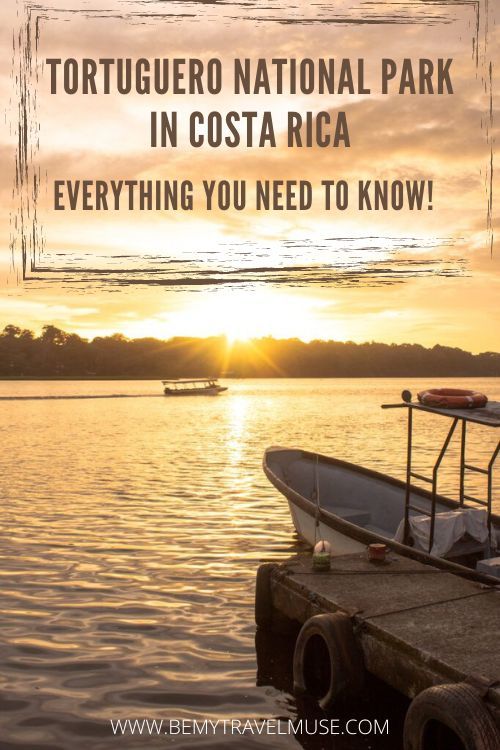 Just like that, my last stop in Costa Rica closed out my epic one-month adventure with a bang. Tortuguero was quite possibly one of the most interesting places I've ever been, and I hope to return someday soon, even if it's only to eat at Miss Junie's, see more turtles, and take another tour with Cloide.
Stay tuned for more Costa Rica content coming soon!
*Some links in this post are affiliate links for products and services we personally use and love. Any purchase you make through them supports us at no extra cost to you. Thanks so much!