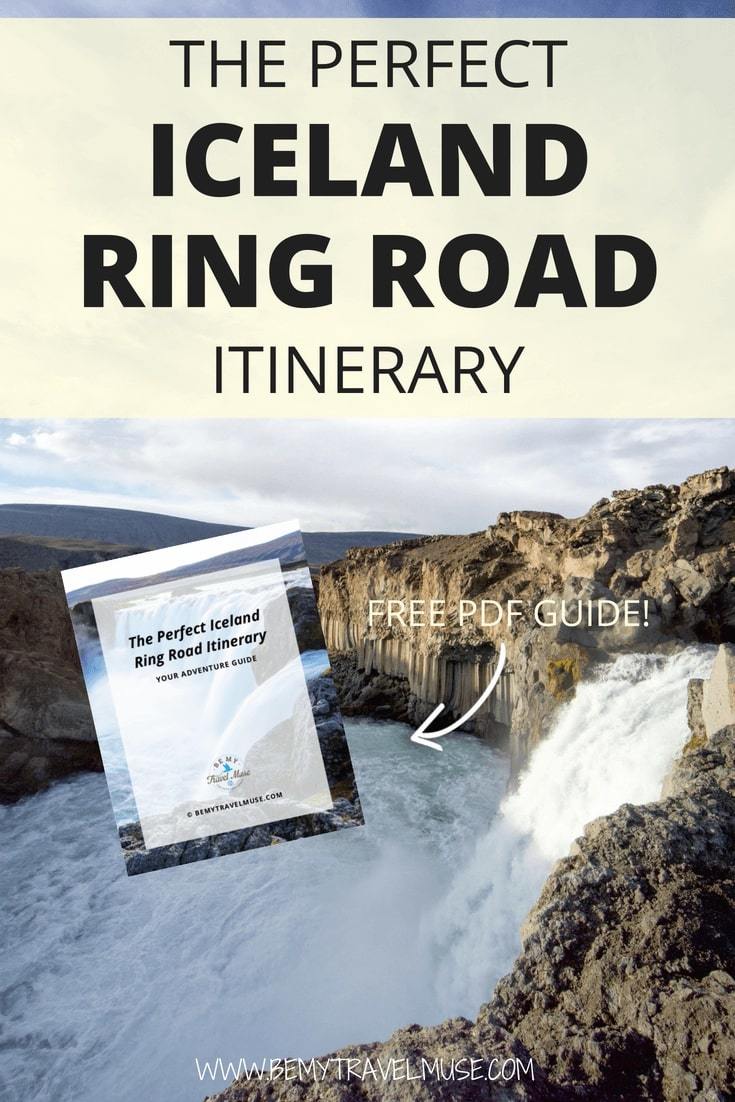 Iceland is a microcosm of rugged, real, and surreal all wrapped up into one little island.
I know this sounds like hyperbole but I was overwhelmed almost to the brink of crying tears of joy from what I saw during the week I spent driving Iceland's Ring Road, the highway 1 that circles the perimeter of the country covering 828 miles (1332 km). The landscape changed constantly, providing perfect photo ops at every turn. Really, just about every single turn!
I just couldn't believe that scenery could really look like that on earth. There were so many waterfalls, we just stopped pointing them out to each other the third day into the drive, and the landscape changed so often, we never got bored.
One of my early goals was to find some places in Iceland that weren't written about as much, or where I might escape other tourists. Some of the following on this itinerary are tourist favorites (and rightly so), and some you might just get all to yourself. Some are accessible with any kind of car, and some require a 4×4. Some are directly off of the ring road, and some require a (worthwhile) detour.
Keep in mind that when driving the Ring Road, you'll want a minimum of seven days to do it. More would be even better and will allow you to see way more of the scenery. I left wishing I'd had a month on that beautiful island.
Here were my favorites from that week. Choose your own adventure:
Day One: Driving to the Highlands (4×4 needed)
There's no right or wrong direction to head on the Ring Road. You can go north or south, but we chose to go south first because we were chasing clear skies for a chance to see the northern lights, a plan that paid off. Check the aurora forecast if you're in Iceland at a time of year when you will have some dark skies (not in the summertime) and plan accordingly.
If you haven't had a chance to check out Iceland's golden circle yet, it's definitely worth the detour and is a great way to start your Ring Road trip (check out my post on how to avoid the crowds on this popular road and some extra ideas too!). I'd already had 48 hours in Iceland so I started on the Ring Road right away, bound for Landmannalaugar in the highlands because the photos of its painted mountains looked spectacular. This is the exact car that I used and I thought it was fantastic.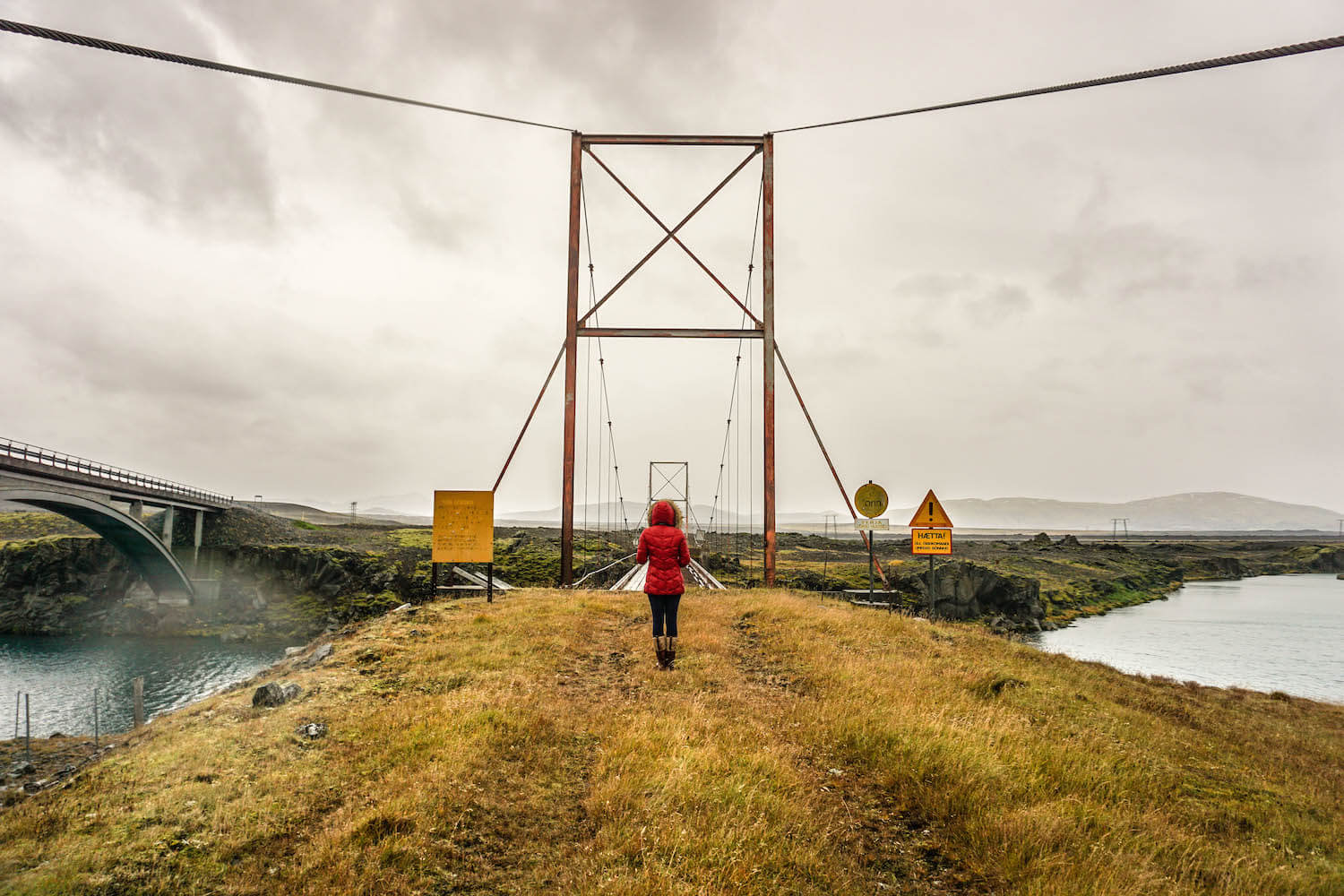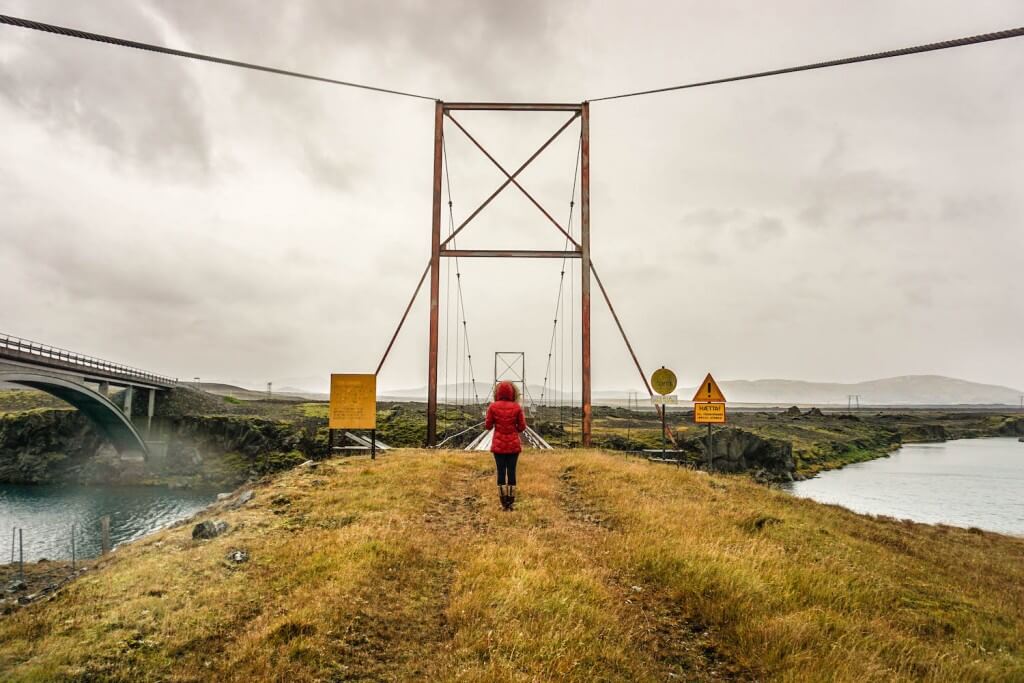 We spent that day almost entirely in the car, mostly because the rain and wind were so heavy that I was terrified – honestly, terrified – to step outside for longer than a minute. Plus, driving on the 4×4 roads at 10-20km/hour takes a lot of time.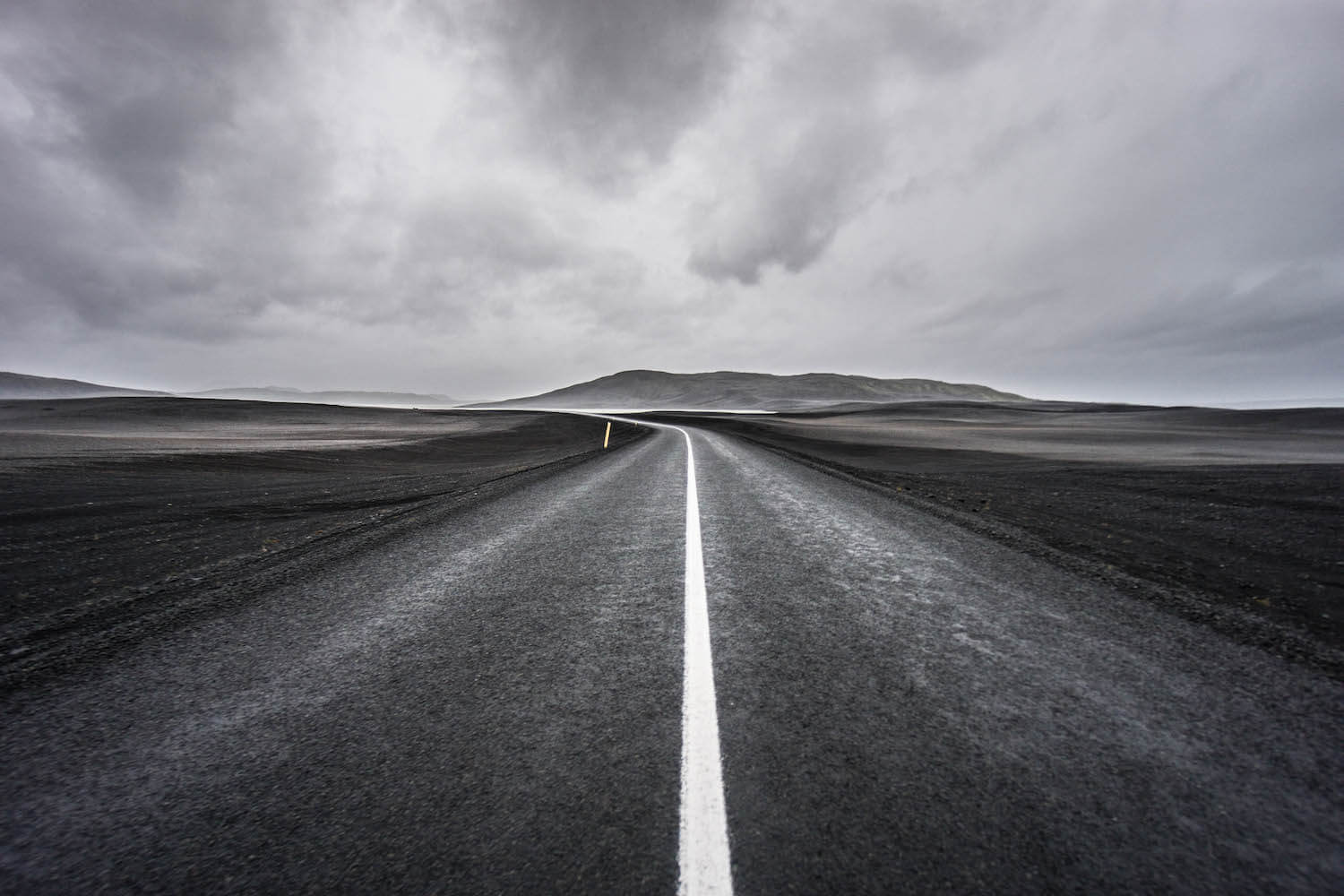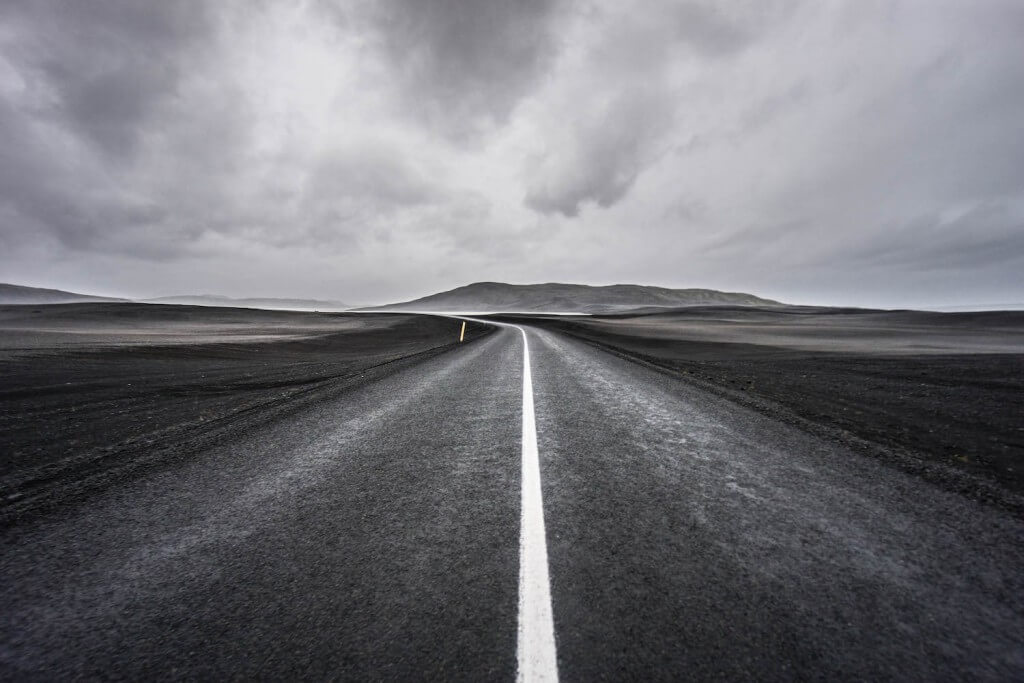 Even though we spent most of the day in the car, it was still an awesome day as the scenery was pretty incredible. We started to question if we had accidentally ended up on another planet when we came to the part of the road pictured above, which looks like a black and white photo but in reality, the landscape was black as far as the eye could see.
If you don't have a 4×4 but still want to see the highlands, tours depart daily from Reykjavik and will take you to the same place, though you won't have the freedom to stop for photos when you want to along the way.
Map: Landmannalaugar
Camp: The wind and rain were so scary strong that day that the road to the campgrounds closed due to flooding (check road closures here), so we had to find a dead end to hole up in until the morning. This was fine given nobody was crazy enough to drive that road in that weather in the dark, and the nice camper van had heating and kitchenette. After a cup of whiskey to chase the fear away I slept like a baby – rocking back and forth in the (strong as h$@l) wind. I've heard great things about the whole F-208 road, but unfortunately due to flooding and closures, we couldn't go any further than Landmannalaugar and never got to check out the camp 30km away.
Day Two: Landmannalaugar Hike and Drive to Seljalandsfoss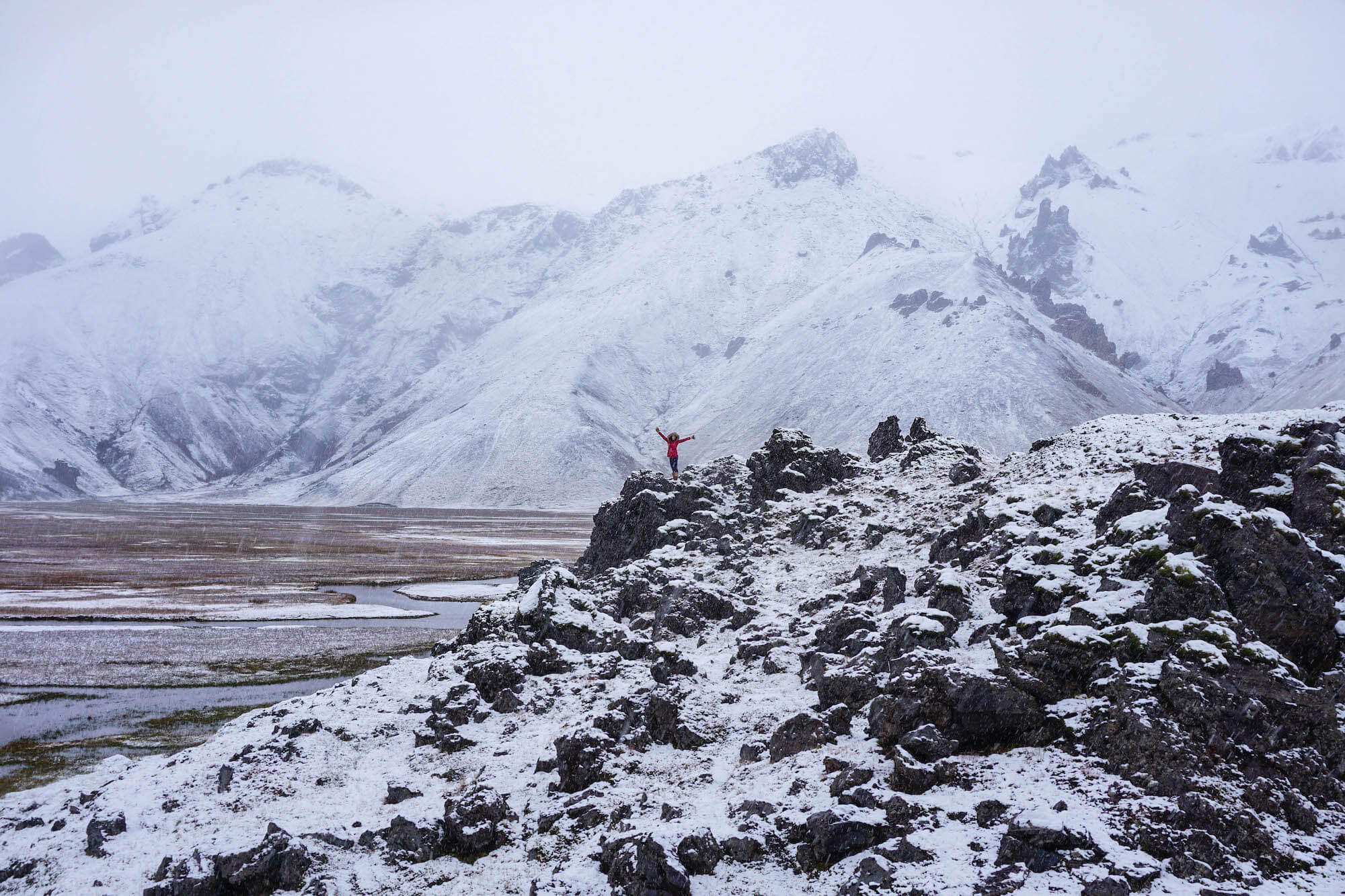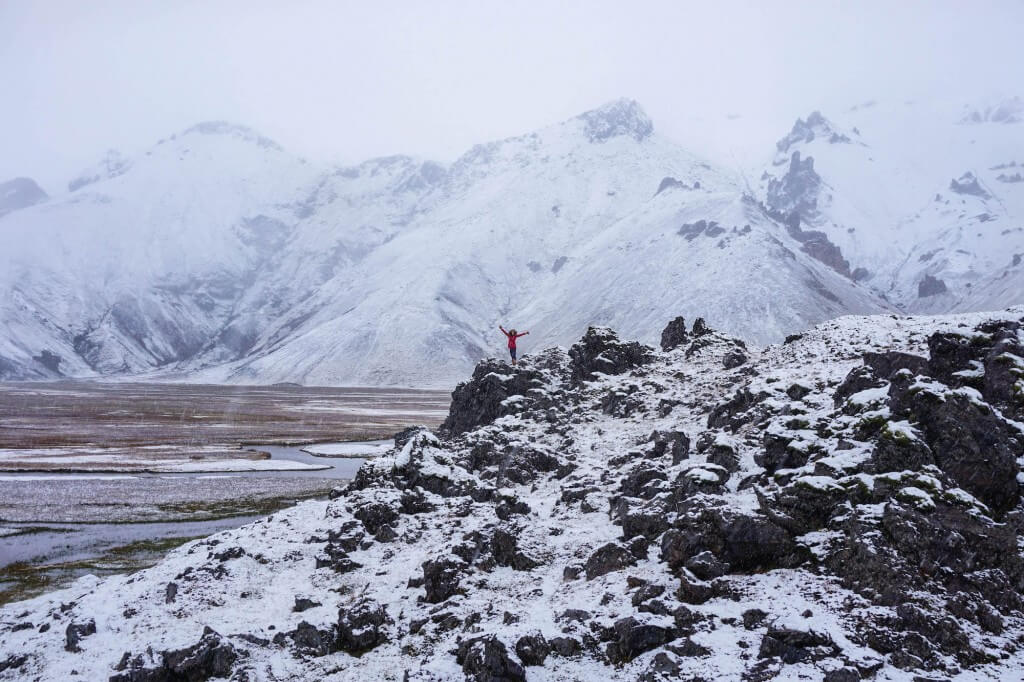 I awoke to snowy surroundings and thanked the universe for letting me live through the previous night's storm. Landmannalaugar is a great place to hike for an hour or two, though one could do so for days or even weeks, so we explored a bit, eager to see the mountains that looked like painted hills.
Hiking around took half of the day while retracing our steps and heading back to the Ring Road filled the other. We spent most of it jumping over about two dozen freezing streams of water across the valley and finding a waterfall, only to lose the trail in the snow and jump right back over them to head back to the starting point.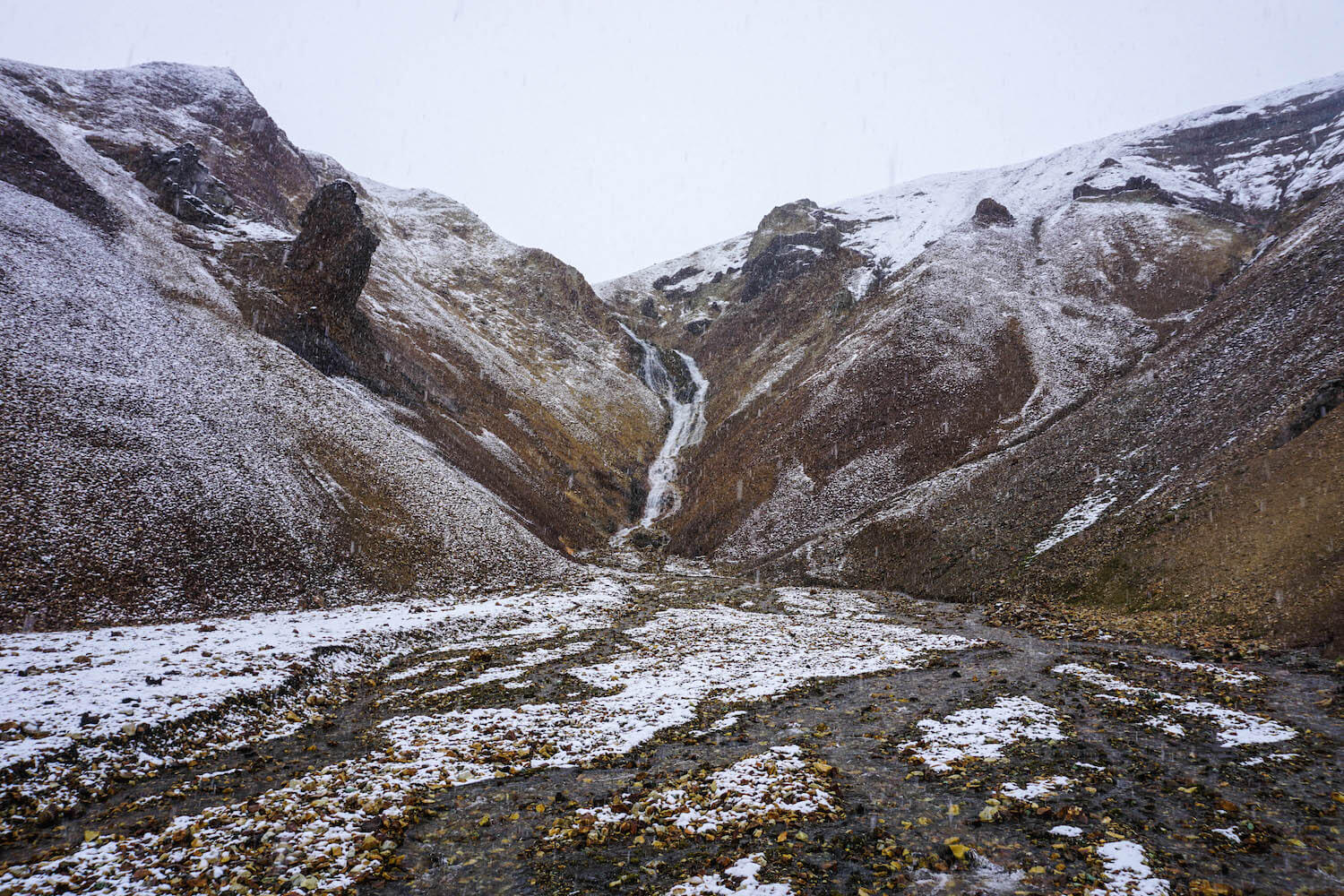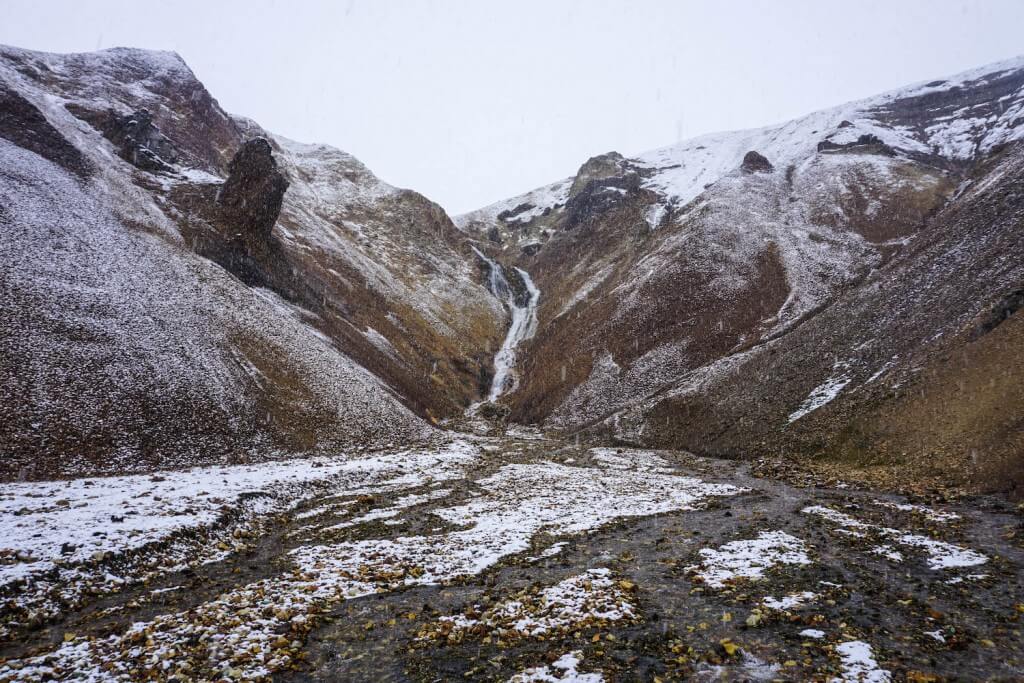 Our goal for the rest of the afternoon was to thaw out, dry off, and make it to Seljalandsfoss for an AM viewing of the waterfall, especially since sunrise there is particularly famous.
Technically, I didn't really start driving the actual Ring Road in the daytime until day three. But my, what a dazzling introduction it turned out to be.
Map: Seljalandsfoss
Camp: There's a great little campsite right next to Seljalandsfoss. Highly recommended if you'd like to catch the sunrise at the falls!
Day Three: Skógafoss, Fjaðrárgljúfur, and the Black Waterfall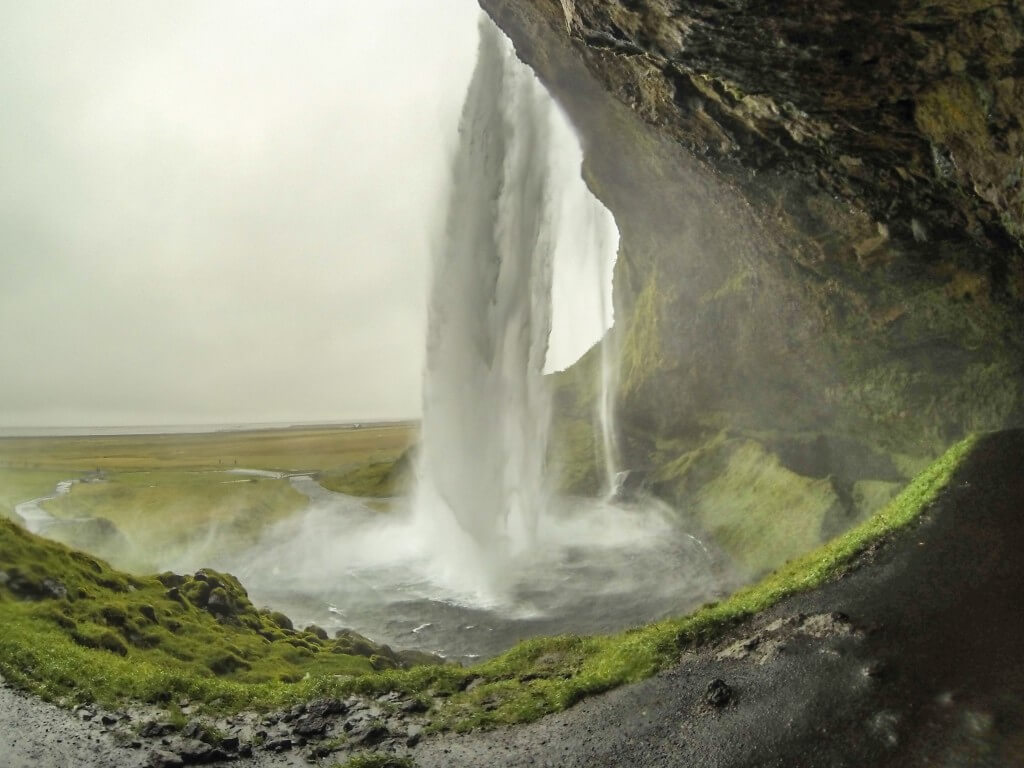 Waking up to a massive waterfall is an excellent way to start the day, and I simply can't believe I hadn't tried it until hitting Iceland. I suppose I can credit that to few opportunities, but everyone should do it at least once!
Seljalandsfoss is popular with tourists, so don't expect to get it to yourself, and you will get wet if you want to get behind it for photos. We didn't get a sunrise that day thanks to the clouds. That said, it is impressive, and the drive from there to Skógafoss is delightful, punctuated with tons of waterfalls and green misty mountains.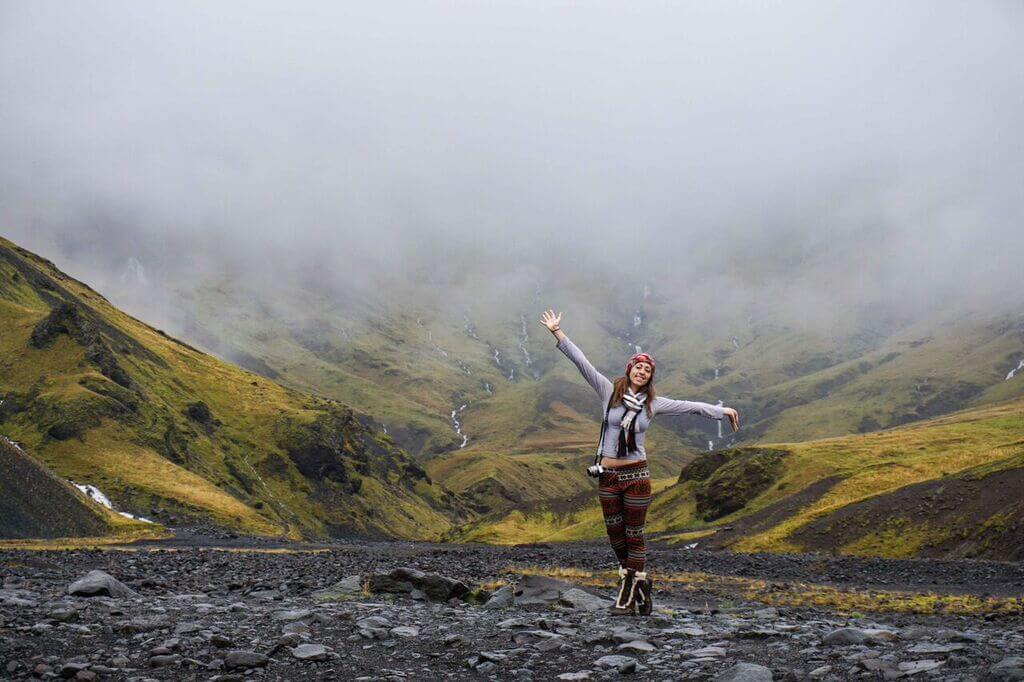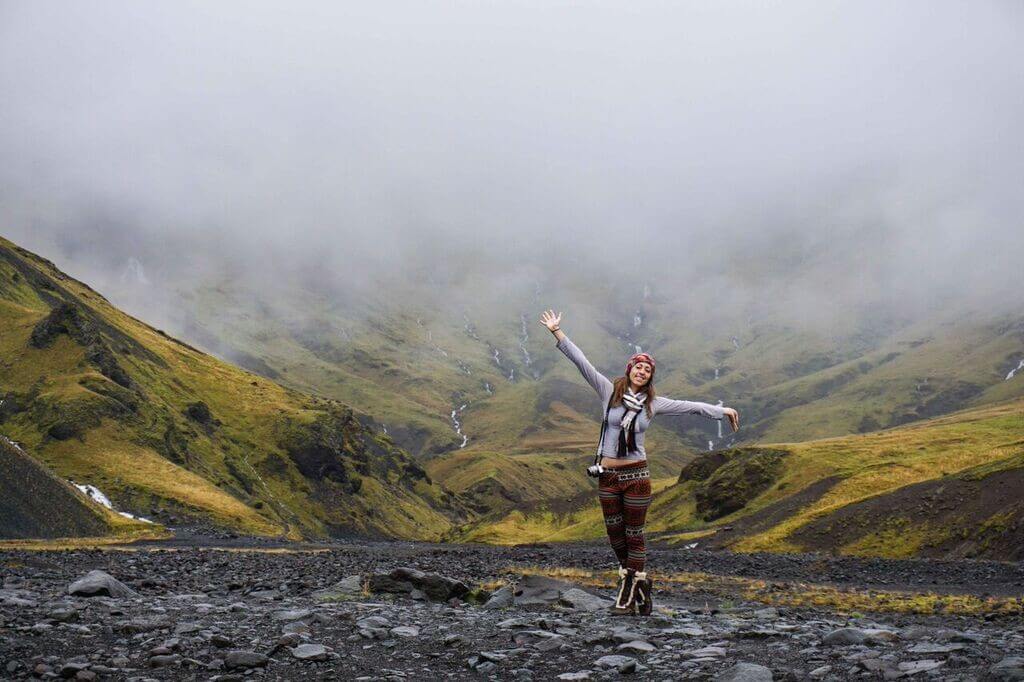 Skógafoss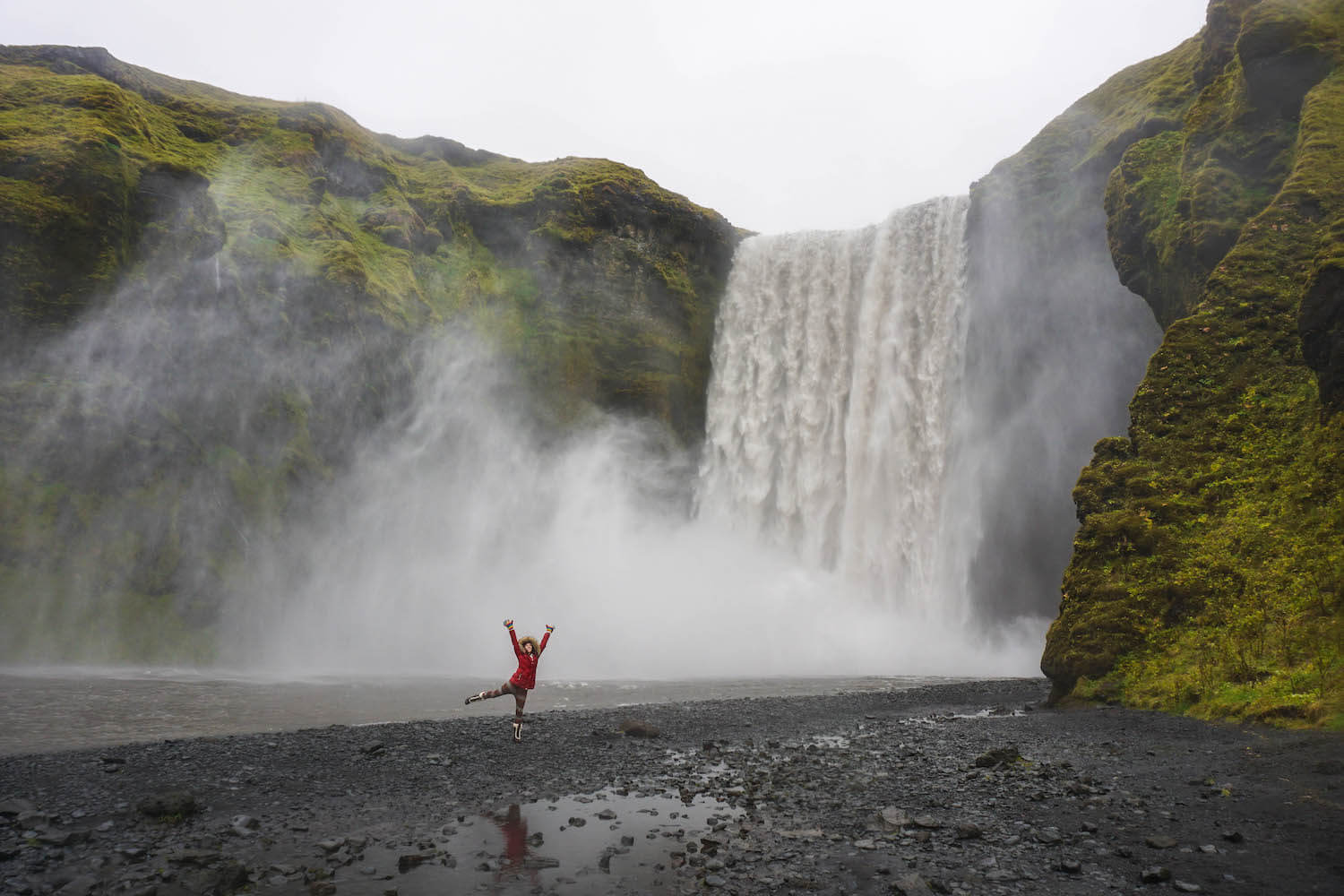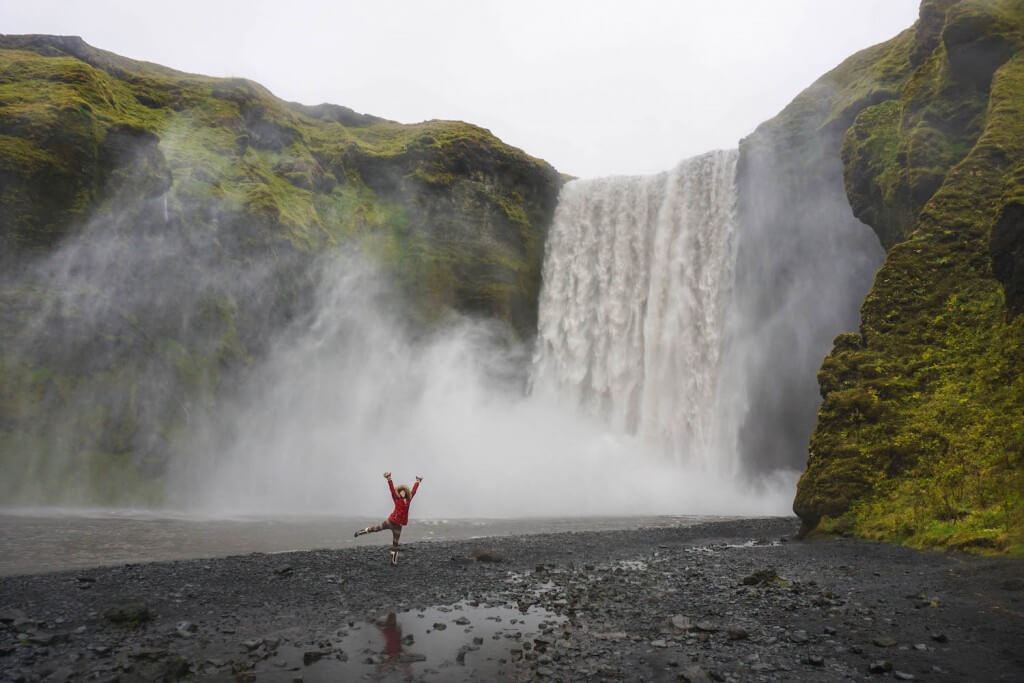 Skógafoss is also popular with tourists thanks to its massive flow and relative proximity to Reykjavik. It's very close to the Ring Road and worth a quick photo stop.
I'm not exaggerating when I say that we saw hundreds of waterfalls streaming from green cliff edges and volcanic basalt columns throughout the drive. I kept wondering to myself how one waterfall could be more famous than another considering there must be thousands, no exaggeration, all across Iceland. There are tons that you'll pass during the trip that would all be famous if they existed in other countries. But in Iceland, waterfalls are a dime a dozen.
Fjaðrárgljúfur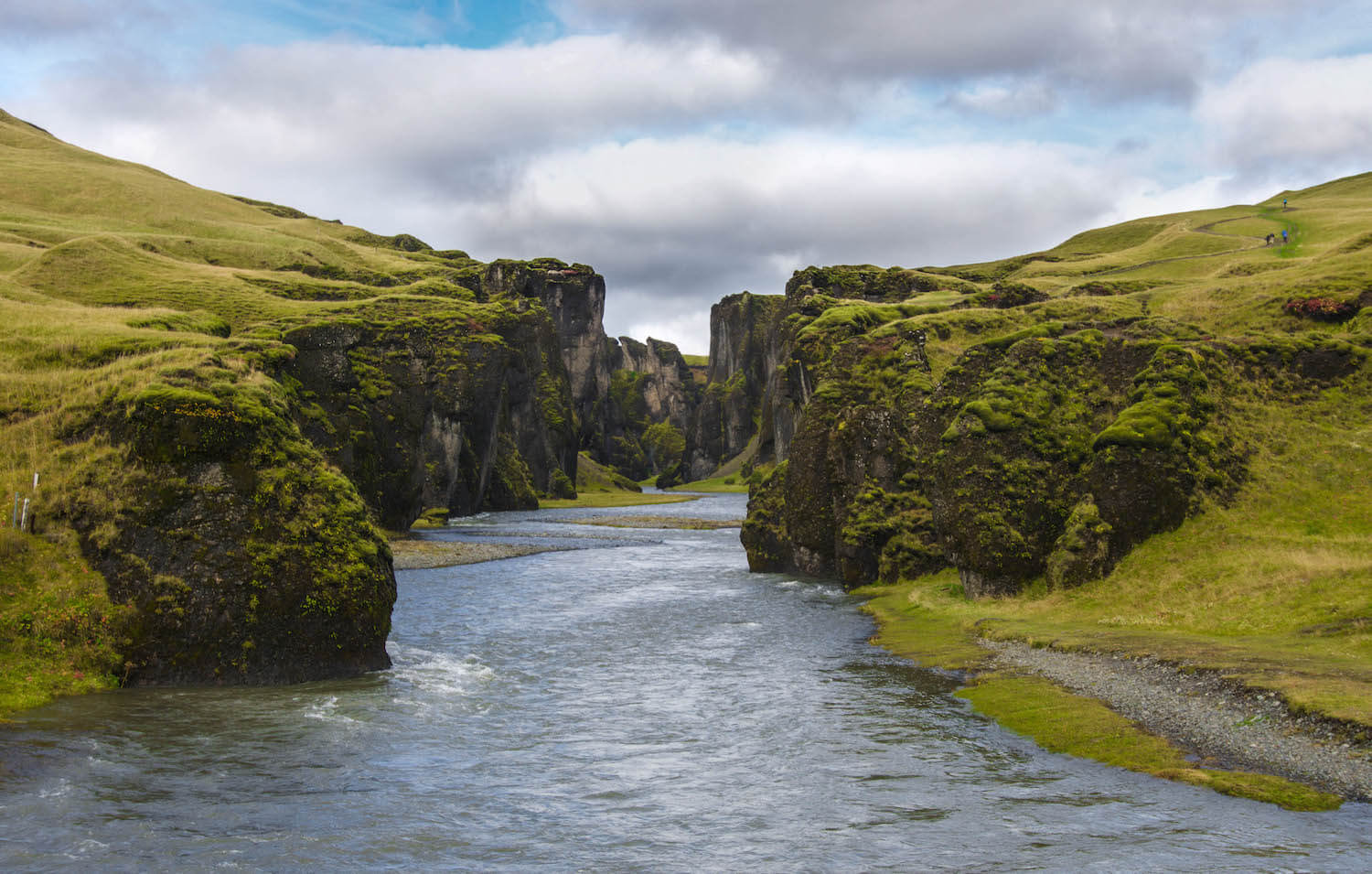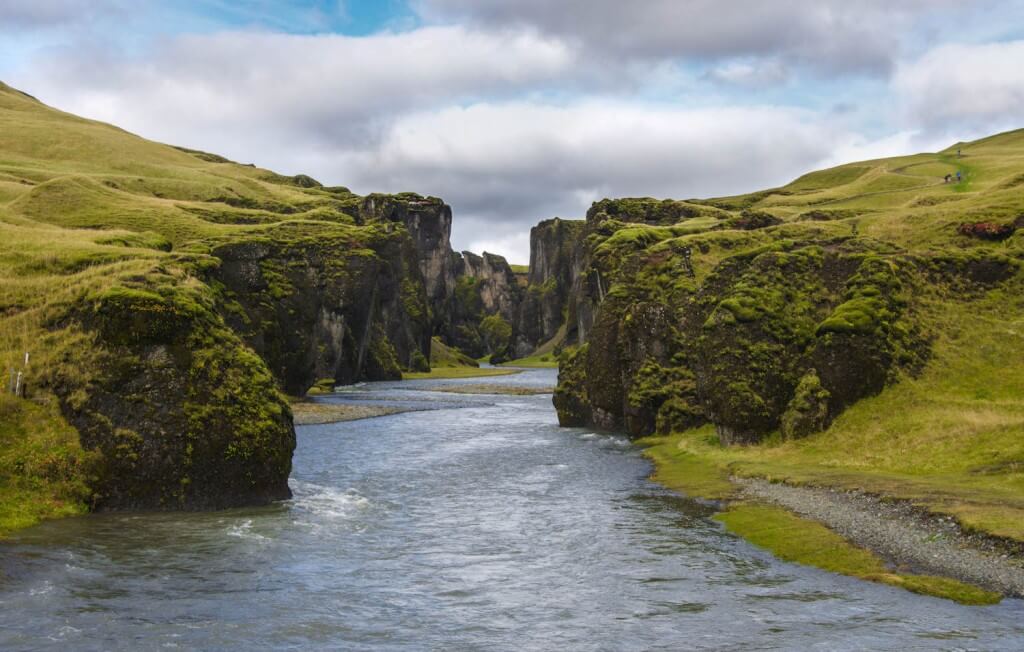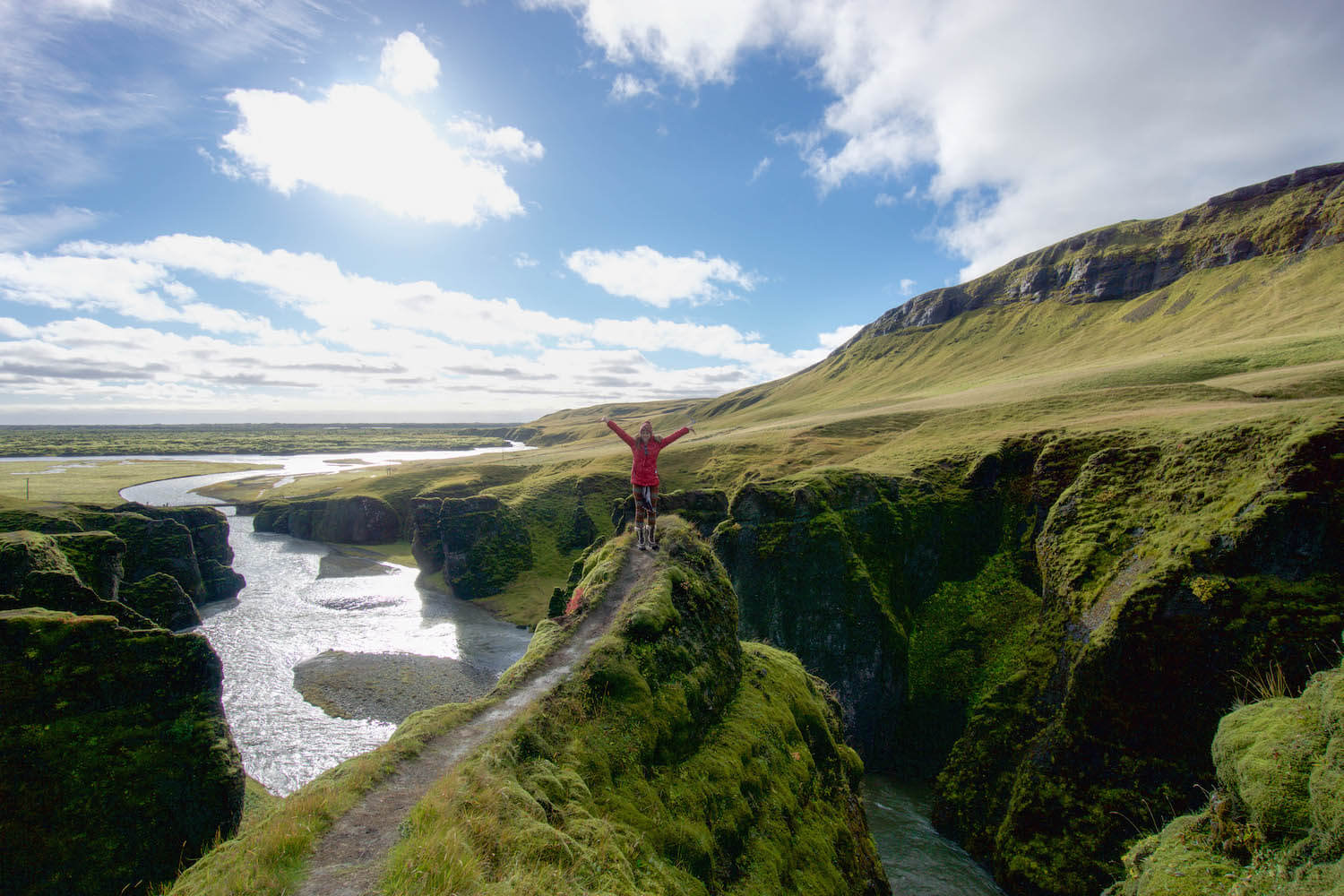 I got the inspiration to visit Fjaðrárgljúfur, along with most of the other places we stopped at, from a combination of looking around Instagram for suggestions and consulting a big picture book that my buddy Maksim brought (which was in German, but there's a similar English version here). For us, the easiest way to pick and choose was visually. If one of us enthusiastically said, "Wow, I really want to go there!" we added it to the itinerary if we could possibly fit it.
Fjaðrárgljúfur is a canyon that is 100 m deep and about 2 km long and was likely created during the last ice age. I dug it because it gave me multiple opportunities to be really foolish and hang around the edge of things, something I have a habit of doing.
There were tons of places to stop along the drive, so we did just that, enjoying our first day of sunshine. Next thing I knew, we rounded a curve and there was a giant glacier, and stretching out from under it, a black sand sea that stretched onwards for miles to the horizon.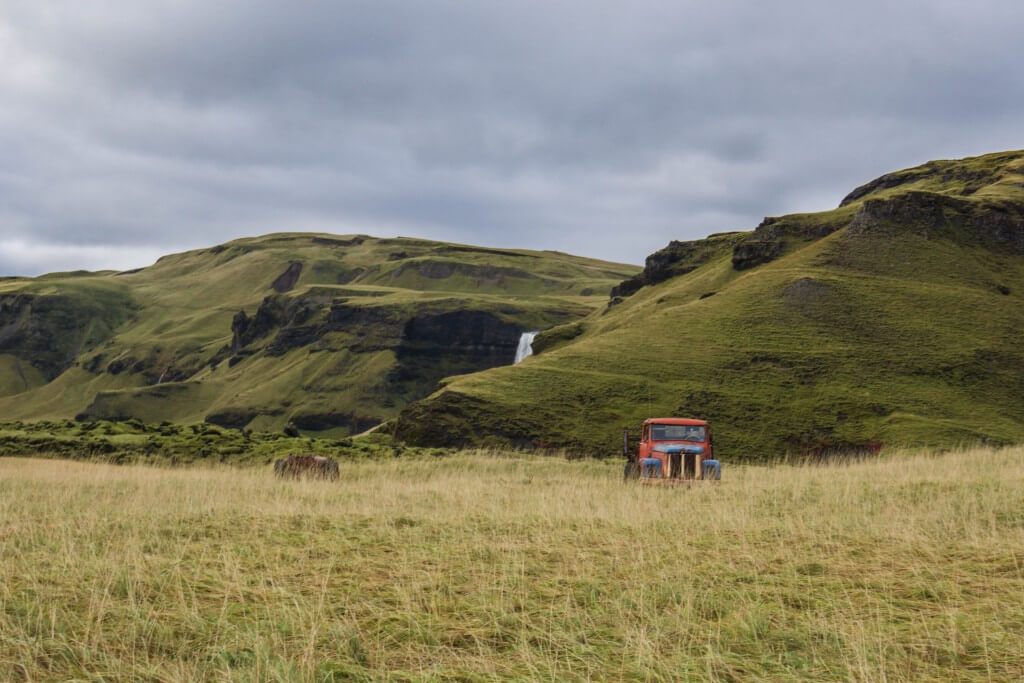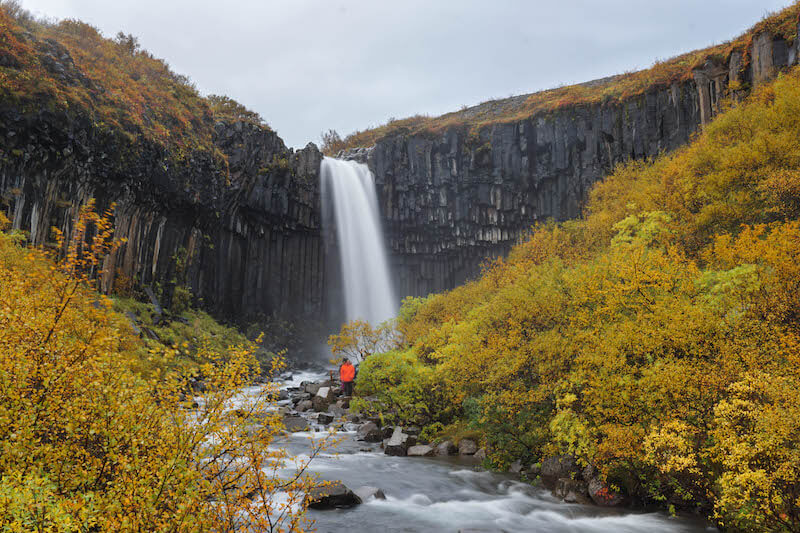 Maksim asked me what I'd do if I saw northern lights over the glacier lagoon that night as I frowned at the cloud cover above. I told him I could die happy if that happened and an hour later, he called me outside and there they were: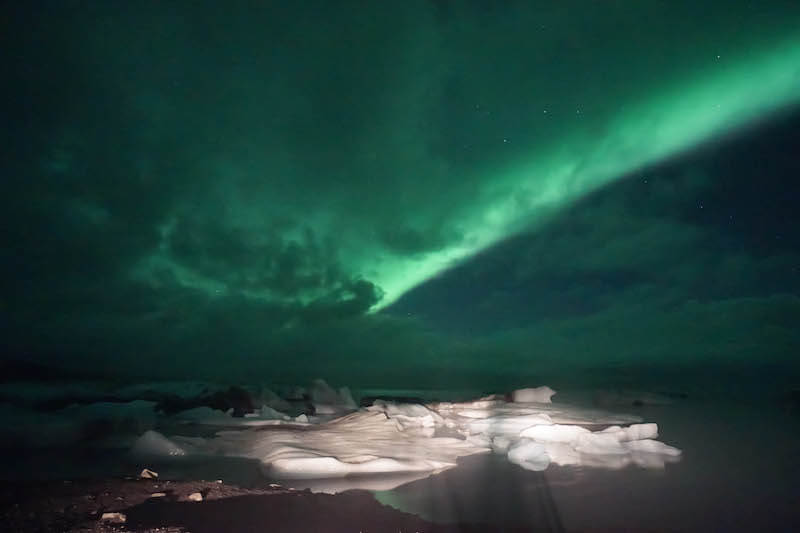 Maps: Skógafoss, Fjaðrárgljúfur, the Black Waterfall (Svartifoss), Jökulsárlón Iceberg lagoon
Camp: We arrived at the Jökulsárlón Iceberg lagoon just after dark and were worried when we didn't see any camping options. Luckily after checking their website it turned out camping is allowed in a contained camper van or RV. Score!
Day Four: The Eastern Fjords
Maksim and I woke up to a glorious sunrise. It was the first we'd seen in days due to the rain but it made up for the inclement weather in the highlands when a rainbow arced down to the glacier lagoon.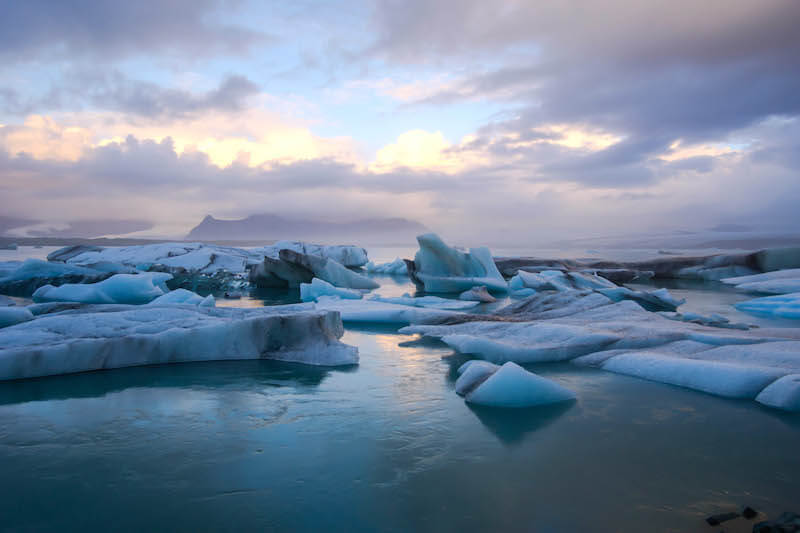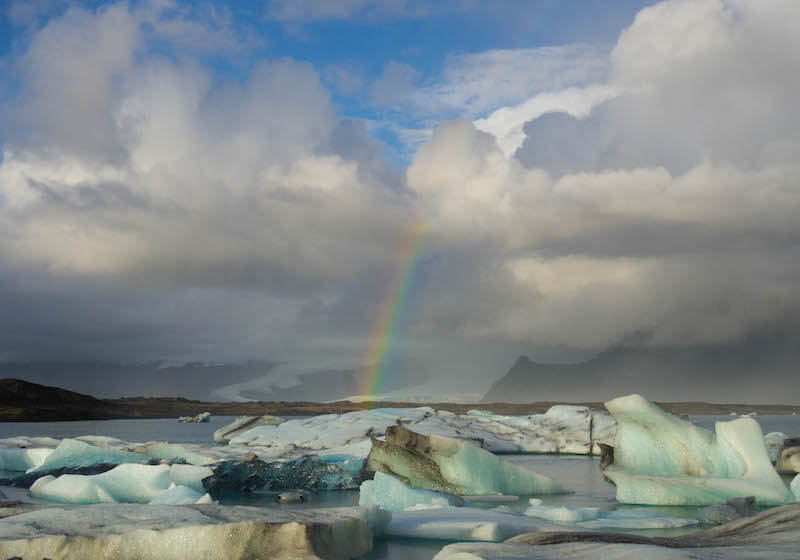 This was a big driving day for us. There was a lot that we wanted to see in the north and the aurora forecast looked bleak due to cloud cover everywhere with the exception of a spot over 445km away. We wanted to see them again and figured it was our best chance. We turned out to be happily, gloriously correct.
The Eastern Fjords are lovely, and I suggest stopping whenever you see something beautiful for a photo or even taking little detours from the Ring Road for some of the coastal towns. We didn't feel we had time for that (as it was we barely made it back to Reykjavik within the seven days we allotted), so we stuck to the Ring Road.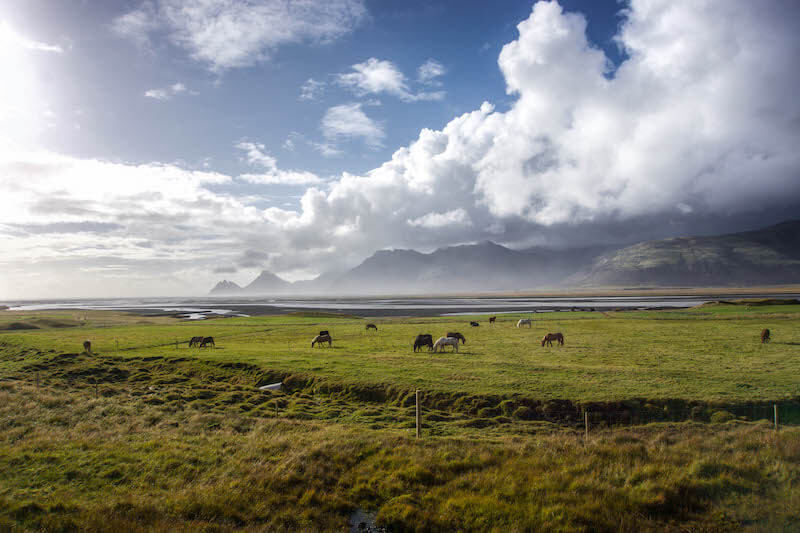 There's a lot you can do that we missed out on, such as ice cave trekking, which was booked out way farther in advance than I'd bargained for, or helicopter tours of the active volcanoes, but the nature of the Ring Road trip is that you'll have to pick and choose – you can't do it all.
That night before the sun had even fully set, the northern lights came out and started dancing. The sky was completely clear and dark, giving us a dazzling display that beat out the first night's, snaking across the sky and dancing like lines of classical music across the pages of a hauntingly enchanting song. How else can I describe it? It brought tears to my eyes.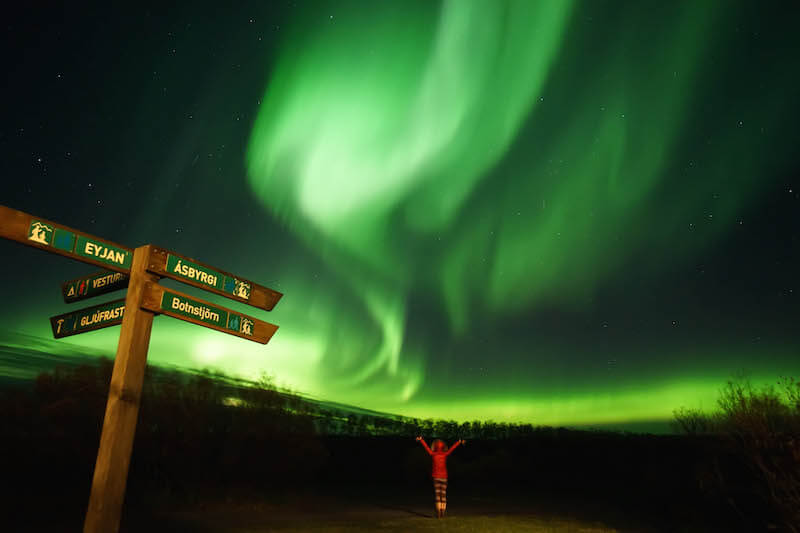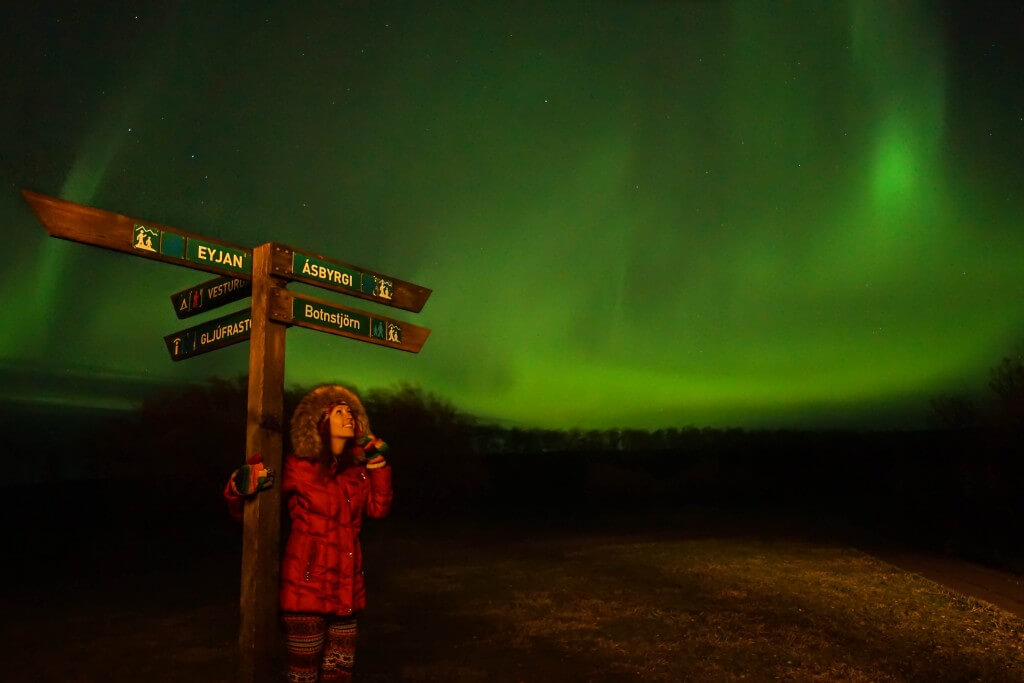 Map: Asbyrgi
Camp: Asbyrgi has awesome camp grounds equipped with showers, sinks, clean bathrooms, and places to charge your electronics.
Day Five: Hiking Ásbyrgi Canyon
Most of day five was spent on foot rather than in a car, which was a welcome change from the day before which was quite the opposite.
Maksim and I elected to do the A8 trail, which takes you to the canyon view from the top and over to the river on the other side, spanning 12 kilometers. The trail was marked as red which means "difficult" but honestly I don't know what whoever ranked that trail was smoking (a lot of weed, apparently), because the trail wasn't difficult at all, and even those with limited fitness could do it.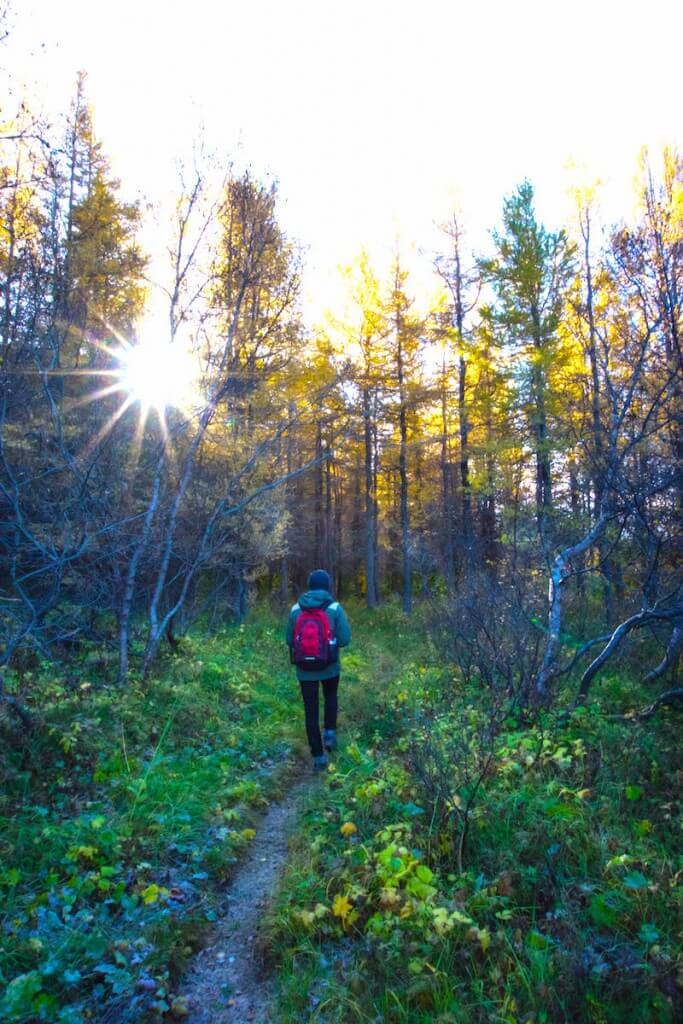 What I loved about it was an aerial view of the fall foliage below, plus landscape that seriously looked like the moon. The middle part was my favorite, feeling like an astronaut for an hour, followed by fields that were so red and orange, they appeared to be on fire.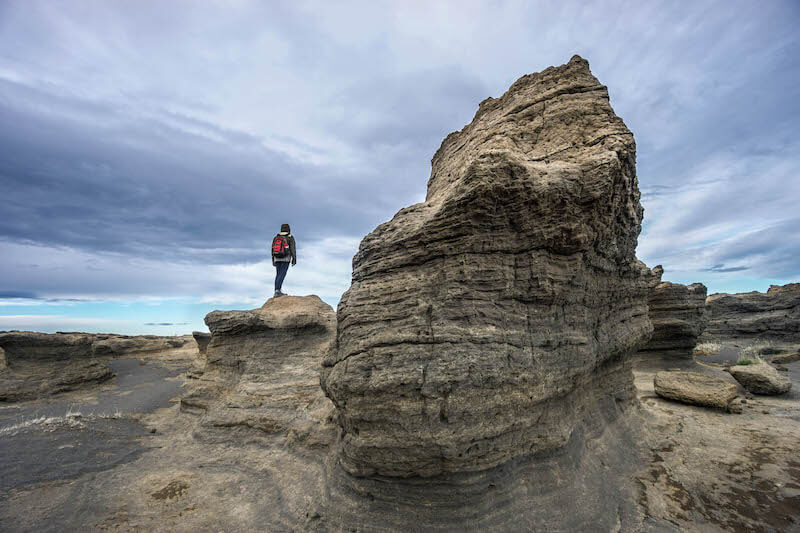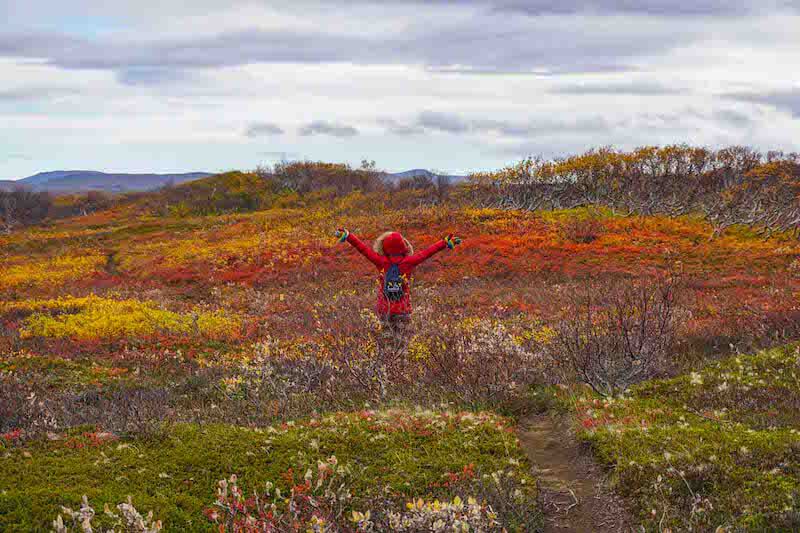 If you have time to do this and enjoy hiking, definitely squeeze it in.
Maps: Husavik
Camp: The drive from there to the campgrounds at Húsavík is a quick one, so take a dip at the bath house in the town and enjoy the evening.
Day Six: Whale Watching in Húsavík, Chasing Waterfalls (Godafoss and Aldeyjarfoss – 4×4 needed), and Checking Out the Rock in Hvitserkur
Whale watching is a popular activity in Húsavík mostly because the chances of seeing them are around 97-99%, so might as well, right?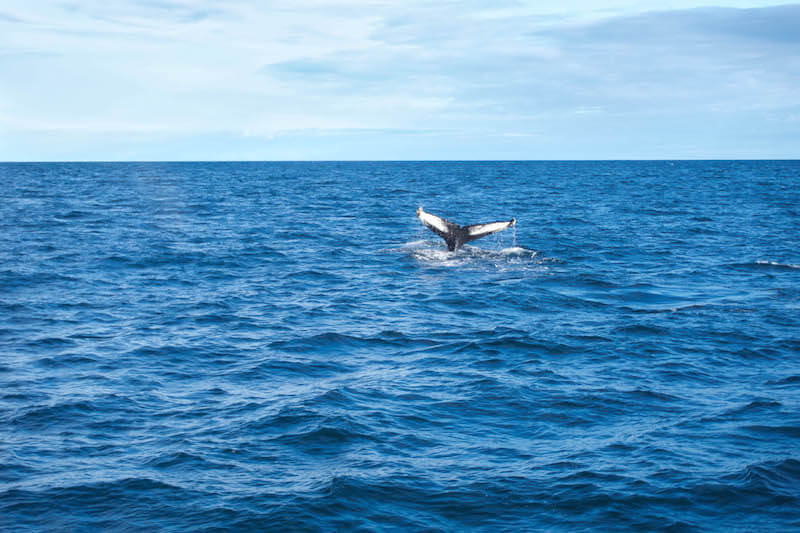 The tour we took was around €75 and took three hours and we were able to see a Humpback Whale come up and swim around several times before heading back to the harbor. From there, Maksim and I went waterfall chasing: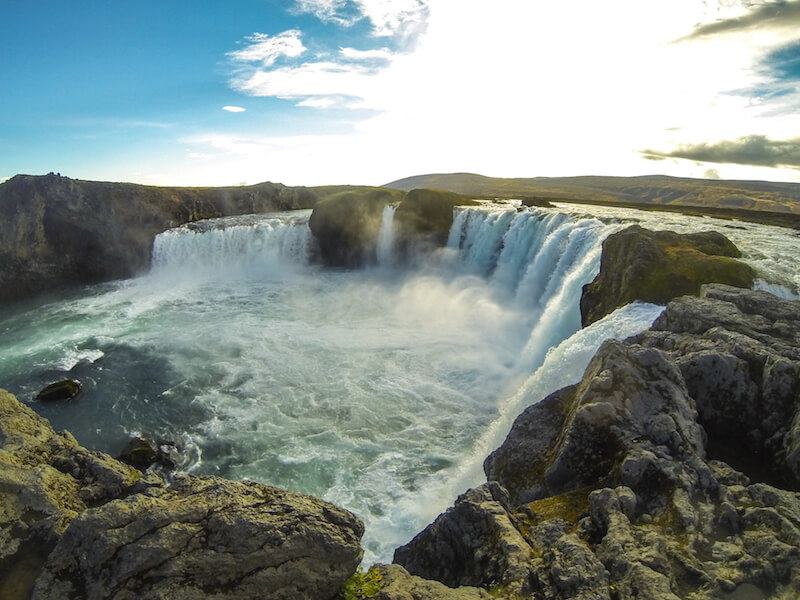 We took the 4×4 for another spin on a road that is closed off to normal vehicles, because we wanted to check out what was poised to be the coolest waterfall of all with even more basalt columns than Svartifoss has: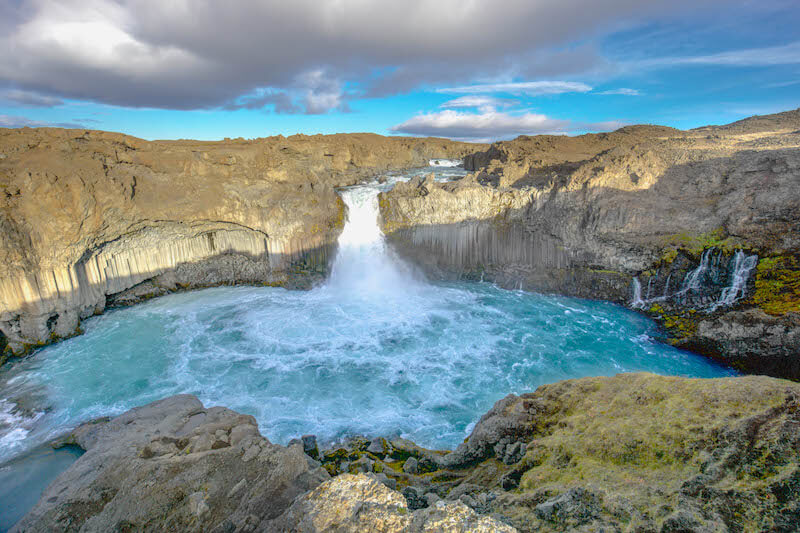 This is Aldeyjarfoss, which was my favorite waterfall in Iceland. This, plus the highlands, definitely justified getting the 4×4 version of our camper van.
Without much of an idea where to head after that, we checked in with Instagram again and discovered Hvitserkur, a rock in the ocean that looked cool enough to check out.
That night ended up having the most active auroras of all, which I took a couple quick pictures of but then elected to just watch and enjoy: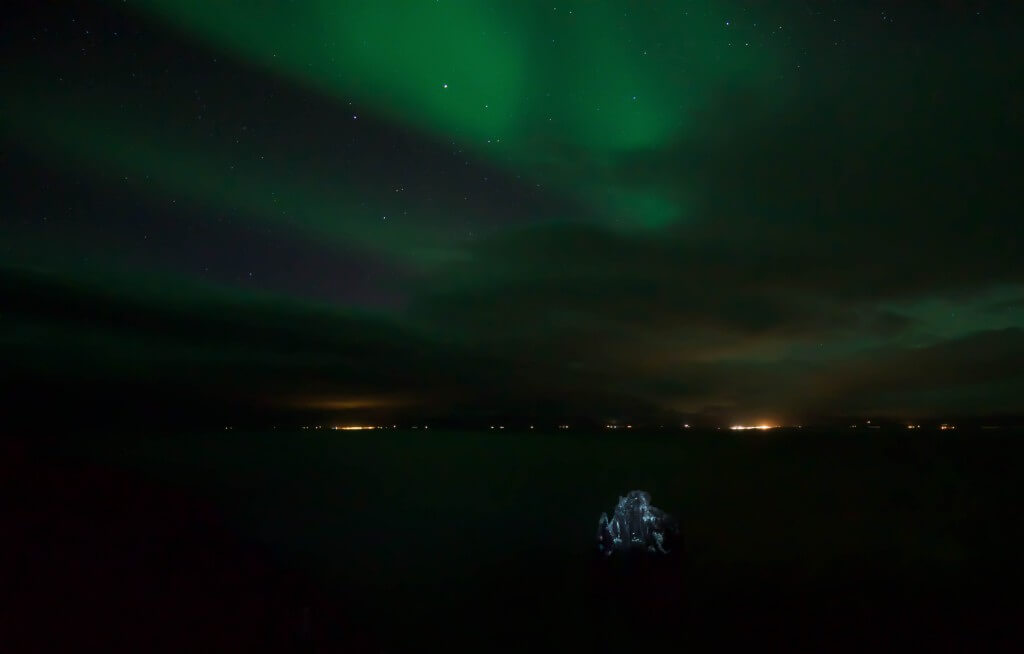 Maps: Godafoss, Aldeyjarfoss, Hvitserkur
Camp: We spent the night at Hvitserkur, which I think is a no-no, but we didn't have much choice after arriving long after dark and spotting the northern lights again which we, naturally, had to stay and stare at.
Day Seven: More Waterfalls (and a Return to Reykjavik)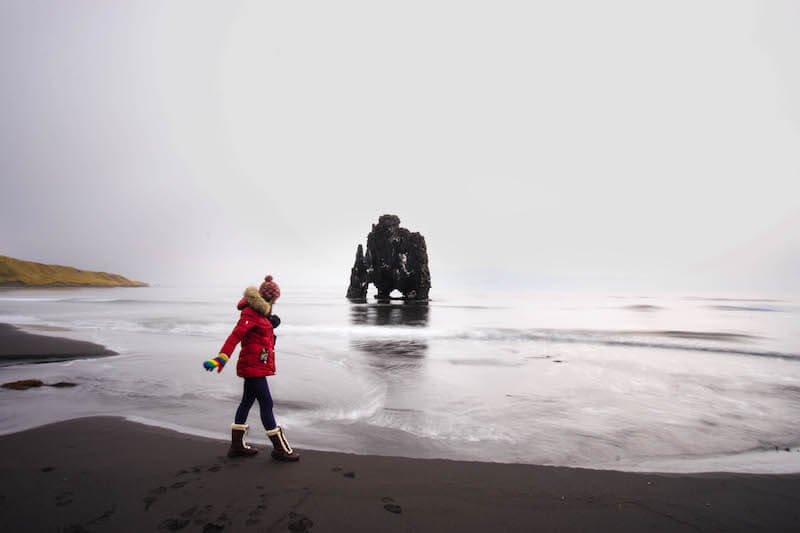 Day seven involved a couple more detours in order to see more amazing waterfalls before finishing up the trip and heading back to Reykjavik.
We found Barnafoss on Instagram and wanted to take the chance to see if it still had the fall colors we'd seen from a couple weeks prior: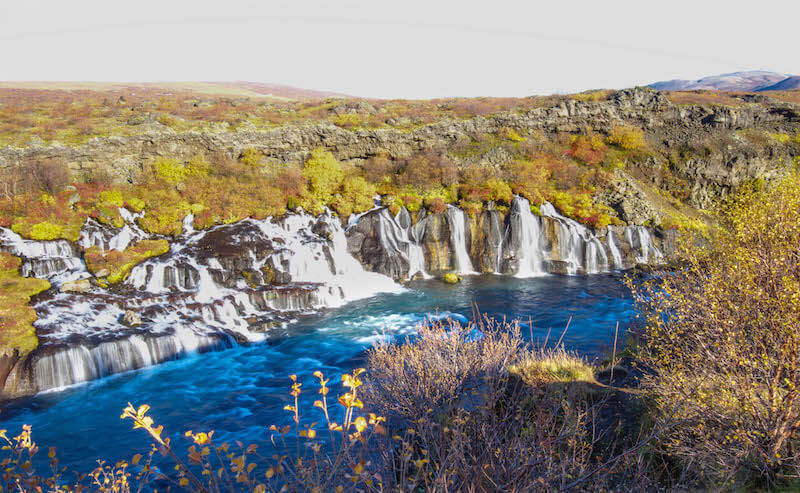 It added another hour or so to the trip and we were glad, once again, to have a car that could handle some back country roads when we took a short cut to get there.
Next, we elected to make the several-hour detour to see our final waterfall of Iceland, Kirkjufellsfoss: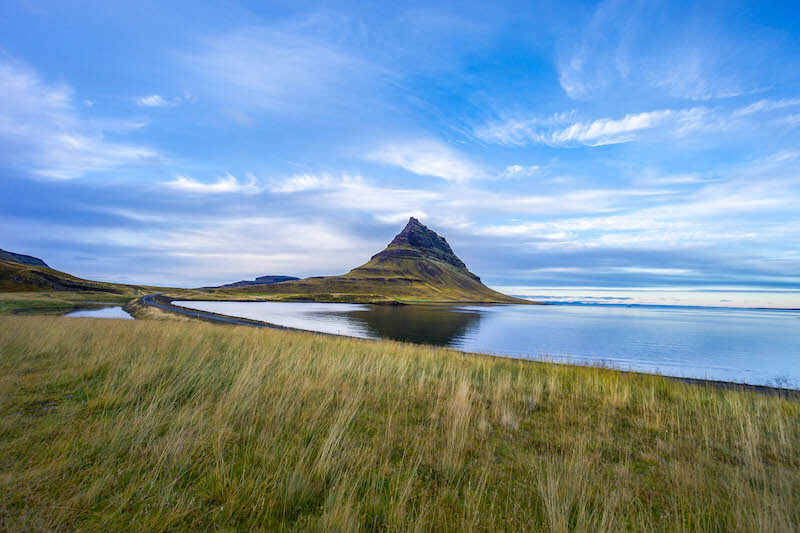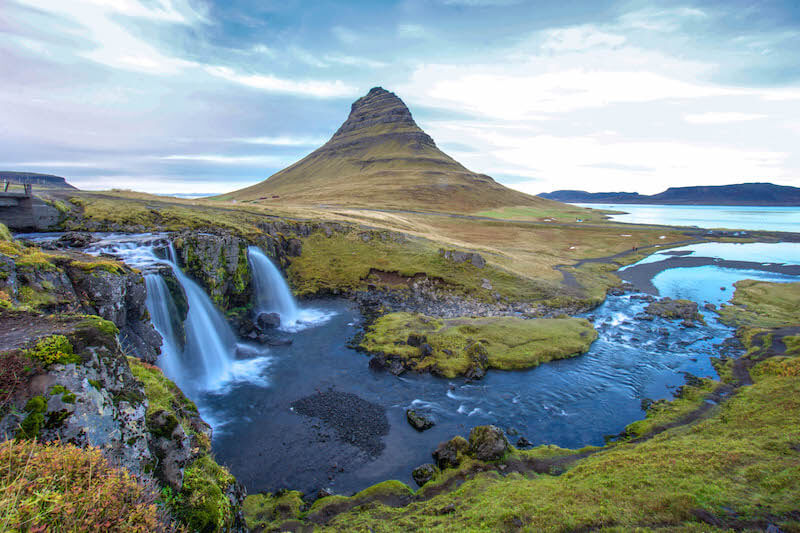 It was the cherry on top of a perfect Iceland Ring Road trip.
Maps for the Iceland Ring Road
I've enclosed two maps below, broken up since theres a max amount of stops per map that I can embed, beginning in Reykjavik. Here's the map for days 1-5 (ish):
And for days 5-7/8:
One to habitually look a gift horse in the mouth, I wondered, will Iceland ruin everything that comes after it? Will anything be impressive to me ever again? Of course it's impossible as each country has its own special and unique beauty, but in Iceland, it's easy to forget that anything else exists, you're so wrapped up in the sights before you.
I hope you find these tips helpful and if you take this trip, let me know!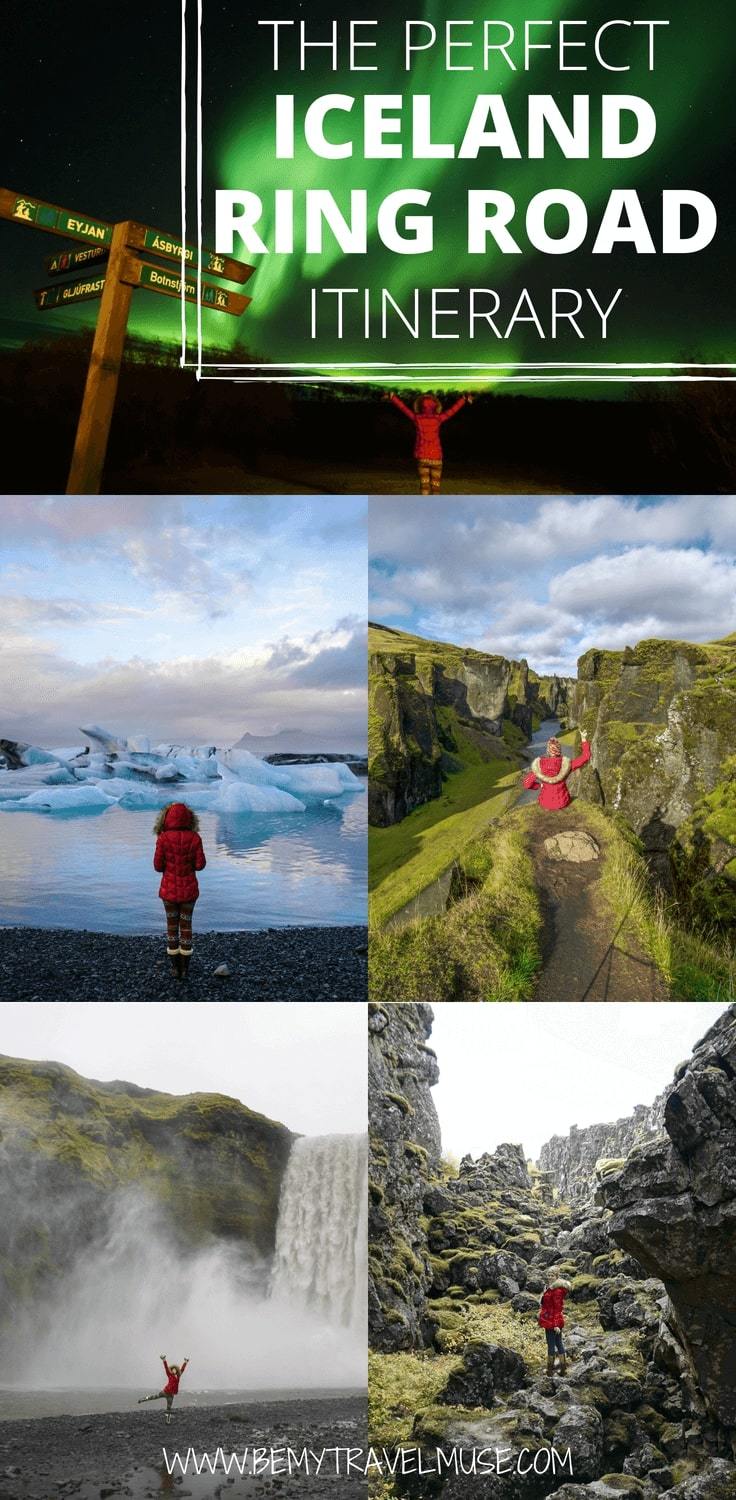 Read Next: