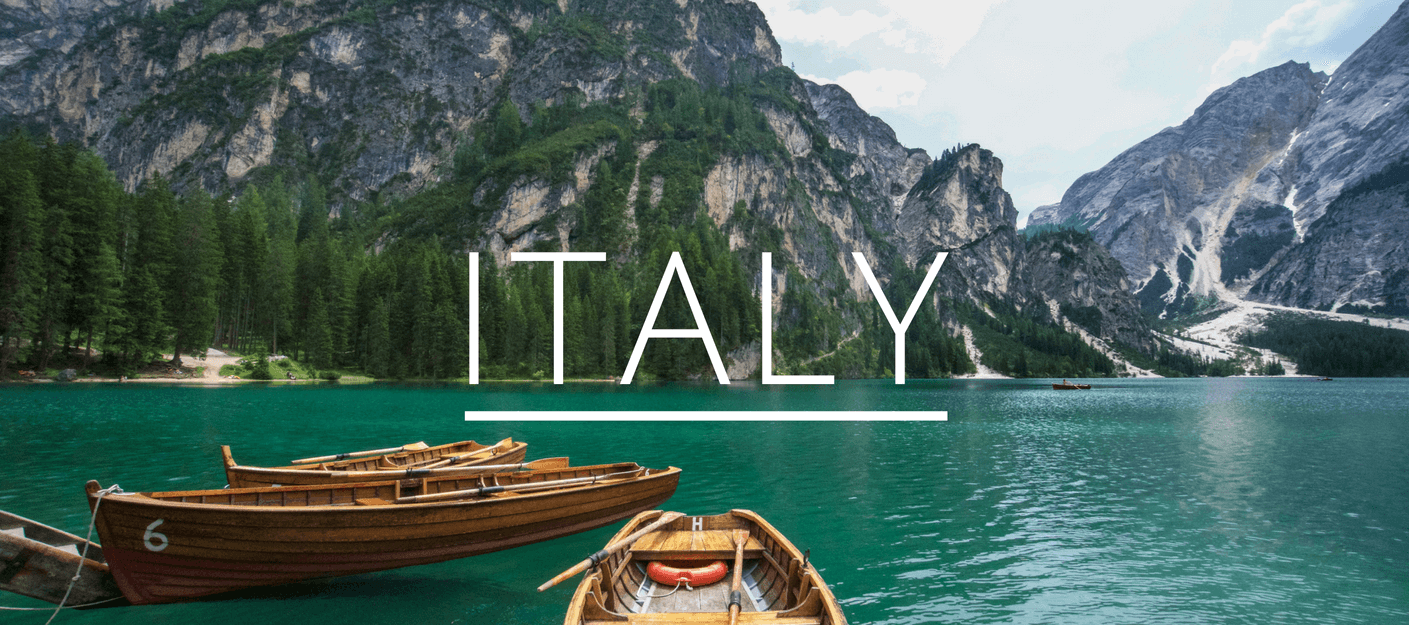 Italy is the place where I discovered my inner foodie. I never really understood food-enthusiasts before, because we all have to eat to live, right? Yet from sitting at a meal with locals without even noticing five hours pass, to learning how much time and effort goes into every part of the meal by touring cheese, balsamic vinegar, and Prosecco makers (for cheap, I might add!), I finally understood what real parmesan tastes like, what real hospitality is, and what parts of Italy that almost nobody thinks of have to offer.
This section mainly deals with the northern parts of the country. I've been all over, but I just can't get over the scenery, culture, and food in these areas, and can't wait to share them with you. For an Italian vacation that's a bit unexpected but entirely delightful, look no further than these Italy guides.
Where in Italy?

Italy
Quick Tips
'Hello' and 'Thank You' in Italian

: "Ciao" and "Grazie"

Currency

: Euro (

click here

 for current conversion rates)

Visa: Visa free for most nationalities in North and South America (including US, Canada and Mexico), Australia, Schengen area of Europe (even looser there with ID requirements, just a national ID or passport if don't have that), and a few others.  A 90-day Schengen visa on arrival for most other nationalities (click here for more info).
Safety rating

: Ranked 39 on the

Global Peace Index 

with a score of 1.75 (USA is ranked 128 with a score of 2.40)

Solo Travel Friendliness

: Italy is a lovely place to travel alone in. I felt deep affection from people I've met, and was never in a situation where I questioned my own safety. Surely, the Italian men are known for being amorous but usually harmless – learn to say "no" firmly. Beware of pickpockets in cities like Rome and Florence.

Climate

: Dependent on part of the country, but prepare for warm and dry summers and, if in the north, snow in the winter for some awesome skiing

Best SIM cards

: Tim and Vodafone – cards can be purchased at the airport. Bring your passport.

Random Useful Tip: Just because the Italy you see in movies depicts Venice, Tuscany, and Rome, doesn't mean that's the best of the country. Get off the tourist path and check out some other spots! They've turned out to be my favorite after exploring much of the more touristy parts of the country in my early 20s.
Accommodation
Budget Solo Travelers ($20 - $30): In the touristy cities, expect to pay at least $25 for a basic dorm bed, and in areas outside the major cities, you can find dorms for around $20. Personally, I recommend checking out couchsurfing as it not only saves money, but also provides a more localized experience. For instance, I stayed with a med student in Bologna in 2013, who not only provided me a place to stay, but also gave me a motorbike tour around the city and took me to a lovely dinner in a chateau overlooking the city. It was awesome!
Mid-Range Solo Travelers ($50 - $100): A private room in a hostel costs about $50 per night, where amenities may be basic but free Wi-Fi and breakfast are usually included. A nicer hotel can cost around $70 - $100 for a private room. Airbnbs may be a much better alternative, with a private room averaging $55 a night, and an entire unit averaging at $90, both could be much more comfortable than a hotel room.
Food
Food is perhaps Italy's middle name. I have visited Italy a few times now, and each time, admittedly, what excites me the most is being able to eat true Italian cuisine again. It's not just about pasta and pizza, but delicious meat dishes, balsamic, fresh cheese, and gelato as well. It is only right that you leave the country with 5 pounds added to your belly. Emilia Romagna is the first place where I started to appreciate the importance of food. I highly recommend finding ways to eat with locals – think ingredients freshly picked from the family garden, laughter in the kitchen and on the table, and true Italian delicacies.
A slice of pizza from the local pizzerias or a light snack costs about $5; a meal with a glass of wine at a restaurant costs around $15 - $20. Keep a lookout for set lunch promotions. Markets and bakeries are also great spots for fresh food and pastries. Aperitivo is also a great way to sample tapas-style food in small restaurants and bars, and a great way to rub shoulders with locals while saving money as well. Though in all honesty, this is one category where you should splurge at least once when it comes to Italy – you are in for a treat!
Transportation
Getting There: The main international airports are Milan-Malpensa Airport, Leonardo da Vinci-Fiumicino Airport (Rome), Galileo Galilei Airport (Pisa), and Florence Airport (Florence, called "Firenze" in Italian if go to the airport website). All airports are well connected to most major flights. Train traveling is a popular way to get to Italy from most parts of Europe and the UK, as it offers a scenic ride and you can make stops along the way. Advanced booking will save you money and is required for Eurail pass holders.
Getting Around town: Trains in Italy are cheap and efficient, with a single trip rarely costing more than $2. City buses cover routes that trains don't reach, and generally follow a flat rate of about $1. Cycling is a popular mode of transport in much of Italy, though the drivers are, for lack of a better word, notoriously crazy, so it's really your call. Most hostels will be happy to help you take care of your bike overnight.
Inter-city Traveling: Italy's extensive train system makes getting from one city to another a breeze. High speed trains can take you from Naples to Rome in about an hour. Ticket prices for the high speed trains are about $40 - $70. For a cheaper alternative, go for the regional trains that cost about $7 - $30 per trip. Domestic airlines are available and there are often special discounts at the start of each season, though it's usually best to book flights at least two months in advance. If you're up for the adventure, Italy has many beautiful road trips as well. 
Things to Do
Take a Cooking Class: There is no better place to learn how to make Italian food than in Italy itself. Personally, I took one at a small restaurant in a small countryside town just outside of Bologna, learning how to create fresh pasta in 2013, and did another cooking class the following year. Besides picking up a new skill, it will also help you appreciate Italian cuisine even more.
Explore Florence: Beautiful museums, galleries, architecture, sculptures, churches, gardens… Florence is beautiful and you can easily spend an entire week wandering about without noticing the time passing.
Celebrate Thanksgiving: ...with an Italian twist! Törggelen is a local thanksgiving tradition that stretches over a month every year in South Tyrol, the Alpine region of Italy. The celebration consists of long meals of several courses shared with family, friends, and co-workers, typically at a farmhouse.
Rock Climb in the Dolomites: There is one big reason why most people visit South Tyrol – The Dolomites, a rock formation which has been named a UNESCO World Heritage Site. The best way to see them is up close through a via ferrata –  a fixed-route climb equipped with cables and ladders. I recommend doing this in the autumn as shoulder season means smaller crowds, and you will get to see the beautiful changing leaves.
Go On a Camper Van Adventure: I went on a camper van adventure in South Tyrol and I cannot recommend it enough, especially if you are a hiking and camping enthusiast like me. It's a great way to tick multiple boxes at once, really, as it works as your accommodation and transportation, and you get to go and stop pretty much wherever you want. Consider travel insurance for this as well. 
Italy on @BeMyTravelMuse's Instagram