Before I finally resolved to visit more cold spots this winter, after fully experiencing my first winter of life (in my 30s, I know. I'm late), I came to realize that it's actually one of my favorite seasons.
There are so many things that you can only do when it's really, truly cold outside, and Finnish Lapland is the perfect place to do them all. From playing in the snow to all of the adrenaline activities and cool things you can do either solo or with friends, I was really impressed by the offerings there and found myself fantasizing about renting a little cottage there next winter, just so that I could ski on those uncrowded slopes and stare up at the sky hoping for the aurora borealis.
Here are 13 things I tried and that I have a feeling you'll love too when you visit Lapland:
13. Throw boiling water into the air and watch it turn into icy vapor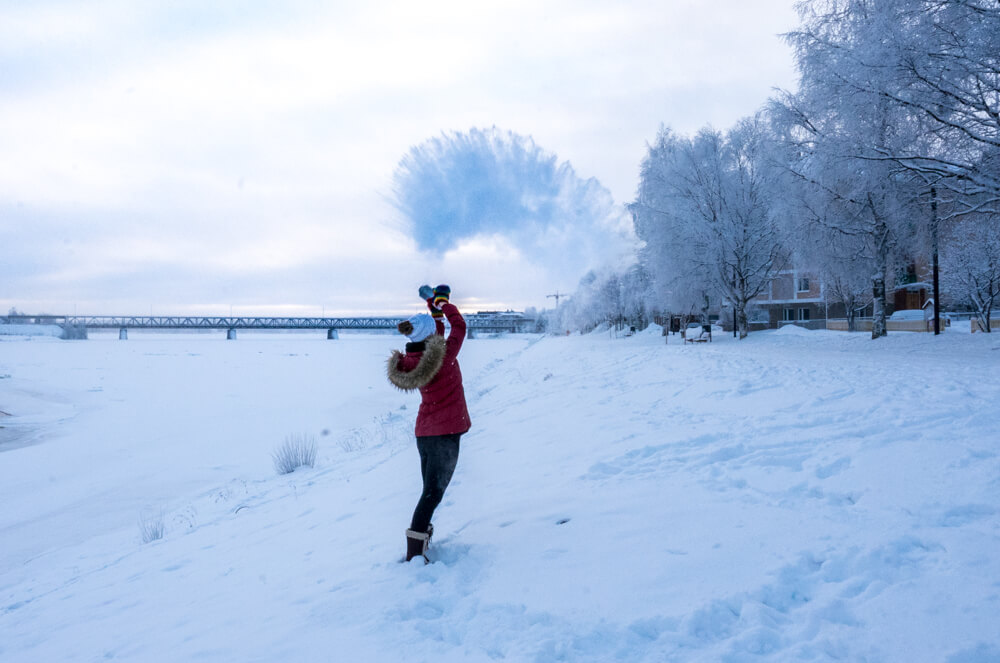 I've wanted to try this trick ever since seeing it on YouTube. If you're somewhere cold enough, you can actually throw boiling water into the air, and it will immediately turn into icy vapor. It feels like a magic trick! It got down to -27°C/-16.6°F while I was in Rovaniemi, Finnish Lapland, so it was just cold enough to work.
Tip: Try throwing a small amount away from you first to make sure it'll actually work so that you don't burn yourself if it's not cold or dry enough.
12. Visit (or stay in) a hotel made entirely of snow and ice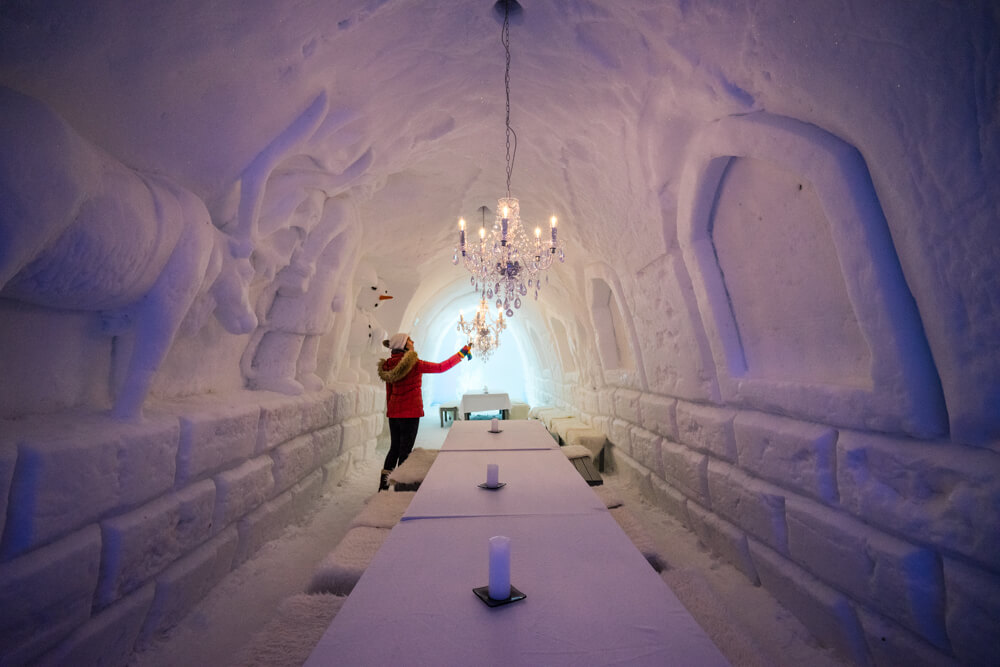 I visited two ice hotels while I was in Finnish Lapland – Snowman World Igloo Hotel in Rovaniemi, and SnowVillage in Kittilä. What's really cool about these is they change every year with new designs and ice sculptures. It takes a team of 30-ish people about two weeks to build them, and each was so big that it had at least a dozen or so themed rooms, plus an ice bar, restaurant, and snow art. There are also several glass igloo hotels in Finland too!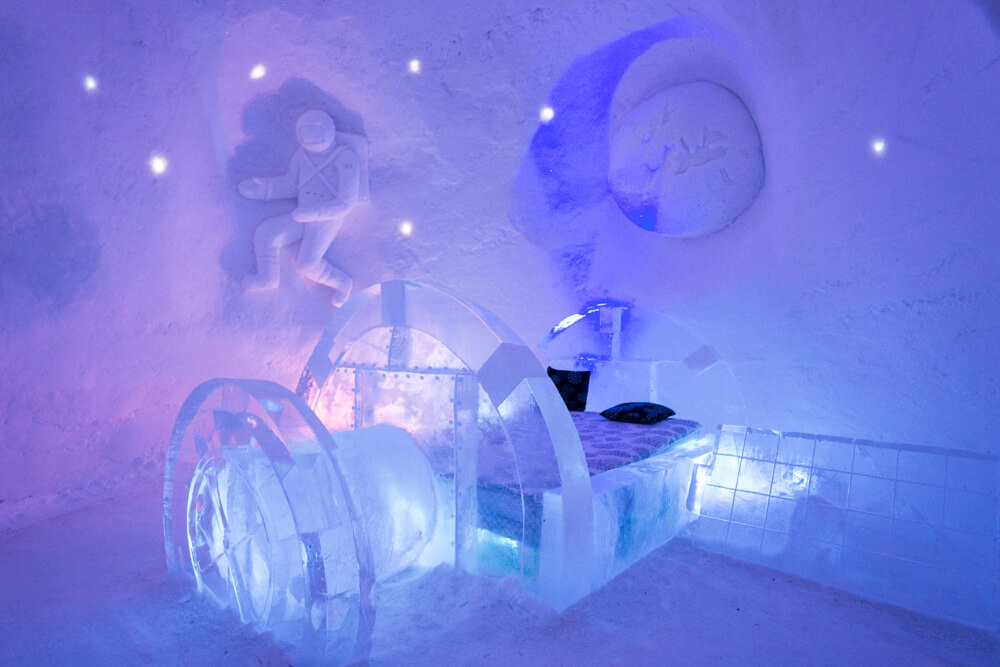 SnowVillage even had a church where several people have gotten married this year: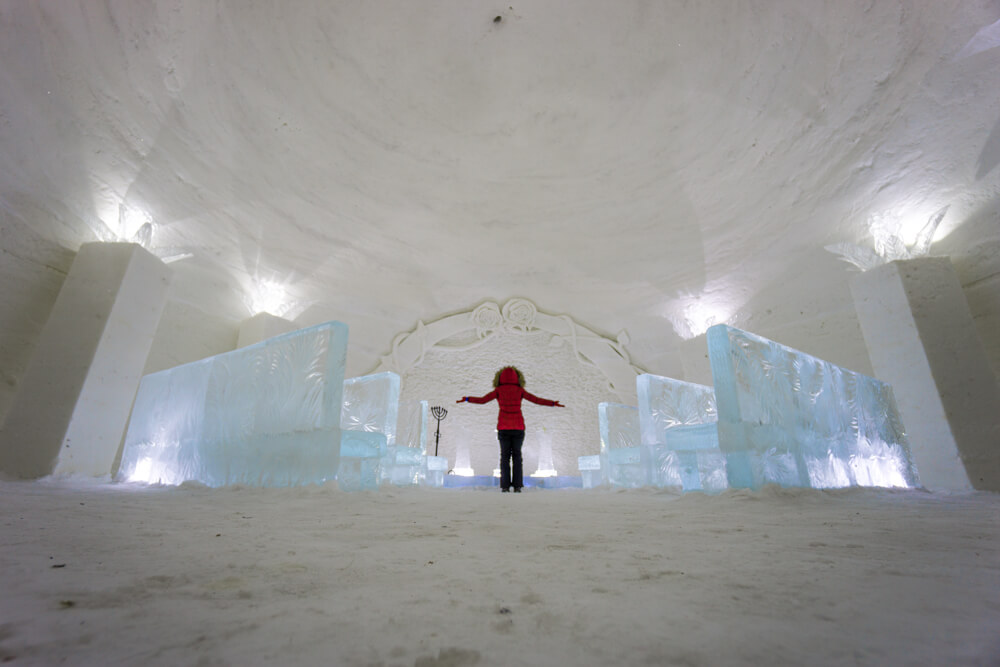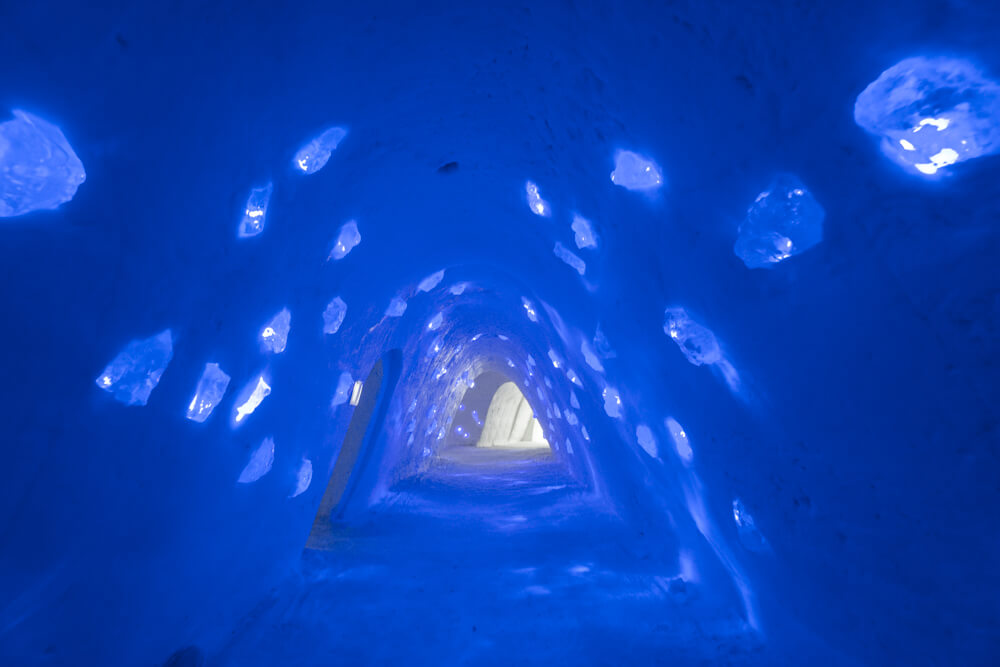 11. Go snowmobiling
In Lapland, snowmobiling is a way of getting from point A to B. Plenty of locals use snowmobiles as their main mode of transport in the winter, which I found pretty cool! You can even do multi-day explorations heading all the way into Sweden or Norway, which I'd love to try out next time I'm in the 'hood.
It's pretty easy to drive the snowmobiles, and they're quite stable as well. I took one out on a frozen lake in Rovaniemi with Lapland Safaris (which is located in Ylläsjärvi as well) and totally had the hang of it after a couple of minutes. If you've ever driven a motorbike, you'll find this to be even easier.
You can also do a snowmobile safari in Rovaniemi with Get Your Guide which includes hotel pick-up and drop-off, plus extra winter clothes and a guide.
10. Go dogsledding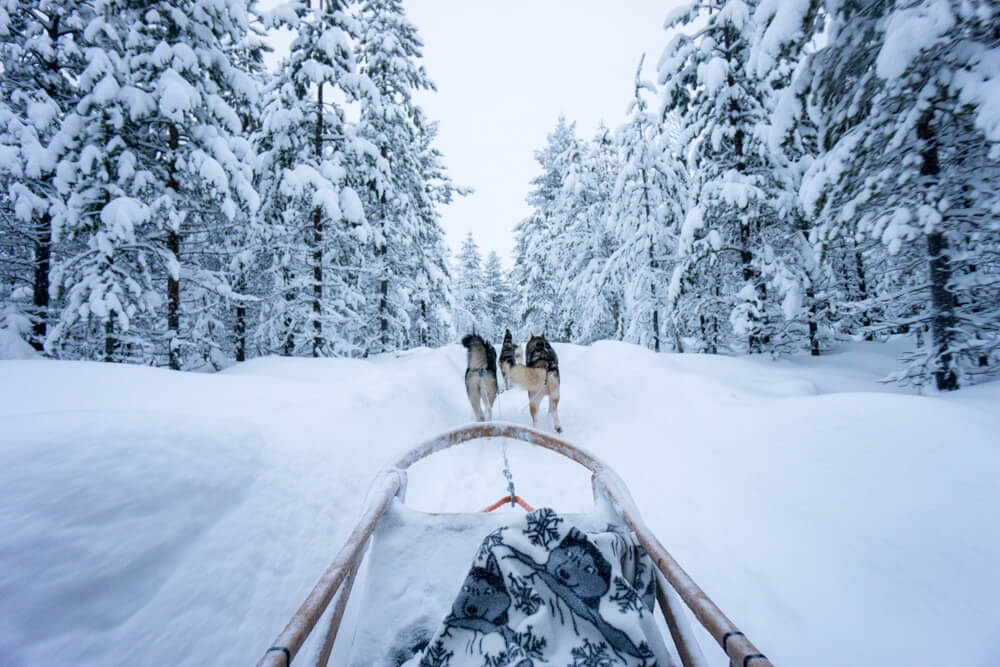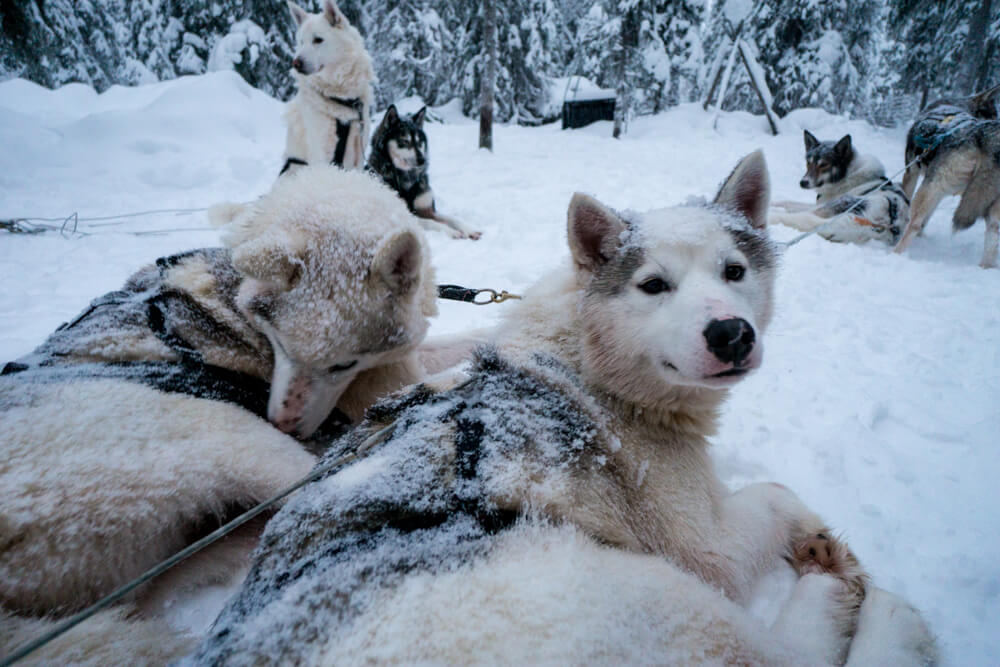 Dogsledding is actually a tradition from North America, but naturally it took me heading to the other side of the world to give it a try. The conditions in Lapland are perfect for the dogs, who do best in solid, dry snow, which occurs when it's particularly cold outside.
If you've interacted much with huskies then you'll know how energetic they are. These guys were absolutely dying to run, and it was surprisingly peaceful, which I didn't expect, to be on the back of their sled. Book your dogsledding adventure here.
9. Snowshoe in the stillness of the night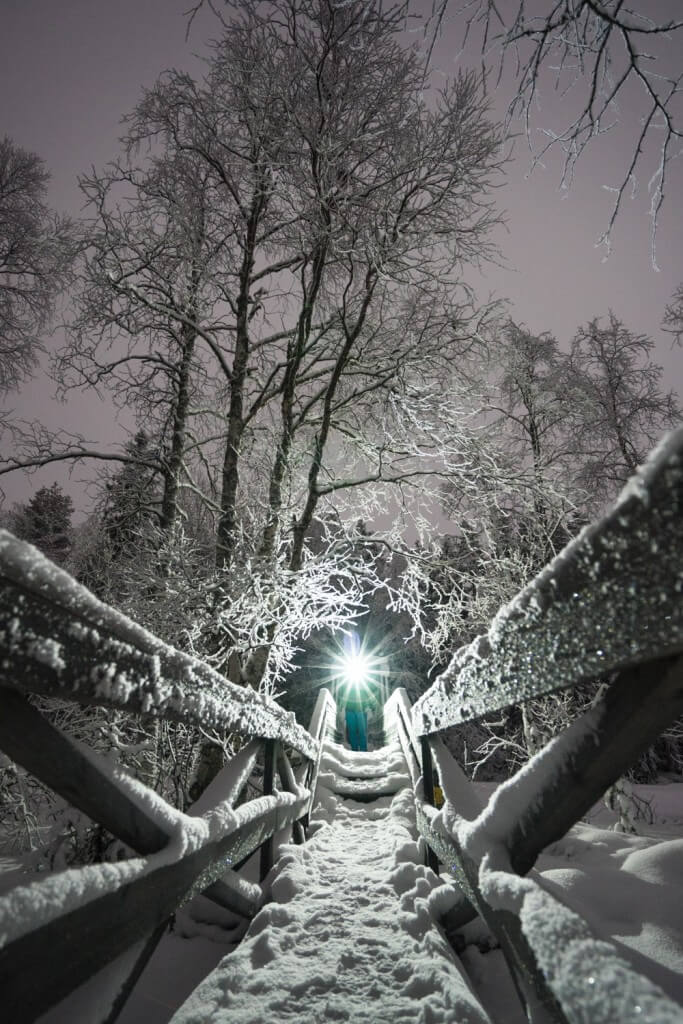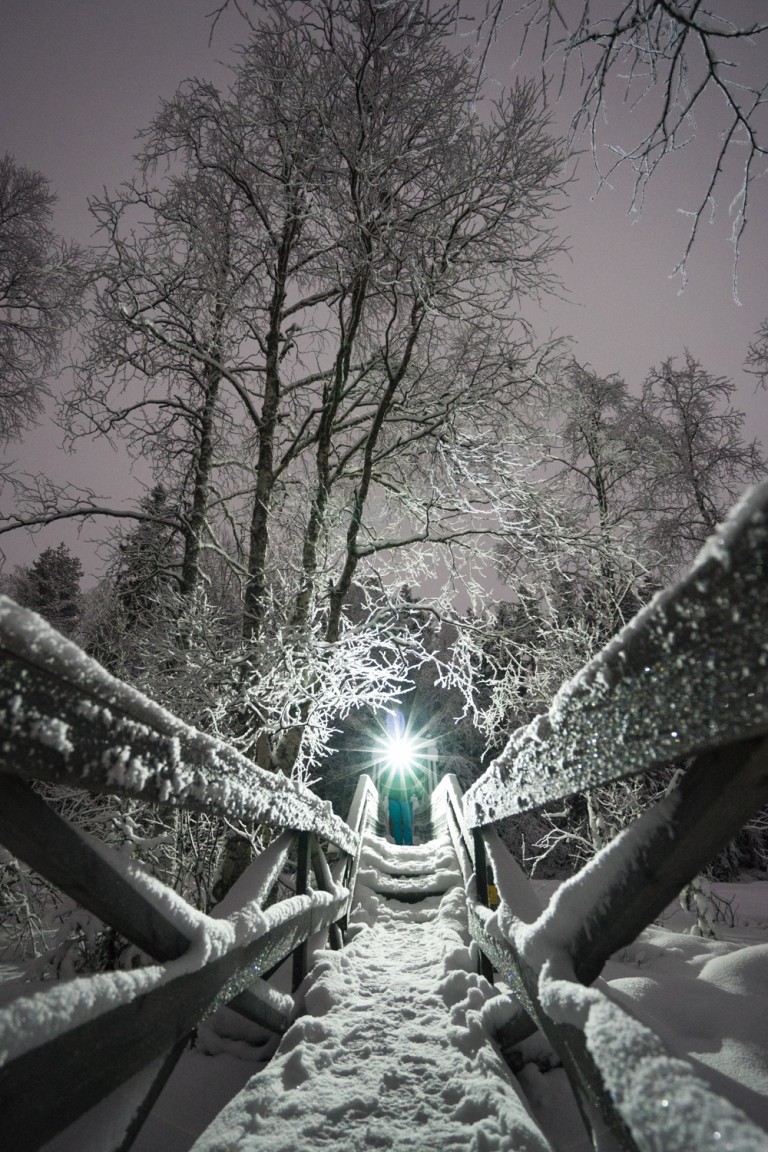 Finland is one of the safest countries in the world, particularly Lapland, so it's no big deal to just go for a hike with some snow shoes on (you know, so you don't just sink right into the thigh-deep snow) and go for a nighttime walk. I did so several times when I was there, and it was so peaceful – I didn't really want to leave. Book here
8. Go for a sauna gondola ride
The Finnish sauna is a huge part of the culture and to be honest, the thought of going into a little wooden room and sweating my brains out didn't appeal, but I suppose that's because it wouldn't appeal in the warm climate I come from. When it's crisp and cold outside, though, it's wonderful.
At the ski resort in Ylläs, you can actually rent a sauna gondola, and afterwards, you can drink beer, go in a jacuzzi outside, and use the other sauna inside as well. It doesn't make much sense financially for one or two people, but with a group of 12 and 4 trips around on the gondola, plus the VIP room inside, it's actually a really cool idea costing only €112.50 each. Contact them here if it piques your interest.
7. Then roll in the snow or dip into a freezing lake after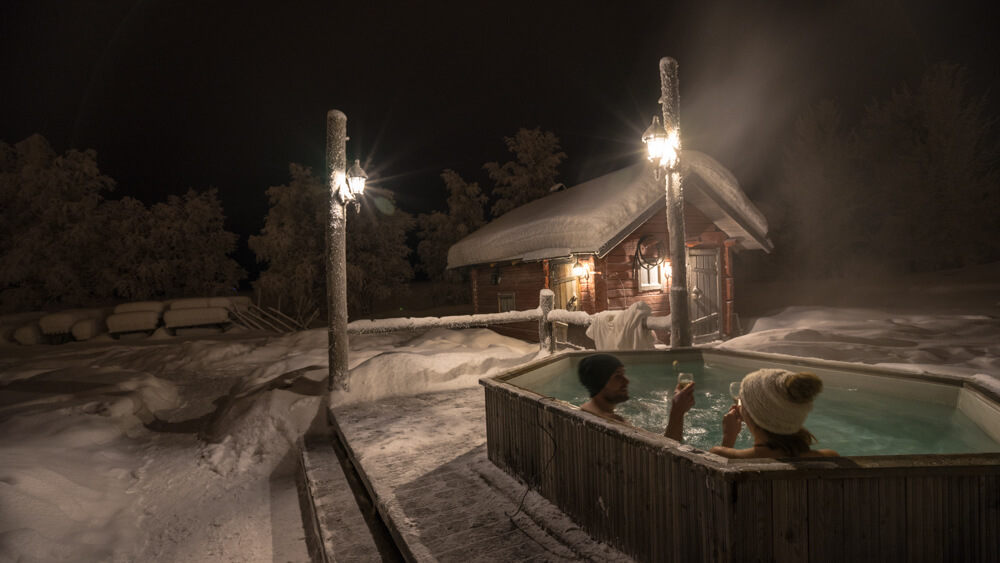 I almost refused to run outside and jump into the hole cut in the ice of a lake after my first sauna, but this is the other side of the coin when it comes to Finnish tradition. After the extreme heat, you have to experience the extreme cold, then heat up again after and repeat. Some people jump into an ice lake, others roll in the snow. I ended up doing both and felt so relaxed after – it's actually something I'd do now without hesitation.
It's mainly praised for its detox benefits, but athletes even use this method for endurance training! (Note: This is not for people with heart problems).
6. Admire the trees in Äkäslompolo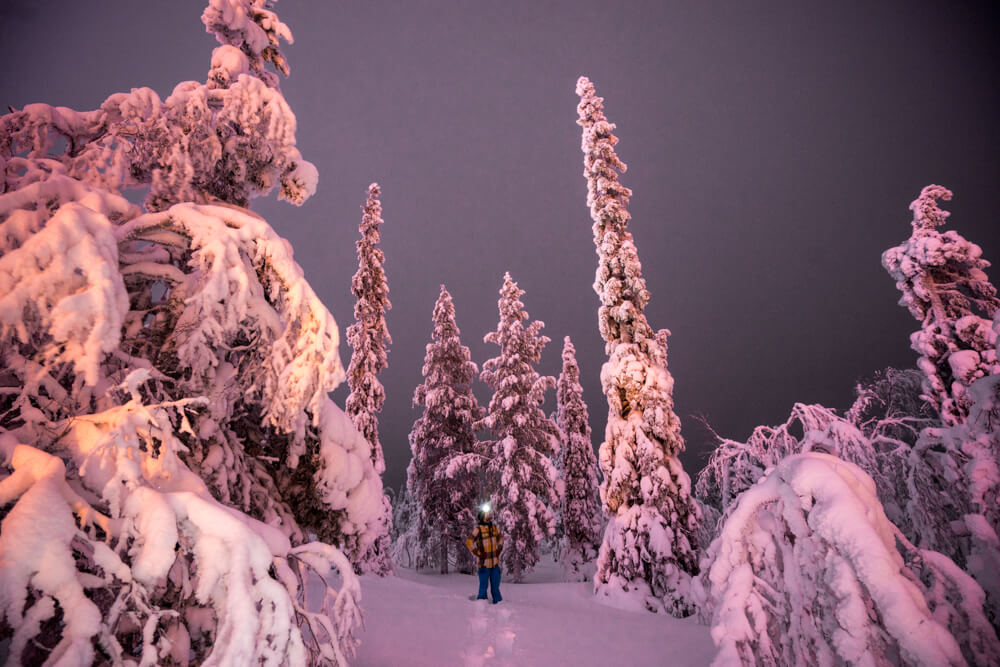 One of the most exciting things for me about visiting Lapland was that I would get to see what I call the Whoville trees. They're tall, thin trees that have ice caked to their branches, and at certain altitudes, they look other-worldly.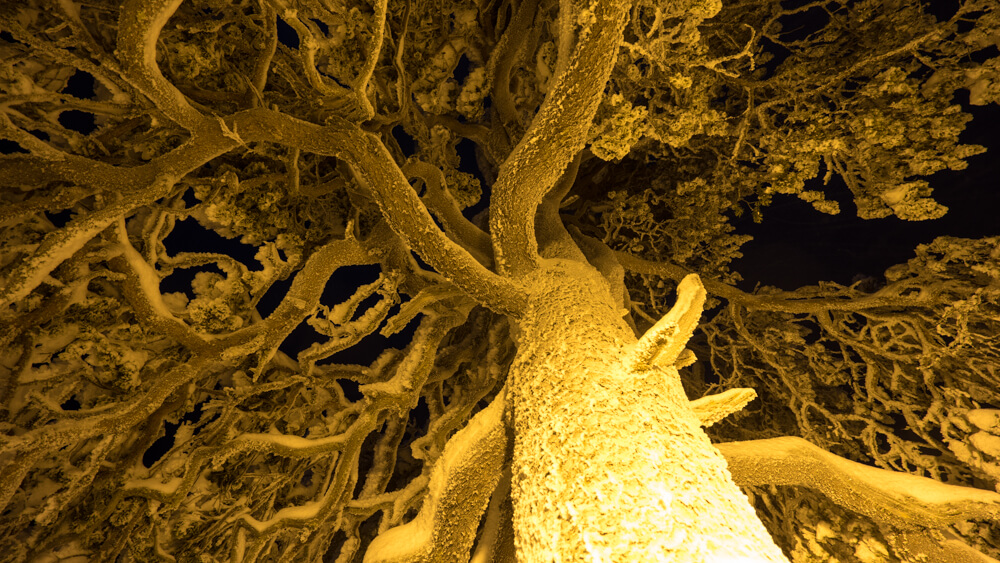 In Äkäslompolo, a village near the Ylläs ski resort, you can get high enough to see them and even hike through them at night. Several are lit up and they're quite cool-looking.
5. Go skiing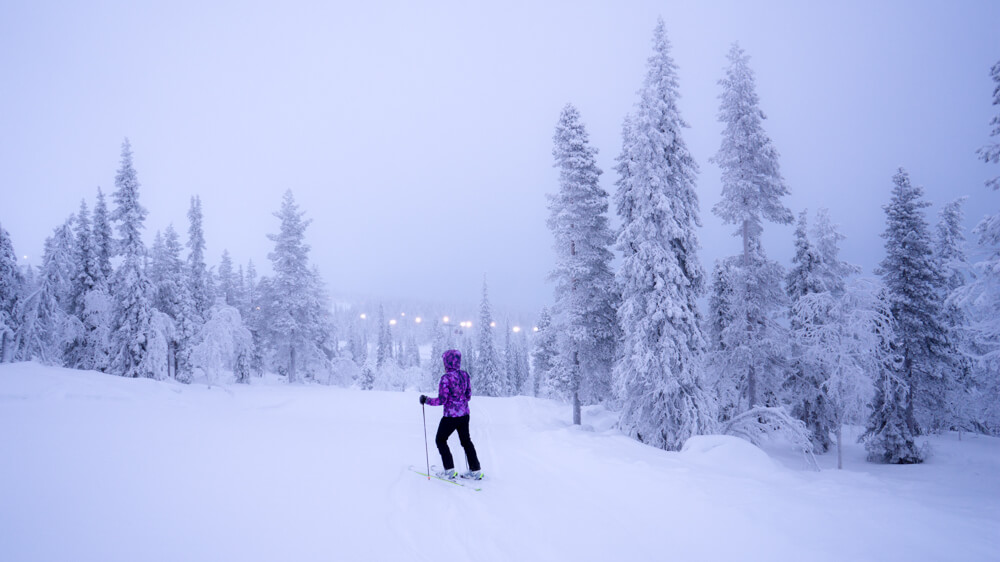 The Ylläs ski resort had some really nice slopes, mainly because they go through those really cool trees, and there's so much snow! I also had a few runs where I didn't see another person my whole ride down.
I was also able to do four red runs in Ylläs, officially graduating from the blues I had been on when I learned how to ski in Austria just a week earlier. Skiing down those dreamy, wide, and powdery slopes in Finland without the crowds gave me such a great opportunity to keep learning.
If you're more into Nordic skiing or snowboarding, you can do both there as well. Backcountry skiing and boarding are also popular there for the more advanced guys. There's also this awesome skiing and photography excursion that I would have loved to do.
4. Go on a sunrise reindeer safari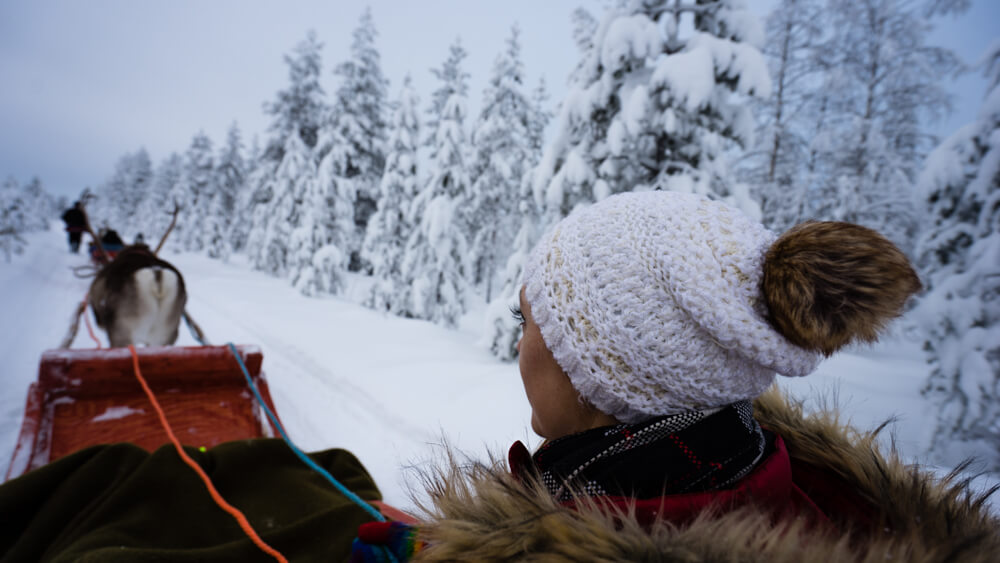 The people who live in Lapland used to use reindeer as their main mode of transport. The animals gave, and still do give, a lot to the local people in terms of food, warm clothing from their hides, and even tools from their antlers, which they lose and re-grow every year.
I loved learning that the reindeer are actually semi-wild, and each winter they voluntarily return to their 'home' stables because they know they can find food there. In the spring and summer, they live out in the forest where they forage and give birth to their young.
If you're not into waking up before dawn for this excursion, you can also book a reindeer safari at a later hour.
3. Catch the Northern Lights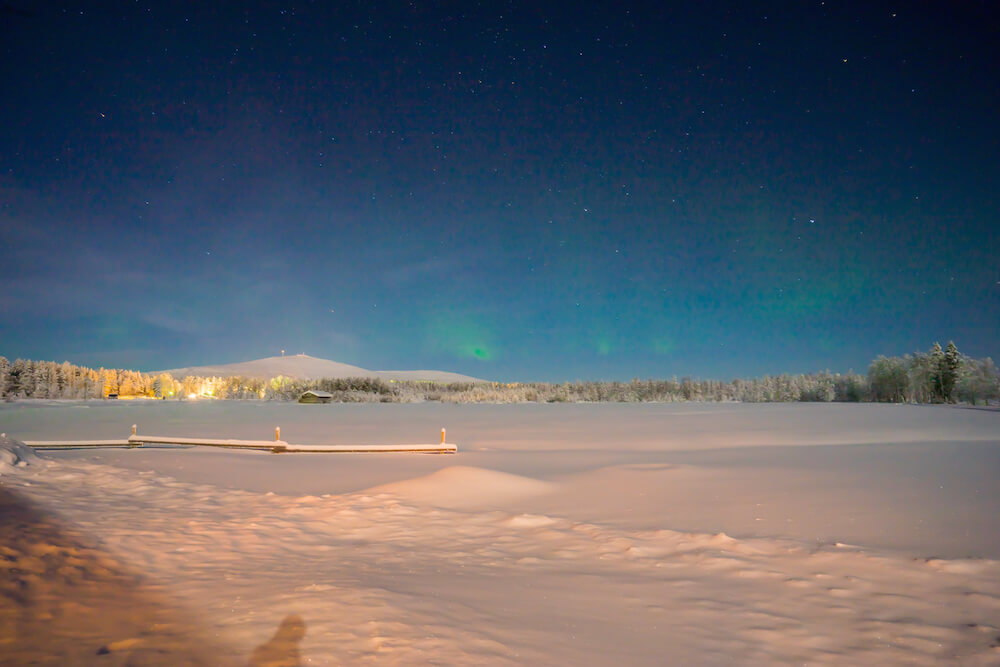 It's never a guarantee that you'll see the Northern Lights, of course, but Finnish Lapland is one of the main places where people go to catch them.
I got a bit unlucky with the weather and had cloud cover for most of the trip, but thankfully at around 12 midnight on my second-to-last night there, the clouds cleared and there was a little bit of aurora activity! That's something you never get tired of seeing.
There are also tours available like this one which includes transportation to one of the best spots in Lapland, plus dinner.
(If you want to see more aurora photos check out my Iceland photography)
2. Say hi to Santa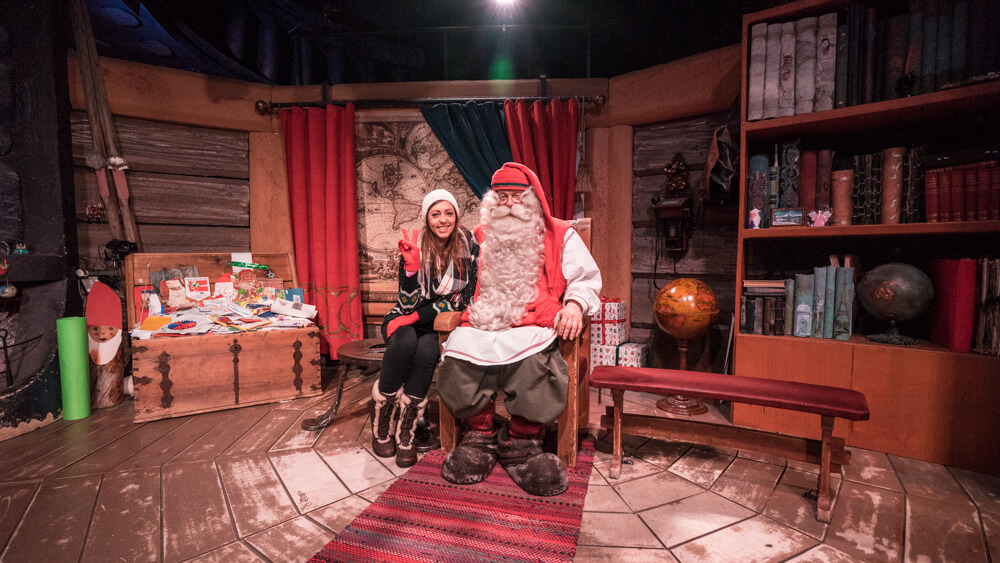 Betcha didn't know, Santa's official hometown is in Rovaniemi, Finland. You can visit him for free if you want (but photos with him do cost €).
I noticed, thanks to the celebrity wall, that Conan O'Brien did.
1. Play with fire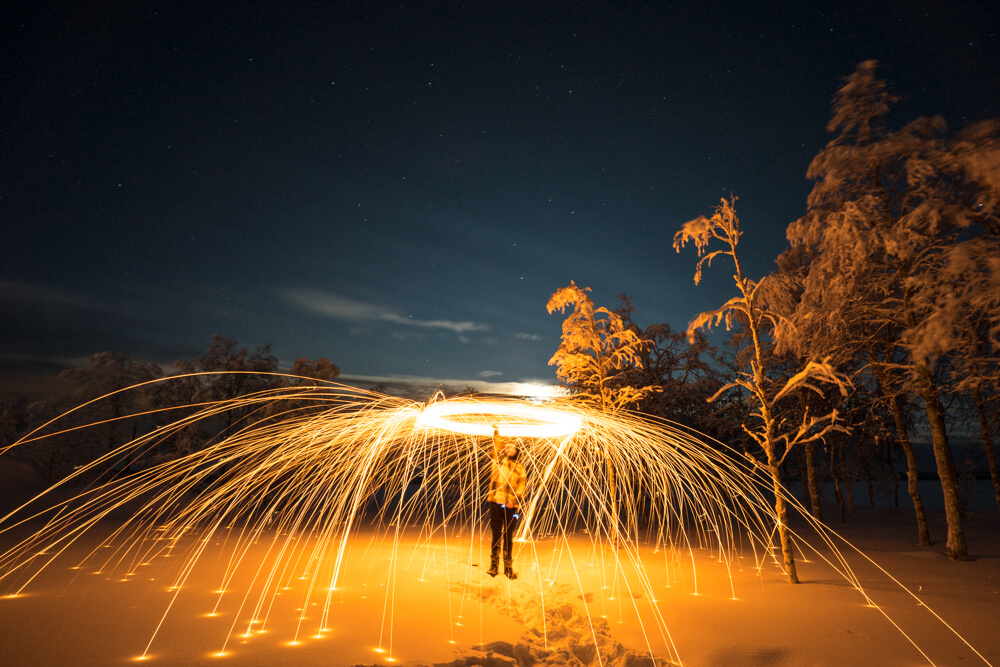 It's so snowy everywhere in Lapland, and there's plenty of hours of darkness, so you can try the steel wool trick without risking burning down a forest.
Step one, tear off a piece of steel wool. Step two, insert into an egg beater. Step three, tie a string to it so that you can swing it around. Step four, cover your head and arms. Step 5, light it on fire and spin it around. It's how I get my kicks!
Have you been to Lapland or tried any of these? Would you add to the list? Let me know below!
What Else to Know About Lapland
How to get there
Fly into either Rovaniemi or Kittila via Helsinki. The flights are surprisingly convenient, especially through Helsinki.
Though there are busses and taxis, renting a car will give you ultimate freedom. Driving in that kind of weather is, shall we say, interesting but not impossible!
What to eat
Reindeer and salmon are the most common offering. Besides the food at Aurora Estate, the best food I had was at Pihvikeisari where everything is local and homemade. It seems like it wouldn't be good because it has a big 'souvenirs' sign and appears touristy, but it's actually, delightfully, quite the opposite!
Where to stay
I can't say enough positive things about Aurora Estate. They just opened a few months ago, but the owners are two young entrepreneurial women with an absolutely beautiful location and very cozy BnB, plus the food is incredible.
What to pack
Check out my ski trip packing list. Pretty much everything that you would pack for winter in Alaska or for any ski trip works well here.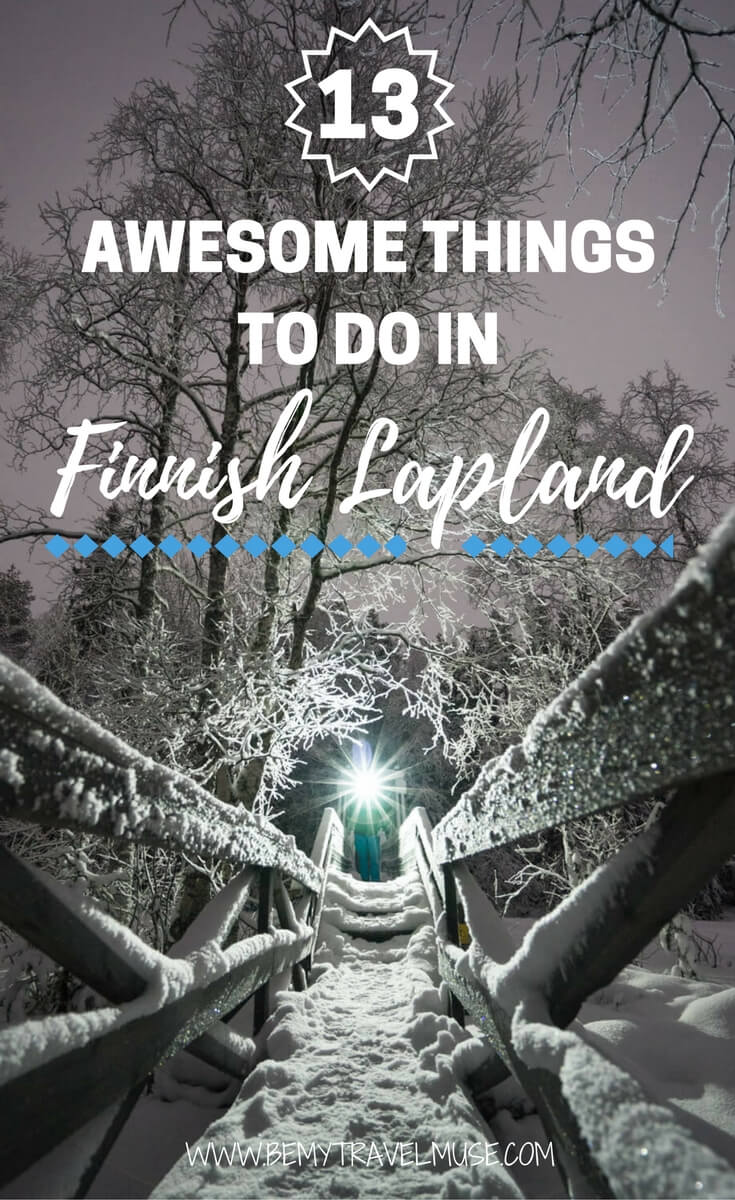 *In the spirit of full disclosure, this post was brought to you thanks to VisitFinland and Visit Ylläs. The above thoughts are my own, and you can always trust that I will never promote something I don't love.