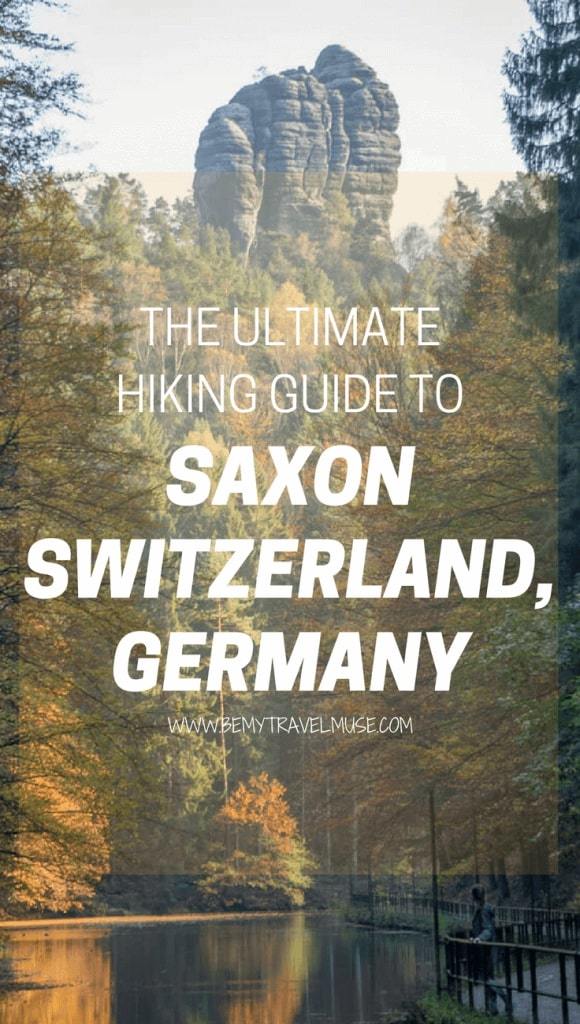 The view from the top of the sandstone mountain, or rock, I'm not sure at which point there's a distinction, swept in every direction over orange, green, and yellow treetops. As the mist parted, I could see the farmland in the distance, the other rocks that jutted up like daisies in a garden of little trees, and rock climbers summiting the stones in the distance.
It had been a long time coming, I'd been wanting to see this view of Saxon Switzerland for years and the in-person experience was even better than what Instagram had previously afforded me. The best part? It's only a 3-hour drive from Berlin, and nobody seems to know about it.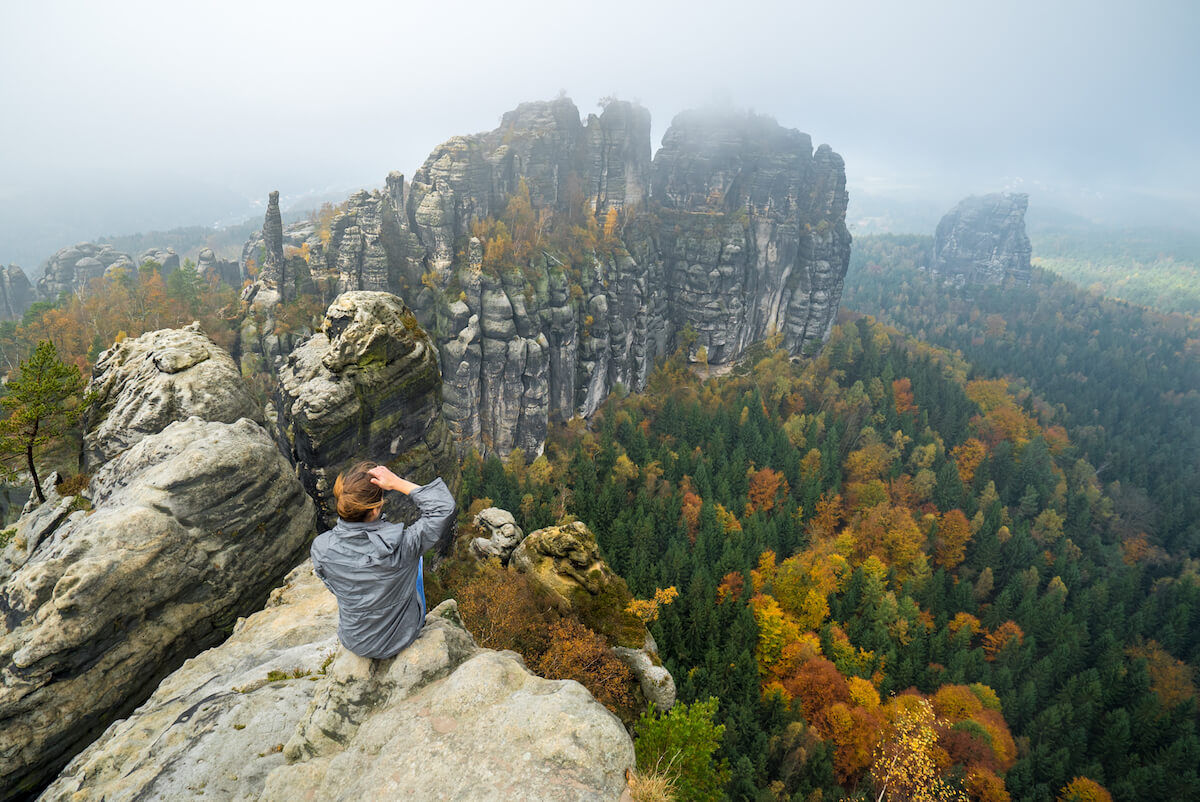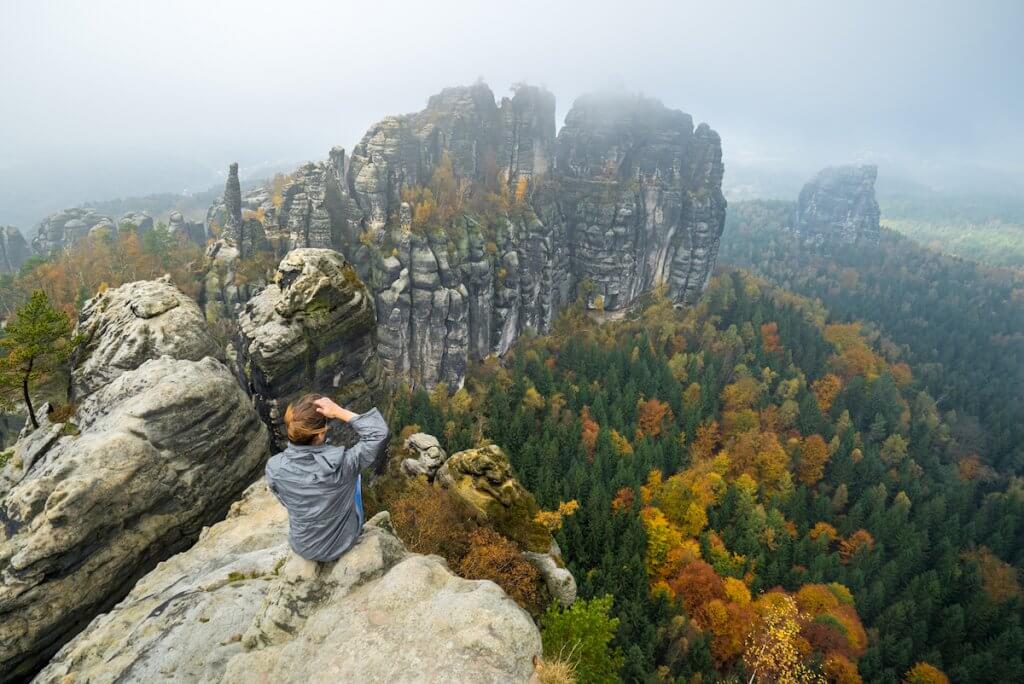 Hold up, so Saxon Switzerland is not in Switzerland? You're in good company if you thought it was. Many of my Swiss and German friends both had the same assumption.
Nestled in Germany's east and bordering the Czech Republic's Bohemian Switzerland National Park, it's just a stone's throw from Dresden in the former GDR.
It got its name when two Swiss artists teaching in Dresden went on an excursion in the area, and promptly named it Saxon Switzerland after concluding that the majestic Elbe sandstone rock formations reminded them of the mountains back home.
Thanks to more than 100 million years of hard work by the wind and the waters of the Elbe river, the park is incised with porous rock that forms bizarre columns, battered cliffs, plateau mountaintops, and deep valleys. Saxon Switzerland is also known as the "city in stones", and I think we can all clearly see why: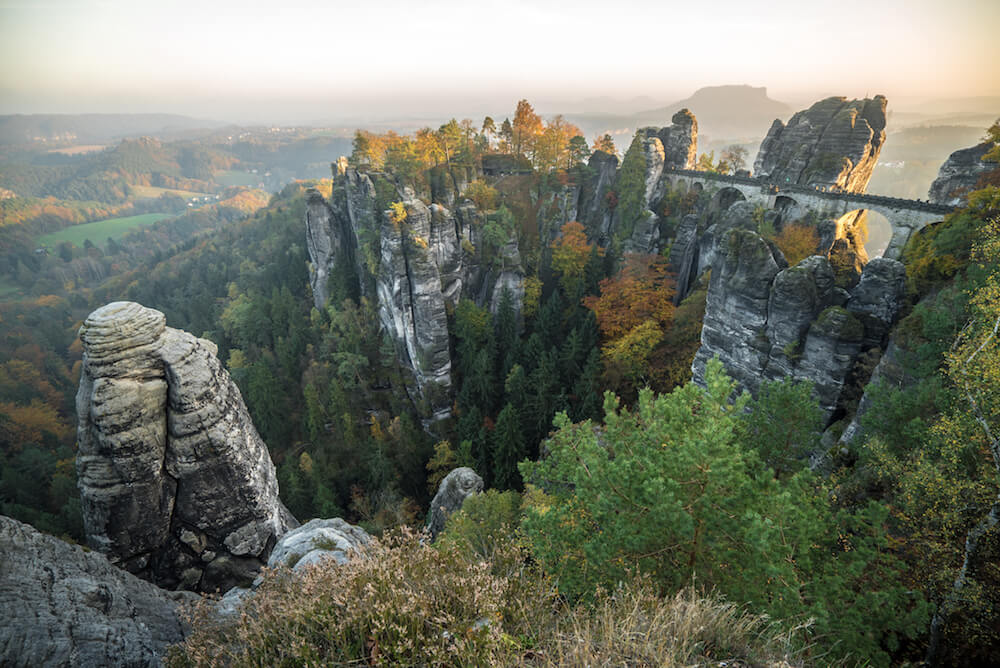 I had two days in Saxon Switzerland as part of a road trip out of Berlin. Here's how to make the most of it:
Schrammsteine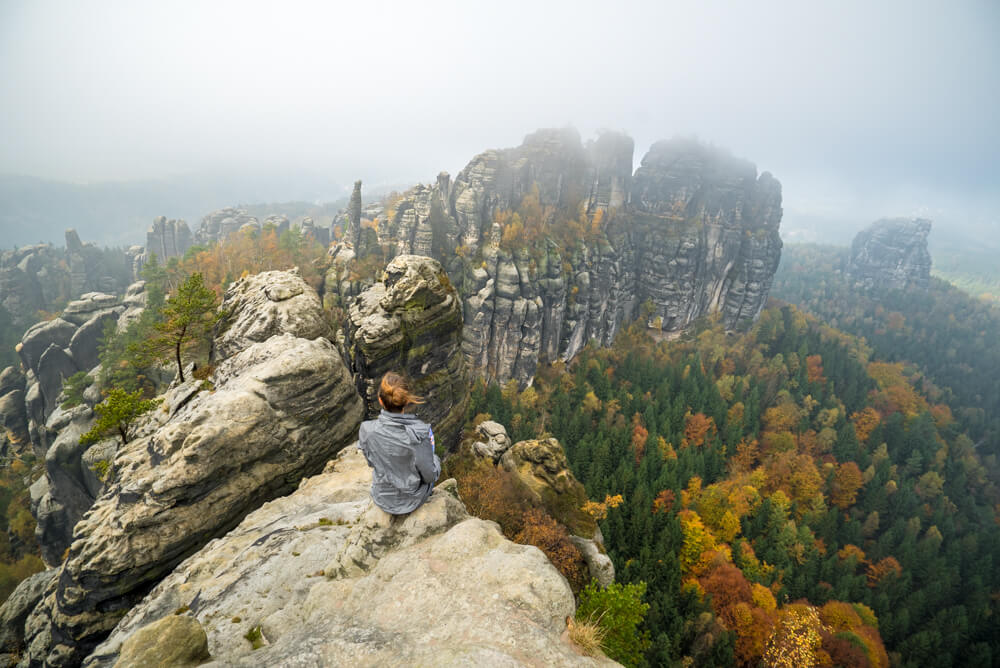 The views from up on Schrammsteine are vast and impressive in every direction. I kept saying 'wow' every time I turned a single degree.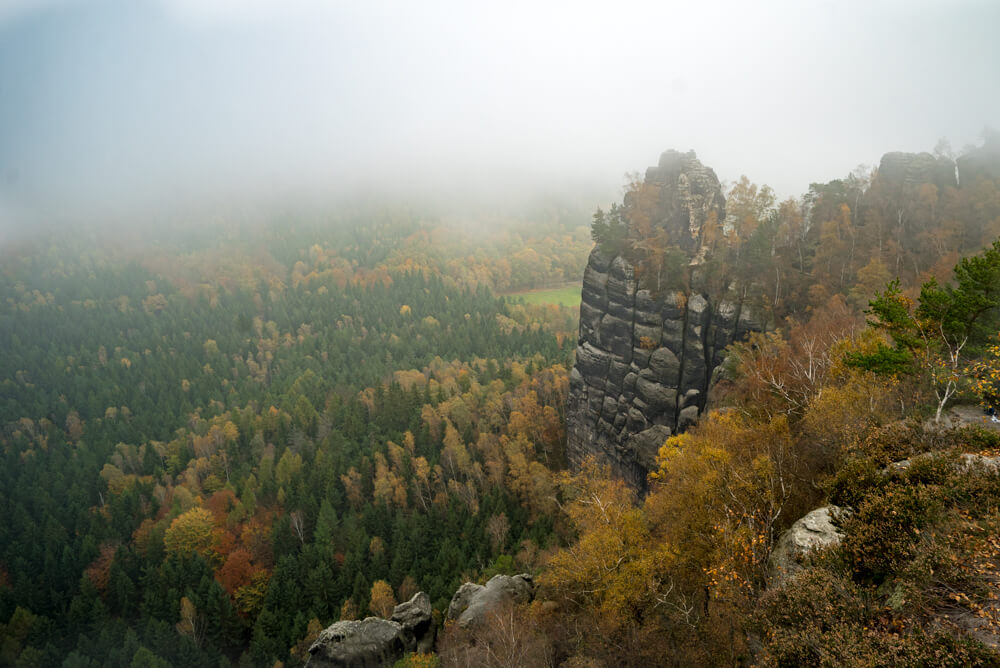 The hike is lovely, going through a forest and mossy green rock stacks, giving you a little taste of what's to come as you climb higher and higher.
I rate this one as moderately easy, though it does involve stairs and a few narrow parts. This is true for almost all of the hikes in Saxon Switzerland.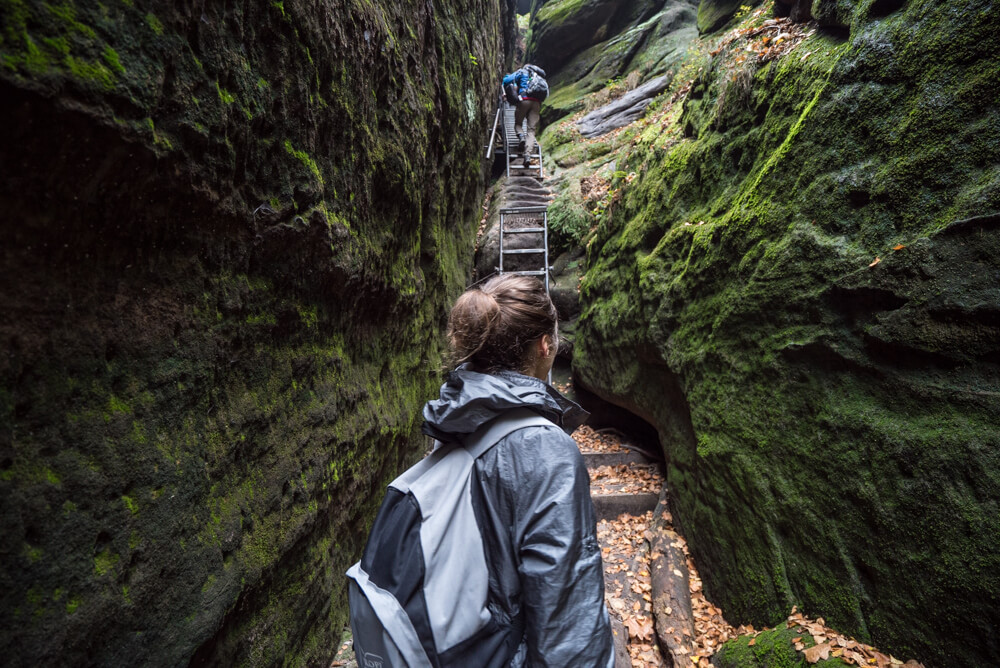 There are a few different starting points that you'll see indicated by parked cars along the Elbeitenweg to get to the lookout point (map here). Some add just a bit more time than others, but in general you'll need about 45 minutes each way, and be sure to leave yourself ample time at the top!
Bastei Bridge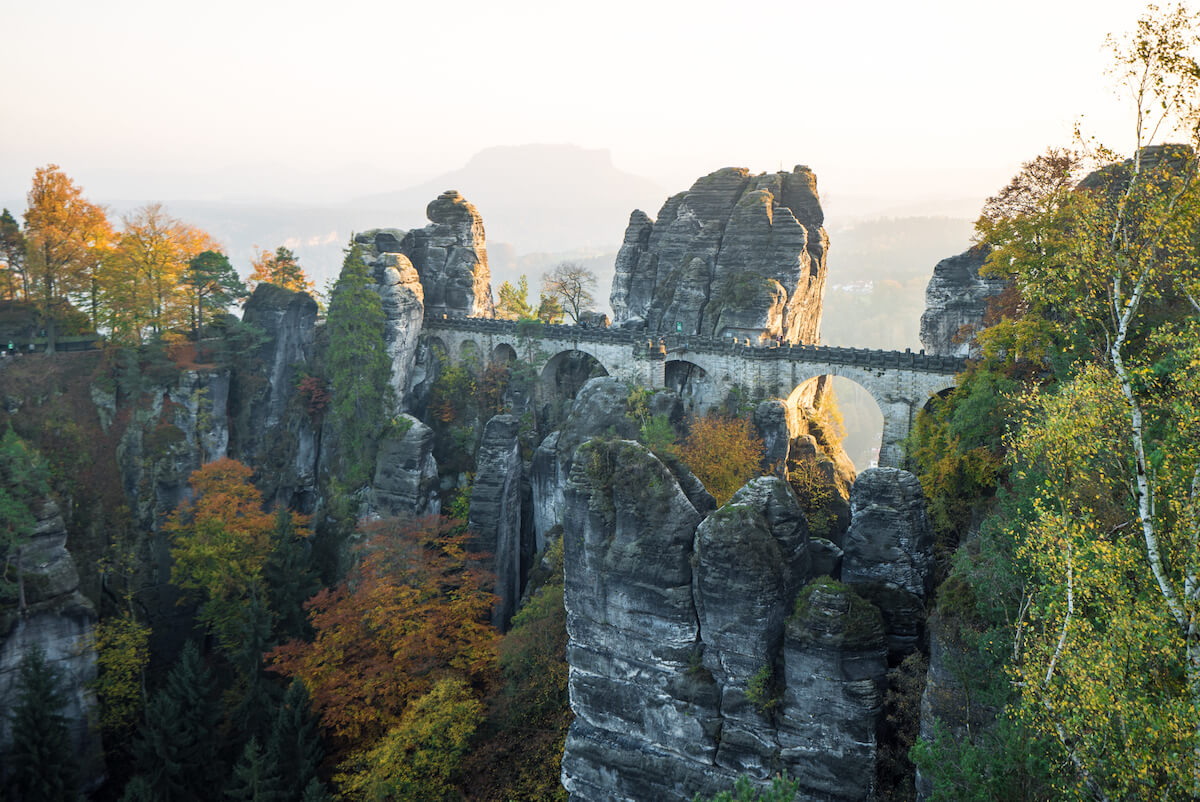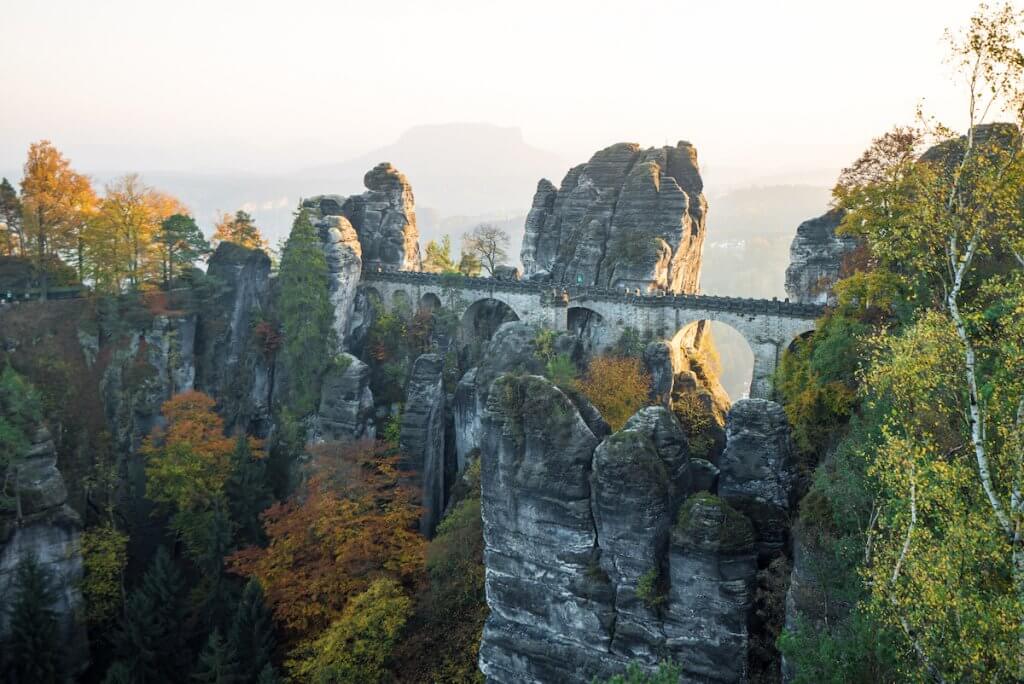 The Bastei bridge was constructed in 1851 as a tourist attraction and still serves its purpose with dazzling efficiency to this day. It's easily the most visited site in the park and is also the easiest to get to – coincidence? It never is with such things.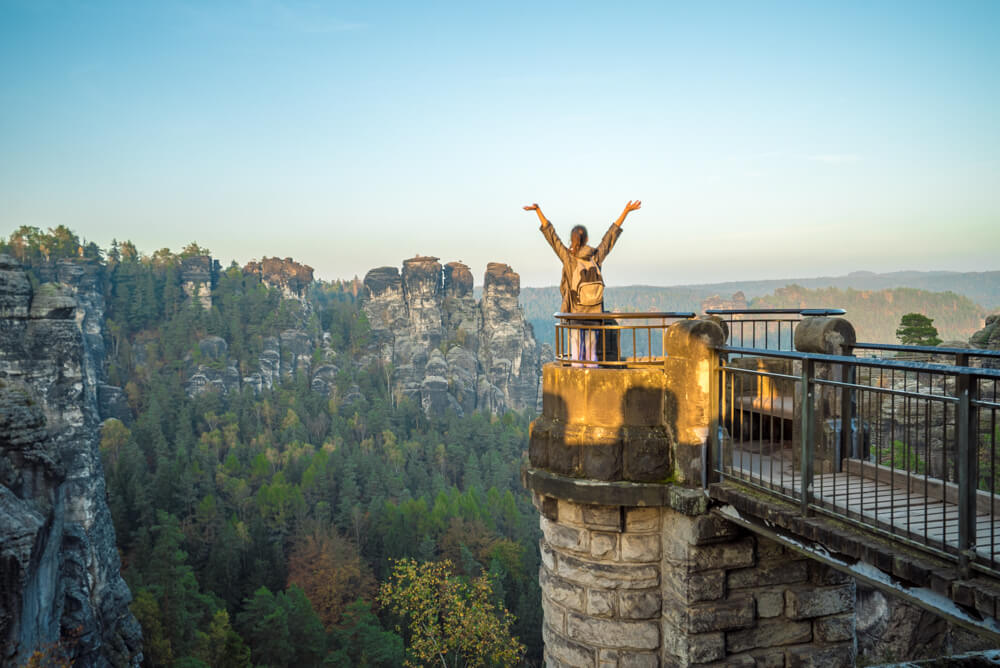 There are several viewpoints around the bridge in addition to the bridge itself, all of which are free to visit with the exception of one part of the bridge that has a 2€ entry fee. It's worth it at sunset because hardly anyone else bothers to pay for it, so you can get a stretch of bridge to yourself.
There's also a fancy hotel, restaurant and beer garden nearby. The restaurant has nice cake, I can verify.
Navigate to the parking lot across from this snack bar if you want to drive right up without having to hike. It's a good call if you are arriving for sunrise, but otherwise, do yourself a favor and hike up through the Swedish Holes:
Schwedenlöcher (Swedish Holes)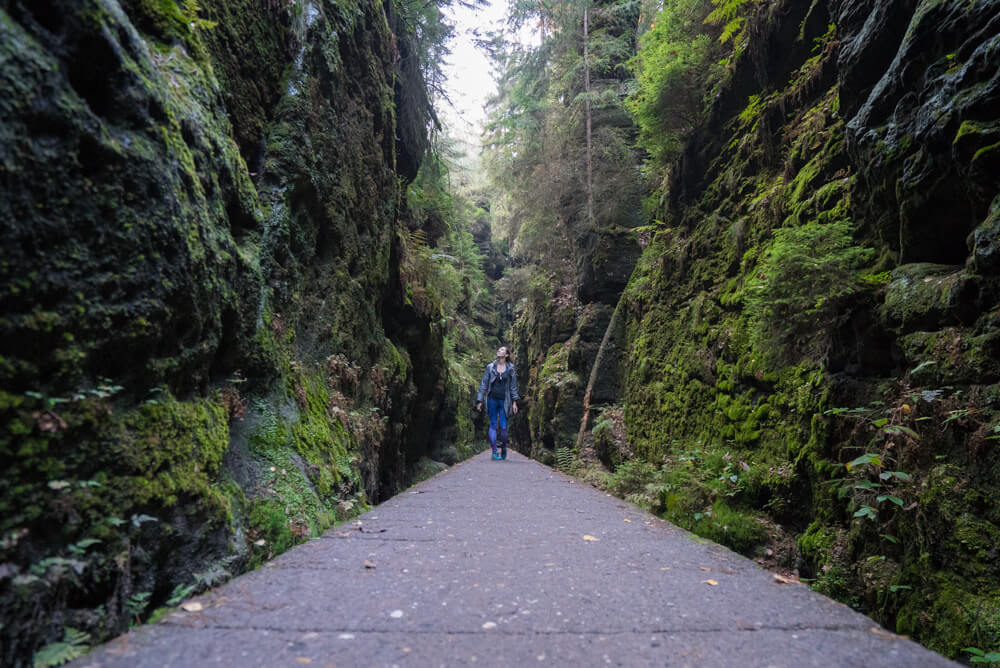 Apart from driving right up to the bridge, you've got options that involve more movement from the town of Rathen down below, and I recommend them both.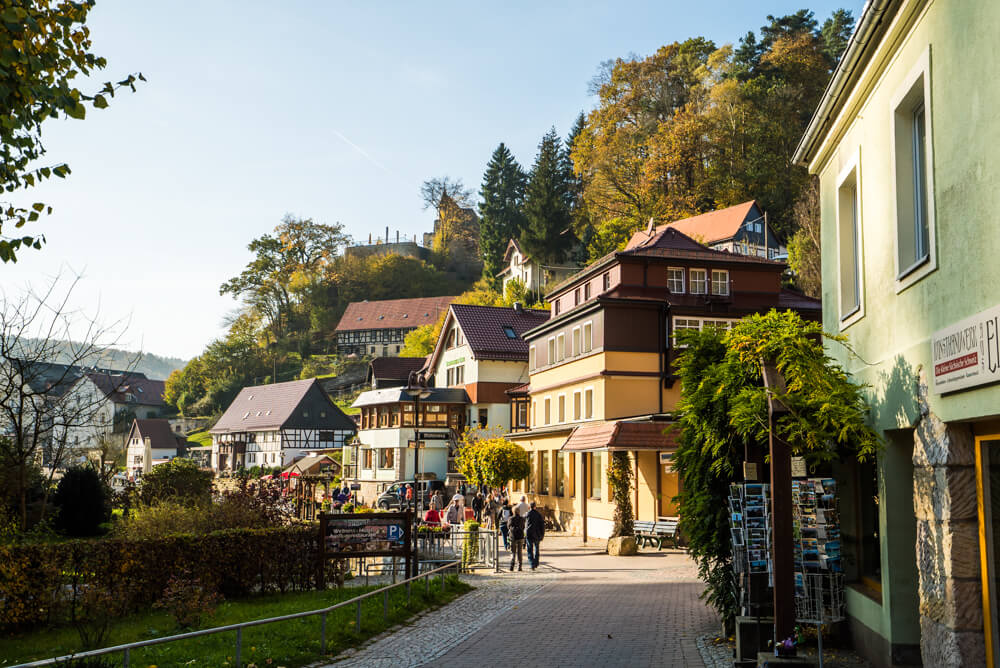 One is a 30-minute route up a set of stairs from the town directly onto the bridge, which you can't miss as you'll see ample signage, and the other is past a lovely lake and up the route called the Swedish Holes.
*not a euphemism!*
Sorry, we can't take me anywhere.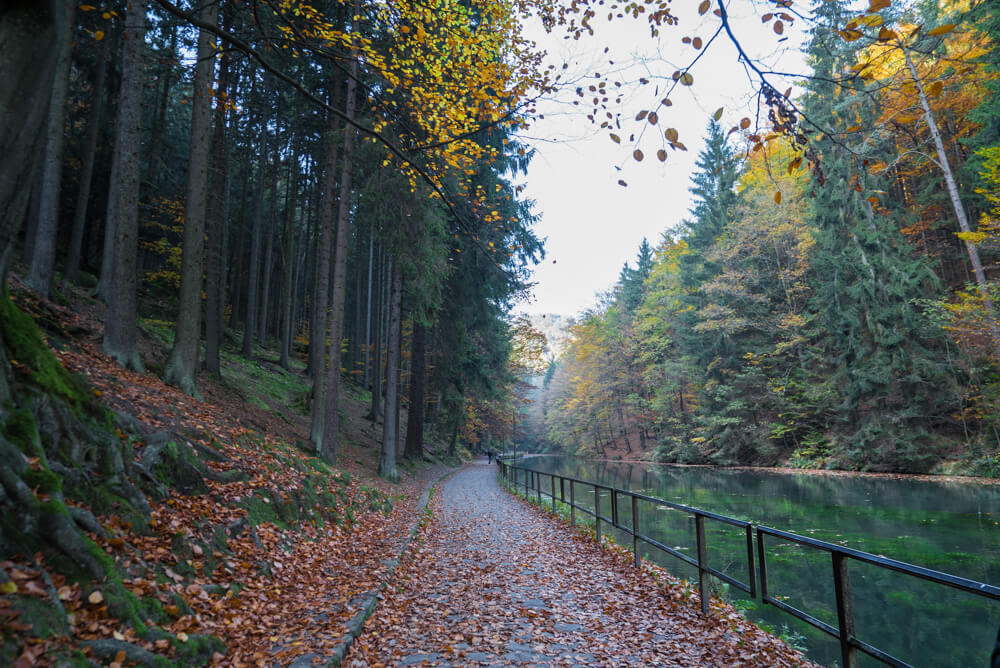 The route adds an extra 30-ish minutes and it's worth it because you get a nice view of the famous Honigstein reflecting on the water, plus the route through the Swedish Holes, which is an ascending staircase through mossy stacks of rocks.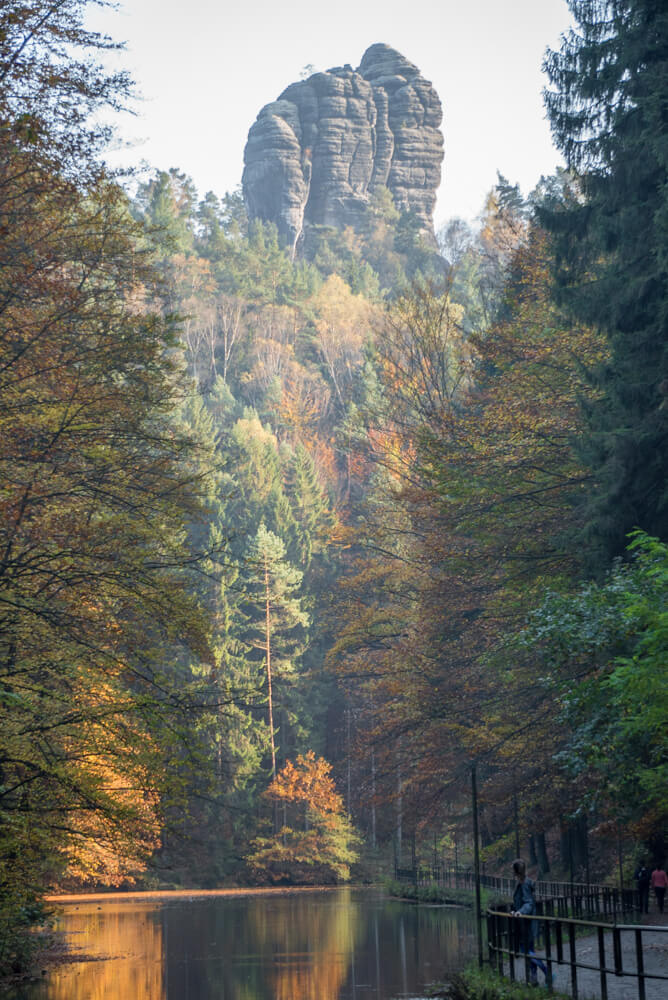 It was so-named since it apparently matches similar trails in Sweden, and because we like naming things after other parts of Europe around here.
You can reach Rathen either by taking a ferry across the Elbe from here if you're taking public transport, or driving to this parking lot and walking down. It's only possible to park within the town if you are staying at a local hotel and have a parking permit.
Pravčická brána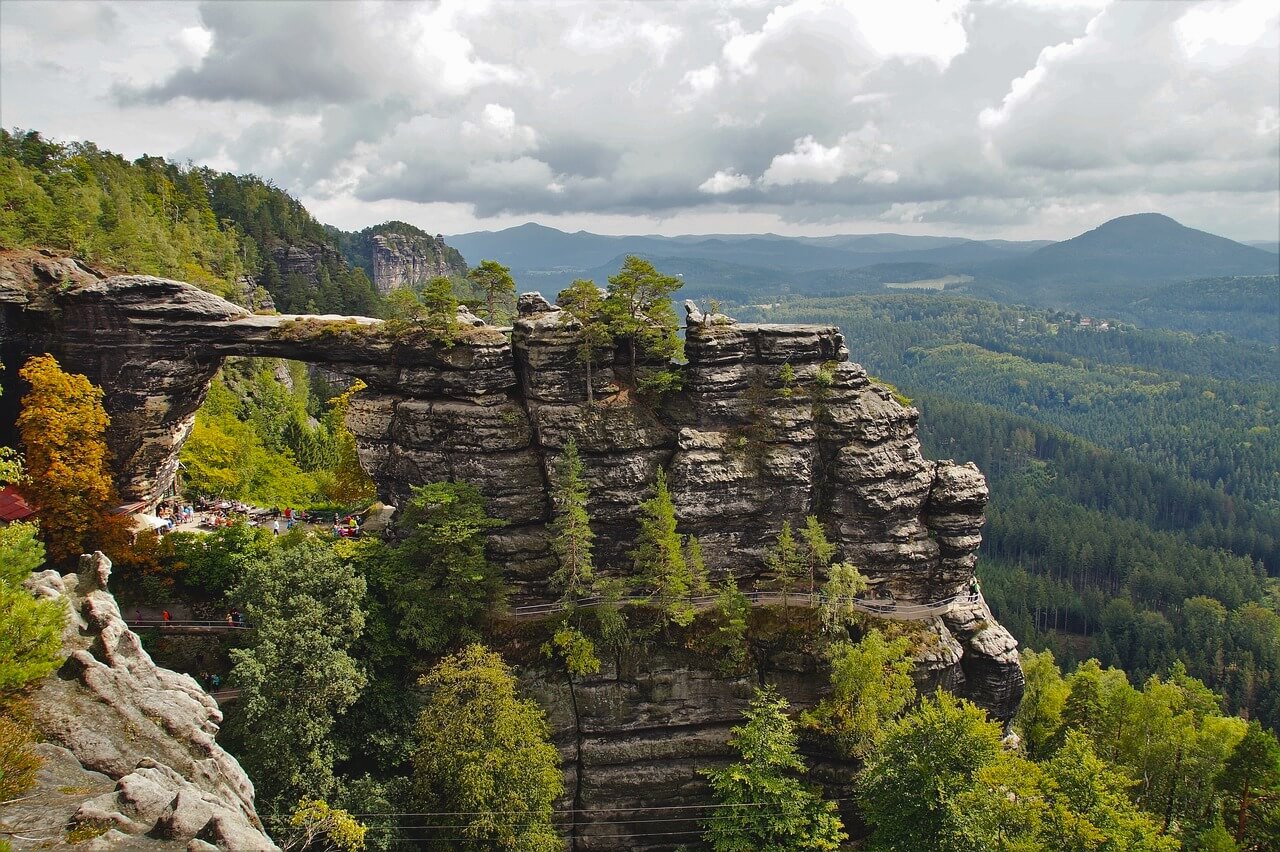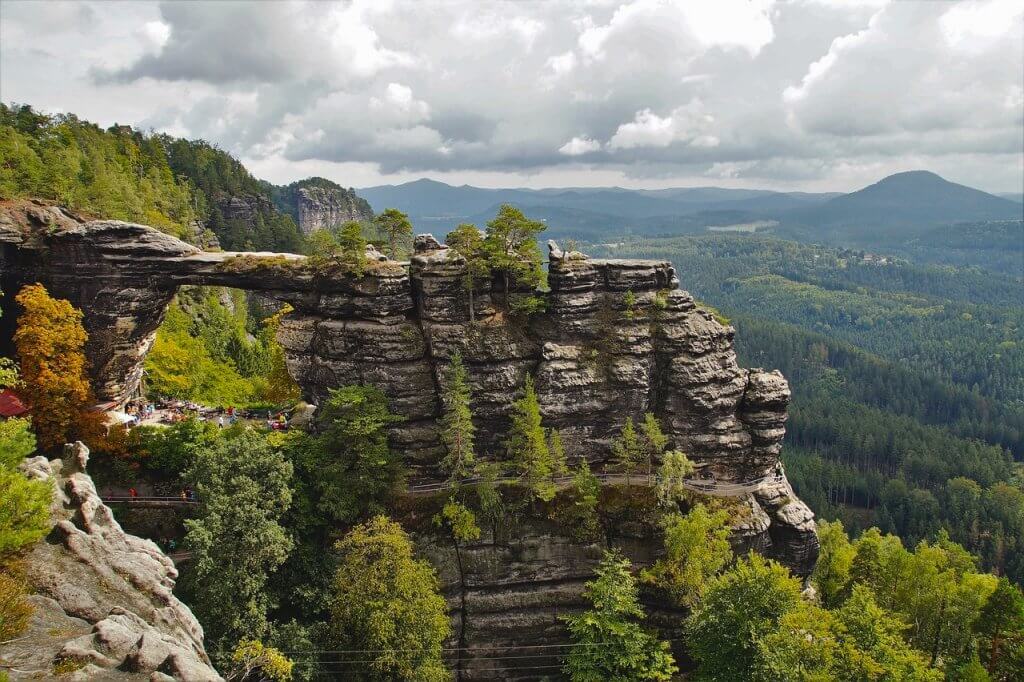 Though technically not in Saxon Switzerland anymore since you'll be crossing over into the Czech Republic, which you'll notice once you start passing by a bunch of stores with interesting lawn decorations, this rock bridge is another highlight.
You'll need about as much time for this one as you did for Schrammstein, allowing for a walk from the parking lot to the trail head and to the bridge itself.
Königstein Fortress and Liliestein
On my final morning, I hiked up Liliestein at the recommendation of the waitress at the hotel near the Bastei Bridge. It's across from the Königstein Fortress so if you climb up to one, you can see the other across the way.
This hike also took a leisurely 30 minutes each way, almost entirely up and back down stairs, pausing at the top for a fantastic view of the Elbe River and beyond.
Malerweg
If you have a week to spare, hike the long-distance Malerweg (Painters' Way) trail. It stretches for 112 kilometers and is a favorite for art history buffs as well, as this area inspired some of the region's famous artists of yore.
For Climbers
Though I didn't try rock climbing, because I don't know how, Saxon Switzerland makes an excellent rock climbing spot for those who have some experience (or at least that's what a climber I met there told me!).
With a total of 1,106 free-standing sandstone peaks to offer, the park is the most varied outdoor climbing location in Germany. In fact, free-climbing as a sport is said to have originated in this region.
Though only a few have fixed spots to clip into, there are more than 21,000 climbing routes to choose from.
Stay
Based purely on what I guessed would be best by looking at Google Maps, I selected the town of Bad Schandau for my two nights near the National Park. There are plenty of hotels but I tend to be an AirBnB fan so that I can cook my own breakfast. You can get a discount if you're a first-time AirBnBer here.
Of all the little hidden gems in East Germany – and there are many – this one is my favorite so far. Though I can imagine it's gorgeous in the winter with a dusting of snow, and lovely in the summer too when it's nice and warm, I really loved visiting in the Autumn and seeing the changing leaves from above.
For a nice little trip that's not too far from Berlin, and some hiking that isn't strenuous or long to see the good stuff, Saxon Switzerland is perfect.