Six-year-old me used to have a coloring book full of princes and princesses. I loved designing different outfits and colors, each more extravagant than the last. When I had my birthday, I requested a pink princess dress, which my grandmother lovingly sewed for me. In the storybook of my mind unicorns, knights, and sparkly queens reigned (thanks, Disney).
I guess I knew that this had to exist somewhere – that the authors of those children's books (which, later, when I read the original versions I realized were pretty messed up!) drew inspiration from their surroundings. As an adult, finding myself in the very medieval towns I visited so often in my imagination is really something special.
When I'm in Baden-Württemberg in southern Germany, that part of me comes to the forefront again. It feels so whimsical, so charming, and even a little bit magical.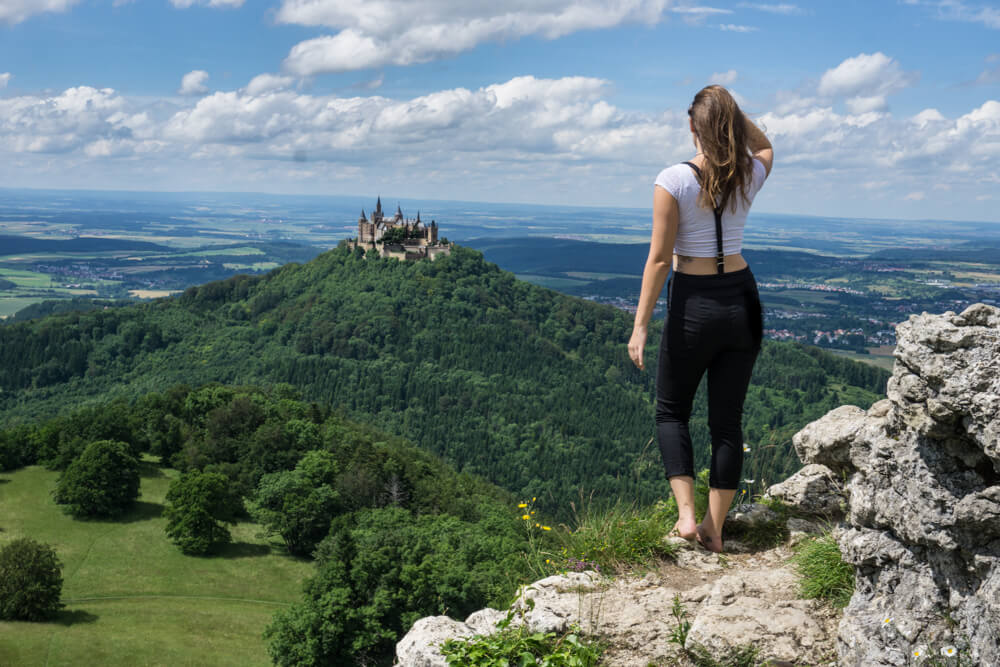 This wasn't my first time here. I'd visited before for Christmas with my friend Yvonne and it was a snowy winter wonderland, but to see it in the summer when all is lush and green was equally magical, if not a bit easier to get around minus the icy roads. My friends Michael and Susi (my Burning Man crew from 2015) joined as well so we turned it into a bunch of little day trips from Stuttgart, which could also be turned into a road trip loop.
Compare prices and rent your car here.
Here are the highlights:
Day Trips from Stuttgart, Germany:
1. Bad Urach Waterfall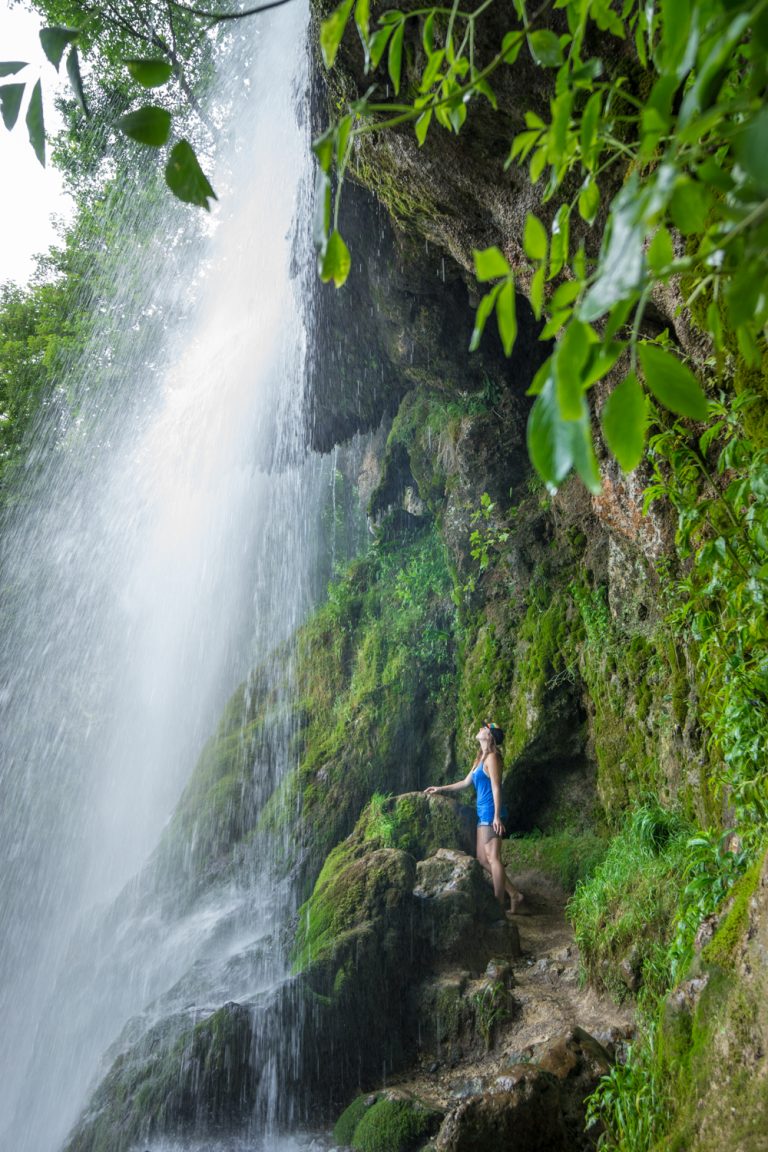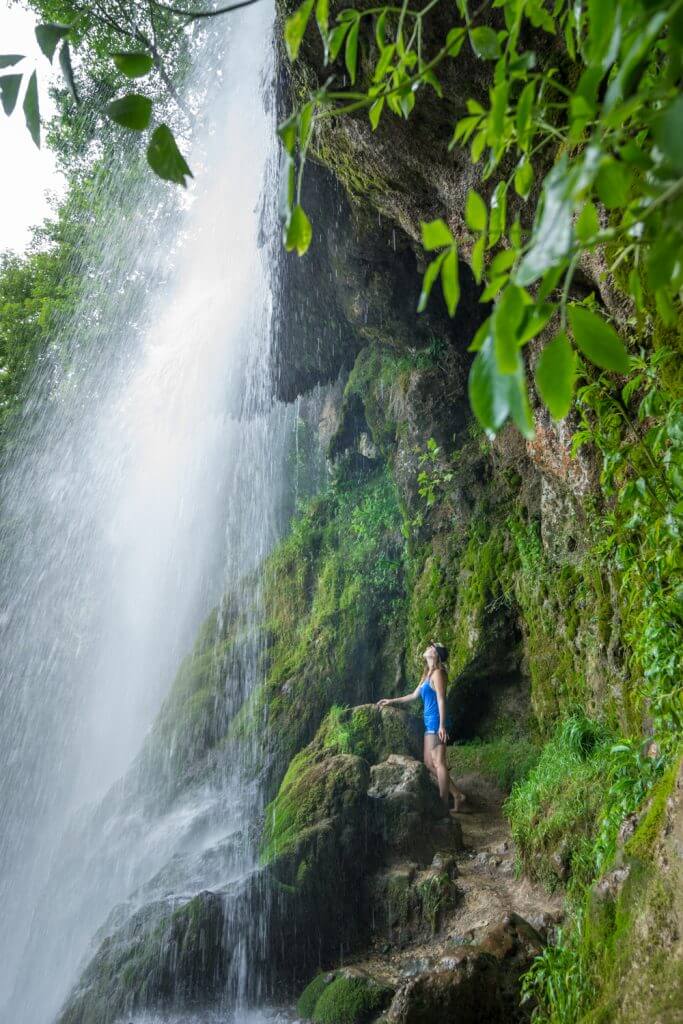 I found out about this waterfall when someone commented on one of my Instagram photos that I should visit, and that it wasn't a far day trip from Stuttgart. I am a waterfall enthusiast so it looked immediately appealing when I Google image searched it.
This waterfall cascades down in several parts, and after it's rained, be forewarned that the water will be spilling down the steps as well, so bring waterproof hiking boots.
Since I didn't have mine with me, I went barefoot. That's also an option!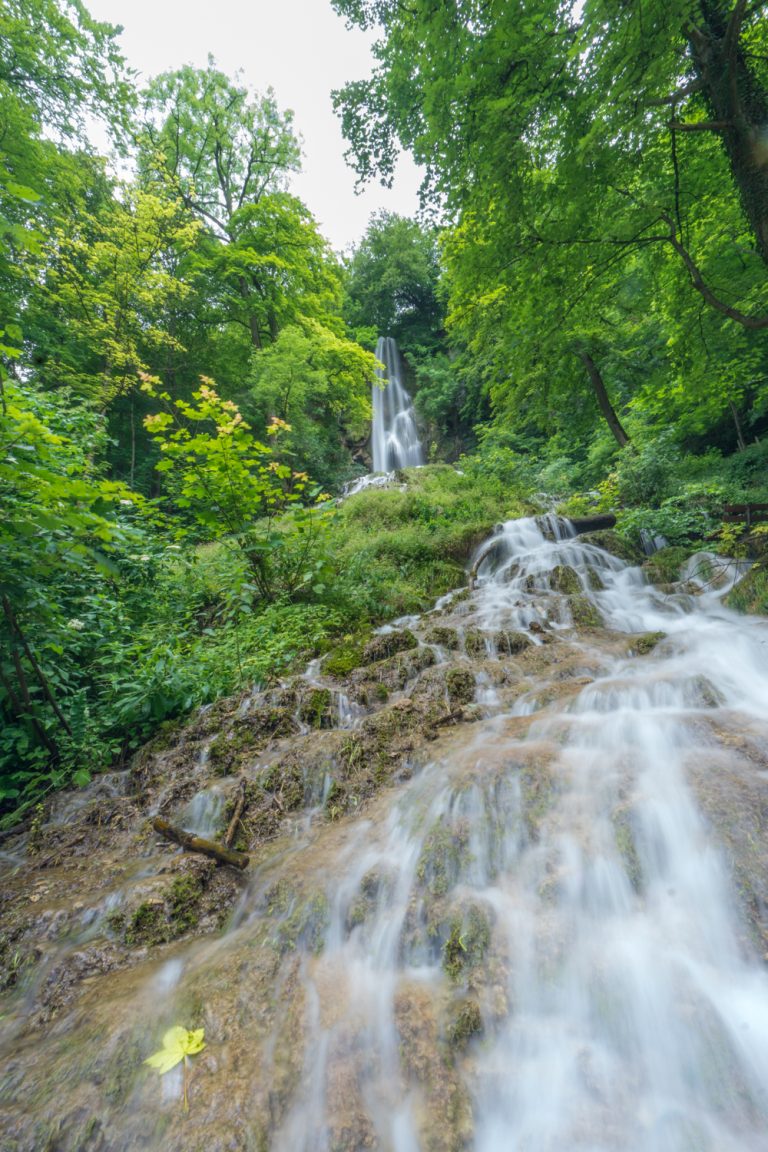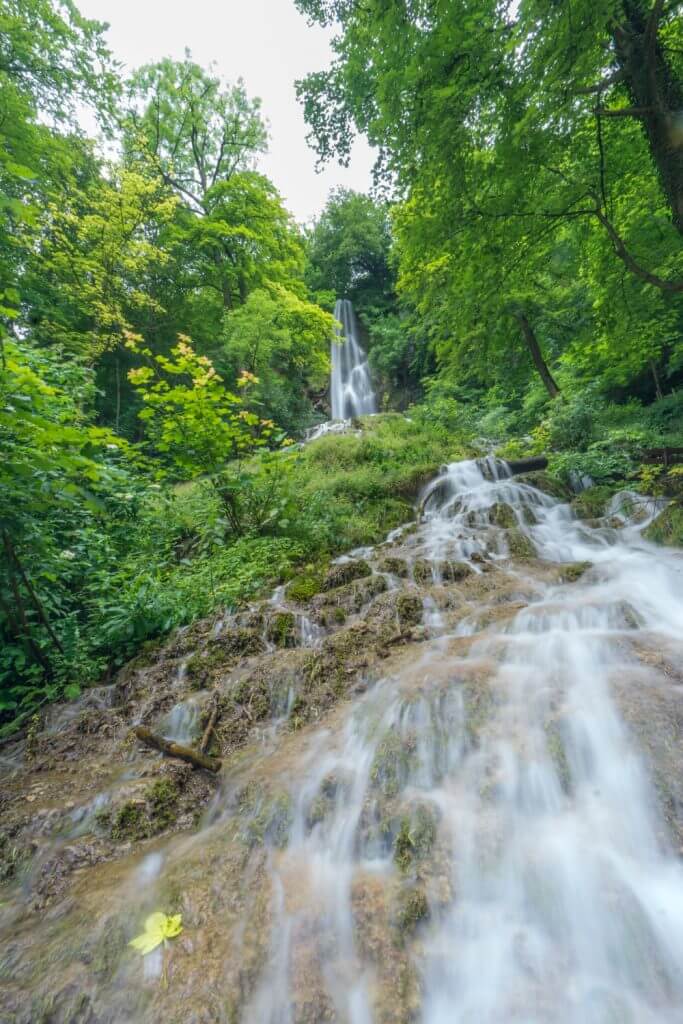 Once you get to the top, you'll notice that to the right of the waterfall is another trail that leads to yet another waterfall. I'm unclear on which one is the actual Bad Urach Waterfall but if you have time, hike to both. They both look like fairies and wood nymphs must live there: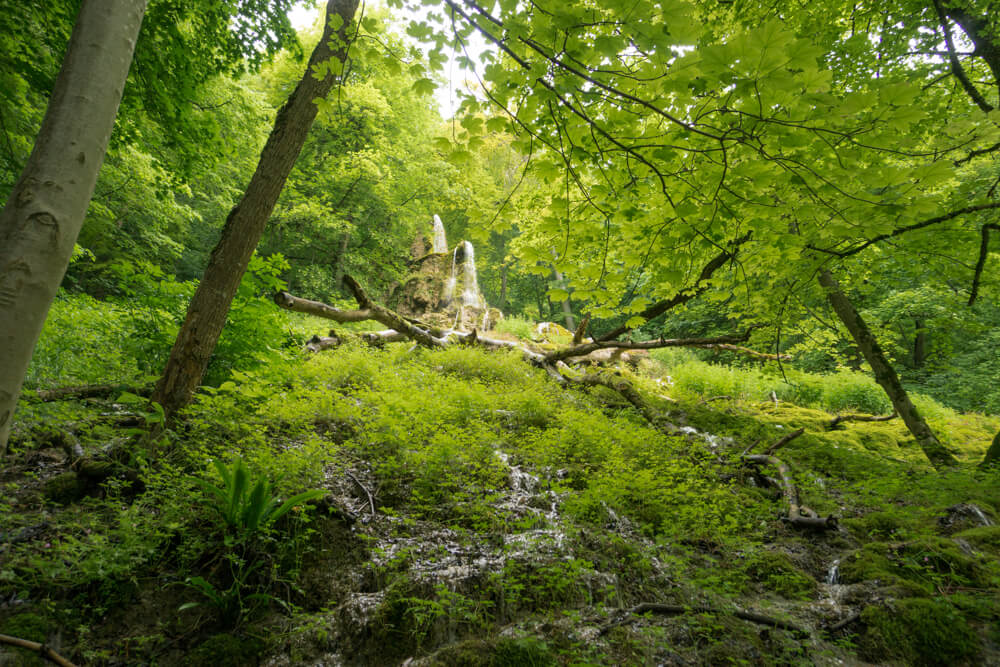 What's so cool about this region in general is that it's not nearly as touristy as Bavaria, Berlin, or Hamburg (etc.), so when visiting these places, it's mostly locals around and not bus-loads of people. If you go during the off season and on a weekday, you might not even see anyone else there!
Getting there: You can either drive to it or take the train from Stuttgart main station and get off at Bad Urach Wasserfall. Then turn to your right from the train platform and walk until you see the trail. It's not hard to find!
2. Tübingen
Tübingen is an adorable little university town that I'd had the pleasure of seeing in the snow. Back then it was magical and very quiet, given it was right after Christmas. This time, there was a lot more life to it and I just loved seeing the flowers everywhere. It really was the perfect day trip from Stuttgart.
Tübingen was also spared most of the bombing in World War II that destroyed much of the rest of Germany, so the old buildings still stand, making it even more charming than I thought was possible.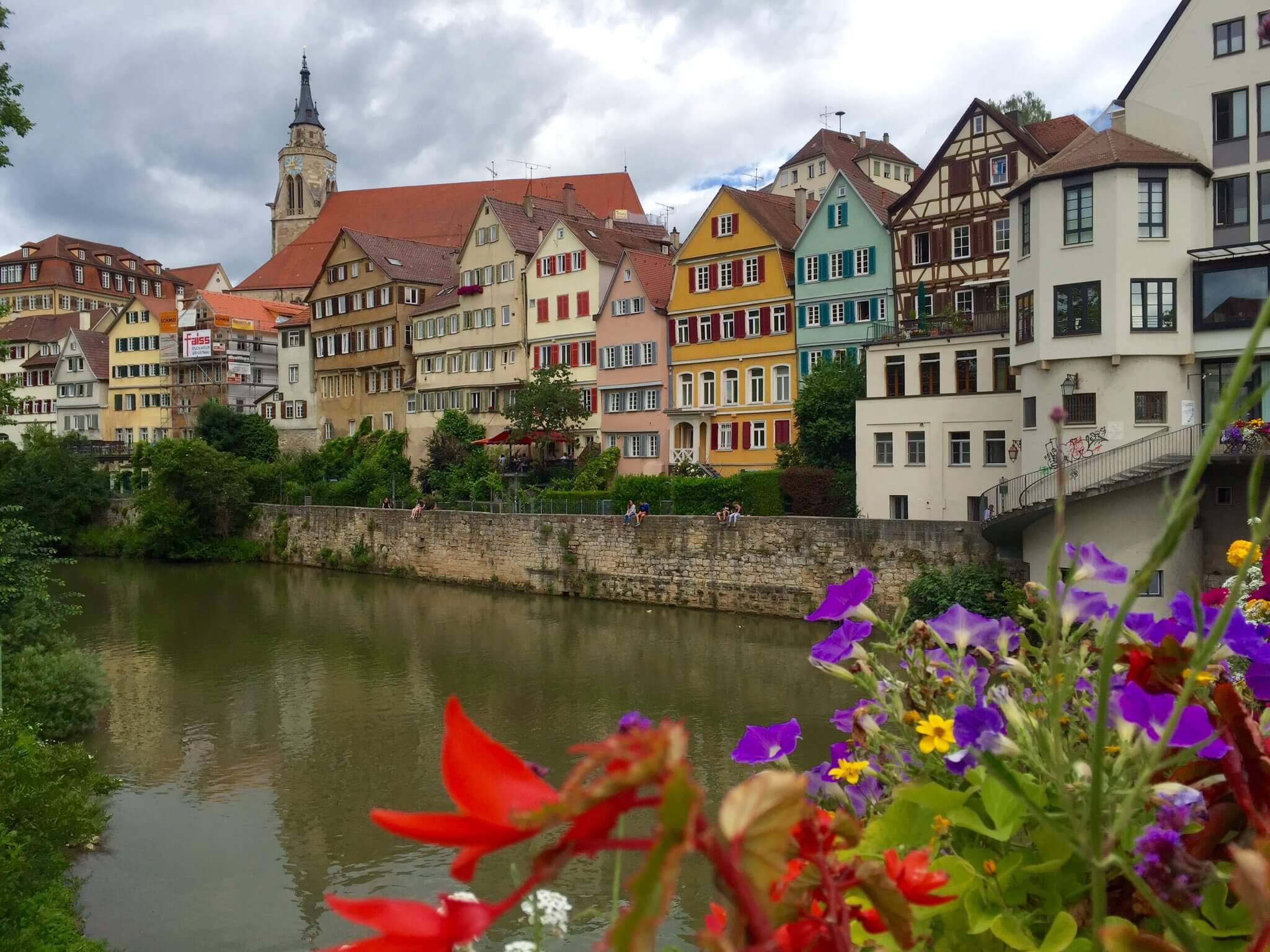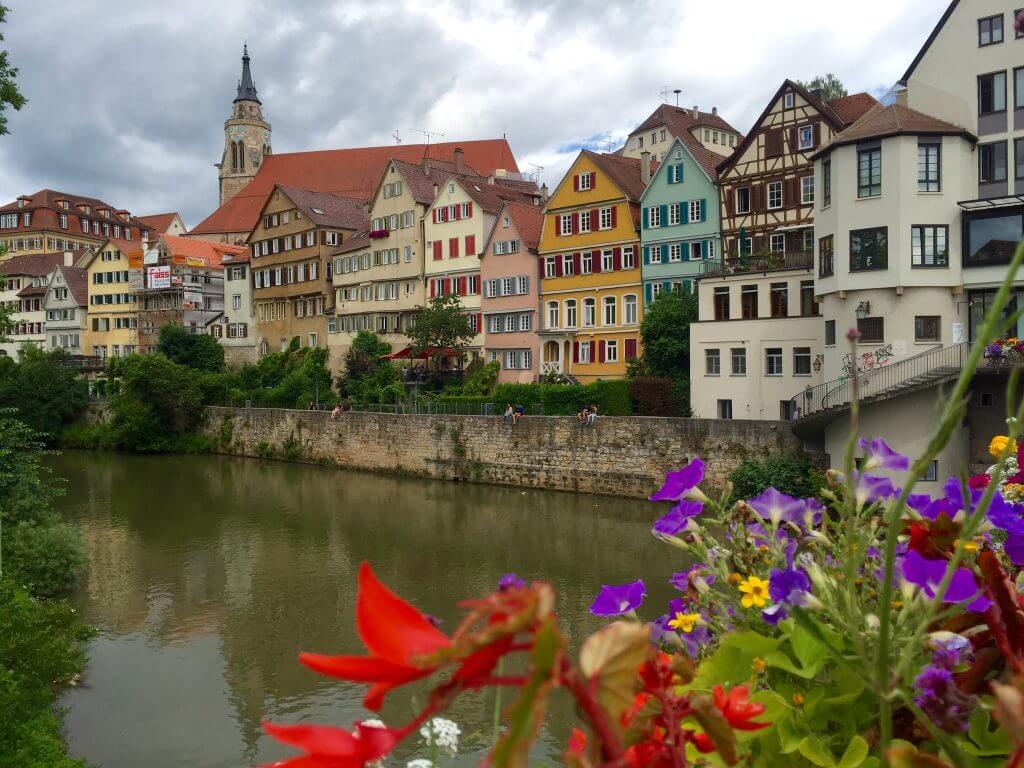 I come from a place where most buildings are 50 years old, give or take, so to see something still standing from the 1500s is mind-blowing.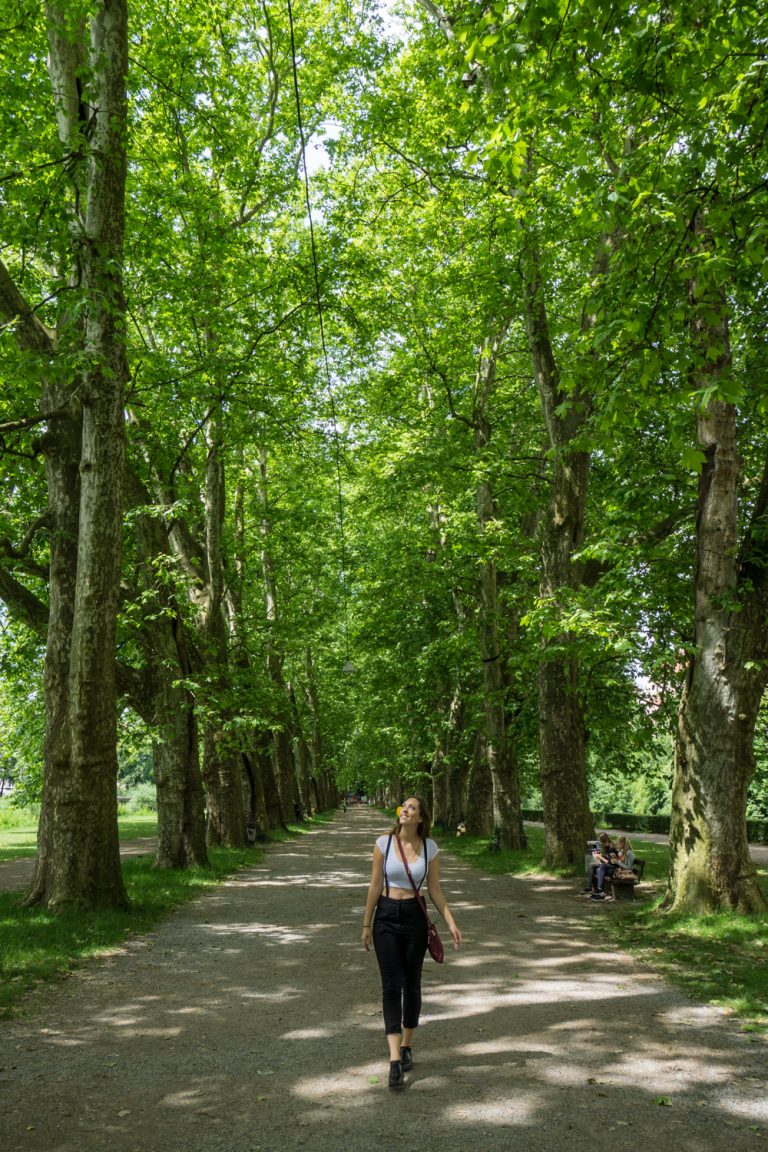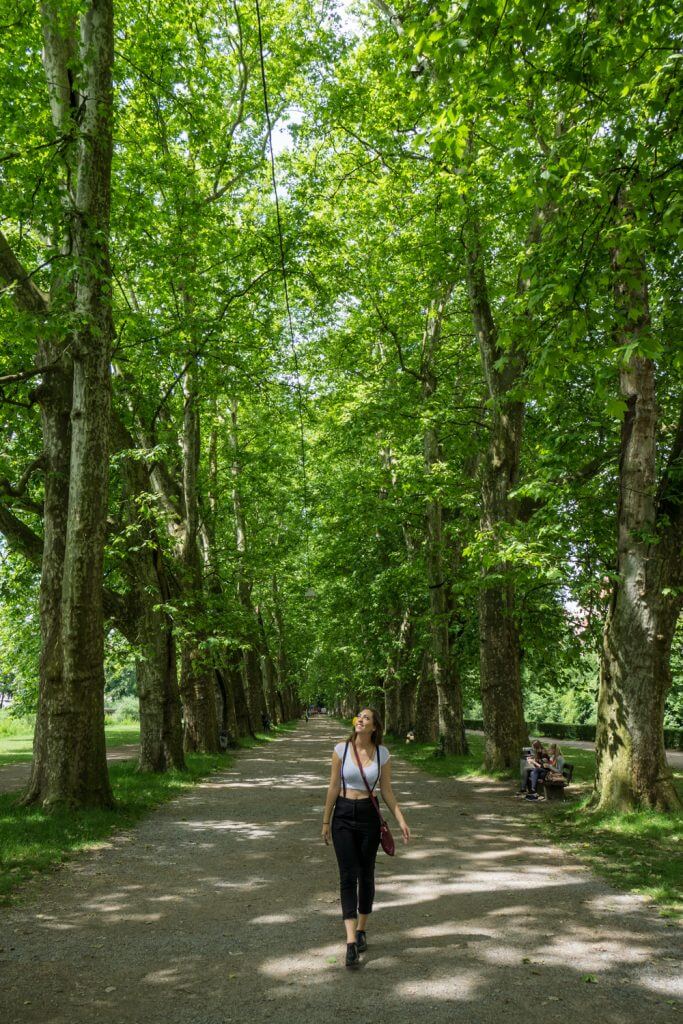 Also, we mainly have palm trees and plants that survive well with minimal water in Southern California, so seeing such intensely-colored flowers kept blowing my mind. I think everyone else thought I was being dramatic but honestly I could not get over them.
Getting there: Take the train from Stuttgart Main Station or make it a lunch stop on your road trip. That's what I did!
3. Lichtenstein Castle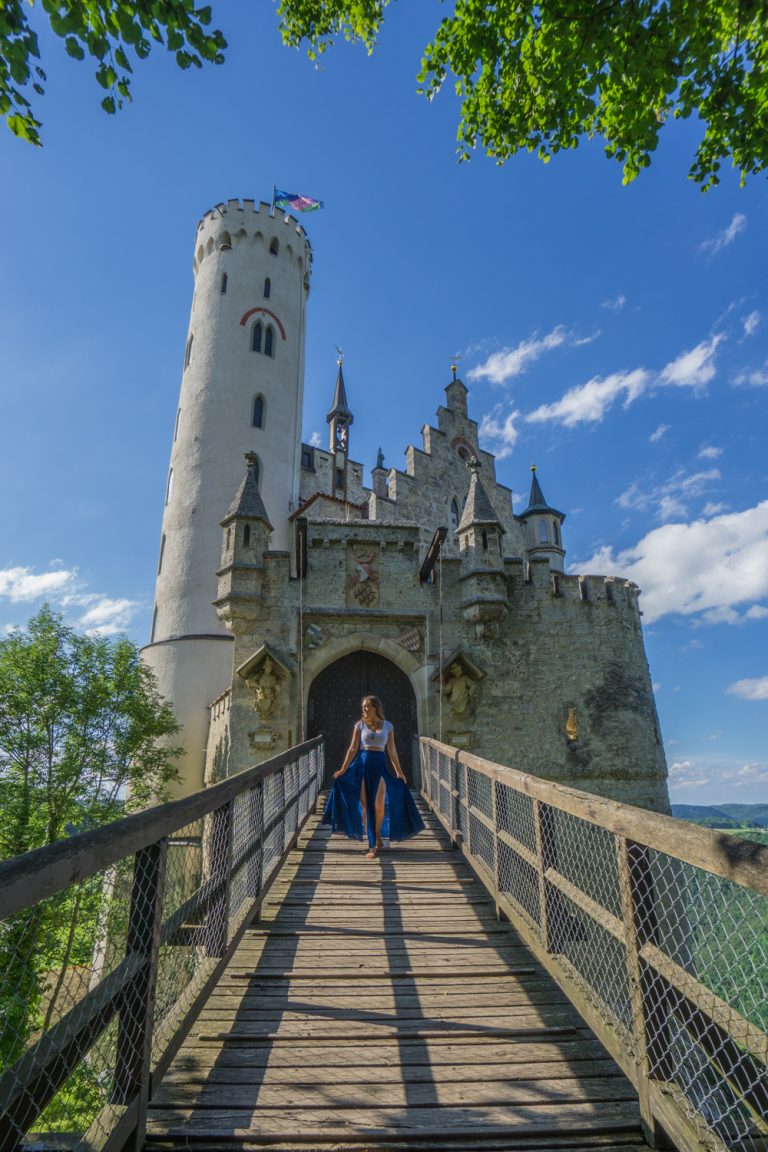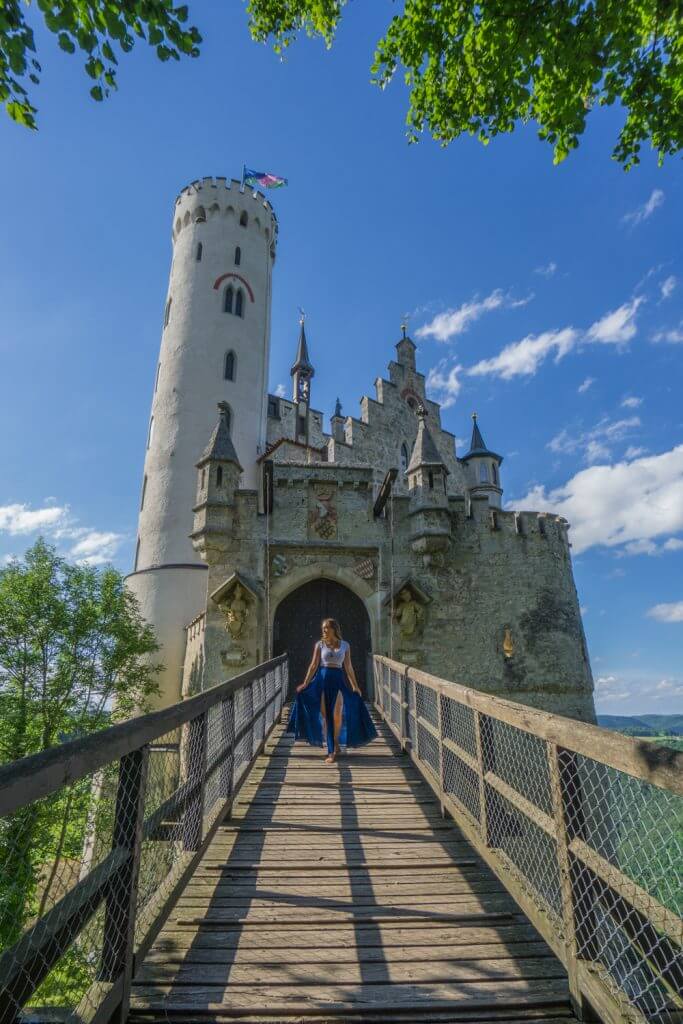 This castle, not to be confused with the country, is a Gothic Revival castle that was rebuilt in the 1840s, making it a fairly newish castle on the castle scene, as far as such things are concerned.
It's still owned by the Duke of Urach but it's open to the public daily.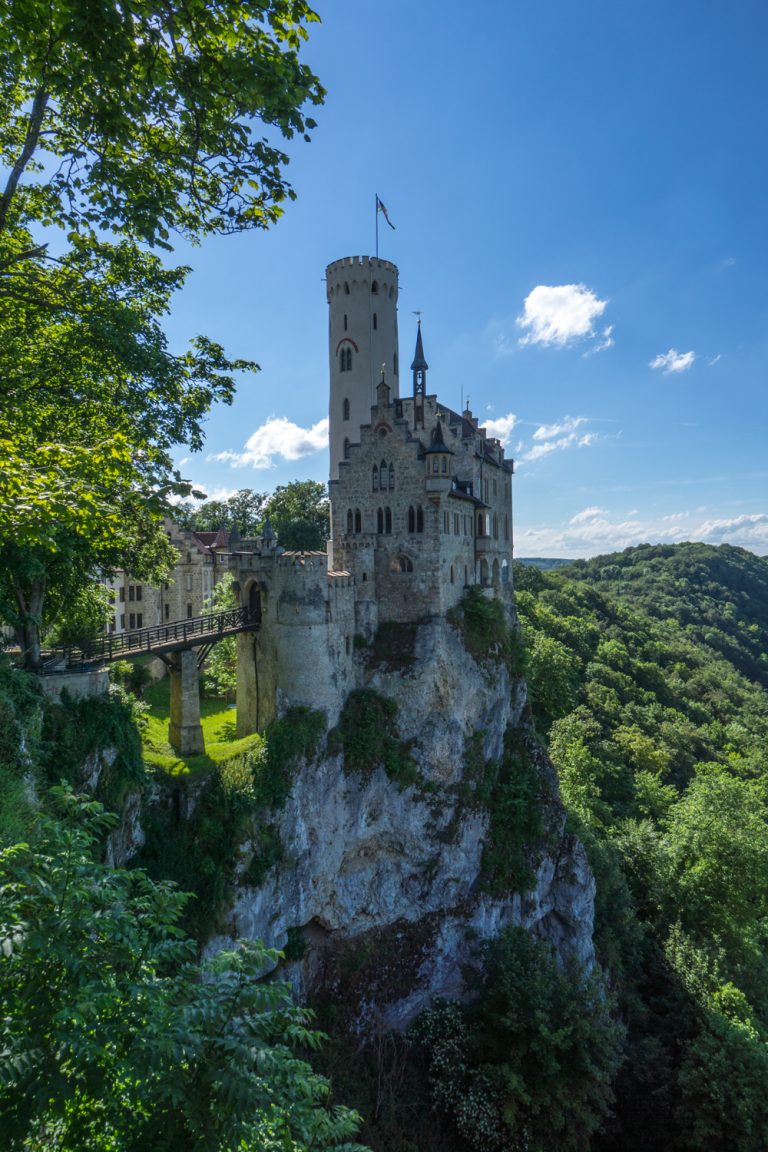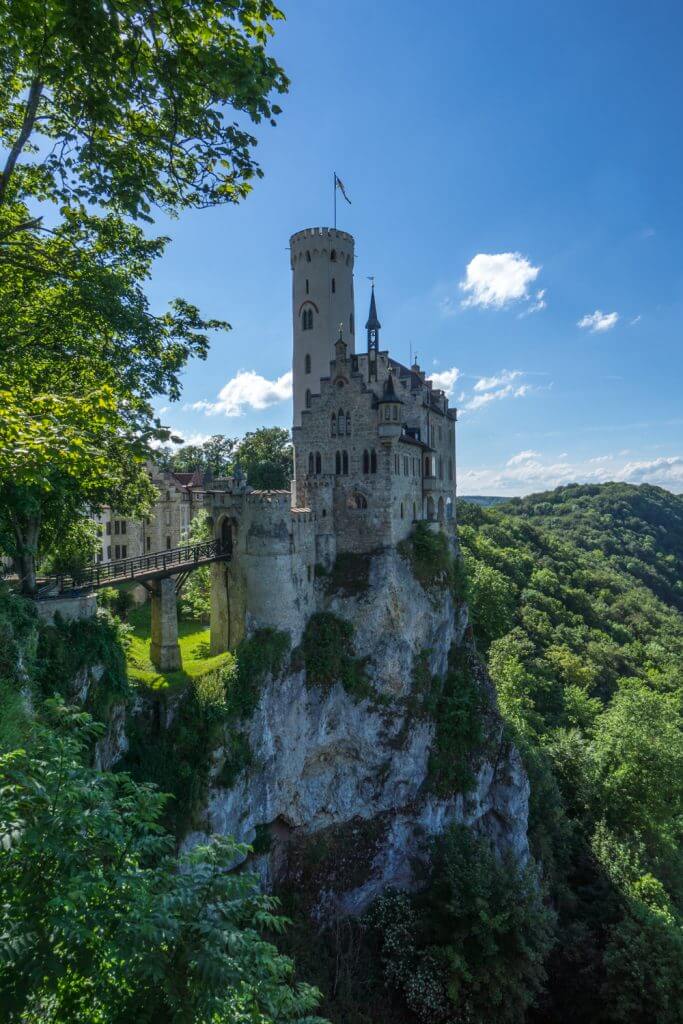 Getting there: It's best to drive or take a tour if you don't have a car rental.
4. Hohenzollern Castle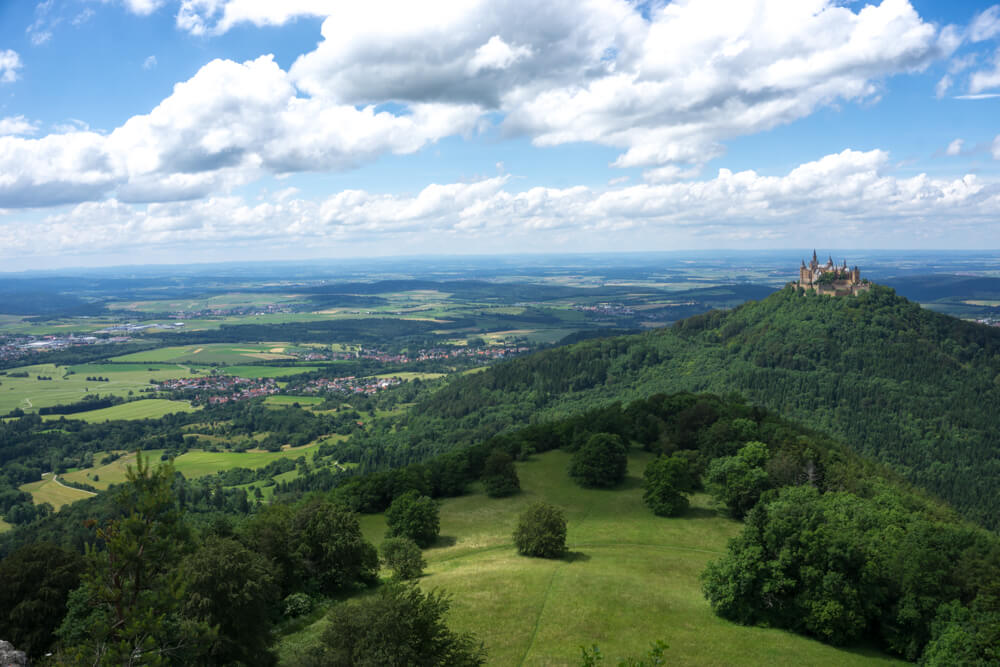 This wasn't my first time trying to get to this viewpoint to see Hohenzollern from afar. The first time, the road was too snowy and we weren't even sure where we were going, so Yvonne and I had to give up, but this time, we vowed to find it.
Though going inside of castles is marginally cool in my book, it was this viewpoint that I wanted to see Hohenzollern from.
Even though I think this castle is more perfect than the one in Bavaria that Disney's Sleeping Beauty castle was modeled after, there was almost nobody else there except for a few locals out for a walk. How perfect! I can say with certainty that the other one at that very moment was positively mobbed with tourists.
Getting There: To get to the viewpoint, the Zellerhornweise, you've got to take a car to this hotel then walk to your right (with the hotel to your back). You'll see a cell tower in front of you. Follow the wide, white path without taking any detours. It will be a flat path and it takes about 20 minutes to view the castle.
5. Sasbachwalden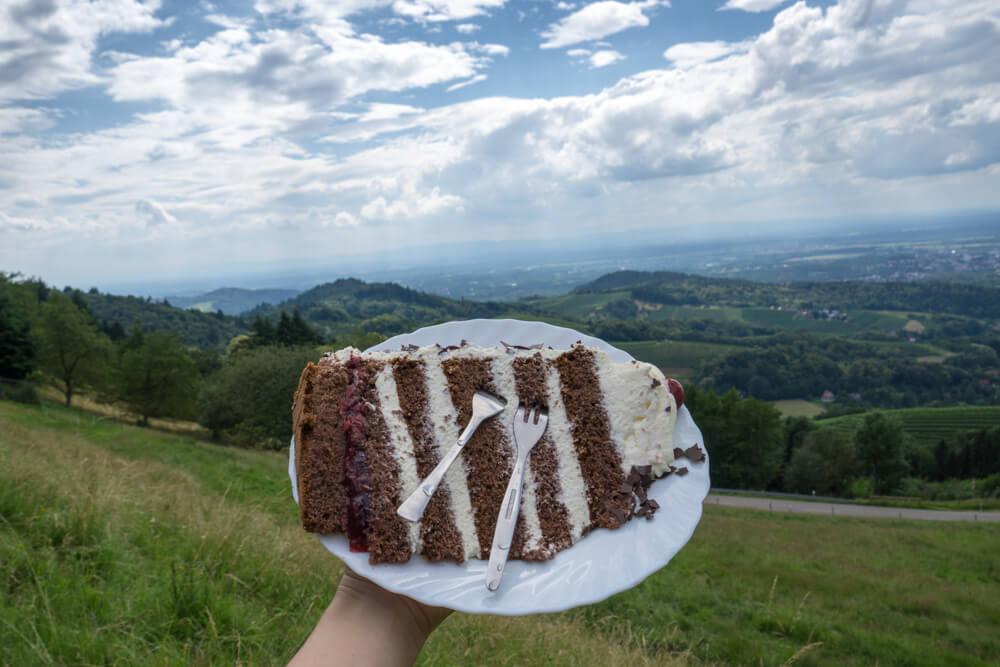 For me, seeing the Black Forest was kind of a big deal. I think I mainly knew it exists because the cake is kind of famous in the US, but still, this plus the mystical-sounding name made it alluring.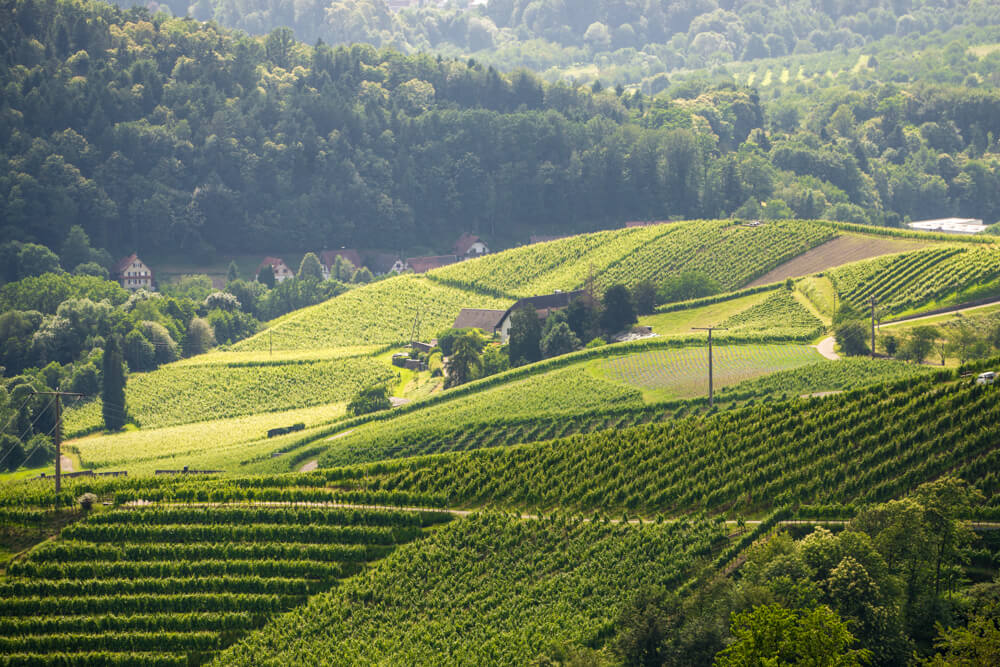 The little town of Sasbachwalden is known for hiking and its wine and schnapps. Even cooler is when the two combine along one of their many hiking trails. Locals actually leave out glasses and little jars where you can self-serve then pay the asking price. I love that kind of honor system!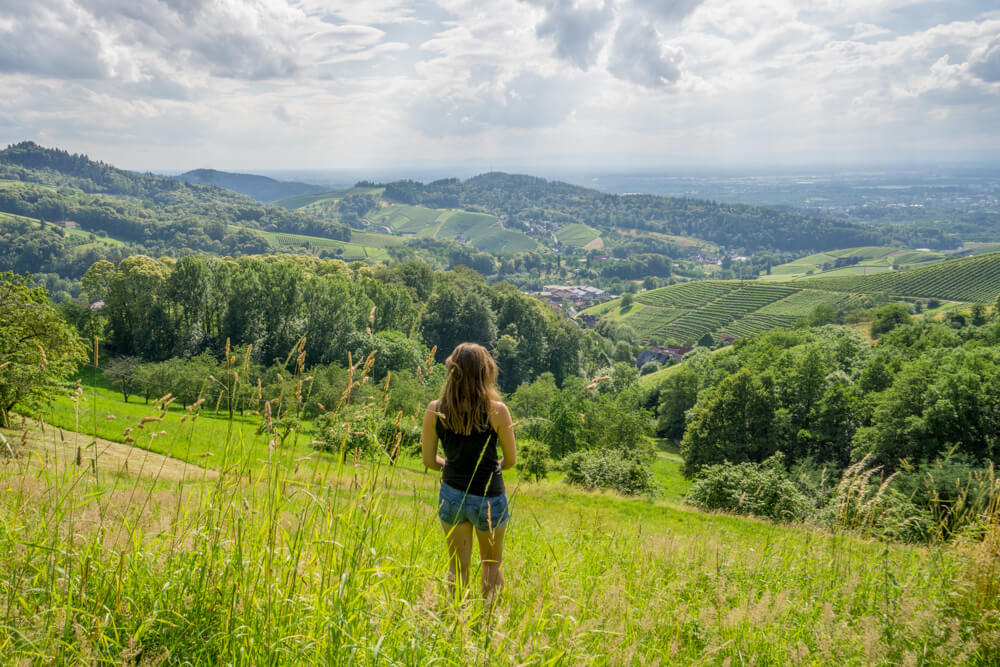 Getting there: The best way is to take the Black Forest High Road (Schwartzwaldhochstr.) through the Black Forest. It's absolutely gorgeous, but prepare for many twists and turns! You can also take a bus or train from Stuttgart Main Station.
6. Maulbronn Monastery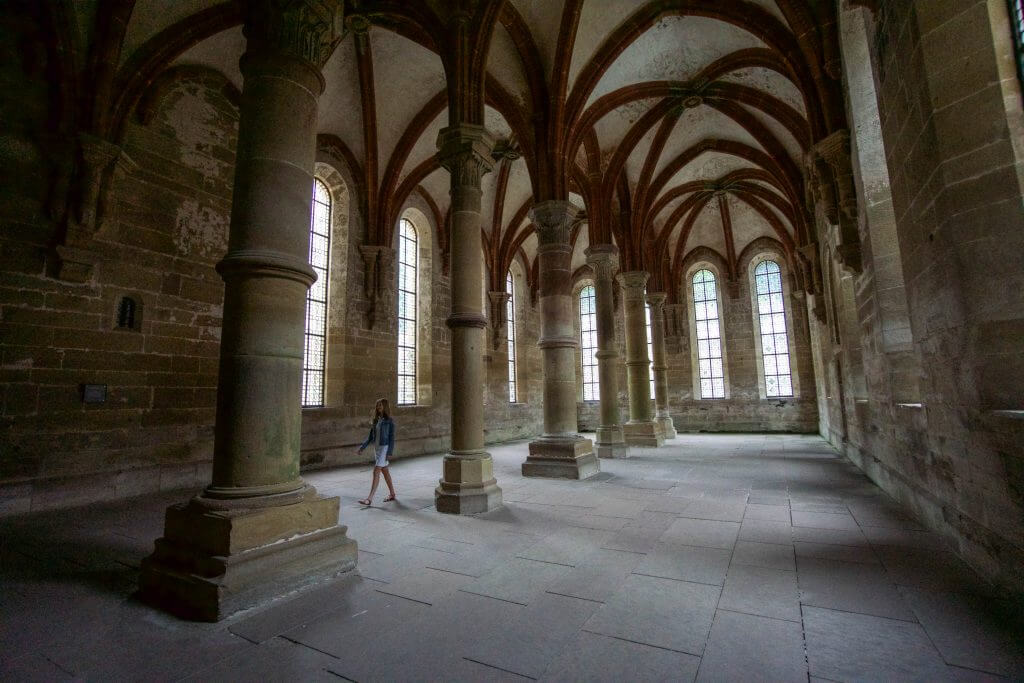 Maulbronn Monastery is reportedly the best-preserved medieval Cistercian monastery complex in Europe. What that meant to me was groin vaults upon groin vaults and as an enthusiast of medieval architecture, I was on cloud nine there.
You can take an English tour if you wish, or just wander through. I liked learning about the history and put this at the top of my favorite UNESCO sites I've visited, mostly because I'm just a huge European art history and architecture buff. The surroundings are nice too for a walk through the fields and forest.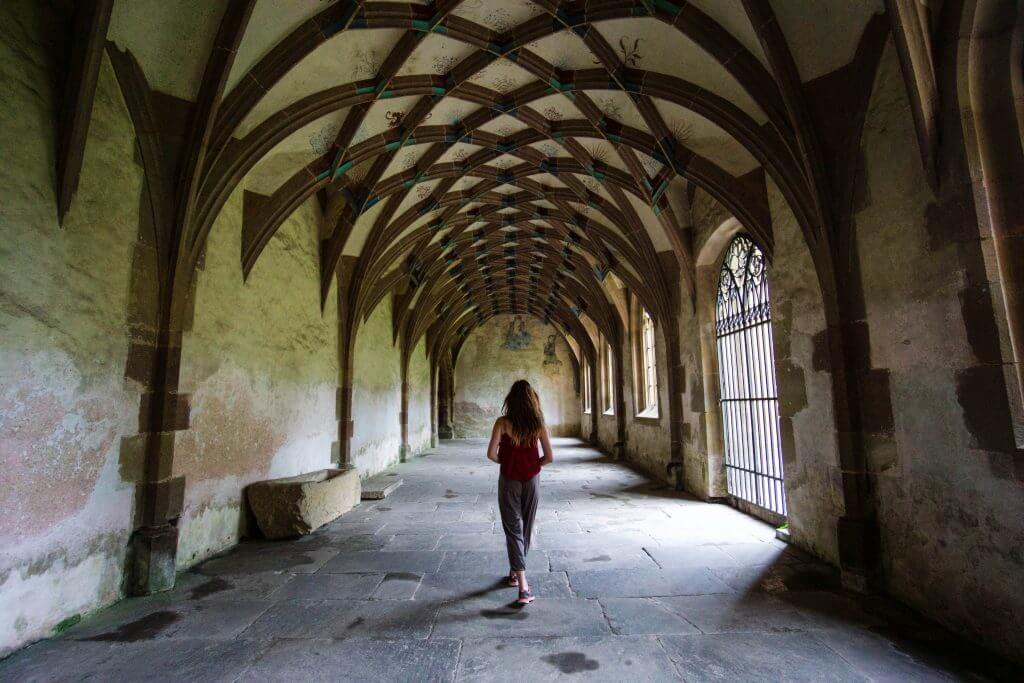 Getting there: There's a train connection to the town, or of course, you can drive. As far as day trips from Stuttgart go, this one is among the easiest.
Bonus: Fly in a hot air balloon!
This was my first time ever flying in a hot air balloon, and of all the places in the world where one could do this, the 'Swabian Alps' over Hechingen must be one of the most beautiful.
We had a combination of rolling countryside full of trees, farms of different colors that all came to life during golden hour, and even the Hohenzollern castle from afar.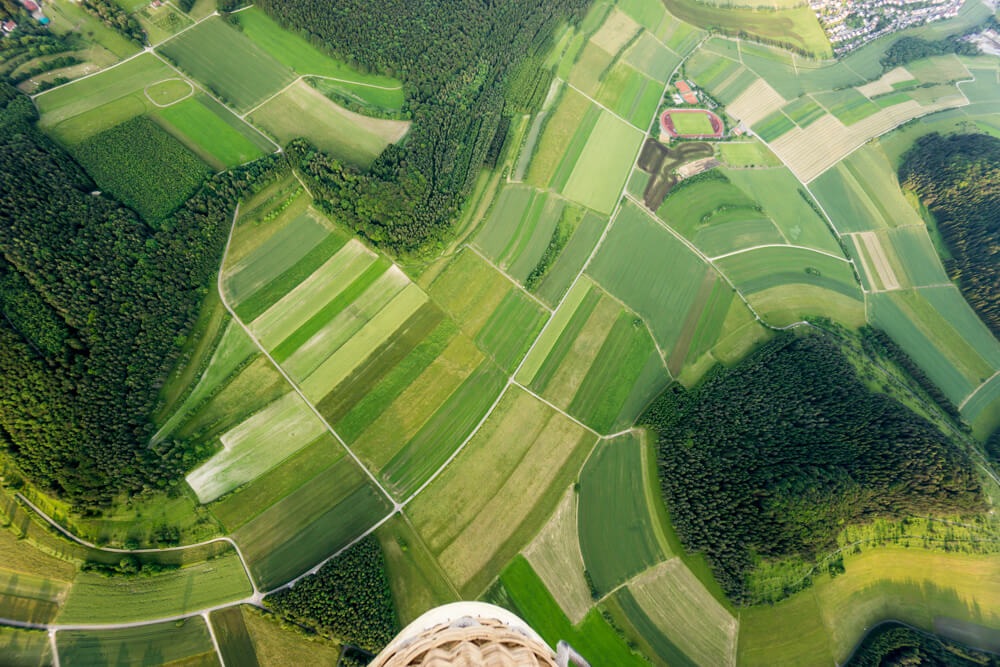 I felt like the pilot (is pilot the right word?) of the balloon had a great handle on things as well, with a very smooth takeoff and landing. The whole experience was incredibly peaceful and sharing it with a few of my best friends was nothing short of magical, as was the whole week spent doing day trips from Stuttgart in general.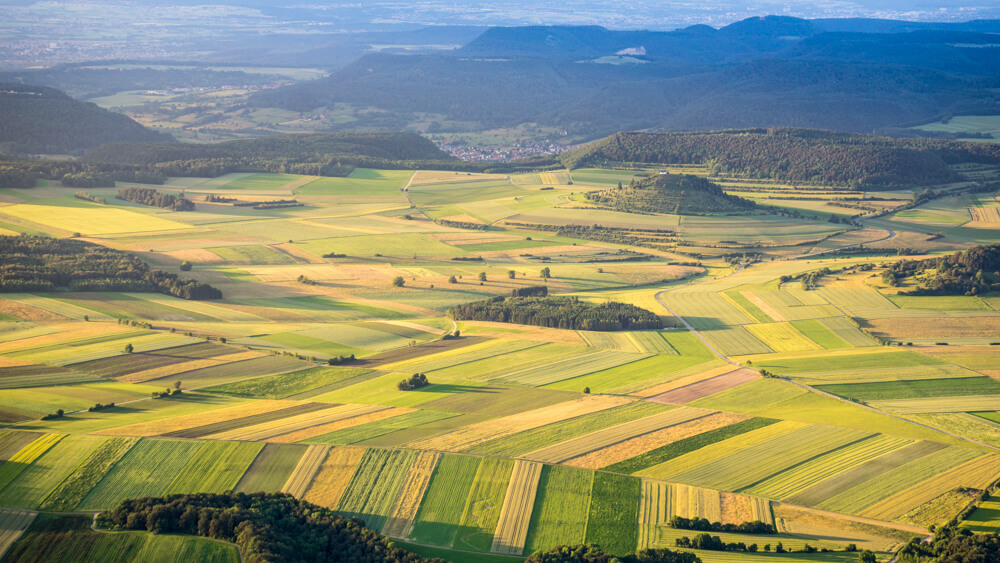 Do it yourself: Contact BalloonFahrer to see availability. Prices run at €175 per person and, weather depending, lasts for about 1.5 hours+, finishing at sunset.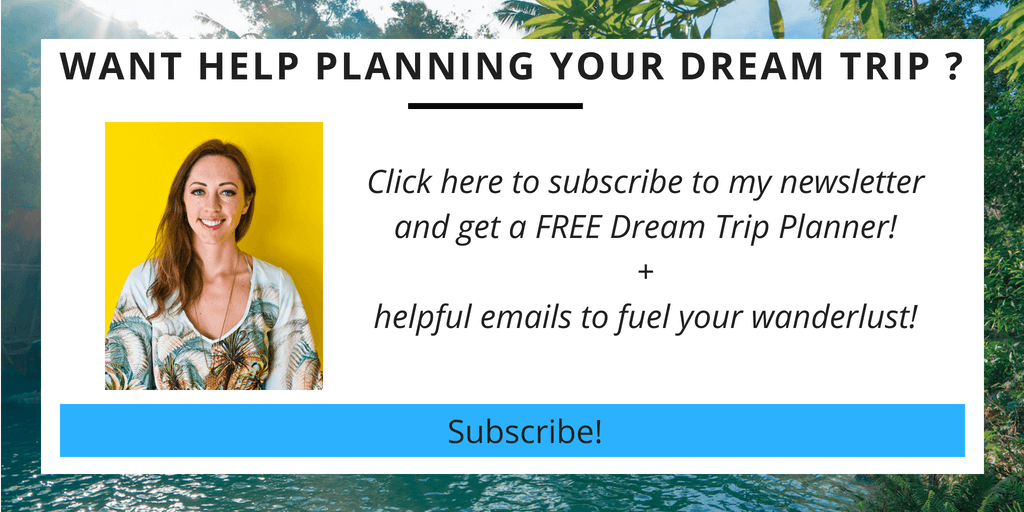 Day Trips from Stuttgart Germany Route
This is a map with every stop plotted. It took us all week to give each of these places justice, so I suggest basing yourself in Stuttgart and doing day trips either via train or by renting a car (which would give you the most freedom), or doing the loop and spending a night or two in Sasbachwalden as well.
Compare prices and rent your car here for your day trip from Stuttgart.
In closing, as I look to spend more time in Germany (after making Berlin a quasi-home base many years ago), it sure has been a pleasure to explore more of this lovely country. I had no idea that all of this existed just a short flight away, and the greatest part is, almost nobody else does, either! Don't you just love uncovering these little gems without the loads of tourists? I most definitely do.
What's your favorite part of Germany? Share in the comments! I want to explore more! If you do embark on a day trip from Stuttgart to any of these magical places, let me know which was your favorite.
*This post was brought to you in collaboration with Tourism BW in an effort to showcase this awesome part of Germany to you guys. My reviews are always sincere and to be honest I didn't have any idea I would love it there so much! Already thinking of a wintery return!