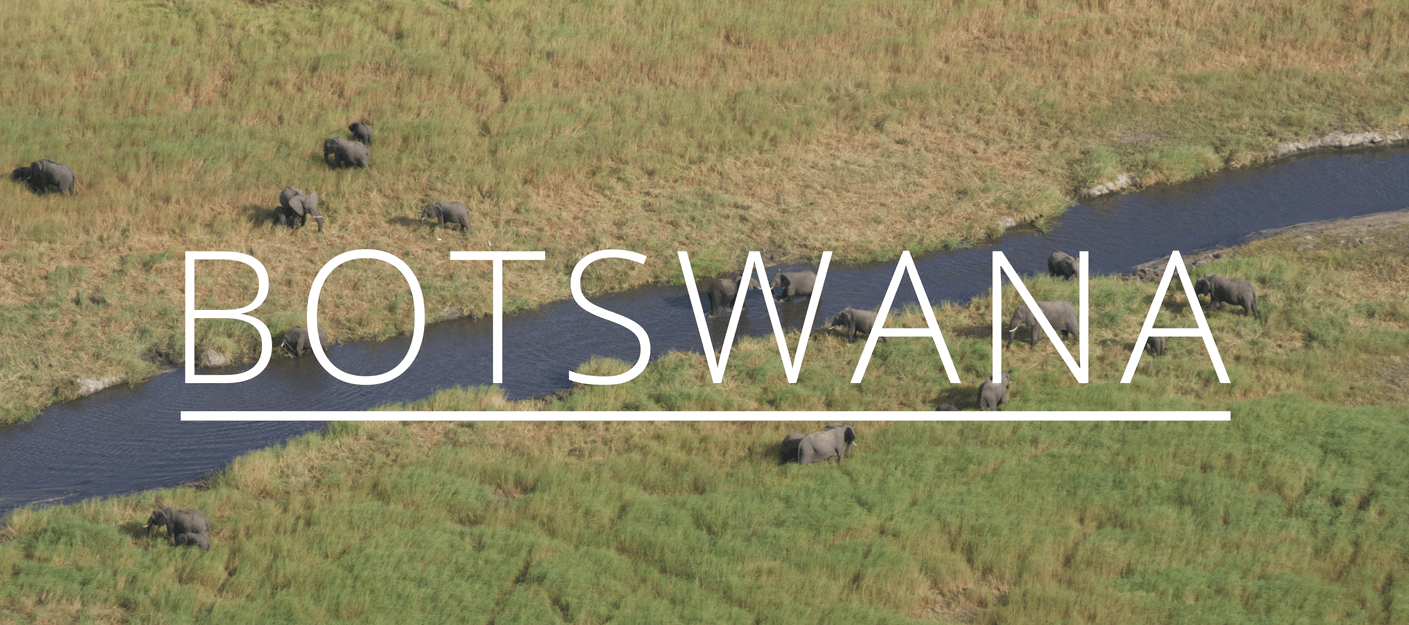 Botswana is my favorite country for wildlife viewing out of the ten African countries I've traveled in so far. The sheer number of elephants, hippos, giraffes, birds, crocodiles, and even the small things like beautifully-colored snakes and spiders, abound in Botswana.
The methods for viewing them can also be an adventure, from taking a lightweight plane over the Okavango Delta, to taking a makoro (canoe-like boat) through the reeds on the ground, and boating over the Chobe River in Chobe National Park at sunset, Botswana truly is a unique adventure. I felt like I had stepped out of reality and right into the Lion King.
It's also regularly ranked one of the safest countries in Africa, and has decent roads and a great safari lodge system as well.
Where in Botswana?

Botswana
Quick Tips
'Hello' and 'Thank You' in Tswana: 

In most of Botswana, English will work just fine, but it's nice to know a bit of the most spoken language in the country as well

- "

Dumela", and "Ke a Leboga"

Currency

: Botswana Pula

(

click here

 for current conversion rates)

Visa

: 30-days visa on arrival for most nationalities. A $30 Tourism Development Levy is required

Safety rating

: Ranked 30 on the

Global Peace Index

with a score of 1.68 (USA is ranked 128

with a score of 2.40). This means that Botswana is one of the safest countries in Africa

Solo Travel Friendliness

: Ranked the safest country in Africa, Botswana is nice to travel through alone. The lack of language barrier means it is easy to communicate and strike up a conversation with the locals as well. Most lodges are small and intimate, so you are likely to find yourself hanging out with everyone else in the common area, or at a dinner table sharing a big meal together.

Climate:

 Hot and dry throughout the year, rainy season starts from December – March, though it is pretty common for the country to experience no rain for 6 months straight

Best SIM cards

: Mascom – cards can be purchased at the airport and authorized shops

Modesty Considerations:

Botswana is generally relaxed about clothing and covering up. Though a sarong or scarf can always come in handy. Another thing to note is that wearing camouflage or military clothing is illegal

Random useful tip

: Botswana is one of the more expensive countries in Africa, and the cost for a basic dorm may not differ much from a more established hotel. If you have the budget, I recommend topping up a little on your accommodation cost and spoil yourself for a night with glamping instead of camping
Accommodation
Low Budget Solo Travelers ($10 - $30): Basic campsites and traditional wooden huts are your best options if you are trying to keep your budget low in Botswana. Expect to pay about $10 - $20 for a night. In the major areas, hostels and guesthouses are available for about $20 - $30 per night. Most of the budget accommodations are well-maintained and a good value for the money. Expect hot showers, working electricity, and for the wooden huts, en-suite bathrooms. Cheap accommodation options with great reviews tend to get booked out quickly, especially during the peak season, so book ahead if possible.
Mid-Range Solo Travelers ($30 and up): Glamping is super fun and an awesome change if you have been spending the past few nights at a basic campsite. Glamping in Botswana typically consists of a fixed 'safari' tent with en-suite bathroom, as well as ground staff who cook the meals and do the cleaning. Guesthouses, hotels and lodges have sprung up in recent years, most of which are comfortable but nothing really outstanding. Airbnbs average at about $60 for a private room (though plenty of rooms are available at about $20), and about $80 for an entire unit.
Food
Local Eats ($3 - $5): The traditional Botswana dishes use corn and sorghum as the main ingredients. The daily staples consist of a stewed beef with vegetables. Believe it or not beef is actually cheaper than chicken in Botswana, since they have so much cattle. There are local restaurants and street stalls in most urban and transit areas for about $3 - $5. Local markets are a great place to sample some local snacks. Make sure to try the melons as they are very popular in Botswana.
Restaurants and Bars ($5 - $15): There are many good quality restaurants and bars in the major cities, most of which are located in hotels. Expect to see both local and western cuisine on the menu. Most restaurants offer good quality meat dishes at an affordable price, whereas seafood is rare and expensive. Beer is excellent and a bottle costs about $1 - $3. If you do a safari tour, the lodges typically cover your meals and they are usually delicious. The chefs incorporate local ingredients into international cuisines, and vice versa. Game meat is expected on most restaurant menus in the safari areas. I highly recommend sampling it!
Transportation
Getting There: Botswana's main airport is Sir Seretse Khama International Aiport. The only scheduled flights are available from its surrounding countries, and travelers from other continents generally have to make a stopover in Johannesburg or Cape Town before flying into Botswana. The country is landlocked and surrounded by South Africa, Namibia, Zambia, Zimbabwe. Access to Botswana from these countries overland is well-developed and relatively fuss-free. Borders are open daily, and you can enter Botswana from Zambia via ferry, and from the other three countries through buses or rental cars.
Getting Around: Hiring or renting a car is the most practical way to get around Botswana. The local public transportation is currently limited to major cities and routes, this means that it could be very challenging to get to the rural villages or interesting areas with local buses or combis (minivans with blue number plates). Taxis are commonly used for getting to the airport, and they are usually unmetered so make sure to agree on a price before getting onto one.
Things To Do
(click to read my full blog post on things to do in Botswana!)
See the Okavango Delta: The Okavango Delta is known as Africa's last Eden. The UNESCO World Heritage site discharges a whooping 11,000,000,000,000 litres of water each year. The Okavango Delta hosts large concentration of animals such as elephants, crocodiles, hippos, buffalo, and so many more, and it is one of the best places to see animals in Africa thanks to careful wildlife management by the local authorities. Given its sheer size, a lightweight plane ride is the best way to see the delta.
Go Glamping: For most of my Africa camping experiences, I went with the cheapest option I could find, which required me to pitch my own tent and cook my own food. When I went to Botswana, I decided glamped for a night on the Okavango Delta and enjoyed it immensely. After spending two weeks in a tent with a mat and sleeping bag, some nights of which were wet thanks to rainy season, sleeping in a fixed tent with its own en-suite bathrooms was quite a treat. I highly recommend giving it a try!
Hang Out With The Elephants in Chobe National Park: The very first national park of Botswana is famed for its large herds of massive African elephants that are entirely grey, hairless, and have massive ears and majestic tusks. They also seem to have all of the animals from The Lion King at the national park. Cruise along the Zambezi River and wait for the sunset.
Hang Out With The Rhinos At The Khama Rhino Sanctuary: The sanctuary sets out to assist in saving the critically endangered rhinoceros. While attempting to restore the area to its previous natural state, it also helps provide economic benefits to the locals through sustainable tourism. This is a great place to spot black and white rhinos, as well as over 30 other animal species that hang around that area.