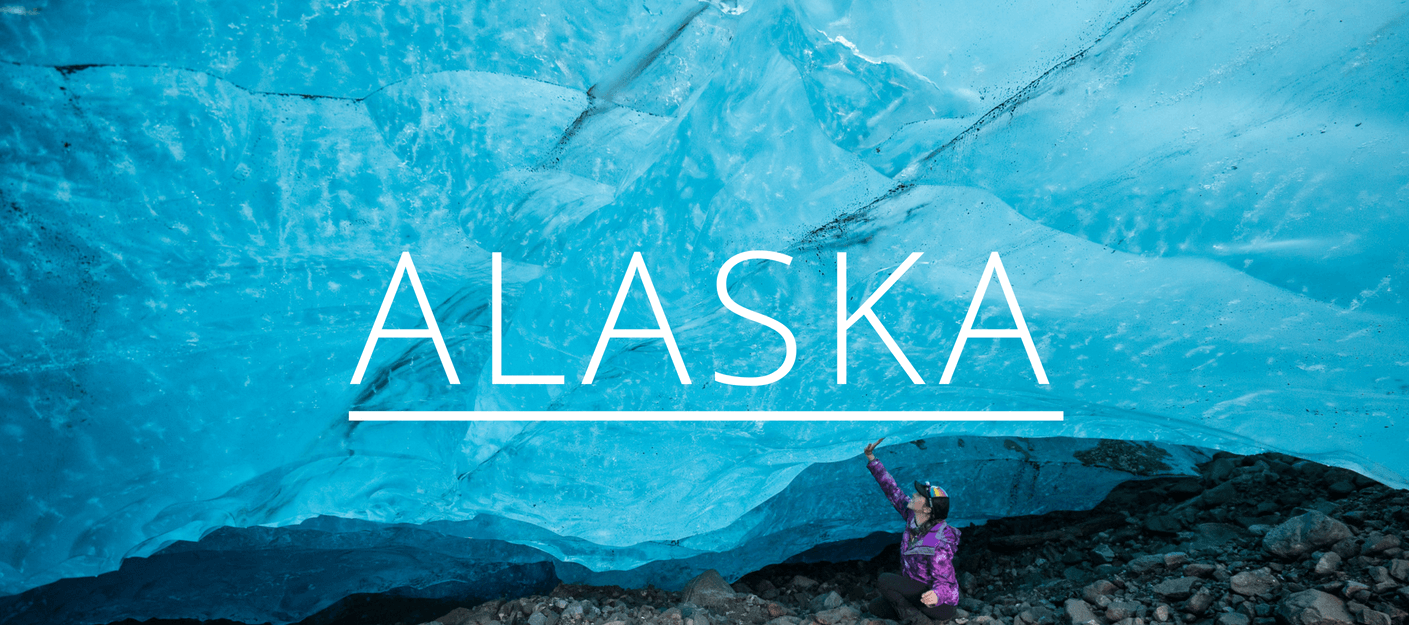 Alaska is lovingly referred to as the Last Frontier, though it's the 49th state of the US. Located over 500 miles from the lower 48, Alaska is a land of extremes - extreme cold, extreme vastness, and extreme heights, with 17 out of 20 of the US' tallest peaks.
For those who adore the outdoors, Alaska is an endless adventure. It's famous for fishing, hiking, backpacking, boating, heliskiing, ice climbing, glacier hiking, whitewater rafting, and more.
Where in Alaska?

Alaska
Watch my vlogs from Alaska
Accommodation
Budget Solo Travelers (free - $50): There are many free and budget campsites especially in Anchorage and Trapper Creek, as well as public use cabins and budget hostels in Alaska. Make sure to make your reservations well in advance, especially if you are visiting during high season (June - August). If you are camping, expect to encounter lots of rocks and wet ground - embrace them, you are in the wilderness after all! Just make sure you have the right camping gear with you. Most of the other accommodations have adequate facilities and great locations.
Mid Budget Solo Travelers ($100 and up): Unfortunately, quality doesn't always match price in Alaska.In Anchorage, expect to pay about $100 - $150 per night to stay in a mid range hotel with decent facilities. Increase that to  about $200, and you can stay at more comfortable lodges and resorts.
Transportation
Getting There: The main international airports are Ted Stevens Anchorage International Airport and Fairbanks International Airport. Direct flights are available from major cities in the US, though most flights require a stopover at Seattle. In the summer, direct flights are available from Germany and Canada. It is very popular for visitors to arrive in Alaska by cruise, with major cruise lines offering amazing cabins, meals, entertainment, and facilities, paired with the magnificent views along the way, making the journey an experience of its own. If you are doing a major road trip in the US, driving into Alaska is also an adventure, with many routes available.
Getting Around: The best way to get around depends on how many people you are traveling with. For solo travelers, you can take advantage of the railroad tours, a total stretch of 470 miles, running  from Seward to Anchorage, Talkeetna, Denali, and on into Fairbanks, with more stops in between. As each train only has one daily departure, it's best to book your tickets in advance. Other public transportation options include buses and air, land, and water taxis. If you are in a group of more than 2 people, it's much more economical to take a car or RV.. Two important things to take note are that fuel stations are few and far in between, and that you should keep a lookout for wildlife encounters, particularly moose and caribou. Finally, hitchhiking is common in Alaska. However, in the winter, long waits are expected and you probably want to have a backup plan.
Food
Buy Groceries and Cook Your Own Food ($3 - 5): If you are hiking, there are many grocery stores and I recommend getting your supplies from Anchorage at Fred Meyer. It's a huge store with surprisingly plentiful options for those who prefer organic or even vegan food.  
Eating Out ($30 and up): There are not that many restaurants, the opening hours are short, and they are often very expensive. However, don't let these things turn you off, as you may find some of the freshest seafood served in the restaurants in Alaska. After spending a few days in the wilderness, eating nothing but backpacking food, you will find dining in a restaurant a marvelous treat to end your trip in Alaska. Some of the local favorites include Orso, Tequila 61, and Mosse's Tooth Pub & Pizzeria, 49th State Brewing Company, and Glacier Brewhouse.
Things to do
Backpacking: Few places on planet Earth are better for backpacking than Alaska. However it comes with its own set of challenges. Most of the routes, even in national parks, are unmarked and lack any kind of trail or bearings, so you'll have to be able to guide yourself with a map and compass. You'll also need to carry bear cans and potentially crampons, and a satellite phone, increasing the weight. It's imperative to go with others for your own safety. That all said, it's one of few places where you can go 8 full days without seeing other people or manmade structures - what a gift!
Kenai Fjords Cruise: One of the best ways to see Kenai Fjords National Park is to go on a cruise tour that departs from Seward daily. Be it a half-day or full-day tour, the boat captain will take you to as close to the glaciers as possible, where you are likely to observe some glacial activity. Some tours include getting of the boat to kayak or even to explore the island, whereas others focus on wildlife watching.
Alaska Native Heritage Center in Anchorage: Through live performances, craft-making and simulated, life-sized villages, the Alaskan native heritage is presented at the center. It's a comprehensive snapshot of Alaskan culture, and a great learning experience. Located outside of downtown, there are free shuttles that will take you to the center from town. The young adults that provide guided tours are a lovely touch to the center.
Deep sea fishing: For those who enjoy fishing, Alaska can be a fishing paradise. It is affordable and choices are plenty - you can choose to go on charters that provide full equipment and even shipping service. People often go home with king salmon and halibut as they are both widely available.
Whitewater rafting on Matanuska River: About 2 hours north of Anchorage, the Matanuska River is fed by the Matanuska glacier, the largest glacier accessible by car in the United State. As a result, the river offers some great white water rafting. It can be intense especially if you are new to whitewater rafting, as some people describe the experience akin to a roller coaster ride.
Take a scenic flight: No better way to see the vastness of Alaska than from up in the air! Scenic flights departing out of Anchorage, Palmer, or Denali are all quite costly at around a few hundred dollars. For budget travelers, try taking a bush flight instead - equally amazing experience but so much cheaper.
Catch the Northern Lights: If you are traveling in Alaska from September - April, there's a good chance that you might spot some Northern Lights, especially in Anchorage, Fairbanks, and Brooke Range.
Skiing: The high mountain tops situated at sea level offers some of the best snow conditions perfect for alpine skiing, especially in Anchorage, where ski areas for people of all levels are available. For the adventurous, take a helicopter ride further up for untouched powder and a spectacular backcountry skiing experience.

Alaska on BMTM's Instagram