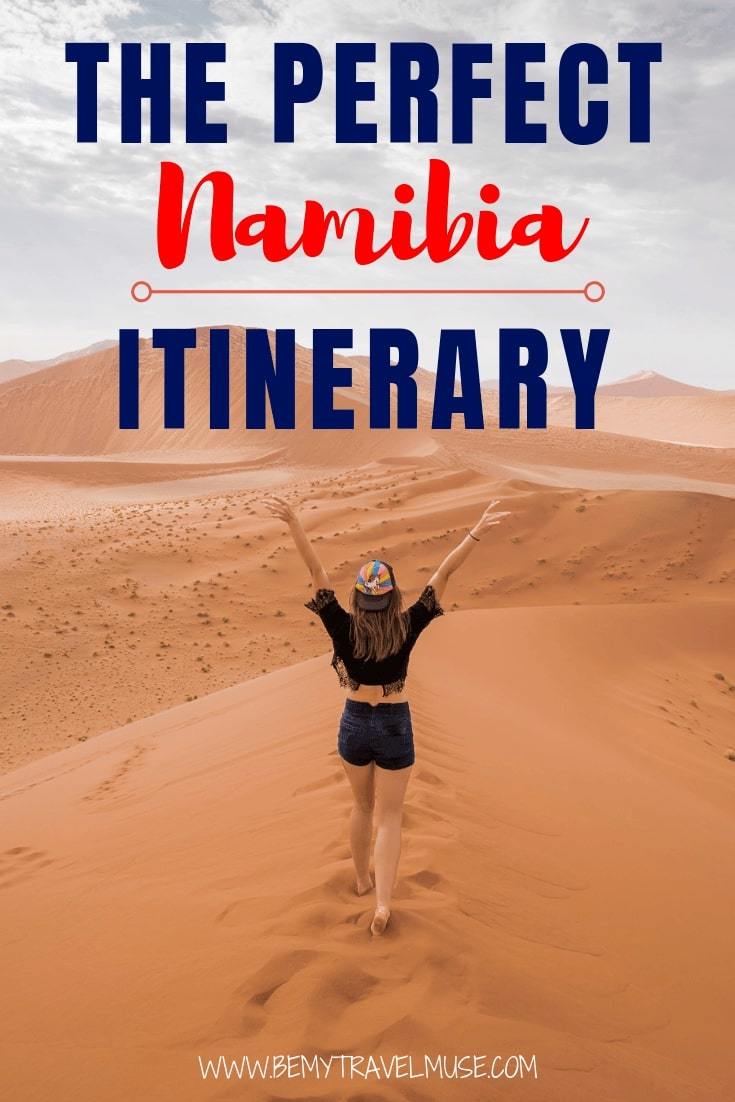 Southern Africa's desert country is the perfect mixture of adventurous, beautiful, accessible, and attainable.
Often, overland traveling in Africa can mean terrible roads, difficult conditions, and unique challenges, however road trips in Namibia are usually just a bit easier, which makes it the perfect destination to self drive in Africa.
Namibia is a politically stable country, it's fairly easy to navigate, has great infrastructure, and a lot of variety. Ready for this warm, beautiful adventure? Here are some top stops to put on your Namibian road trip itinerary, beginning from north to south:
First, the Rental
What kind of adventure do you want to have? Do you want to head off the beaten path where you'll need a 4×4, or mostly stick to paved roads? In general, most rentals are 4x4s equipped with rooftop tents and the ability to take you off road if needed.
In Etosha National Park and down south towards Sossusvlei, expect washboard and gravel roads. At times, rains can create rivers within the roads as well, which are much easier to handle in a 4×4. If you plan on heading up north, which you'll see in the next section, a 4×4 is essential. You can compare prices and book here.
Kunene Region
Nestled in the north of the country, this arid region is located between the famous skeleton coast and Etosha National Park. Most of it is only accessible with a 4 x 4 or via flight. However, if you truly want to get off the beaten path in Namibia and see the Himba people, famous in Namibia for their regalia and red body painting, this is the place.
Epupa Falls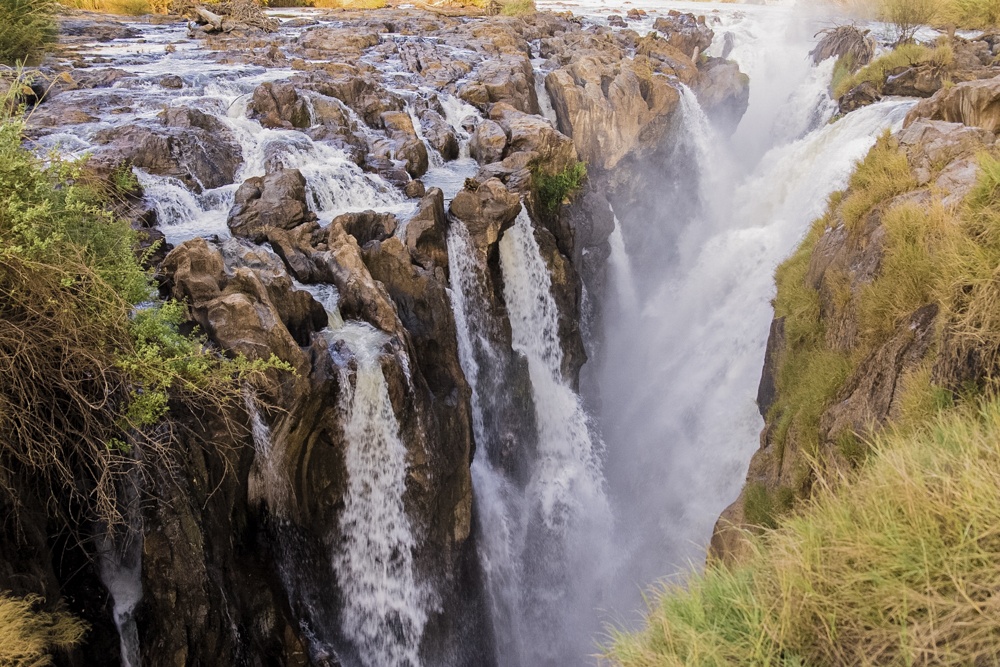 Located on the Kunene River just south of the Angolan border, Epupa Falls is made up of a series of cascades that drop for about 60m.The scenery is breathtaking and a refreshing change from the constant desert views – you will see the Baynes Mountains in the background, and palms and trees (Fig, Makalani, and baobabs to name a few) balancing on the rocks above.
Epupa Falls are best visited right after the rainy season, when the spray is at its peak, though the falls are great during the dry season as well. The best things to do in the area include a sundowner walk to the top of the hills to see the spectacular sunset, rafting, when there's enough water, and visiting the living museum of the Ovahimba tribe to gain a better understanding of the local culture. Activities are typically best booked through your accommodation.
Stay: Epupa Camp
Skeleton Coast
The Skeleton Coast is wildly beautiful but dangerous (hence, the name). This treacherous coast stretches across a foggy region with rusting shipwrecks, dunes and sandy coastal shallows. The early Portuguese sailors named it As Areias do Inferno – The Coast of Death / The Sands of Hell – the destructive power of Mother Nature is on full display here, with shipwrecks, bleached whale bones, and perished ship crews' fate all along the sand.
Traveling in Skeleton Coast is challenging. Distances are vast, amenities pretty much do not exist, and the roads are demanding. You will need a 4×4 for this. This is not to say that you should avoid Skeleton Coast when in Namibia – quite the contrary, actually!
Visit the National West Coast Tourist Recreation Area in the south (permit required and can be purchased directly at the gate), and Skeleton Coast National Park up north (accessible by fly-in safari only). Pack well, drive along the coast and stop wherever you fancy. Explore the wild beachfront in Henties Bay, which is the only real town on Skeleton Coast. From there, drive 40 miles north to witness the largest breeding colony of Cape fur seals in the world at Cape Cross Seal Reserve. For a cultural experience, you can arrange a tour to see the Himba villages. Finally, you'll definitely want to see the Dunedin Star and the Eduard Bohlen shipwrecks.
For your own safety, don't go too fast on the gravel roads (suggest the limit to be 50 mph/80kph), and prevent irreversible harm to the local ecology (such as lichen or salt pans) by staying on the road at all times.
Stay: Shipwreck Lodge or Hoanib Skeleton Coast Camp
Kalahari Desert
The Kalahari Desert is a semi arid sandy savannah extending over 900,000 km². If you drive into Namibia through Botswana, or are planning on heading out that way, chances are you will be driving through the Kalahari Desert. It can be incredibly hot during the summer months, reaching over 40°C/104°F.
That said, it's worth stopping in the desert to break up your long driving day – there's lots to see! This is a great spot for stargazing, and to learn about the hunter-gatherer group, the San people. Though their way of life is sadly dying out, some locals still do offer walking tours where they teach you the ways that they live off the land.
Stay: Kalahari Bush Breaks (the lodge is lovely but it's not the best for camping)
Etosha National Park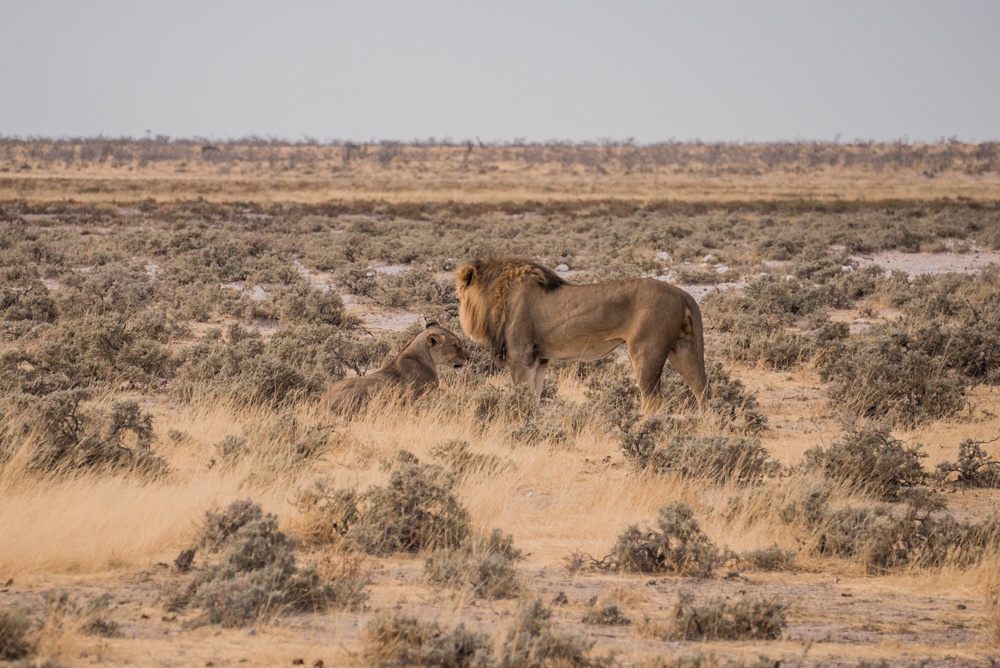 Etosha National Park is the spot in Namibia for wildlife sightings. The park spans an area of over 22,000 km², though the Etosha pan covers 21% of it. During the dry season, the pan looks like an endless, white expanse and in the rainy season it can sometimes partially fill up with water. The park is home to hundreds of species of animals and is a great place to see the severely endangered Black and White rhinos. I've also seen honey badgers, lions, elephants, and of course the usual suspects, zebra, giraffes, springbok, impala, and ostriches. It's possible to self drive in Etosha and if you choose to go this route, simply look for the places where other cars are pulled over and you're sure to see some wildlife too!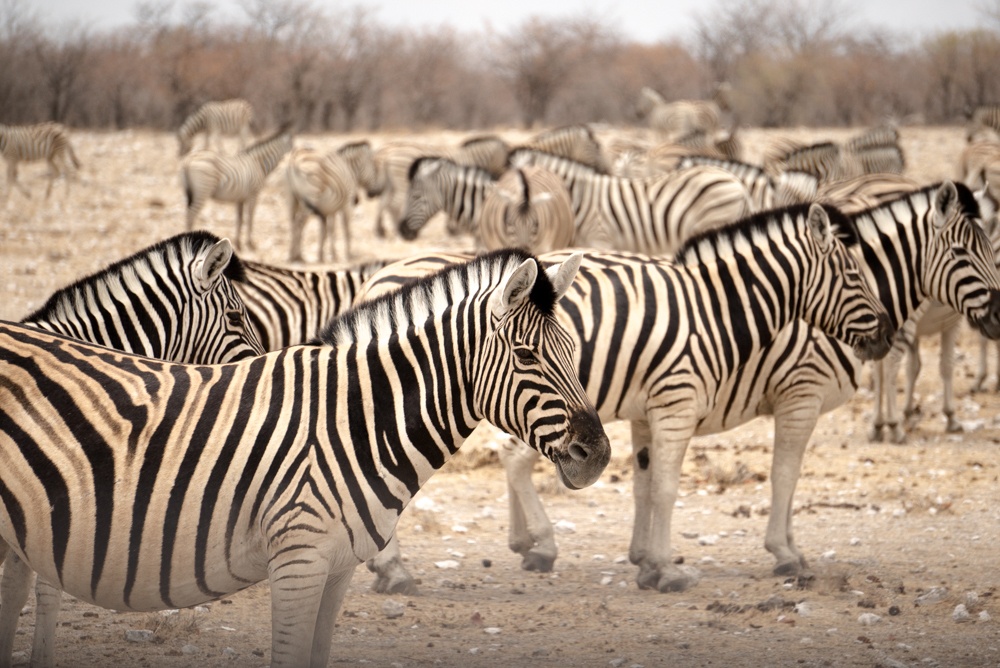 It's possible to stay in the park as well as outside of the park. If you stay within the park, your options are mostly camping with meager reviews, though outside the park you can find luxury and mid-range lodge options. I particularly liked Ongum and Gondwana, linked below. You can also choose to stay on one end, spend the day driving through, and end up on the other side. For the best animal sightings, head to the watering holes, particularly during the dry season.
Stay: Gondwana Etosha Safari Lodge or within the park
Spitzkoppe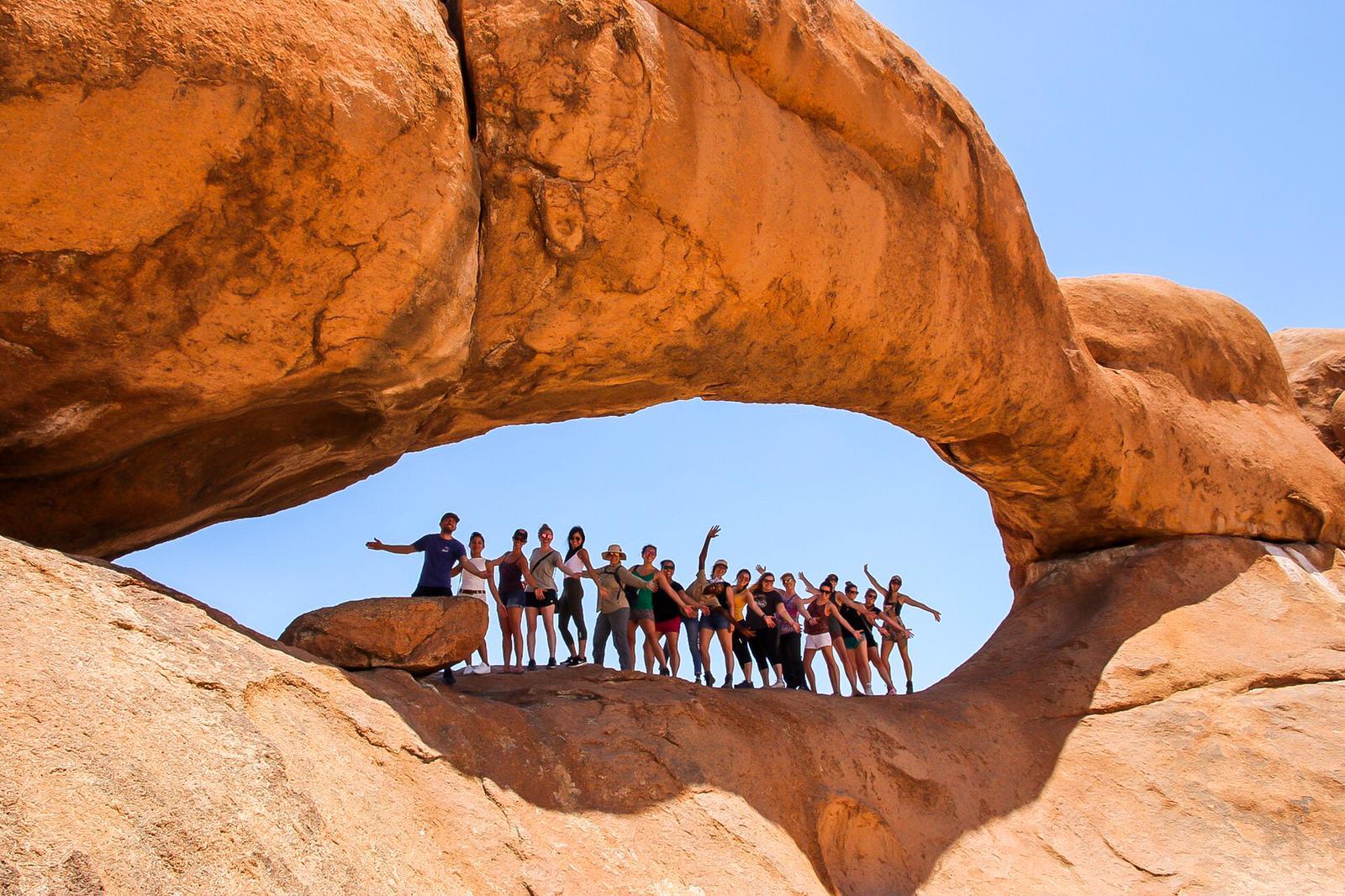 Spitzkoppe in Damaraland is another great stop for those who are in search of a tranquil experience that's slightly off the typical road trip routes. Nicknamed as the "Matterhorn of Africa", the Spitzkoppe is a group of bald granite peaks that sprout up from the Namib Desert floor between Usakos and Swakopmund.
Spitzkoppe means "pointed dome" – the highest outcrop rises about 5800 feet above sea level, which stands out dramatically from the flat surrounding plains. One of the area's biggest claims to fame is the cave paintings which date back thousands of years, depicting animals in the area and used as a communication method for other nomads back in the day. In order to see these, you'll need to hire a local guide, which you can do at the entrance.
Be sure to check out the rock arch, and if you can, catch the sunrise and sunset – it's beautiful out there.
Stay: Okambishi's Rest or basic, off the grid camping within Spitzkoppe
Desert Elephants of Kunene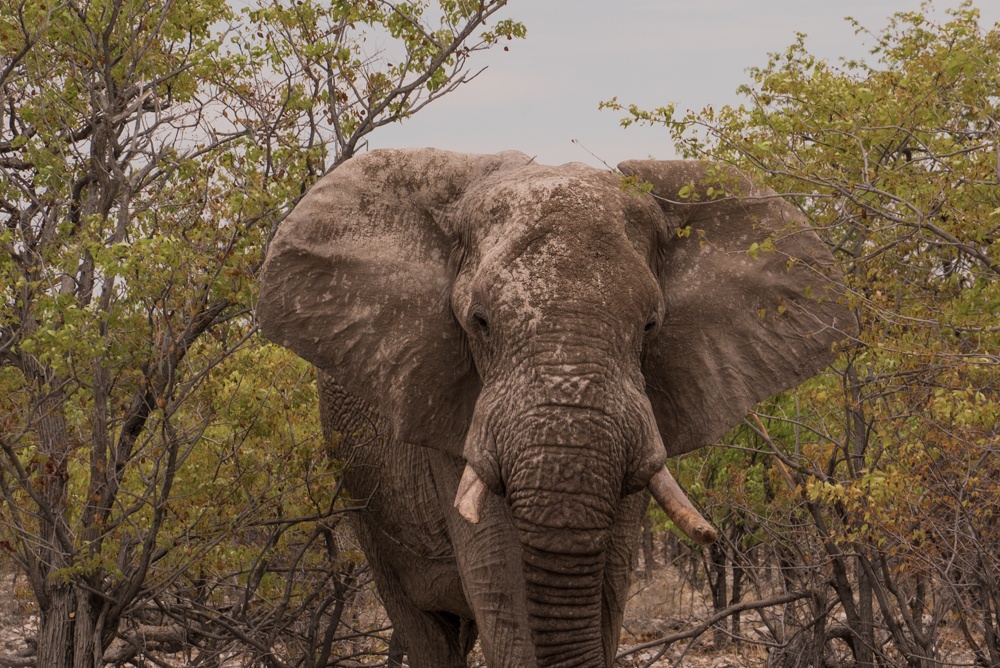 The desert elephants that can be found in the Kunene region are currently of high national and international conservation priority. While they are not a separate species, the desert elephants have adapted to the desert environment by shrinking their body mass with longer legs and larger feet, allowing them to walk across the sand and travel further in order to reach water sources. They also obtain hydration by eating moist vegetation, and can go for days without drinking water.
Indeed, animals are fascinating.
To see the desert elephants, you can check with lodges in the area that offer morning game drives. You can combine visiting this with the Spitzkoppe, as they are both in Damaraland.
Stay: Grootberg Lodge
Swakopmund and Walvis Bay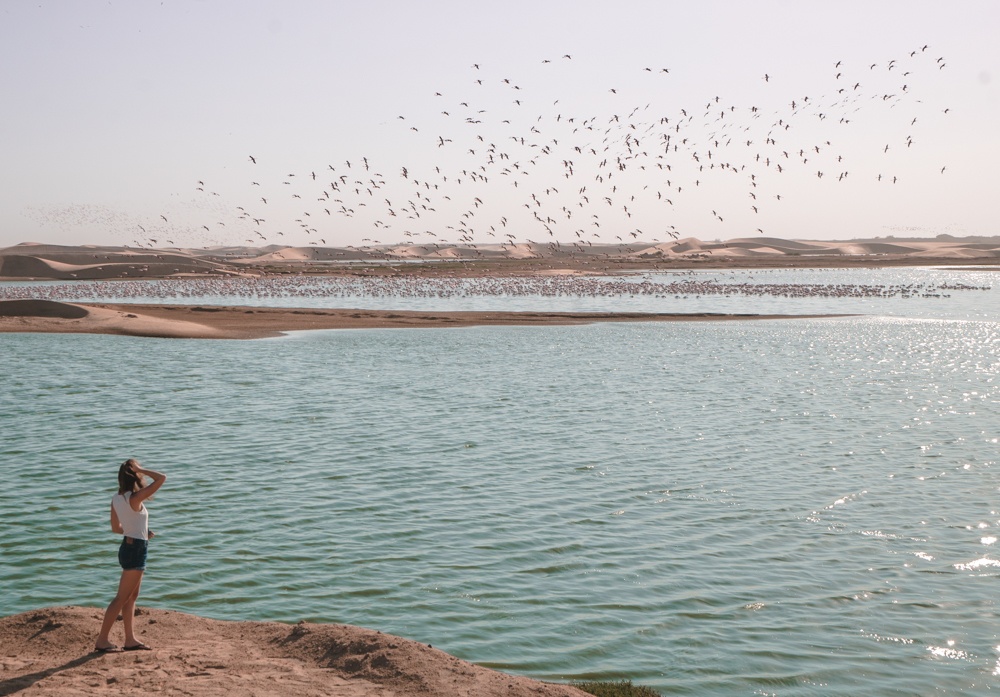 Located in the middle of the country on the coast, Walvis Bay is pretty in pink. This is where you can see the famous flamingos of Namibia as well as pink salt lakes.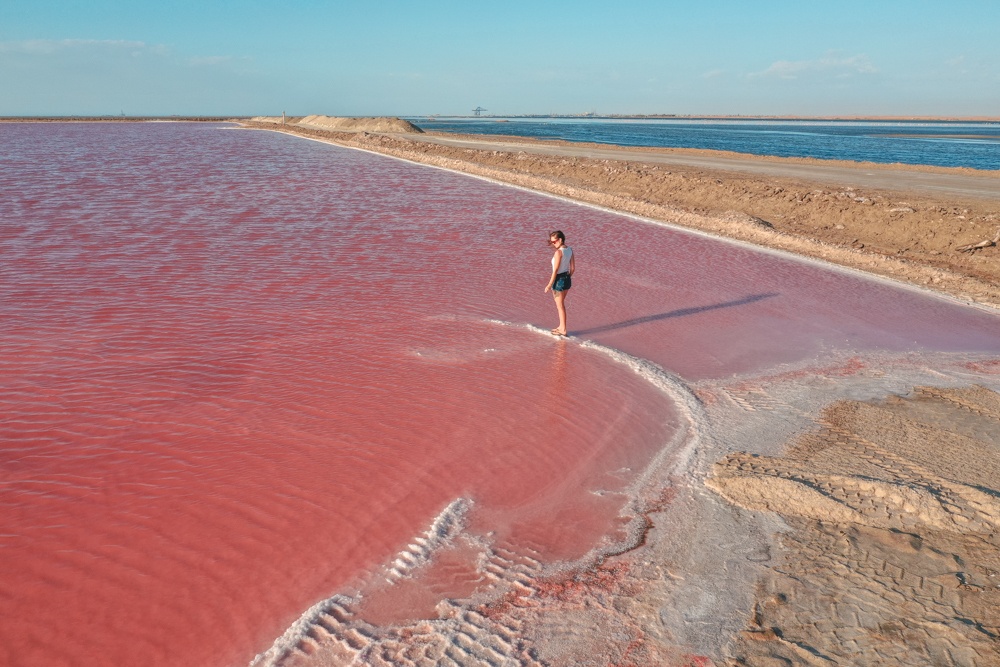 Take a Kayaking and Sandwich Harbor tour for a ride around the dunes on the coast, or better yet, combine it with kayaking to get closer to the flamingos, seals, and potential dolphin sightings, and watch the sunset over the flamingos grazing on the seashore.
Just a 30 minute drive north, you'll find Swakopmund, Namibia's sandy adventure capital. This is the perfect place to go quad biking, sand boarding, and even skydiving. You can read more about my experience with each here. If you've been aching for some semi fast Internet and infrastructure after exploring the remote parts of Namibia, spend a few days in Swakopmund to recharge and go grocery shopping before heading out on another adventure.
Stay: Hotel Eberwein in Swakopmund
Windhoek
The capital and the largest city in Namibia is most likely where you enter the country if you're flying in from an international destination. This is the perfect place to get your car rental, grocery shop if you plan on staying in campsites in making use of their, or your own, kitchens, and gear up for your adventure.
While there are some museums and strong Internet connections, for the most part I just use it as a transit stop because the most interesting parts of Namibia are outside of the city.
Stay: Windhoek Gardens
Namib-Naukluft National Park
Sossusvlei and Deadvlei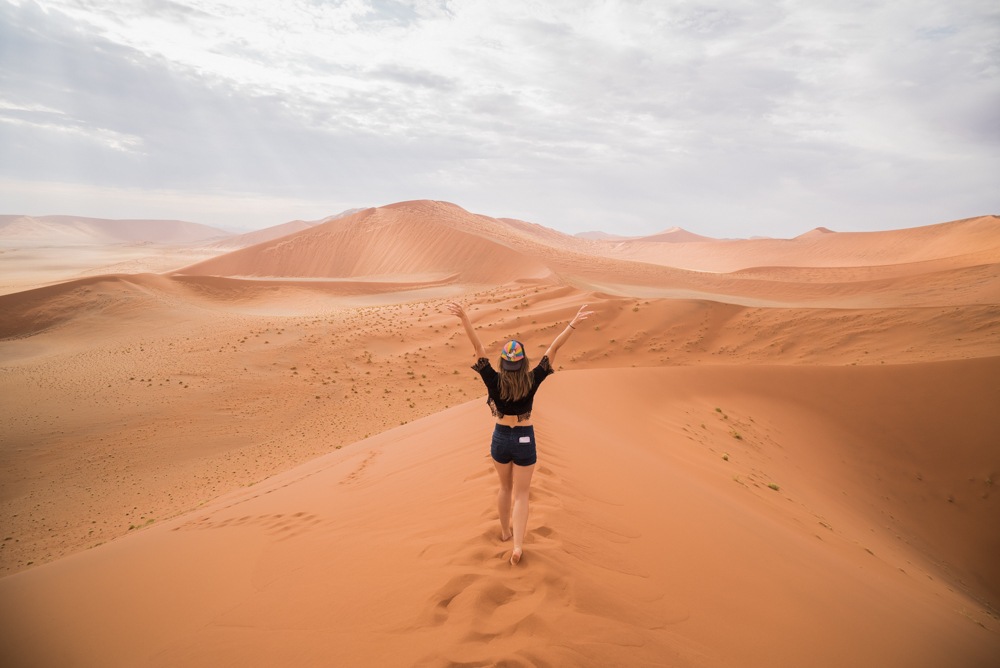 Probably the most famous stop in Namibia apart from Etosha, Sossusvlei and Deadvlei are where you will find the tallest sand dunes in the world and those famous skeletons of acacia trees. Give yourself at least one full day to explore this sandy wonderland, beginning early in the morning, around sunrise if you can, to climb the famous Dune 45.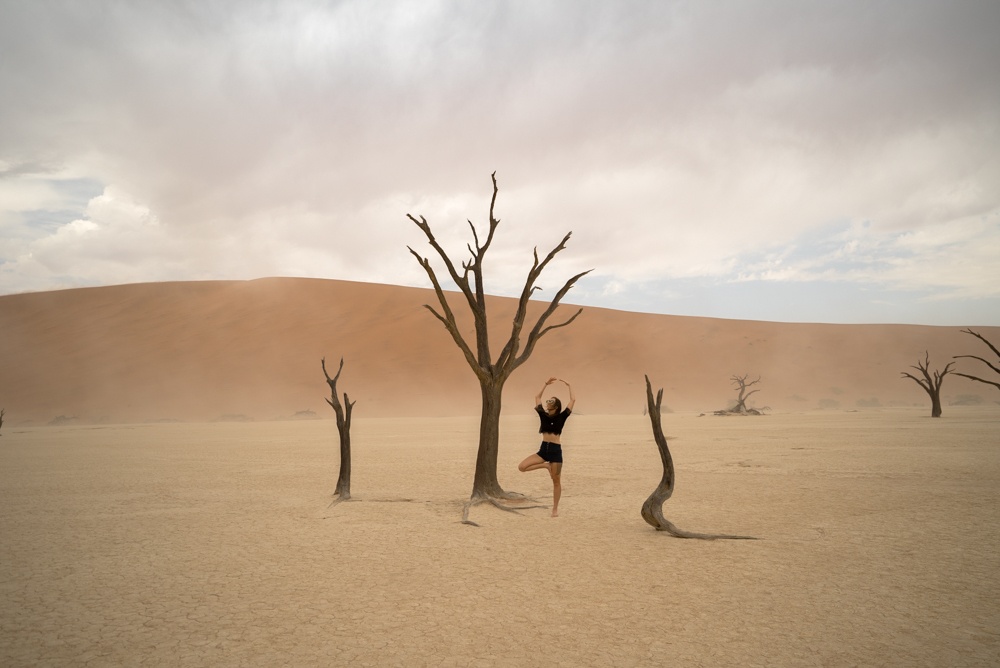 Next, tackle Big Daddy, a 45-minute climb up a 1000-foot dune, and run and slide down the side as you descend into Deadvlei. This is one of the iconic experiences in Namibia and after two visits back, remains my highlight each time. Be sure to maximize the morning hours as it gets unbearably hot in the afternoon. For more advice on where to stay as well as maps, take a look at my Sossusvlei guide.
Naukluft Mountain Zebra Park
Naukluft Mountain Zebra Park is small but mighty. The park offers plentiful animal sighting opportunities, including black eagles, hyrax, baboons, and of course, zebras. It isn't on most Namibian road trip routes so it's quieter than other stops, and there's no cell service so it's quite perfect if you want a tranquil experience.
Most people spend 1-2 nights and wish they stayed longer. There are various hiking trails, such as the Waterkloof Trail and Olive Trail, both of which can be completed in 7-8 hours, though Olive Trail can be turned into a hike that takes 8 days to finish. It is a bit out of the way (see map below), and there's no electricity nor shops to stock things up so expect camping to be basic.
Stay: Naukluft Campsite
Kolmanskop
Kolmanskop, located in Luderitz, was once a rich town back in 1908, when diamonds were discovered in the area. Apparently, the diamonds were so plentiful one did not even have to dig to get a handful. 20 years after, a combination of WWI and discovery of another area with even more diamonds resulted in a collective migration, turning Kolmanskop into a ghost town that's gradually been swallowed by the desert sand, literally. The buildings are intriguing, and the entire area is a photographer's dream – the way the sand and sunlight interact and create different light and shadows is hauntingly beautiful.
A tour is recommended as you will gain a better understanding and interesting facts of the area. Kolmanskop is open from 8AM – 1PM daily. The area is actually pretty big so more often than not, you are likely to be the only people in sight. This just adds to the eerie atmosphere.
Book your stay at Luderitz here
Wild Horses of Aus
If you want to see one of Africa's remaining herds of wild horses, check out the wild horses of Aus. In recent years of drought, some of the horses have not been able to survive. However, the rain that broke the drought earlier this year has brought a sign of hope to the 79 surviving horses. There's something so humbling about watching the wild horses in their element, and also observing how we all rely on Mother Nature for survival, one way or another.
There's a shelter set up close to the watering hole where you can view the wild horses. If you self drive, travel along the B4 from Aus to Luderitz and you should be able to spot some. Just be sure to keep a safe distance (to not frighten them), and do not feed them! Keep in mind that there's a possibility of seeing very little or even none of them. As with all wild animal sightings, it comes down to luck.
Stay: Klein-Aus Vista Desert Horse Inn
Fish River Canyon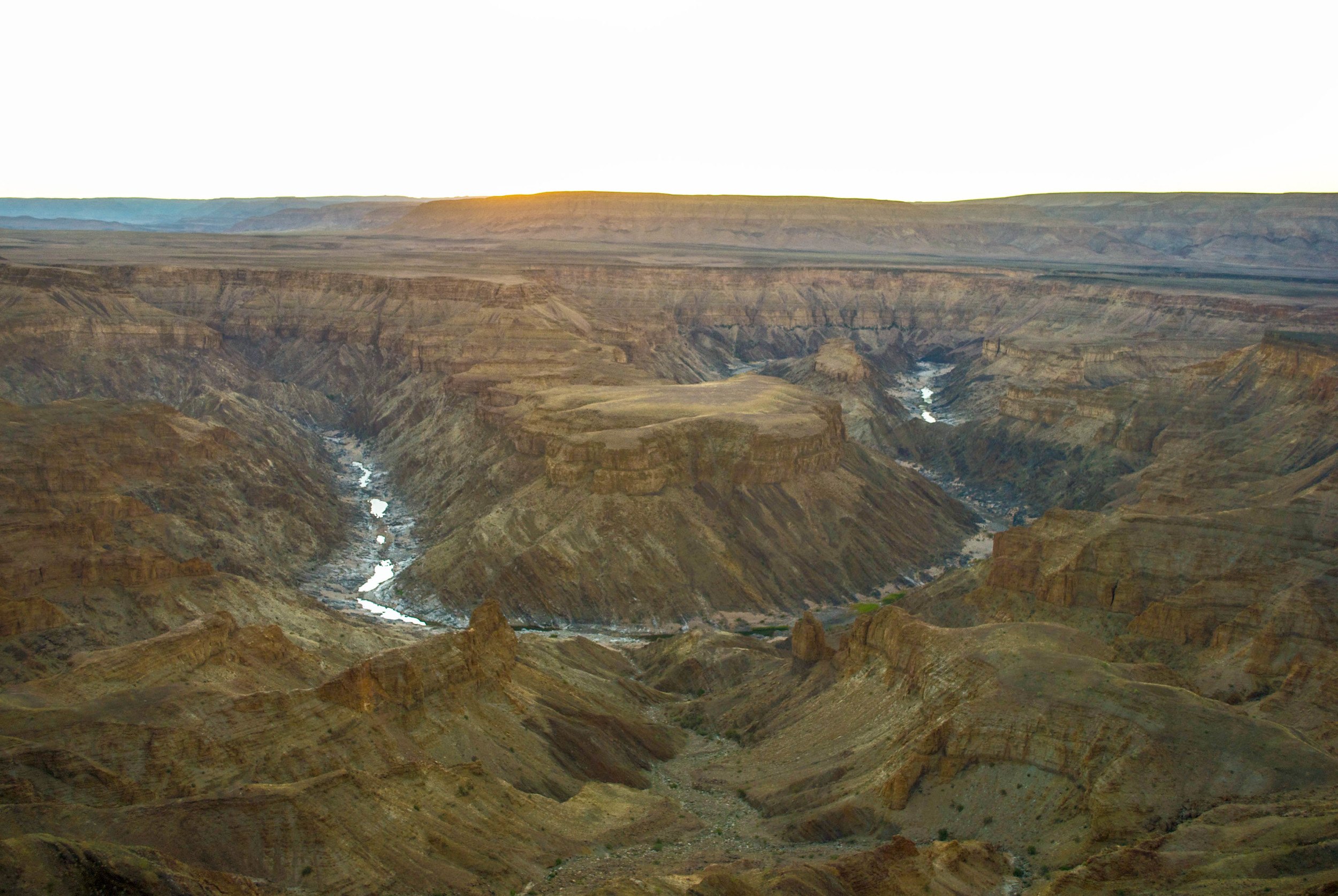 The 500 million-year-old canyon is one of the world's largest natural canyons, just behind the Grand Canyon in Arizona, stretching over 99 miles. Depending on your preference, the Fish River Canyon can be a relatively relaxing day trip, or a challenging 4-day hike.
From Sossusvlei, drive towards Hobas, the main entry point, and make your way to Hell's Corner (marked in the map below). The viewpoint gives you a 360 degree view of the massive canyon. You should also explore the area and stay for the incredible sunset.
For those who are up for a challenge, you've got some prep work to do! Get your new medical certificate, book your hike in advance (it is compulsory, and only 30 people per day are allowed into the canyon for hiking). The hiking trails are only open from May 1 to September 15. Do note that a minimum of 3 people are required to book the hike, so if you are a solo traveler, join a guided hike instead. As mentioned, the hike takes about 4-5 days, and it is no easy task so make sure you have a decent level of fitness and can carry water with you.
Hiking in the extreme heat requires serious precautions. Here are some tips to remember:
Start your hike early – 7AM would be a good time to start! Stay within the steep canyon walls for shade whenever you can, especially from noon to 3PM.
Remember that if you're thirsty, you're already dehydrated, so drink often. At the end of each day, make sure you are able to restore the electrolytes and salt you've lost throughout the day.
There are shortcuts along the trails. Make sure you fill up more than enough water before attempting a shortcut, as they are often steep and much hotter.
Pack light colored, loose, and breathable clothing. As far as packing goes, less is absolutely more. Having unnecessary weight on your back just adds to exhaustion. If possible, share certain equipment like cooking stoves and tents to reduce your pack weight. Here's a packing list for your reference.
Arrange a vehicle at the end of your trail, Ai-Ais.
Learn how to identify and treat heat exhaustion.
Be realistic with your fitness level, you may need more than 4 days, and that's okay!
For more on doing the hike independently, read this guide.
Stay: Hobas camp site
Map:
To me, Namibia is the most unique experience in southern Africa. Surrounded by countries with greenery, lots of people, and mostly Safari options, Namibia has a bit more to offer in terms of coast, sand dunes, and adventure activities.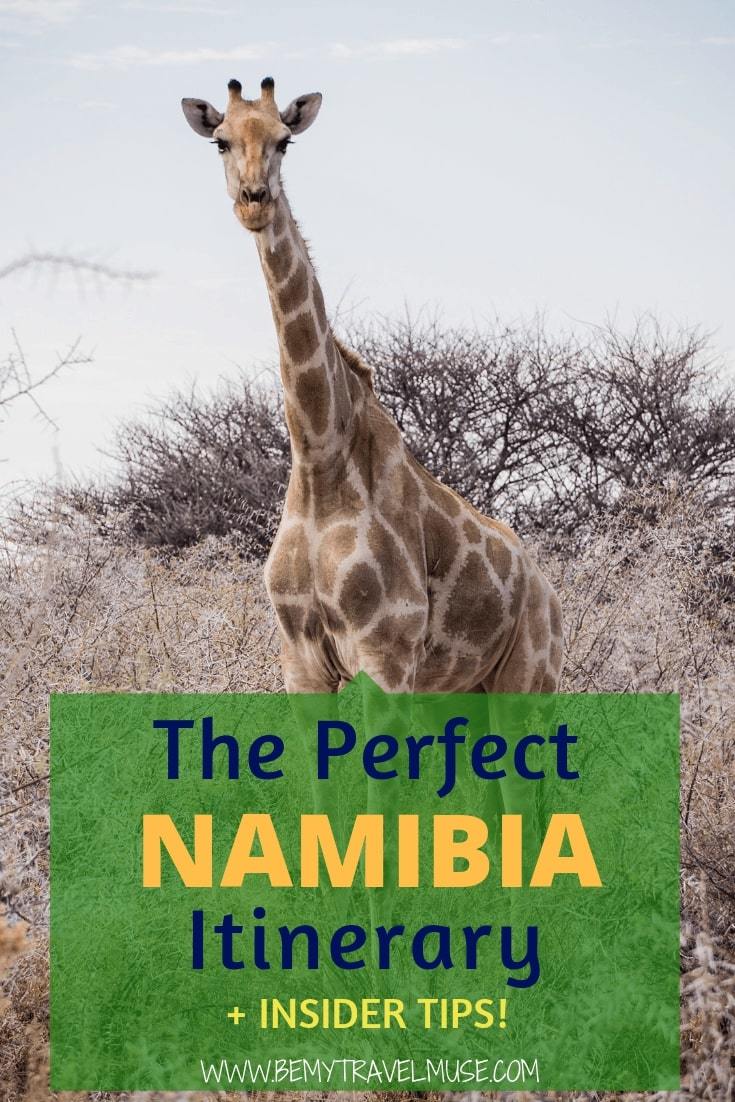 It's also one of the easier and safer countries to travel through in Africa, so if you're considering it, put Namibia on your list! It's a true African adventure, and this road trip itinerary can take you to the best of it.
*Some links in this post are affiliate links to companies we use or hotels we have stayed at. Any bookings you make through these links support this site at no extra cost to you. Happy travels!