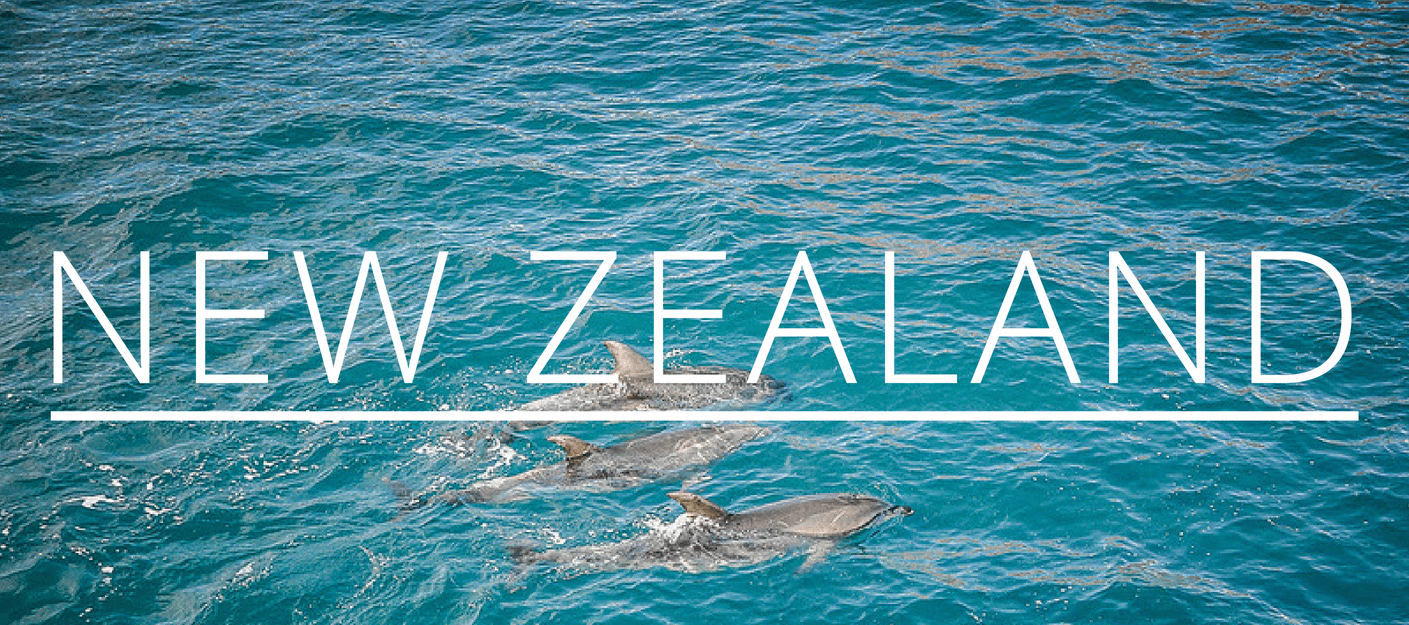 When I think about New Zealand, a million shades of blue come to mind - blue islands, blue dolphins, blue glaciers, and blue lakes. New Zealand is an outdoorsy person's dream, not to mention the perfect place for road trips thanks to the constantly changing microclimates. New Zealand is breathtakingly beautiful and endlessly fascinating.
The country is broken up into two islands, and both are worth exploring. There's great infrastructure and so much to do, one could easily spend years in New Zealand checking out all of the fjords, mountains, and beaches.
Located rather close to Australia and thankfully slightly cheaper (thanks mostly to the exchange rate), New Zealand isn't a budget destination by any means, but still offers dorms and busses that cater to the backpacker crowd. I've long toyed with the idea of returning and living there on a long-term basis.
Where in New Zealand?

New Zealand
Quick Tips
Currency

: 

New Zealand Dollar

(

click here

for current conversion rates)

Visa

: 

90 day visa-on-arrival available for most nationalities (

click here

 for more information)

Safety rating

: Ranked 2 on the 

Global Peace Index 

with a score of 1.22 (USA is ranked 114 with a score of 2.23). This means New Zealand is one of the safest countries in the world

Solo Travel Friendliness

: Rated as one of the safest countries in the world, the chances of running into danger in New Zealand are much lower than anywhere else. The Kiwis are incredibly friendly and outgoing. The country is relatively small and easy to navigate. Minor details like bar seating availability at most restaurants, group tours and hostels activities make it easy to meet other solo travelers

Climate

: Warm summers (November - February) and cold, snowy winters

Best SIM cards

: Vodafone – cards can be purchased at the airport and major supermarkets

Random useful tip

: Want to stick around for longer? Most nationalities can apply for a working holiday visa for those aged 30 and under
Accommodation
Budget Solo Travelers ($2 - $20): For travelers on a shoestring budget, couchsurfing is very common, and camping is widely available. The local Department of Conservation operates more than 250 campsites across the country. Basic campsites with only the essential facilities are free, expect to pay about $2 - $15 for a more equipped campsite. Freedom camping is increasingly discouraged. Hostels are expensive but well facilitated and well located. Expect to pay $20 - $30 for a dorm. Wi-Fi isn't particularly strong, and some places may charge extra for Internet usage.
Mid Budget Solo Travelers ($30 and up): A single room in a hostel or a budget hotel costs about $30 - $50. Motels that are surprisingly well equipped, mid range hotels, and bed & breakfast cost about $50 - $100 for their most basic rooms. Rates could be negotiated during low seasons, and solo travelers could request to pay single rates for double rooms. Airbnbs average at about $25 for a private room, and at about $60 for an entire unit.    
Transportation
Getting There: The main international airports are Auckland Airport and Christchurch International Airport. Direct flights are available from the US, the UK, and Australia. Most travelers travel to New Zealand by air, as sea traveling is possible but could be complicated, and you can't travel to New Zealand by land.
Getting Around: Local buses are reliable and cheap, but usually only operate during daytime on weekdays. A single trip costs about $1 - $3. The main cities have plenty of taxis. They are metered, and generally reliable and trustworthy. Uber is available in Auckland and Christchurch. New Zealand's weather and road condition are perfect for biking. Renting a bike costs about $10 per day. Though for maximum freedom, it's best to have a car.
Inter-city Traveling: Inter-city bus network is great and inexpensive. A single trip from Christchurch to Queenstown costs about $85. Passes can be obtained to get discounts. The most popular bus companies are Intercity and Newmans. Trains are very slow, but they are a nice way to see the country if you are not in a rush. There are no sleeper services. As many places in New Zealand are not accessible by bus, perhaps the best way to get around is by car, or better yet, by campervan. Car rental is widely available, costs about $40 per day. Hitchhiking is common especially in remote areas – just trust your instincts before getting in.
Food
Buy Groceries and Cook Your Own Food ($3 - 5): Eating out can be expensive in New Zealand. Budget travelers can buy groceries at the local supermarkets and cook their own food at the hostels or campsites. The best supermarkets for cheap and quality groceries are Pak N' Save, with a week's worth of groceries costing about $40 - $50. There are also fast-food style restaurants that serve pizza, burger, fish N chips for about $5. Another option is to eat at Asian restaurants, which also cost about $5 for a meal.
Restaurants & Bars ($15 - $50): Great quality restaurants and cafes are ubiquitous in major cities. Fresh seafood and quality lamb are served at about $30 - $50. Unique eats are usually sweet desserts like the classic hokey pokey ice cream, pavlova, and pineapple lumps, which you can get at most cafes. Bars typically serve straightforward food like pizza and burritos for less than $20. Beer costs about $5 - $10 for a pint.
Things to do
Dolphin Watching in the Bay of Islands: The Bay of Islands offer incredibly blue water, beautiful dolphins swimming in and out of the waves, and gorgeous rock formations. It is no wonder that it is one of the most popular destinations in New Zealand. Not only could you watch and swim with the dolphins, scuba diving, sailing, and hiking are also available. Overall, a wonderful spot you could easily spend more days than planned in.
Hike The Waiheke Trail: For visitors looking for an off the beaten path hiking adventure, check out the Waiheke Trail. You will pass through Matietie Historic Reserve, Owhanake Bay, and Island Bay, possibly without seeing another person for hours.A big tip is to opt for the Northern Walk, which allows hikers to see as much of the island as possible without straying too far from the ferry stop.
Discover NZ's Off The Beaten Path Spots: It is not difficult to understand why millions of people flock their way to New Zealand every year – the country is amazing. But even with that many tourists, it is still completely possible to find cool, off the beaten path spots – here are 10 spots worth checking out in New Zealand that you should totally include in your itinerary.
See Fox And Franz Josef Glaciers: There are a few options getting up close and personal with these incredible glaciers. You can spend the entire day trekking your way up, which is not bad at all, consider how beautiful the views are, or you can take a helicopter tour and see the glaciers from above. Want the best of both worlds? Heli-hiking Fox and Franz Josef glaciers is available. For the adneraline junkies, skydiving at 19,000ft might be your ideal way of seeing the glaciers.
Skydive And Bungee Jump: New Zealand truly is an adneraline paradise. Skydiving is widely available in Queenstown, Auckland, Fox Glacier, Franz Josef Glacier, Tauranga, Taupo, and more! Think about what you want to see as you take off – whether its beaches, mountains, glaciers, or all, and engage with the right company for an experience of a lifetime. As for bungee jumping, there is also something for everybody – from the lowest to the highest, from jumping with a friend to plunging your head into the water, from the cheapest to the most expensive – options are great, just take a pick! Fun fact – the world's first commercial bungee jump is at Kawarau Bridge, New Zealand.