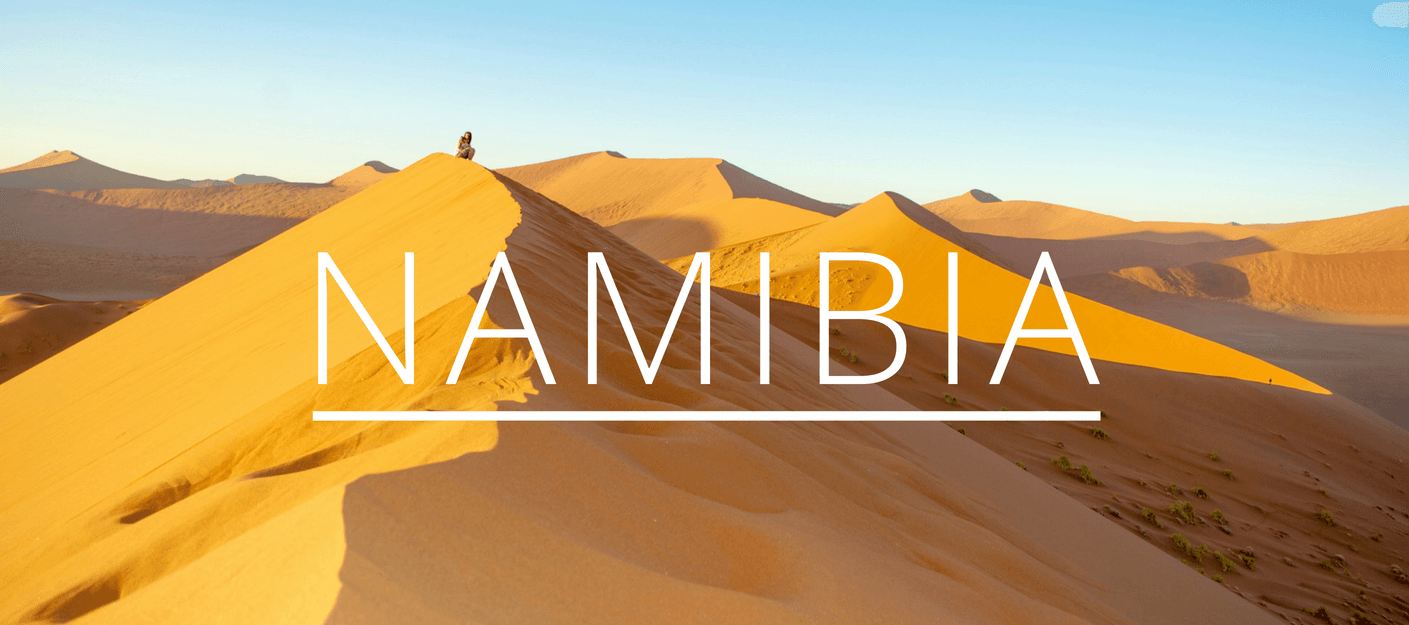 What's orange, blue, and warm all over? Namibia is a desert lover's dream. Combining the beauty of canyons, giant orange sand dunes, lovely beaches, awesome wildlife sighting possibilities, and friendly locals, it ticks every box. If you're into photography, you're going to absolutely adore Namibia.
In stark contrast to heavily populated countries like Tanzania in Eastern Africa, Namibia has a tiny population of just 2.5 million people and you just might go all day without seeing another person in the southern part of the country.
Namibia is also home to the largest canyon in Africa, the tallest sand dune on Earth, and of course, the infamous honey badger. If on safari in Etosha National Park, elephant, rhino, lion, zebra, giraffe, and countless other animal sightings are all possible. If you're an adrenaline junkie, dune boarding and skydiving are both popular activities on the coast as well. In short, Namibia is awesome.
Where in Namibia?

Namibia
Quick Tips
'Hello' and 'Thank You' in Oshiwambo:In most of Namibia, English will work just fine, but it's nice to know a bit of the most spoken language in the country as well - 'Mwa lele po'/''Mwa uhala po'/'Mwa tokelwa po' (good morning/good afternoon/good evening), and 'Iyaloo'(Thank you!).
Currency: Namibian Dollar (click here for current conversion rates)
Visa: 90 day tourist visa-free available for many nationalities including US, Canada, and most of Western Europe, visa-on-arrival for dozens of others (click here for more info)
Safety Rating: Ranked 60 on the Global Peace Index with a score of 1.89 (USA is ranked 128 with a score of 2.4)
Solo Travel Friendliness: Overall, Namibia is a great place for solo travelers. People are friendly, and the country is one of the cheapest in Africa. However, because of its small population, many areas may feel isolated and out of reach, which is perfect for those who seek an off the beaten path adventure, but not so perfect when you need help.
Climate: Hot summers (November through February) though the desert gets cold at night, especially in the winters.
Best SIM cards: MTC – Cards can be purchased at the airport, authorized shops, or major gas stations and supermarkets.
Random useful tip: It's best not to road trip alone through Namibia. The population is small at only 2.5 million people, and cell coverage doesn't work well outside of the towns. If you have a breakdown, you might not see another car pass by all day, and there are no trees to seek shade under.
Accommodation
Low Budget Solo Travelers ($10 - $15): If you want to save money on accommodation, camping would be the cheapest option and if you ask me, the most enjoyable too. I mostly camped in Namibia and loved being under those clear starry skies. It costs less than $10 to spend the night at a basic campsite, many of which have pools, or about $30 to camp at some lodges. I recommend checking out the community-run campgrounds so your money goes into the hands of local people. Another option is a dorm bed, which costs about $10 - $15 per night in low season. Hot showers are usually provided at both campsites and dorms.
Best hotels for mid budget solo female travelers ($50 and up): Family-run guesthouses are more common than hotels. Expect to pay about $50 - $70 for a simple double room, which often comes with some meals. There are also guestfarms that share the concept as a guesthouse but with the addition of hiking trails or other activities. For a more comfortable night, check into a lodge at the more luxurious end of the market. Expect to pay at least $100 for a double room.
Transportation
Getting There: The main airport in Namibia is the Hosea Kutako International Airport. There are hardly any direct international flights to Namibia, so you are very likely to layover in Johannesburg International Airport first. If you would like to cross overland, you may do so by car or bus from Botswana, Zambia, and Angola. Additional charges will be imposed on foreign cars.
Getting Around: There is no official public bus system in the country. However, local buses are available and they connect the few population centers pretty well. Trains are slow but cheap. With $10, you can easily get from one town to another, though it would make sense to pay the extra $3 - $5 to get better seats as the journeys aren't exactly comfortable. The best way to get around is by car. Rentals can be expensive as most people opt for SUVs or 4x4s. For any long distance traveling, stock up on water and pack some food with you. Basic knowledge of how to change a tire and fix minor car issues are important on these desolate roads.
It is important to note that hitchhiking is banned on certain roads and national parks. However, in the rural areas, without a car, hitchhiking might be the only way to get around.
Food
Local Eats: Eating in Namibia is an adventure of its own. The country is famous for its game meat – expect to find zebra, kudu, oryx, and warthog meat on your plate. Seafood is also widely available, and delicious. Don't worry if you are not feeling that adventurous, as international dishes are also served at most places, and a wide variety of groceries is available at the local supermarkets.
Restaurants & Cake Shops ($15 - $30): Due to the country's lack of fruit and vegetables, most restaurant menus are heavy on the meat side. Expect to pay about $30 for a 3-course meal at a mid range restaurant. Namibian cuisine typically has a touch of German influence, so you shouldn't be surprised to see German food being offered at the restaurants. For dessert, look for a konditorei (cake shop) for a slice of chocolate cake. 10% tip is customary at most mid range restaurants. Beer is cheap and good, with a bottle costing about $2.
Things to Do
Visit Etosha National Park: Etosha National Park is one of the best places in southern Africa for a safari, in my personal opinion. It was incorporated in 1907 and spans 8,600 square miles. You are more likely to spot animals here than other national parks due to its structure in nature - the park is partially a massive salt pan and experiences low rainfall, so visibility is good. Rent a vehicle or camper and camp at Okaukuejo Camp within the park limits.
Sandboard in Swakopmund: The beautiful sand dunes aren't just gorgeous to look at, but they are also fun to sandboard on! It may look steep and scary, especially if you are doing it for the first time, but trust me when I say it is completely doable, and you will only want to repeat it over and over again once you have done it for the first time. If this sounds like a piece of cake to you and you are ready for something even more exciting, then…
Skydive in Skwakopmund:This was a beautiful, and even peaceful, experience that I will never forget. The main complaint from most skydivers is the cold that hurts their face as they fall, but you will not have this problem in Swakopmund where it's warm! That, plus the priceless views of the dunes to the sea as you descend, are the reasons why skydiving in Swakopmund is a must.
Check Out the Acacia Trees of Deadvlei: No visit to Sossusvlei, Namibia, would be complete without checking out the famous acacia trees of Deadvlei. These black skeletons have been standing still for more than 900 years, and I loved the way the branches eerily reach towards the sun. But before you go, make sure to watch the sunrise at Dune 45 first – it's worth the morning call, I promise.
Animal Sightings: Try saying the following in one breathe - oryx, brown hyena, jackals, flamingos, springbok, dolphins, whales, penguins, horses, zebra, snakes, hyena, springbok, white mongooses, cheetah, gemsbok. Yes, these are the animals that are waiting for you in Namibia. Go to Namibia for the adventurous activities, natural beauty, and value for your money, but also stay for the animal sightings.
Namibia on Kristin's Instagram