1. The Azores are a Green, Volcanic Landscape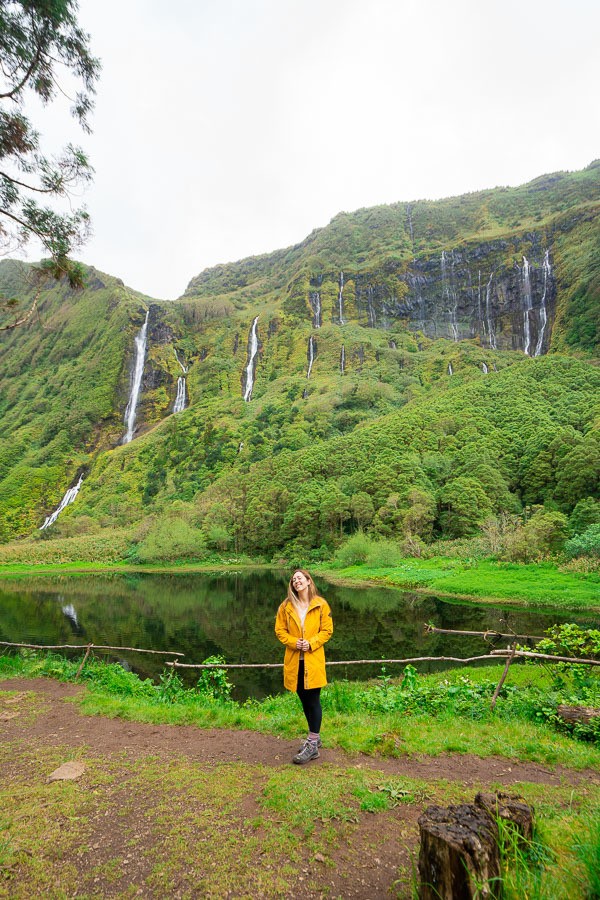 The Azores struck me with how lush they were. From the far eastern islands to the western ones, they were an intense green I'd only otherwise seen in Ireland and New Zealand, mixed with dramatic volcanic landscape I'd only seen in Iceland and the Faroe Islands, plus ample waterfalls and tropical plants. I've never quite seen anything like it, combined with the charm of Portuguese culture and architecture. It's a destination that's easy to fall in love with.
2. The Azores are Remote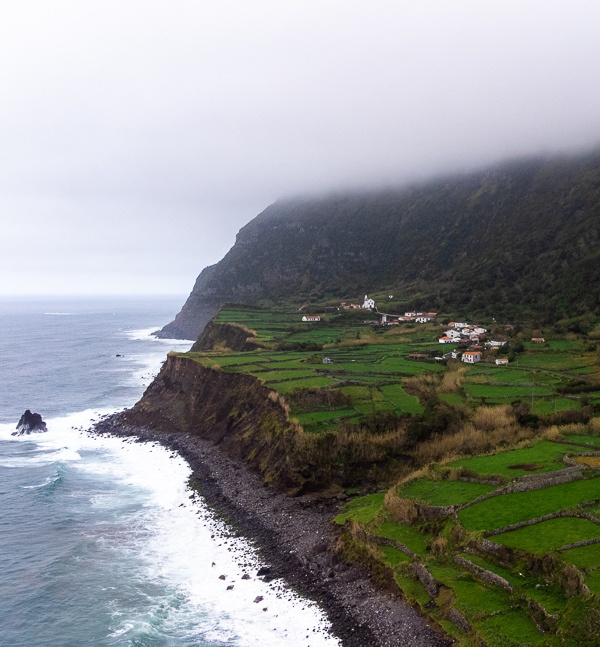 The Azores are a Group of nine islands in the middle of the Atlantic Ocean. The most Eastern are São Miguel, Santa Maria, and the Formigas islets, the central group is Faial, Pico, São Jorge, Terceira, and Graciosa, and the northwestern group is Flores and Corvo.
There is very little around them for miles, and many of your friends may have never even heard of them. This is part of what makes them so beautiful and charming, but know that you're headed to a rural, remote area that will still have creature comforts, but will differ from mainland Europe in terms of getting around, product availability, and things to do and see.
3. Getting Food, Groceries, and Medicines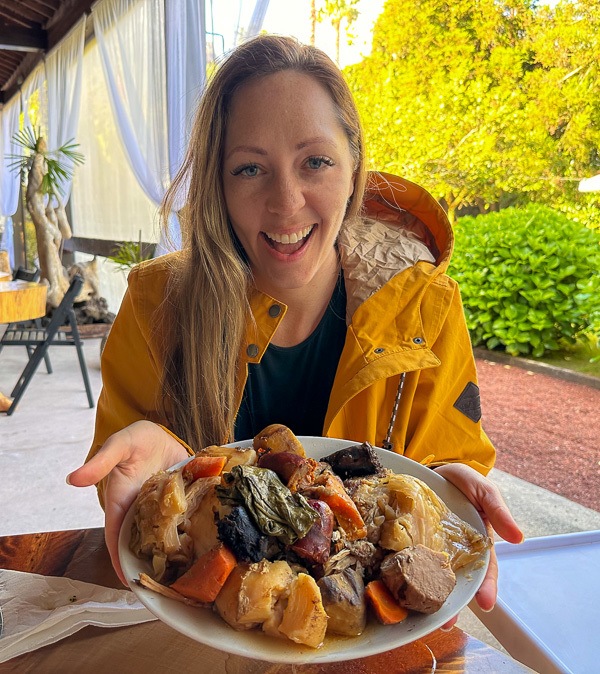 That said, most of the islands can be pretty well stocked! Everything from medicines to food, fruit, and supermarket staples tend to be available. If traveling to a more populated island like São Miguel or Terceira, you'll see Continente stores with huge food selections. If visiting a more remote island like Flores, you might find more empty supermarket shelves. At least, that was our experience.
Restaurants typically serve meat and potatoes types of meals, but you'll also find locally-grown tropical fruit and the dish pictured above, Cozido, which is boiled in the ground!
4. Staying Connected/Navigating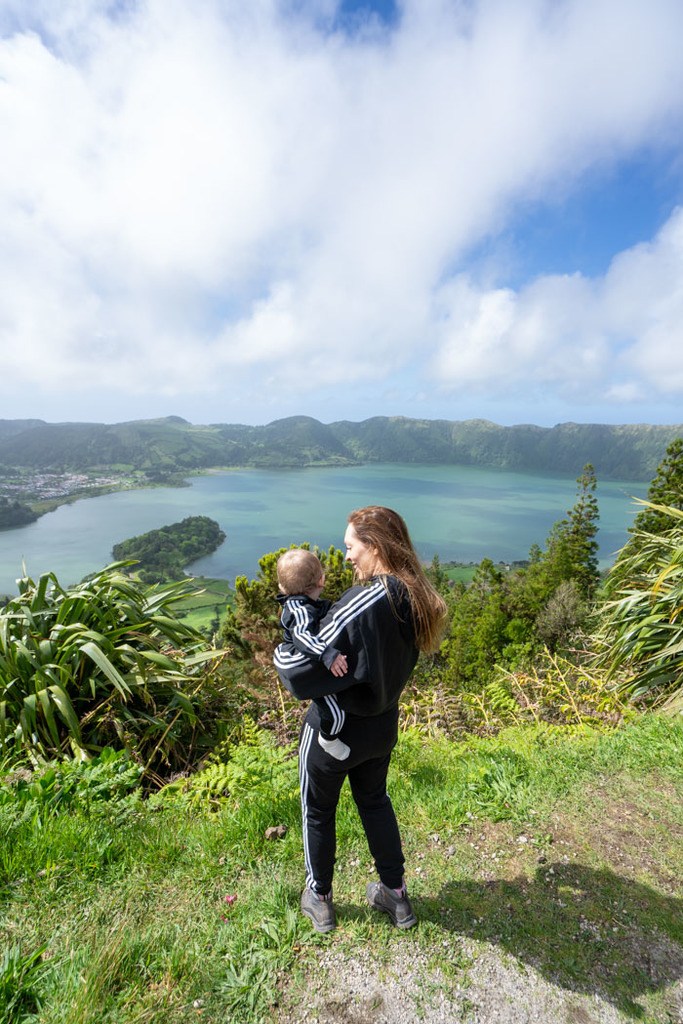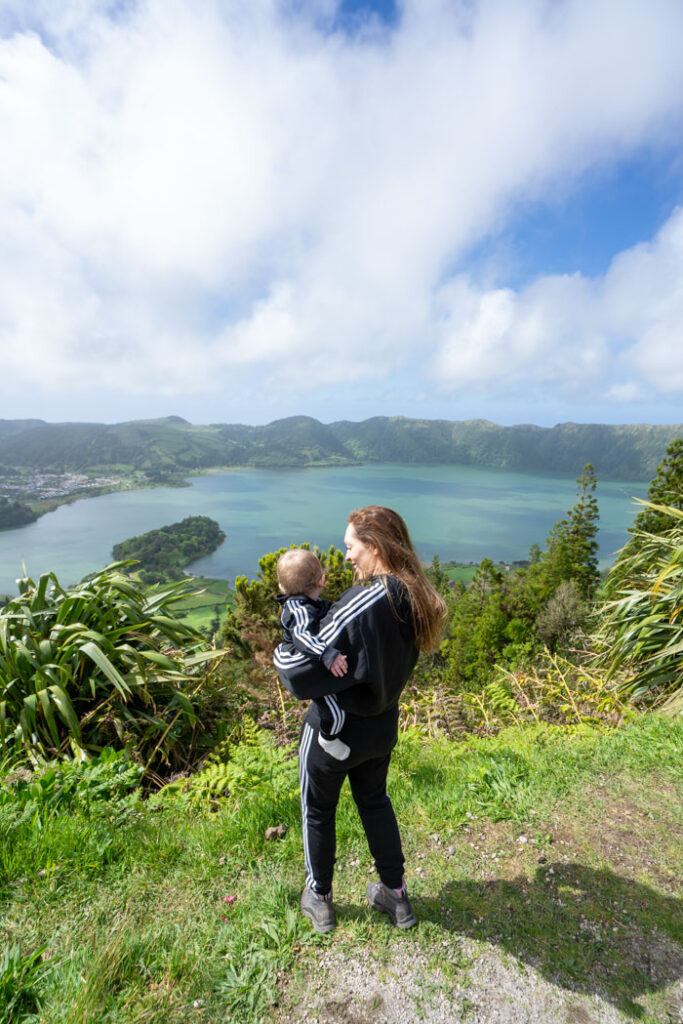 With the Azores being so remote, does that mean cell signal and Wi-Fi is hard to find? Thankfully no! Public Wi-Fi was sometimes available, most restaurants have it, and I had a great connection for most of the time through my eSIM with Nomad. I used to purchase local SIM cards at the airports, but an eSIM is simply far more convenient, especially now that I am traveling with a baby. I can install the eSIM in advance, and activate it upon arrival. It made navigating with Google Maps and finding restaurants while we were out and about much easier.
Nomad is running summer promotions starting until the end of July, with all of their 10GB plans (among others) on sale for 10% off. You can purchase data plans Nomad eSIM app on IOS, Android and online Webstore. Use my code "KRIS56JB" for $3 off!
5. It's Never That Cold (or Hot)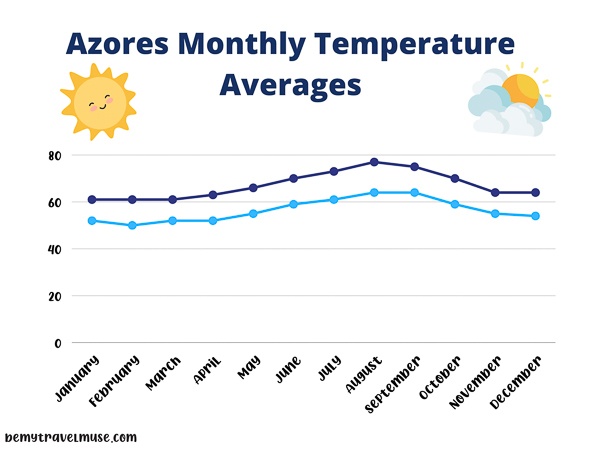 The Azores experience a subtropical environment with temperatures rarely going over the high-70s F or mid-20s C, or dipping below 60F or 10C. The biggest difference between seasons can be rainfall, which is highest October-March and lowest in the summer months. The islands are also quite humid, so the cooler temps can feel much cooler, and the warmer temps much warmer.
The Azores are also characteristically windy, and can be quite cloudy and gloomy outside of the summer months, though overall, the weather is unpredictable. Read more about Azores weather, sea temp, and when to go here.
6. Expect Four Seasons in One Day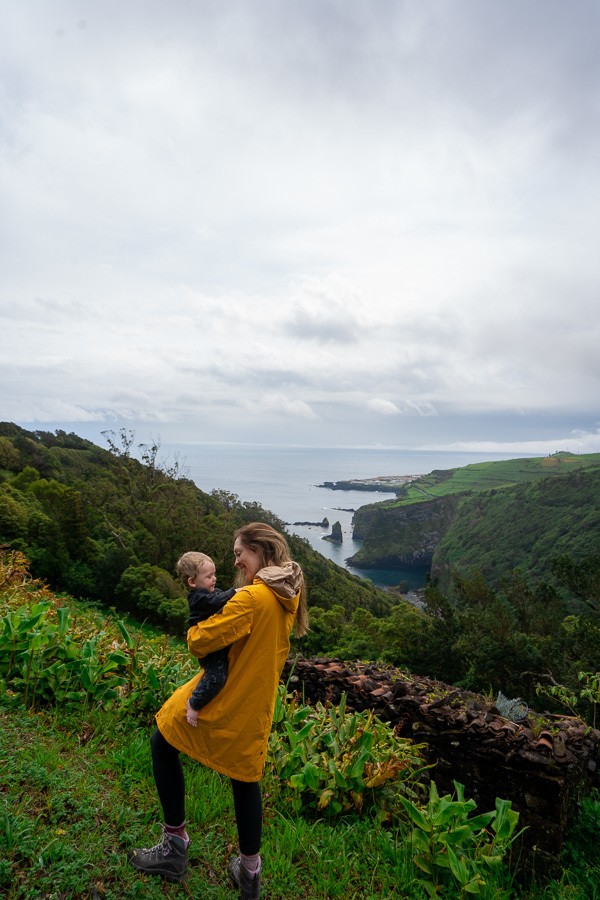 All of that said, even the warmest, most sunny summer day can experience sudden rain. Always be prepared with a rain jacket! I loved this bright yellow one from Eddie Bauer. It was just thin but also thick enough to be a great wind and rain shield without being too hot.
7. Leave Room for Weather Interruptions
All of that said, leave room in your itinerary for potential weather interruptions, especially if traveling outside of the summer months. When in Sete Cidades, we knew that cloud cover can be common, so we gave it three days in hopes of seeing the best viewpoints, which still never totally cleared up.
When we flew to Flores, the first time the plane couldn't land due to the wind, so we had to turn around and spend an extra night in São Miguel. I'm glad we gave Flores a few extra days while planning to account for this.
8. Tourism Season is Mostly Summer
Since the weather can be so much more unpredictable and gloomy outside of the summer months, expect for prices to be higher and tourism to be add to highest during June, July, and August. Late May and early September can experience nice weather with somewhat lighter crowds, though I roll the dice of it going much outside of those months.
We visited at the end of April/early May and while it was still beautiful, we had a few days of truly awful weather, and it wasn't warm enough to consider swimming. Still, booking was easier, it was less crowded, and accommodation and car rentals were cheaper.
9. Things Book out Well in Advance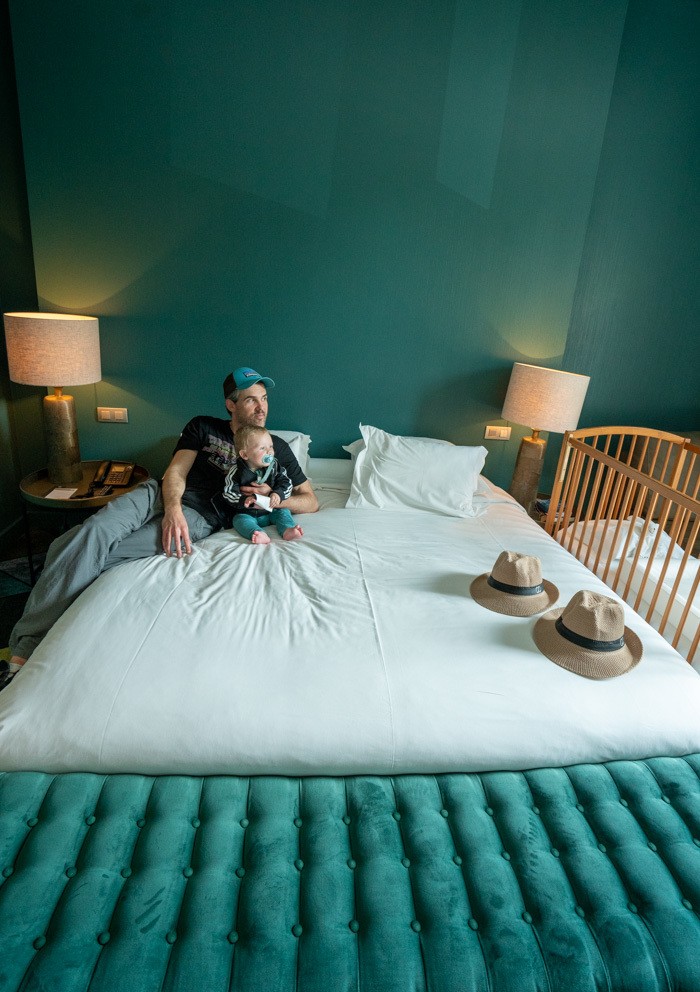 If you are visiting during peak tourist season, try to book as far in advance as possible. Hotels, tours, and cars are limited, especially on the smaller and more remote islands.
Check out my favorite hotels in the Azores here.
10. Rent a Car
Although some of the larger islands like São Miguel offer bus tours, the best way to experience the Azores is to rent a car and drive around them yourself. For the most part, driving is quite relaxed and it's a lot of two-lane roads. If you get car sick, know they are mostly very windy with lots of twists and turns.
They are mostly well-paved, and though some towns can be quite narrow with one-way streets, the driving was mostly low-stress. Book as soon as you know you're going, especially if you need an automatic car. We booked everything through Booking.com and ended up with Autatlantis and Ilha Verde, both of which were good.
11. Take Your Time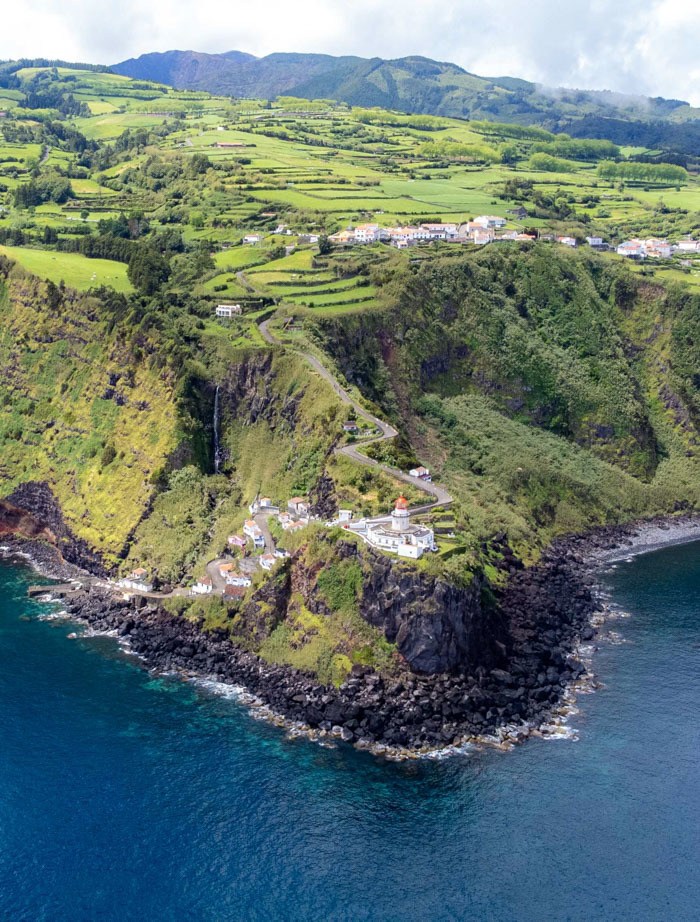 Although the islands look small, and in some cases possible to drive around within a few hours, there is so much to see and do that each one could easily deserve a week or more to itself. Plus, as mentioned before, weather is unpredictable and could foil the day's plans.
For our first visit, we didn't try to see every single island, instead picking two to focus on. When my partner went for the first time, he spent two weeks on São Miguel alone.
12. Consider Inter-Island Logistics
I didn't feel like getting around the islands with all that difficult or expensive — it certainly had nothing on the logistical nightmare that was planning French Polynesia — but you'll still have to deal with some flights only taking place on certain days and between certain islands. Sata Azores will be your only option for inter-island flights. Unfortunately there is no longer a major ferry route that connects them all, either.
Read more about how to get to and around the Azores here.
13. Pack Light if You Can!
Sata Azores thankfully includes one checked bag for free — at least, they did when I flew them this month — but keep in mind that car rentals in Europe are tiny! We struggled with our two suitcases, carry-ons, and the extra baby gear that we needed.
Two people could easily share a rental, but a whole family or larger group might have to opt for a van or multiple rentals to fit everything. I'd probably opt for the latter since some roads are narrow and parking spots are small.
Check out my Azores packing list here.
Before I had a baby and a lot of electronics, I traveled exclusively carry-on only! This is how I did it.
14. It's All About the Outdoors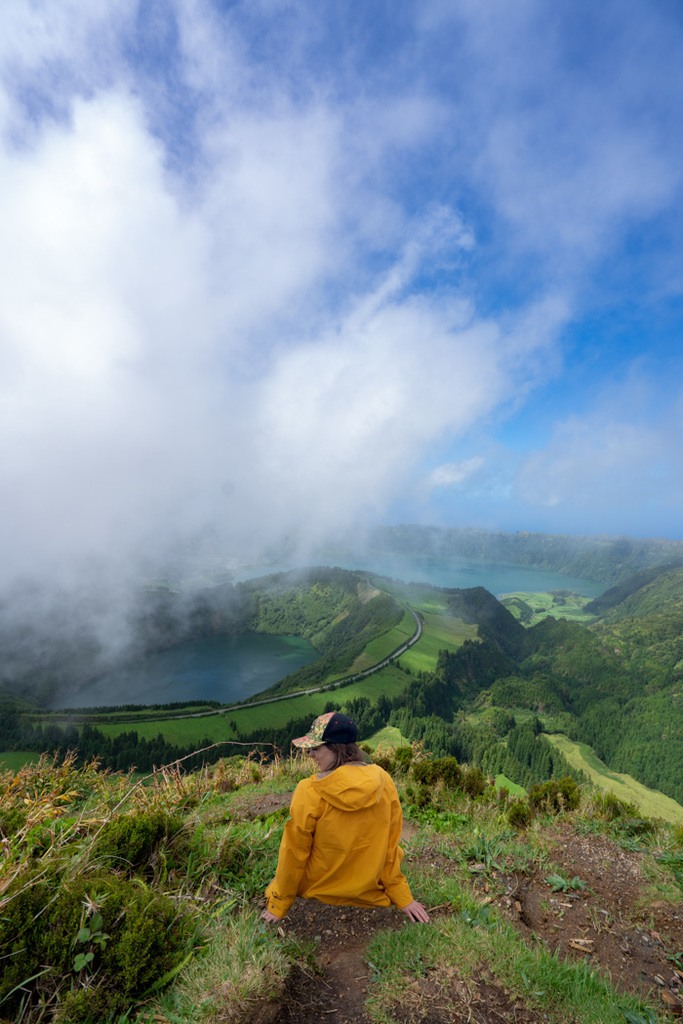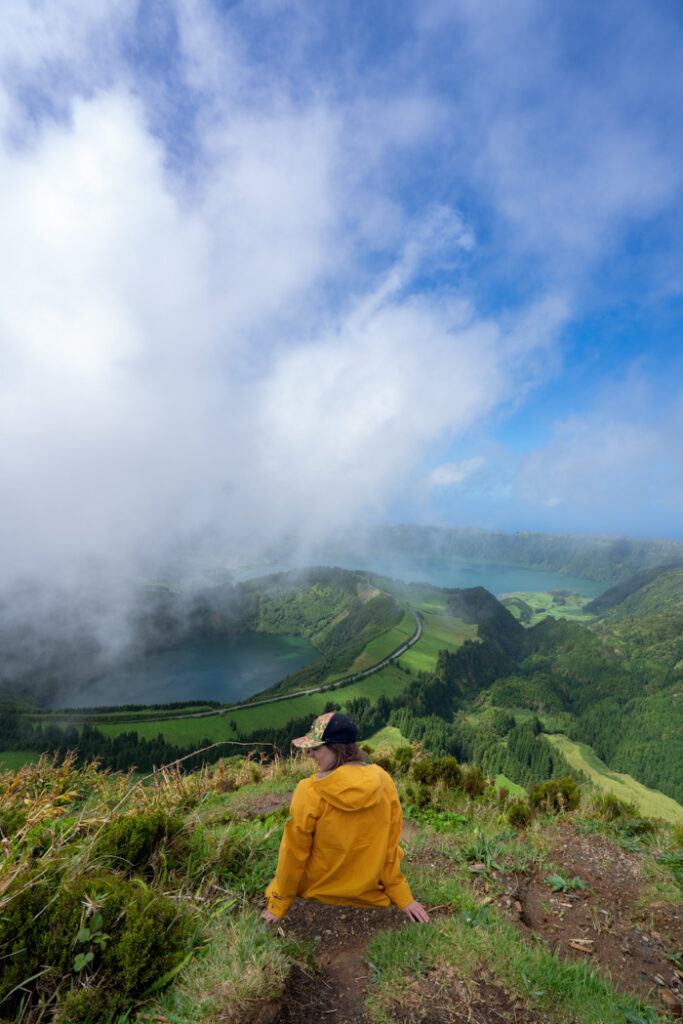 While driving around the Azores my partner exclaimed that they have something for everyone. While I agree for the most part, it does not really have a nightlife scene, and if you don't enjoy spending most of your time outside, they're probably not the islands for you.
The Azores are about culture, hiking, hot springs depending on the island, and mostly the great outdoors. The best things to do are hiking, checking out the Miradores, whale watching, and even swimming with dolphins!
15. Most Things are Free!
The best part is, most of the things that you want to do in the Azores are going to be free. Of course, tours and some attractions like the caves on Terceira or the famous garden on Sao Miguel cost money, but the miradores (scenic viewpoints), hikes, waterfalls, and swimming areas are all free.
16. Don't Expect a Beach Holiday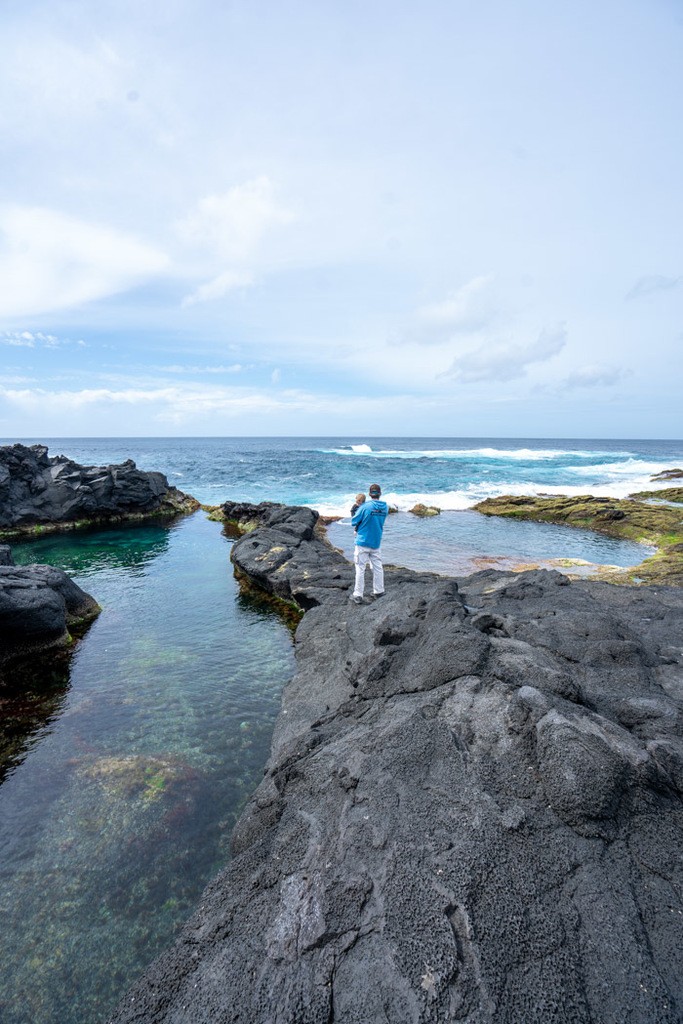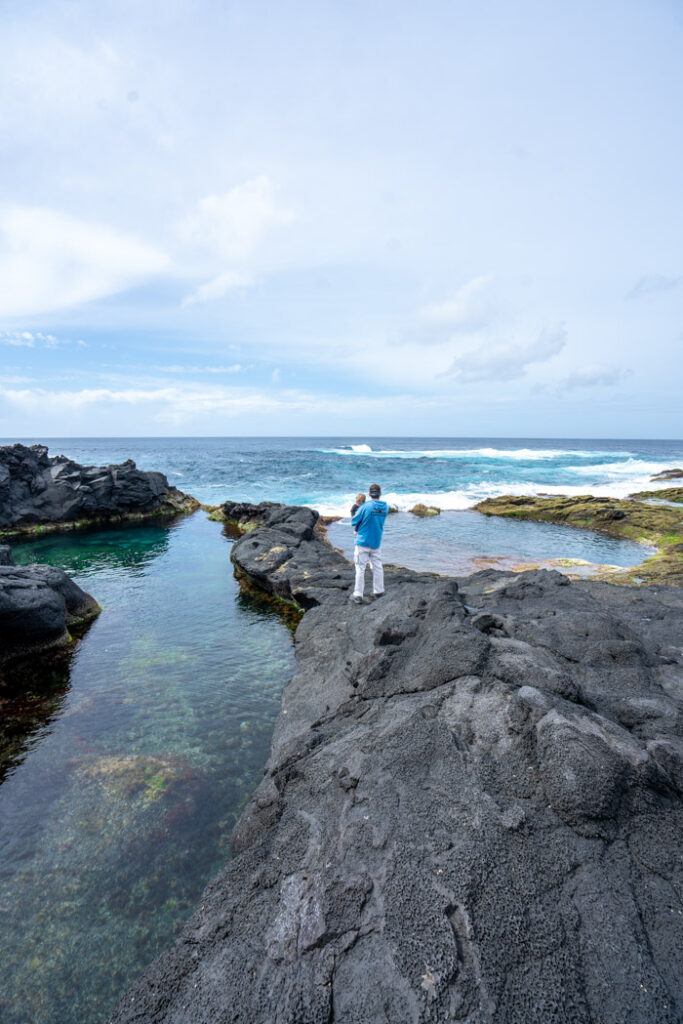 Speaking of swimming areas, most islands have 'natural pools', which are volcanic rock pools on the coastline, rather than beaches. While there are some black sand volcanic beaches, they are few and far between. The waves can also be intense. Although the Azores are often affectionately referred to as the 'Hawaii of Europe,' this really isn't a tropical beach holiday.
17. Azores Budget
Like Portugal, I felt at the Azores were a great value. While you can certainly spend more if you want to on accommodation, you can also find wonderful places to stay for €50 per night!
Groceries are also much more affordable than they are in the US. I couldn't believe how much cheaper diapers were!
18. Tipping
Like much of Europe, tipping equates to rounding up on your dinner or lunch bill. In some nicer restaurants, like the one at Octant Furnace on Sao Miguel, a 10% gratuity was worked into the final price, but usually, tipping like one does in North America is not expected.
19. Language Barrier
I'll be honest, my Portuguese is embarrassing. It's not that I have a hard time with reading comprehension since it is so similar to Spanish, it's just that I want to pronounce everything with a Spanish accent, and it couldn't be more different in Portuguese. Thankfully, locals generally speak at least some English and even the signage in large supermarkets was also in English. It's always important to learn at least some pleasantries like olá (hello) and obrigada (thanks), but if that's all you know, you'll be okay.
20. Family Friendliness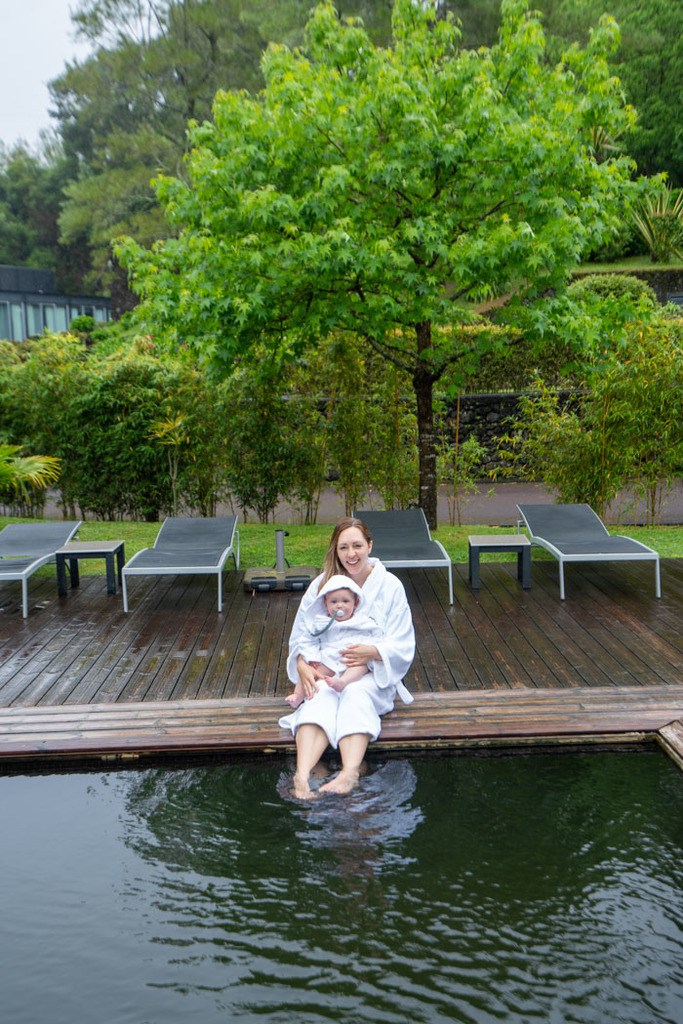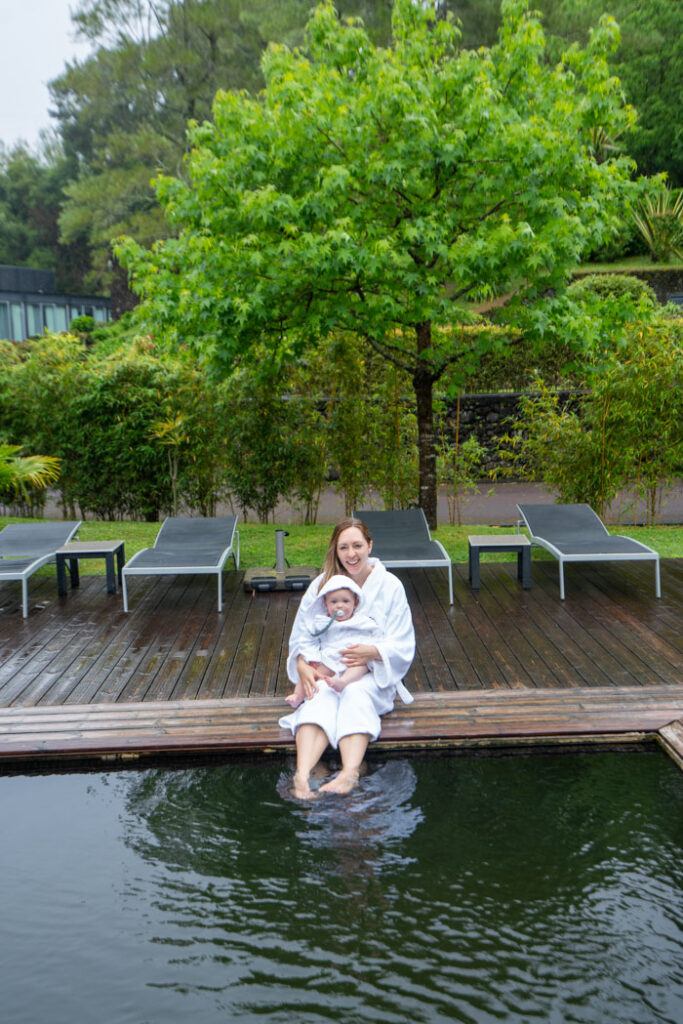 I've traveled to the Azores with my nine month old and I could not believe how incredibly family friendly it was! It's not just that people were so sweet and friendly with our baby, but I really felt like Portugal goes above and beyond to accommodate families with little ones. We skipped every line due to a law that requires those with children under 2 (as well as those who are pregnant, elderly, or have a disability), to be served first everywhere from immigration to car rental lines and even restaurants.
Each hotel we stayed at also had cribs, which were often full of toys and the cutest bedding. One hotel even had a full line of baby shampoos and a tiny bathrobe!
Overall, the Azores became one of my favorite destinations. The beauty of it plus the friendliness and affordability have me wanting to go back!
*This post was brought to you in partnership with Nomad. There are also affiliate links in this post. Any purchase you make through them supports this site at no extra cost to you!