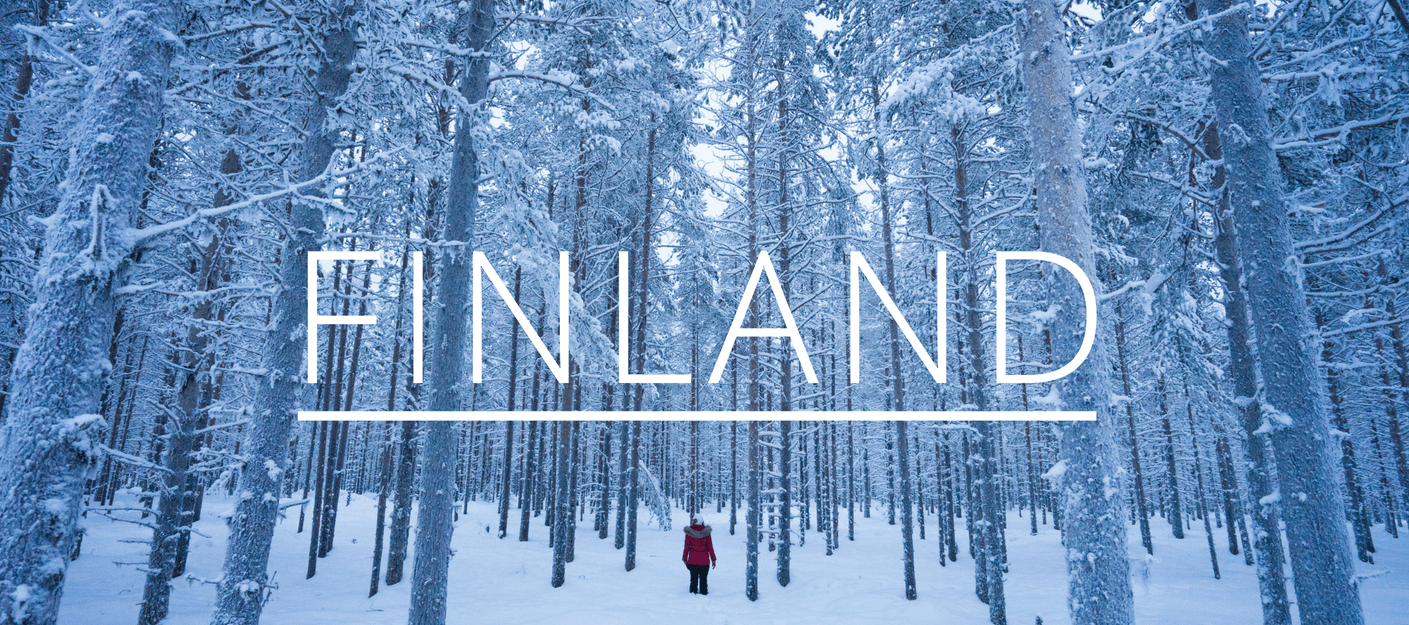 Finland is a destination that, apart from Helsinki, actually is much better known for its famous winters! Take a sleigh ride and observe how big of a part reindeer play in the culture in Lapland, search for the northern lights, and visit the hotels made entirely of snow and ice!
Finns are friendly people, with a killer sense of style and amazingly good English skills.
Where in Finland?

Finland
Quick Tips
Currency

: Euro (

click here

 for current conversion rates)

Visa

: 90-day

Schengen visa on arrival

for most nationalities (

click here

 for more info)

Safety rating

: Ranked 14 on the

Global Peace Index

with a score of 1.49 (USA is ranked 128 with a score of 2.40)

Solo Travel Friendliness

: Finland is one of the safest countries in the world. You can go for a walk or hike alone at night in Lapland without worrying about your safety – I did that a few times myself. The locals are a warm and friendly bunch, and crime rates are extremely low, but pickpockets are around in crowded areas so always keep an eye on your belongings.

Climate

: The coldest month is in February and warmest month is in July. Winters are long and cold, especially in the Arctic where temperatures are regularly sub-zero. Midnight sun can be expected in the summer, with temperatures ranging from 55°F to 63°F.

Best SIM cards

: Elisa (the brand name for prepaid packages is Saunalahti) – cards can be purchased at the airport or official shops. Bring your passport.

Random useful tip

: Under a unique legal concept known as Everyman's Right, everybody is allowed to roam Finland's forests and countryside freely, with exclusions in some areas like natural reserves and military areas. This means you can pretty much pitch a tent and camp anywhere you want in the country.
Accommodation
Budget Solo Travelers ($15 - $30): You can camp pretty much anywhere in Finland, so pack your camping gear if you want to save on accommodation - keep in mind that the winters are bitterly cold, though so you'd need some very specialized equipment outside of the summer months. Campsites with amenities cost about $15 - $30 per night. Many hostels are under the HI Network, so sign up for their membership to receive discounts, especially if you plan on staying exclusively in hostels in Finland. Expect to pay $20 - $30 for a night's stay at a hostel. Wi-Fi is pretty much standard across all hostels, and some hostels offer free breakfast.
Mid-Range Solo Travelers ($50 - $80): Hotels in Finland are generally expensive, but one interesting thing to note is that rates are lower during high season – opposite of the norm. Expect to pay $50 - $60 for a basic private room, and $70 - $80 for a double room in a budget hotel. Airbnbs average at around $70 for a private room, and at $130 for an entire unit.
Food
Cheap Eats ($5 - $15): Economical small meals can be found at market halls, supermarkets, street stands, and in train and bus stations, costing about $5 - $7 for a snack. For a more filling meal, keep an eye out for lunch deals and buffets during lunch time. Sandwiches, pizza, and kebabs are also cheap in most places. Expect to pay $10 - $15 for those.
Restaurants and Pubs ($20 and up): Finnish specialities include reindeer and salmon. My personal favorite restaurant in Finland is Pihvikeisari, where everything is local and homemade. Expect to pay about $20 - $40 for a main. The same price range should be expected across other restaurants in Finland with similar quality. Beer costs about $7 - $10.
Transportation
Getting There: The main international airport is Helsinki Vantaa Airport, located in the capital. Crossing borders overland is possible from St Petersburg to Helsinki by train, or from neighboring countries by car.
Getting Around Town: One of the best ways to get around is on a bicycle - assuming the ground isn't covered by snow. You can rent one from any rental shop for about $15 - $30 per day. Buses are well integrated and reliable. Look into getting a connection pass if you are staying for more than a couple of days. Taxis are expensive and I'd only recommend getting into one if you are sharing the fare with others. Unfortunately, Uber has recently pulled its primary service out of Finland until 2018, and the only service available is the luxurious UberBlack.
Inter-city Traveling: Buses are the cheapest option, with a single trip ticket from Turku to Helsinki costing as low as $15. Book as far in advance as possible to get discounted rate. Trains are a more comfortable, but also a more expensive, option. Expect to pay about $5 - $10 more than buses for trains. For overnight trains, try to get in a proper sleeper car as other classes may be too uncomfortable for a good night's rest. The best way to get around Finland, in my opinion, is to rent a car, which will give you ultimate freedom. Driving in the Finnish winter is, shall we say, interesting but not impossible!
Things to Do
Go Dog Sledding in Lapland: Dog Sledding is actually a North American tradition, but the conditions in Lapland are perfect for the dogs, who do best in solid, dry snow, which occurs when it's particularly cold outside. Based on what I've read and seen myself, the dogs were probably having more fun than their passengers, just make sure you pick a company that treats the dogs right.
Ski at Äkäslompolo: Skiing in Äkäslompolo was an altogether different experience compared to skiing elsewhere. It feels so incredibly secluded, so profoundly quiet, and so calmingly peaceful. There are only four ski runs, but they're wide and uncrowded. If you don't alpine ski, Nordic skiing and snowshoeing are also popular.
Go for a Sauna Gondola in Lapland: Sitting and relaxing in a streaming wooden room is perfect, especially when it's crisp and cold outside. At the ski resort in Ylläs, you can actually rent a sauna gondola and afterwards you can drink beer, go in the jacuzzi outside, and use the other sauna inside as well. Do this when you are in group, as the total cost can be hefty. If you are not in a big group or simply do not find sauna appealing, here are 12 other things to do in Lapland.
Do a Northern Lights Safari: I was a bit unlucky with the weather and had cloud cover when I hunted for the Northern Lights, but Northern Finland is one of the most popular places to see the Northern Lights. Do your research on the weather forecast and go with a tour company (as they have more experience and therefore more knowledge on viewing possibility). It's something you will never get tired of seeing.
Stay at a Ice Hotel: I visited two ice hotels while I was in Finnish Lapland – Snowman World in Rovaniemi, and Snow Village in Kittilä. Everything was made of ice (duh) and one of them even had a church where people get married! If you have the budget, spend a night in one of them for a unique hotel experience. Expect to pay about $150 for a night.
Visit the Capital: Helsinki is a beautiful ancient city filled with gorgeous architecture, artwork, museums, and friendly locals. It's the perfect place to get to know Finland, and an equally perfect place to kick back and relax, as the capital has no shortage of cozy and hip cafes.
Apps to Download
City-Opas (tourism service provider), Whim (Public Transportation Hub in Helsinki)
Finland on @BeMyTravelMuse's Instagram