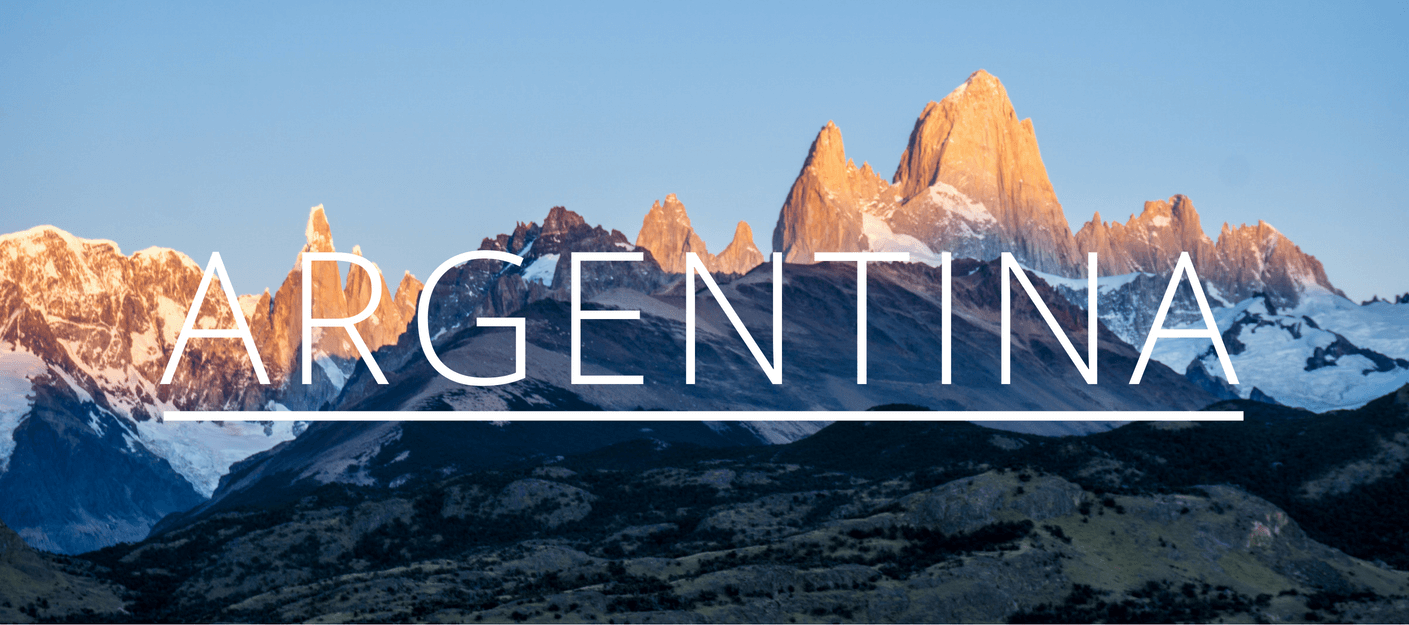 Argentina is a massive country with so much to offer. From a rich culture, to amazing steak and beautiful landscape including Iguazu Falls and part of Patagonia, there's a practically endless list of things to see and do there. It's a place where the people are beautiful, Mate tea drinking is a communal ritual, spoken Spanish takes on its own form, and soccer is practically a religion. 
Solo female travelers will have to battle cat calls, which is true in all of Latin America, but the quaint little towns all along Patagonia have their own unique character and it's hard not to love the country as a traveler despite its (few) shortcomings. 
Where in Argentina?

Argentina
Quick Tips
'Hello' and 'Thank You' in Spanish:

 "Hola" and "Gracias"

Currency

: 

Peso (

click here

 for current conversion rates)

Visa

: 90-day visa on arrival for US citizens. The reciprocity fee has recently been waived. Australians and Canadians still must pay a reciprocity fee 

(

click here

 

for more info)

Safety rating

: Ranked 75 on the

Global Peace Index 

with a score of 1.99 (USA is ranked 128 with a score of 2.40)

Solo Travel Friendliness

: As one of the most developed and safest countries in South America, Argentina is a good place to travel through, though solo ladies will experience a fair amount of catcalling. Accessibility between the cities is easy, and the locals are friendly and love chatting up to solo travelers. Beware of pickpockets, particularly in train stations, and avoid walking alone in quiet, narrow streets at night

Climate

: It depends on where you go. In the far north, expect scorching hot summers and in Patagonia, be prepared for heavy winds, rain, and cold year-round. Winters often experience snow in the mountains and in Patagonia

Best SIM cards

: The jury's out on this one. I never found a good company

Random useful tip

: Getting currency can be a pain in Argentina. The max withdrawal limit is around $100, the exchange rate is constantly fluctuating, and ATMS frequently run out of money and have queues. Don't wait until the last minute to get cash, and research the economic situation before visiting, as prices have gone from relatively cheap to expensive as of late
Accommodation
Budget Solo Travelers ($5 - $20): In Patagonia, camping will be available just about everywhere you go. If you have a tent with you, expect to pay $5 - $20 to camp at campsites with kitchen facilities and showers. Dorms in popular areas like Buenos Aires and Patagonia cost about $5 – $15 per night, depending on location and facilities, and about $5 - $10 in less popular areas. Consider signing up for a HI membership to get better rates, especially if you plan on staying exclusively in hostels.
Mid Budget Solo Travelers ($30 and up): Expect to pay double the price of a dorm for a private room in a hostel or a budget hotel. Mid range hotels with facilities like private showers and swimming pools start from about $30 per night. They tend to cater to business travelers and lack character. For a more authentic accommodation experience, check out the locally run homestays, which typically cost about $30 - $50 per night. Airbnb was my favorite way of booking accommodation, averaging about $15 for a private room, and at about $60 for an entire unit.
Transportation
Getting There: The main international airport is Ezeiza International Airport, located in Buenos Aires. Direct flights are available from the US, Canada, Australia, and New Zealand. Crossing borders overland from neighboring countries like Brazil, Chile, Paraguay, Uruguay, and Bolivia, is straightforward, usually by buses that are reliable and comfortable. Make sure to have your visa sorted out beforehand.
Getting Around: The bus network is extensive and reliable in most cities. The buses are clearly numbered and destination is displayed on a placard. Bus fare for a single trip in the city generally costs less than $1. In the capital, trains are the fastest and cheapest way to get around. Taxis are widely available in major cities, while most of them are metered, some may refuse to use one so make sure to check with the driver before getting into one.
Inter-city Traveling: Long distance buses are reliable and comfortable. Most inter-city buses have reclining seats, movies,, and food served on board. They can run anywhere from $20 and up for longer distances and can be booked at your hostel, online (depending on the company) or directly at the bus station. For those on a tight schedule, it sometimes makes sense to rent a car, especially if traveling in areas where buses are infrequent and hitchhiking takes a lot of time. Prepare to pay up if you plan on returning it at the end of the road instead of where you started the trip. Hitchhiking is common and sometimes the only option in places like Patagonia, but not as much elsewhere in the country.
Food
Buy Groceries and Cook Your Own Food ($3 - 5): Eating out can be expensive in Argentina, especially in Patagonia. Budget travelers can buy groceries at the local supermarkets and cook their own food at the hostels or campsites, which typically have kitchens and cooking utensils available for guest use. Expect to pay about $30 - $50 for a week's worth of groceries. Small meals like Empanada, sandwiches, pita bread, and sausages are sold by street vendors. Keep an eye out for lunch deals, the menu del dia, at local restaurants where you can get a big meal for about $5.
Restaurants & Bars ($20 - $30): Great quality restaurants and cafes are ubiquitous in major cities. Beef is the country's pride and it's definitely worth splurging now and then on a meal out. Expect to pay about $20 for a steak with a glass of wine. I have also had some of the best lamb ever in Patagonia, so keep a lookout for that! One thing to note is that dinner starts late in Argentina, and it is common for the locals to turn up in a restaurant for dinner at 10pm. Pasta, pizza and barbeques are local staples, and each region has its own specialties.
Things to Do
Hike in El Chaltén: El Chaltén is proudly the hiking and rock climbing capital of Argentina. Whatever level of fitness you have, chances are you can find something suitable there. In fact, it is my favorite spot in Patagonia. I took a few day hikes and a 4-day hike and while some days were particularly challenging, every day I felt like I was in a different world, as the scenery changed from flat trails with trees dotted along the way, to brilliantly blue lagoons, and to majestic glaciers. Remember to reward yourself with a scoop (or 3, in my case) of ice cream at Domo Blanco afterwards!
Hike Huemul Circuit: If you are up for a (true) challenge, check out Huemul Circuit. It is difficult and technical enough to keep most people away, but that can also mean complete solitude almost all of the time - I got sunrise at the glacial lagoon all to myself and my other two hiking buddies! Expect unmarked trails, strapping on a harness and pulling yourself across a wire rope over two rivers, really steep (almost vertical) descents, and the most rewarding views ever. Fret not if all that sounds like too much, as there are other hikes in Patagonia to check out as well.
Explore Bariloche: The town itself reminds me of Europe. I was not the biggest fan of the town as it was crowded and touristy, but the beautiful spots outside of the town, I loved. Rent a car and drive around the route of seven lakes, making stops along the way to check out the crystal clear water, or the equally beautiful Cerro Campanario; hike Refugio Frey, Refugio Otto Meiling, and Cerro Tronador. Overall I enjoyed my time there and thought it was a good starting point to the rest of Patagonia.
Explore Salta & Jujuy: Salta is a fun and beautiful province located in northwest Argentina. The most popular attraction is Salinas Grandes. They are a giant expanse of white as far as the eye can see – almost like a field of snow but hard and with textured ridges that crisscross the ground in a geometric grid. Jujuy, on the other hand, offers Pumamarca, known as the canyons of Jujuy. You can join a tour and check out these places, or simply take walks, hang out with the llamas, and stuff your face with empanadas.
See Iguazu Falls: Iguazu Falls are twice as wide as Niagara Falls! A staggering 450,000 cubic feet of water rushes the cascades every second, which is how they got the nickname "Niagara on Viagra". It is one of the most magnificent things to see in Argentina, and you can get there easily by local bus.
Tango in Buenos Aires: Imagine a European city with Latin vibes – that's Paris of South America, Buenos Aires, for you. It's a great place to both head out and explore, and to kick back and relax. It's a mix of modern and colonial architecture, fabulous nightlife, and fantastic museums. For a true local experience, head to the park and share a mate tea with friends.