A couple of weeks ago, a reader emailed me asking for some advice on how to deal with her worried parents.
She had long wanted to take off on a solo trip around Southeast Asia, but every time she brought it up to her family, her mother would get teary-eyed and her father would express his concerns about her traveling alone, resulting in her feeling guilty without an idea of how to get around this hurdle in her trip-planning process.
All I could do was tell her that as an adult, she had to do what was right for her and know that their support would eventually follow. That said, I'm not a parent, so it's hard for me to see it from their point of view.
So, I thought it best to go straight to the source. The following is an interview with my very own mother about how she personally dealt with my solo travels and her suggestions to fellow parents of wanderlust-stricken children. Her answers and suggestions surprised me:
Q: What thoughts ran through your head when I told you I was going to quit my job and take off on an open-ended trip far, far away?
M (for Mother): "I think, because you had already shown a taste for travel, as an intern in Washington, D.C. during college, and as a student of Mandarin in Taiwan, I had a little bit of experience with this. Even so, the night before departure went something like this-
Me: So, do you know where you will be staying when you first get there? (Anticipating that at least I will have the name of a hotel for the first night, or a contact phone number, in case of dire need)
Daughter: No, I don't have a specific place yet.
Me: So, what do you do when you get there? (This was Bangkok)
Daughter: I am just going to go to this street that I've heard about. Lots of backpackers go there. I will be able to find a place to stay.
Me: So, if I needed to get a hold of you, I couldn't?
Daughter: No
Me: (Internal dialogue inside head: do not panic)
(Me in blue) Yikes! Sorry Mom! I didn't even think about it (obviously) and how it would affect you! I feel a little selfish now. But hey, it all worked out!
Q: This isn't the first trip I've taken solo. Were you more prepared for me to go away this time since I already moved abroad solo at 21?
M: The prior experiences DEFINITELY helped me, as a parent, to know that my daughter had proven herself in the "I can take care of myself in another city/state/country (select option)", which was great. My advice to young adults would be – By all means help your loving folks back home have CONFIDENCE in your plans by taking a "baby trip" first.
That's not something I would have thought to suggest but think is a great idea!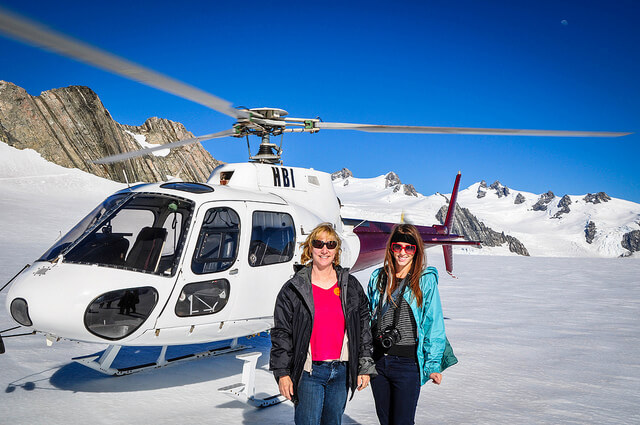 Q: Do you ever worry about me and if so, how do you quell your fears?
M: LOL – we are from Los Angeles!!! Seriously, a parent can worry if her child is in the next city. I "worry" about all of my children, simply from the standpoint of being a parent and caring for them. In the end, it doesn't seem to be any different if they are one hour away, or 20.
Wow my mom totally used LOL. She's so hip and "with it."
Q: How do your friends and colleagues react when you tell them what I'm doing and do their reactions ever bother you?
M: The most common reaction is admiration that I have a daughter who is gutsy enough to follow her dreams, when her dreams lead her out of most people's comfort zone, and admiration for me (surprisingly) to have raised such an offspring.
That's pretty cool, and I bet a lot of worried parents haven't considered that!
Q: What advice would you give to worried parents whose children want to travel?
M: Plan to go visit them. I must say, I have seen more of my daughter and spent more quality time with her since she has become a traveler than when she lived an hour's drive away! I visit her, she visits me, we make more of an effort.
This is extremely true.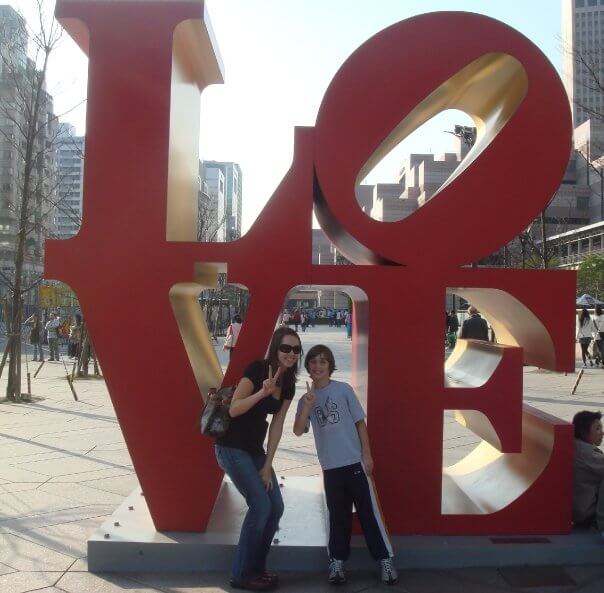 Q: What are some things that children of worried parents can do to help convince them that solo travel is OK, even for a female?
M: You did extensive research before traveling. You attended conferences and read a lot about others' experiences. You really planned. I am, by nature, a planner, but you're not! The fact that you prepared so thoroughly (for a year!) did a lot to convince me that you knew what you were doing, and that it was in your heart.
The other thing we found was, communication these days is so easy! I thought that you were going to vanish off the face of the Earth. In reality, due to email, and services such as Skype and KaKao Talk (a free iPhone application), people can stay connected.
Most Importantly, I'd say to parents that if you can, visit your son or daughter while they are abroad. They bring their world to you, and you to their world.
This response actually made me laugh out loud. My mother knows me well, I'm no planner! I also love the suggestion of planning ahead as much as possible, and really showing your parents that you know what you're doing!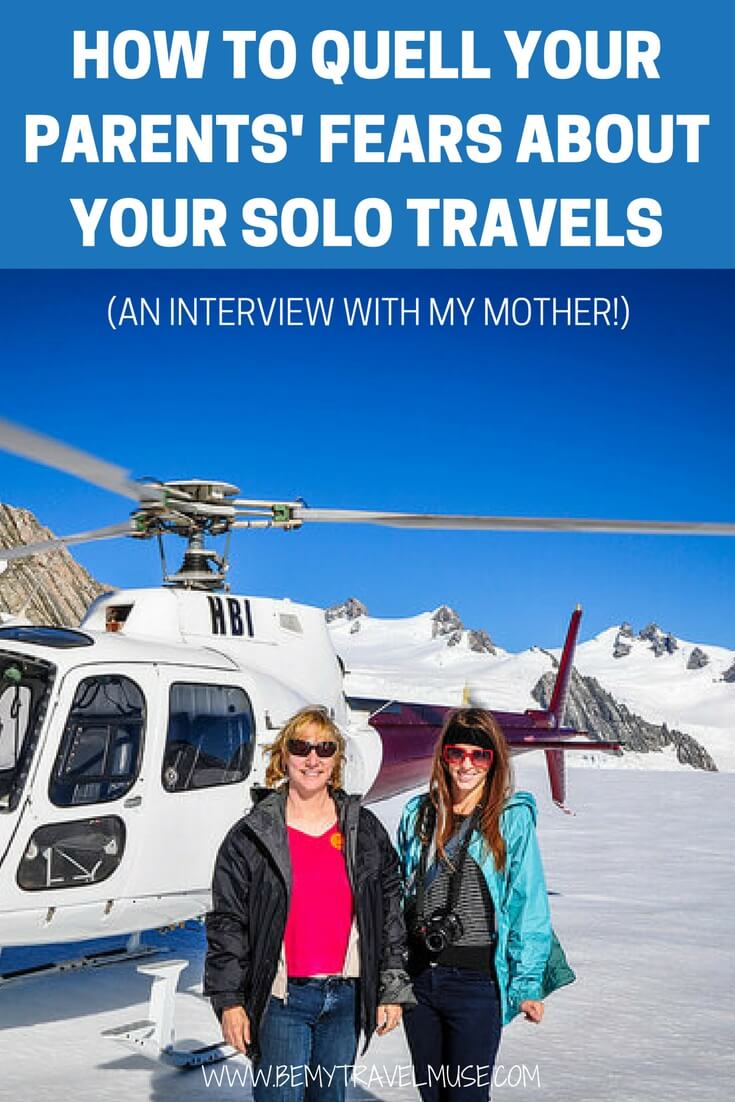 Do you want to travel abroad but have worried parents? Do you have any other suggestions that worked well for you? Do share in the comments section!