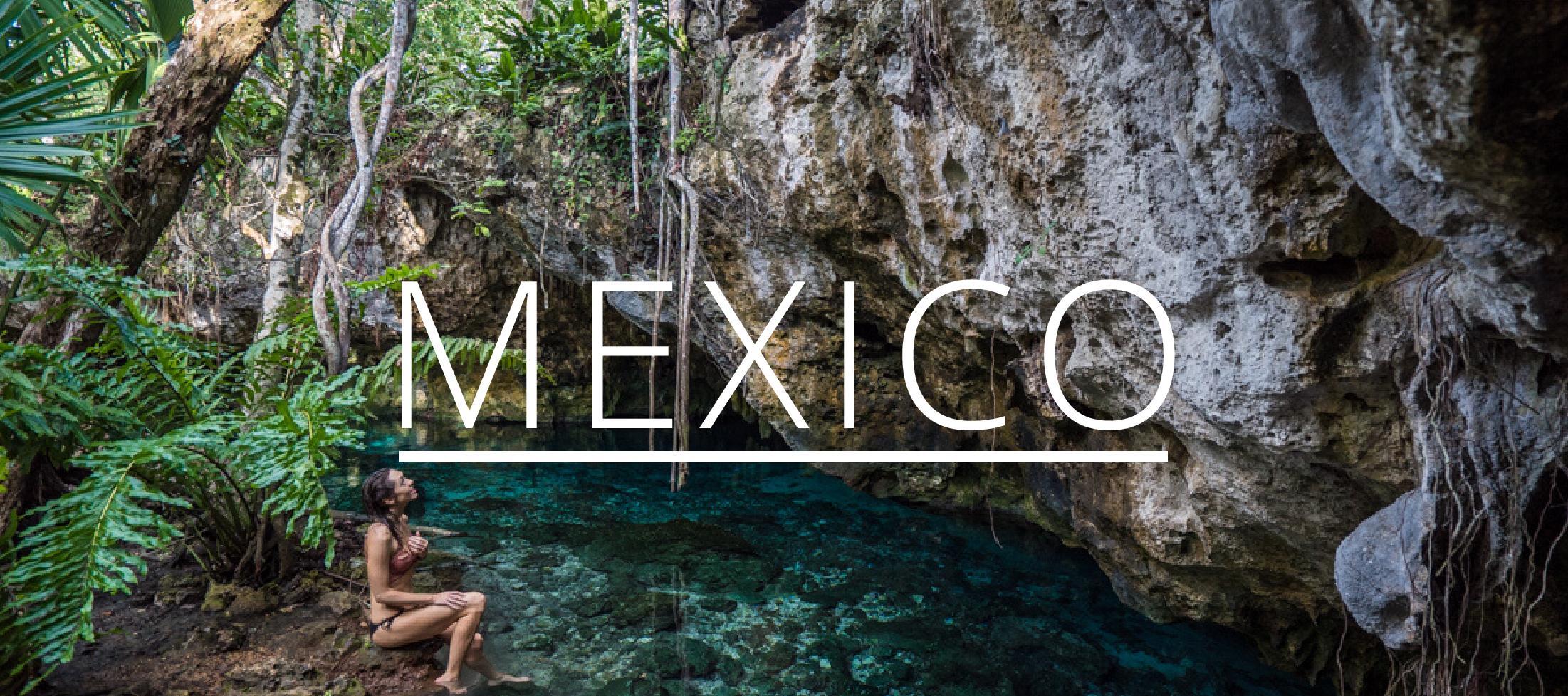 A large country with multiple cultures, climates, and nature, Mexico is full of adventures!
Check out the ancient Mayan temples or the cenotes in the East, the amazing sea life and tranquility of the west, and the vibrant cities in between.
Mexican culture offers multiple holidays, like Dia de Los Muertos, variations on truly delicious cuisine, and a welcoming culture that's easy to fall in love with. Come for the amazing scenery, but stay for the chill vibes and beautiful connection to ancient civilizations.
Where in Mexico?

Mexico
Watch my vlogs from Mexico
Quick Tips
'Hello' and 'Thank You' in Spanish

:

"Hola" and "Gracias"

Currency

: Mexican peso (

click here

for current conversion rates)

Visa

: 90-day visa on arrival for most nationalities (

click here

for more info)

Safety rating

: Ranked 140 on the

Global Peace Index

with a score of 2.6 (USA is ranked 128 with a score of 2.4). The U.S government has issued a level 4 (do not travel) warning for areas including Colima, Guerrero, Michoacan, Sinaloa, and Tamaulipas due to crime and kidnapping. That being said, the places I have visited, most of which are frequented by international visitors, felt safe. Just be mindful, learn some basic spanish and you are good to go.

Solo Travel Friendliness

: Don't let the media put you off - so many solo female travelers rave about Mexico as one of the best solo destinations! Each town seems to have endless things to do, street food makes eating alone less awkward, and people are generally kind and friendly. It might be a good idea to not disclose that you are traveling solo to avoid potentially sticky situations, though.

Climate

: Dry season starts from December-April, wet season starts in May-October. Go in January-February if you are hoping to see the passing whales.

Best SIM cards

: Telcel – cards can be purchased at the airport and major shopping malls. Bring your passport.
Accommodation
Budget Solo Travelers ($6-$17): Expect to pay about $7-$17 per night in Mexico City, $6-$12 per night in Cancun, $8-$15 per night in Tulum, and $8-$15 per night in Playa del Carmen, for a dorm bed. Most hostels come with free breakfast and WiFi.
Mid-Range Solo Travelers ($16 and up): A night at a decent, 3-star hotel costs from $16 in Mexico City, from $18 in Cancun, from $32 in Tulum, and from $16 in Playa del Carmen. Airbnbs are amazing and popular in most places, and an entire place could be significantly cheaper than hotels if you are splitting the cost with someone. If you are looking for a comfortable stay and are happy to splurge a little for more privacy, I loved my one-bedroom airbnb in San Francisco.
Food
Street Food ($2 - $10): Mexican street food is my favorite. Tacos, tamales, enchiladas, tostadas, more tacos... oh boy! Stick to the little, unassuming local eateries that are more authentic, tastier, and cheaper. A fresh and hot taco costs as little as $0.50! If you're hesitant about the whole affair, go to a stand that has lots of patrons. It wouldn't be super popular if it made people sick. For a fuller meal, look for fondas, or fonditas, where a full course meal is served at just about $2-$5. If you want fresh fruits, keep a lookout for the local fruiterias. Chances are all of the produce is fresh from local farms.
Local Restaurants ($15 - $30): It's hard to beat Mexican food, even when comparing it to the rest of the world, at least in my Southern Californian heart. Get ready to make your tummy very, very happy! A meal at the local restaurant costs about $5-$10. On coastal towns, expect to pay more at the beachfront restaurants. 
Transportation
Getting There: The main international airports are Mexico International Airport (MEX) and Cancun International Airport (CUN), though there are more than 70 international airports across the country. Direct flights are available from just about every major city in the USA. If you prefer land transport, the Amtrak train rides are available from major cities in the USA and Canada. Driving into Mexico can honestly be quite painful at the border, and your local auto insurance most likely does not cover Mexico, so a Mexican policy is required.
Getting Around town: If you are in the major cities, the public bus system (known as camiones) is affordable and convenient. You could easily get around on about $0.50 per ride. Outside of the major cities, or on the islands, you may consider renting a car. When driving in Mexico, go slow, drive defensively, and watch for speed bumps in the towns. Car rentals are dirt cheap, just make sure that insurance is included in your booking or they'll try to charge you extra for it when you pick up the car. 
Inter-city Traveling: You can take long distance buses to get from one city to another. Look for a directo your journey has lesser stops along the way. Domestic flights may make more logistic sense. They are affordable and frequent.
Things to Do
Cenote hopping in Tulum: Tulum is a dreamy, laid back beach paradise with white sands and jungle adventures. It's one of those places that make you plan your next visit as soon as you arrived. There are so many cenotes scattered just about everywhere that you could spend weeks only going cenote hunting. Each has a unique selling point as well – some are best for diving, others are deep in caves, and they vary in color as well. Of course, that's not the only activity available - you can explore the jungle, get in the water, eat delicious local food.
Relax in San Francisco: This is the perfect place to relax. Nowhere to be, no schedule to maintain, no alarm to set. It's not a place with a list of things to do, in fact there's really nothing much to do. There are no high-rise hotels nor dazzling lights. The cell signal barely works, even in town, although there are adorable shops and delicious restaurants to keep you busy. If that sounds perfect to you, you know where to head to!
Join a retreat in Sayulita: In many ways, Camille Willemain's Medicine Women retreat was life-changing. If you are interested in joining a women's retreat that also includes local beliefs and traditions, this retreat is perfect for you. Click to read a full review and see some photos! Sayulita itself is also amazing, so be sure to spare a few days to enjoy the abundance of things to do in this magical town.
Argentina on @BeMyTravelMuse's Instagram
This error message is only visible to WordPress admins
Error: Access Token for bemytravelmuse is not valid or has expired. Feed will not update.
There's an issue with the Instagram Access Token that you are using. Please obtain a new Access Token on the plugin's Settings page.
Error: Hashtag limit of 30 unique hashtags per week has been reached.
If you need to display more than 30 hashtag feeds on your site, consider connecting an additional business account from a separate Instagram and Facebook account.