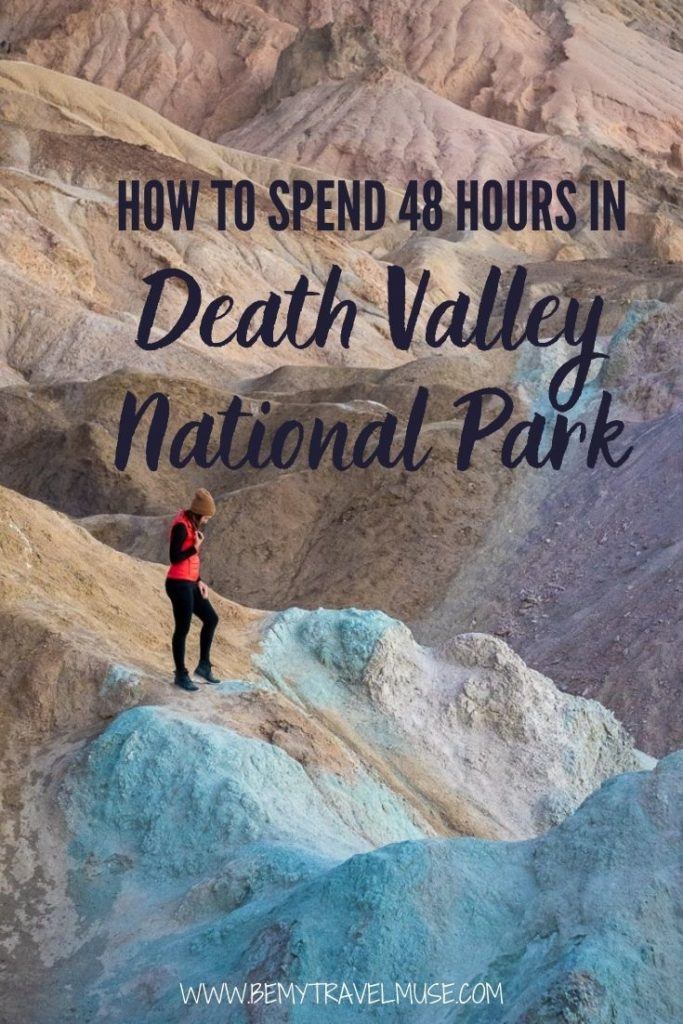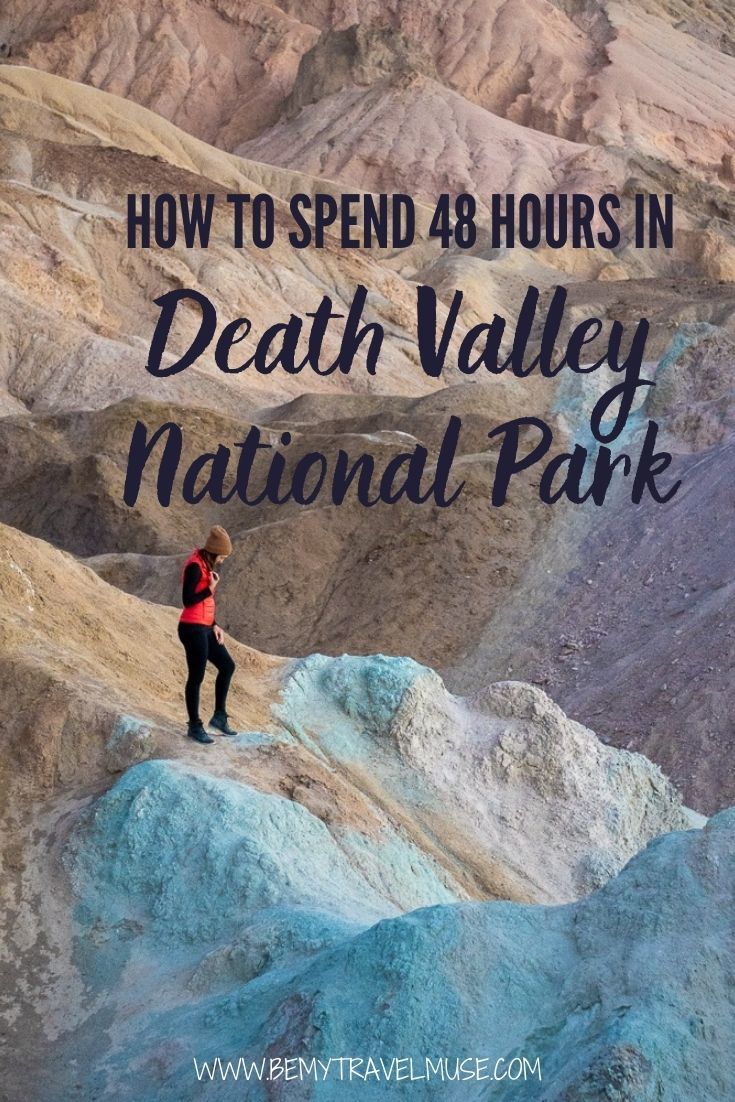 For some people, visiting the desert for fun sounds unthinkable. But for me it's an enchanting adventure, and I'd love to help you see it that way too.
While tropical beaches, forests, and jungles all have their special beauty, The desert offers something unique – vast expanses as far as the eye can see, silence and peace, an incredible sky, and landscape that changes color throughout the day depending on the sun.
In the desert, it's the landscape itself that is the main star, and to me, Death Valley is one of the most beautiful deserts in the world. This is how to enjoy 48 hours in Death Valley National Park:
More of a visual learner? Watch the video!
The Mesquite Flat Sand Dunes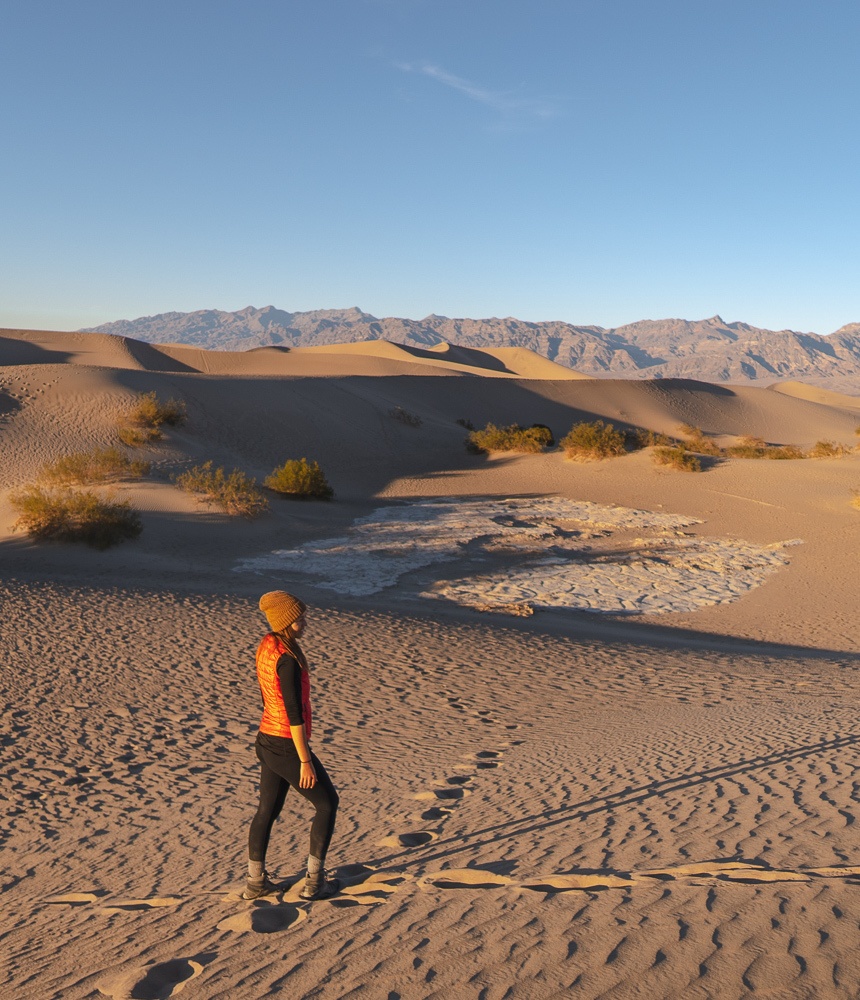 Most access Death Valley from the California side, meaning you'll meet the The Mesquite Flat Sand Dunes first. They're easy to access, just off the side of the road.
I love these most at golden hour – the hour before the sunset. I just love the shadows and colors at this time of day, and think it casts a nice color on everything.
I could imagine it being brilliant under a full moon or night sky as well, just be aware that rattlesnakes and scorpions both live in dunes, so it's best to watch your feet in the summertime nights especially!
And remember the great secret of easier sand dune climbing – step in other people's foot prints!
The Artist's Palette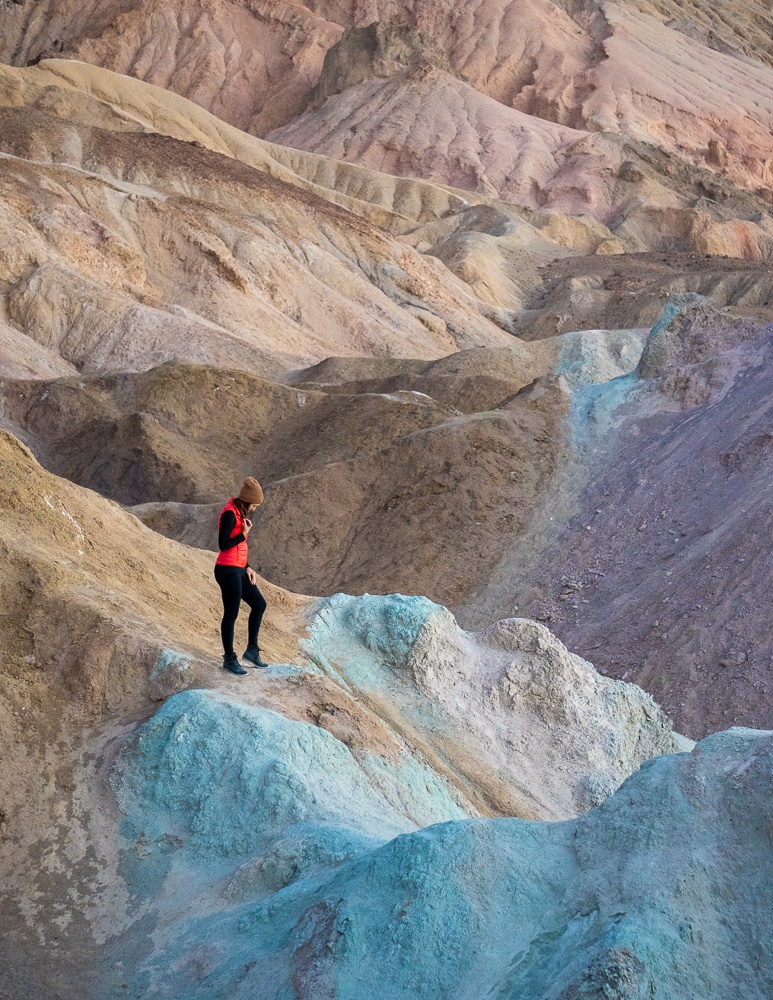 The name is quite indicative of this next stop, which I like photographing best around sunset, just after it dips behind the mountains, so that the colors are even on the beautiful rocks.
The Artist's Palette was formed volcanically. Eventually erosion showed the layers of color, caused by oxidation of metals including iron, mica, and manganese within the rock.
The entire Artist's Drive is gorgeous, with layer cakes of color swirling through as you go. It's a one-way road that takes about 10 to 15 minutes to drive, accessible off of Badwater road. The Artist's Palette overlook is about 2/3 of the way down.
The Badwater Basin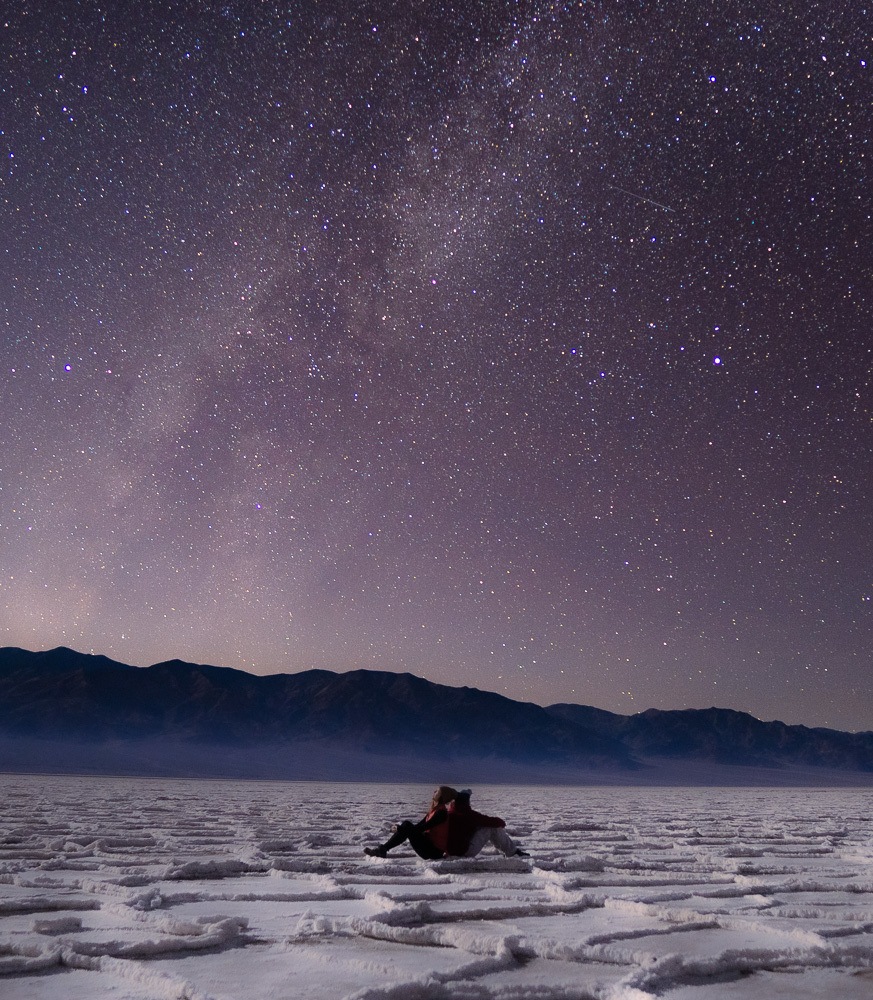 As if Death Valley wasn't already varied enough, the Badwater Basin gifts us with an intricately- patterned salt pan.
The Badwater Basin is the lowest elevation in North America at 282 feet, or 86 m, below sea level. Give it a lick if you dare – it tastes just like Himalayan sea salt.
Every now and then, rain storms flood the Badwater and give it a thin sheet of standing water, which I would love to see! However it doesn't stay for long as the Badwater is subject to more evaporation than rainfall.
I find the look of the ground and the crystals of the salt most enchanting around golden hour, or especially at night. Seeing the stars over the Badwater is incredible, and seeing the full moon would be too!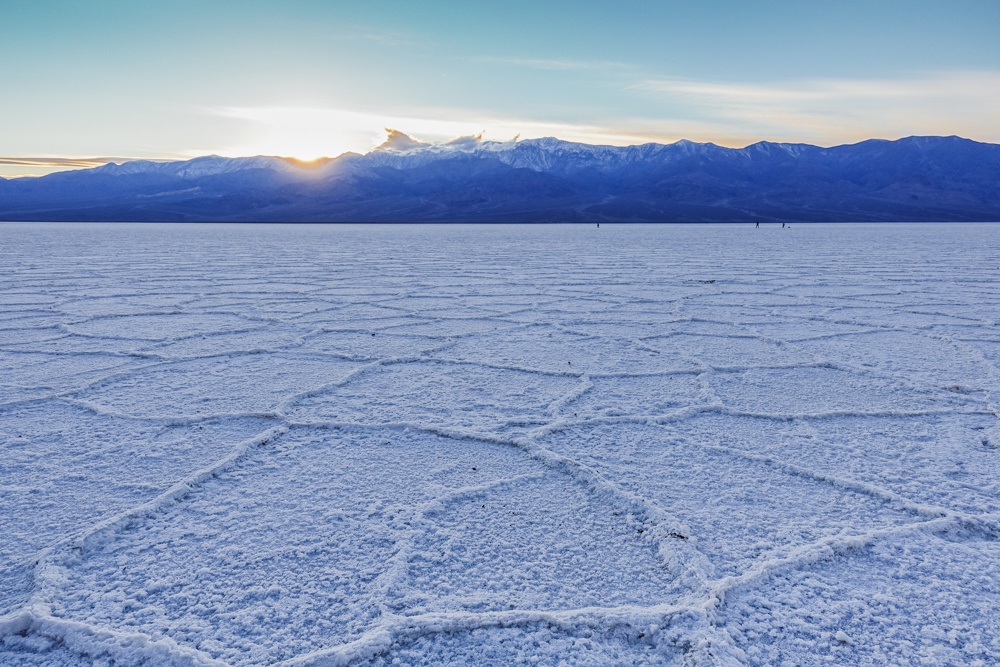 Keep in mind that you'll need to walk for about 2 miles to get out into the whitest salt and coolest hexagonal formations. There's a pretty well worn-path, but be sure to bring a headlamp so that you can navigate in the dark.
Honorable mention: The Devil's Golf Course is another salt pan nearby with intriguing salt-covered rock formations.
Zabriskie Point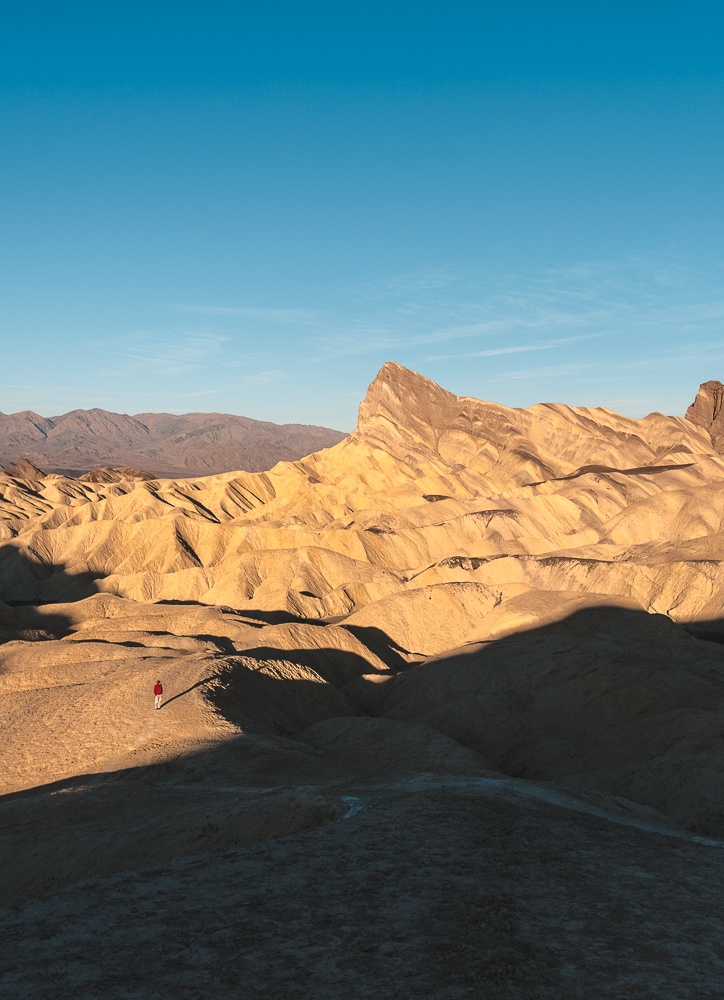 The most famous sunrise in the park, Zabriskie Point is a striped, pointy rock that perfectly reflects the rising sun.
The same lake that once covered the Badwater also covered Zabriskie Point, depositing sediments over millions of years that created the golden badlands that we call the Golden Canyon today.
Zabriskie Point Lookout is a short walk up a paved pathway from the parking lot up to the viewing area. While it's easy to understand why the spot is so popular with photographers at sunrise – it's easy to access and provides a beautiful view – it can get quite crowded.
If you can find a space, go ahead and photograph from there, but I also really enjoy taking photos along the Zabriskie Point trail at this time of day. It has such interesting shadows it's almost like modern art to photograph there.
After a quarter to half a mile down the trail you'll already be experiencing amazing views!
The Golden Canyon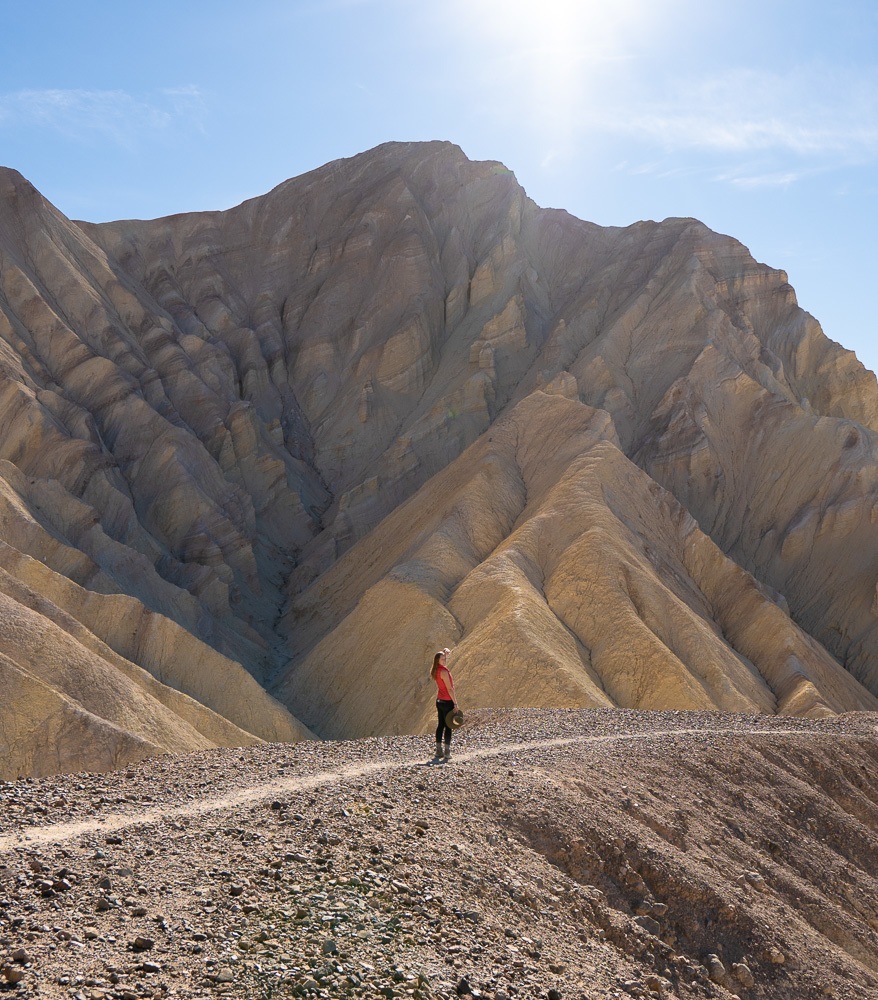 If you intend on hiking the Golden Canyon, my best advice is to keep going down the Zabriskie Point trail until you connect with it, and do this hike in the early morning hours.
There are several ways to do this hike, whether it's a point-to-point, out-and-back, or a loop. But whatever you do, add on the Zabriskie Point trail and the Red Cathedral! You can read more about the Golden Canyon hike and options (with maps) here.
Dante's View
Off of the same road as Zabriskie point, continue onward to Dante's view – an overlook 5500 feet, or 1700 m, above sea level.
It's tough to adequately photograph or even describe this viewpoint except to say that you've got to see it! Looking down, you can see the Badwater Basin and views all the way out to either end of the Death Valley.
There's a small trail to the left where you can continue to get incredible views.
Although I was there around midday after hiking the Golden Canyon, I can also imagine this being an incredible sunrise spot.
All of the locations mentioned here are accessible off of a paved road, with a normal vehicle, however there are many high clearance and four-wheel-drive roads in the park and other options to consider if you have time (check this map to see if your car is appropriate).
Other Spots to Consider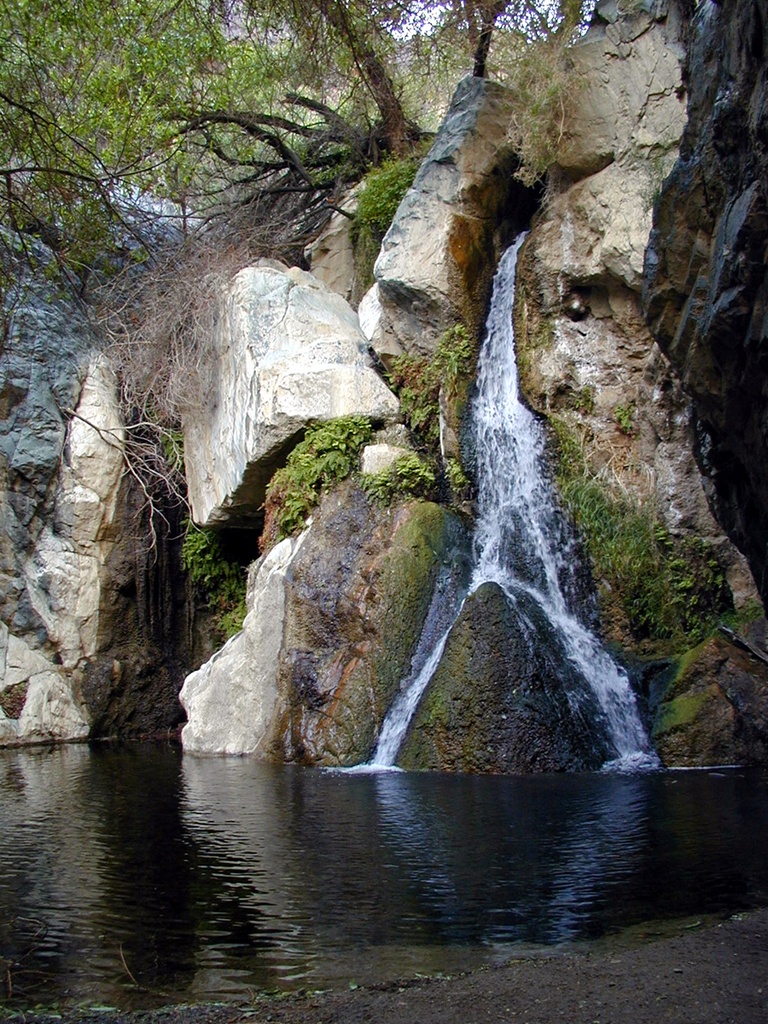 Titus Canyon: Accessing Death Valley from the Nevada side? This one-way, high clearance-vehicle, four-wheel-drive-recommended road offers a gorgeous, adventurous way into the park. I had really wanted to do this, but we were running low on sunlight and so I had to skip it. It's definitely on my list for next time!
Saratoga Springs: This desert oasis is in the southern end of the park and it's almost shocking to see considering the park seems so arid and desolate. There are 2-3000 year old petroglyphs in the area as well!
Darwin Falls: Believe it or not, there's a waterfall located on the western edge of Death Valley! You can access it from the California side.
Mosaic Canyon: Imagine Antelope Canyon, but made of smooth, polished marble. This set of narrows is only about a quarter mile in on foot. Check out the dolomite promontory that gave mosaic Canyon its name, too!
Natural Bridge Canyon: On the east side of the park, find the trailhead near the Artist's Drive Scenic Loop. Walk 15 minutes from the parking area, and you'll see a natural stone bridge over the trail!
Racetrack Playa: This seasonally dry lake is famous for its rocks that mysteriously move across the surface. They create rock track patterns on the playa surface that makes for some amazing photographing, especially with the Milky Way. You will likely need a four-wheel-drive, high-clearance vehicle to access it, and word on the street is it's about a 2-hour drive each way. This has always deterred me from going, though I would still love to check it out!
While these are the highlights there's so much to discover in Death Valley National Park. This list is far from exhaustive, and with over 3,000,000 acres of land in Death Valley National Park, this is one you can keep returning to and seeing something new every time.
When to Go to Death Valley National Park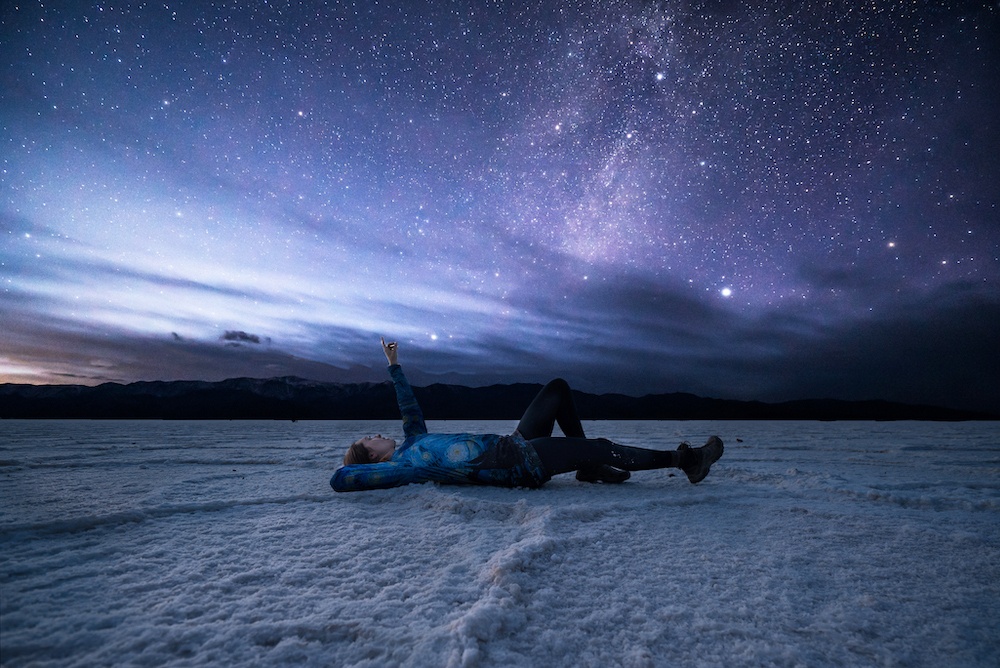 The name really says it all, doesn't it? The hottest temperature ever recorded on earth was at Death Valley. For that reason I've never wanted to visit in the summer months, during which time nighttime might be the only comfortable option.
I have visited once in January and once in December and thought it was perfect for hiking, although the evenings can get cold. Still, after camping out in the valley, I can report it wasn't too bad with the right sleeping bag!
In February or March depending on the year, wild flowers bloom as well, and it's even better on a super bloom year! (You can find more nearby super blooms here)
Where to Stay in Death Valley National Park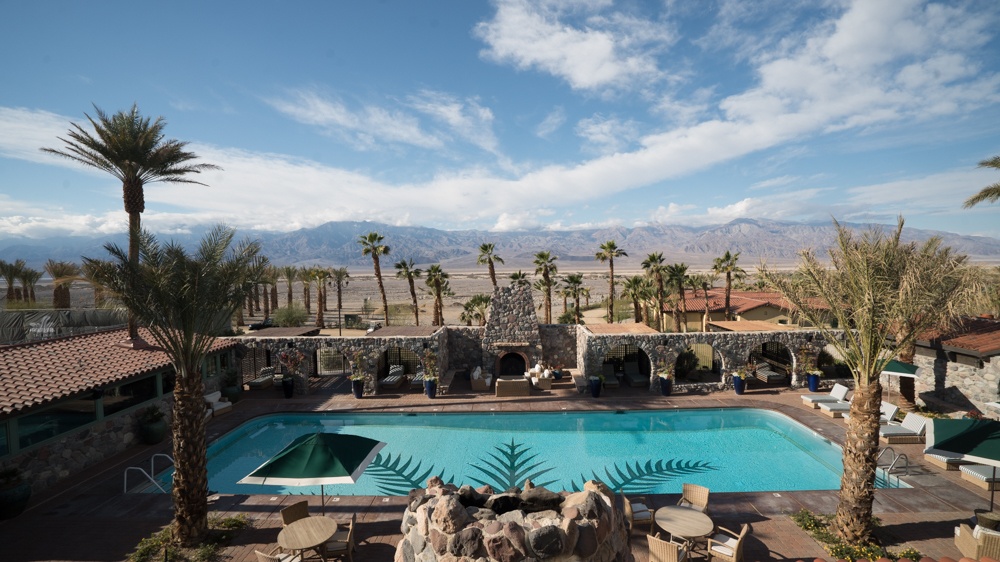 There are four lodges in the park, including the Oasis at Death Valley and the Inn. There are also several established campsites as well as backcountry camping available.
You can read about every single option available here.
Staying Safe in Death Valley National Park
Death Valley is desolate, and it can get blazing hot. Breaking down could mean no cell signal and having to change your own tire. It's important to stay hydrated, too. I always have a spare tire with me, and several gallons of water.
I also keep myself safe by traveling in Death Valley during the cooler months. Let the famous story of the Death Valley Germans be a deterrent of summer traveling without being prepared.
Although it is possible you can get some signal in certain places in the park, it's best not to rely on or count on it. I keep an off-line app downloaded on the maps.me free smartphone app to help me navigate.
When in such a vast, desolate park, particularly one with four-wheel-drive and high clearance only vehicle roads, it's important to be a bit more resourceful than one is used to in a National Park. That said, some of these back roads are where the magic is.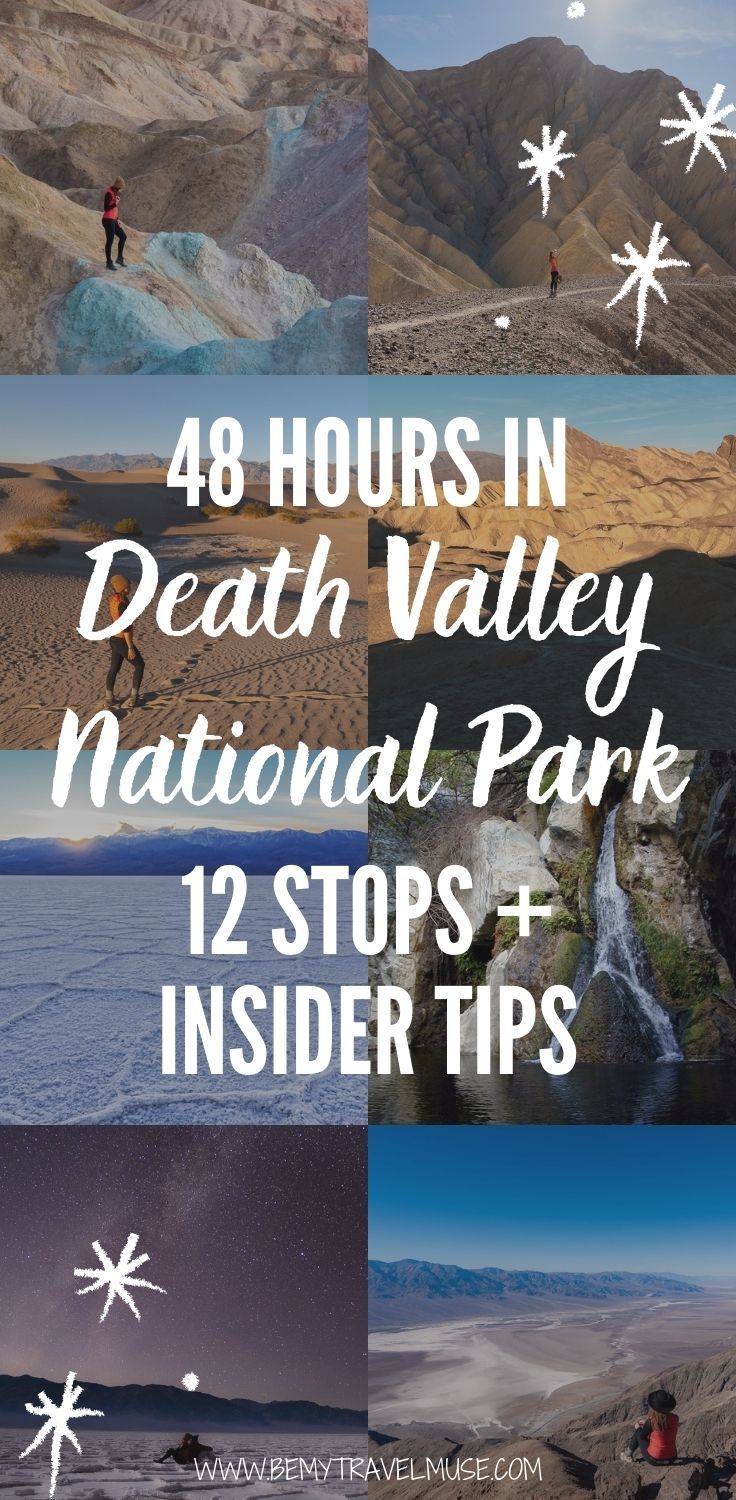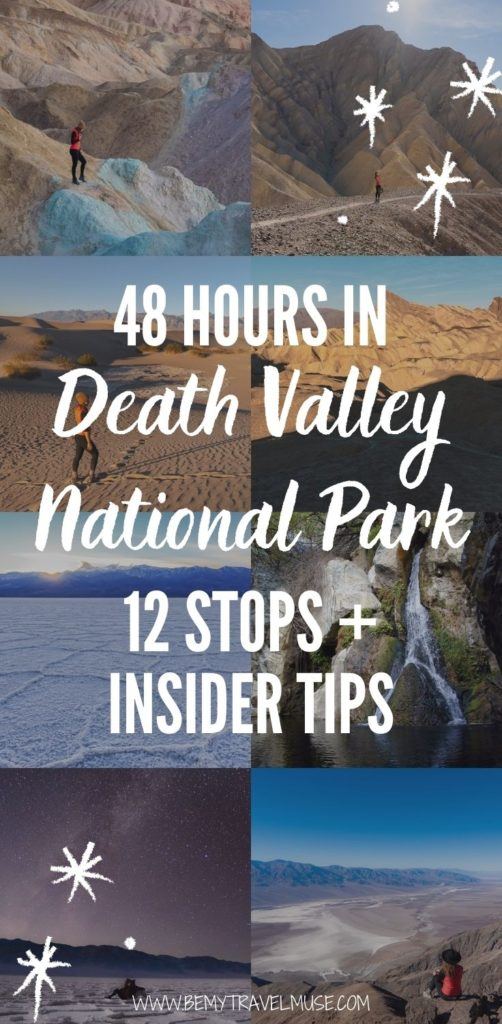 I hope this post helps you to love Death Valley as much as I do. Combining this with another drive? Whether you're driving the 395, the US 95 between Las Vegas and Reno, or are doing a California deserts road trip, I've got you covered!