The following post is by Liz Carlson: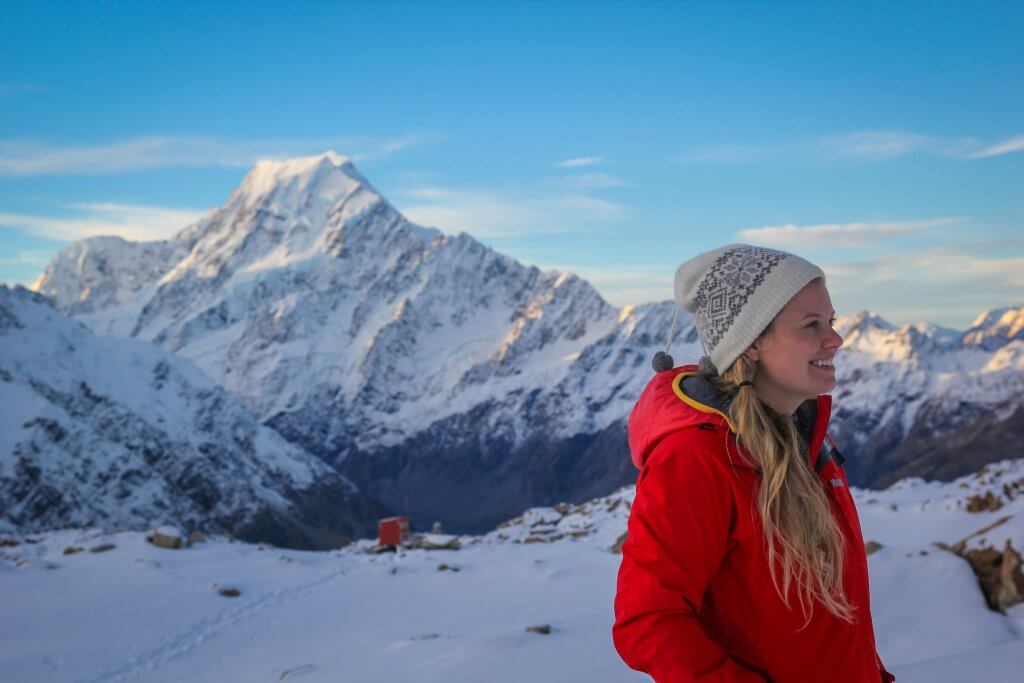 Without a doubt over the past two years New Zealand has quickly become one of those "it"destinations. Shots of its incredible hikes, natural wonders and epic landscapes galore plaster our news feeds and apps 24/7. Made famous by the Lord of the Rings and social media, this little nation at the edge of the world has seen a tourism boom so fast it'll leave your head spinning. But it leaves us to wonder, are there still places to get off the beaten path?
Absolutely.
I've been living down in the land of the long white cloud for the past five years, and I have a lot of fave spots and haunts in New Zealand. Like, a lot. And If you've followed on my blog for while, you'll have heard me mention it once or five times.
Because in a country filled with scenic extremes, how can I only have one? Seriously, it's just not possible. Some are well-known and well-loved, while others you've never heard of.
But I have to admit, there's something special about the more untouched locations. I mean, I'll have a vino in a crowded wine bar any day, but an afternoon in the mountains with nothing but the wind and a kea for company is the best. Keas are native New Zealand mountain parrots, and they are SO NAUGHTY.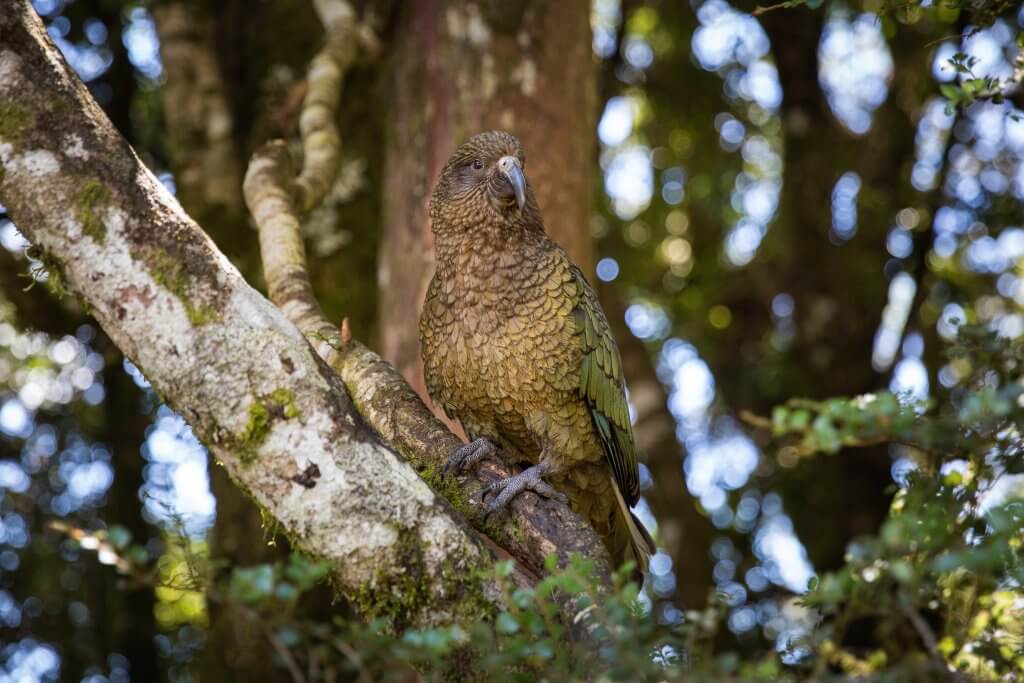 A question I'm often asked is what places in New Zealand should we visit outside the main areas? And to be honest, it's a tough one! Because there are just so many, and frankly, some of them are local secrets where I would be murdered if I blogged about them. Sorry!
But luckily there's a happy medium. From high glacial lakes to isolated beaches to secluded bubbling springs to geological formations that you can't quite believe are real, Kiwiland is brimming with the extraordinary and often still untouched.
So, here's ten of my favourite off-the-beaten-track locations to visit, if you want to escape the world for little while.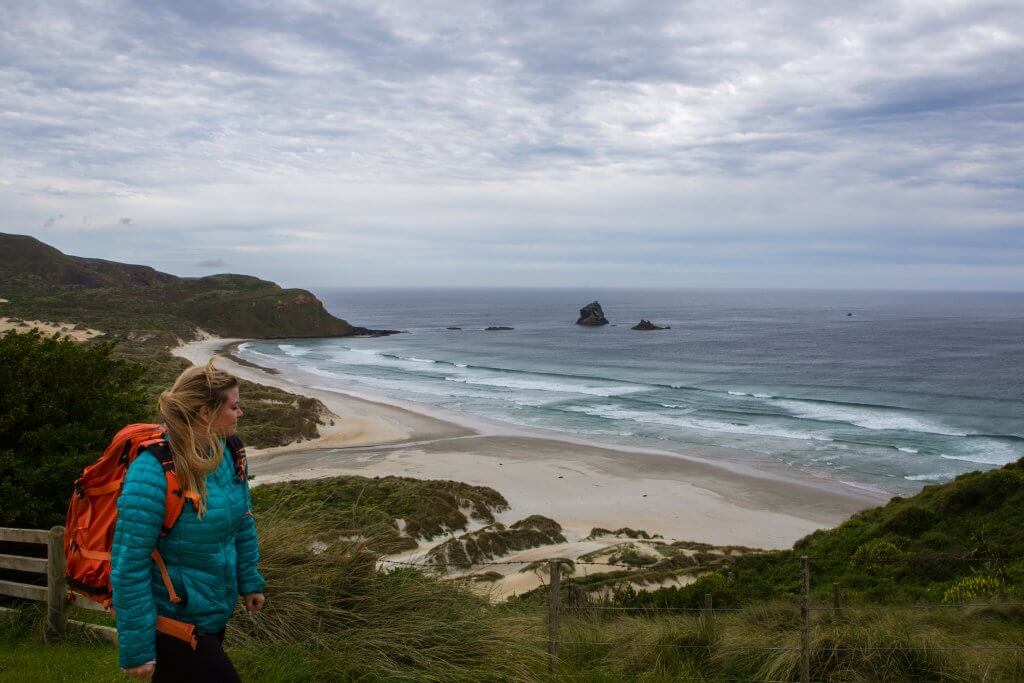 Crucible Lake, Mt Aspiring National Park
Okay, I'm not going to lie, the hike up here is an absolute bitch. Located in the Siberia Valley, a remote corner within Mt Aspiring National Park on the west coast side and less visited than its neighbor in west Wanaka, Lake Crucible certainly meets my 'off the beaten track' criteria.
The best way to visit Lake Crucible is by the Siberia Experience, a local tourism activity (that is still super underrated guys), where you fly into the Siberia hut, drop your overnight bags, then hike up to the lake as a day trip, return and overnight in the hut, then hike a few hours out the next day and get picked up by a jetboat to zoom your way back to Makarora.
Otherwise you can do it all hiking but you'll have two days of a very long boring walk in and out. Best to do in summer, with lots of icebergs in early summer.
You'll arrive in a field in a little yellow plane, and spend the next few hours walking in the shadow of Mt Awful and Mt Dreadful wishing you were on a beach, preferably with a cocktail. I think there's about 10 river crossings, most of which are mellow but freezing. It's not a hike for beginners – you need river crossing and route finding experience and to be pretty fit. But seriously, all that negativity comes to a screaming halt when you summit that final moraine and this truly outstanding lake comes into view.
I mean, it has icebergs. I can't even. What more could you want from a humble alpine pond?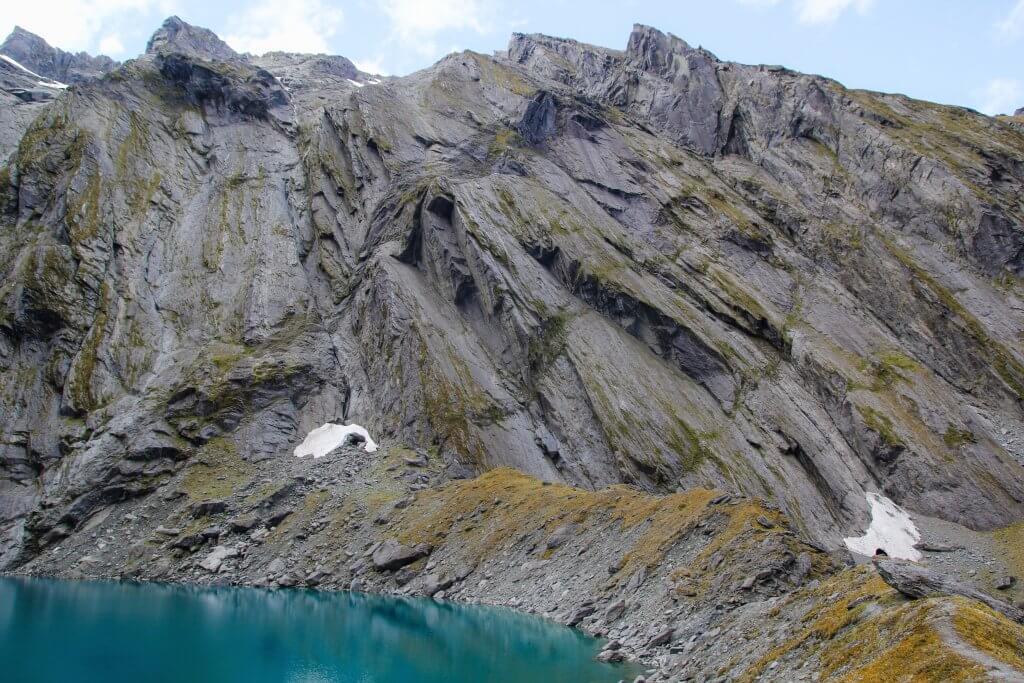 New Chums Beach, Coromandel
I first came across this beach when I was road-tripping from the North Island down to Wanaka to live on the South Island. It seemed magical then, and it's still magical now! Part of the Coromandel Peninsula, New Chums is a secluded white stretch of sand that you have to hike to get to.
And like most walks in NZ 'hike' is an understatement. This beach is not easy to get to! I spent the entire time trying not to break an ankle as I scrambled over slippery seaweed covered boulders that stank to high heaven.
Luckily, my perseverance paid off and I emerged out onto its pristine, deserted shores. Winning!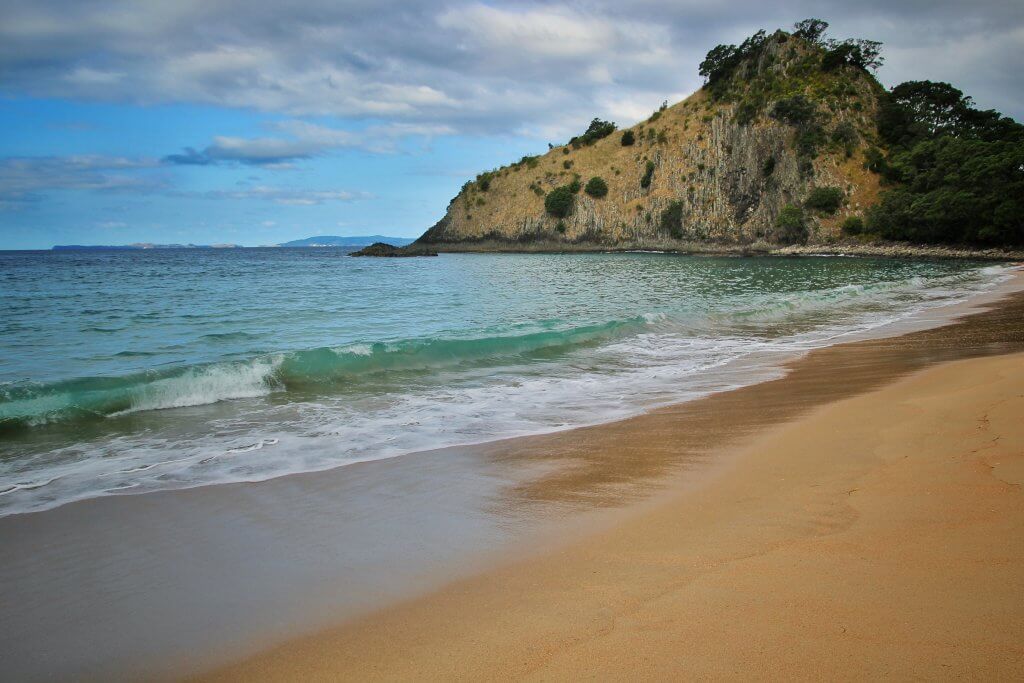 Cape Kidnappers Gannet Reserve, Hawkes Bay
This one combines two of my favourite things – birds and rocks (cue, eye roll – yes I'm aware I'm a nerd). Located in the Hawke's Bay region of New Zealand, most people visit here for the Art Deco scene, or the wine.
Though, you should rethink your priorities though because bird and rocks is where it's at! Set on 13 hectares of private land including several spectacular geological cliff formations, this Department of Conservation managed colony is the largest mainland gannet population in the world.
Visit via a gentle walking track, or take a safari beach tour-by-tractor. Definitely do the latter. Why walk when you can tractor?
Te Waikoropupū Springs, Golden Bay
Ok, so these springs aren't quite so off-the-beaten-track as the other locations. Golden Bay has always been a classic summer kiwi holiday spot, but hasn't become part of the more recent tourist boom. But I'm adding it in anyway because the Te Waikoropupū Springs are often overlooked at least by foreign tourists. And, well – they shouldn't be.
The largest freshwater spring in the Southern Hemisphere, the 'Pupu Springs' are also the clearest in the world, bested only by the Ross Ice Shelf in Antarctica. Boom! They discharge 14,000 litres of water per second. Thats 40 bathtubs by the way. Per second!
An easy, breezy stroll – you'll arrive in your childhood dream of a fairytale glen complete with lily pads, frogs and every shade of green there ever was. Ladies, you're welcome.
But remember you can't touch the water and you DEFINITELY can't swim in them (anymore). Sacred to local Māori, the Pupu Springs are considered taonga (treasure) and wāhi tapu, a place held in high cultural and spiritual regard, so hands off.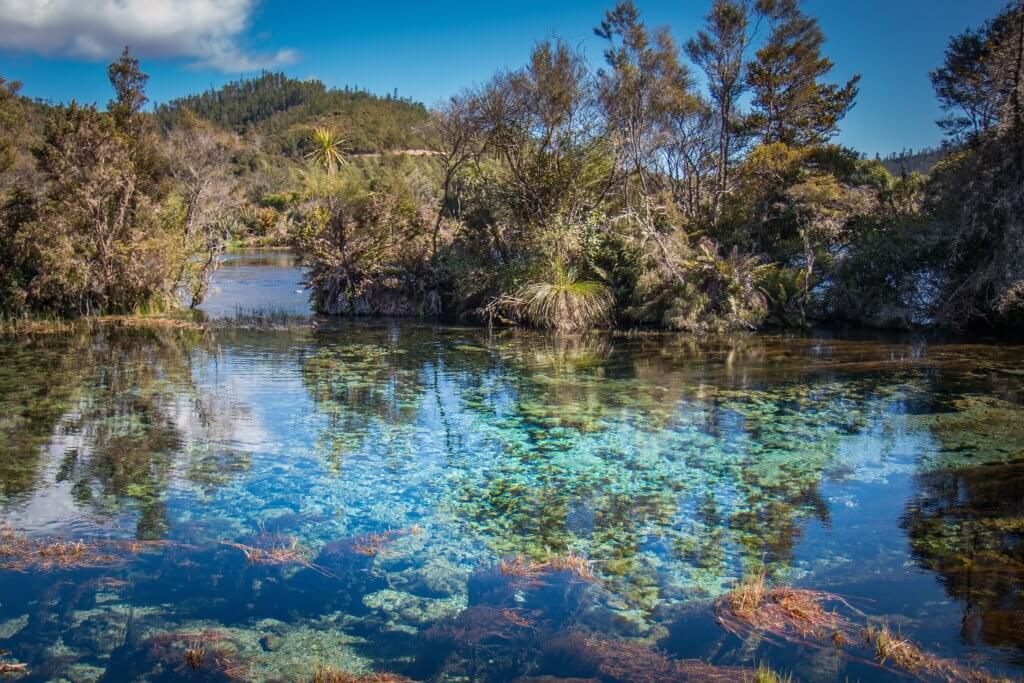 Waipara Valley, North Canterbury
This one's all about the wine which makes it a real favorite of mine (ok, an extra special fave, considering this is already a list of favorites). Only an hour north of Christchurch, the Waipara Valley wine region is often bypassed in favour of the more prominent Central Otago, famous for its Pinot Noirs.
And while it's no secret I love the autumnal hues of my adopted home turf, Waipara is really something special. It produces internationally award-winning Pinot Noir, Riesling and Chardonnay and, guys, it has TRUFFLES. Seriously. You can go truffle foraging!
It's a magical dry valley with some of the friendliest locals you'll meet, a great diverse landscape with the sea right nearby, and its own boutique hub of wineries and foodie spots waiting to be discovered.
It's also home to to a ton of fossils, including the world's oldest penguin fossil and a 10 km oyster bed. Put this one on your list, pronto!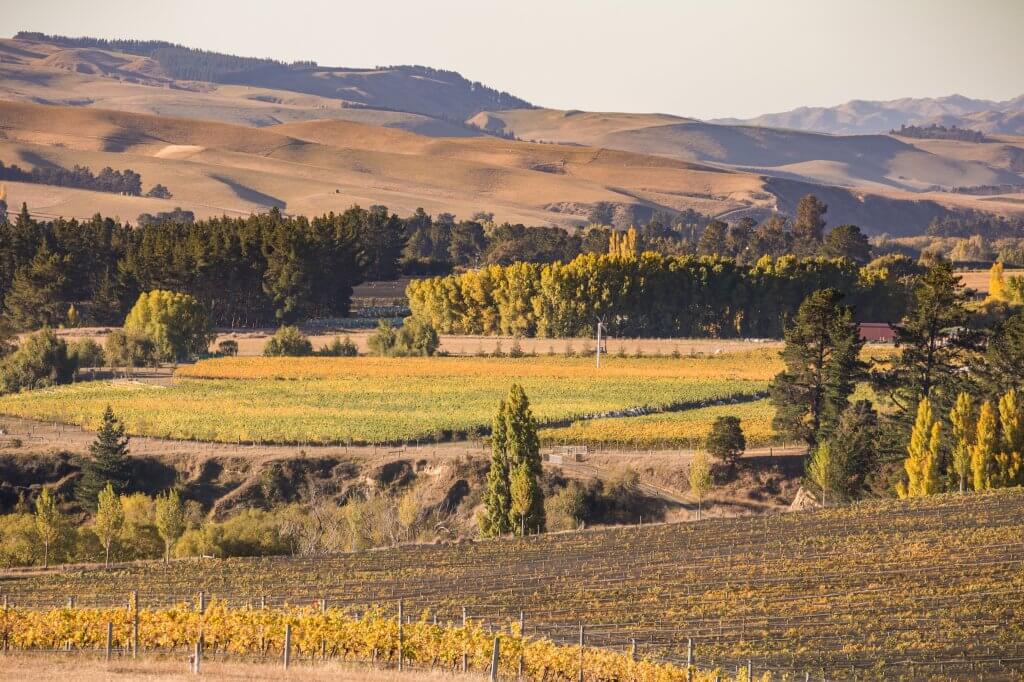 Curio Bay, The Catlins
Before I moved to Wanaka, I'd never heard of Curio Bay, or The Catlins, where its located. Chances are, you won't have either. And also I'm going to be in trouble for sharing this one, sorry!
One of the country's best, 'best kept' secrets, tucked away at the bottom of the South Island, Curio Bay is wild and desolate, but at the same time full of life. Wildlife that is. Which is just the way I like it! You'll see a petrified forest, seals, native birds (love me some birds) and if you're lucky – dolphins and Yellow-Eyed Penguins.
Check out the waterfalls, the local surf school and the historic lighthouses. Oh, and you'll likely have the place to yourself. Ticks all the boxes.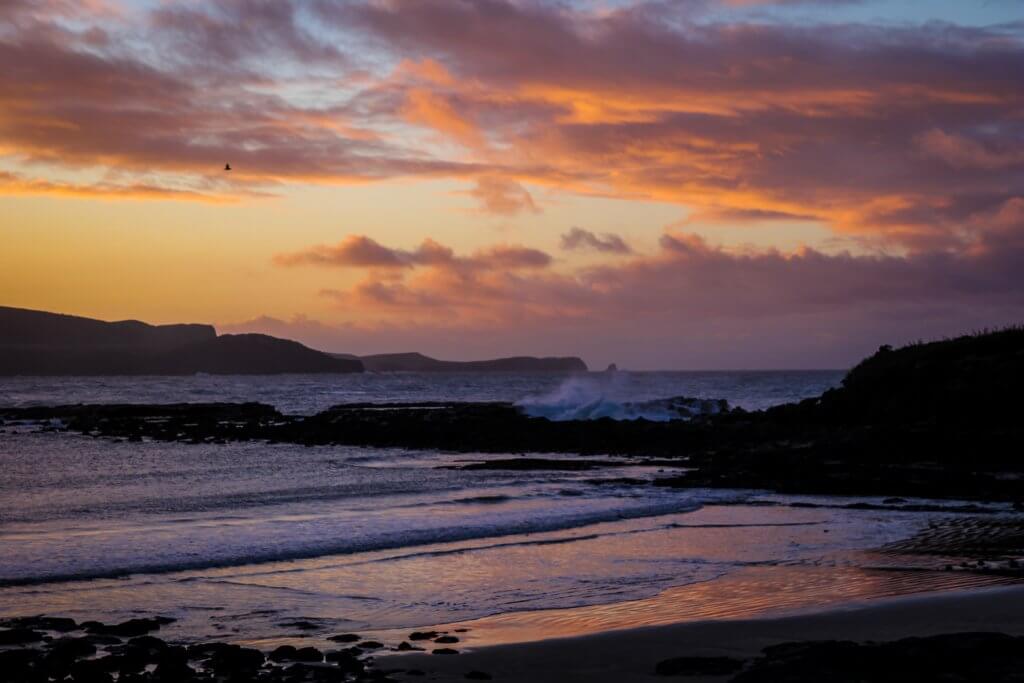 Putangirua Pinnacles, Wellington
The Dimholt Road and the Paths of the Dead (nerd alert!), I mean the Putangirua Pinnacles, are a series of spooky pillar formations in the Wairarapa region just two hours from Wellington.
Most tourists come for the wine, but I say come for the wine with a side of geology. And obvs, I'm a little biased because it was the setting for some major Lord of The Rings scenes. But Despite the Tolkien fanfare, it's still mostly passed over due to its isolation and the fact you have to hike to get there.
A couple hours drive from Wellington, this corner of the North Island is still very local in feel and very much off the beaten tourist trail.
But unlike Crucible and New Chums, this one is a fairly straightforward 4 hour round trip and not too challenging. So getcha fantasy on people! Middle Earth awaits!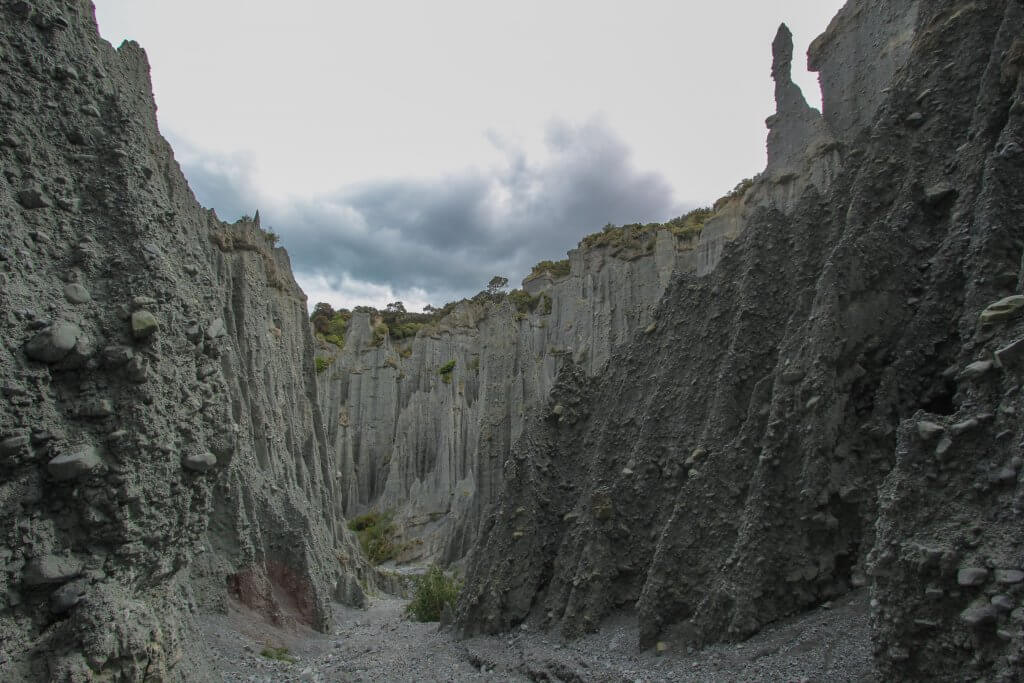 Street Art, Dunedin
Ok, so this one's not technically off the beaten track. Buuuuut it definitely fits the brief for hidden in plain sight. I mean, I've only just heard of it myself! Situated in and around the central city is the most incredible Street Art trail. Like, incredible.
Dunedin has always been sort of a grungy, university art town in the South Island, but recently it's really been up and coming with a growing foodie scene, some of the best coffee in New Zealand, and the most kickass street art scene around.
With some of the most prominent street artists in the world commissioned including Belgium's ROA, this epic cultural trail takes Dunedin to a whole other level.
I did a tour with Victoria of Street Kiwi, and you should probs do the same. You'll get all the back-stories and see all the artwork – including pieces you just wouldn't find alone. It's a win/win I say.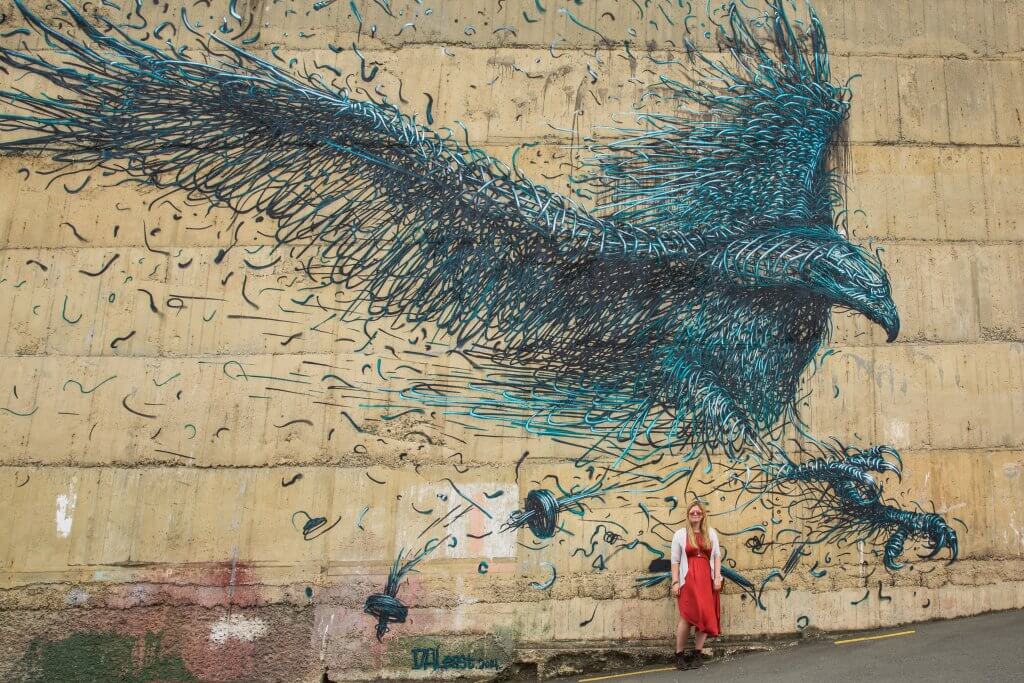 Jackson Bay, West Coast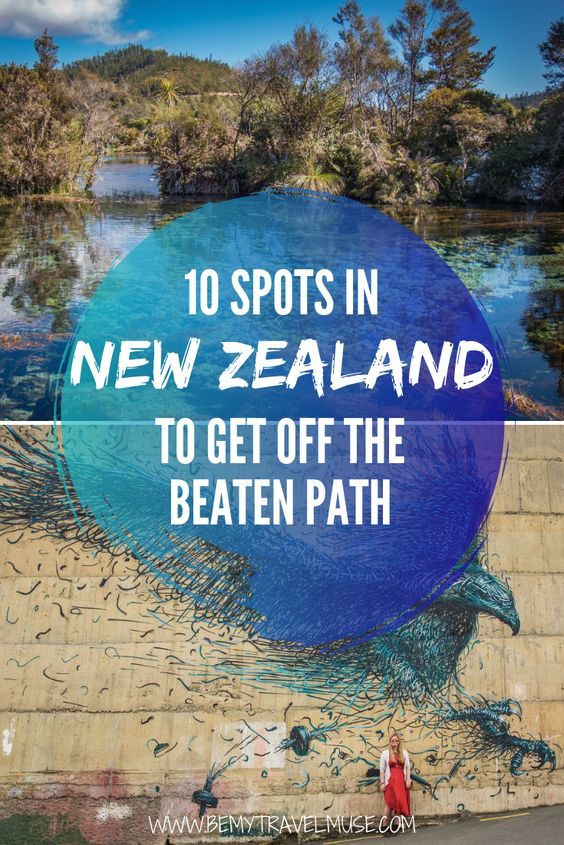 When I say Jackson Bay is remote, I mean it's end-of-the-line remote. I think there's like less than 30 people that actually live here. Which is why it's awesome, obviously!
On the West Coast of the South Island just past Haast, Jackson Bay is surrounded by rainforest, and is one of only places in New Zealand regularly used as a wild nursery for the rare Hector's dolphin. Because you have to drive well off the main highway to get here, it's often overlooked by road-trippers. Oh and you pretty much have to camp.
With incredible views of the Southern Alps, it's secluded and calm and the best place to hide from the world. If you're looking to hide, that is!
The Kauri Coast, Northland
Flag the the Bay of Islands, cancel Mangonui and Whangarei and go to the Kauri Coast instead. Ok, ok, don't bypass them altogether but you MUST (yes, I'm shouting 'must') visit the west coast of Northland too.
Wild and remote, this place is as close to untouched New Zealand as your gonna get. Think towering Kauri plantations – including the oldest living tree in New Zealand and Māori god of the forest, Tāne Mahuta – dramatic deserted beaches and cute holiday towns.
Visit the Waipoua Forest with a local Māori guide, and check out the Trounson Kauri Park for a chance to see the Kiwi, New Zealand's rare nocturnal national bird in the wild. Guys, you can see a Kiwi IN THE WILD. Enough said.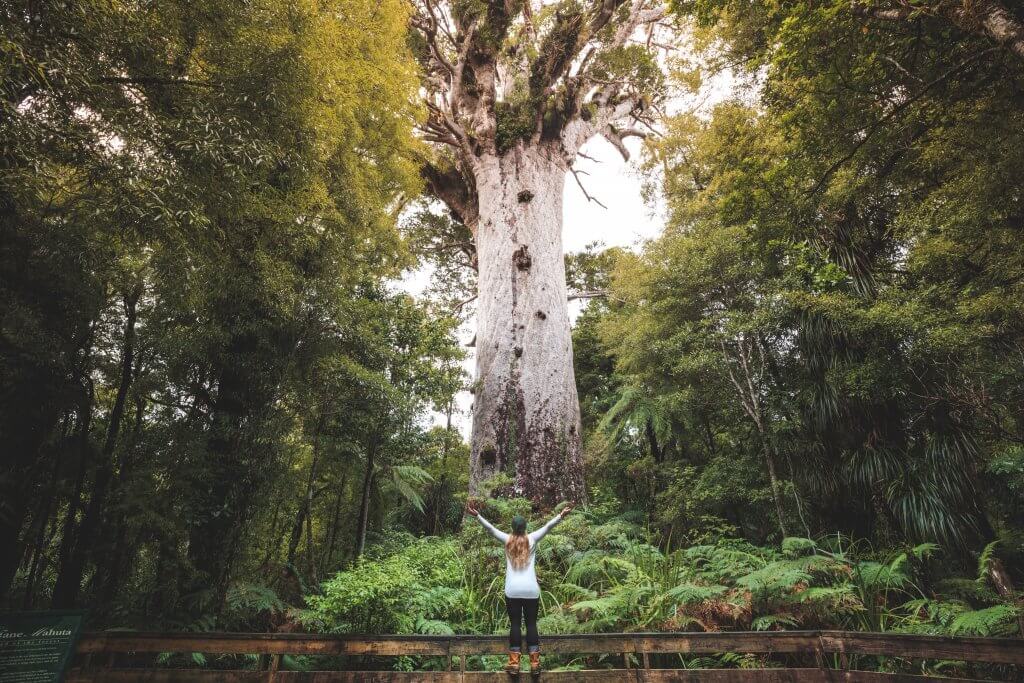 About the Author: Liz Carlson is the founder of Young Adventuress, a solo female travel blog. An American based in the mountains of New Zealand, Liz has spent the past seven years sharing stories of her misadventures, crazy moments and big screw-ups on the road on her blog and Instagram.