You're not alone if you are looking for a spectacular place to visit in July. Around the world, July is a popular month for visiting a new country because you'll have some of the best weather for beach days or ski days. This means you will probably meet some other solo travelers as you navigate new lands! To help you get started, we've put together a list of the 21 best places to travel to in July:
Southeast Asia
1. Phong Nha, Vietnam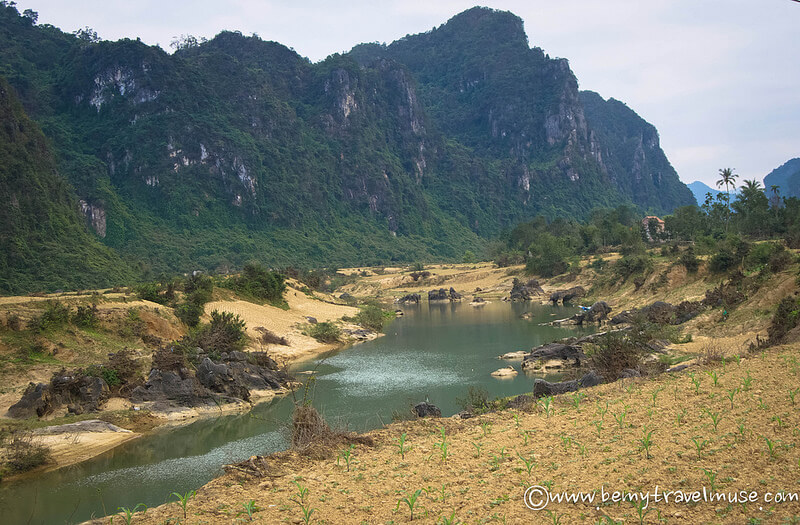 Phong Nha, which means "wind and teeth" is home to the world's largest cave. Not surprisingly, the Phong Nha-Ke Bang National Park is also one of the best caving destinations you'll find. You can take a tour through the caves, or if you're feeling adventurous, go on a motorbike. Just be prepared to get muddy as you explore (bring a swimsuit or old clothes or check out our Vietnam packing list for more tips). You'll save some money if you don't go on a tour, but you can also get ahead with cheaper accommodations like hostels.
You'll definitely want to visit the caves in Vietnam during the dry season, which runs from March to August. In July you'll have temperatures in the 80s-90s. Before you go, here's some tips on how to make the most of your trip and stay safe!
2. Cameron Highlands, Malaysia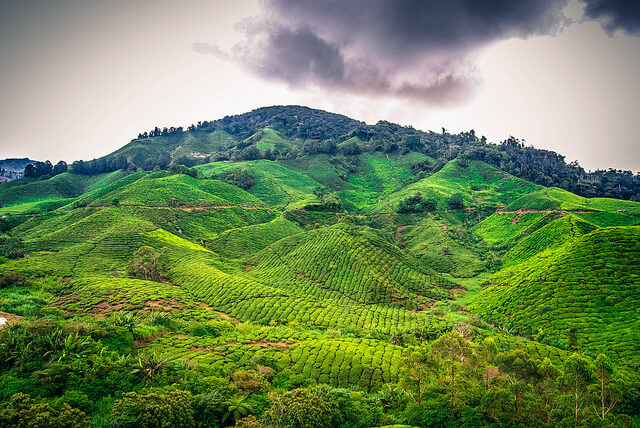 Are you looking for strawberries to pick? Cameron Highlands has you covered with these plump sweet berries that you can even turn into strawberry juice. The rolling hills also make the highlands suitable for tea plantations, or if you like to explore, there's plenty of hiking and trekking to do. The countryside is so tremendously green you'll want to bring your camera to get some gorgeous shots.
Cameron Highlands are pretty touristy, but with July being the tail end of the dry season, you can expect fewer crowds. Temperatures are refreshing and in the 70s. Travel to Malaysia is very affordable; here are some hostels to check out.
3. Gili Islands, Indonesia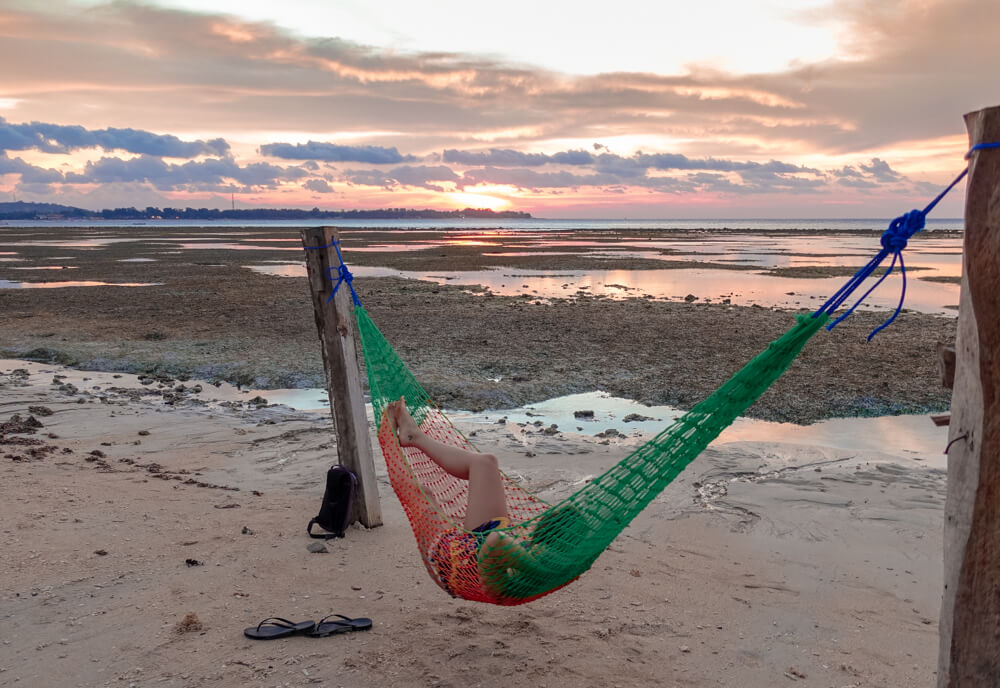 You've got Gili T, Gili Meno and Gili Air, but what's the difference and where should you go? Gili T is more of a party island as it's more established than the other two. Gili Meno is the complete opposite of Gili T; you can chill and nobody will bother you. And then Gili Air is right smack in the middle: some chill, some party. If you can't decide, just hop on a ferry and ride for a few minutes to check out another of the Gili's. While you're here, you'll want to swim, snorkel, relax on a beach, or meet fellow travelers at a bar or restaurant.
July is part of the dry season in the Gili's which makes underwater visibility top notch. Temperatures are in the 80s and since most people will be in Bali, you'll be able to enjoy some of the most beautiful islands in Indonesia without the tourists.
North America
4. Road Trip through Canada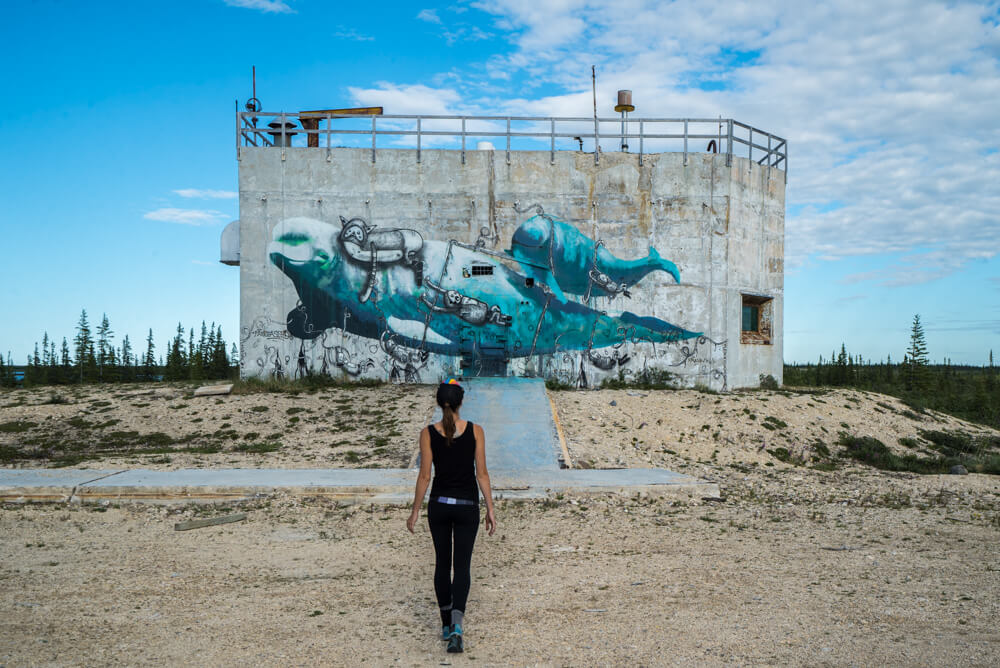 Canada has so much to see that you might as well just take a road trip to national parks, cities, coasts and islands. Here are some places in Canada we recommend you put on your road trip itinerary. Canada is one of the safest places in the world, making it less daunting of a country to explore if you're a first-time solo traveler. It's also a budget-friendly country and a wonderful place to get an extra dose of nature. That being said, you can also find some wonderful summer festivals in cities like Quebec and Toronto.
July temperatures are in the 70s, and because it's so pleasant, more people will be visiting. But if you go on a road trip, you can take your pick between hiking and camping, or whale and polar bear watching, or even perusing the murals in Churchill.
5. The Great Blue Hole, Belize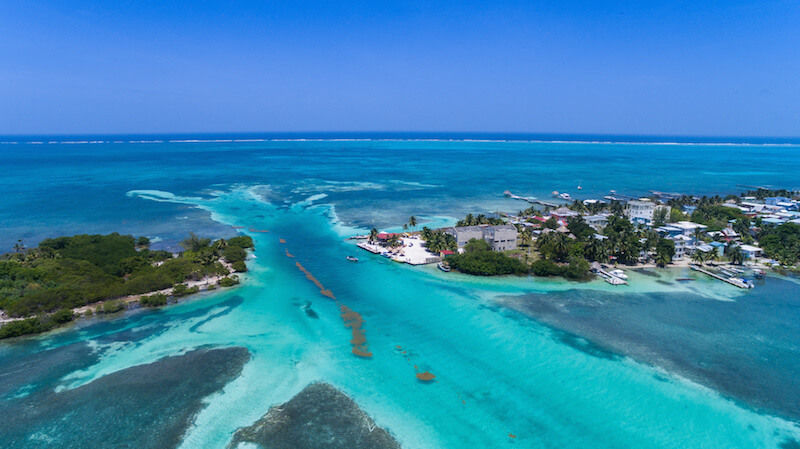 If you're looking for one of the best dive sites in the world, head to the Great Blue Hole in Belize. You won't be disappointed by the depths, the warm and clear water, and the colorful reef fish. Here's how you can dive it. The Blue Hole was formed during the last glacial period when water levels rose and flooded the cave system. Here are some other reefs and caves you can tour via kayak or snorkeling excursion.
April to June is considered prime time to visit, however you can snorkel all year-round. If you want to avoid some of the crowds, check it out in July where you might manage a sighting of a whale shark during their migration.
6. The Florida Keys, USA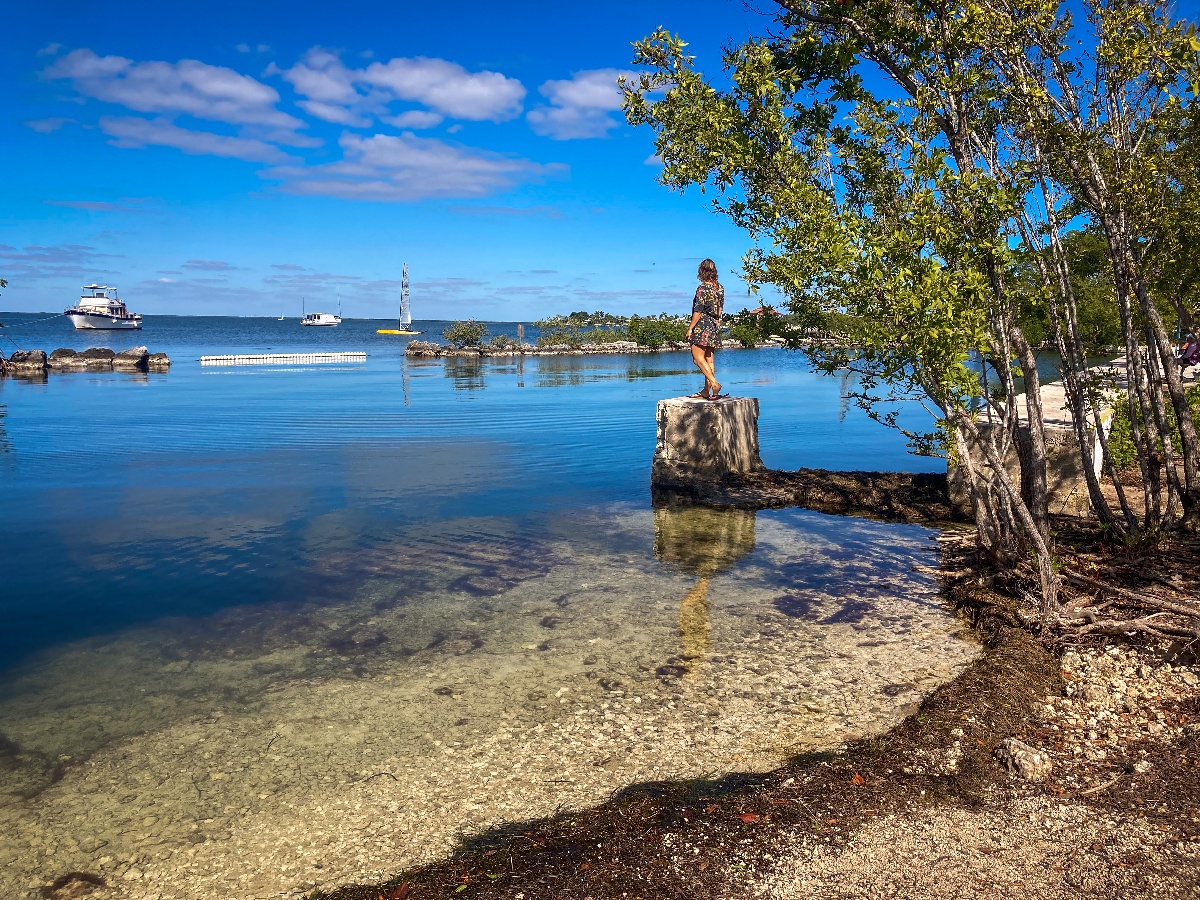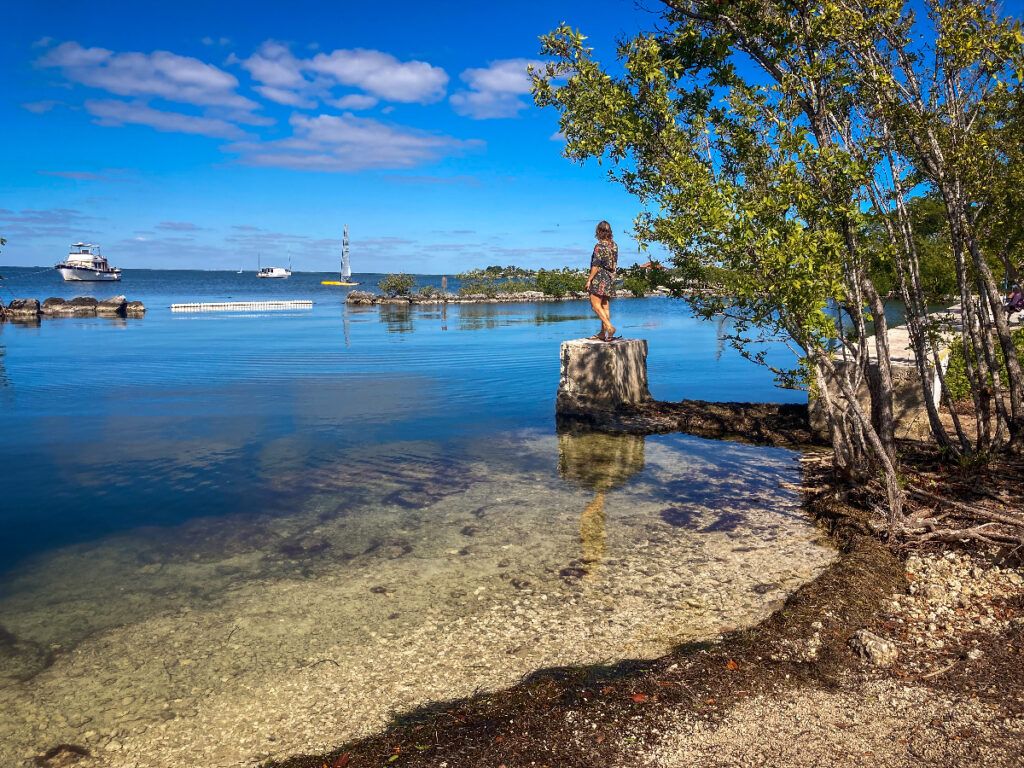 The United States has a tropical island chain called the Florida Keys. Each Key is completely unique: Key Largo has beautiful man-made beaches and nature parks, Islamorada has gorgeous reefs and historic islands, Marathon is known for its fishing and 7-mile bridge, Big Pine has the cutest little deer you'll find in North America, and then Key West is excursion head-quarters with sunset cruises, food and cultural tours, and bars galore. If you're looking for a little bit of Caribbean paradise, you'll find it here.
If you can stand a little bit of heat and humidity, then consider checking out the Keys in July. Summer is considered Hurricane Season and most people are visiting places up north, but, hurricanes statistically hit in August-September and many people still enjoy these months for the smaller crowds, better deals and warmer waters. If you go over Independence Day, you'll also catch spectacular 4th of July fireworks.
7. National Parks in California, USA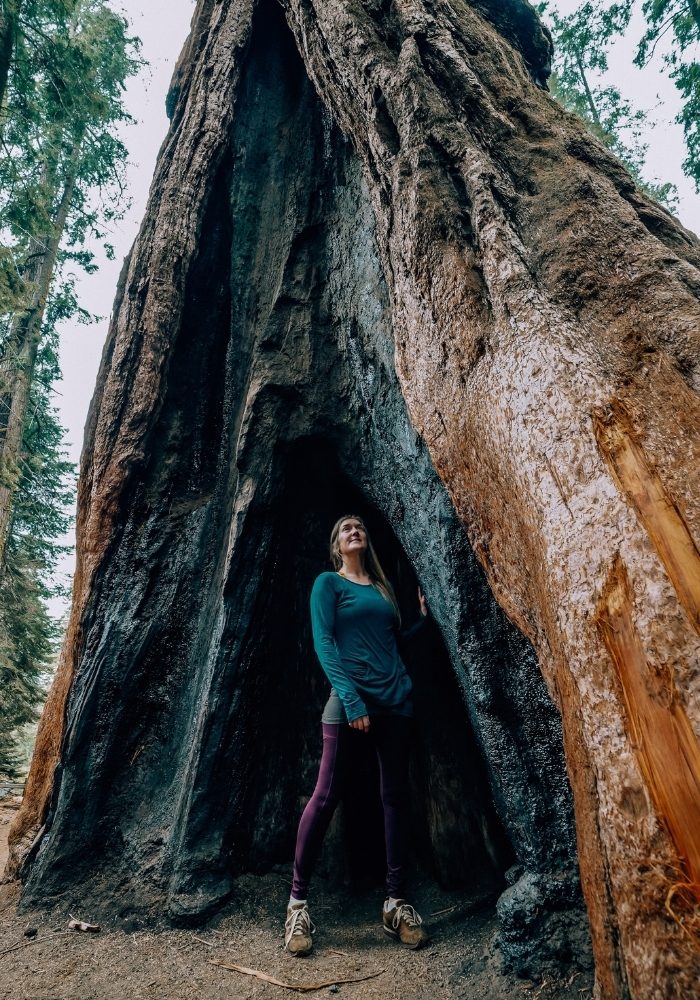 California is home to the biggest trees in the world at the Sequoia National Park, the tallest trees in the world at Redwood National Park, and also North America's tallest waterfall at Yosemite National Park. You'll find beautiful lakes at Kings Canyon National Park, spectacular trails at Lassen Volcanic National Park, and if you love the sea, go to the Channel Islands National Park. Find a complete list of national parks here.
Most of California's national parks are great for visiting in July, however avoid Joshua Tree, Pinnacles, and Death Valley because the deserts can get very hot, over 100 degrees Fahrenheit. Other than that, you'll have a hard time getting bored with all the diversity that California has to offer.
Europe
8. Lavertezzo, Switzerland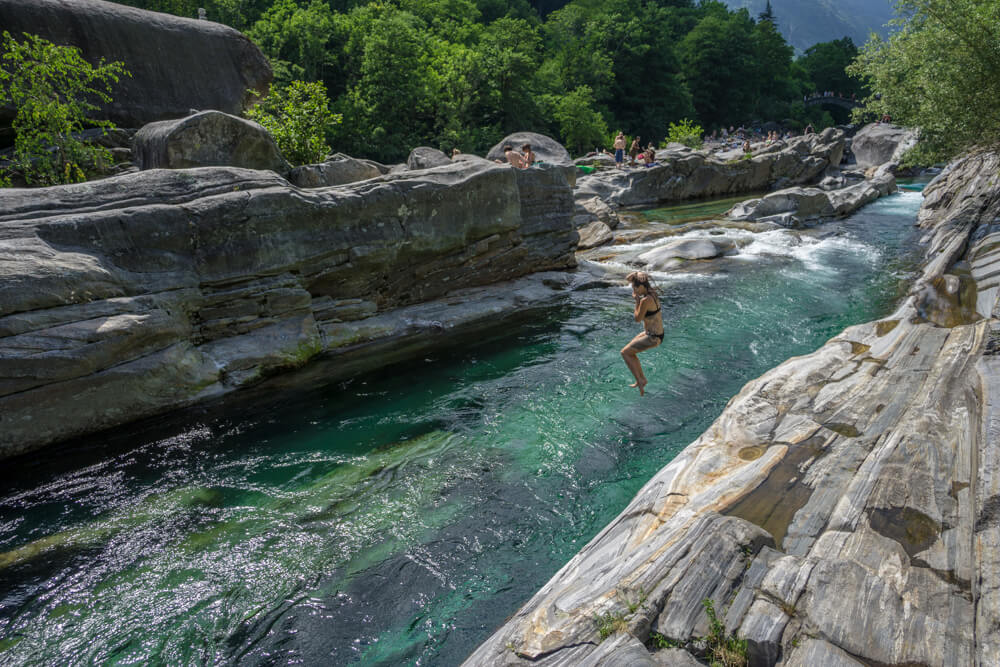 One of the best summer activities you could find would be the river that runs through Lavertezzo. The water is probably some of the clearest and cleanest on earth, and you couldn't ask for better rocks to tan on. Plus, there's a beautiful double-arch bridge that makes for a great photo op, or a place to leap into the water. Bring a picnic lunch because the nearby towns are very small and don't have a lot of dining choices.
Even in July, which is typically the warmest month of the year in Switzerland, the river is cold and the air will be in the 60s. But this doesn't deter people from getting out and enjoying the water. Just bring some warm clothes for after the plunge, and don't forget your sunscreen!
9. The Dolomites in South Tyrol, Italy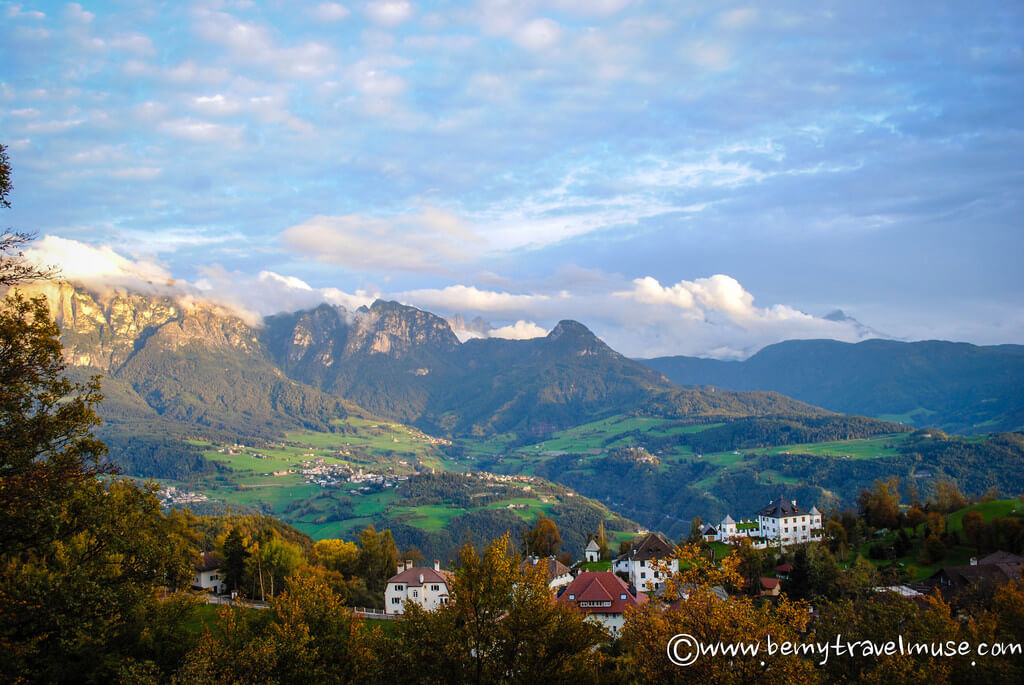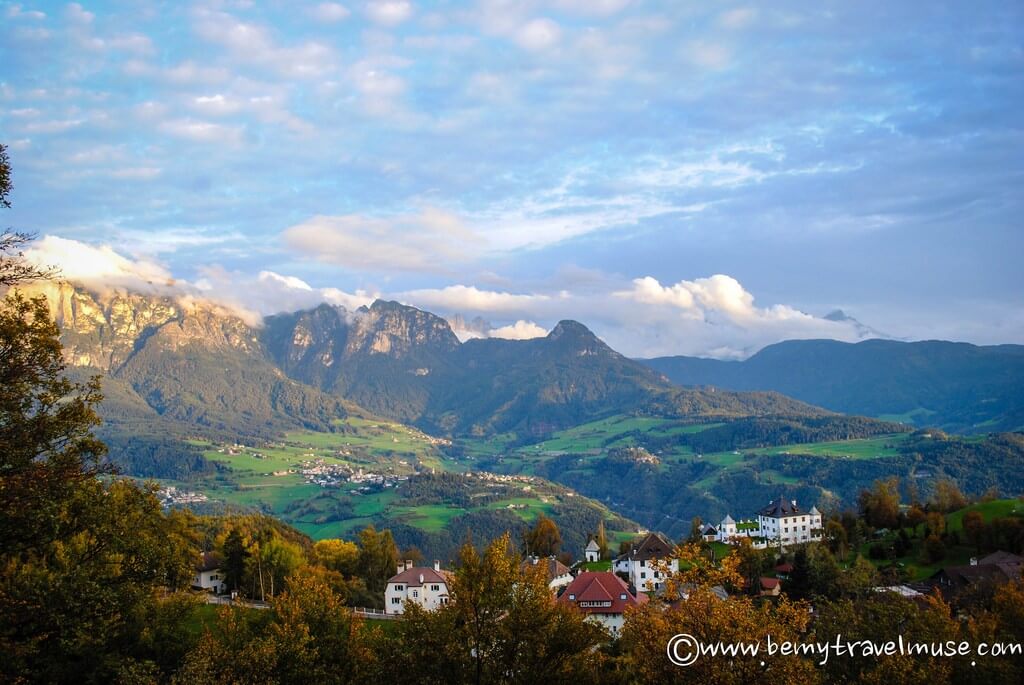 South Tyrol is the place to go for beautiful and delicious food, grapevines growing on rolling hills, rock climbing, hiking and camping, and 800 castles. But the real attraction here are the Dolomites, a rock formation and UNESCO site. The Via Ferrata routes are fixed with ladders and cables and there are plenty to try at various difficulty levels. The views at the top are breathtaking and well worth the climb. Before you go, check out some of these tips, like picking a climbing guide.
Visiting Italy's Dolomites in July means gorgeous landscapes and mild temperatures (in the 60s, but temps drop the further you climb). You'll see wildflowers in bloom and lush green meadows. More people start to come out in late July, so get there early if you want a quieter experience.
10. The Wild Atlantic Way, Ireland
If you enjoy road trips with scenic views, hop on the Wild Atlantic Way, which is the longest coastal drive in the world. It wraps around the island, starting in Galway and ending in Donegal before continuing in Northern Ireland. You'll stumble across wonderful Irish cuisine, quaint little towns, bogs and cliffs, and in Northern Ireland, some Game of Thrones filming locations. While you're on the west coast near Galway, check out some of these most beautiful beaches, cliffs, and greenways.
Ireland in July is fantastic. The weather is brisk (low 60s) and dry, the skies are sunny, and the days are long. July is peak season, but if you are sticking to the self-guided road trip, you'll avoid most of the crowds, which tend to flock to the cities. You'll be able to balance the serenity of the countryside's gorgeous views and pleasant weather with the popularity of restaurants and pubs that dot the way.
Africa
11. Bwindi Impenetrable National Park, Uganda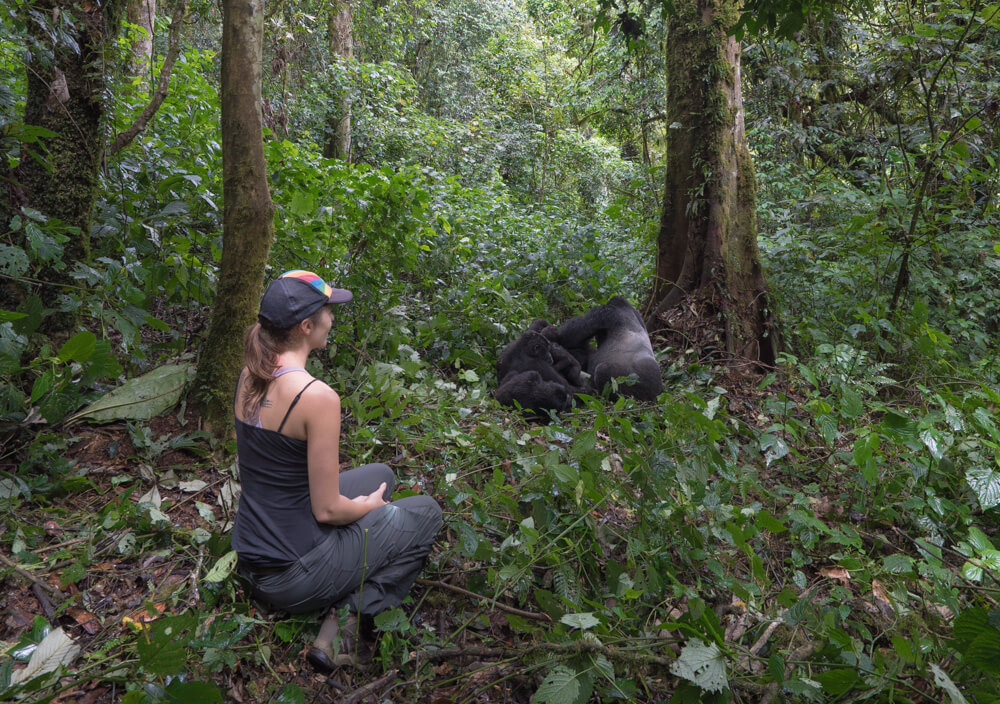 If you love wildlife, a gorilla trekking experience should be at the top of your list. While you can see gorillas behind bars in zoos, you'll experience an entirely different level of awe when you see them in the wild, going about their daily activities. It's very safe as you'll be with guides who are prepared and equipped to maintain control. And Uganda is a beautiful country where you can also hike and listen to the sounds of the jungle from a hammock.
In terms of weather, July is one of the best months to visit Uganda. It's the dry season and temperatures are in the 70s. But, lots of people will be looking to go on a gorilla trek because it's also a great time for viewing wildlife. You'll want to get your gorilla trekking permit months in advance.
12. Safari in Tanzania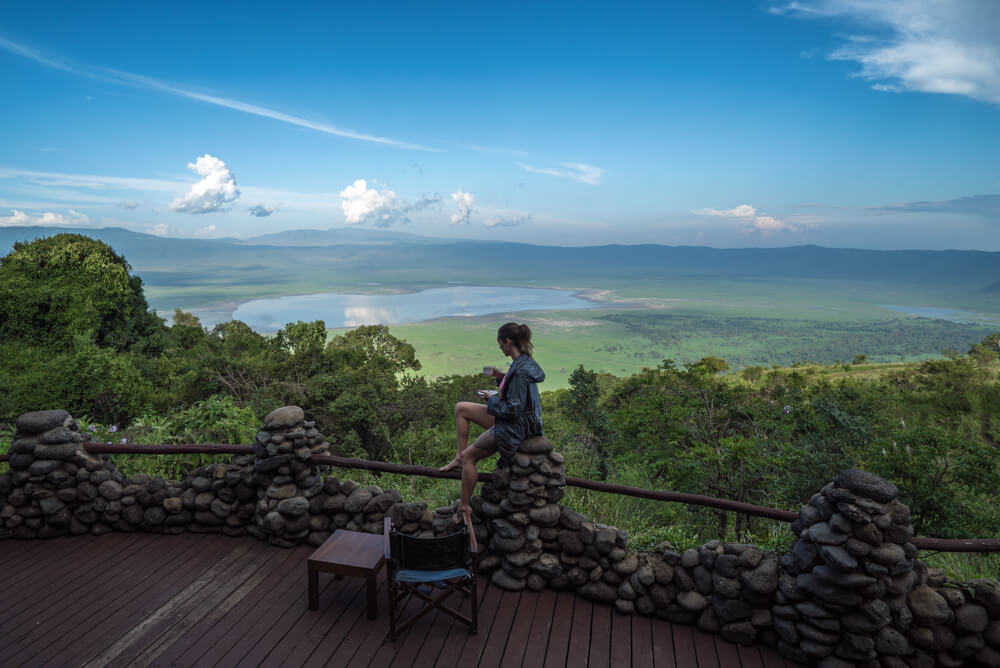 Did Lion King make you dream about seeing zebras, elephants, lions, hippos, and giraffes? If so, you can make your dream a reality at the Safari in Tanzania. You'll want to go in a safari vehicle with a pop top because it's ideal for seeing wildlife, and you'll want a guide because the guides know where to spot the wildlife. It can get pretty expensive, so here's how to book an affordable trip. While you're there, you can visit the Black Rhinos at the Ngorongoro Crater and the flamingos at Lake Manyara National Park.
Not only is the weather pleasant in July (it's the dry season and temperatures are in the 70s), but you'll catch the Great Migration. This means your chances of seeing wildlife are practically guaranteed. But, this is also peak season, so prices may be a bit higher and tours will fill up fast.
13. Road Trip in South Africa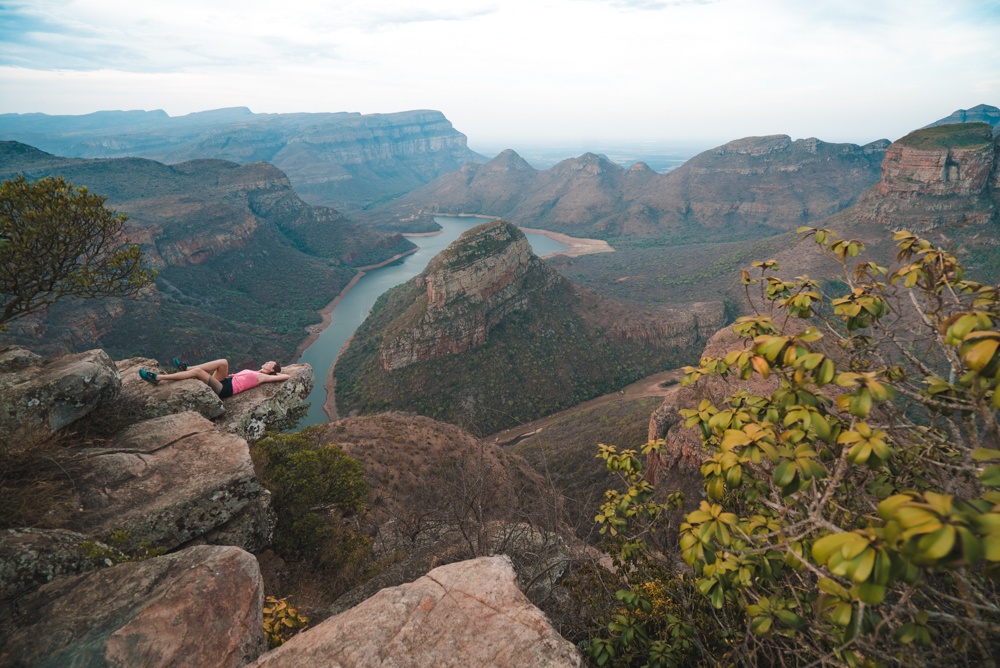 You don't have to decide on a specific place in South Africa unless you want to, because you can check out most of South Africa on a road trip. Some places on the itinerary include Johannesburg with its rich history, Blyde River Canyon for fantastic views, Kruger National Park for the wildlife, Golden Gate Highlands for the sunsets, the world heritage site at Drakensberg Mountains, the Wild Coast, and more. Here's an itinerary and a packing list so you can better plan your trip.
July is super sunny for about twelve hours each day. If you are planning on doing the road trip you'll want to pack for warmer weather (70s) during the day and cold weather at night (40s). If you are going to Cape Town, bring an umbrella just in case. July is a popular month to visit South Africa, but on a road trip, you'll be able to avoid most of the crowds and do your own thing.
14. Tofo, Mozambique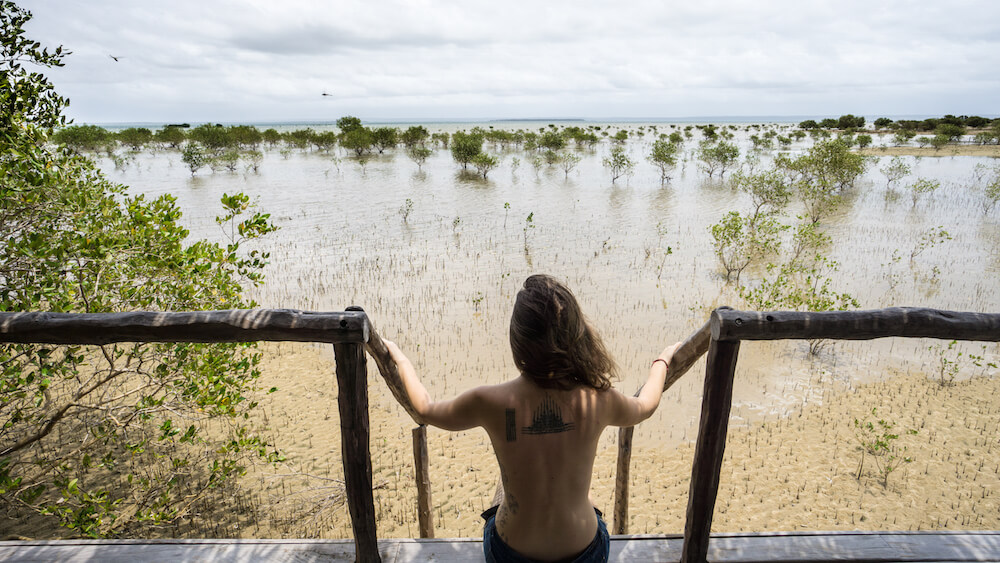 With some of the world's best diving, beautiful waters, sandy beaches, thriving mangroves, great surfing, colorful sunsets, friendly locals and amazing wildlife, what more could you ask for than what's in Tofo, Mozambique? There are several diving schools here, and it's a world-class diving spot because of the whale sharks and manta rays. Just be prepared for the electricity to cut out occasionally, and getting there is a little difficult. While in Tofo, you can also hire a captain and go sailing, often organized through your hostel. The boats are very simple, but you won't regret getting out on the water.
It's winter in Tofo in July, but temperatures are still in the 70s. Some say it's a little breezy, but this makes it perfect for a sail. Because it's the dry season, you can expect sunny days and superb underwater visibility and wildlife viewing opportunities. Pack your bags!
South America
15. The Galapagos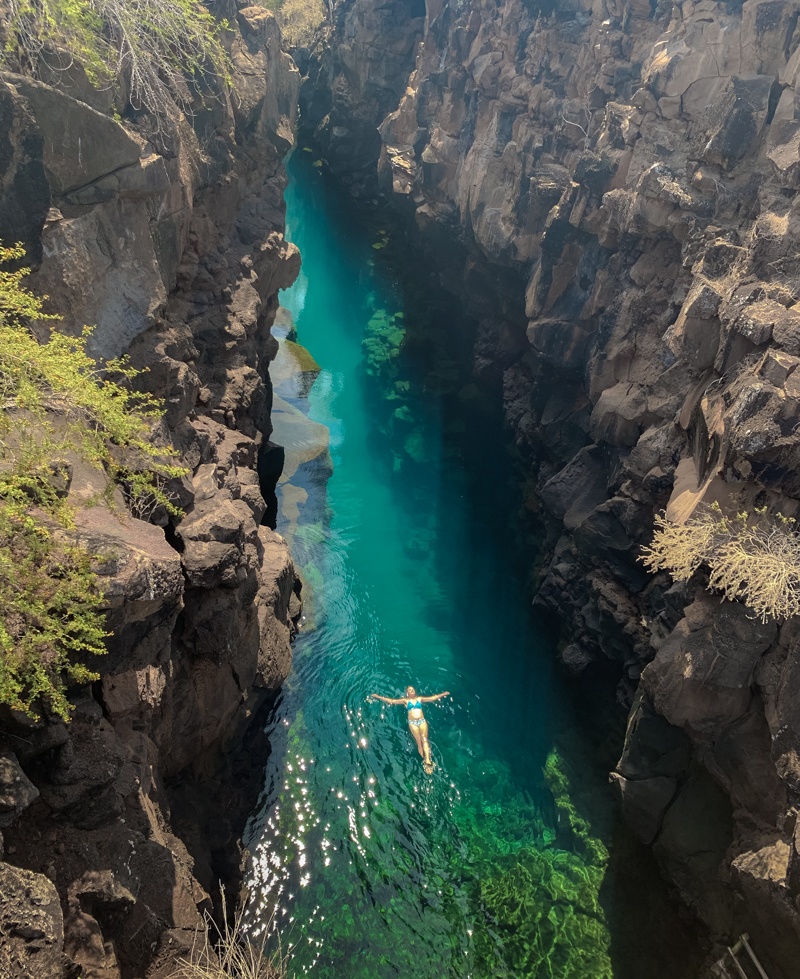 If you've got a traveling bucket list, it's likely the Galapagos is on it. Who doesn't want to see the uniqueness and abundance on these islands? But for many, the Galapagos can seem unattainable because they are so protected. Do not fret! It's easy to visit as a solo traveler, even on a budget. While you're here, you'll want to visit the biggest island called Isla Isabella where you'll find some of the best snorkeling. You can also bike the Wall of Tears, take surfing lessons and hike up a volcano. If you love sea lions though, you'll want to go to San Cristobal.
Here's a breakdown on when's the best time to visit the Galapagos, but rest assured that July is prime time. There's minimal rainfall, land and sea temps are in the 70s, and lots of birds. Humpback whales will be migrating, as will the dolphins. Sea lions will be coming around for the start of breeding season, and turtles will be laying their eggs. With so much action though, don't be surprised if other travelers are there to enjoy the Galapagos.
16. The Amazon in Peru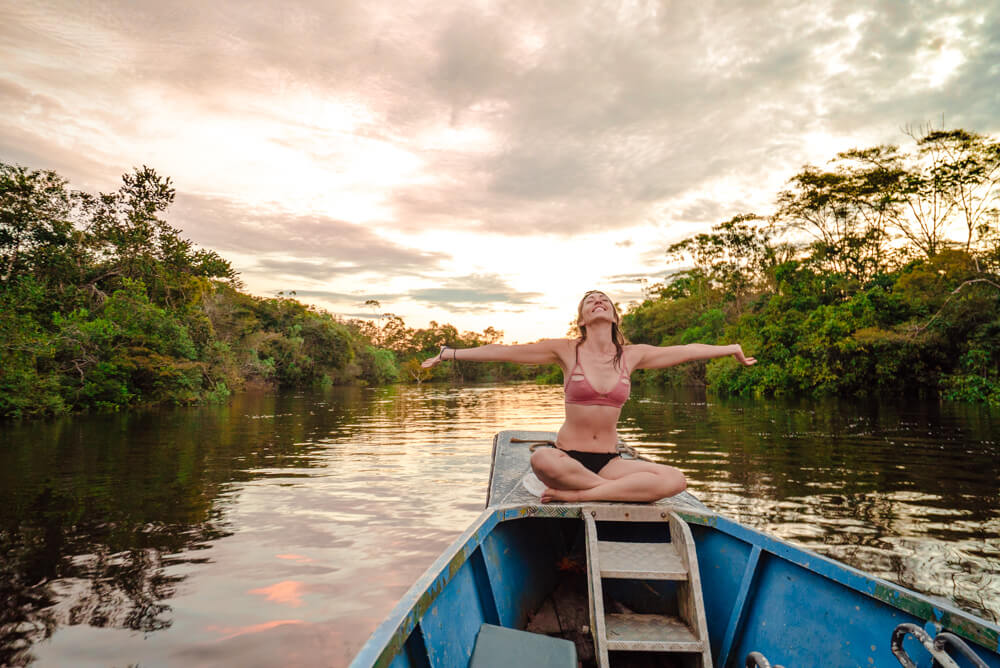 Peru has a lot to offer, like Machu Picchu, Rainbow Mountain, Humantay Lake, hiking in Santa Cruz, national parks, towns, sandboarding, and agricultural centers and salt mines. But, since over half of the country is covered by the Amazon Rain Forest, it only makes sense to check it out while you're here. Peru's Amazon has the largest number of bird species and the third-largest number of mammalian species in the world. It's also one of the most biologically diverse regions on the planet.
July is considered the dry season, which makes it a pleasant time to explore the jungle. Since water will be somewhat scarce, wildlife will be out and about looking for water sources. Days are warm and sunny and the nights are brisk and a tad bit chilly. But even if you don't want to visit the Amazon, the rest of Peru is gorgeous during July, too.
17. Aruba
If you want a Caribbean adventure chock full of things to do, beautiful beaches, time to kick back and relax, and that's great for solo female travelers, look no further than Aruba. You'll find sandy beaches, secluded beaches, beaches great for snorkeling, beaches with flamingos, and beaches that take you on a little adventure. There's lots to do like the Arikok National Park, horseback riding, surfing, jeep adventures, natural rock formations to explore, fine dining, spas, and even skydiving. Here's an adventurous 5-day itinerary to get you started.
Aruba is outside of the hurricane belt so you don't have to worry about the storms in July. Prices are so much lower during the summer months, but you won't see temperatures higher than 90 degrees because the trade winds keep the heat down. There's hardly any rain during the summer. It is the off-season, but July is still a popular month to visit Aruba so don't be surprised if you meet another solo traveler!
East Asia
18. Kyrgyzstan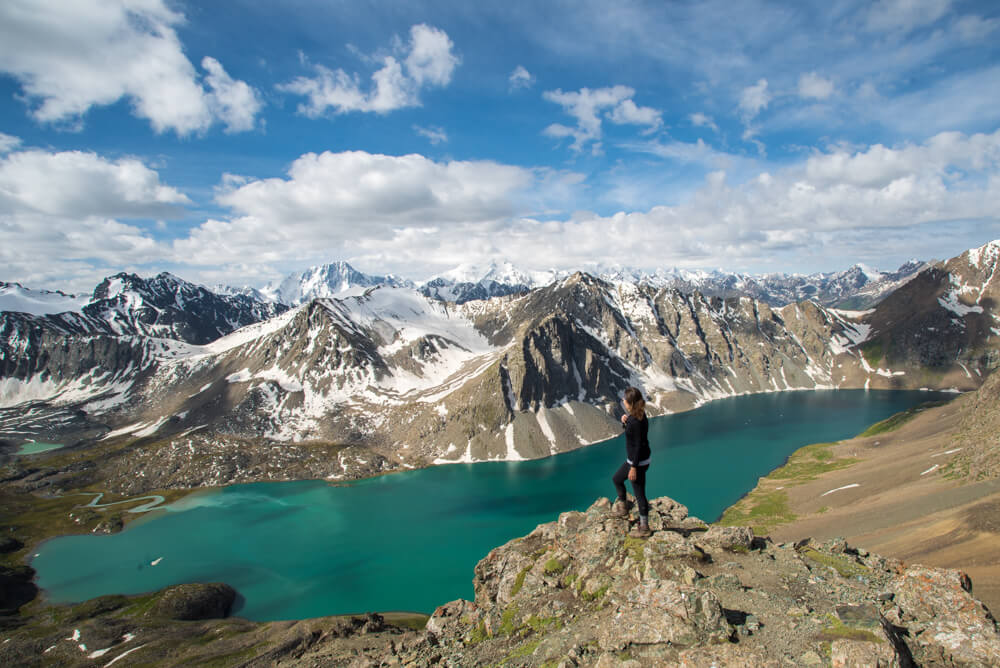 Here you'll find lively bazaars, nomads on horseback, and beautiful views. And by beautiful views, think: Iceland, the Alps and Patagonia merged together. Piercing blue lakes and dramatic green and rocky landscapes make this a picturesque country for mountain-lovers to explore. Basically, Kyrgyzstan is the Patagonia of Central Asia and you can find some really spectacular hikes in the Tian Shan mountains. If this is your first time, here are some things to know before you go. While you're visiting, you should definitely stay with the families in yurts where you'll experience some of the best hospitality and food you could imagine.
It's hot and dry in July with highs in the mid-80s. July is actually the warmest month, so pack lightly, but it's also one of the funnest months to go because of the bazaars, which are an integral part of the culture.
19. Tokyo, Japan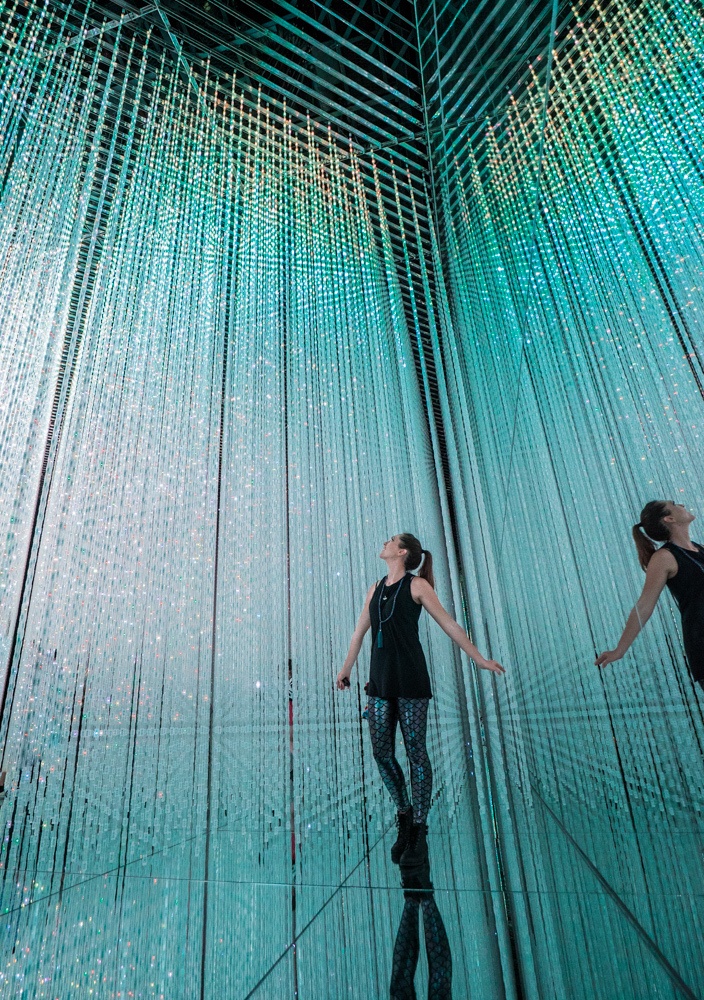 Japan should be on anybody's list of places to travel as there is no other country or culture in the world quite like it. Everything from the attire (kimonos), to the fine dining experience, to the advanced technological environment you'll discover even in bathrooms, it's a place to visit to awaken the senses. It's also a great place for a solo female traveler. While you're in Tokyo, here are some things you must do including themed cafes, parks, sumo wrestling, markets, the theater, and museums. In July, there are lots of festivals happening like the Tanabata Matsuri celebrations and the Sumidagawa River Fireworks Festival.
Tokyo in July is hot and humid, possibly in the 90s, and there could be some rainy days. If you can't take a little bit of this summer weather, consider going to Japan in the winter. But the reason July is a good month to visit Tokyo is because of fewer tourists. The amount of in-door amount of in-door activities to do will help with the heat, and it's best if the crowds are smaller.
Oceania
20. Uluru and Kata Tjuta National Park, Australia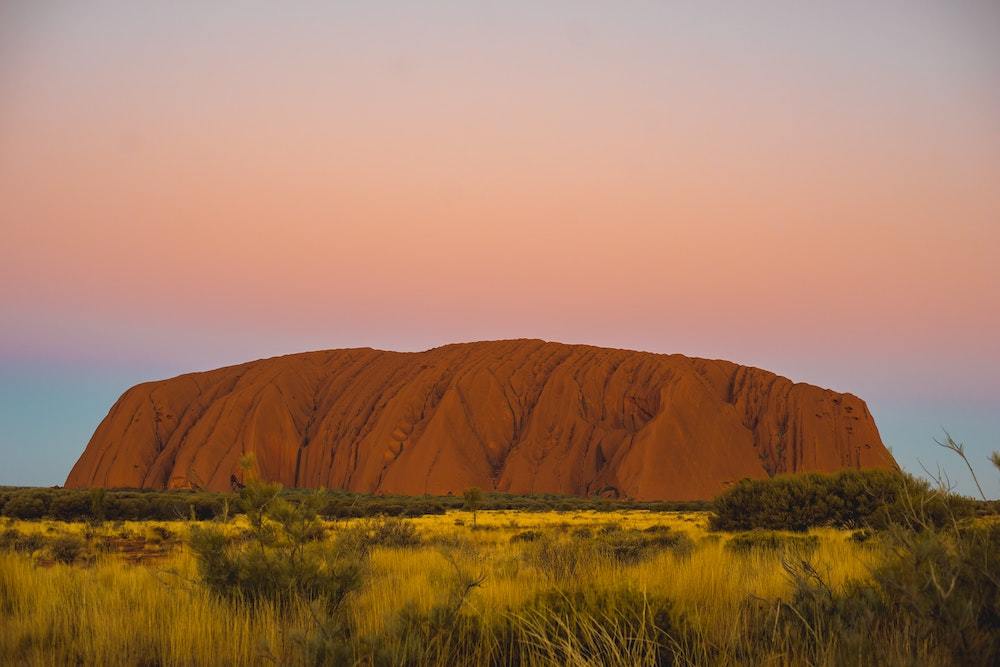 If you're going to go to Australia, you should pay a visit to Uluru and Kata Tjuta National Park. This place not only involves a fun outdoor adventure and incredible photo op, but it's pretty much a rite of passage for any Australian. The park is a UNESCO heritage site and holds massive historical, cultural, spiritual and geological significance because of the ancient rock formations. There are also caves with rock art that date way back to where you'll feel like you've just opened a time capsule. Here's everything you need to know, including how to get there and find a guide.
July is part of Australia's winter, but the Park does see temperatures in the 70s during the day (at night, it'll be in the 40s). Because the weather is a bit gentler during this time of year, which makes it safer to be in the desert, there will be more tourists.
21. Bora Bora, French Polynesia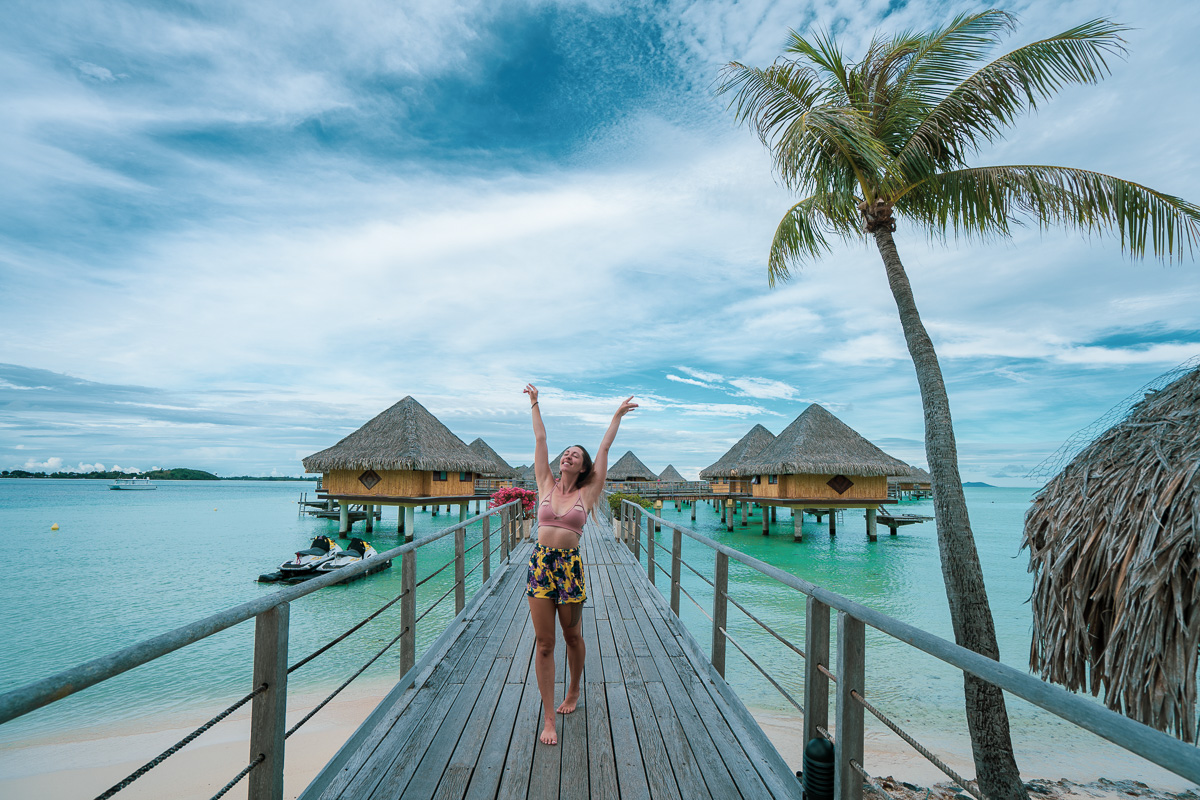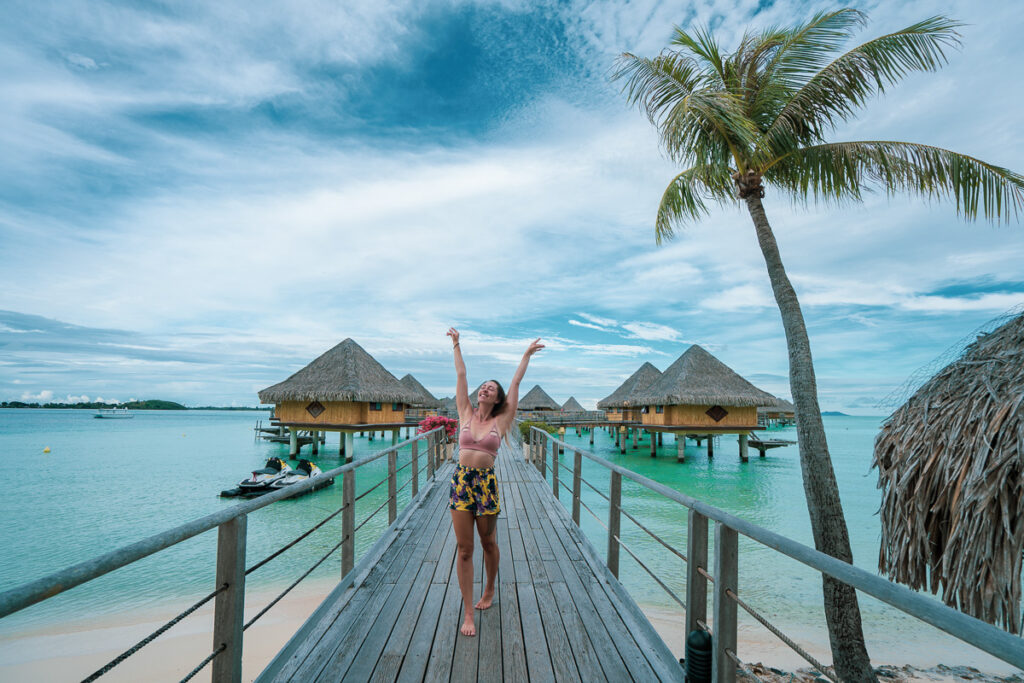 If you're looking for overwater bungalows, jungles, and to swim with humpback whales, head to Bora Bora. However, keep in mind it's not the most affordable destination because the archipelago of French Polynesia is a beautiful place to visit with lots of activities (we break a budget down here). For starters, you can swim with the whales, explore the waters on a jetski and snorkel with sharks. Matira Beach is a wonderful place to kick back and relax with crystal clear water and beautiful sand, plus cafes and restaurants line the shore so you can recharge without having to give up your spot on the beach.
July is the dry season but also part of the high season. This is because temperatures are milder and you'll have some of the best weather you could possibly ask for. If you can afford an overwater bungalow and want to get the most out of such a fabulous location, you're going to want the best weather you can get!
***
There are so many beautiful places to see in the world and it can be overwhelming to pick a place. But, you have to start somewhere! Where do you think you'd go?